Craving those delicious Girl Scouts Samoas (or Tagalongs) and cake? Indulge all your desires with this rich Samoa Cake recipe. Samoa Cakes are mini chocolate caramel coconut bundt cakes that taste just as incredible as they sound!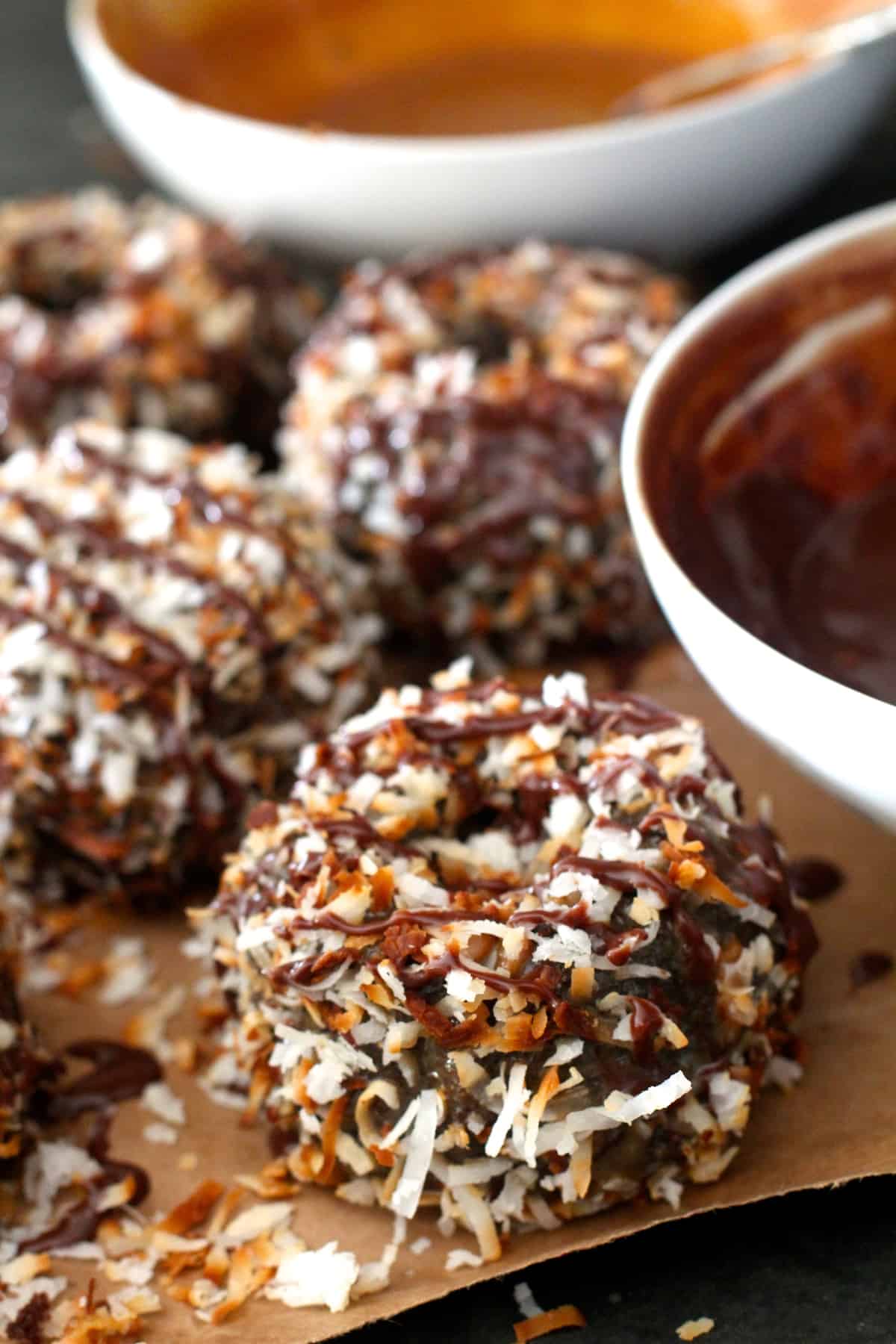 Finally, Girl Scouts cookie season is here! For a very short period, I can indulge in my Tagalong and Samoa cravings simply by visiting a local Walmart or Home Depot. Without fail, the girls are there. I am pretty sure they ping me as a "sale" as soon as they make eye contact. I'm a sucker for those cookies and the cute little girls selling them. By the end of the season, it is almost a relief that I can walk into the store and know that I will not be walking out with $20 of cookies...again. Until the cravings set in a few weeks later and I wish that the season would start again.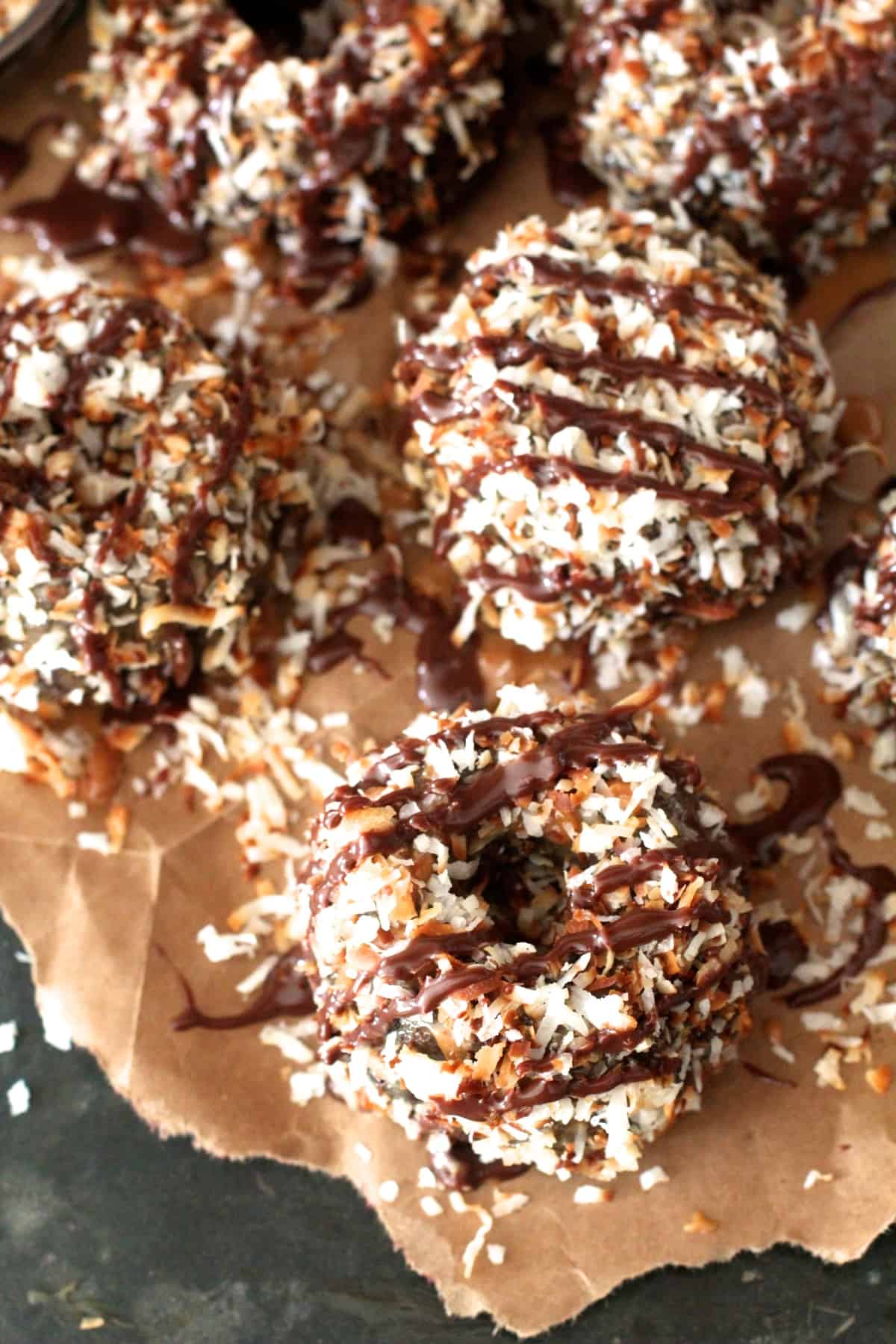 Why Samoa Cake?
When the out-of-season cravings hit, I either ignore them or I go into the kitchen and make something that reminds me of my favorite cookies, which is how this Samoa Cake recipe was born. While these mini chocolate caramel coconut bundt cakes are not the same as the original Samoa cookies, they are equally delicious.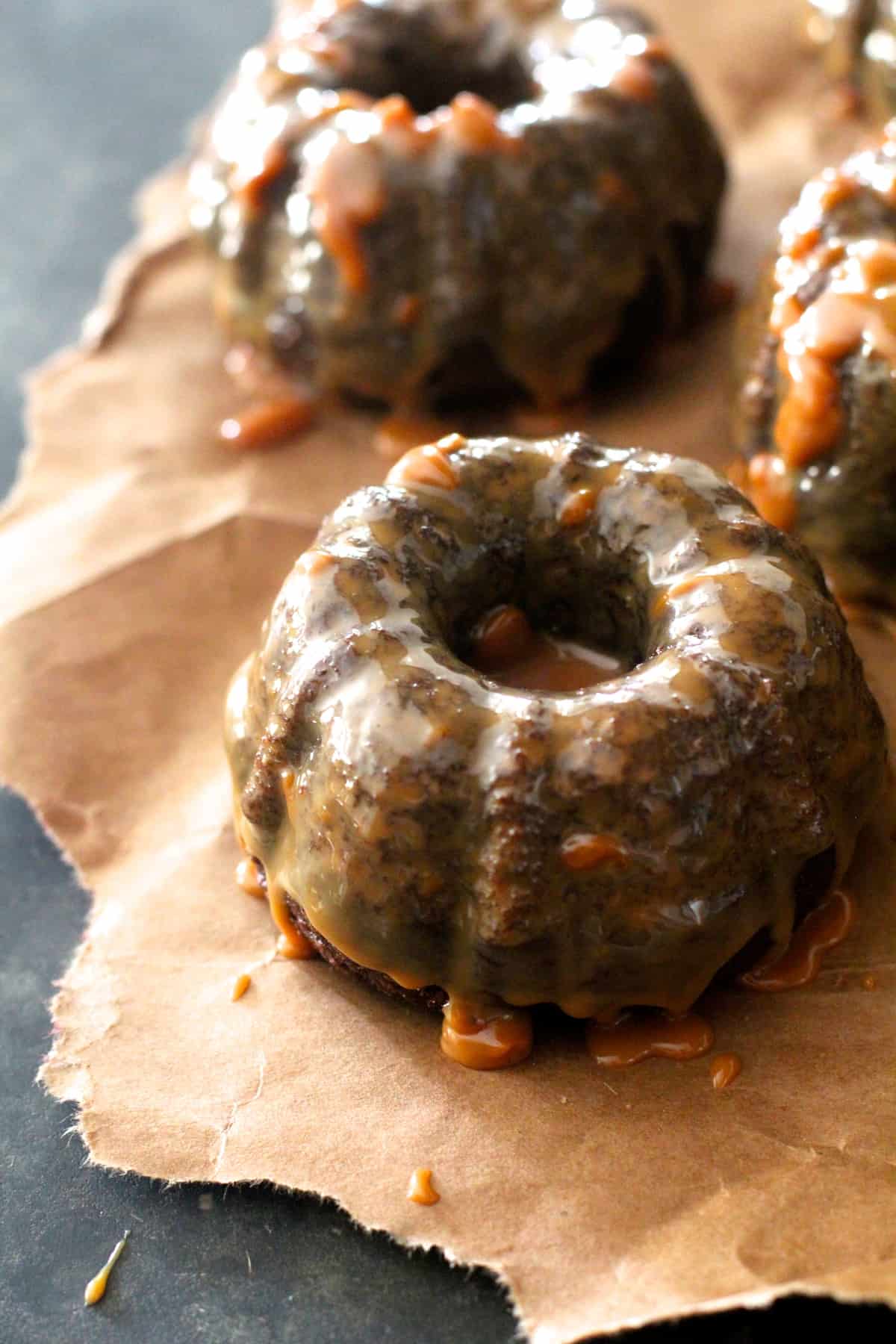 Mini Samoa Cake - The Best Decision!
Making this Samoa Cake recipe in mini bundt cake form was the best decision. When you pour the melted caramel over them, a good portion will pool in the center, which will eventually solidify into a delicious soft chewy caramel. The rest of the caramel soaks into the chocolate pound cake making it fudgy and moist for days. The caramel also acts as a sticky glue to the perfectly toasted caramel. Finished off with a drizzle of chocolate fudge sauce, this Samoa Cake recipe hits all of the flavor and texture goals.
So, if you are looking for a crunchy, caramel-y, fudge-y pound cake kind of dessert, this is it! Enjoy a Samoa Cake (or three)!
If you like this Girl Scouts-inspired recipe, make sure to also try my Tagalong Bars!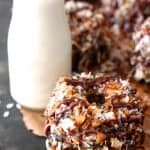 Samoa Cake
These Samoa Cake mini bundt cakes are the perfect combination of chocolate, caramel, and coconut. Moist, delicious, and perfectly rich!
Ingredients
3

ounces

semi sweet chocolate

, chopped

1

cup

all-purpose flour

¾

cup

cocoa powder

½

teaspoon

baking powder

¼

teaspoon

baking soda

½

teaspoon

salt

½

cup

unsalted butter

, melted

1

and ½ cup sugar

1

large egg

, at room temperature

2

teaspoons

vanilla extract

1

cup

buttermilk

1 ½

cups

sweetened shredded coconut

, toasted

Caramel Sauce

Hot Fudge Sauce
Instructions
Preheat oven to 350 degrees. Generously spray mini bundt pan with nonstick cooking spray.

Melt chocolate in a microwave safe bowl for 10 second increments, stirring in between, until smooth. Set aside.

Sift flour, cocoa powder, baking powder and soda, and salt into a bowl.

In the bowl of your mixer, beat melted butter and sugar on medium high speed for 2 minutes.

Add egg and vanilla and beat for an additional 2 minutes.

Stir in melted chocolate.

Add buttermilk and flour mixture and stir until just combined.

Spoon batter into bundt pan and fill ⅔ of the way full.

Bake bundt cakes for 10-17 minutes (10-12 minutes for a small bundt pan and 15-17 minutes for larger mini bundt cakes) or until a knife is inserted and comes out clean.

Cool for 5 minutes in the pan, then invert cakes onto a cooling rack to cool completely.

Once cool, heat caramel sauce and hot fudge in a microwave safe bowl for 30 seconds.

Dip cakes into the warm caramel sauce, the sprinkle with a generous amount of toasted coconut.

Drizzle cake with hot fudge sauce.

Repeat with the rest of the cakes.

Makes 8-10 mini bundt cakes.