A fresh take on an Italian novelty, this Raspberry Lemon Tiramisu will become your new favorite dessert. It's easy to make and a stunning, colorful dessert.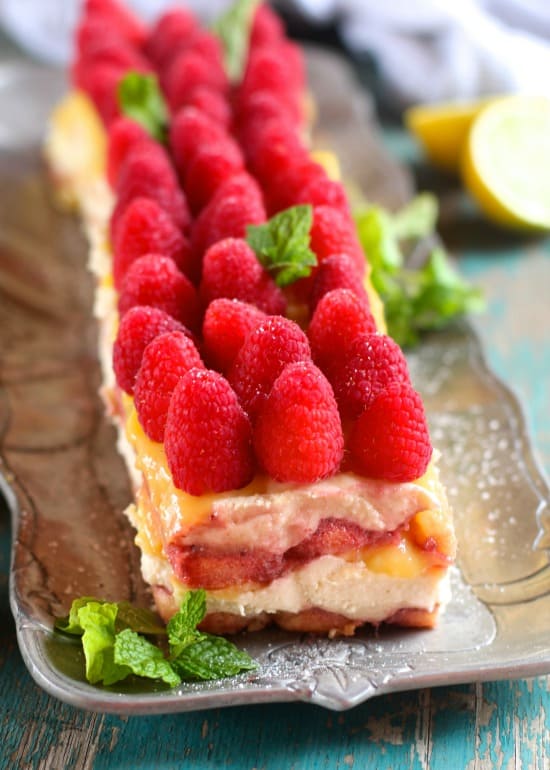 Do you remember that creamy delicious Meyer Lemon Curd I posted the other day? Well this is what I made with it. I was hoping that using the curd in a recipe, it would stop me from eating it by the spoonful. This is usually the case because when I start a baking spree, I tend to only do a quality control tasting then hand it over to my ravenous family to consume the rest.  This, however, was not the case with this Raspberry Lemon Tiramisu. I mean who can resist fresh raspberries, creamy lemon curd, sweet mascarpone, and lady fingers!? Well, I most certainly could not!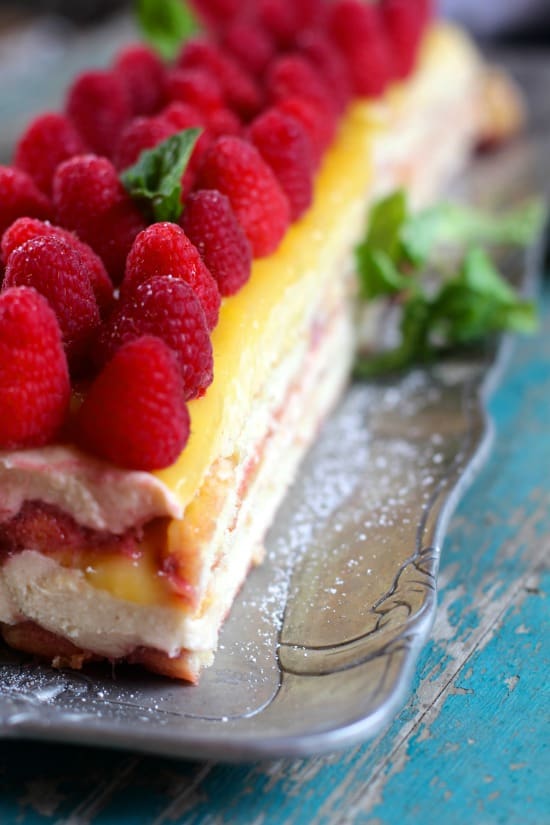 When berries were on sale last weekend at our local store, I stocked up. I envisioned spring desserts served outside on our farm table sandwiched between bouquets of tulips, fresh grapefruit cocktails, and friends. Unfortunately, these dreams have to wait a bit longer as my tulips have not yet bloomed and every weekend California seems to be getting flash flood warnings. Until then though, we will be comfortably eating this tiramisu and drinking cocktails in the comfort of our warm and dry living room.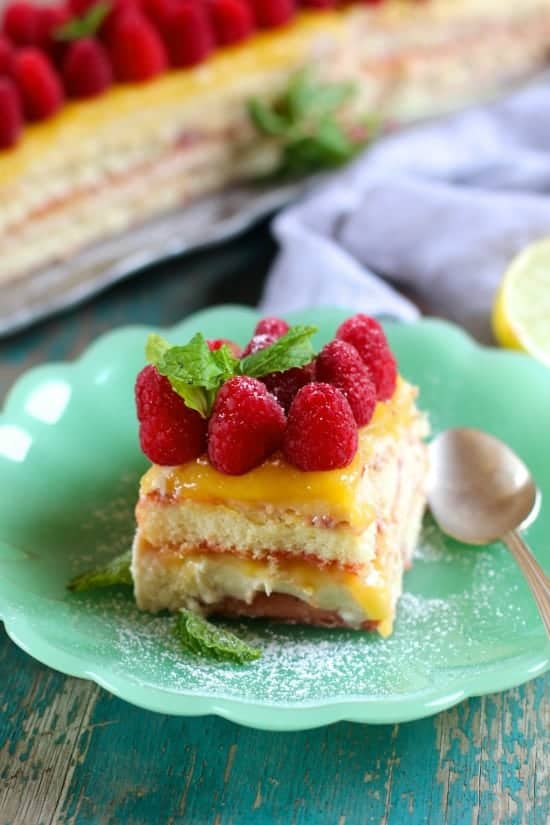 But when the occasion presents itself, this will be the first recipe I make. It is absolutely stunning with the red and yellow colors, and full of flavor. My favorite part about this recipe is that you do not have to bake it. In fact, aside from making the raspberry puree to dip the lady fingers in, there is no other cooking. Wait I take that back. You MUST make the Meyer Lemon Curd to go with it (posted a couple of days ago). It only takes a few minutes to make and is 10x better than store bought curd. Trust me!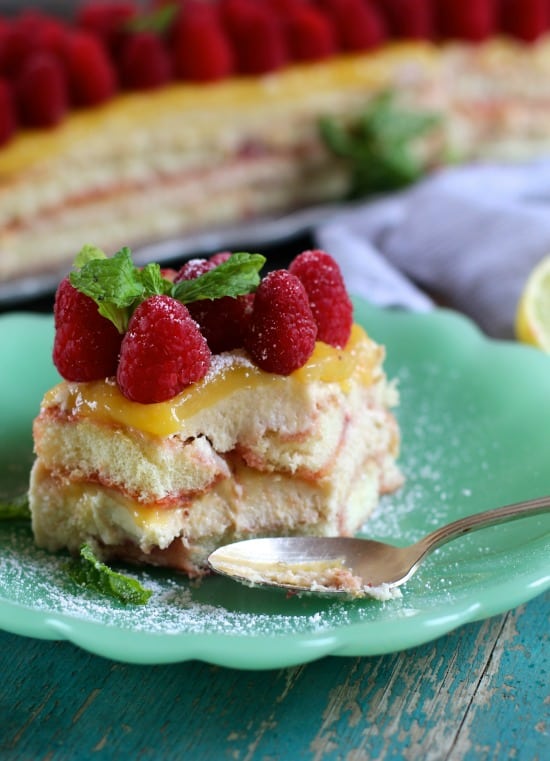 So if you need to cook for a crowd, make this. It will be gorgeous on your dessert table. Enjoy!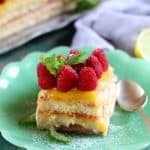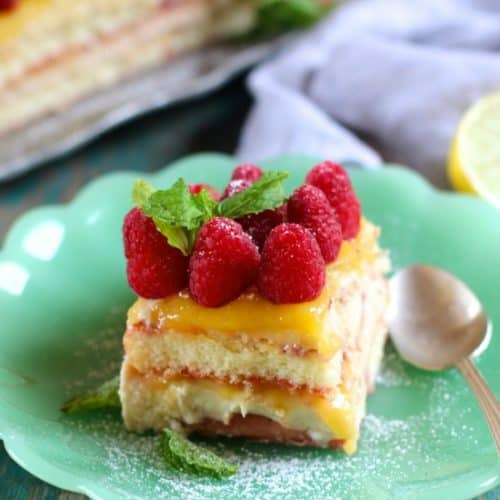 Raspberry Lemon Tiramisu
A Spring-y twist on an Italian favorite. Ladyfingers are layered with fresh raspberries, meyer lemon curd and mascarpone filling.
Ingredients
1

cup

fresh or frozen raspberries

¼

cup

sugar

1

teaspoon

lemon juice

¼

cup

water

16

ounces

mascarpone cheese

, at room temperature

1

teaspoon

pure vanilla extract

1

teaspoon

freshly grated lemon zest

, preferably meyer lemons

1

cup

whipping cream

¼

cup

sugar

2

packages Lady Fingers

1

cup

lemon curd

About 2 pints of raspberries for garnish
Instructions
In a small sauce pan, combine 1 cup raspberries, ¼ cup sugar, lemon juice, and water and bring to a simmer over medium heat.

Once simmering and raspberries have broken down and sugar has dissolved, remove from heat.

Using an immersion blender or regular blender, blend raspberry puree until smooth (optional). Set aside to cool slightly.

In the bowl of your mixer beat sugar and whipping cream until soft peaks form. In another bowl, stir the mascarpone, vanilla, and lemon zest until smooth.

Fold in ⅓ of the whipping cream into the mascarpone until incorporated.

Fold in remaining cream.

Line the bottom of a 8x8 inch glass baking dish or other decorative serving dish with half of the ladyfingers.

Pour half of the raspberry puree over the lady fingers.

Spread half of the mascarpone mixture over the ladyfingers.

Spread half of a cup of lemon curd over the mascarpone mixture, then cover with half of the fresh raspberries.

Repeat layering with the remaining ladyfingers, raspberry puree, mascarpone mixture, lemon curd and raspberries.

Cover and refrigerate at least 3 hours or overnight.

Slice into squares and serve. This recipe serves 9-10 people.