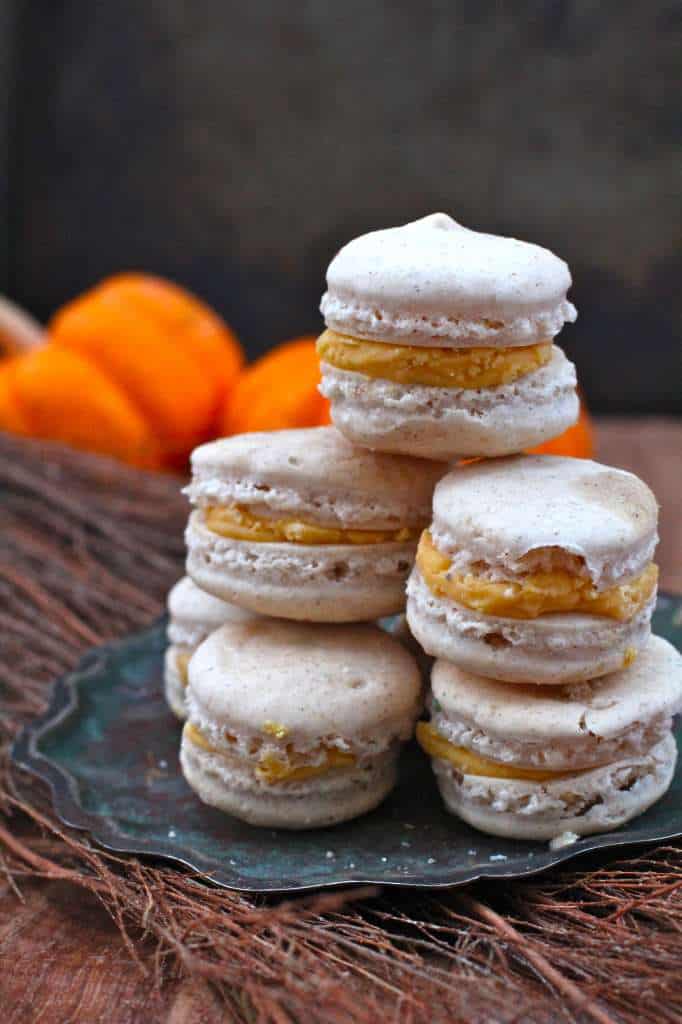 It took me quite a while to master the art of baking a macaron. I had quite a few baking mishaps before actually getting it right. In retrospect, I think that my failures were all due to me over thinking the process because it really isn't that difficult. Or perhaps it is due to my inability to follow directions from start to finish.
They other day when I was on a macaron making marathon, I invited my neighbor down. She had never tasted a macaron before, and being gluten free, I finally had something for her to test. She loved them!!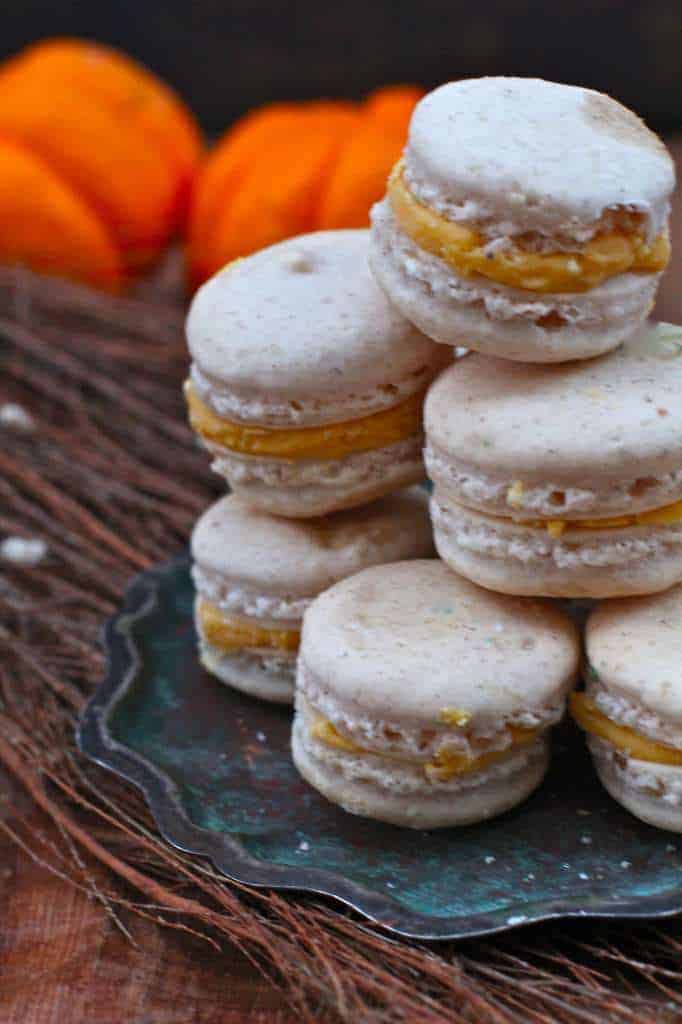 Later that day she came in holding this perfectly made pumpkin spice macaron. My jaw dropped. She had watched me make a few batches, then went up stairs and made her own....PERFECTLY on the first try. I had total baking jealousy. I called her a few inappropriate names (we have a very open name calling relationship) then tried it. Delicious. To top it off, not only is she a great baker but she is an AMAZING photographer, so her pictures of the cookies looked even better than they tasted! Seriously if you SoCal or Yuma people need a photographer, she's your girl check her out at taplinphoto.com.
So finally after I got over my baking competitiveness (about 3 seconds worth) I applauded her for the delicious macaron, and promptly re-made them for the blog!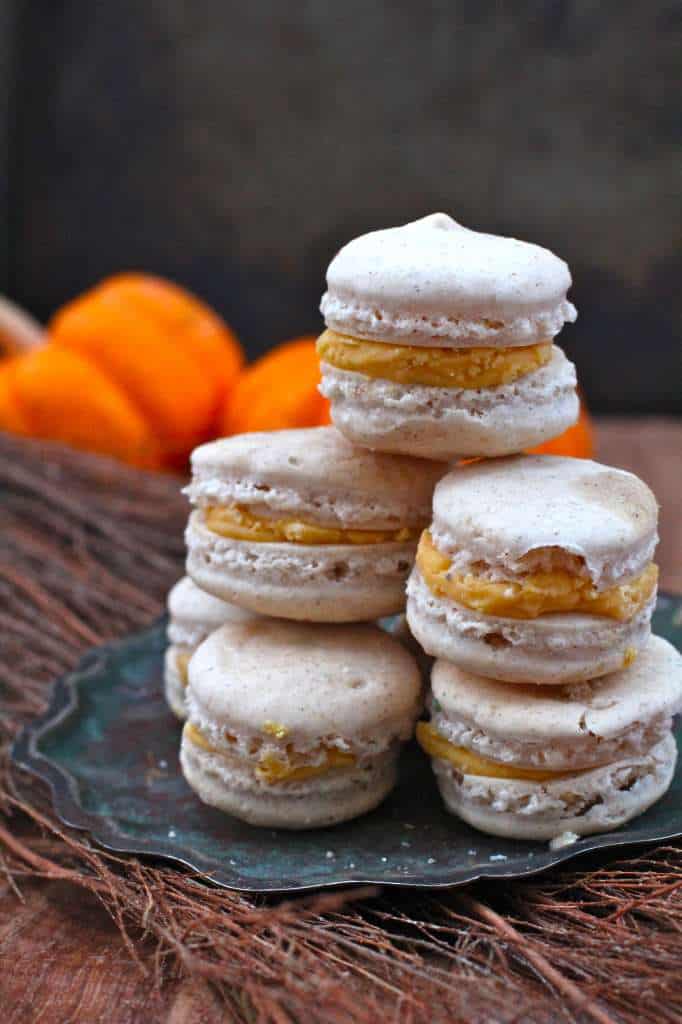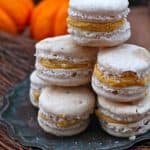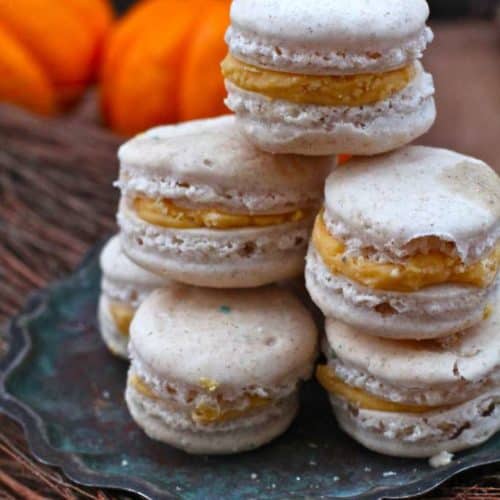 Pumpkin Spice Macarons
Ingredients
90

gr

egg whites

(roughly 3 egg whites, room temperature)

25

gr

(2T) of granulated sugar

1

teaspoon

vanilla extract

1

teaspoon

pumpkin pie spice

200

gr

( 1.5 cups + 2Tb) powdered sugar

110

ground almonds

( ¾ cup) or almond flour (my preference)
Filling
1

cup

white chocolate chips

¼

cup

heavy cream

2

T

butter

2

T

pumpkin puree
Instructions
Pulse your almond flour, powdered sugar and pumpkin pie spice in the food processor a few times or sift manually.

Fit your mixer with the whisk attachment.

Turn your mixer on low and gradually add the sugar and extract.

Once all the sugar has been added, beat on high until hard peaks form.

Fold in your almond flour/powder sugar mix into the egg whites gently, until completely mixed.

Fit your pastry bag with a round tip (Ateco #807 or #809).

Pipe 1.5 inch rounds onto a cookie sheet lined with parchment paper or a silicon mat and allow to sit for 30 minutes.

Preheat oven to 300 degrees or 280 degrees for a conventional oven.

Bake for 18 -20 min, however you need to rotate the pan halfway through the baking process. Allow to thoroughly cool before filling.
Filling
In a small sauce pan, combine the white chocolate chips, heavy cream, butter and pumpkin.

Cook on low until melted and smooth.

Cool for about 5 minutes before filling your shells.

When ready, spoon about ½ teaspoon of white chocolate pumpkin filling into the middle of a shell and sandwich it with another shell.

Macarons will stay fresh for up to 3 days if stored in an airtight container.