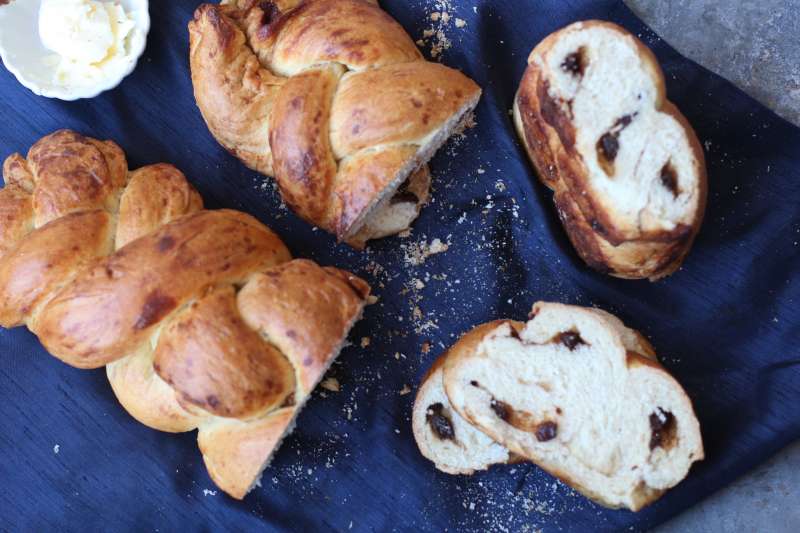 I thought the would be a fitting time to share this recipe seeing as how Hanukkah is coming up. Although I am not Jewish (even though it does run through my blood) I have had the opportunity to try some of the traditional Hanukkah dishes, and boy are they good!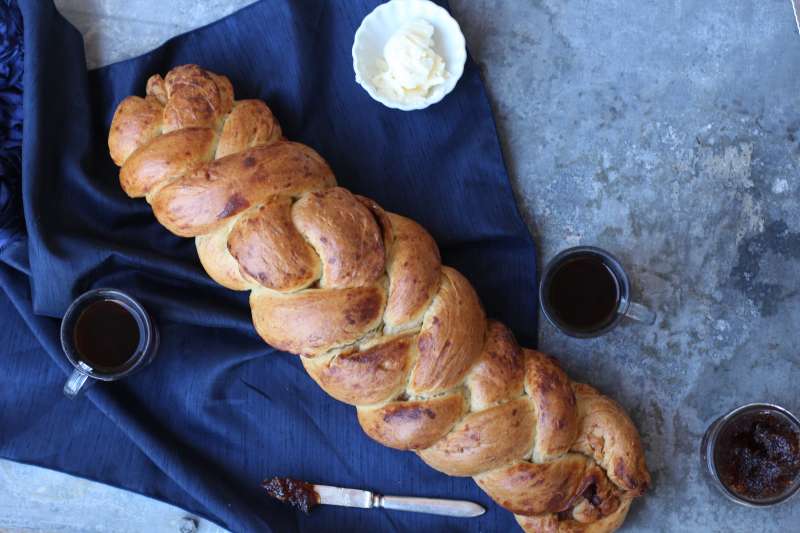 I have been making Challah, or what we call Tresse for years now. When we lived in Switzerland, I would pick one up every Monday morning and my husband and son would have a slice each morning throughout the week.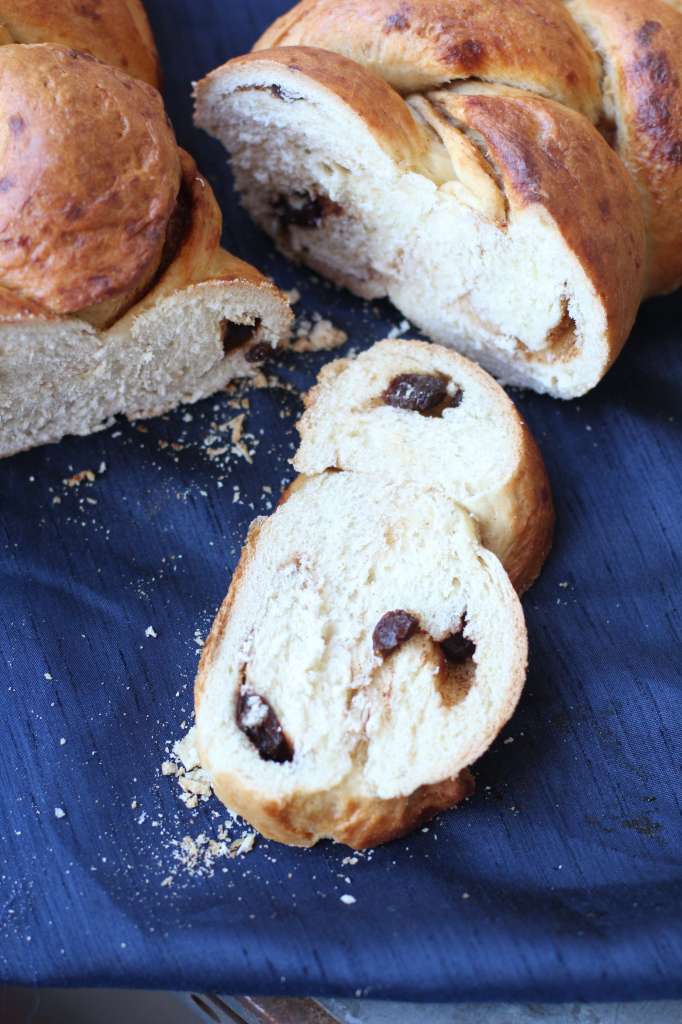 My husband has a massive OCD complex. He thinks he can do everything better than I can. In most cases he is right, I must admit. When we were preparing for the birth of my daughter, I decided that I wanted to make all of her blankets. Apparently my stitching was not straight enough, so he took over my entire project in order to finish it "correctly". Now I know what you are thinking, and I assure you he is the manliness of men.
So when I was assembling the Tresse, I was not braiding it tight enough. So guess who took over....hubby wubby as usual. In 2 minutes he had a perfectly braided loaf.  This happens Every. Single. Time. Good thing he is good looking and a great husband 😉
This bread is great eaten with a bit of butter or turned into french toast with leftovers. It also makes a mean bread pudding! Note that although the prep time on this is high, ⅔ of it is rising time!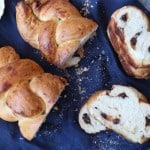 Swirled Cinnamon Challah or Tresse
Ingredients
1 ½

teaspoons

active dry yeast

1

tablespoon

plus ½ cup sugar?

½

cup

olive or vegetable oil

, plus more for greasing the bowl?

4

large eggs?plus 1 egg for basting

1

tablespoon

salt

8

cups

all-purpose flour?

1

cup

raisins plumped in hot water and drained

2

tablespoons

melted butter

⅓

cup

brown sugar

2

teaspoons

cinnamon
Instructions
In a large bowl add yeast, 1 tablespoon sugar, and 1 ¾ warm water.

Allow yeast to "bloom", about 5 minutes.

Using a whisk or the whisk attachment on your mixer, whisk in oil.

Add 4 eggs, one at a time.

Add the remaining sugar and salt and combine.

In 1 cup increments, add flour.

After about 4 cups of flour, continue the process by hand, kneading in the remaining 4 cups or using your dough hook on your mixer.

Once all the flour has been added, continue to knead until dough is smooth.

Once smooth, lightly grease a large bowl with oil and place bread dough in the bowl.

Cover with a warm damp cloth and allow to rise in a dark corner for 1 hour.

When dough has doubled in size, punch dough down and let it rise again for another hour.

When dough has finished its second rise, place it on a lightly floured surface.

Melt butter and combine with brown sugar and cinnamon. Set aside.

Divide dough into six equal parts. Set aside 3 parts.

Roll out 3 long strands about 12 inches long and 1 ½ inches wide.

Using a rolling pin, flatten the strands.

Brush with cinnamon butter mixture and sprinkle some raisins.

Fold over one side of the strand, pinch the sides closed and gently reroll to form a strand again.

Repeat with next two strands.

Braid the three strands together and place on a cookie sheet.

Cover with a damp warm towel and allow to rise for 30 minutes.

Repeat process to make another loaf with remaining dough.

Preheat oven to 375 degrees.

Make the egg wash by combining the egg and 1 teaspoon of cold water, mix with fork.

Baste the loaves with the egg wash.

Bake the loaves for 30 to 40 minutes.
Recipe Notes
Recipe adapted from Smitten Kitchen Perfect Challah