Frighten your friends this Halloween with these delicious and creepy Vampire Apple Pie Milkshakes. They look spooky but taste divine. These apple pie milkshakes are a candy apple meets apple pie kind of drink!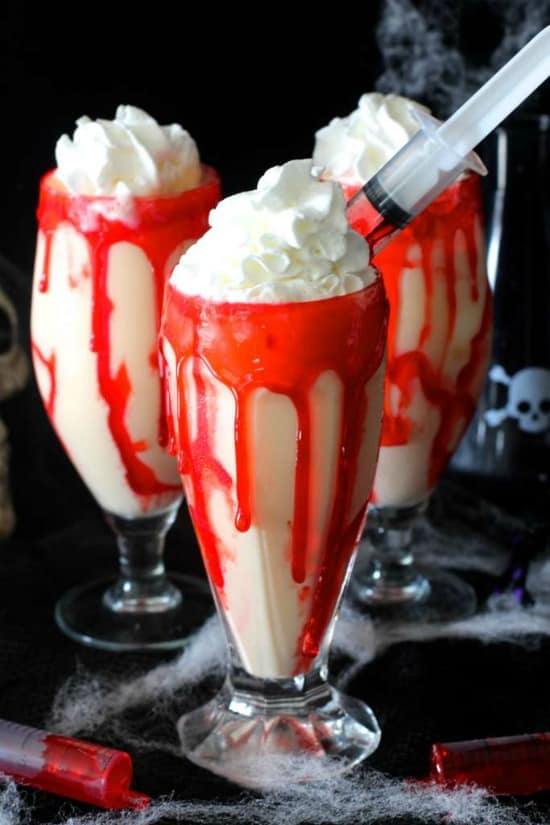 Being the mother of two boys, I am almost obliged to create something gory for Halloween because the boys get a total kick out of it! But to be honest, I actually love creating all kinds of scary treats during the holiday. And these Vampire Apple Pie Milkshakes are the perfect amount of spooky and deliciousness!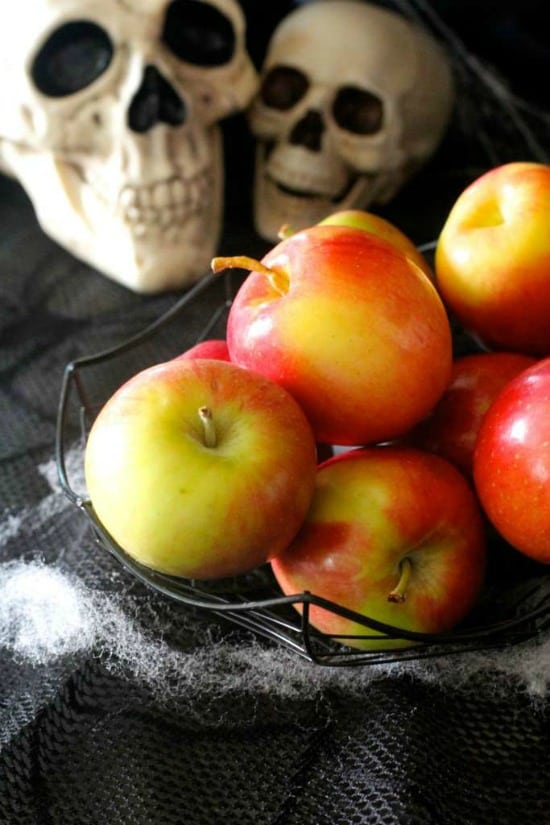 What's The Best Apple For Making Apple Pie Milkshakes?
If you follow my blog then you would know that Baby Ben (almost 4, but always my baby) has a thing for apples. The kid seriously can't get enough. I buy, on average, about 10 pounds of apples a week. Since we buy so many apples, I love trying out new varieties. And let me tell you there are quite a few!
The newest variety that we have tried are JAZZ apples. JAZZ apples originated in New Zealand, and have been available in the US for only about a decade. JAZZ apples are grown in both hemispheres, New Zealand and Chile (available May-September) and Washington State (available September-May). Which means we can enjoy them all year-long. Thankfully so, because they are delicious!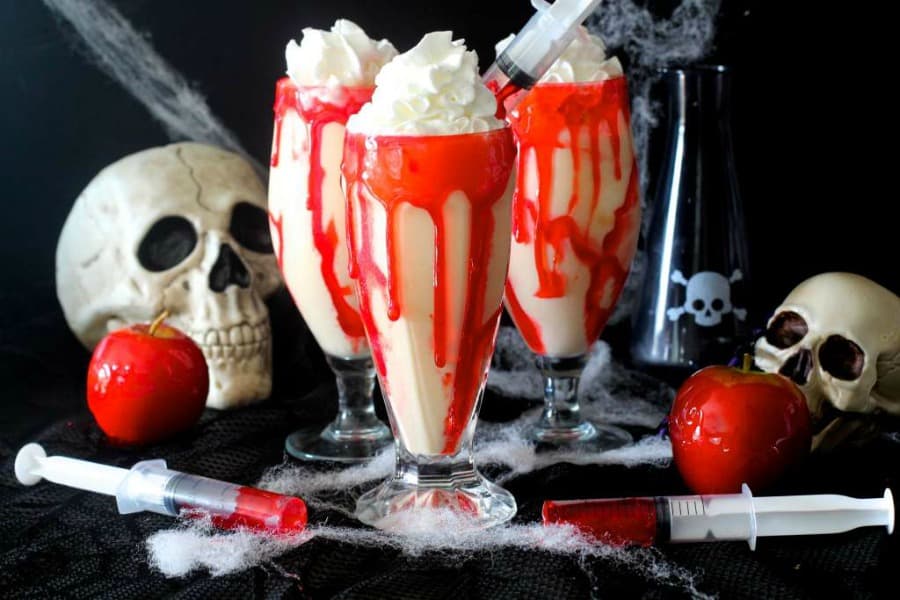 JAZZ is a natural cross between a Braeburn and Royal Gala apple. It combines the sweetness of the Royal Gala with the tang and texture of the Braeburn, making it not only wonderfully tart-sweet but also extremely crunchy. JAZZ apples hold their crunch in the fruit bowl longer than many, because they have such a firm texture. They also are perfect for baking!
The apples are available at most major grocery stores. This season, there is an abundance of smaller-sized JAZZ apples available. Perfect for snacking, kids' lunch boxes, or any time you need a few bites of something truly delicious to pick you up!
We found ours recently at Trader Joe's. As soon as we got home, Baby Ben insisted we make apple pie (his second favorite food after straight up apples).
I always make a few extra cups of the apple pie filling to serve over oatmeal or yogurt later in the week. This time however, I decided to create a spooktacular dessert for the kiddos when they got home from school.
Tips For Making Vampire Apple Pie Milkshakes
Serve up your apple pie milkshakes in these classic soda fountain style glasses.
To make the creepy drip effect with the candy apple coating last, stick the dipped glasses in the freezer to set.
Decorate your vampire apple pie milkshakes with these creepy syringes.
Make these milkshakes and freeze until ready to serve. Just make sure to remove from freezer about 5-10 minutes before serving.
Vampire Apple Pie shakes are easy to make and totally delicious. And for the kids, they are just the right amount of spooky. A perfect treat to kick off your Halloween festivities!
More Recipes For Halloween Treats
Looking for more fun and festive Halloween recipes? Then check out my Halloween Deviled Eggs, these Harvest Moon Sugar Cookies, and this adults-only recipe for Poison Apple Halloween Cocktails.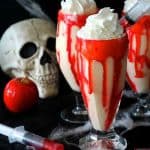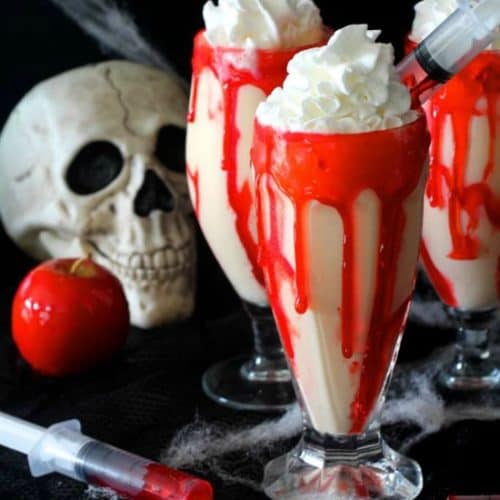 Vampire Apple Pie Milkshakes
Ingredients
Apple Pie Milkshake Filling
1

tablespoon

unsalted butter

2

cups

peeled

, cored, and diced JAZZ apples

2

tablespoons

brown sugar

½

teaspoon

cinnamon

⅛

teaspoon

salt
Red Candy Coating
½

cup

sugar

¼

cup

water

2

tablespoons

light corn syrup

3-4

drops red food coloring
Apple Pie Milkshake
1

cup

apple pie filling

2

cups

vanilla ice cream

¼

cup

milk

¼

teaspoon

vanilla extract

Whipped Cream for serving.
Instructions
To make the apple pie filling, melt butter in a medium sized pan on medium high heat.

Add apples, brown sugar, cinnamon, and salt and sauté while stirring until apples are cooked, about 4-5 minutes.

Remove from heat and allow to cool to room temperature or place in a small bowl and refrigerate until cold.

To make the Candy Coated rimmed glass, place sugar, water, corn syrup, and food coloring in a small sauce pan and stir to combine.

On medium heat, cook sugar mixture until large bubbles begin to form, about 8 minutes (depending on your stove, so please watch carefully.) Mixture should coat the back of your spoon.

Once done, remove from heat and cool for 10 minutes.

Once cooled, carefully dip the rims of your glasses into the sugar coating.

To make the Apple Pie Milkshake, combine cooled apple pie filling, ice cream, milk, and vanilla in a high powered blender and bend until smooth.

Pour into glasses and serve immediately, or place in freezer until ready to serve.

Top with a generous dollop of whipped cream.
This post is sponsored by JAZZ apples. We appreciate your support of all of our sponsors!