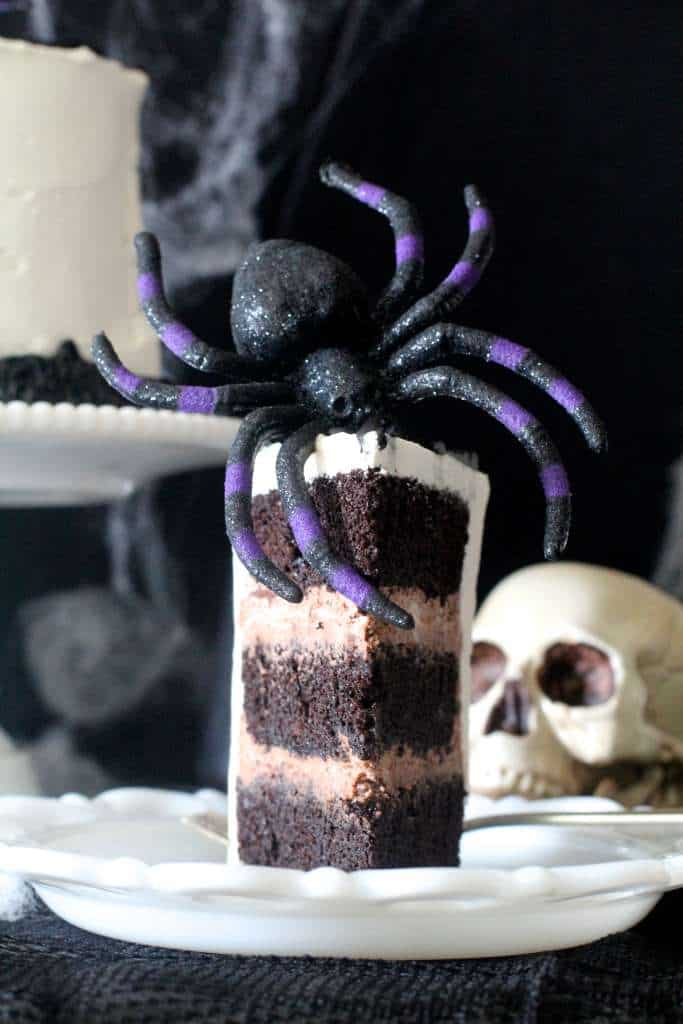 I always felt intimated when asked to bring a cake to family parties, so I always brought cupcakes instead. I worried that the cake layers would be too dry and that I didn't know how to decorate them very well. So when I was asked to bring the birthday cake to my uncle's birthday last month, I knew I had to step up my game and learn how to properly frost a cake.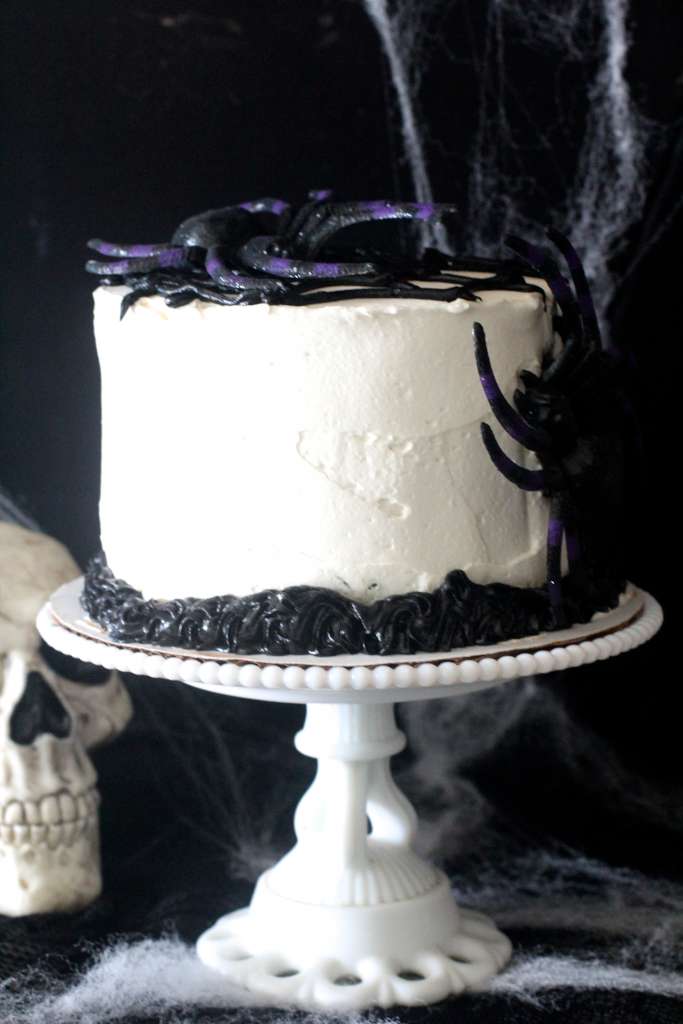 I watched youtube video after video and purchased everything each one used. Then I made my first pretty cake, the Cannoli Cake, and since then have literally gone cake crazy. While the cakes are not perfectly frosted and beautifully decorated yet, I think that I have come a long way, and can't wait to make more!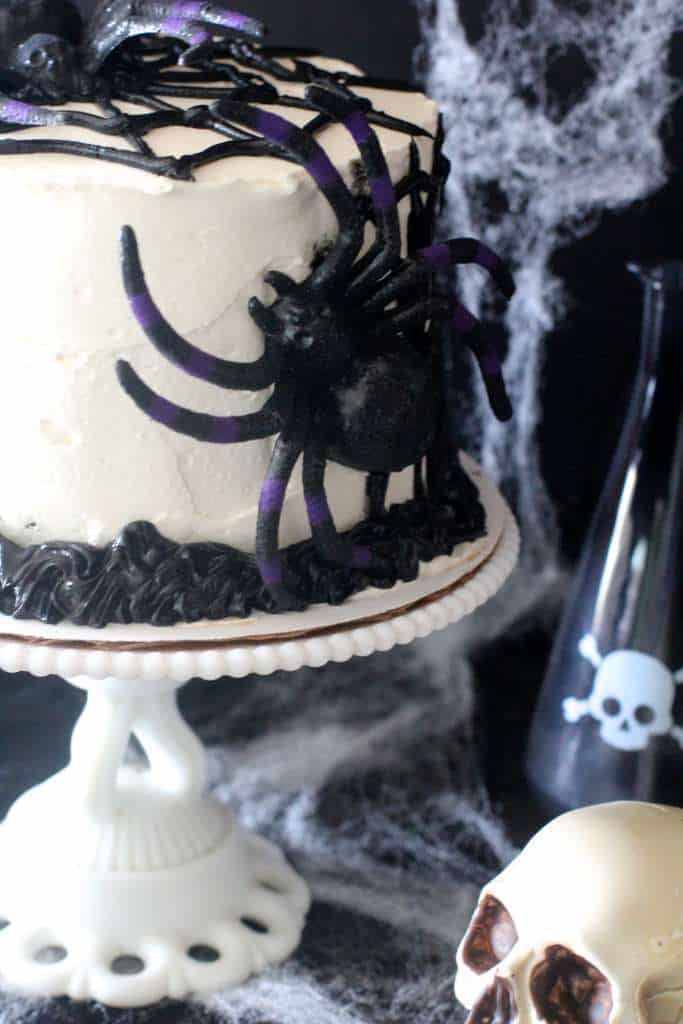 I ended up making this chocolate cake with Nutella mousse and Italian meringue buttercream for my uncle's birthday. Actually I made two, one for him and one for the blog. This cake is hands down THE BEST CAKE I HAVE EVER HAD.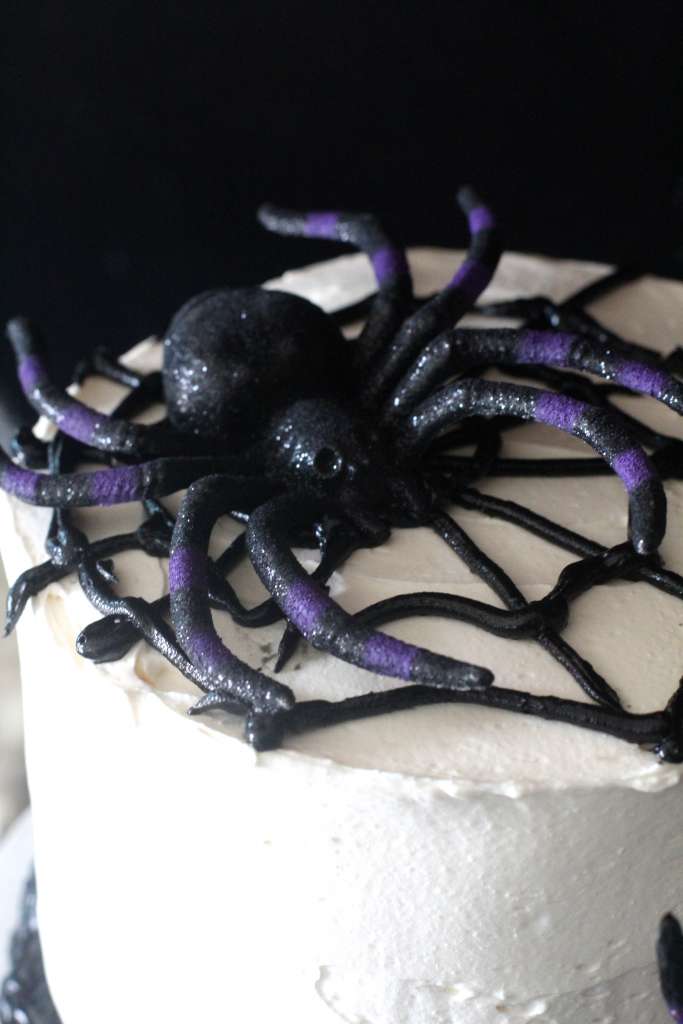 Although Italian Meringue Buttercream takes a bit of time to make and requires a ton of Plugrá butter (the only type I'll use) it is the best for frosting cakes. The recipe actually makes enough to frost a large 3 tiered cake, unlike many others. Then there is the flavor. Oh the flavor. It tastes like butter and who doesn't like that? I usually use a bit of salted butter in the frosting which pairs beautifully with the chocolate, coffee infused cake and nutty Nutella mousse. Another thing that is great about this frosting is that it is smooth and hardens well in the fridge.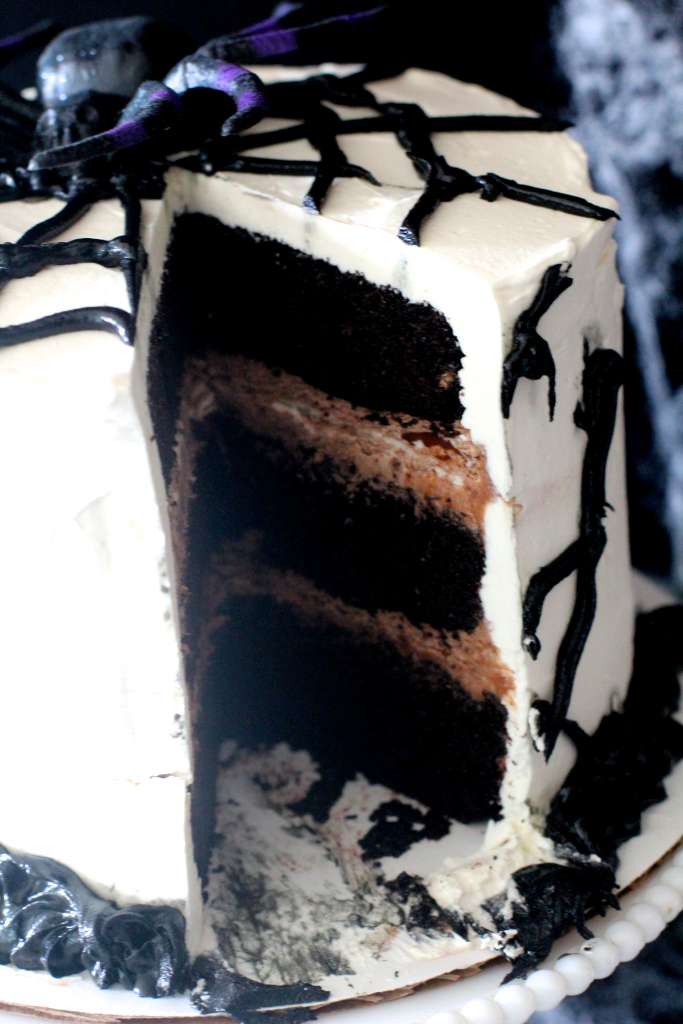 The cake itself is light and moist. I made the layers 2 days before the party and wrapped them in plastic wrap until I was ready to assemble. The Nutella mousse just takes the cake to a new level. Like the cake, it is light but full on flavor. The nuttiness compliments the cake so well! I think I have found my new favorite birthday cake!
This is a great cake to serve at a party this holiday season. Enjoy!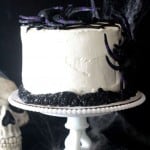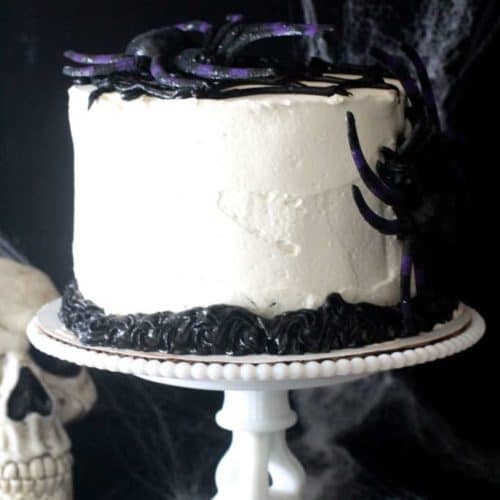 Spooky Spider Cake
Ingredients
Chocolate Cake

1 ¾

cups

all purpose flour

2

cups

granulated white sugar

¾

cup

unsweetened cocoa powder

1 ½

teaspoon

baking soda

¾

teaspoon

salt

2

large eggs

1

cup

buttermilk

½

cup

oil

1

tablespoon

vanilla extract

1

cup

freshly brewed hot coffee

Nutella Mousse

1

cup

Nutella

2

cups

heavy whipping cream

, cold

Italian Meringue Buttercream

1¼

cups

sugar

, divided into 1 cup and ¼ cup

⅓

cup

water

6

large egg whites

, room temperature

¾

teaspoon

cream of tartar

1

cup

Plugrà European salted butter

, very soft cut into pieces

1¼

cup

Plugrà unsalted butter

, very soft, cut into pieces
Instructions
Heat oven to 350°F. Grease and flour three 7-inch round baking pans.

Stir together sugar, flour, cocoa, baking soda and salt in large bowl.

Add eggs, milk, oil and vanilla; beat on medium speed of mixer 2 minutes.

Stir in hot coffee. Batter will be runny.

Pour batter into prepared pans.

Bake 30 to 35 minutes or until wooden pick inserted in center comes out clean.

Cool 10 minutes; remove from pans to wire racks. Cool completely.

To make the mousse, beat heavy whipping cream until stiff peaks form.

Fold nutella into whipping cream gently.

Place in refrigerator until ready to assemble cake.

To make the Italian Meringue Buttercream combine 1 cup of sugar and water in a small sauce pan.

Heat sugar and water on medium until boiling (you want large bubbles).

In the bowl of your electric mixer, beat egg whites and sugar until frothy.

Increase your mixer speed to high and beat egg whites until hard peaks form.

Reduce mixer speed to low and slowly and carefully pour into egg whites.

Slowly increase the mixer speed again and beat until the mixture is no longer hot or warm and is fluffy. (mixture needs to be as close to room temperature as possible before adding butter).

With the mixer set at medium speed, slowly add butter pieces. Mix until smooth.

To assemble the cake, place one layer on the cake plate and top with ½ of the mousse.

Top with middle layer and the remaining mousse, and finally top with last layer.

Set aside ½ cup of frosting to make the spider webs. Add a few drops of black food dye to color buttercream.

With remaining frosting, frost cake.

Place black frosting in a pipping bag or small sandwich bag and cut off corner. Pipe spider webs on cake. Top with spider.

Place cake in the refrigerator until ready to serve. Cake can be made 2 days in advance.