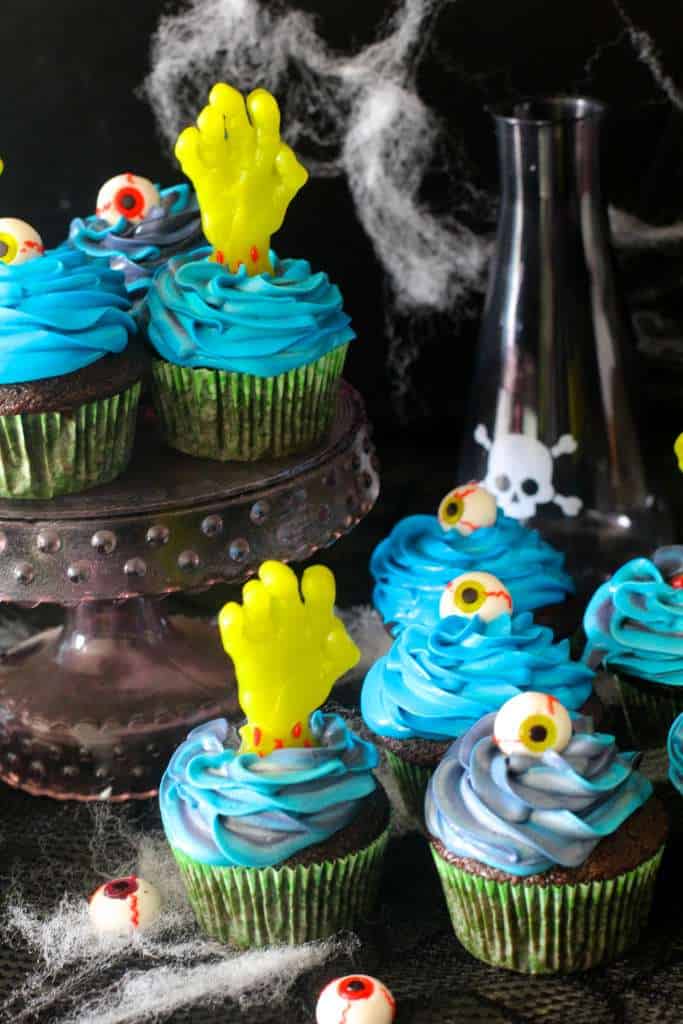 I have clearly passed on my love for the holidays down to my children. Even as a baby, Ben has been mesmerized by all things Halloween, including the scary stuff. This is a big year for him, because for the first time, my late talker will actually be able to say "Trick or Treat!" Being the mother of a delayed speaking child, this is a huge deal and I am so excited!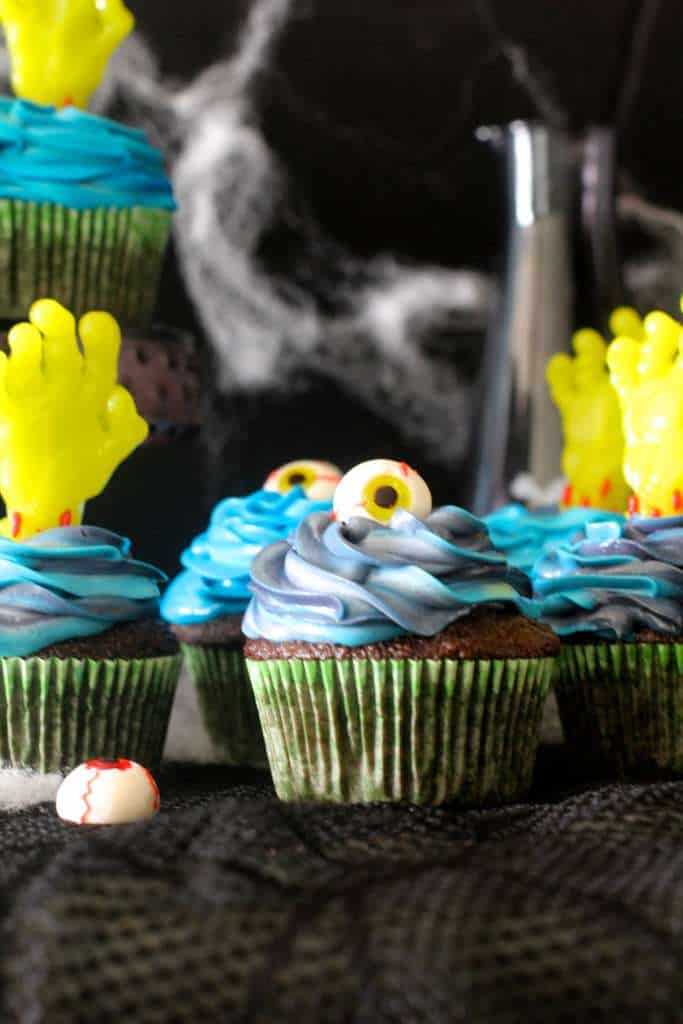 I think because of this, we have really built up the excitement of the big day. We started decorating in early September and have gone to every Halloween related event since the beginning of October. Ben insisted on decorating his room, and we gladly obliged!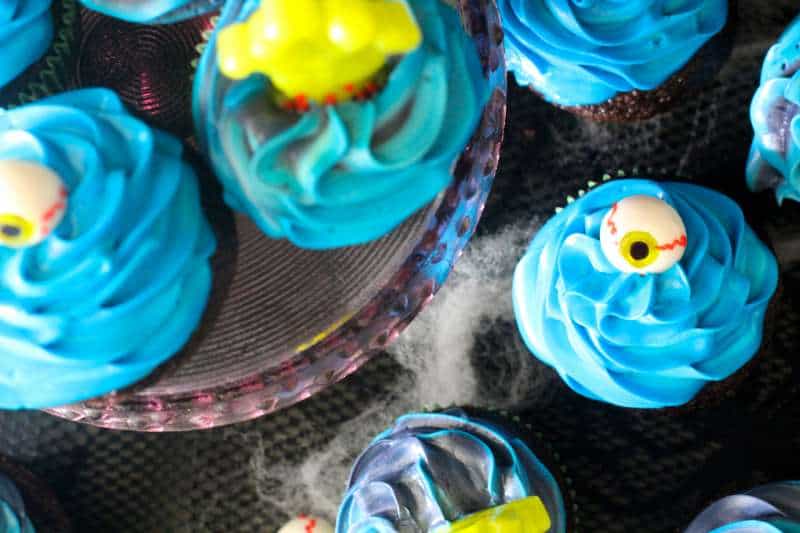 Every time we go to the store (any store) Ben asks to go to the "Owlween Yection." Last time we were cruising around he found some of these gummy cupcake decorations and asked if we could make some cupcakes. I am usually not a huge fan of topping other than sprinkles, but couldn't resist a fun baking day with the kids.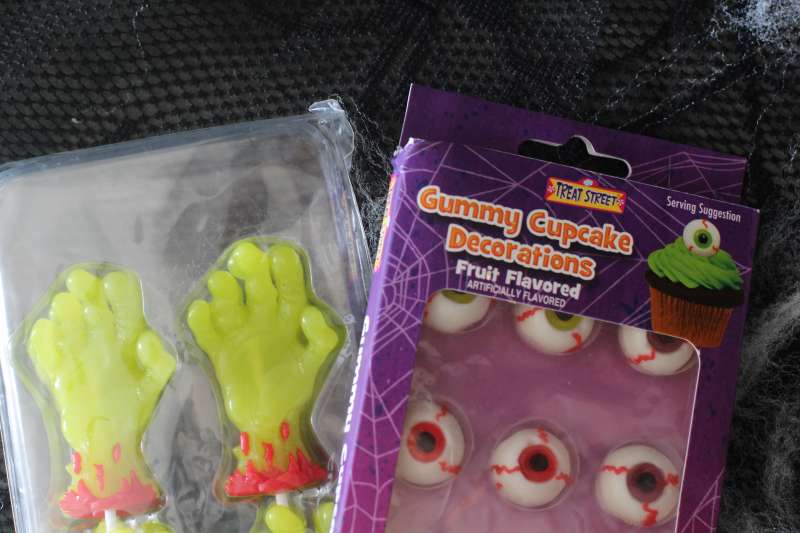 For the cupcake, we used the same recipe as the Spooky Spider Cake. It is an extremely running batter, but always results in a perfect light and airy cupcake. To make the frosting a bit different (and because one kid wanted blue and the other purple) we swirled the frosting together, then topped them with the gummies.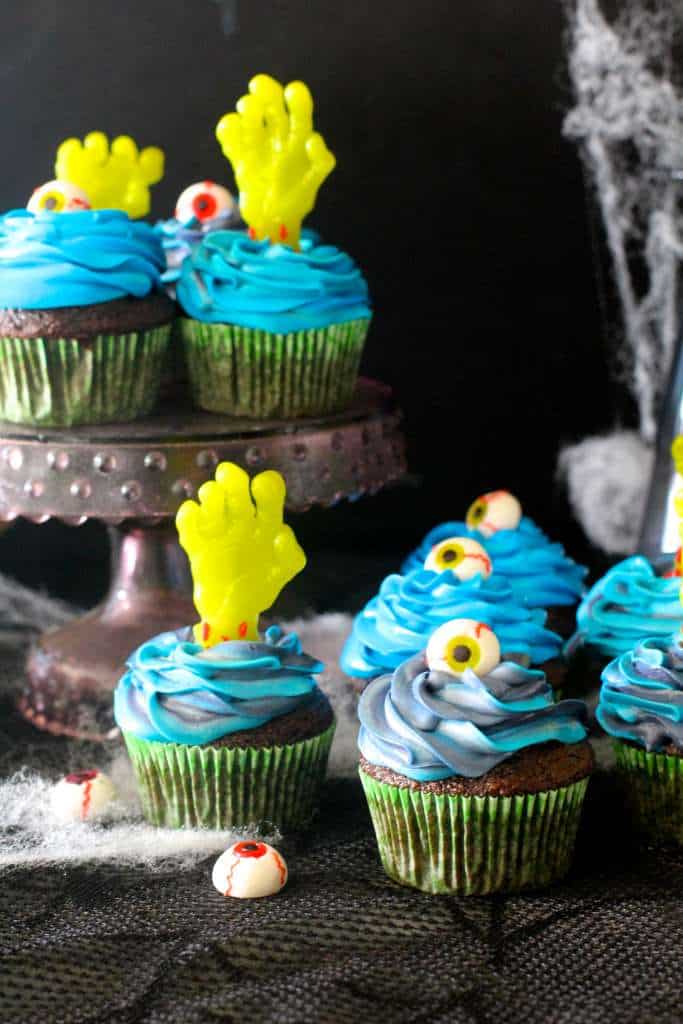 Baking with kids can be so messy, but it is so worth it. They take great pleasure in helping create something that other people can enjoy. I am really trying to embrace these moments lately as you never know what tomorrow will bring! Enjoy friends!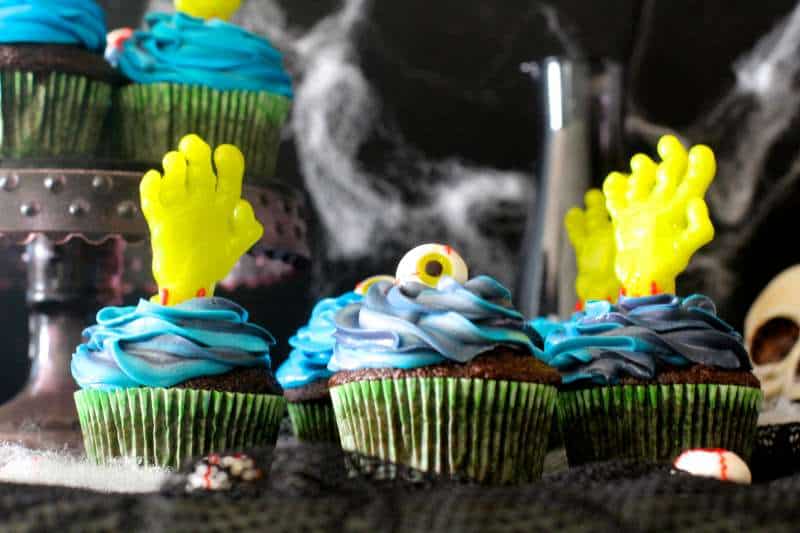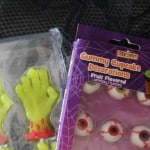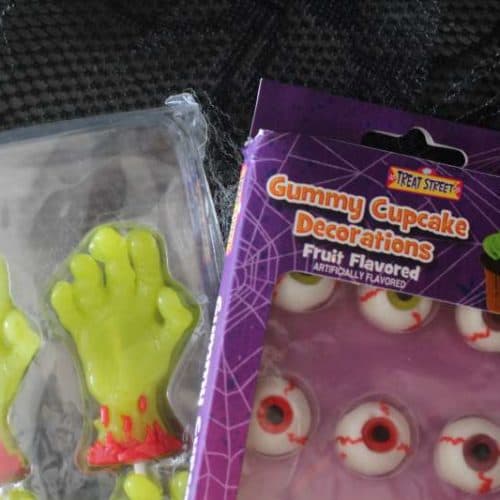 Halloween Cupcakes
Ingredients
1 ¾

cups

all purpose flour

2

cups

granulated white sugar

¾

cup

unsweetened Special Dark cocoa powder

(or regular cocoa powder)

1 ½

teaspoon

baking soda

¾

teaspoon

salt

2

large eggs

1

cup

buttermilk

½

cup

butter

, melted

1

tablespoon

vanilla extract

1

cup

strong coffee
Frosting
1

cup

unsalted butter

, softened

3 1

?2 cups confectioners' sugar

1

teaspoon

milk

1

teaspoon

vanilla extract

1

?8 teaspoon salt

Blue and purple food dye
Instructions
Preheat oven to 350 degrees. Line 2 muffin pans with cupcake liners.

In the bowl of your mixer, combine all dry ingredients.

Add eggs, buttermilk, melted butter and vanilla and mix on low until combined.

With a wooden spoon, stir in coffee. Batter will be runny.

Fill cupcake liners ⅔ full and bake for 18-20 minutes or until a knife is inserted and comes out clean.

Cool completely.

To make the frosting, beat together butter, powdered sugar, vanilla, salt, and milk until smooth.

Remove ⅔ of the frosting and color it blue.

Color the remaining frosting purple.

Using a pipping bag, brush strips of the inside of the bag with the purple frosting then fill with the remaining blue frosting.

Frost cupcakes and garnish with Halloween gummies or sprinkles.