This Italian Ice Cream Cake is a delicious spin on a classic dessert!
This post is sponsored by San Bernardo Ice Cream; however, all thoughts and opinions are 100% my own.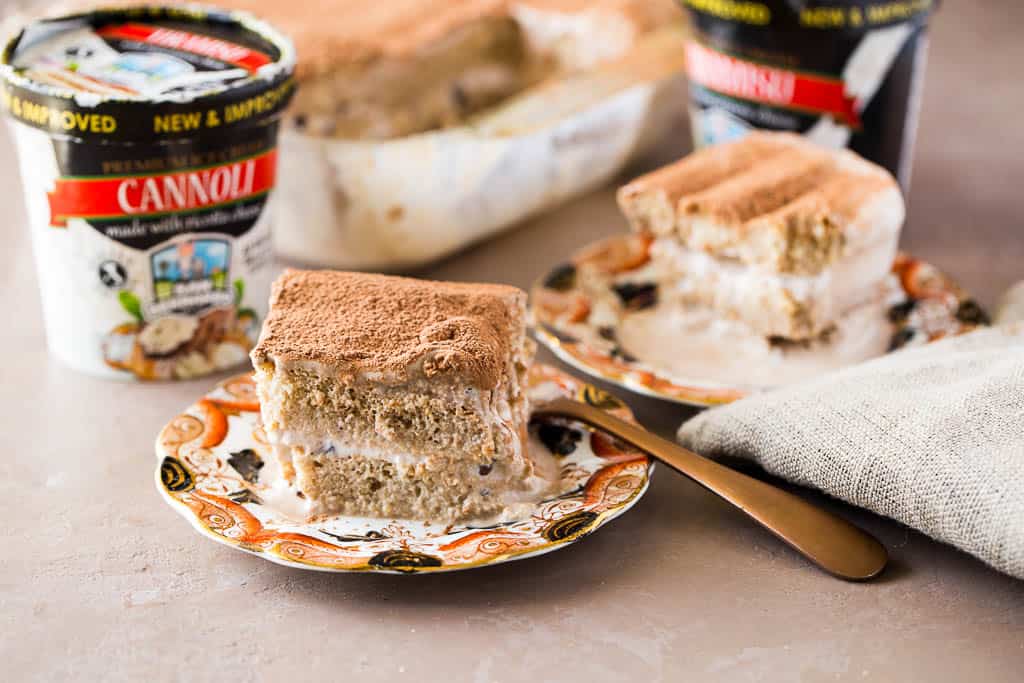 It's Fall, which means temperatures are starting to slowly drop and it's cooler out! Does this mean your sweet tooth stops? No! You can still dig into your favorite ice cream on a near-daily basis if you wanted! With San Bernardo ice cream you don't have to feel guilty about all your indulging because it's all rBST Free, contains 20% Less Sugar and Fat, and uses only All-Natural Ingredients compared to other brands!
To celebrate "ice cream all year-round," I decided to whip up my delicious spin on an ice cream cake featuring the San Bernardo Tiramisu and Cannoli flavored ice cream. It has been way too long since I last made an ice cream cake (a year and counting!), so I decided it was time.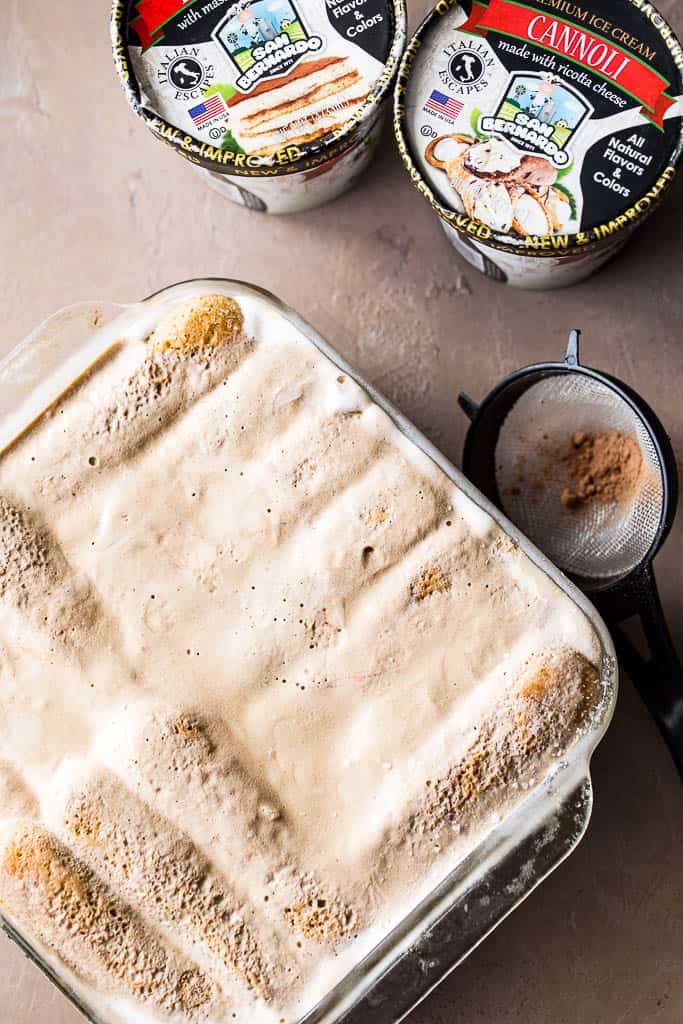 This Italian Ice Cream Cake recipe did not disappoint — and I think you will agree! The creamy and fresh San Bernardo ice cream will bring the great flavor while the coffee-infused ladyfingers provide a perfect complementary twist and help provide structure to your ice cream cake.
It wasn't hard to come up with this cool and creamy treat thanks to the Cannoli and Tiramisu flavors from San Bernardo Ice Cream, a family-owned and operated ice cream brand. (Fun fact: San Bernardo Ice Cream's products are currently served on more than 75% of the cruise ships around the world!)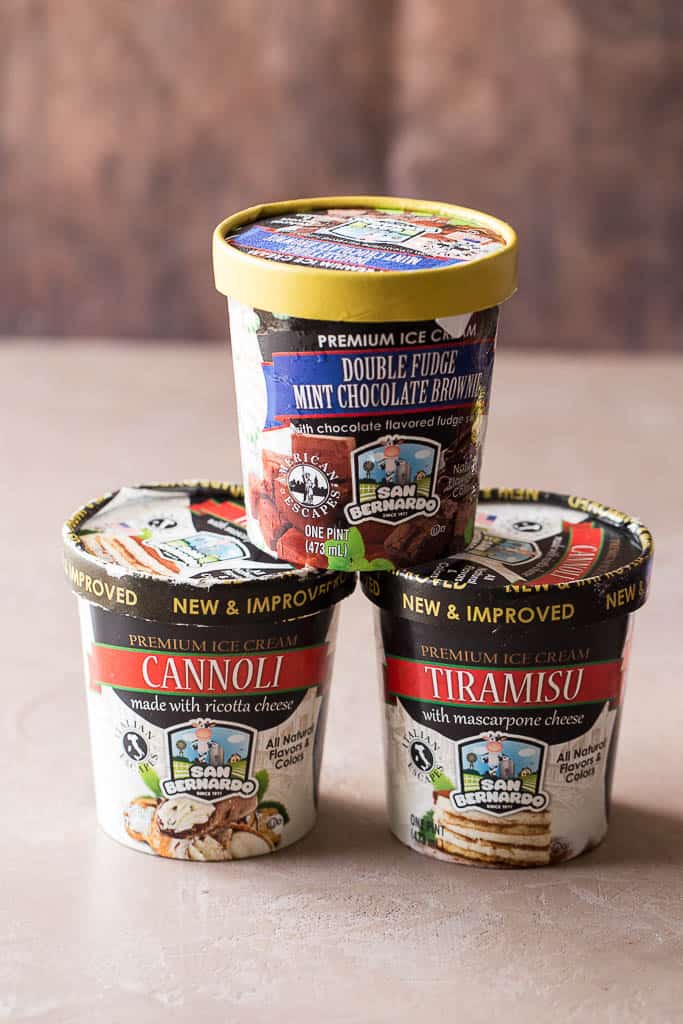 What I love about San BernardoIce Cream is that they aren't afraid of putting themselves out there with diverse flavors. They're a unique brand and make themselves standout among the rest. From Italian Cheesecake with Raspberry Swirl to Cactus Pearfection, they go bold with some of their creamy flavors... and the results are to-die-for! They, of course, have all of the classics from Cookies and Cream to Butter Pecan and Vanilla as well!
The Cannoli and Tiramisu flavors that I used in this recipe come from the San Bernardo "Italian Escapes" collection, which is part of an overall, "The Escapes Collection," which also features Tropical Escapes, American Escapes, and Asian Escapes. They're all well worth trying... and who doesn't want to indulge and escape for a few minutes with a divine bowl of ice cream?
Order your favorite flavor of San Bernardo ice cream online today and use my special discount code, "SpoonThis7" and get 6 FREE giant brownies and cookies (3 of each) with any pint purchase! (For a Limited Time Only)
The best part about ordering online is that you don't have to get out of your Pajama's or run to the market. Simply receive it at your doorstep and take a bite right away! It's packed in dry ice, so don't worry about it melting – SB is always cold, natural, and fresh!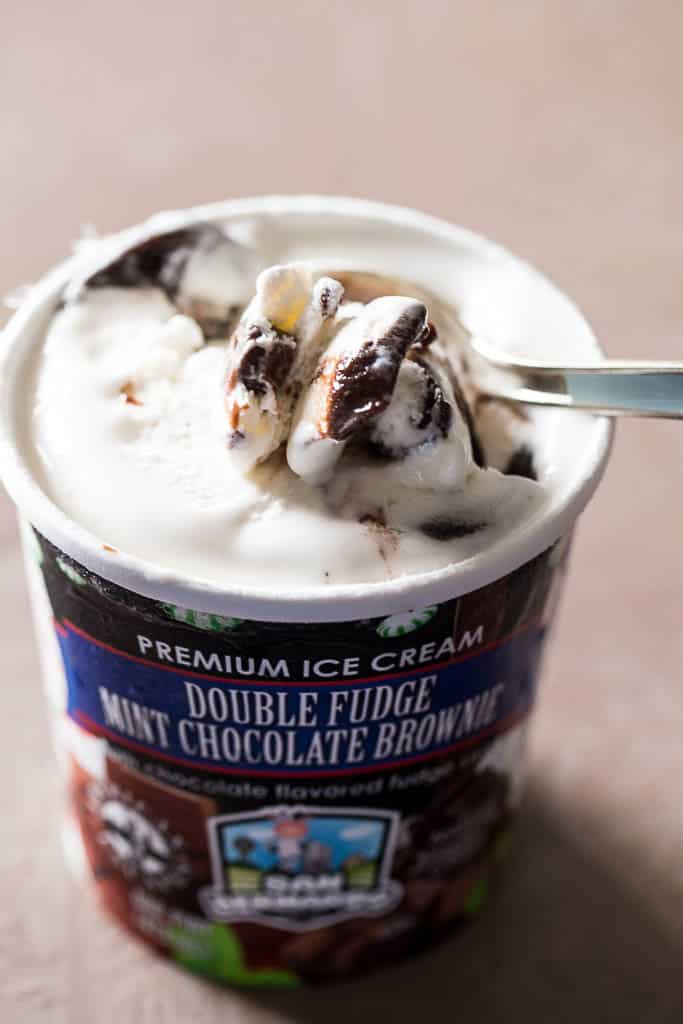 Make an Italian Ice Cream Cake
While the Cannoli and Tiramisu flavors are amazing on their own, I decided to up the "fun factor" by putting them in an ice cream cake featuring just a few ingredients:
San Bernardo Tiramisu Ice Cream
San Bernardo Cannoli Ice Cream
Ladyfinger cookies
Coffee
Unsweetened cocoa powder
You'll layer pints of softened ice cream with coffee-soaked ladyfingers, topping everything off with sifted cocoa powder. This Italian Ice Cream Cake is certain to be a big hit at house gatherings, Thanksgiving, football watch parties, movie nights, fall brunches, and more!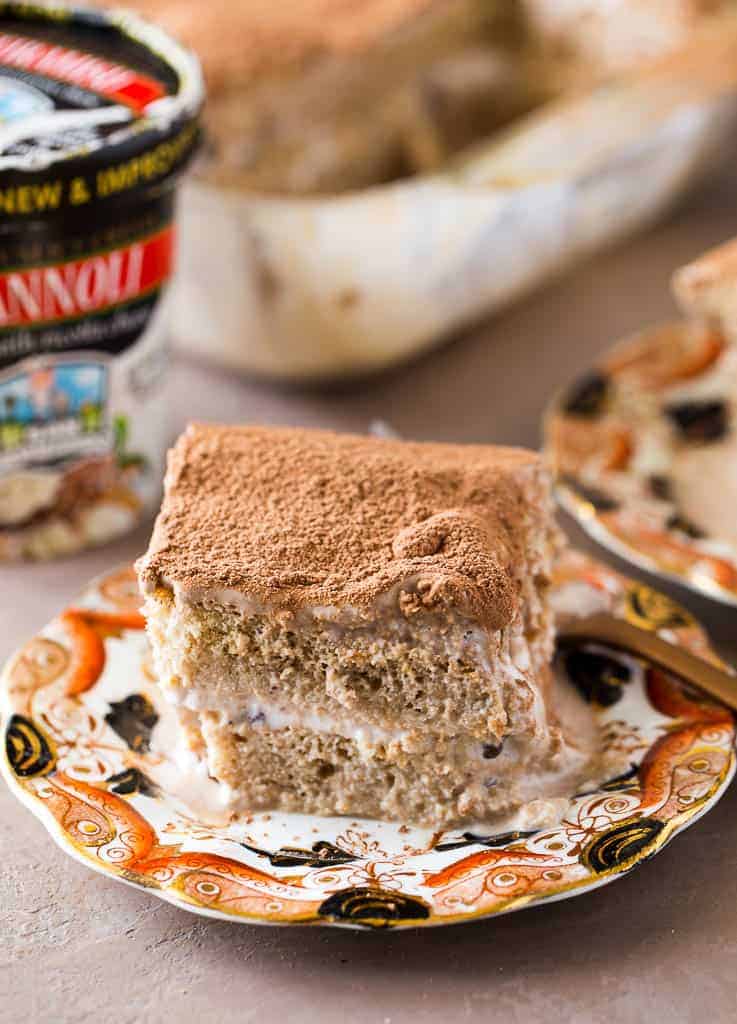 Enjoy!
I hope you enjoy this Italian Ice Cream Cake made with San Bernardo Ice Cream. Don't forget to check out their website to learn more about all their delicious flavors and how you can order up a supply of all your favorites for your freezer!
Take advantage of my discount code "SpoonThis7" for 6 free giant brownies and cookies (3 of each) with any purchase!
Check out the video below to see just how easy it is to make!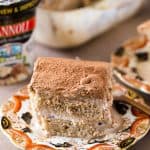 Italian Ice Cream Cake
A delicious spin on a classic and perfect for a hot summer day.
Keyword:
ice cream cake, italian dessert
Ingredients
2

pints

San Bernardo Tiramisu Ice Cream

softened

1

pint

Cannoli Ice Cream

softened

2

packages Lady Finger Cookies

1

cup

coffee

strongly brewed

1

tablespoon

unsweetened cocoa powder.
Instructions
Soften San Bernardo ice cream for 10-15 minutes before making.

Evenly spread first pint of ice cream in the bottom of a 9x9" pan.

Pour coffee into a shallow bowl. One at a time, dip the ladyfingers in the coffee until soaked but not soggy then arrange over the softened ice cream.

Spread next pint of ice cream over the soaked ladyfingers. Repeat dipping and arranging the cookies.

Spread remaining pint of ice cream over soaked cookies. Lightly cover dish with plastic wrap and freeze for 4 hours. When ready to serve, sift with cocoa powder.