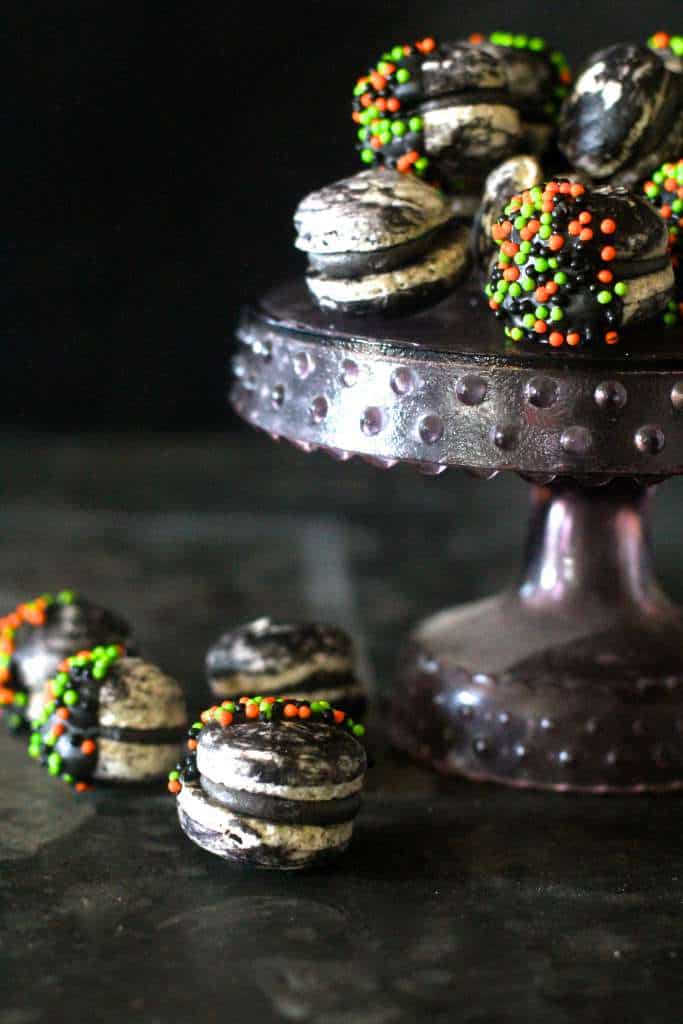 Whenever we have a ton of eggs, a batch of French Macarons is in the near future. I like making them because I usually can get two recipes out of the three eggs, seeing as how I only use egg whites for this recipe. After housesitting my mom's house and her 6 chickens, we found ourselves with an additional 5 dozen eggs on top of what our chickens produce!
It seems that I make them for every season too. This year is no exception! I love the way these Black and White tie dye macarons came out! To get this effect, I simply brushed on the black coloring gel to the bag before I filled it with the white macaron batter. To add a bit more color and make them more festive I dipped them in chocolate and added some Halloween sprinkles. Because, what isn't better with chocolate and sprinkles!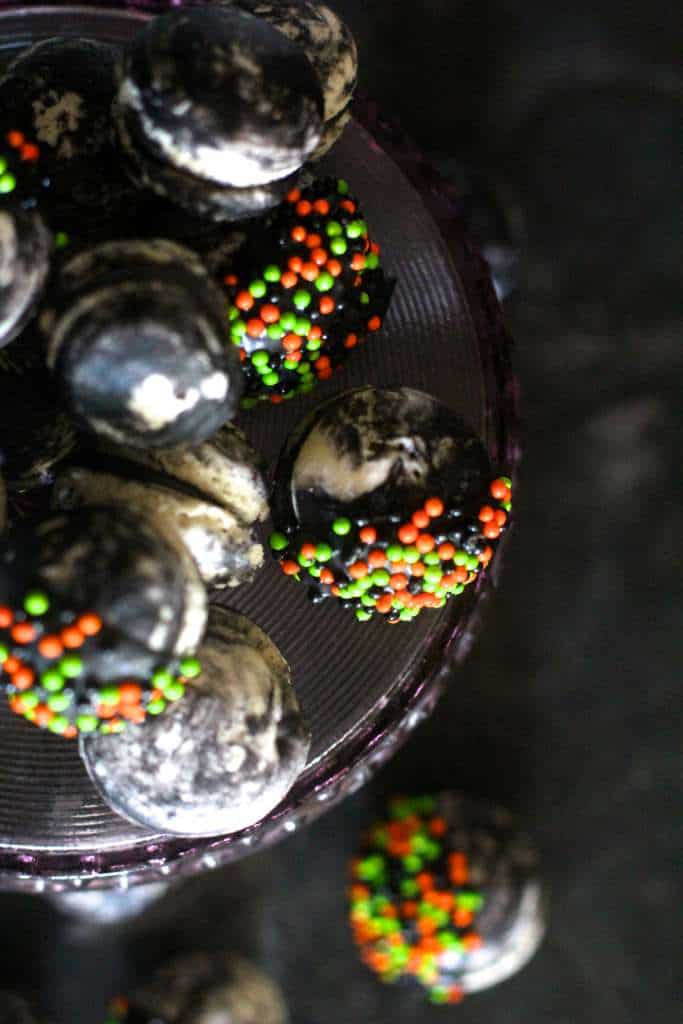 This weekend, the kids and I will be having our big Halloween Baking Day so stay tuned for a few more spooktacular recipes!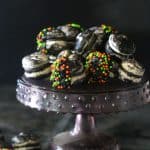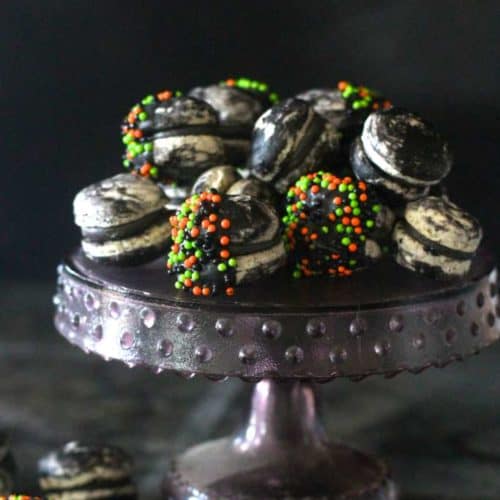 Halloween Macarons
Ingredients
Macaron Shell:

90

grams

egg whites

(roughly 3 egg whites)

25

gram

(2 Tablespoons) granulated sugar

1

teaspoon

vanilla extract

200

gr

(1.5 cups + 2 tablespoons) powdered sugar

110

(¾ cup) Almond Meal

Black Food Coloring Gel

Chocolate Frosting or Ganache for filling

Black Melting Chocolates

1

teaspoon

coconut oil or vegetable shortening

Halloween sprinkles
Instructions
Although the recipe provides measurements, I find that the macarons turn out much better when the ingredients are weighed.

Separate your egg whites into the bowl of your mixer.

Sift almond flour and powdered sugar. This really breaks up the powdered sugar and makes for a smooth shell.

Fit your mixer with the whisk attachment. Put your egg whites in your bowl and beat on medium until it is foamy. Turn your mixer on low and gradually add the sugar and extract. Once all the sugar has been added, beat on high until hard/stiff peaks form.

Carefully fold in your almond flour/powder sugar mix into the egg whites gently, until mixed, about 30 strokes.

Fit your pastry bag with a round tip (Ateco #807 or #809). I put the pastry bag into a tall cup and fold the sides over. It makes it easier to fill.

Brush black food coloring gel along the inside of the bag for the tie dye effect.

Spoon batter into the bag.

Pipe 1.5 inch rounds onto a cookie sheet lined with parchment paper or a silicon mat and allow to sit for 30 minutes to an hour. This enables the shell to harden and will create the "foot" while baking.

Preheat oven to 300 degrees or 280 degrees for a conventional oven. Bake for 18 -20 min, however you need to rotate the pan halfway through the baking process.

Allow to thoroughly cool before filling.

Add a drop of black frosting to the chocolate frosting or ganache filling to make jet black.

Place a dollop of frosting or ganache in the center of the macaron then sandwich with another macaron.

If wanting to dip in extra chocolate, melt black melting chocolate with coconut oil or shortening for one minute. Stir into smooth.

Dip each macaron halfway into melted chocolate and sprinkle with sprinkles.

Store in an airtight container in the refrigerator for up to 3 days or freeze for up to one month. Defrost 30 minutes before serving.