Turn a classic cookie recipe into something new when you whip up these Cookies and Cream Haystacks. Decadent white chocolate is melted and combined with Oreo pieces and chow mein noodles to make the perfect dessert. An extremely easy recipe to make with few ingredients.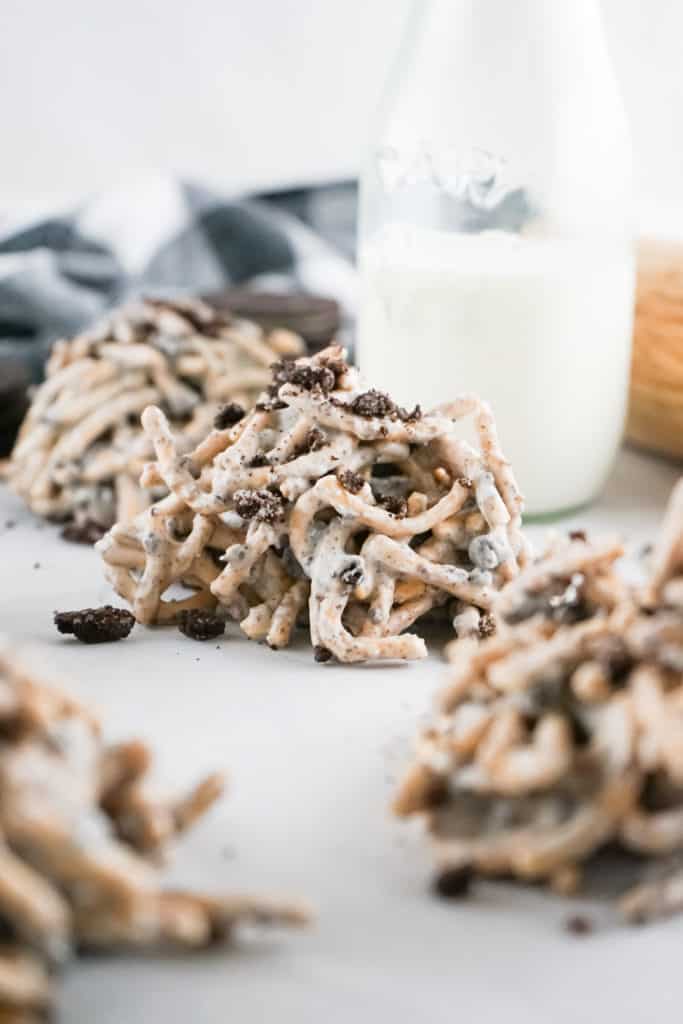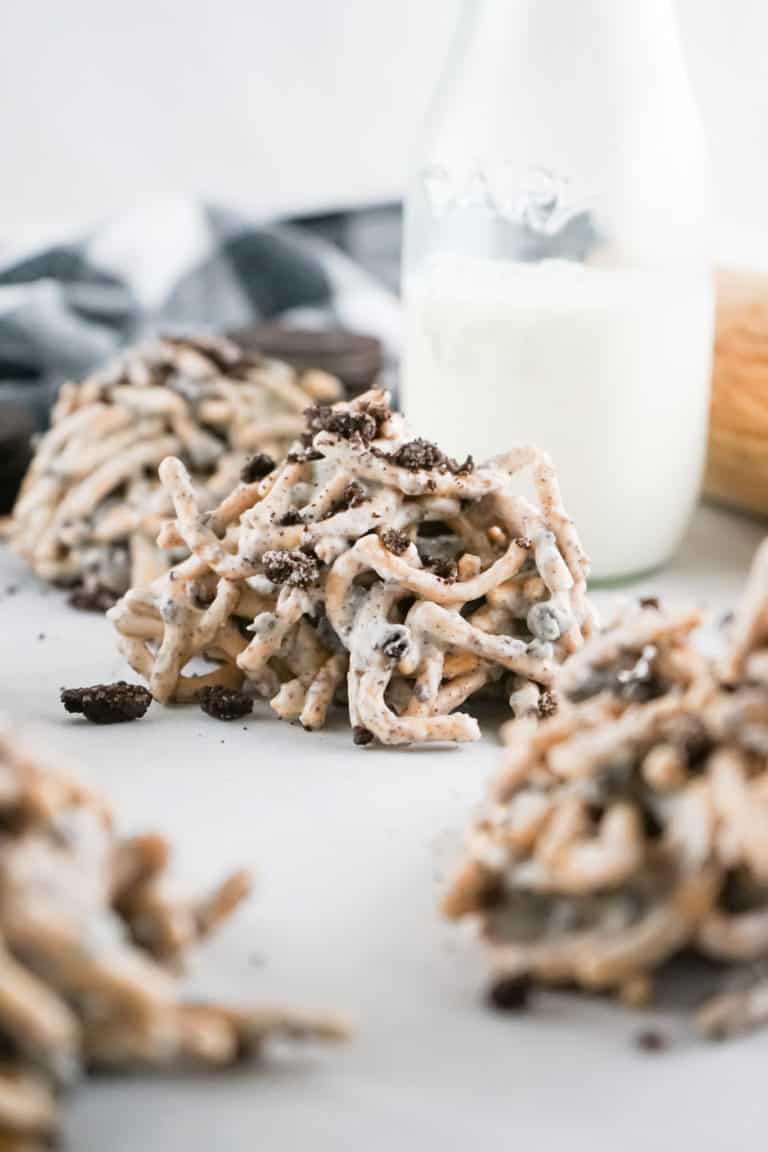 I feel like the best part of all the major holidays are the treats that come out of them. Cookies being one of the most popular types of treats, arguably. I've always made haystack cookies around the holidays, but tend to make them year round just for the heck of it. One, they're easy to whip up and two, ummmm, they're absolutely delicious!
Of course, there are a ton of other cookies I make year round like my Lemon Bar Cookies, Pecan Caramel Cookies, and Chocolate Chip Strawberry Cookies. Because, let me tell you, I don't need a celebration or holiday to enjoy a decadent and comforting batch of delicious cookies and neither do you! Indulge!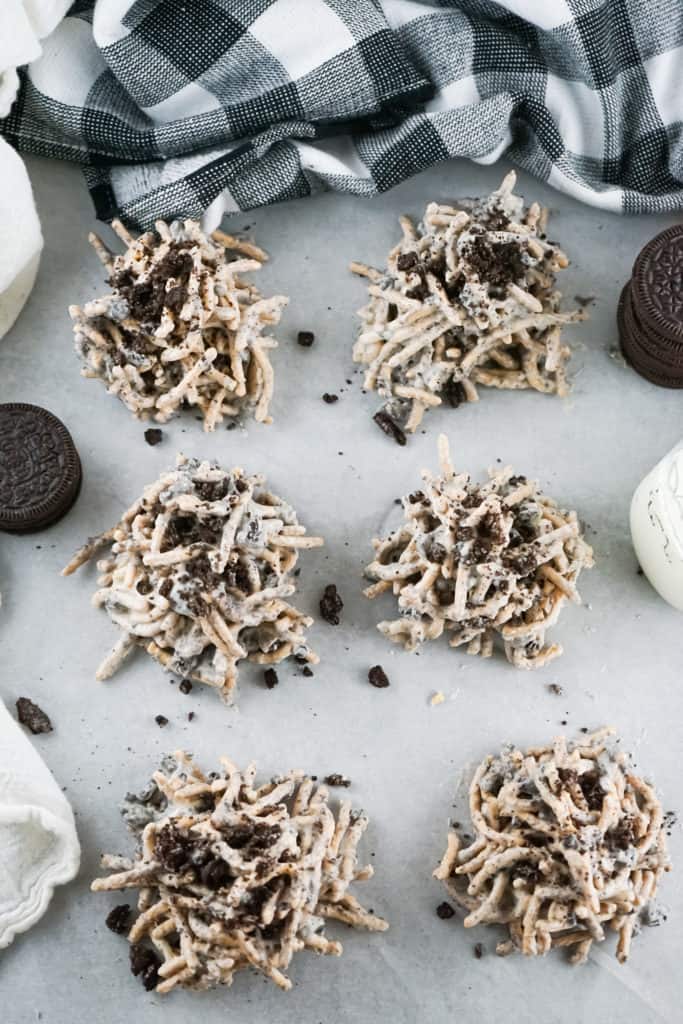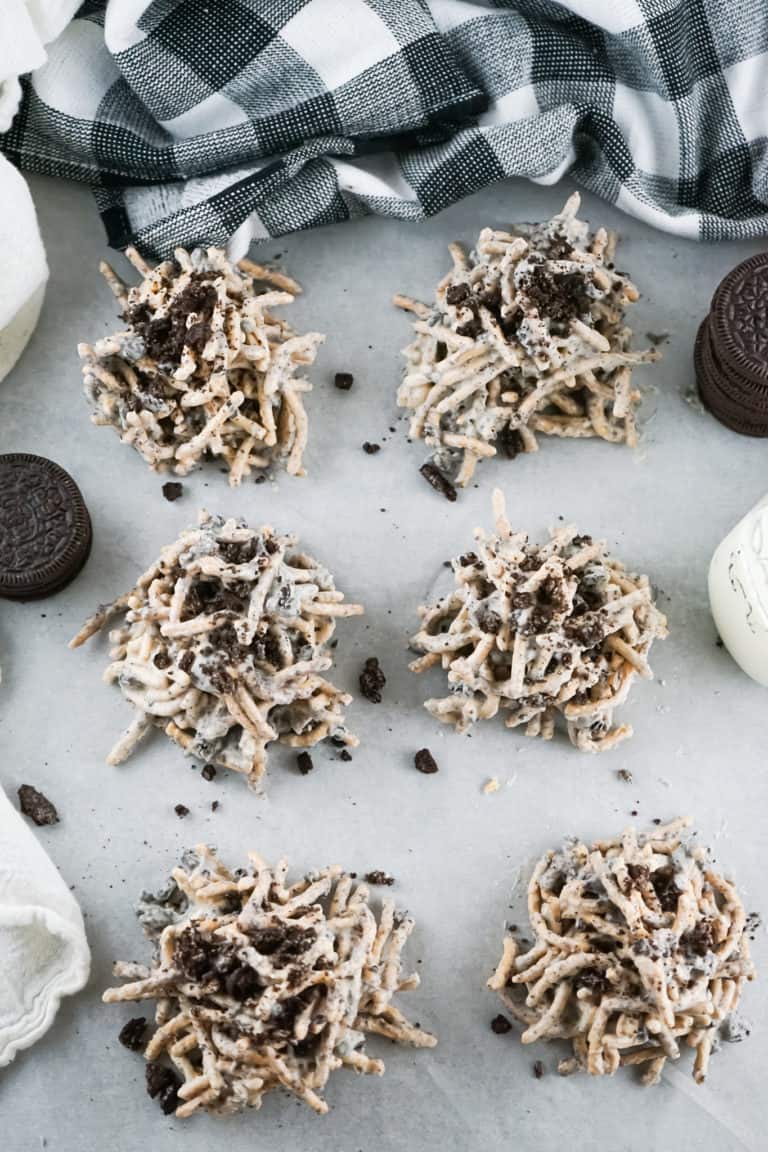 These cookies are a childhood favorite. I remember making them with my grandmother and her telling me stories of when she would make them with her grandmother. This simple recipe has been passed down through the generations and is now one of the first recipes my youngest asks to make when we are in the mood for something sweet.
Why We Love These Little Haystacks
Simple Ingredients- With only a three ingredients, you don't need to run to multiple stores for specialty items!
No Bake Cookies- Is there anything better than a simple no bake treat that even the kids can make? Not to mention, they only require one bowl!
Great for any holiday- whether you're making them as one of your Christmas cookies during the holiday season or as salty sweet snacks for Super Bowl, they are a delicious easy treat any time of year.
Customizable- If you're not a fan of the cookies and cream combo, change up the chocolate and add festive sprinkles! Check out the end of this post for different ways we love to make haystack candy.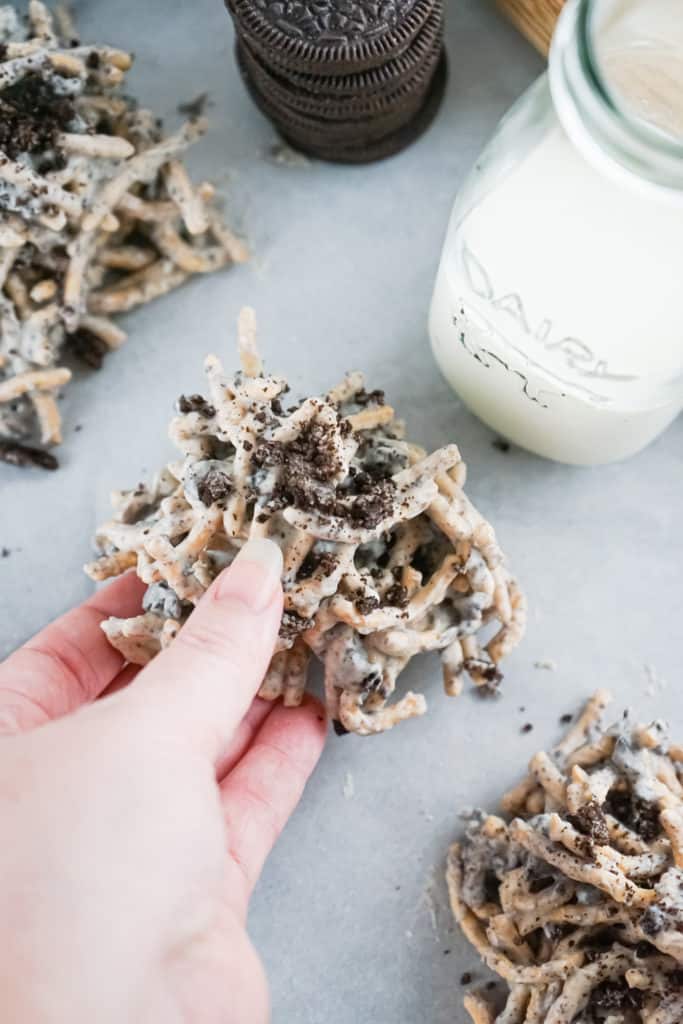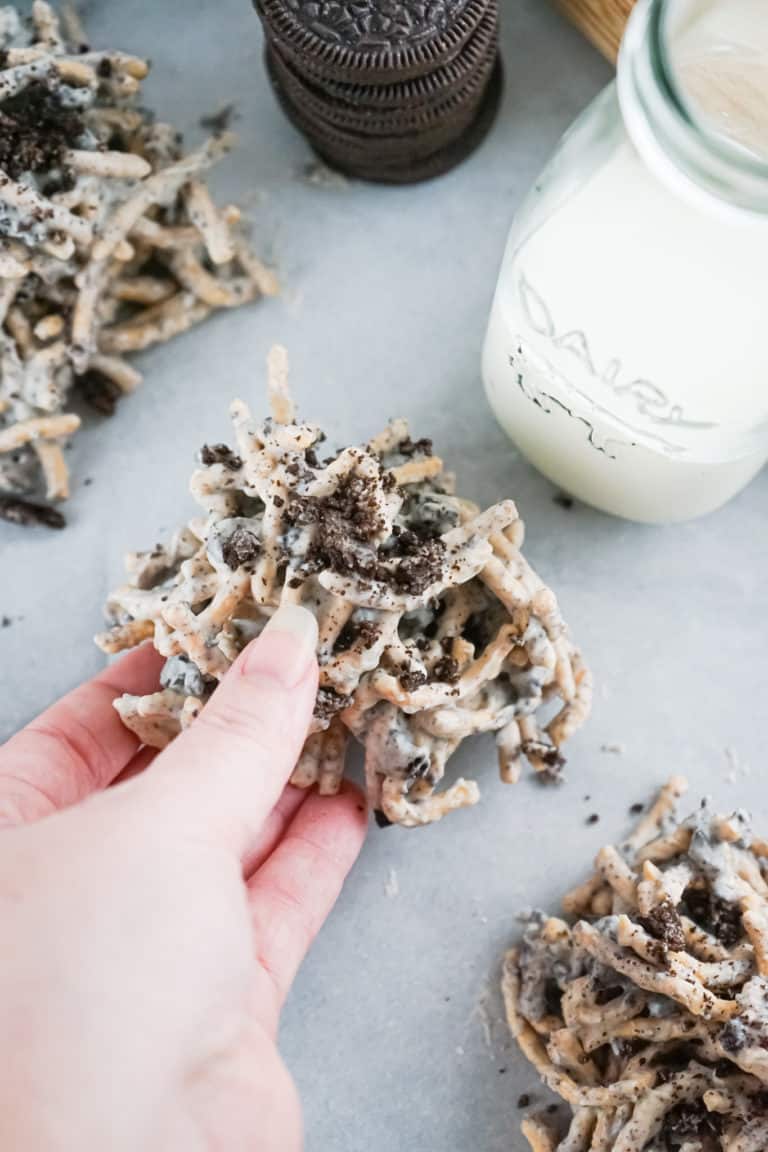 Ingredients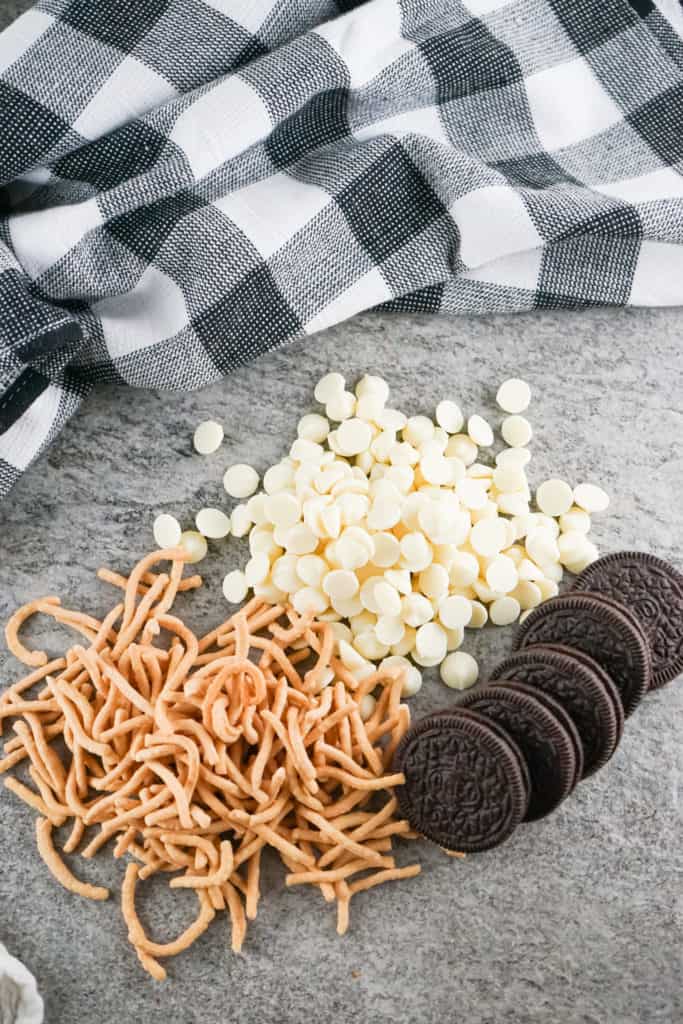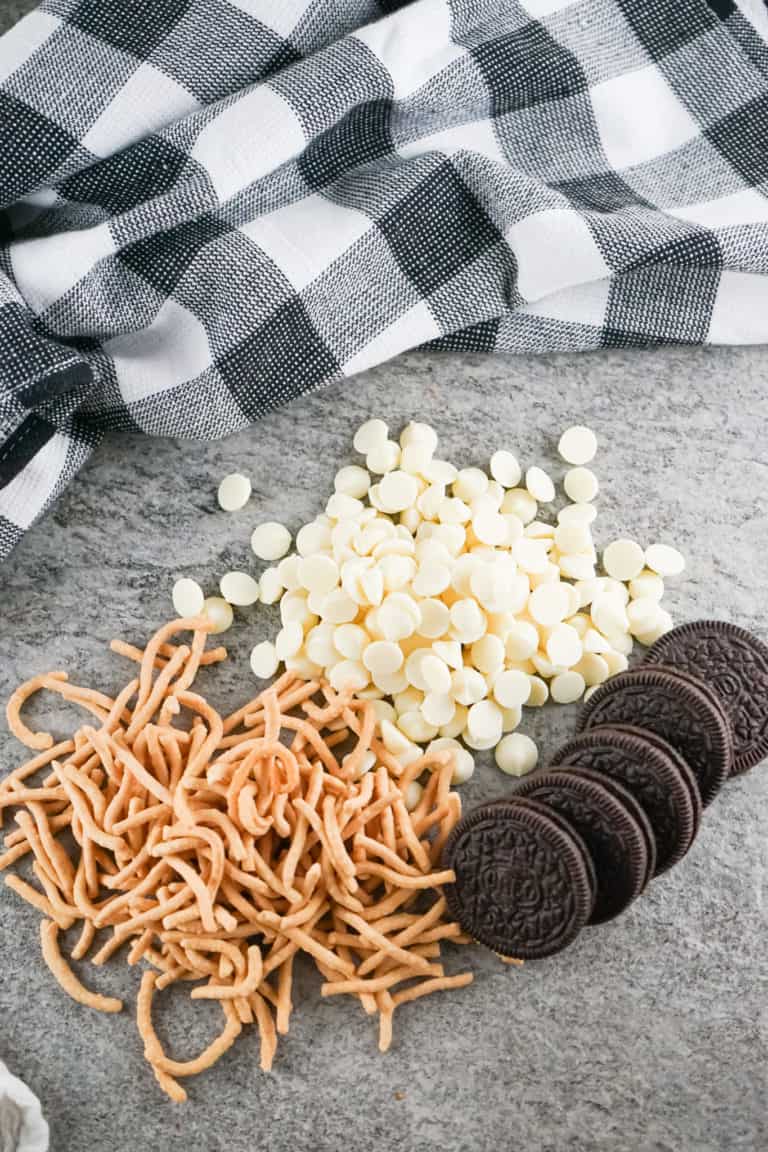 How to Make These Easy No Bake Haystack Cookies
Step 1: Crush - Place the Oreos in a baggie and seal it. Crush into finer chunks.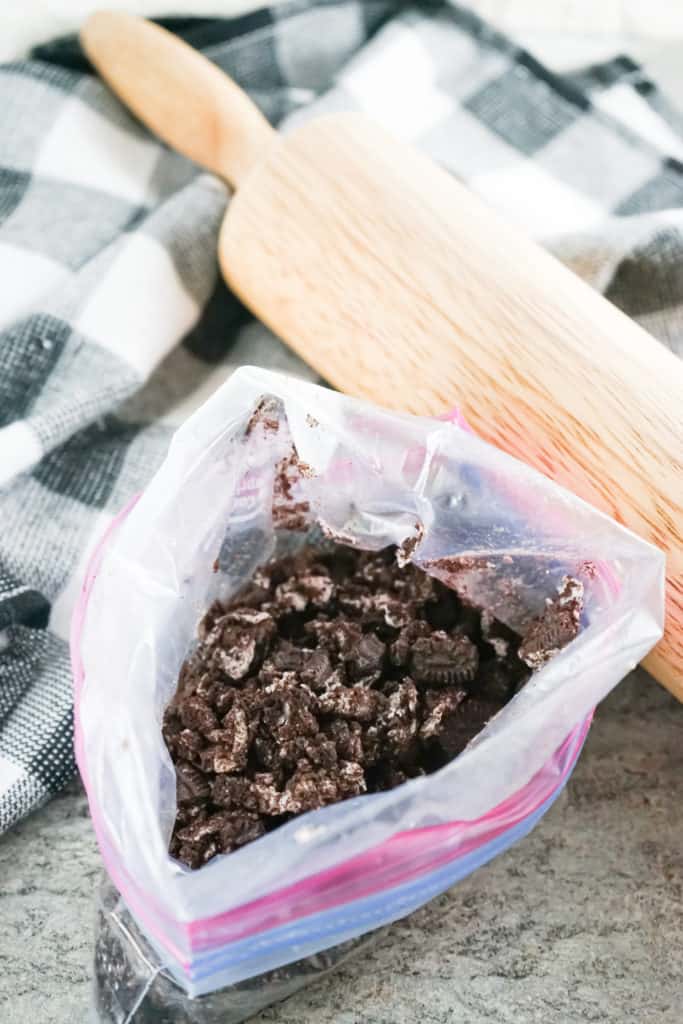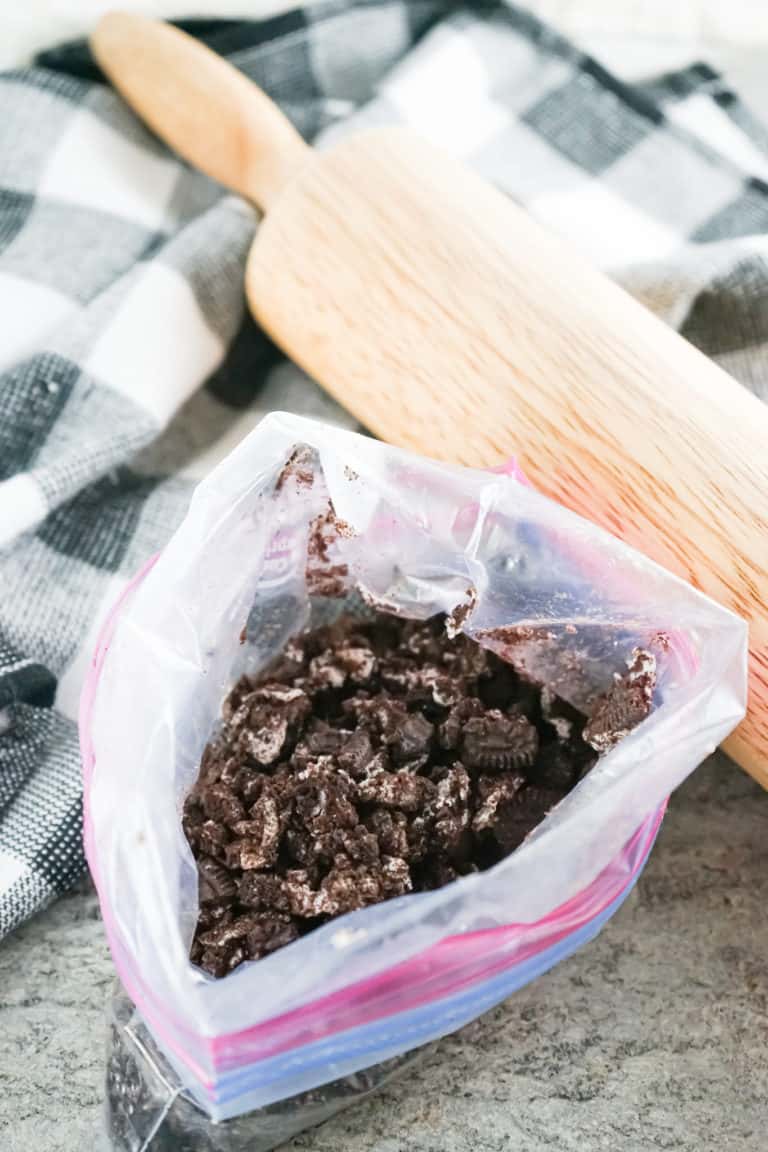 Step 2: Melt - Place the chocolate chips in a large microwave-safe bowl and microwave for 30-second intervals until creamy, stirring in between.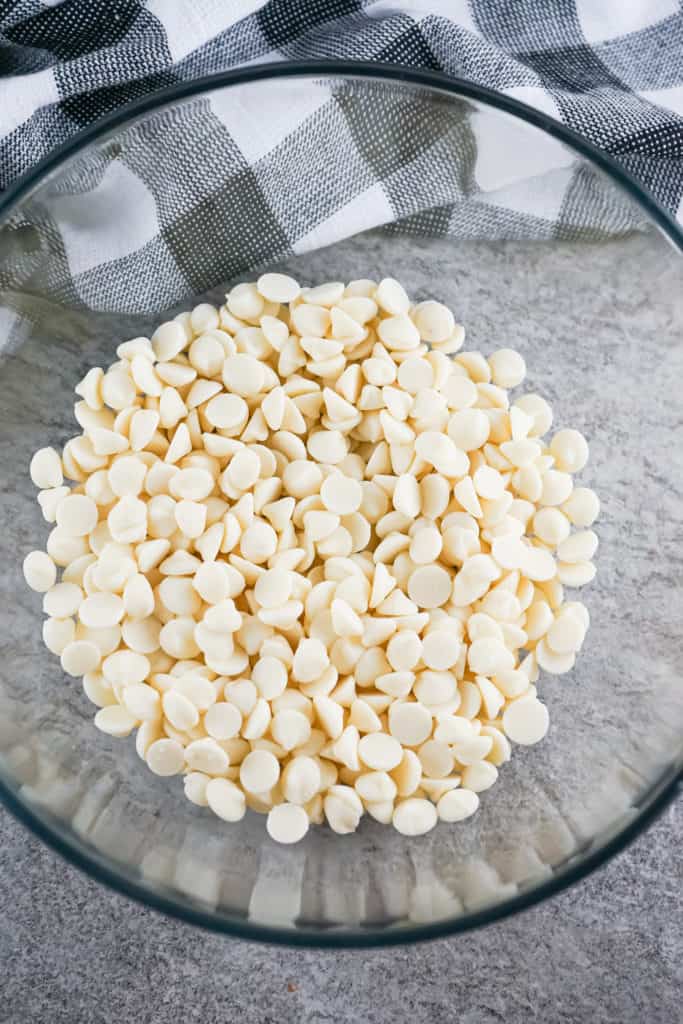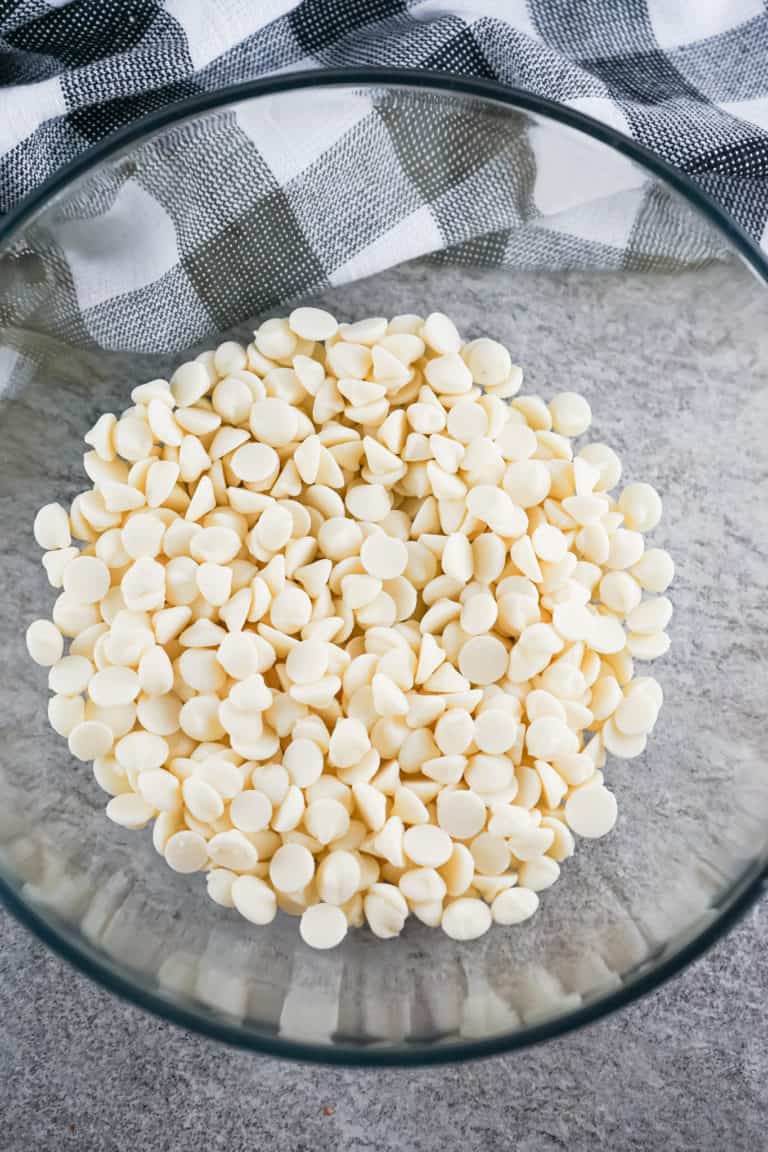 Step 3: Combine - Add ¾ of the Oreo chunks and the chow mein noodles to the melted chocolate chips and fold together until fully coated.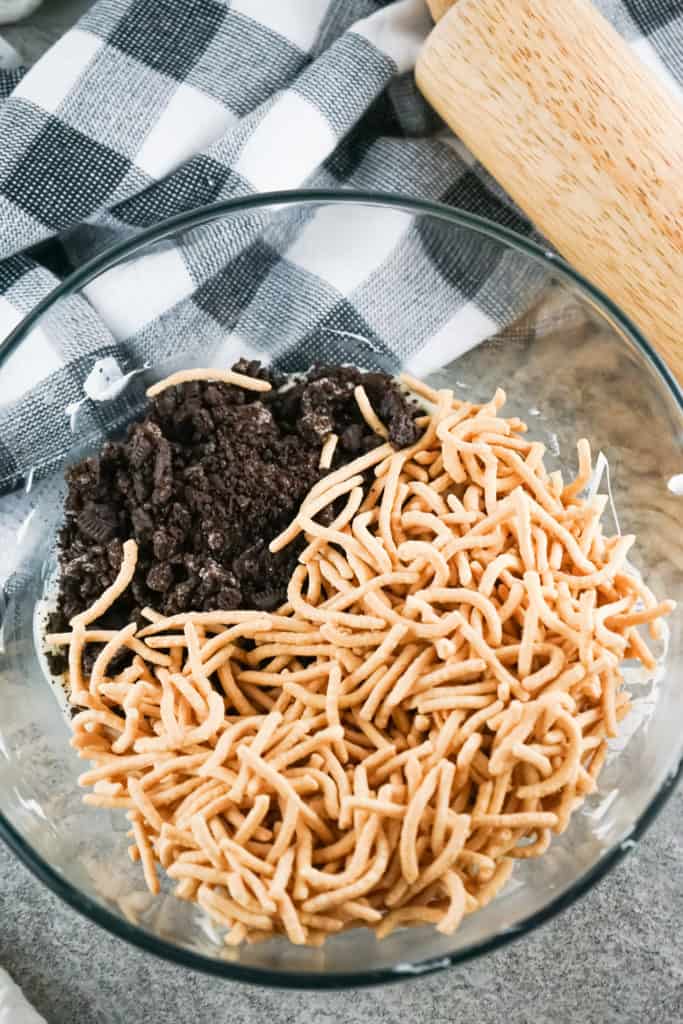 Step 4: Dry - Place small piles of the mixture on a wax paper or parchment paper lined baking sheet, leaving space in between. Sprinkle with remaining crushed oreos and let harden for about 2 hours or until dry. Enjoy!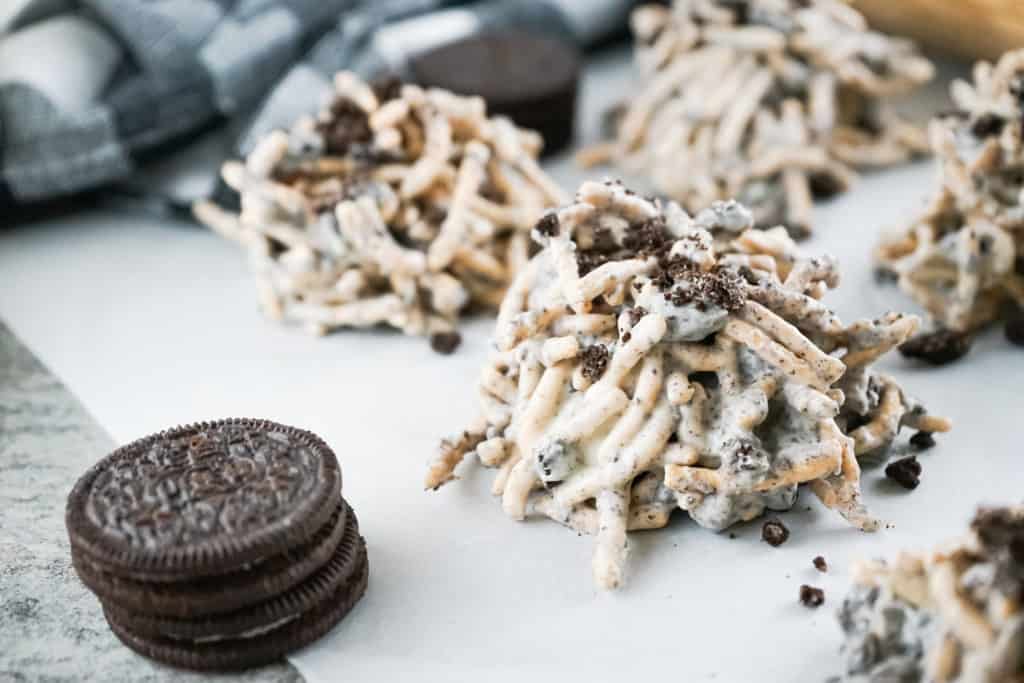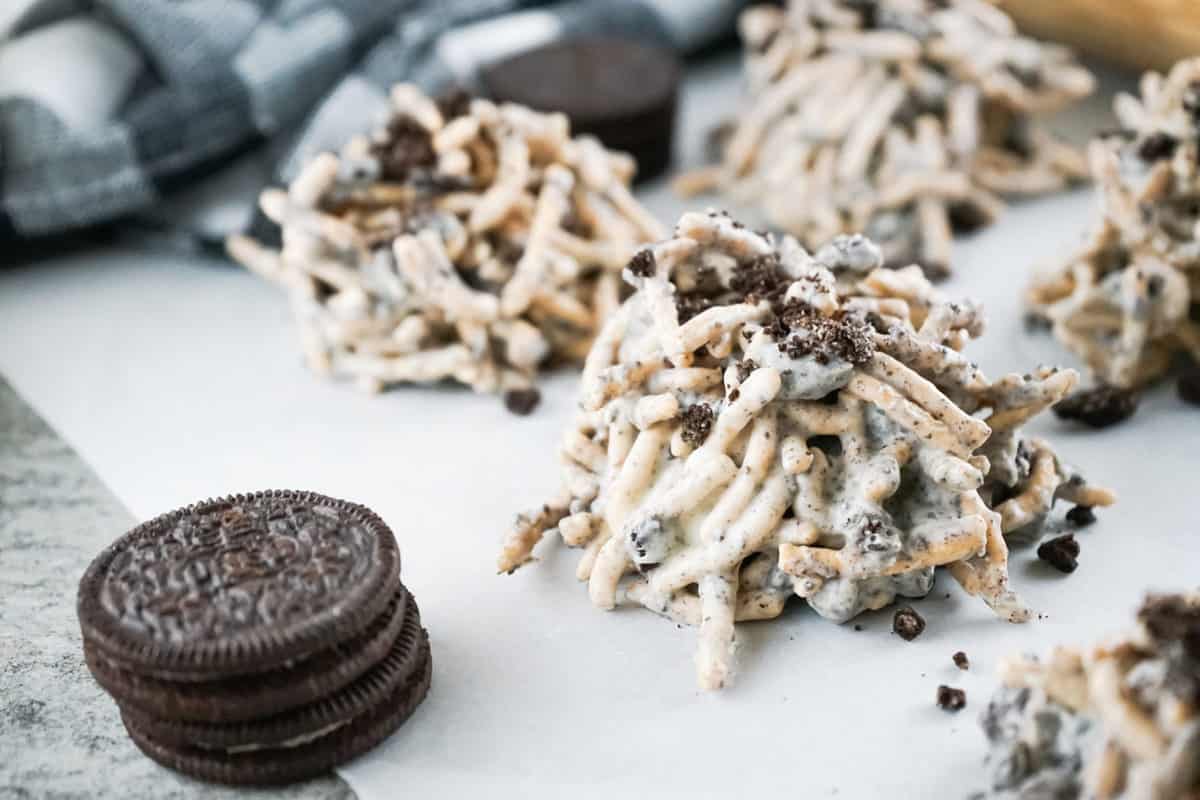 Tips and Variations
Storage - Store in a sealed airtight container either in the pantry or fridge for up to 4-5 days. Do not freeze as they taste icky, in my opinion, once thawed. Do not forcibly heat up as this will melt the chocolate coating.
Cookie Scoop- For even mounds of coated chow mein noodle cookies, use a cookie scoop to portion them out.
Use other chocolate flavors - Chocolate chips come in all kinds of flavors these days. No reason to limit yourself! Switch up the flavor and use another baking chip flavor. Mocha, butterscotch, caramel, and dark chocolate are some of my favorites. You can also use almond bark in lieu of white chocolate chips.
Use other cookie flavors - If you want to mix up the flavors, feel free to use whatever cookie you like for this recipe. You definitely don't have to stick with Oreos. Even off brand chocolate sandwich cookies will work.
Make the cookies the size you prefer - I usually make 8 big stacked cookies out of this recipe. However, you can make them smaller, or even bigger, if you like. The chocolate will dry and hold it all together no matter the size.
Use them as a gift - These work great as a gift year round. Nobody hates getting food for any reason and these have been a huge hit!
Make your own chow mein - If you want to give it a whirl, you can always take some lo mein noodles and deep fry them yourself to make your own chow mein noodles. The noodles need to be cooked prior to frying.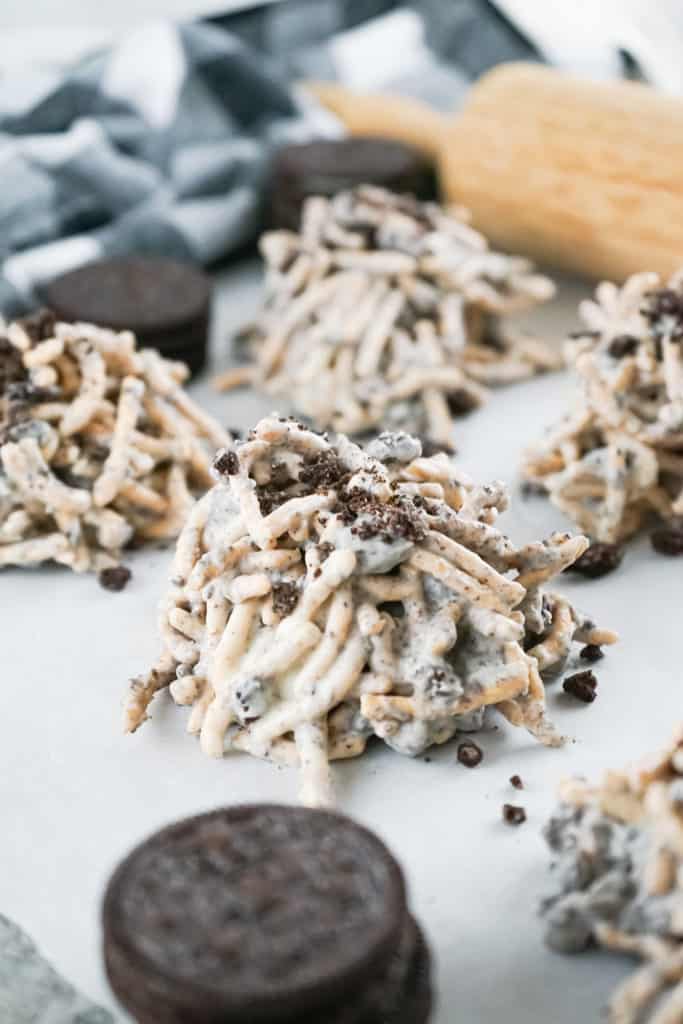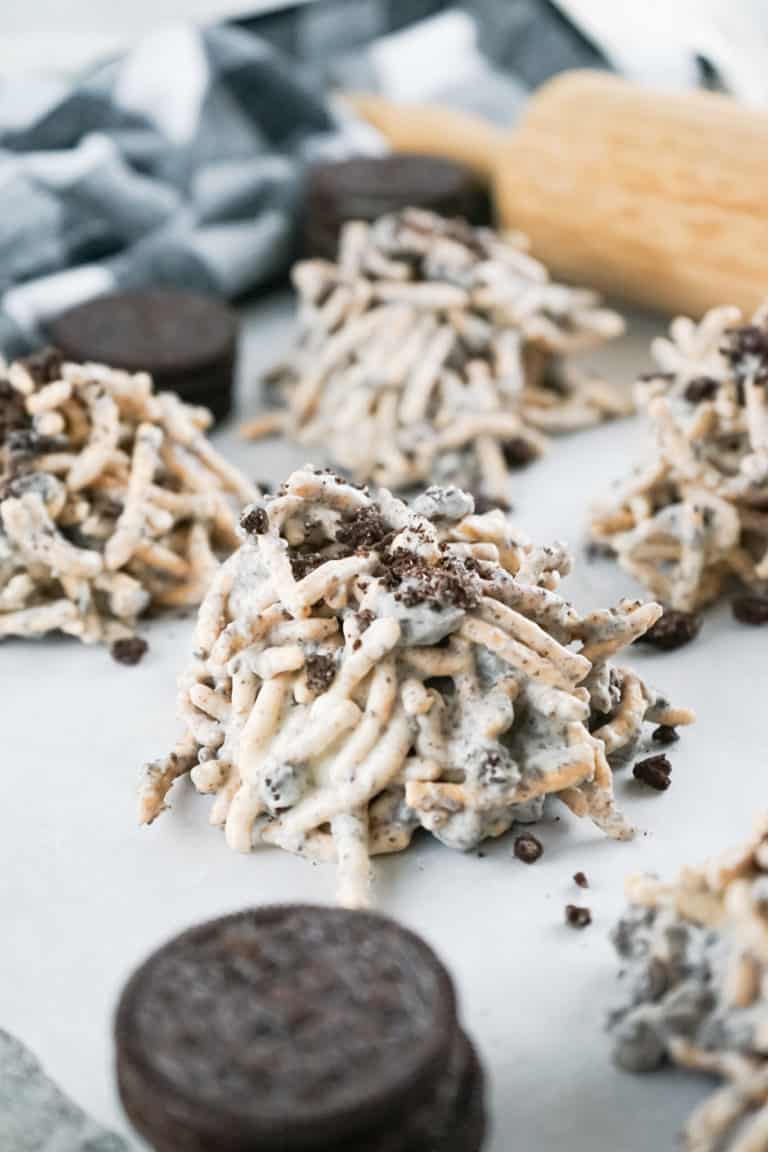 Common Questions About Cookies and Cream Haystacks
What Are Haystacks Made Of?
Usually, a classic haystack cookie is simply made of melted baking chips and chow mein noodles. They're combined, scooped out into piles, and left to dry. Chow mein noodles are just deep fried lo mein noodles. The most popular baking chip flavors used are milk chocolate and butterscotch. However, it's super easy to customize them and make fun flavors out of them! Just grab any flavor of baking chips and a few other add-ins and you're ready to go!
What are some delicious variations to make a haystack cookie recipe?
Chocolate Peanut Butter Haystacks- Replace white chocolate chips with peanut butter chips or semi-sweet chocolate chips. After melting, add an additional two tablespoons of creamy peanut butter and stir until combined. Coat chow mein noodles with mixture and top with chopped spanish peanuts.
Butterscotch Haystacks- Replace white chocolate chips with butterscotch morsels.
White Chocolate Strawberry- Add crushed freeze dried strawberries to the tops of the haystacks.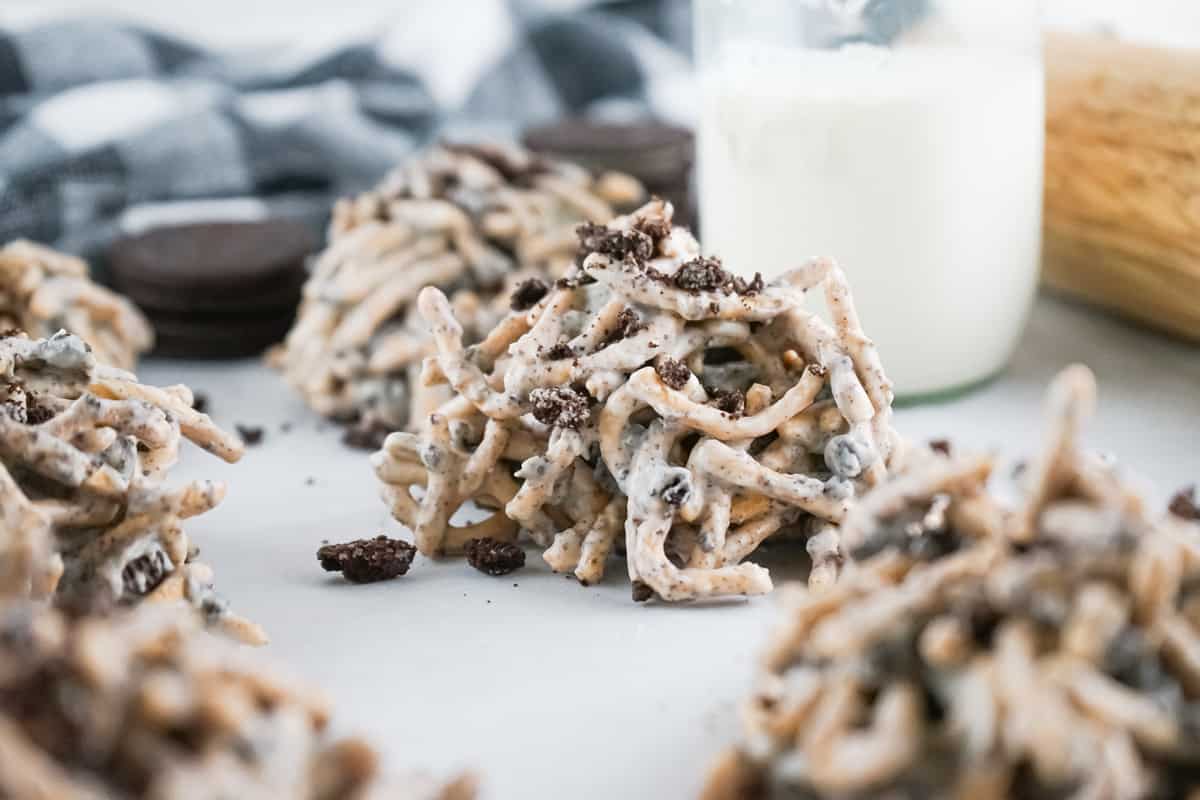 Please feel free to share your experience with making these Cookies and Cream Haystacks in the comments below or on social media!
More Cookie Recipes You're Sure to Love: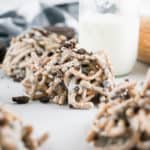 Cookies and Cream Haystacks
Decadent white chocolate is melted and combined with Oreo pieces and chow mein noodles to make the perfect dessert.
Keyword:
cookies and cream, haystack cookie recipe
Ingredients
11

Ounces

Ghirardelli White Chocolate Chips

1 bag

10

Oreo Cookies

8

Ounces

Chow Mein Noodles
Instructions
Line a baking sheet with parchment paper.

Place the cookies in a medium sized baggie, seal closed after removing the air. Use a rolling pin or heavy object to crush the cookies. Be careful to leave some small chunks and not reduce the cookies to all powder. Set aside.

Place the white chocolate chips into a large, microwave-safe bowl and heat in the microwave on high for 30 seconds at a time. Stir in between until chocolate is smooth.

Add ¾ of the crushed Oreos to the chocolate along with the chow mein noodles. Gently fold the mixture together, careful to not crush the noodles.

Scoop out the mixture using a spoon, cup, or even your hands (if you're brave enough) and make 8-12 stacks, depending on your size preference.

Immediately sprinkle the stacks with the remaining cookie crumbles.

Allow to sit for about 20 minutes or until cooled and solidified.