These Sprinkle Sugar Cookies from The Lemonade Stand Cookbook by Kathy Strahs are not only easy for kids to make, but fun and delicious!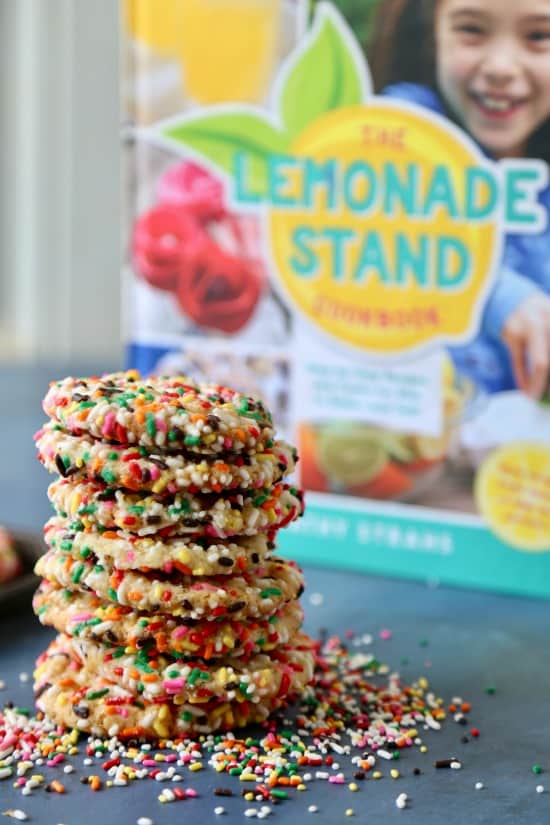 This summer has been a whirlwind of activities. Early on this Spring, my cheap  financially responsible Swiss (to put it in perspective) husband made the executive decision that we remain local this summer in order to save up for our European Christmas trip this December. Reluctantly I agreed.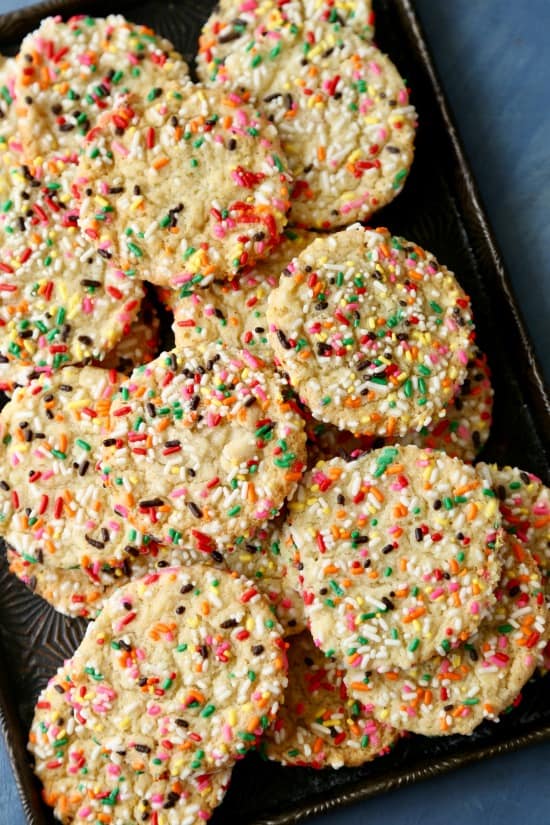 With my kids also opting out of summer camp, I had to get creative with them in order to avoid the every-5-minutes "I'm bored." While we did take a few small weekend trips here and there, we mainly stayed local.
Thankfully, I had the help of my friend blogger, Kathy Strahs, and her new book, The Lemonade Stand Cookbook. My kids have had a wonderful time baking their way through the book and hosting Lemonade Stands almost weekly. It has been their main funding source for all of their "slime making" needs.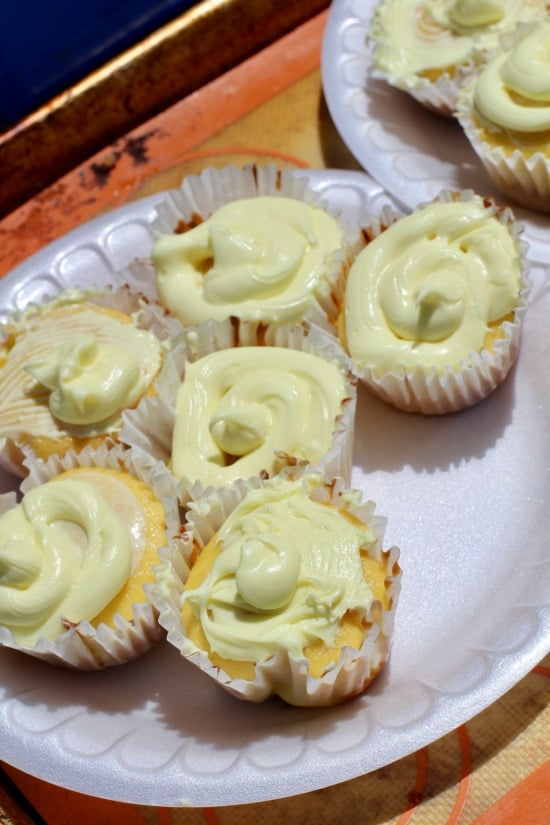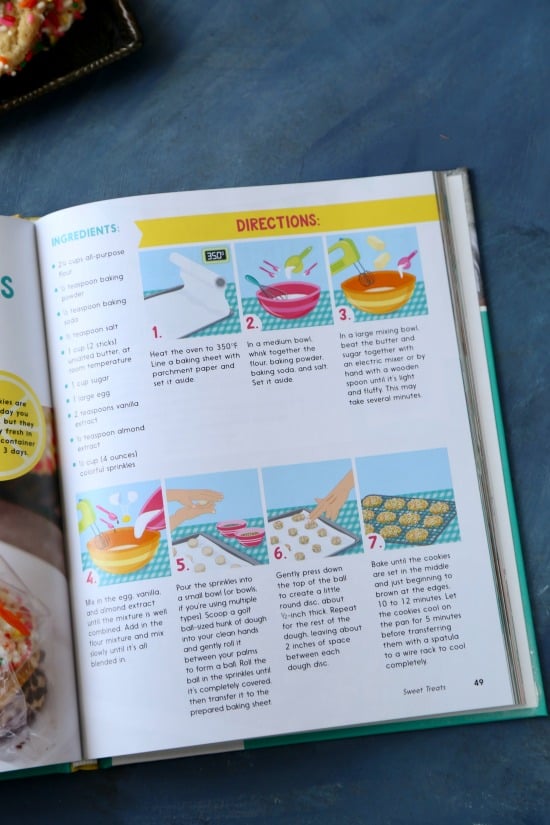 With visual step-by-step instructions and clearly written simple recipes, my daughter has baked almost everything on her own from start to finish. She has made on multiple occasions the Lemon Cupcakes, Blueberry Muffins, and of course these Sprinkle Sugar Cookies. Each dessert was delicious and sold out at her stand!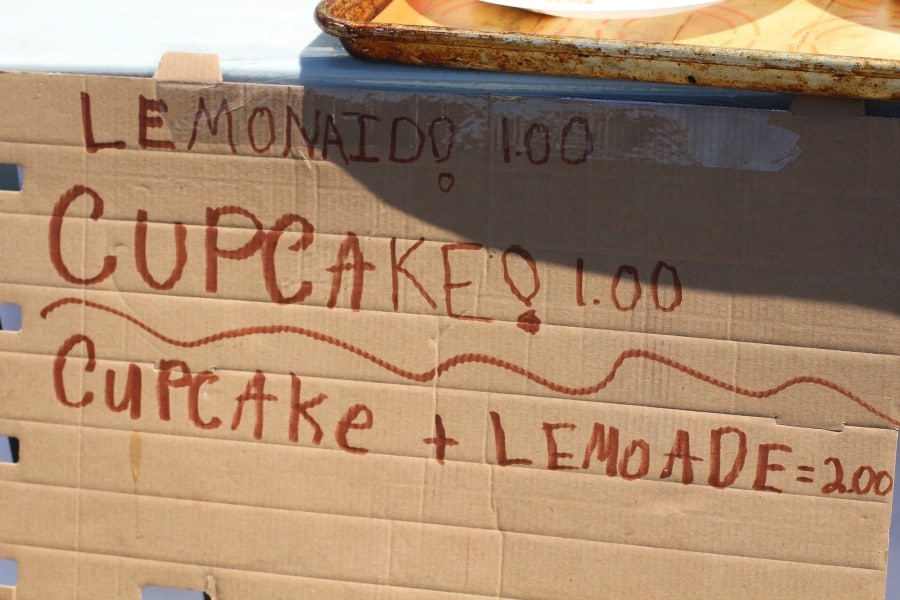 Not only has this book inspired my kids to be more entrepreneurial, but it has definitely sparked their creativity. Along with the recipes and lemonade start up instructions, there is also an entire section on crafts to sell. They have loved making the Friendship Bracelets and Flower Pencils.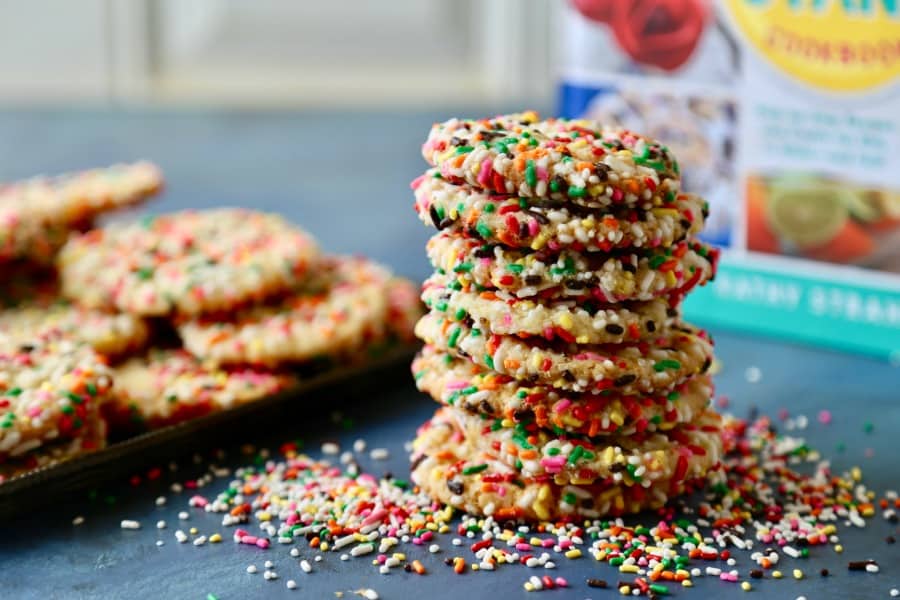 If your looking for a great hands on type of gift for a child or preteen, this book is it! It would make a great gift for birthdays and even Christmas. Enjoy!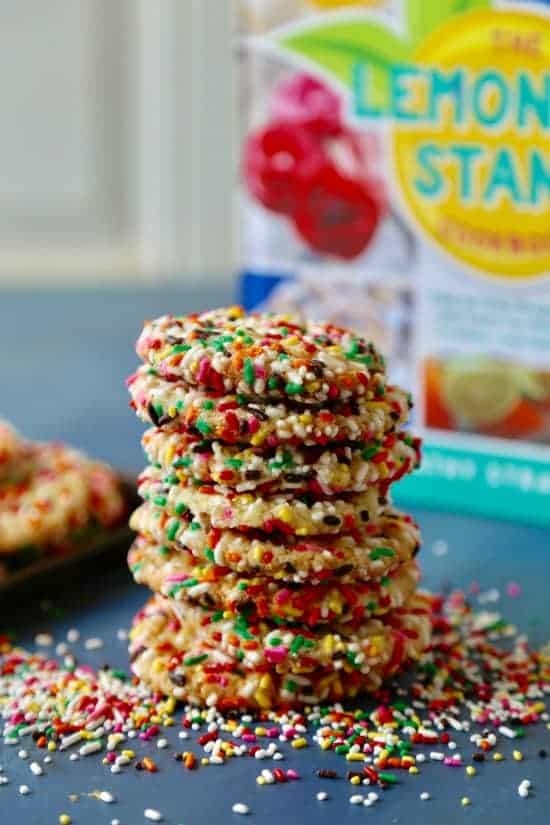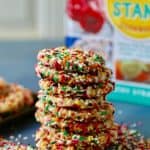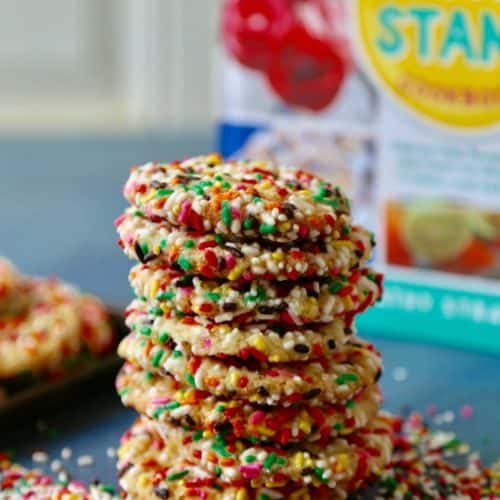 Sprinkle Sugar Cookies
A simple fun recipe from The Lemonade Stand Cookbook by Kathy Strahs
Ingredients
2 ¼

cup

all-purpose flour

½

teaspoon

baking powder

½

teaspoon

baking soda

½

teaspoon

salt

1

cup

unsalted butter

at room temperature

1

cup

sugar

1

large

egg

2

teaspoons

vanilla extract

½

teaspoon

almond extract

½

cup

colorful sprinkles

4 ounces
Instructions
Heat the oven to 350 degrees. Line a baking sheet with parchment paper and set aside.

In a medium bowl, whisk together the flour, baking powder, baking soda, and salt. Set it aside.

In a large mixing bowl, beat the butter and sugar together with an electric mixer or by hand with a wooden spoon until it's light and fluffy. This may take serval minutes.

Mix in the egg, vanilla and almond extract until the mixture is well combined. Add in the flour mixture and mix slowly until it's all blended in.

Pour the sprinkles into a small bowl (or bowls if you are using multiple types). Scoop a golf ball- sized hunk of dough into your clean hands and gently roll it between your palms to form a ball. Roll the ball in the sprinkles until it's completely covered then transfer it to the prepared baking sheet.

Gently press down the top of the bar to create a little round disc, about ½-inch think. Repeat for the rest of the dough, leaving about 2 inches of space between each dough disc.

Bake until the cookies are set in the middle and just beginning to brown at the edges, 10-12 minutes. Let the cookies cool on the pan for 5 minutes before transferring them with a spatula to a wire rack to cool completely.