These Cheesecake Brownie Muffins combine 2 favorite desserts. With a rich chocolate base and a creamy cheesecake topping, it is a bite made in heaven!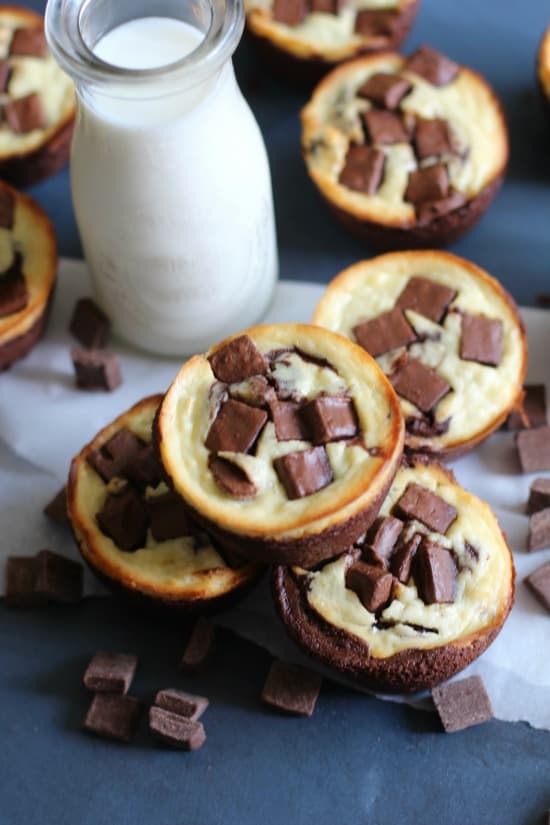 Guys I have ONE MORE DAY until ⅓ of my offspring goes back to school. I know that I should be sad that summer is over and days at the beach and poor are coming to an end. But let's face it, after 2 ½ months of cleaning up endless sand, daily trips to the store to pick up yet more snacks because they inhaled the day before's haul before I even made it into the house, and being a constant taxi, I am done.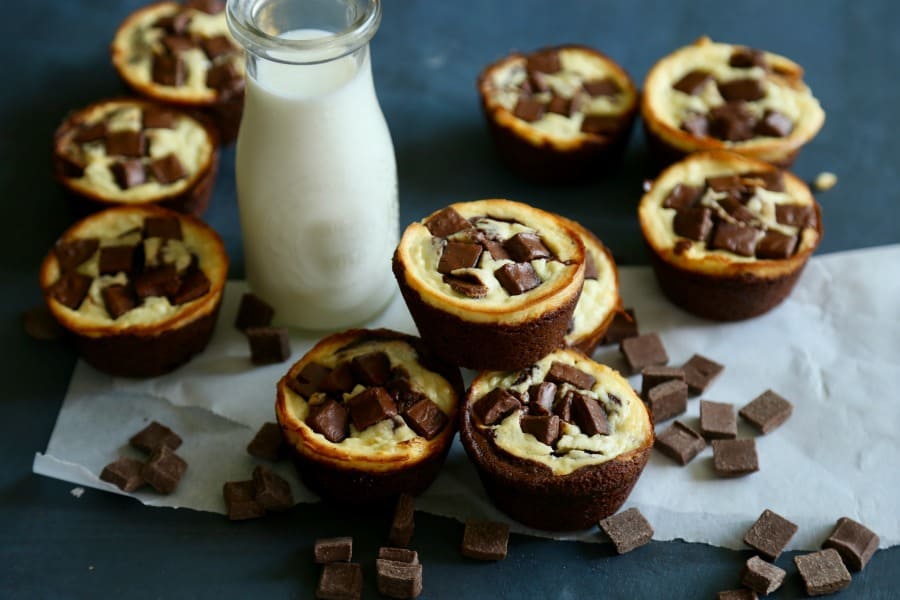 An uninterrupted 6 hours of alone time is on the horizon. With one going back to school, I only have 2 more weeks with the younger two, then it's back to school for everyone! I love my kids dearly, but it. is. time.
I am ready to face back to school nights, soccer practices, and other after school activities head on. Let's get this year started!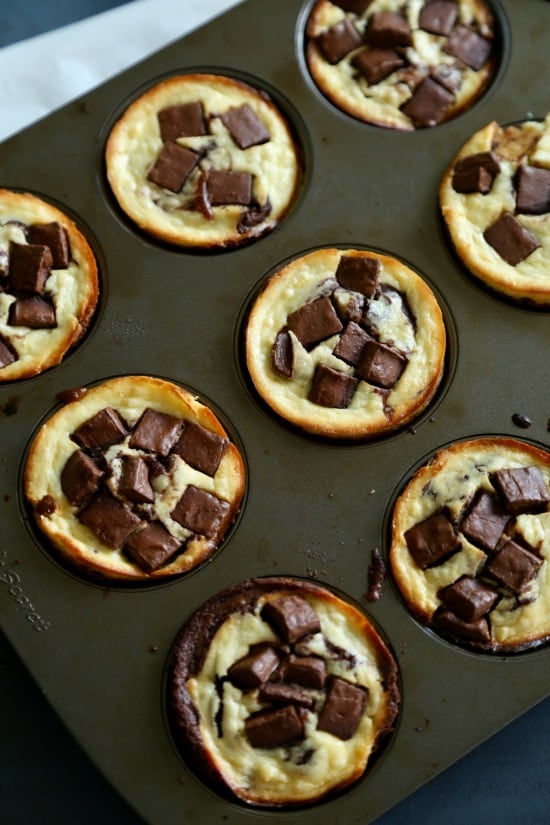 Keeping the littles occupied while trying to work at home this summer has been challenging. The easiest way to do this was to include them in my work. They have made quite a bit of recipes with me and we have had a blast.
This past week they decided that brownies needed to be on our list of things to make, and I am not one to say no to brownies!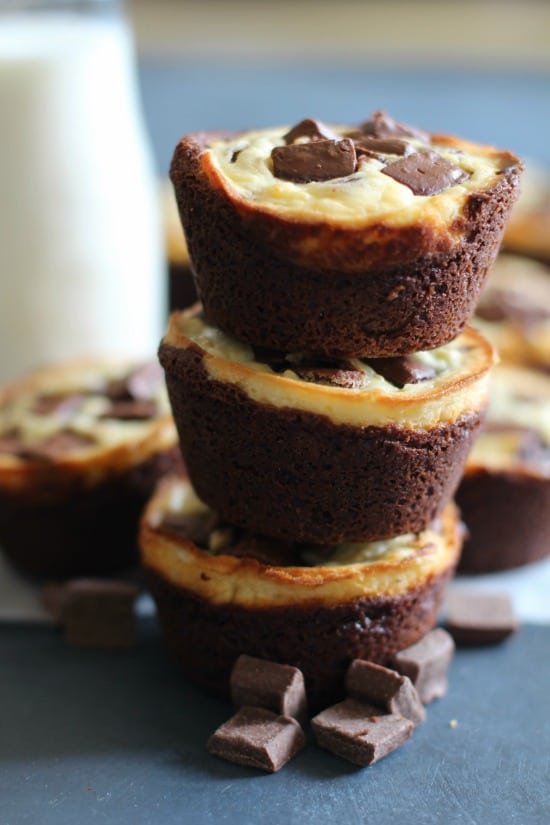 Combined with a cheesecake topping and chocolate chunks, these Cheesecake Brownie Muffins were a decadent treat. They actually sold a few at their weekly Lemonade Stand and we had people coming back for seconds!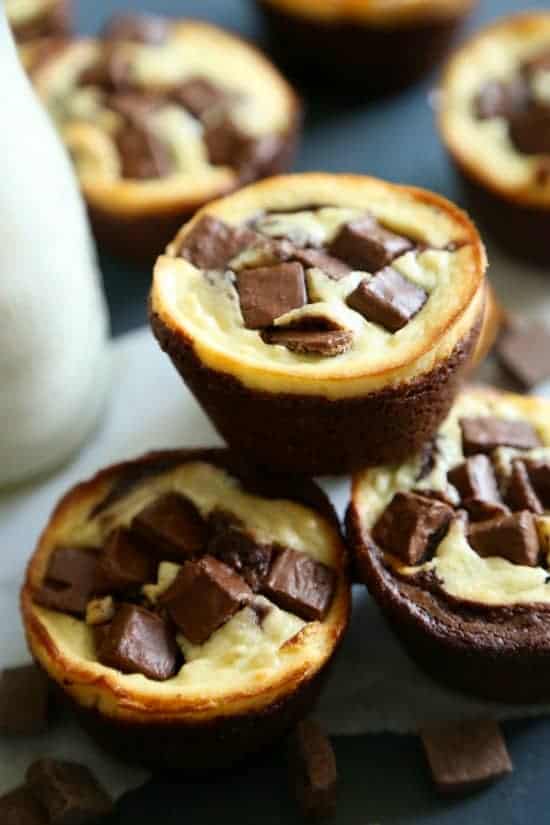 What I love about these little treats is that they are easy to make and even easier to eat. Cooked in a muffin tin, they are perfect little handheld bites of chocolate cream cheese bliss....a combination that seems to be quite popular with me these days- i.e. these Cherry Cream Cheese Brownies.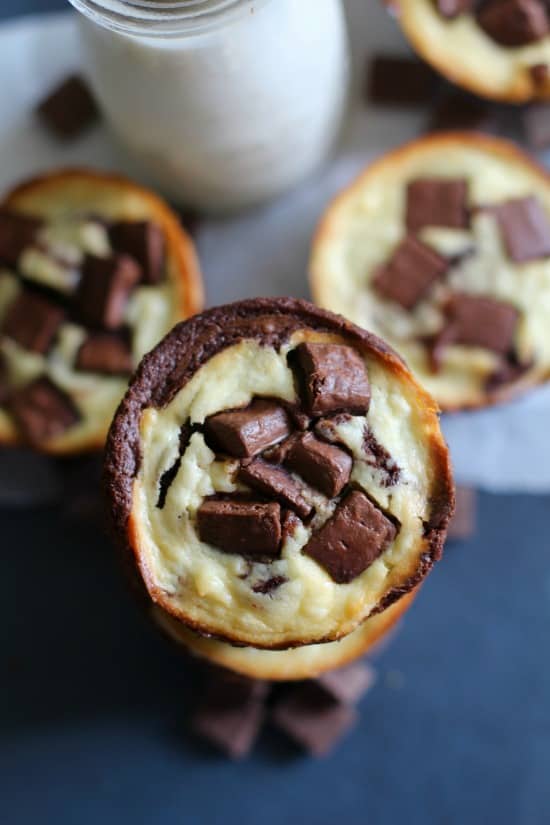 If you are a brownie lover, you must try these Cheesecake Brownie Muffins. Now, please excuse me as I clean the brownie batter in the grout and the cream cheese off the ceiling while I whisper (chant) "two more weeks."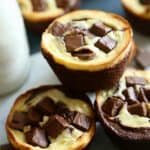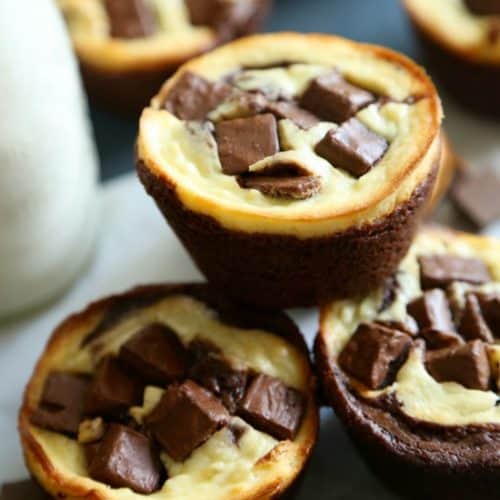 Cheesecake Brownie Muffins
Ingredients
Brownie Muffins
3

⁄4 cup cocoa powder

1

teaspoon

baking powder

1 1

⁄3 cups all-purpose flour

1

⁄4 teaspoon salt

1

cup

sugar

3

⁄4 cup butter

melted and cooled slightly

1

tablespoon

vanilla

2

eggs

1

⁄2 cup hot coffee

or hot water
Cream Cheese Topping
250

g

cream cheese

softened

½

cup

sugar

2

eggs

1

teaspoon

vanilla extract

¼

cup

all purpose flour

Chocolate chunks or chips for topping
Instructions
Preheat oven to 350 degrees. Generously spray a muffin tin with non-stick cooking spray or line with cupcake liners.

In a large bowl, whisk together cocoa powder, baking powder, flour, salt, and sugar.

Stir in eggs, cooled melted butter, and vanilla.

Stir in hot coffee or water until batter is smooth.

Scoop brownie batter into muffin tins filling them ½ full. Set aside.

To make the cream cheese topping beat cream cheese, sugar, eggs, vanilla, and flour until smooth.

Scoop 1 tablespoon of cream cheese topping onto each brownie batter cup.

Swirl with a knife.

Top with chocolate chunks or chips.

Bake muffins at 350 degrees for 22-25 minutes.

Cool completely before serving.