Looking for a fun weekend getaway? No matter the season, Palm Springs is the place to go for good food, fun, and plenty of relaxation! This trip was courtesy of the Palm Springs Bureau of Tourism.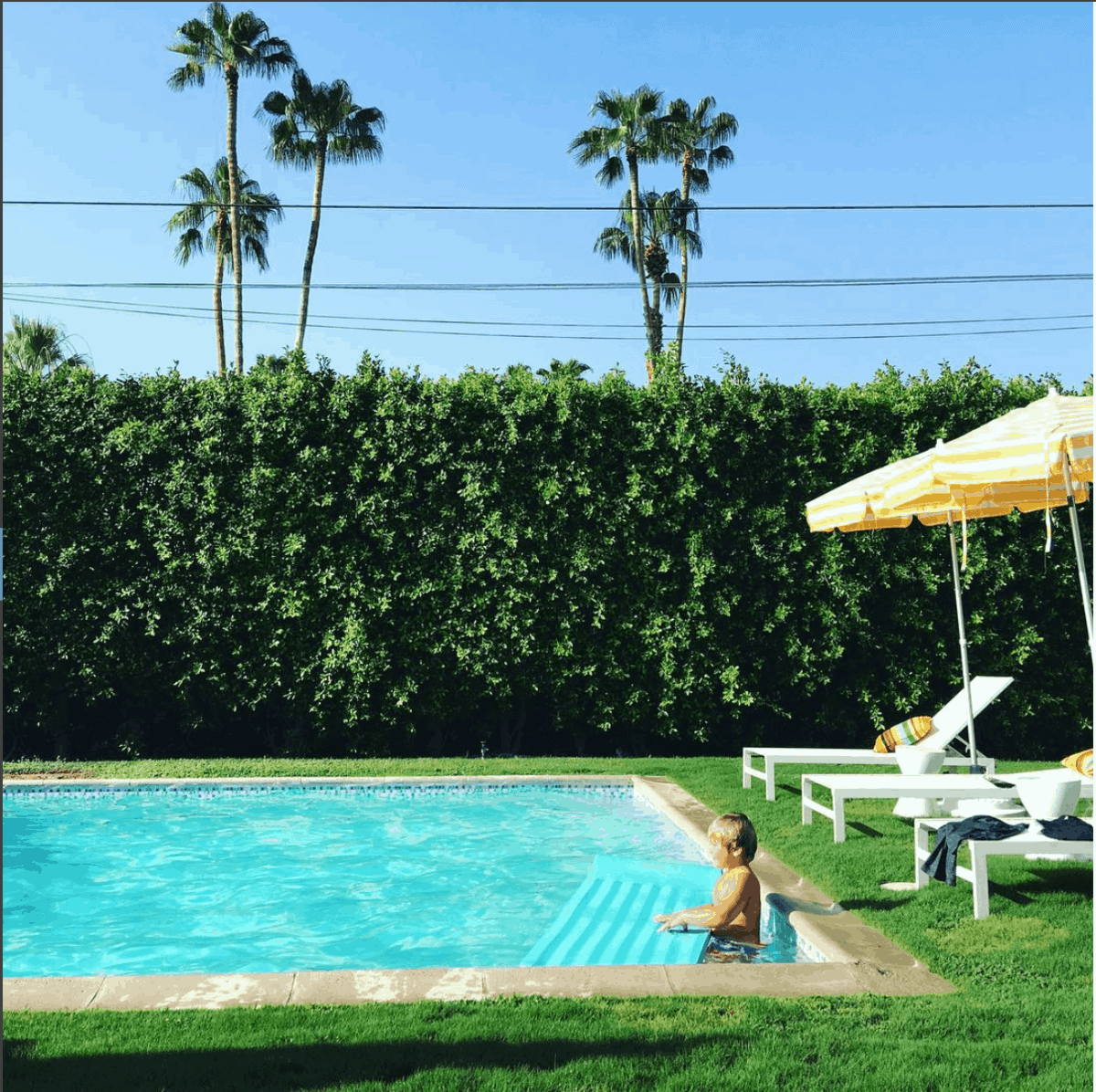 A few weeks ago, we had the opportunity to visit Palm Springs. It is one of my favorite places to escape to, no matter the season. With it's beautiful dessert landscape, stellar pools, and world famous cuisine, you really can't go wrong.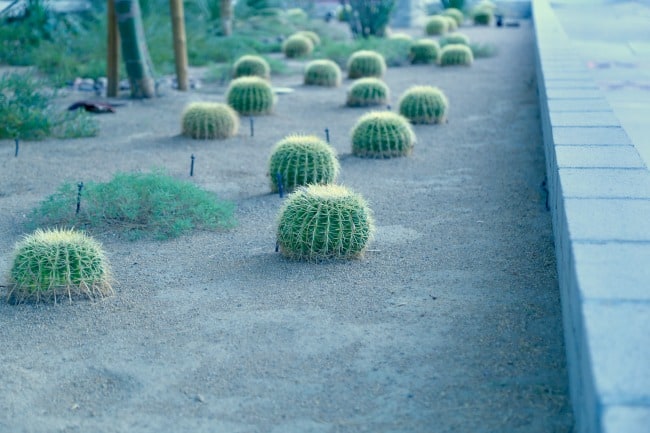 Some people ask how we can possibly do Palm Springs in the summer. Yes, it is true that it can get extremely hot, but it's a dry heat. Does it even matter when you plan to stay in the pool all day (and night) anyway? When the Palm Springs Bureau of Tourism contacted us with multiple options on where to stay, we were blown away with how many beautiful homes that were available to rent with Vacation Palm Springs. Being the Mid-Century Modern decor fan that I am, I immediately fell in love with the Palm Springs Dream home.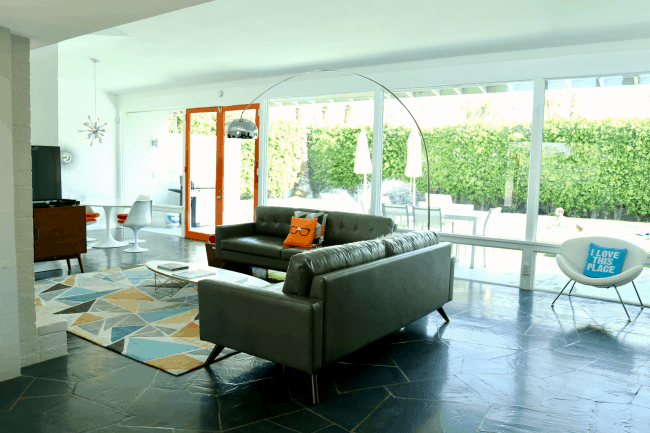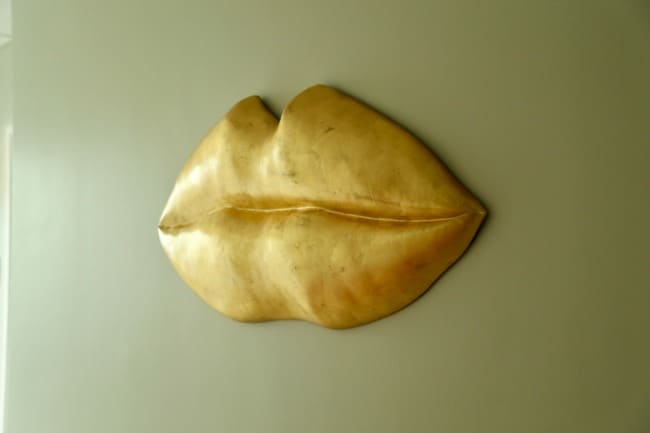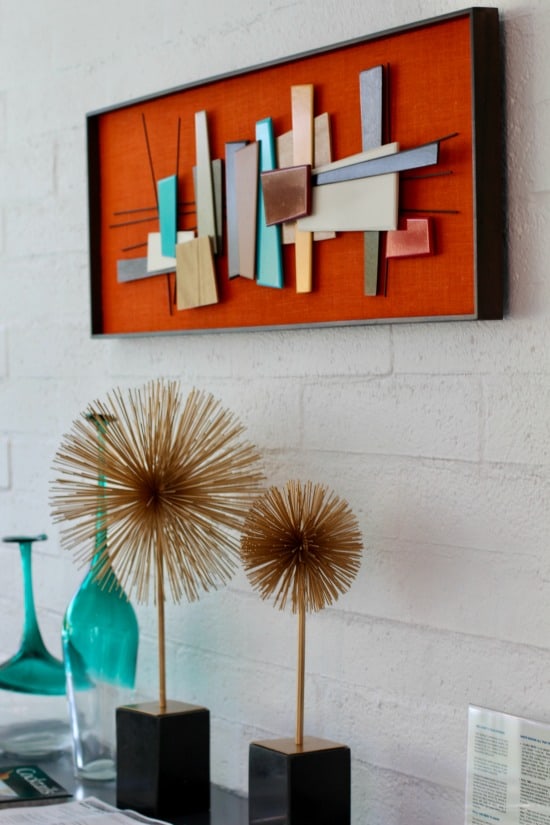 From its gorgeous decor, spacious rooms, and picture worthy pool, we had a really, really hard time leaving. From floor to ceiling, the home was decorated perfectly. With three rooms and 3 bathrooms, our family of 5 was beyond comfortable. The entire home was surrounded by large bushes, making it extremely private.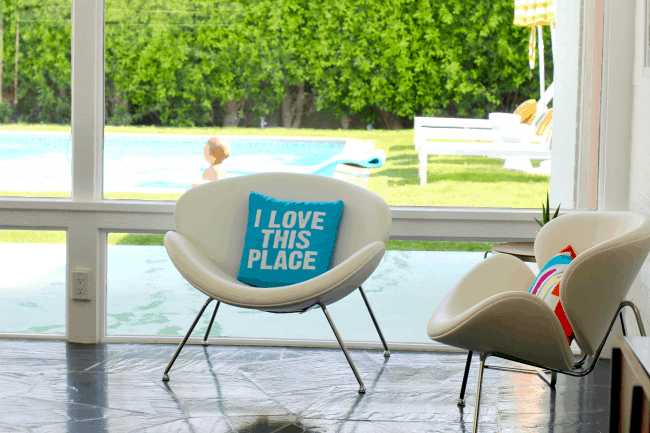 Besides the beautiful decor and adorable yellow and white striped umbrellas next to the pool, the true piece de resistance in the home was the master bathroom. It was a full room, and probably bigger than my kitchen. It had a gorgeous large bath tub and a huge double shower. There were no doors on the shower so the bathroom was bright and airy.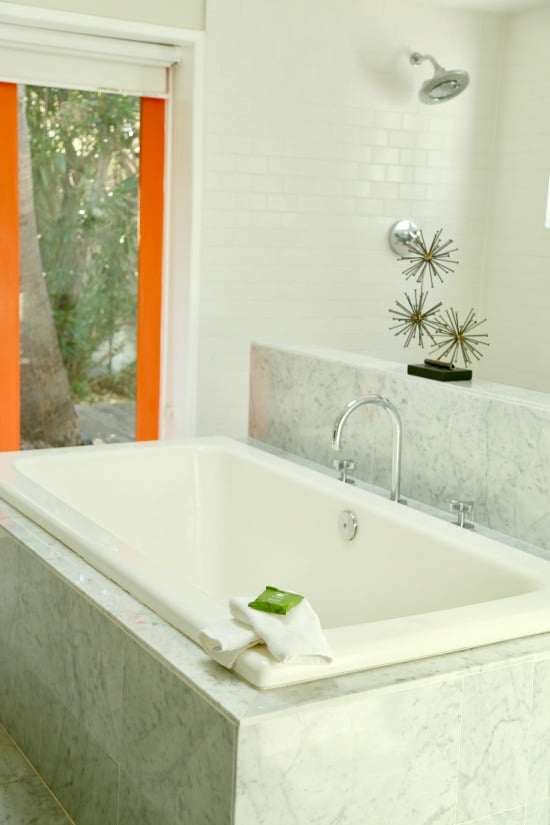 Traveling as a family, I really appreciate when we can stay in a home rather than a hotel. It makes life so much easier and we usually spend a lot less in food costs. However, most homes only have minimal kitchen appliances. So, you can imagine my surprise when I saw that the kitchen in the Palm Springs Dream home was completely decked out with every kitchen appliance you could ask for...including a kitchen aid! This would be a great home for a holiday getaway because you would have everything you need to create the traditional meal.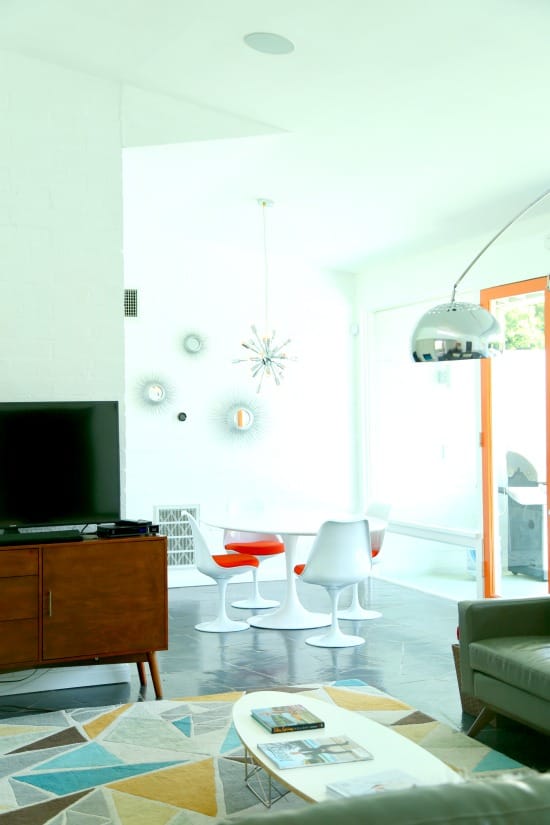 Besides the bathroom and fully equipped kitchen, the pool was of course our favorite part. Before even saying good morning, my kids would wake up and make a beeline for the pool. We basically swam the entire day and half of the night. It was so fun!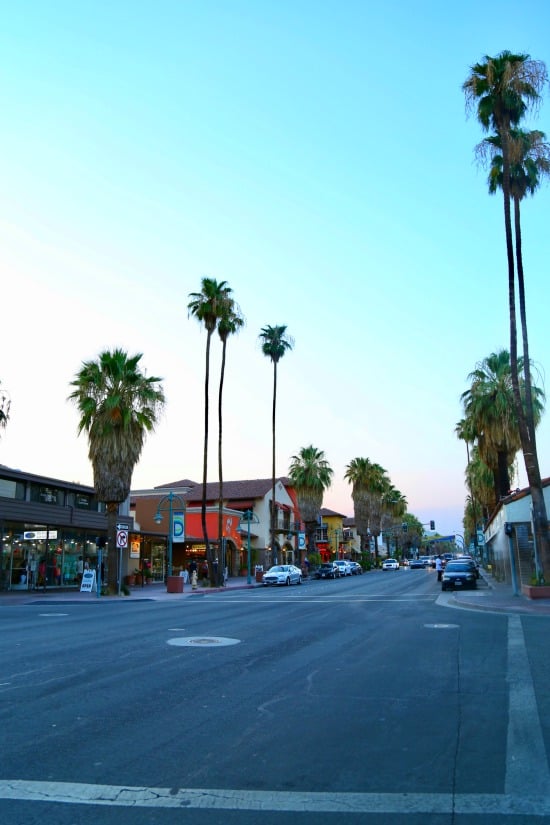 When we were not swimming, we were exploring and eating our way through Palm Springs.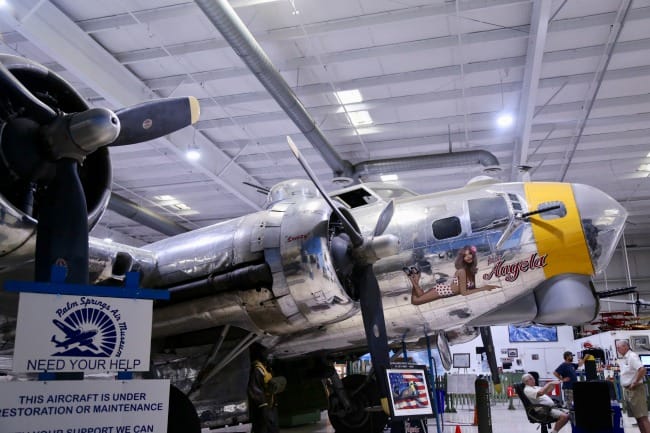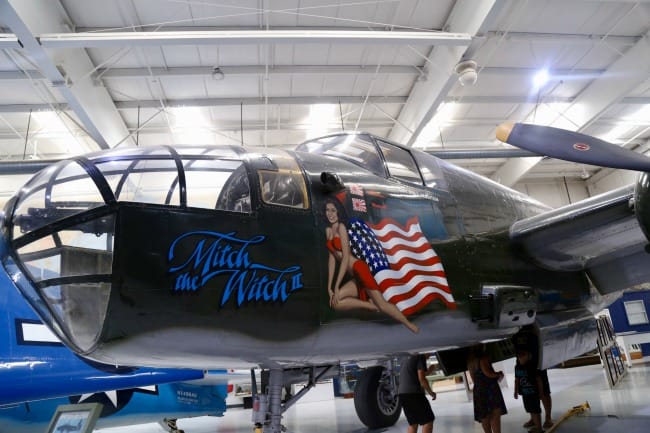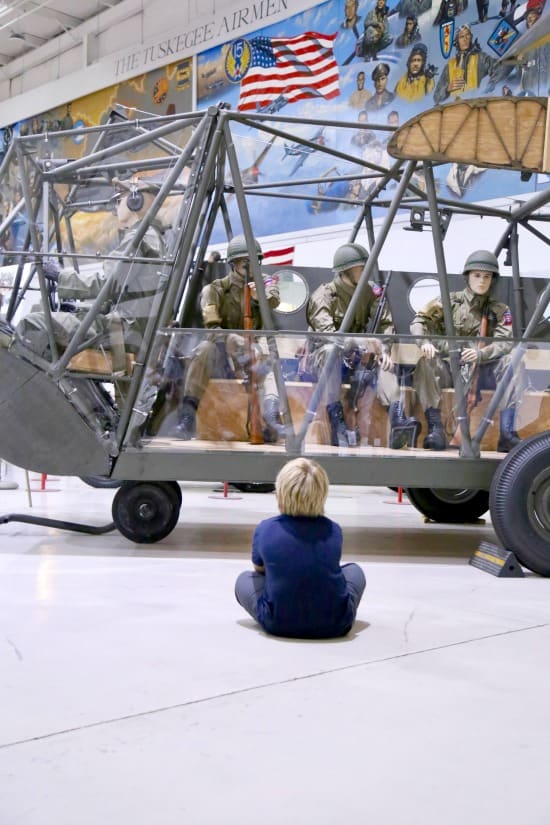 If you have children or are interested in history, the Palm Springs Air Museum is a must go. The Palm Springs Air Museum is a living history museum dedicated to educating the public about the role Air Power played in preserving American liberties and way of life. The Museum preserves, exhibits,and flies aircraft from World War Two, Korea, and the Vietnam Wars. Most of the aircraft are in flyable condition. Many of our docents are veterans and are willing to share their experiences and sacrifices for the education of future generations. In addition to flyable and static aircraft, the Museum uses permanent and temporary exhibits, related artifacts, artwork, and library sources to perpetuate
American History. Named #1 Air Museum in California according to CNN Travel. We spent over three hours roaming the hangers, as my little guy was in heaven looking at all of the planes and watching all of the videos!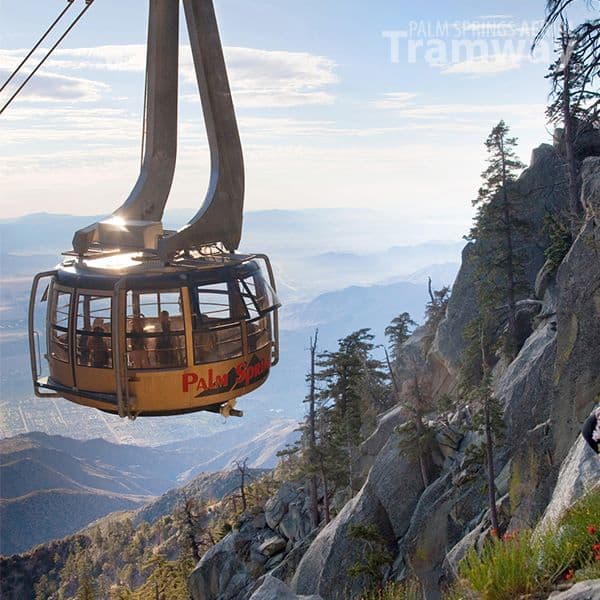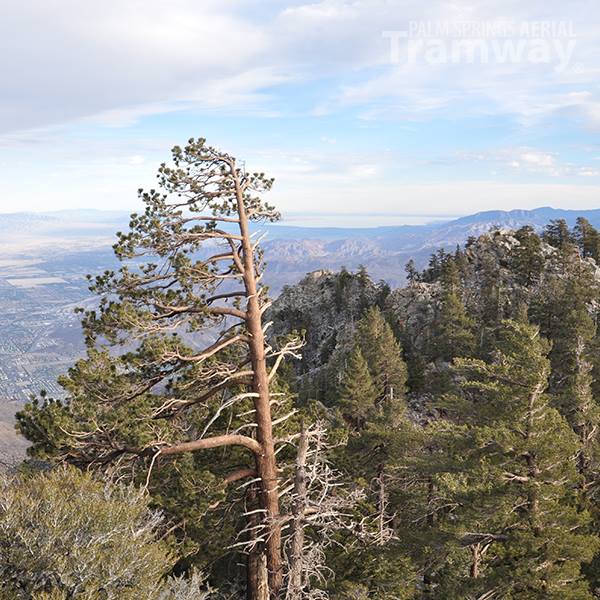 Another must do in Palm Springs is the Palm Springs Ariel Tramway. The Tramway is the world's largest rotating tramcar, you will experience a breathtaking journey up the sheer cliffs of Chino Canyon. It's about a 10-minute ride from the Valley Station (2,643 ft.) to the Mountain Station (8,516 ft). Once at the top, there are over 50 miles of hiking trails and is usually 30-40 degrees cooler. There is also a restaurant where you can eat and enjoy the views. Unfortunately my camera battery died due to the heat, so I was unable to get my own pictures, so I borrowed them from the Tramway's site. It's such a shame because the views were breathtaking!
Don't forget the shopping. There are tons of great shops on the main strip- Palm Canyon Drive that include candy shops, souvenir shops, art galleries, and furniture shops with vintage and vintage replicated pieces.
Other fun things to do include the Desert X Mirage, the Moorten Botanical Gardens, and the Instagram worthy Pink Door.
Palm Springs is definitely on the map for their food seen. With the abundance of fresh, beautiful produce that comes out of the area, the local restaurants update their menus regularly, incorporating new trends based on seasonal produce.
Here are a few places we visited-
The inspiration for Rio Azul Mexican Bar & Grill came from a young man's dream to introduce his
original and distinct interpretation of Mexican food to the masses. Chef Ernesto Gastelum passion
and love for both his food and his culture have allowed him to create an array of eclectic and
delicious dishes – many of which have come from his family recipes passed down from generation to
generation such as his Abuelita's Albondigas Soup to the Tia Maria's Green Corn Tamales.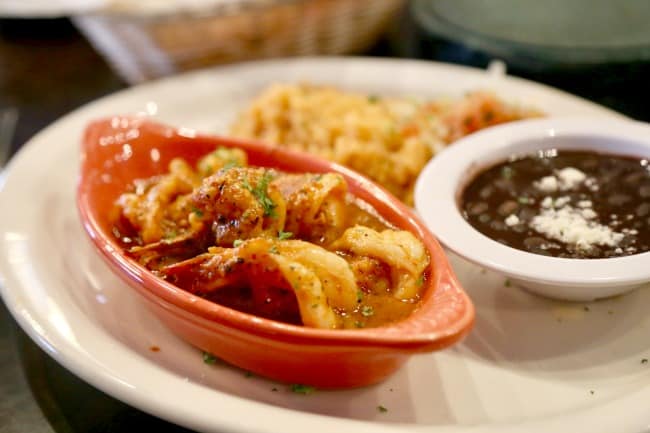 This restaurant had a wonderful atmosphere with Mexican decor and live music. We ordered a multiple of items but our favorite dishes were the Camarones A la Diabla and Oaxaca Tamal.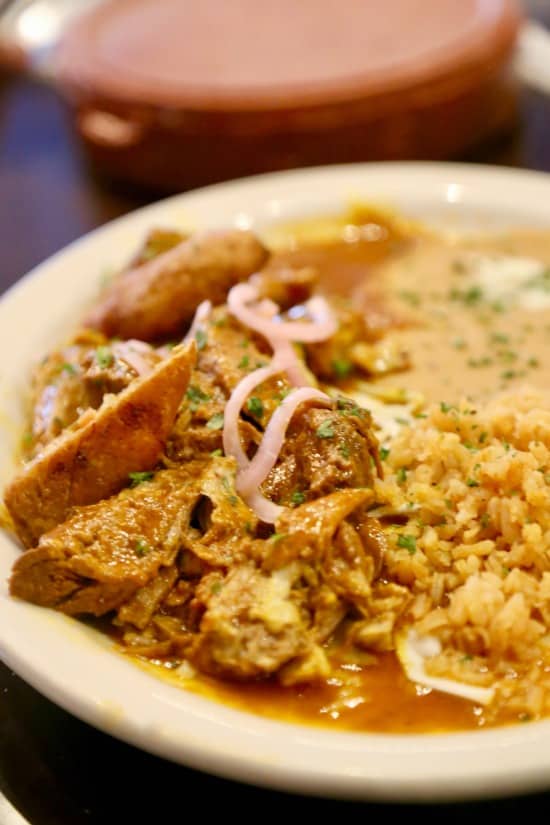 Smoke Tree BBQ Bar & Grill carries a variety of BBQ including; Baby Back ribs, Beef Ribs, Brisket, Pulled
Pork, Smoked Chicken, Tri Tip, Andouille Sausage, Smoked Turkey, Hot Links, Salads, Sandwiches, Just
Meats and BBQ Plates and house made sides, 5 Cheese Mac & Cheese, Potato Salad, Coleslaw, Smoked BBQ Beans, Creamed Corn, Mixed Veggies, Garlic Fries & Sweet Potato Fries. There are 8
Craft Beers on tap, a decent wine selection and some great Craft Cocktails.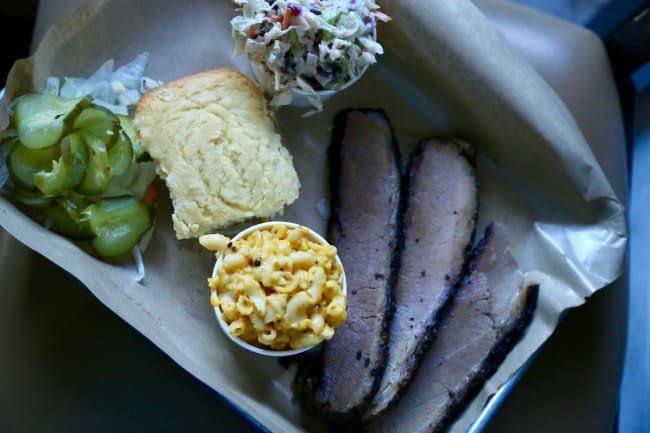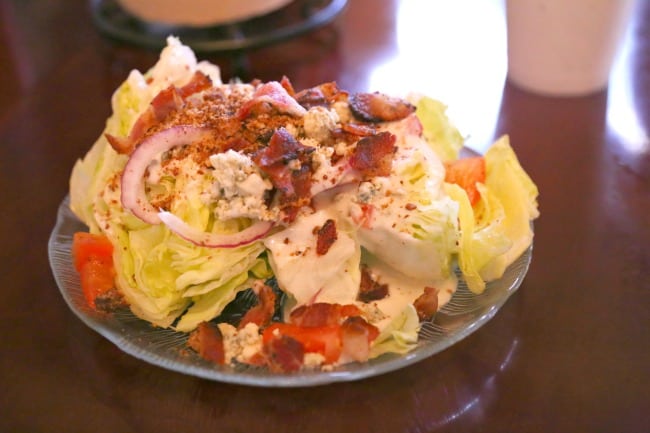 This is a great family style restaurant. Each plate comes with large portions and side. Our favorite items on the menu were the brisket, Mac n Cheese, and of course the cornbread!
Where Palm Springs Eat's & Drink's. Located in the Uptown Design District. An energetic, desert-casual
atmosphere and great American modern food at reasonable prices - A place where anyone can
come in, sit down and feel at home. Where the local's hangout, eat, drink and have fun.
Experience... Cocktail hour in the bar from 11am-7pm, $3 Well, $5 Martini's, Margarita's, Mojitos and
featuring The Uptown Design District 3 course prix fixe for only $19 from 11am to 6pm 7 days a week.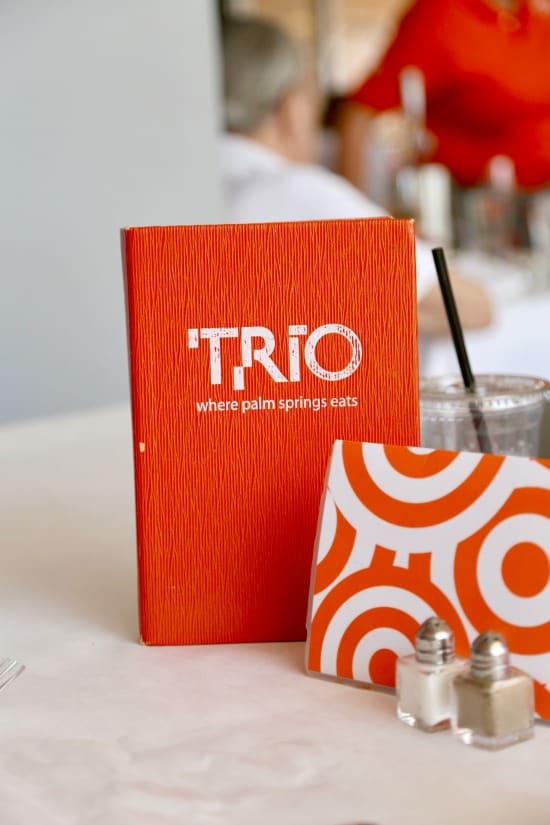 Another mid-century modern styled restaurant that I swooned over. Their Prix-Fix Menu came with tons of options. Our favorite was the mushroom enchiladas and the bread pudding!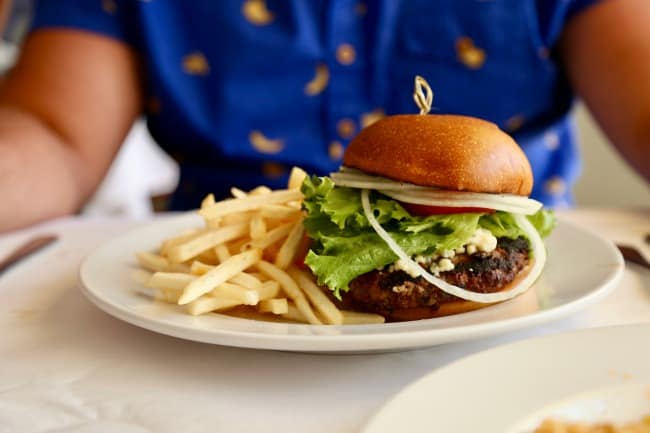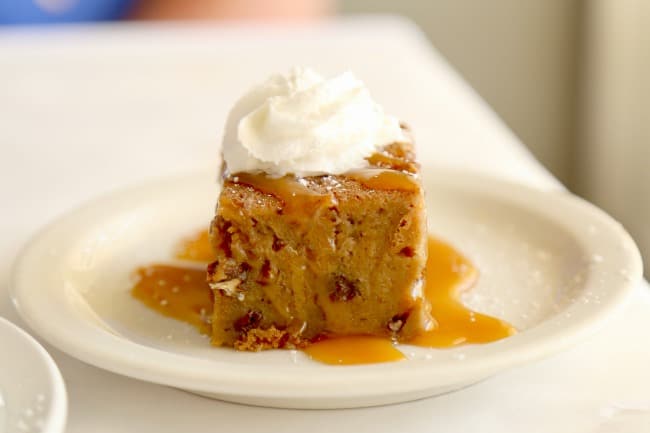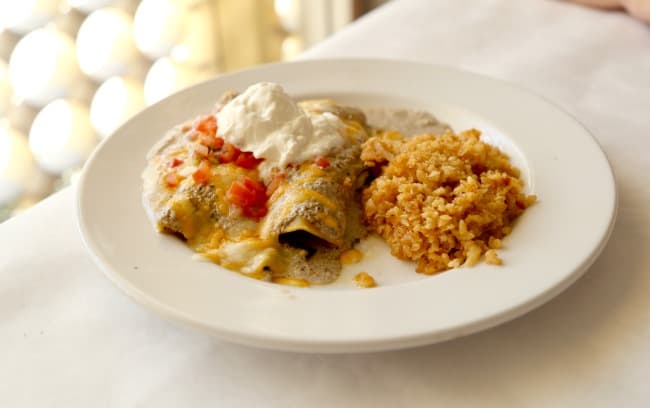 Other popular Palm Springs restaurants include Lulu California Bistro, King's Highway At Ace Hotel and Swim Club, and Workshop Kitchen + Bar.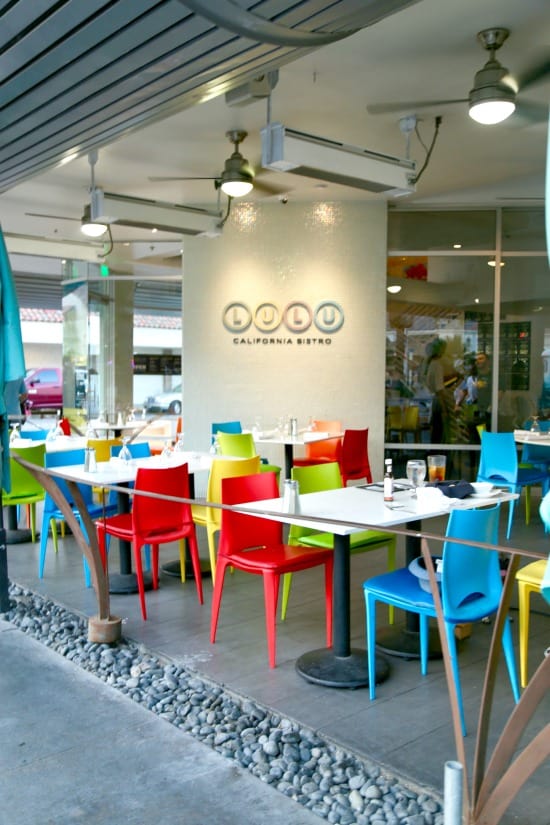 A big thanks to the Palm Springs Bureau of Tourism for putting together this magical trip. We had a wonderful time and can't wait to go back! Check back tomorrow for a recipe for one of the cocktails we made while in Palm Springs!