Homemade Granola for Parfaits is the perfect snack for any time of the year. Quick and easy to toss together, and a much lighter option than store bought snacks. Bursting with flavor, this recipe combines oats, pecans, coconuts, honey, and a few other delicious ingredients to make a tasty treat.
Check out the video on how to make this recipe at the bottom of the post.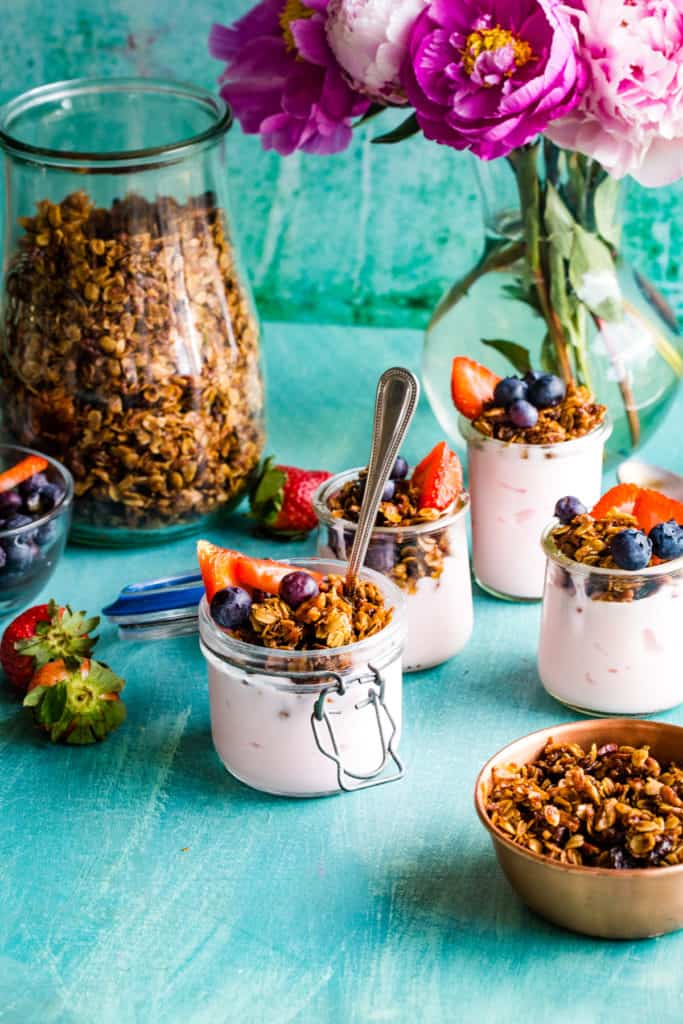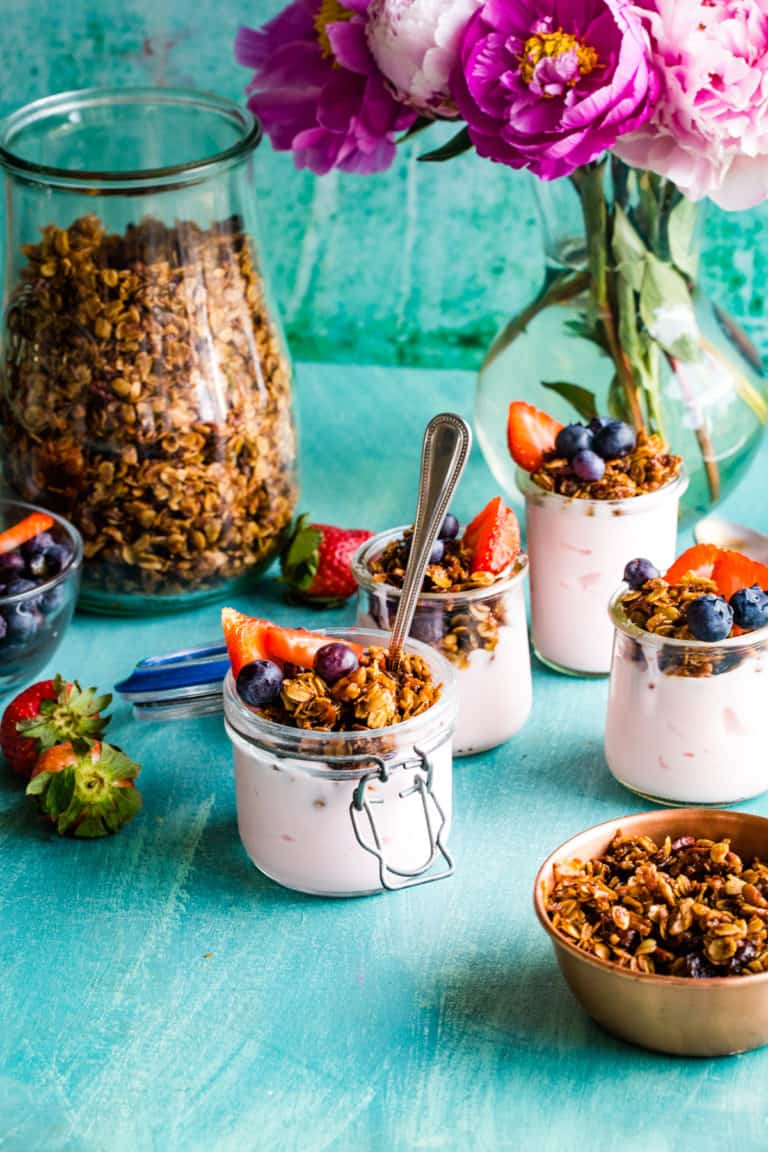 Granola is a delicious snack that many of us are used to consuming in one way or another. Whether it's no bake granola bars or just combined with milk, granola is utilized in many ways. Personally, one of my favorite ways to eat it is over yogurt and mixed with fresh berries. It makes for a nice start to the day plus, I am a sucker for that satisfying crunch paired with strawberry yogurt. My point is, granola is everywhere and it always adds a great addition to any recipe it's included in.
I'm not a huge breakfast person. Typically I drink coffee until about 1pm then become a ravenous monster promptly at 1:05. I know that this is the worst for my health, so this year I plan to change that. Have items on hand to make a healthy breakfast is the way to go. These yogurt breakfast parfaits are perfect for that. I make a large batch at the beginning of the week, then quickly assemble the yogurt bowls in the morning! My kids like to make their own healthy parfaits by adding fresh fruit, a drizzle of honey, and some sunflower seeds. It's an easy way to get those non-brekkie eaters (me) some nutrients on a busy day!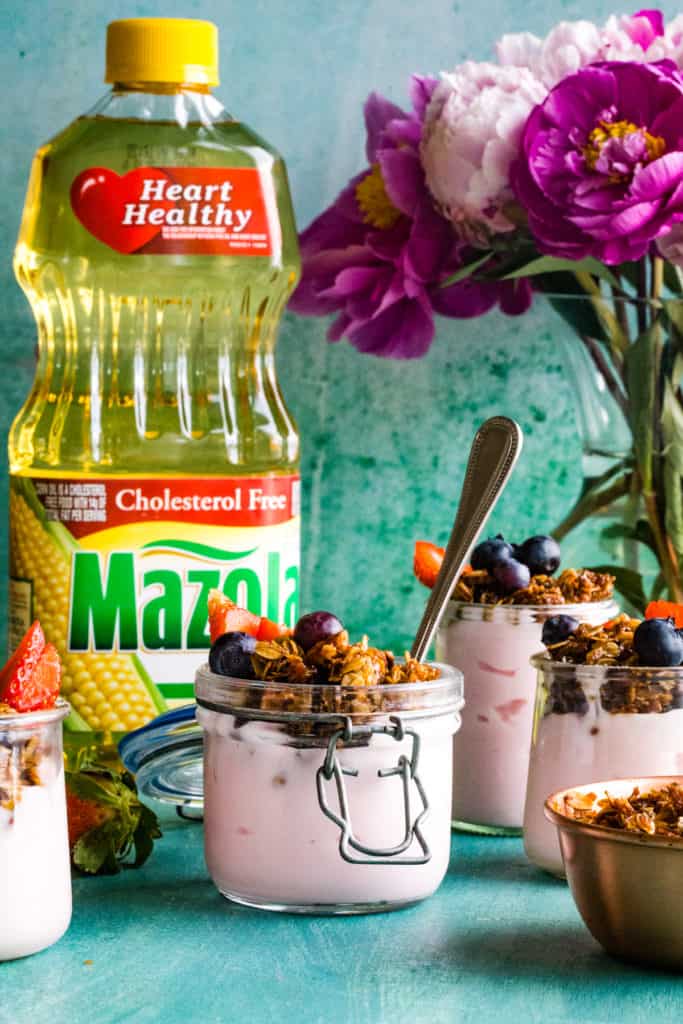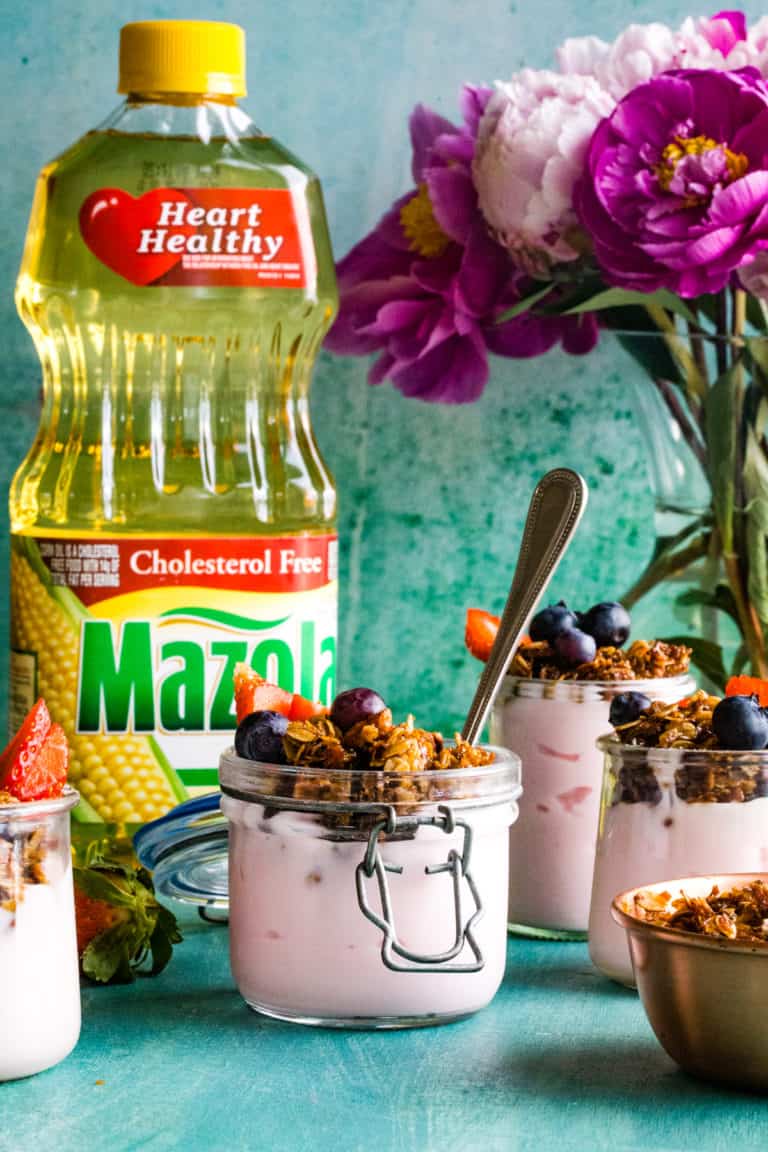 WHY WE LOVE THIS YOGURT PARFAIT RECIPE
Simple ingredients- Make your own granola with things that are probably in your pantry already! This easy recipe can be prepped and in the oven in just a couple of minutes.
Perfect for meal prepping- make a batch at the start of the week and assemble your own granola parfait cups at work, school, or anywhere on the go. Or, just munch on it on it's own to avoid buying store-bought snacks.
So cute! They say you always eat with your eyes first right? Don't glass jars with layers of yogurt, granola, and fresh strawberries look delicious!? They're great for your next brunch!
Customizable- Make the granola different flavors by adding chocolate chips, spices, etc.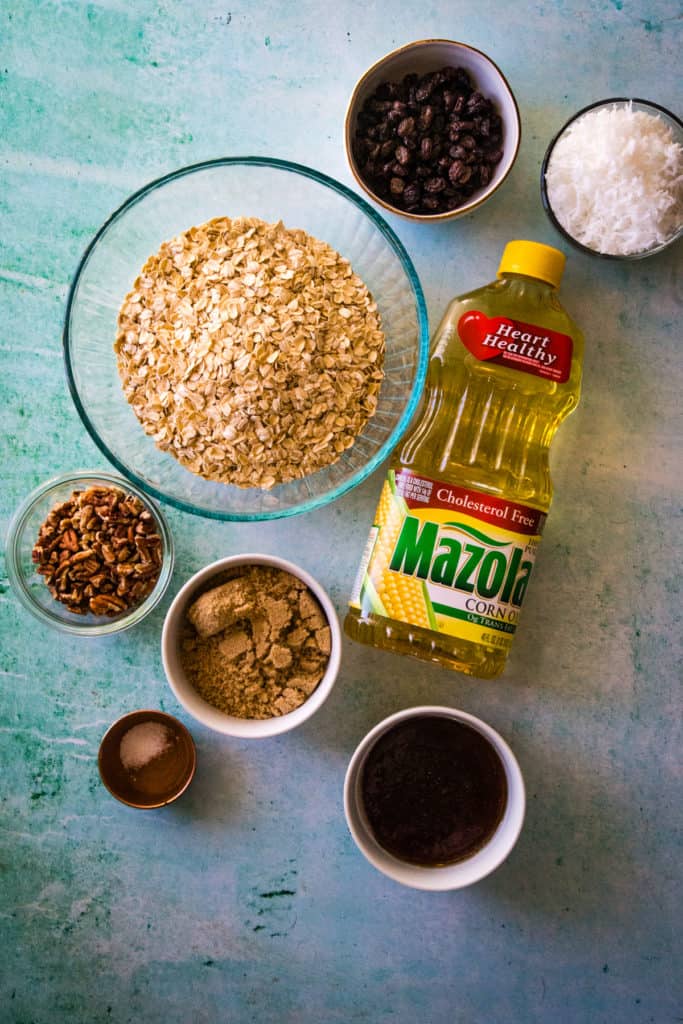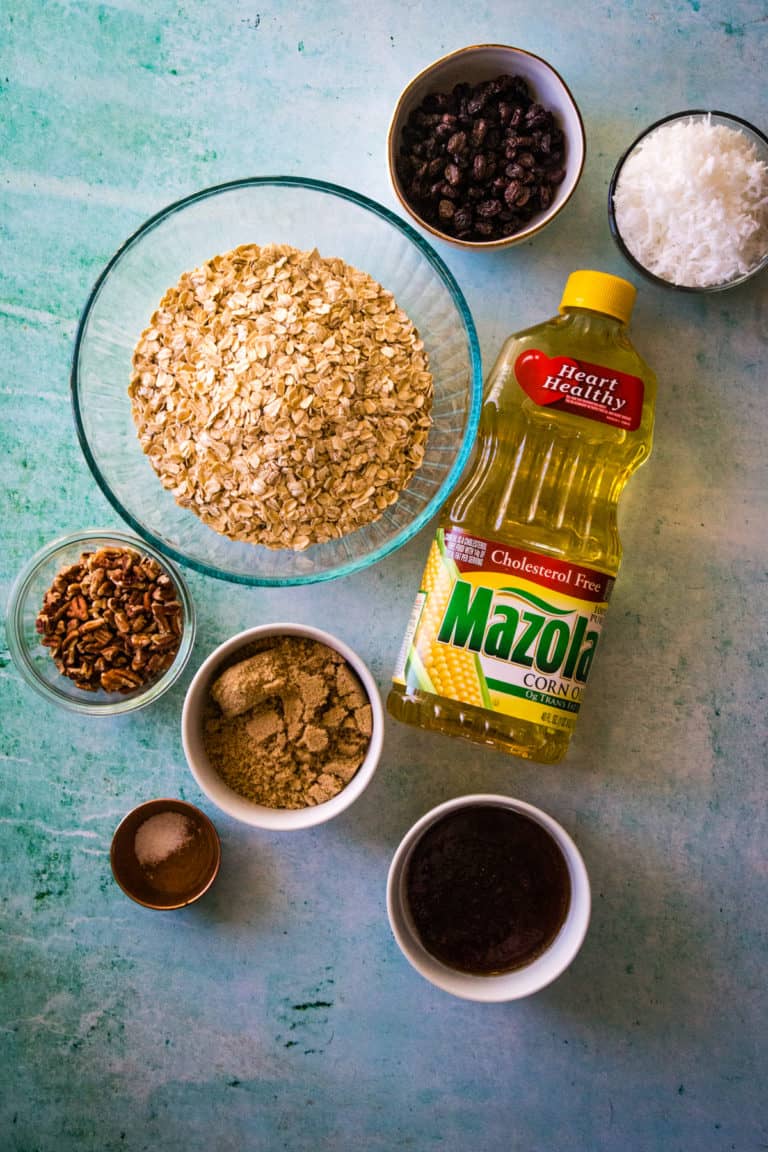 OUR FAVORITE GRANOLA INGREDIENTS
Old fashioned rolled oats
Light brown sugar
Kosher salt
Ground cinnamon
Shredded coconut
Chopped pecans
Oil
Honey
Raisins, optional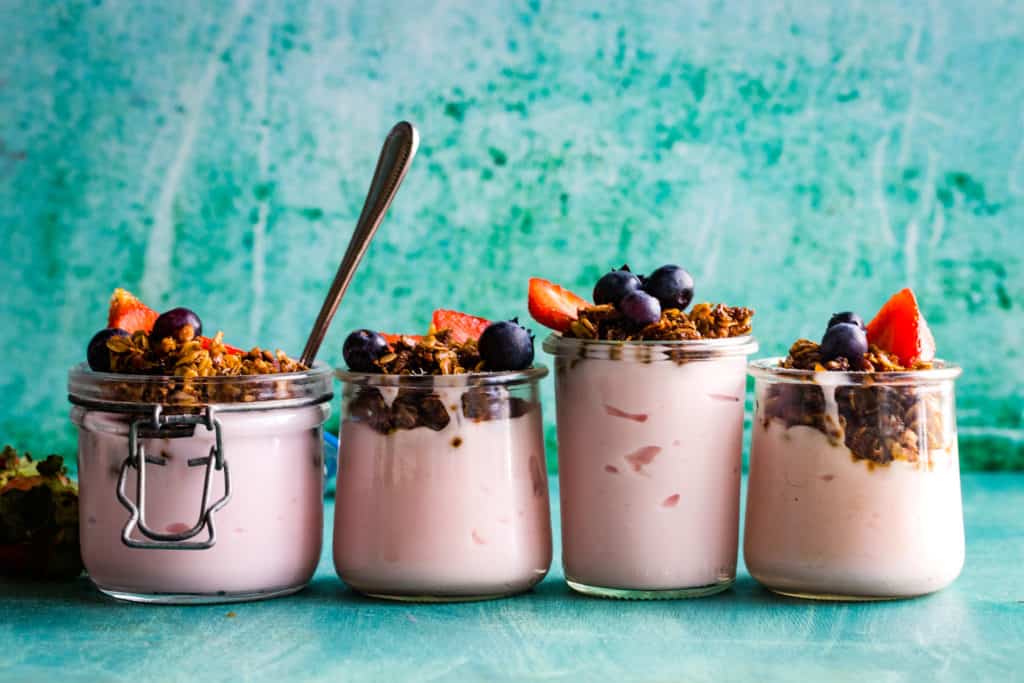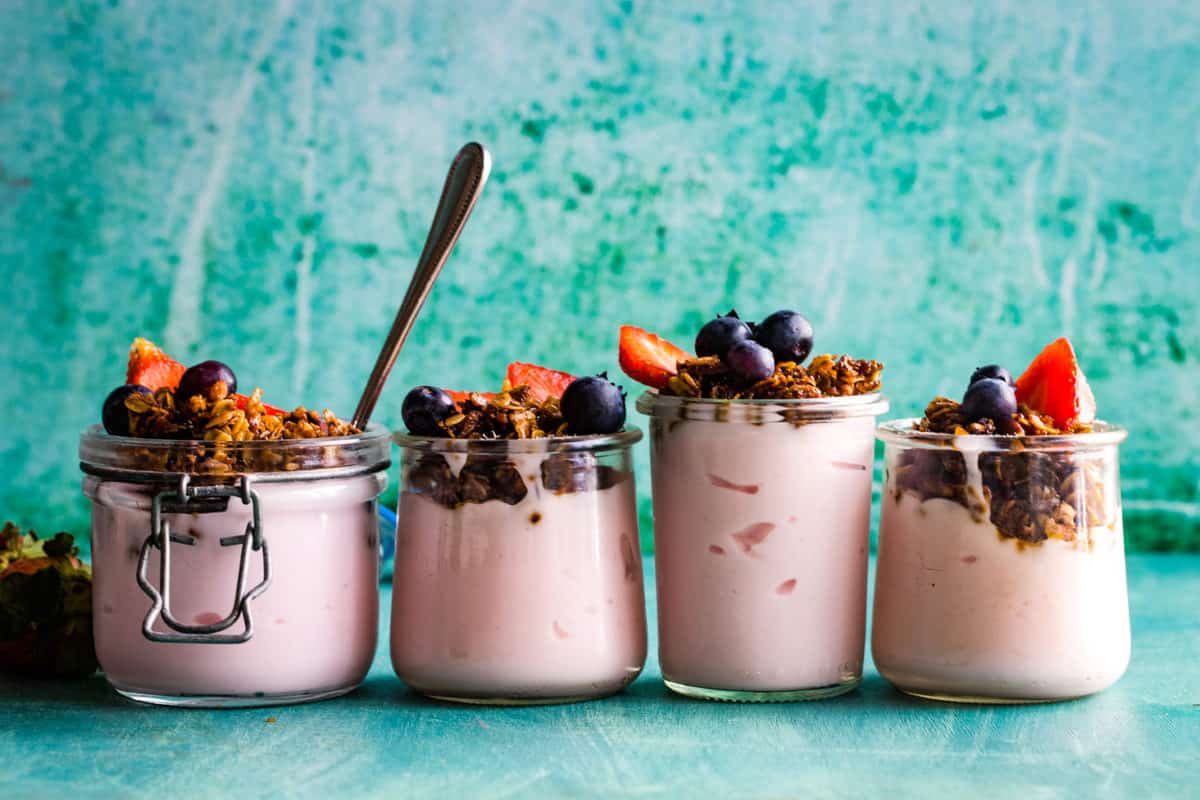 SUBSTITUTIONS AND ADDITIONS
Oil- In this recipe I used corn oil, however and oil will work. I have made it with melted coconut oil, vegetable oil, and even melted butter.
Honey- If you don't have honey on hand, a great alternative is real maple syrup.
Nuts and your favorite fruits- Customize this recipe with your favorite nuts, pumpkin seeds, dried fruits, flax seed, and chia seeds! If using dried fruits and chia seeds, add to the granola after it bakes, but is still warm to avoid burning.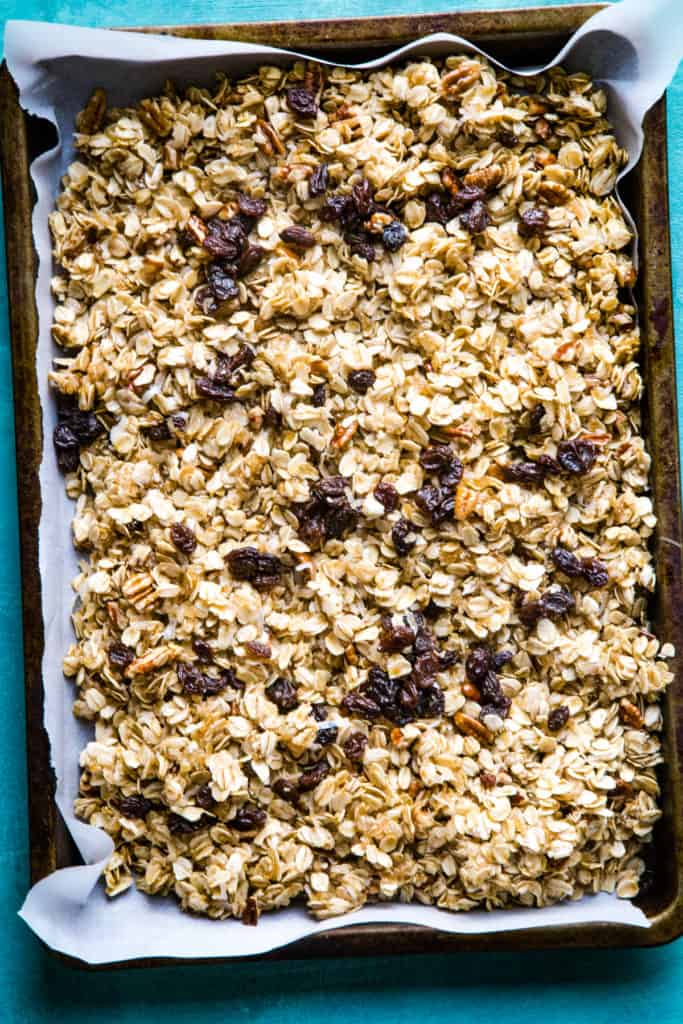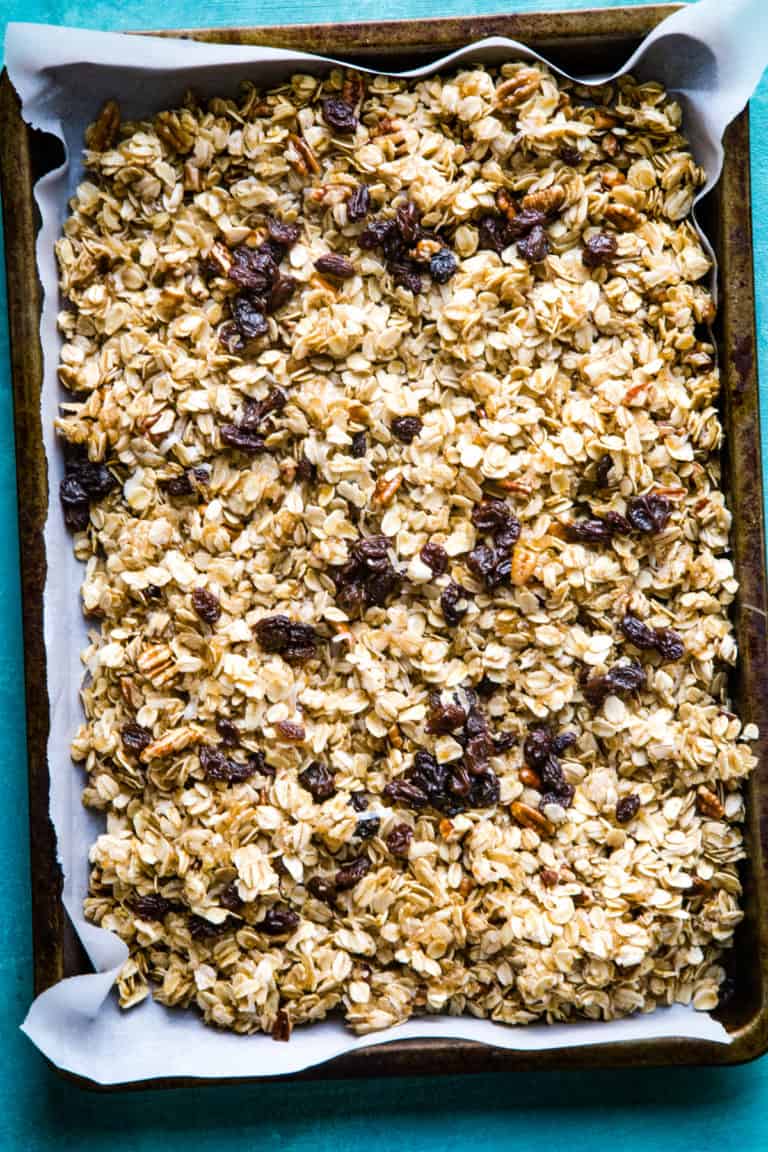 How to Make Homemade Granola for Parfaits
Prep - Preheat the oven to 300 degrees and either grease or line a large baking sheet.
Mix Ingredients - In a large bowl, combine all the ingredients except the raisins, oil, and honey. Mix well.
Add the honey and oil - In a small bowl, combine the Mazola Corn Oil and honey, and heat in the microwave for up to 30 seconds or until warm. Mix well then add to the oat mixture and mix well again.
Bake - Place the granola on the prepared baking sheet and spread it out evenly. Bake for 45 minutes and stir the granola halfway through.
Add the raisins - When granola is fresh out of the oven, add the raisins. You can also use other dried fruit here such as apricots or bananas.
Cool and enjoy - Allow the granola to sit and cool then enjoy!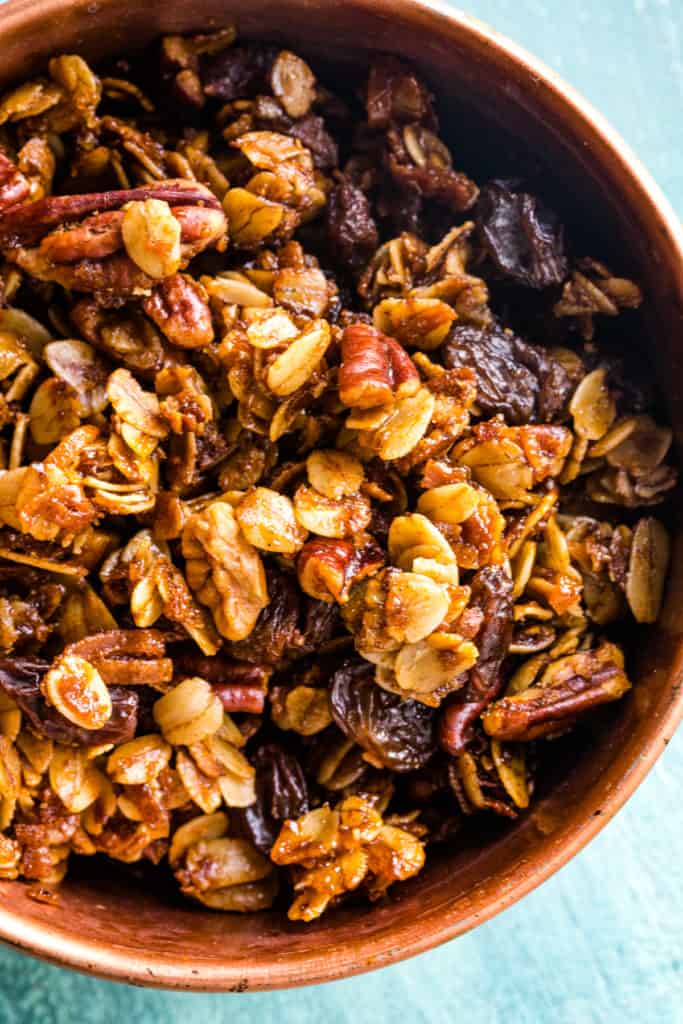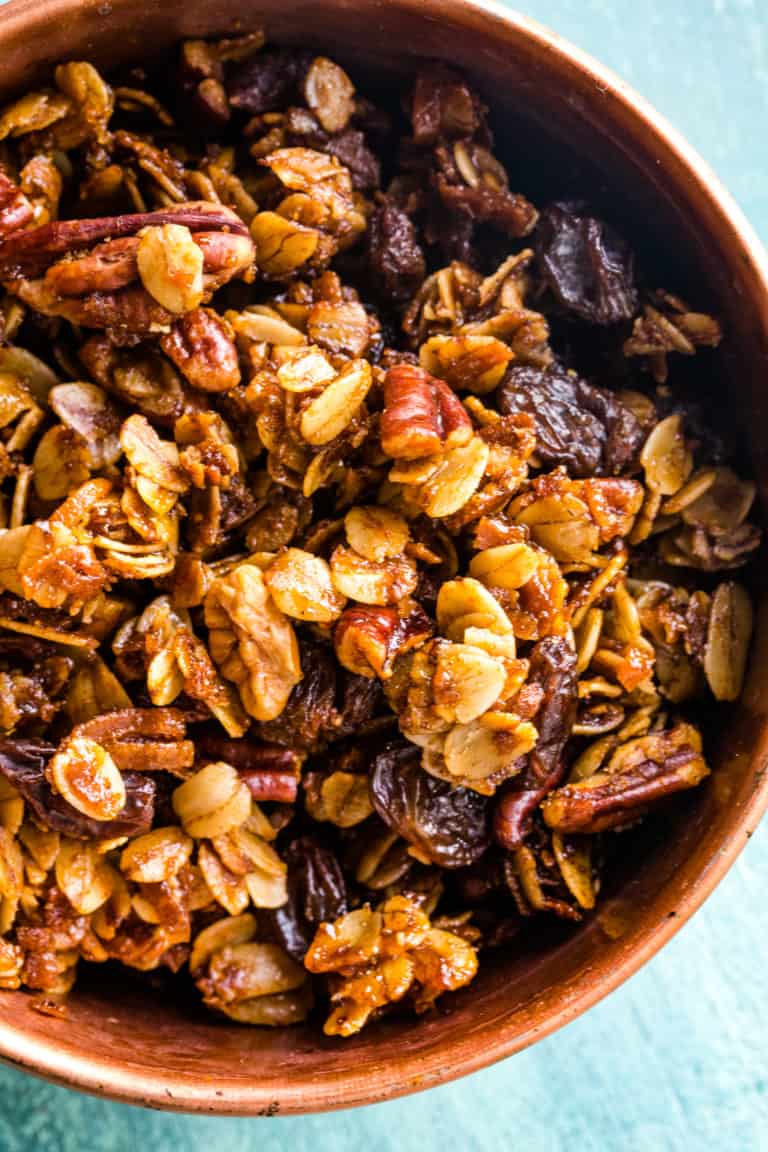 Tips and Variations
Add in other spices - If you prefer, you can always add a bit of other seasonings such as nutmeg, ginger, etc.
Storage - Store in an airtight container in a dry place. It will last up to a month. I store mine on the counter in large mason jars.
Ways to use granola - I like to use this easy granola recipe for breakfast. For example, by itself with milk, sprinkled over plain yogurt, or even added to another cereal. You can include it as a topping for desserts, waffles, pancakes, cakes, etc. as well. I sometimes even carry it in a baggie and use it as a snack on its own.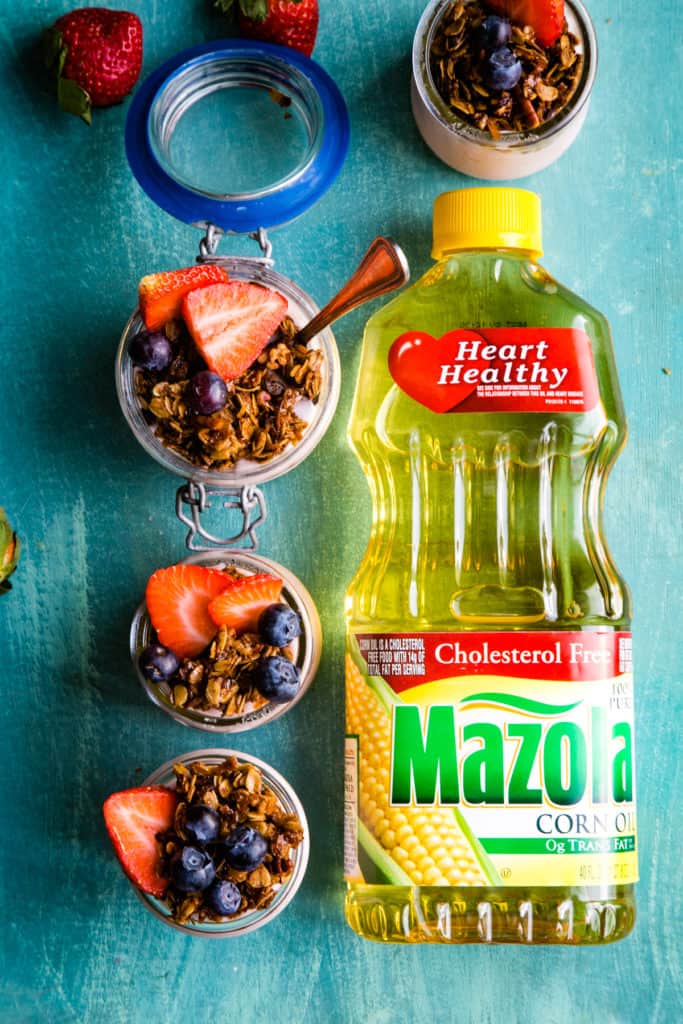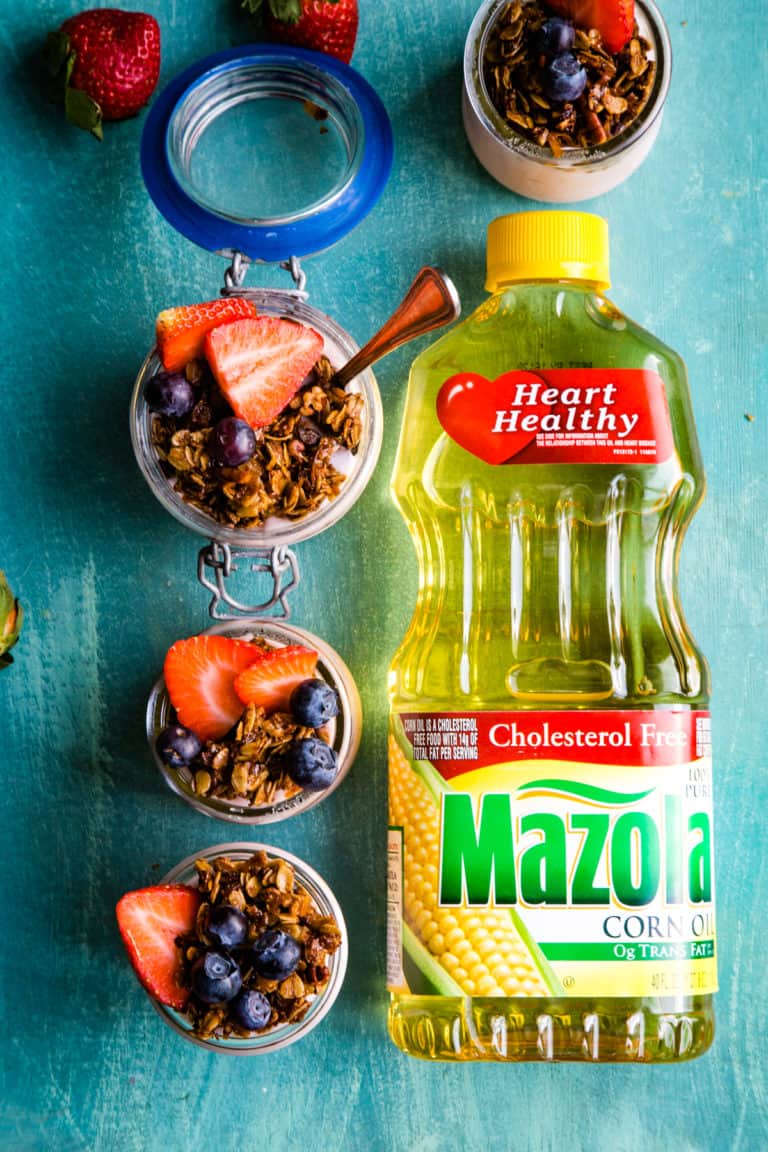 Common Questions About Homemade Granola-
Why is Granola Good for You?
Not all granola recipes are equal when it comes to being healthy for you. However, this honey granola recipe is made with wholesome ingredients. That's the great thing about homemade recipes, you get to choose what ingredients go into it. For this one, the ingredients are nutritious and contain vital daily nutrients your body needs to stay at its healthiest. Be aware of the added sugars and junk in the store bought granola, as it's not always the healthiest for you.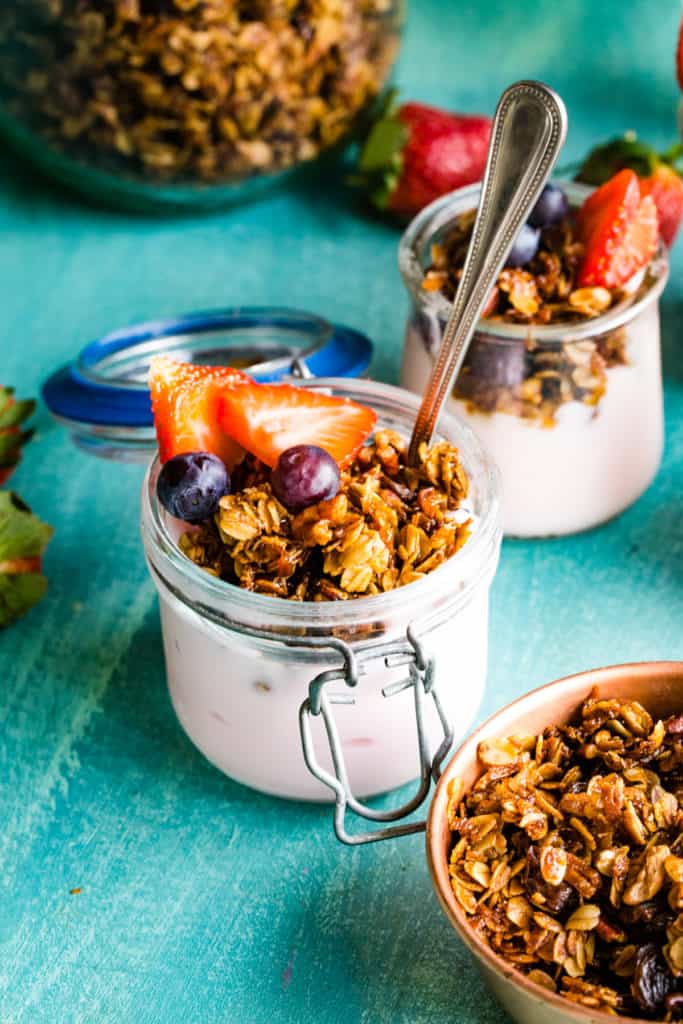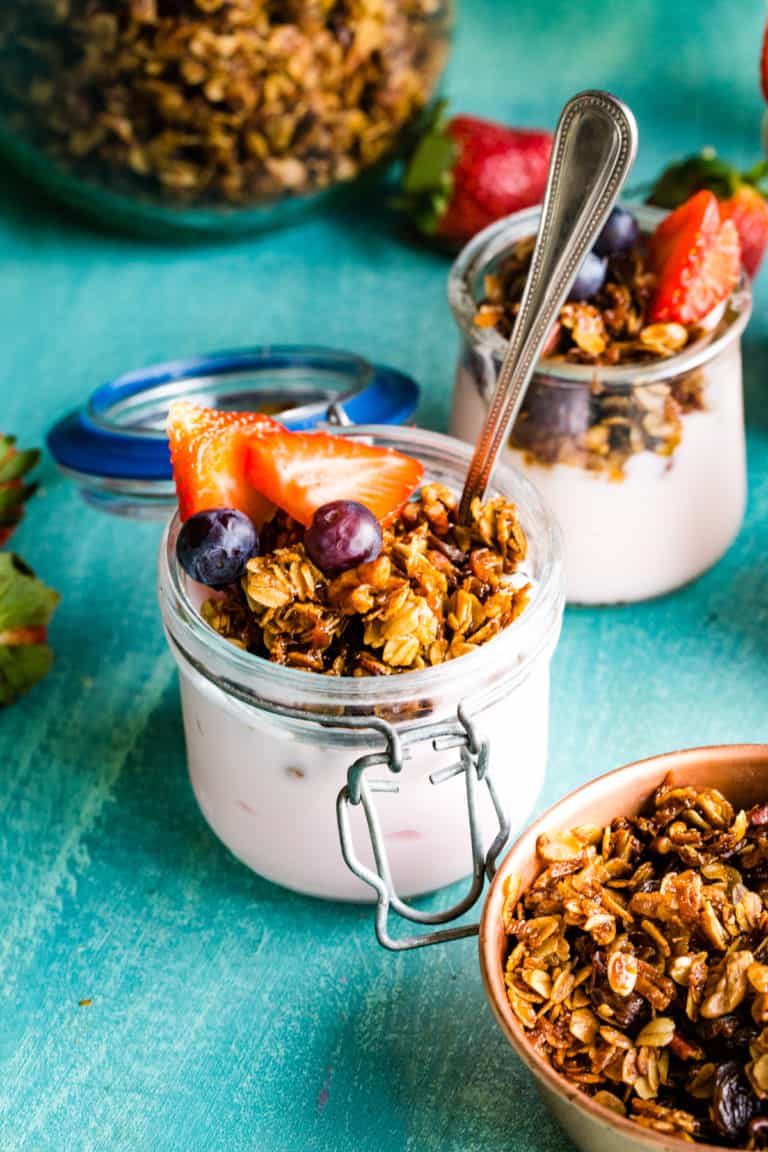 How to get homemade granola to stick together?
If you like large granola clumps add a beaten egg white to your mixture before baking and toss to fully coat. This will act as a glue and the granola will form large clumps. Also allow the granola to fully cool before breaking apart.
How do you keep granola from getting soggy in yogurt for meal prepping?
If you're making the parfaits to enjoy later in the week, keep granola separate. I like to place my non-fat greek yogurt in the jars and top with seasonal fruit. Then I put the granola in a small jar and add it to the yogurt when I'm ready to eat.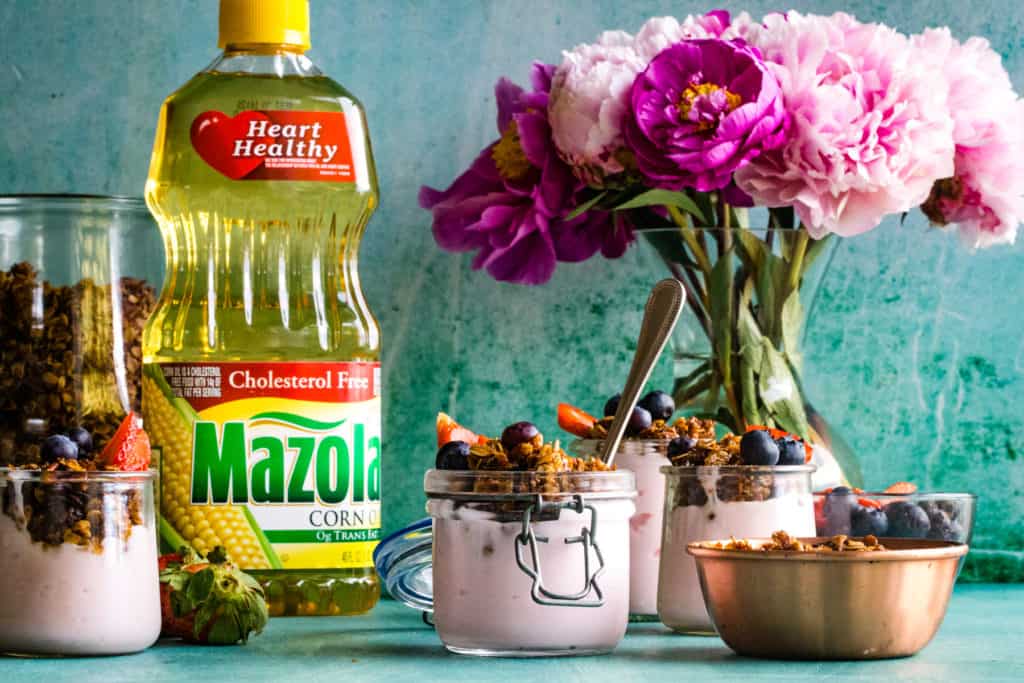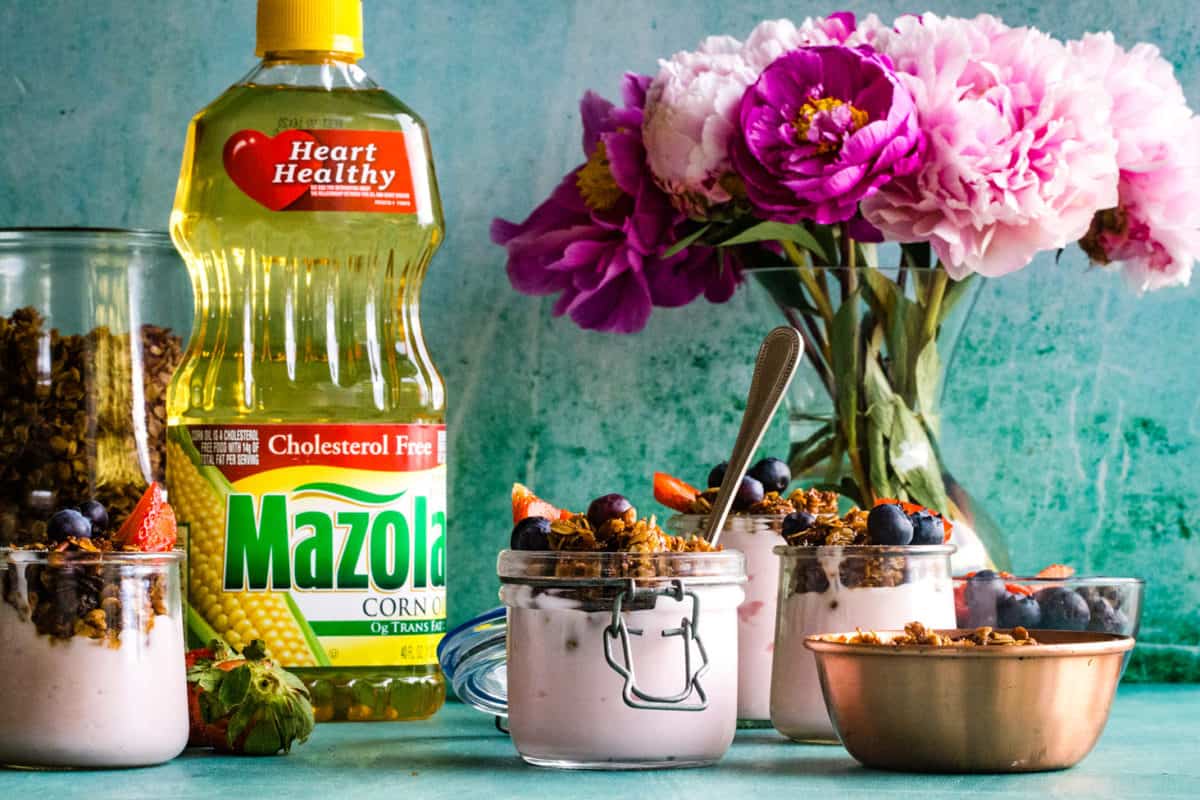 If you gave this Homemade Granola for Parfaits a whirl, I would love to know about your experience in the comments below, or even on social media!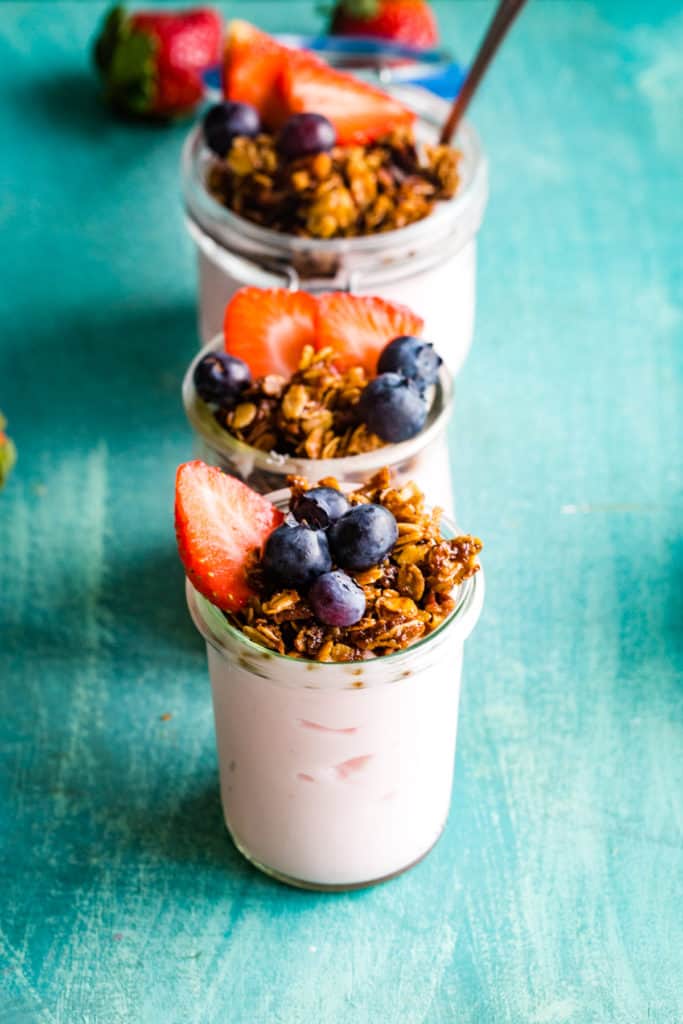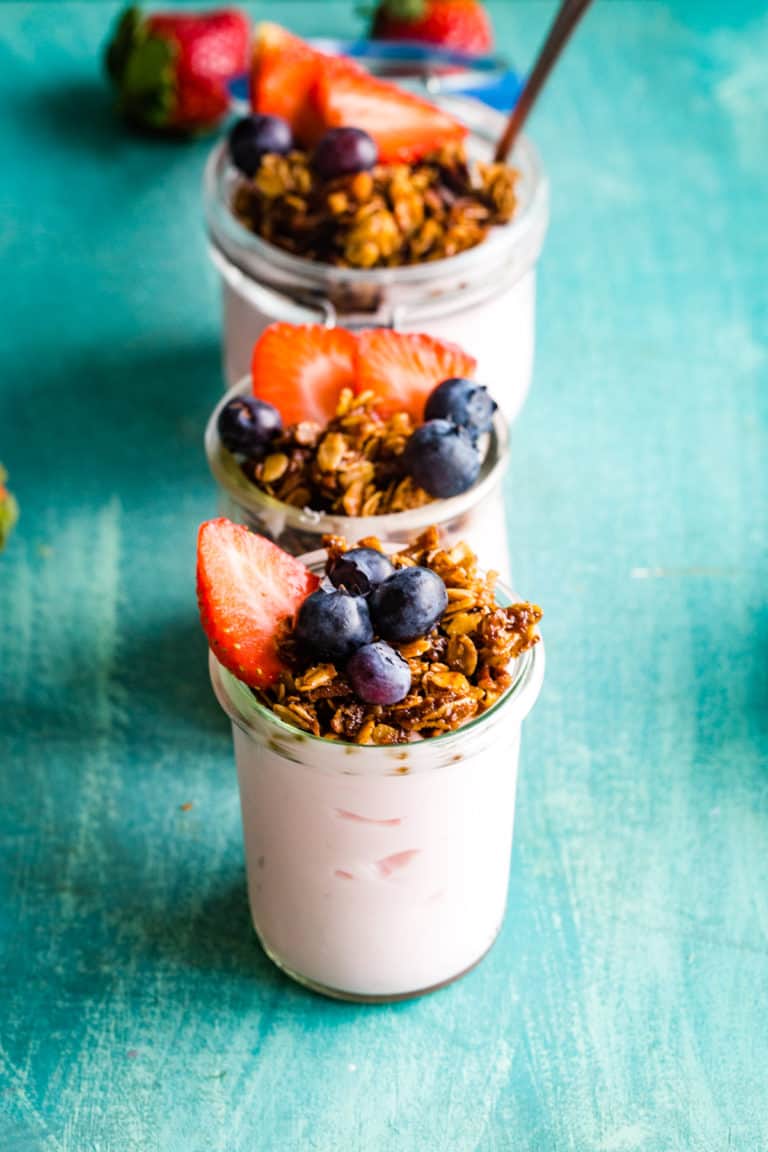 Other Breakfast Recipes We Think You'll Love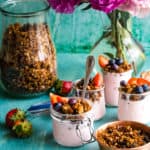 Homemade Granola for Parfaits
This recipe makes a large batch of granola that's perfect for a week of morning parfaits!
Keyword:
homemade granola recipe, yogurt parfaits
Ingredients
4

cups

old fashioned rolled oats

½

cup

packed light brown sugar

1

teaspoon

kosher salt

½

teaspoon

ground cinnamon

½

cup

shredded coconut

½

cup

chopped pecans

1

cup

Mazola® Corn Oil

¾

cup

honey

1

cup

raisins

optional
Instructions
Preheat oven to 325 degrees and line a large baking sheet with parchment paper.

In a bowl combine oats, brown sugar, salt, cinnamon, coconut, and pecans.

In a separate bowl, mix together Mazola® Corn Oil and honey, pour into oat mixture.

Combine all ingredients until everything is wet.

Pour into baking sheet and spread all over the pan.

Bake for 1 hour, carefully tossing the granola gently every 15 minutes.

When done remove from oven and sprinkle with raisins, if desired.

Allow to cool completely and break up if necessary.

Store in an airtight container for up to two weeks.

Enjoy over a bowl of yogurt topped with fresh fruit.