Whip up a fun summer treat with these Ice Cream Cupcakes. It includes decadent, funfetti cake, baked to perfection inside a cute ice cream cone. Top them with colorful buttercream frosting and sprinkles for a gorgeous display.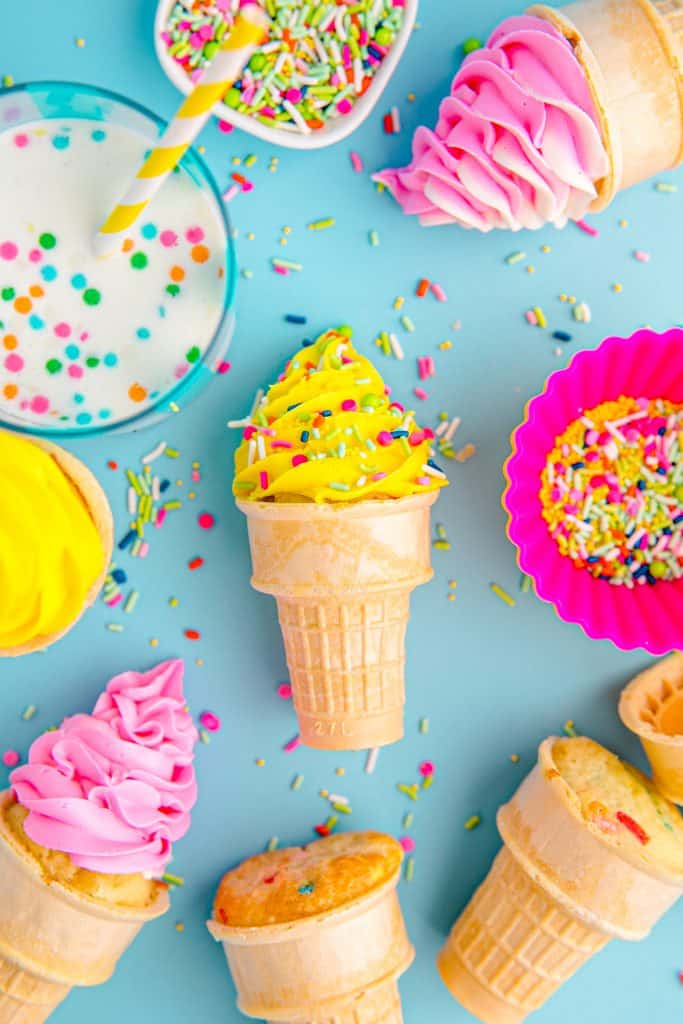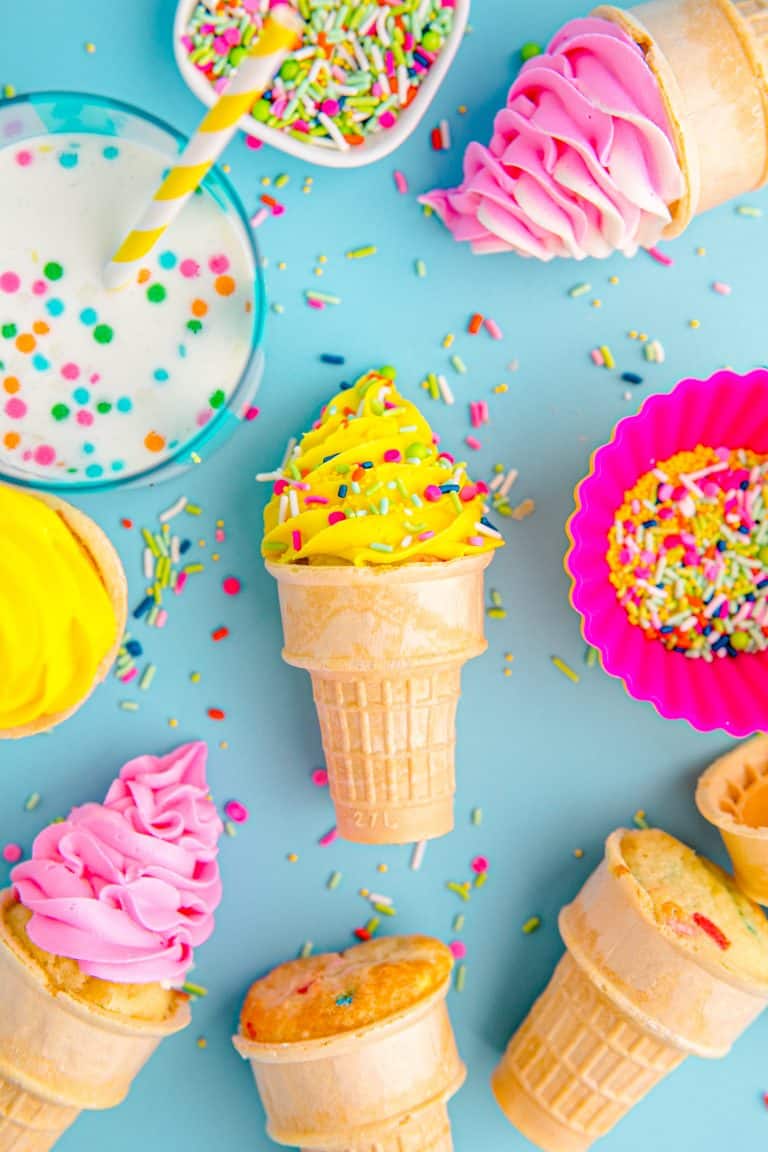 I find summer food to be just as welcoming as summer vacation. The colors, flavors, and creativity just get me giddy. I mean, just look at these cupcakes. Aren't they to die for? Well, maybe not that extreme, but you get my drift.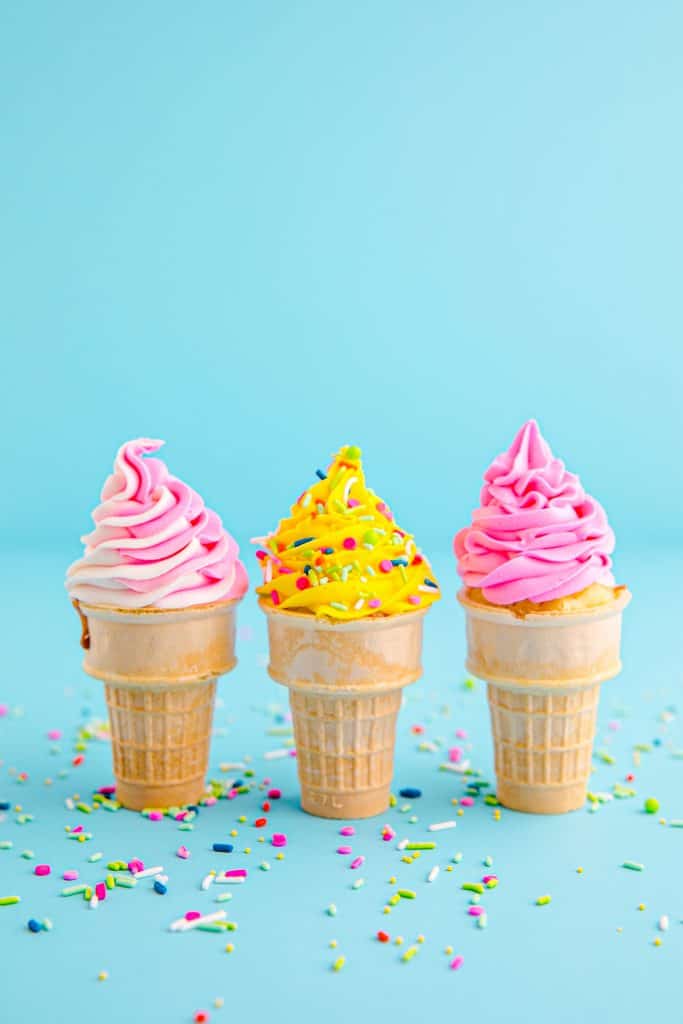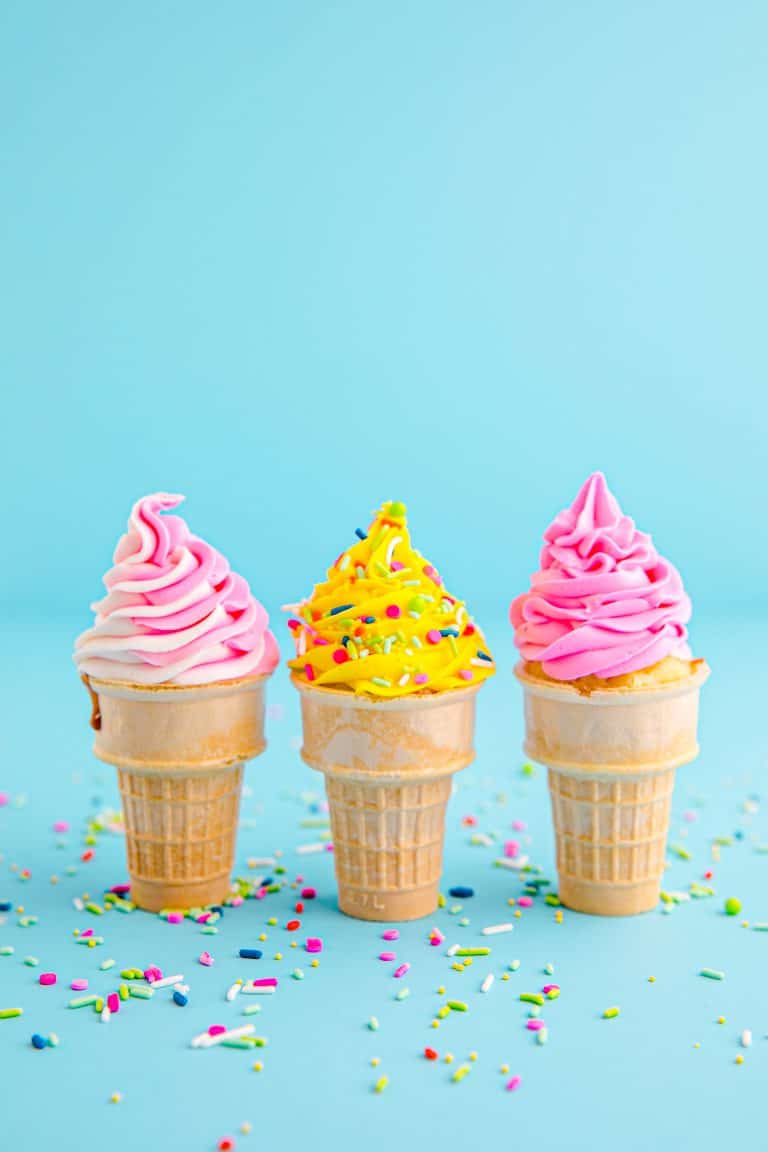 I fell in love with them as quickly as I did some of my other favorite summer desserts. For example, who doesn't just live for fresh peach pie or even peach layered cake? Ohhh, or what about blackberry cinnamon rolls or blackberry lemon curd cake? Gosh, too many good ones - I'll be listing them all day. In short, add to your summer fun with these dang adorable ice cream cupcakes. Thank me later!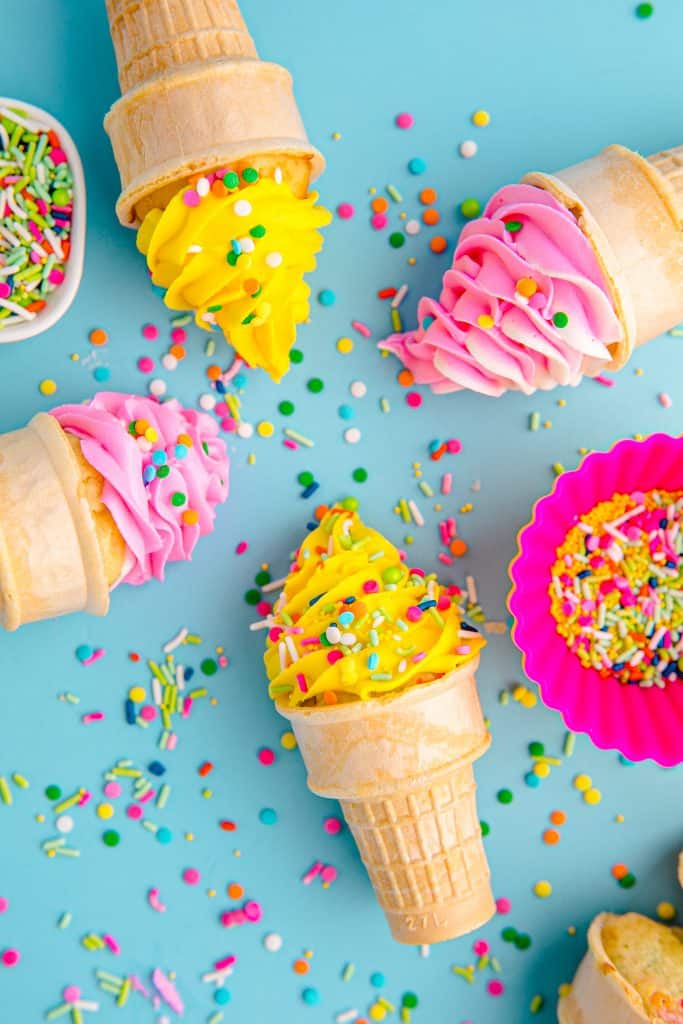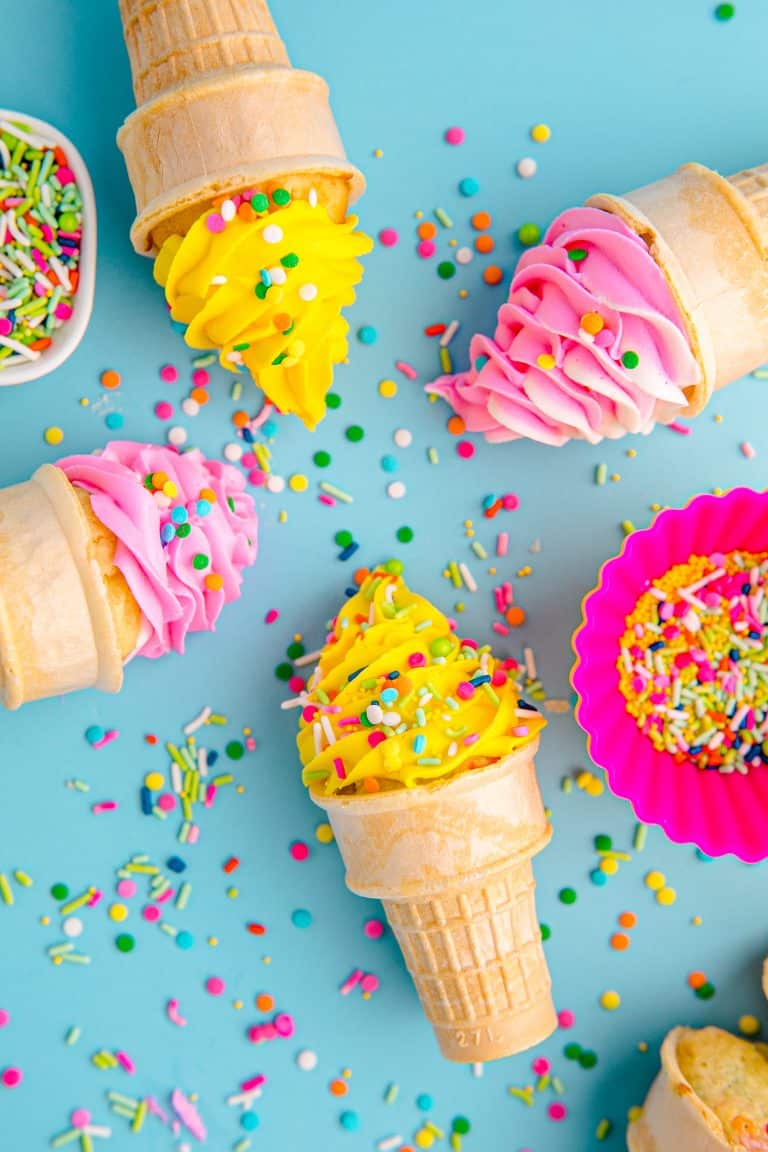 How Do You Make Ice Cream Cupcakes?
Make the batter - Preheat the oven to 350 degrees. Make the cake according to the box.
Fill the cones - Place the cones in a mini muffin tin and fill to just under the brim.

Bake - Bake the cones for 23 minutes or until cooked through. Remove and allow to cool.
Make the frosting - Cream the butter before slowly adding the powdered sugar a bit at a time. Add the salt and vanilla, beat again. Add colors at this point, if desired.
Garnish - Frost the tops of the cones and add sprinkles if desired. Serve and enjoy!
Tips and Variations
Make the frosting flavored - Instead of vanilla extract, add other flavored extracts to mix up the flavors of your frosting.

Do not fill the cones too high - If you fill your cones with too much batter, you'll make them top heavy and once the frosting is added, they'll want to fall over. In order for them to turn out their best, fill them to just below the line inside the cones.

Make pretty colors - It's super easy to make the frosting any color you like in order to match the theme of your party or get together. No theme? No problem, just leave the frosting white. Don't forget the sprinkles! You can use any kind you like to jazz up your cupcakes.

Let them cool fully - Do not frost the cupcake cones until they're fully chilled. If they're too warm, they'll melt the frosting and make a mess. Plus, they'll not look pretty and that's half the fun!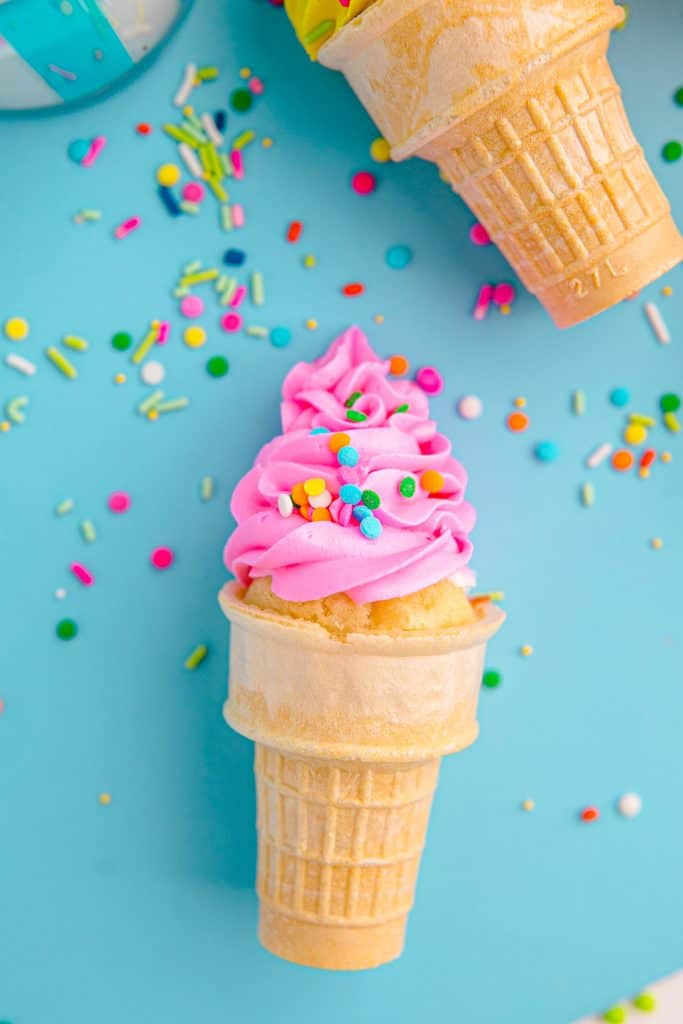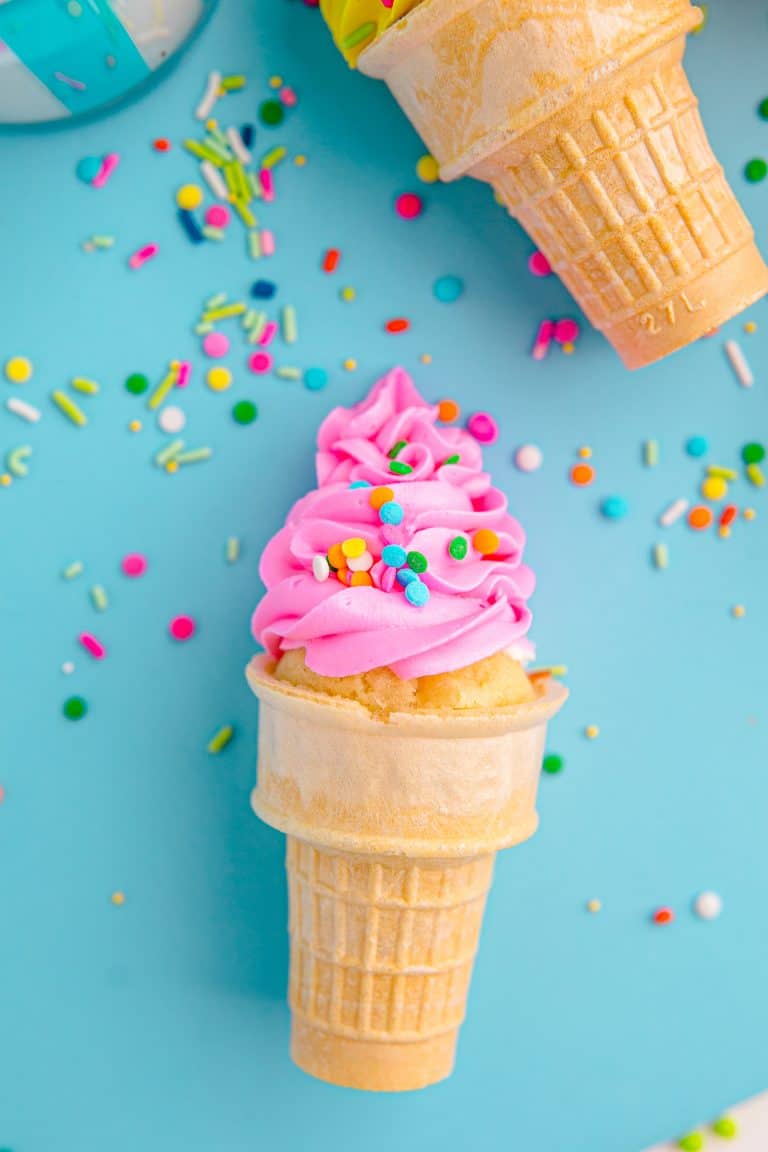 Common Questions About Ice Cream Cupcakes
Do You Bake Ice Cream Cone Cupcakes in the Cone?
Yep, you sure do. I know, it sounds strange, but it definitely works and they turn out delicious. You don't have to stabilize them or anything else. Just fill them, and place one per cavity in a mini size muffin tin. Gently transfer them to the oven, and you're on your way to a fun cupcake recipe!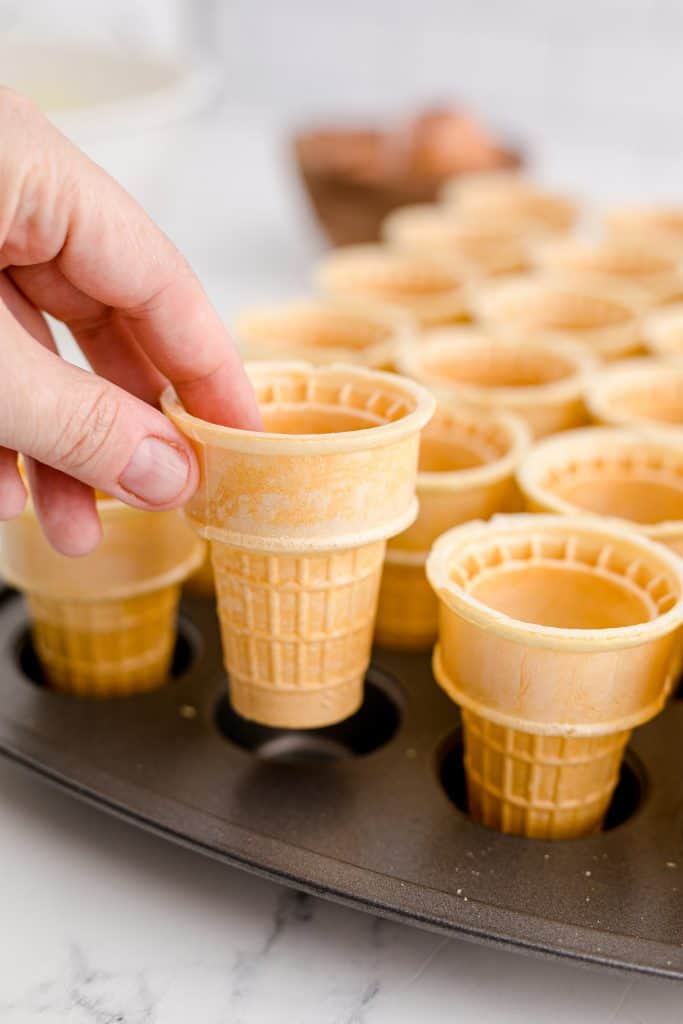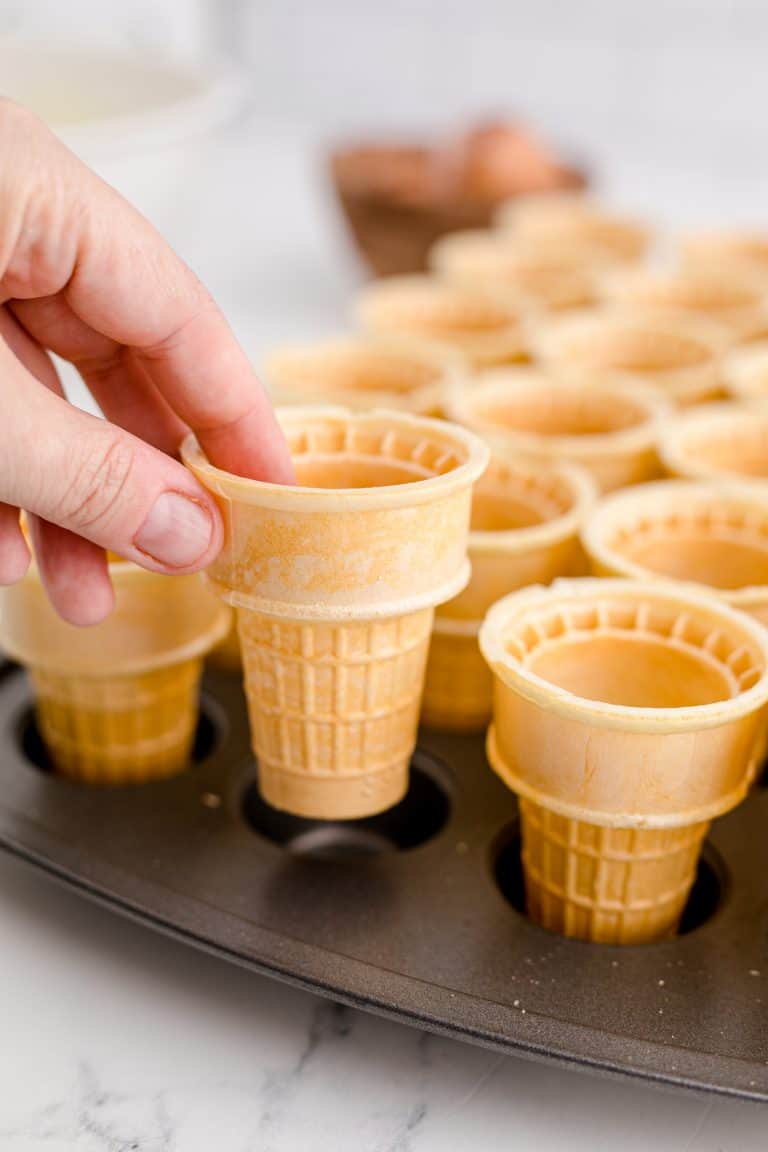 How Do You Serve Ice Cream Cupcakes?
I tend to just leave them in the muffin tin after frosting them. However, that's not the prettiest way to do things. So, I like to use an ice cream cone stand. You can find a ton of different options on Amazon or other online retailers. You could definitely create your own little makeshift cone stand as well. I found it easier and nicer just to buy one.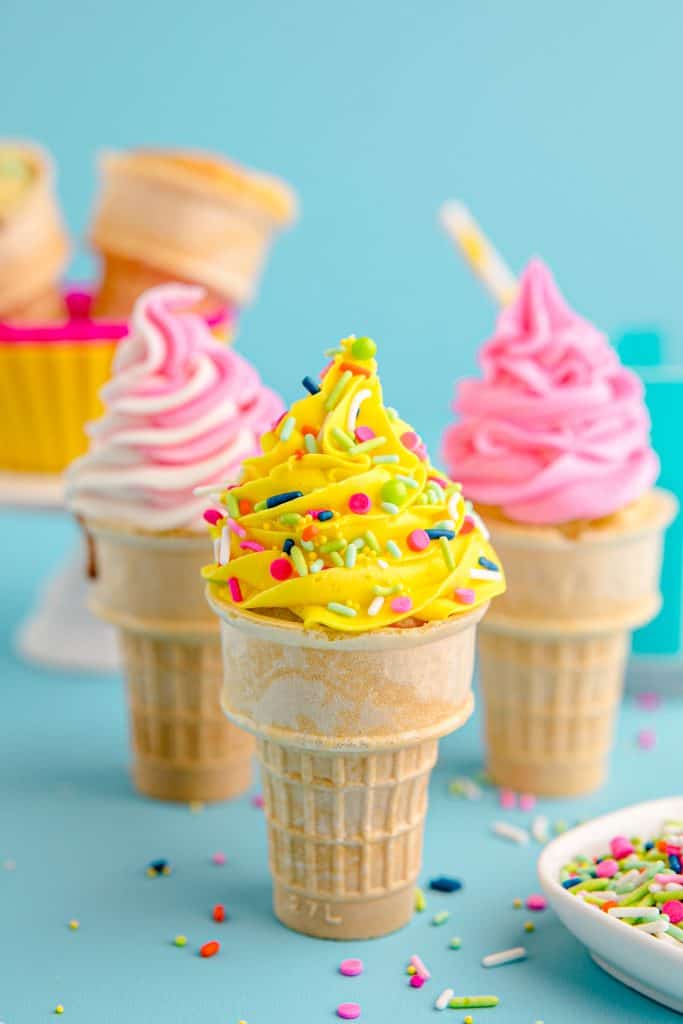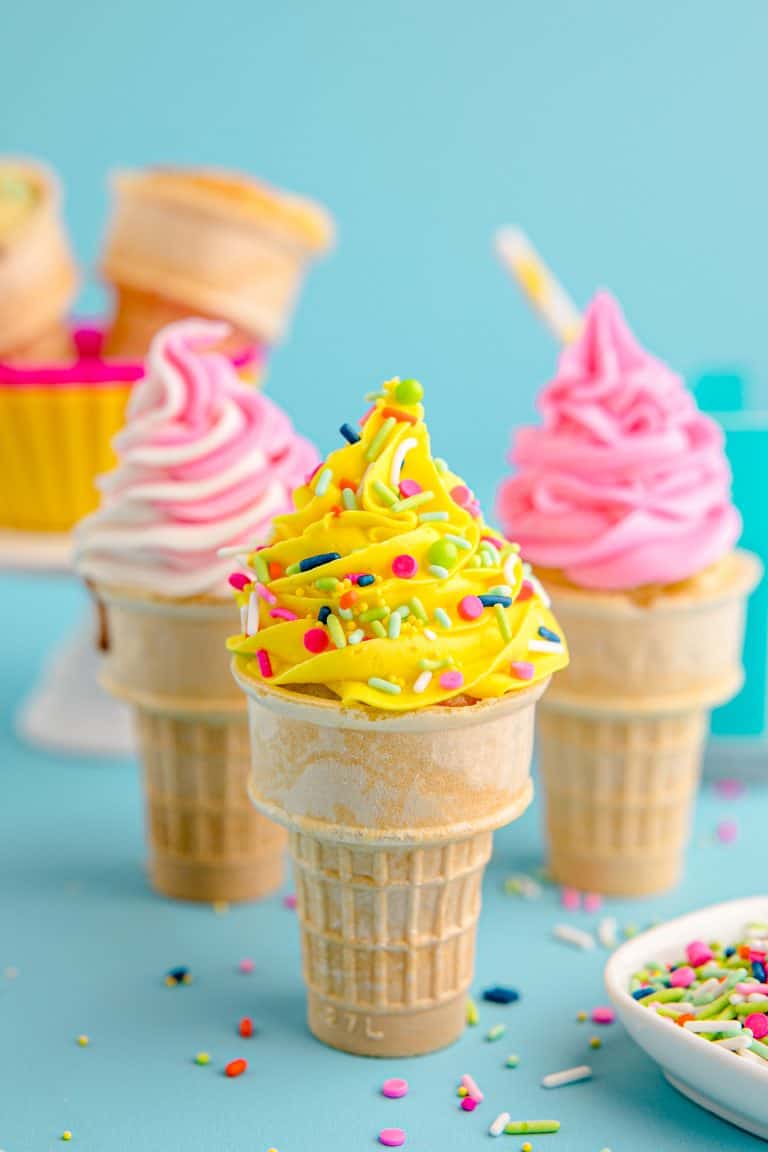 Please feel free to share your experience with making these Ice Cream Cupcakes in the comments below or on social media!
More Cupcake Recipes You're Sure to Love: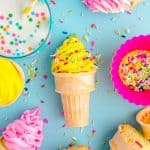 Ice Cream Cone Cupcakes
Summer is here! Birthday parties and holiday get-togethers are ramping up again and you're going love this easy, fun, unique dessert that's a cinch to make and will be a hit with parents and kiddos alike!
Keyword:
ice cream cupcakes, summer kids dessert
Ingredients
1

funfetti cake mix

make as directed on box - usually adding eggs, water and oil

24

ice cream cones

flat bottoms
Vanilla Buttercream Recipe:
1

cup

unsalted butter softened to room temp

3-4

cups

powdered sugar

3-4

Tablespoons

heavy cream

1

Tablespoon

vanilla extract

Dash of salt
Chocolate Buttercream:
½

cup

of unsweetened cocoa powder

2

Tablespoons

of vanilla extract
Colorful Buttercream:
A few drops of gel food coloring for desired color
Instructions
Prepare cake mix according to the package.

Preheat the oven to 350 degrees.

Using a 24 holder mini muffin pan, place your cones in each tin.

Place about 3 Tablespoons of cake batter into each of the cones, just below the inside rim. You can spoon the batter in or use a small ice cream scoop to be more accurate. Do not overfill. If you do, the batter will spill over while cooking and make the rims of the cones soggy. Each cone may bake up a little differently in shape but they will look great as soon as you frost them!

Bake them at 350 degrees for 23-25 minutes or until a toothpick releases clean.

Allow them to cool completely.

While the ice cream cone cupcakes are cooling, you can make the buttercream.

In a large bowl or stand mixer fitted with a paddle attachment, cream butter on low speed until pale and creamy.

Slowly add in 3 cups of confectioners' sugar and 3 tablespoon heavy cream a little at a time, alternating between each, while mixing on low over the course of about 3 minutes.

If your frosting needs a more stiff consistency, add remaining sugar. If your frosting needs to be thinned out, add the remaining cream.

Add vanilla and salt.

Beat on medium-high for about 2-3 minutes until the frosting is light and fluffy.

If you want to make multiple colors of frosting, just separate your buttercream into individual bowls and use food coloring to make whatever color your heart desires! If you want to make chocolate buttercream, add ½ cup of unsweetened cocoa powder and 2 tablespoons of vanilla extract and fold in with a spatula until incorporated.

You can pipe the frosting into a swirl (using a Wilton 2D tip and piping bag) OR you can quickly just spread your frosting on top of each cupcake with a knife - kiddos will eat them either way!

Toss some sprinkles on top for a fun garnish!