Tangy soft lime cupcakes topped with a sweet blackberry cream cheese frosting. These Blackberry Lime Cupcakes are what Spring baking is all about!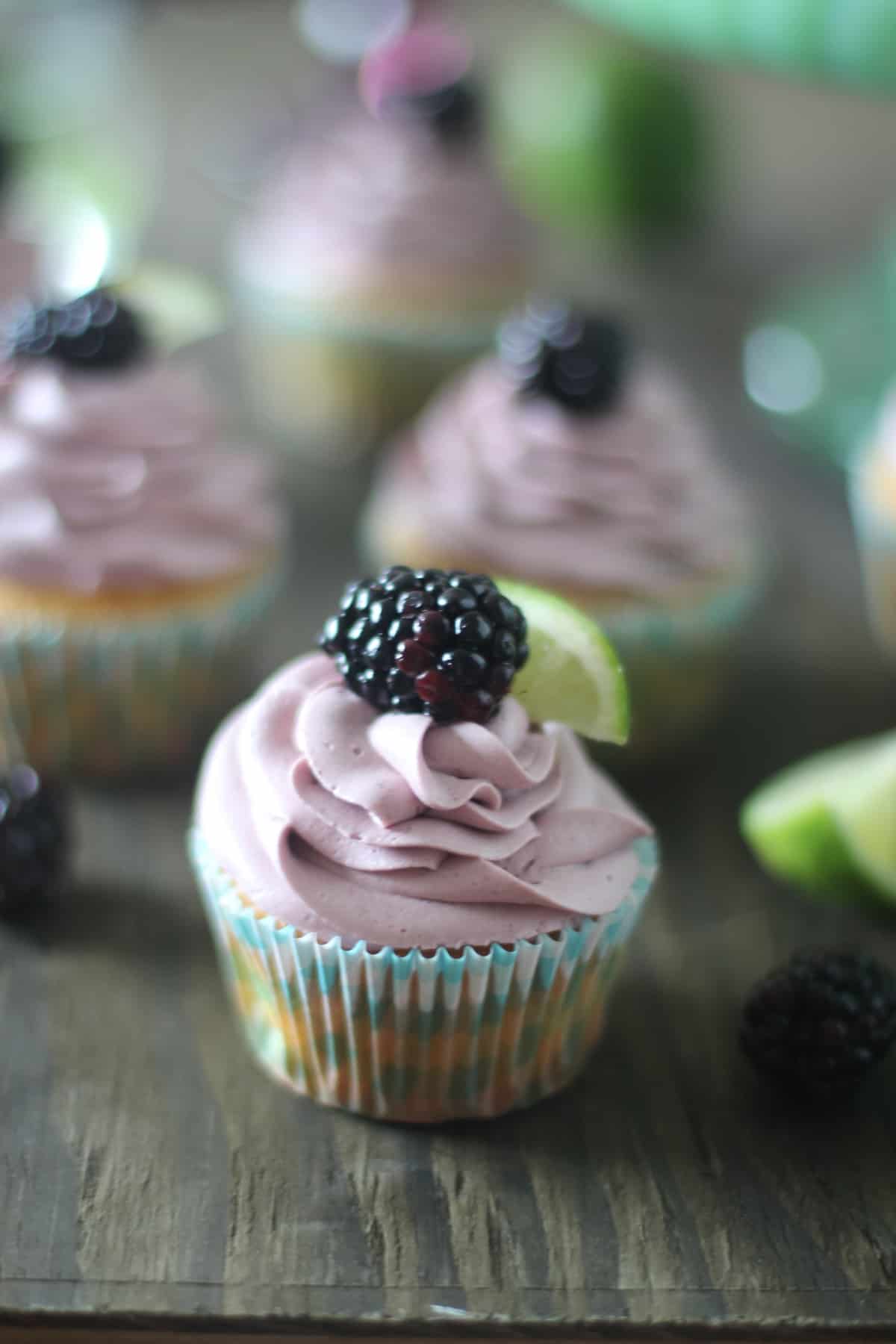 I love getting the grocery store circulars this time of year and seeing all of the fabulous deals on berries. Not only do we eat them like candy, but I also love to bake and make homemade jam with them. It also means that it is time for the U-Pick berry farms to open up which is one of our favorite weekend activity.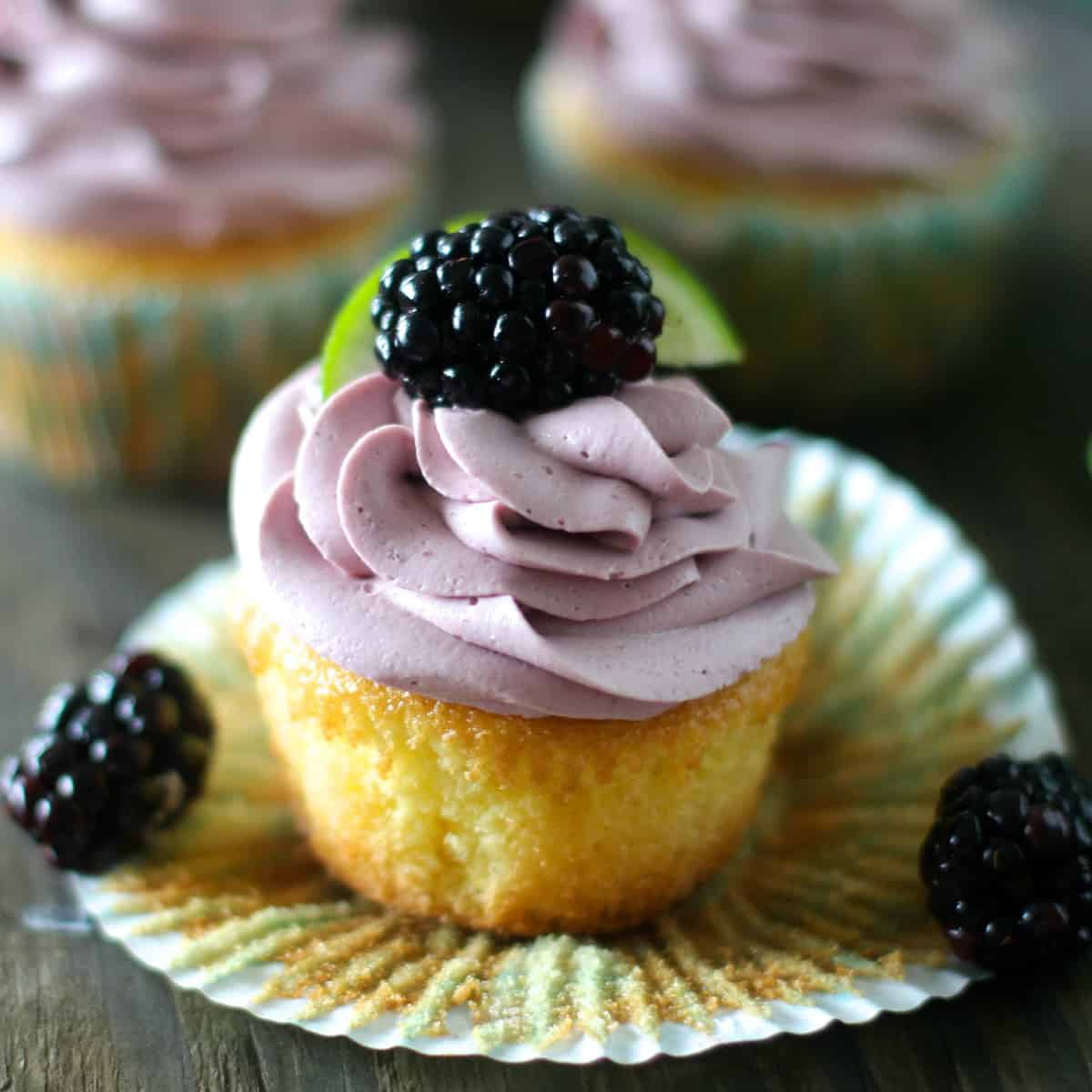 When blackberries were on sale last week for 88 cents a pint, I bought 2 cases, but only came home with 1 ½ as my little guy basically ate half a case while during the shopping trip. The berries are so sweet and juicy this year, we can't seem to get enough.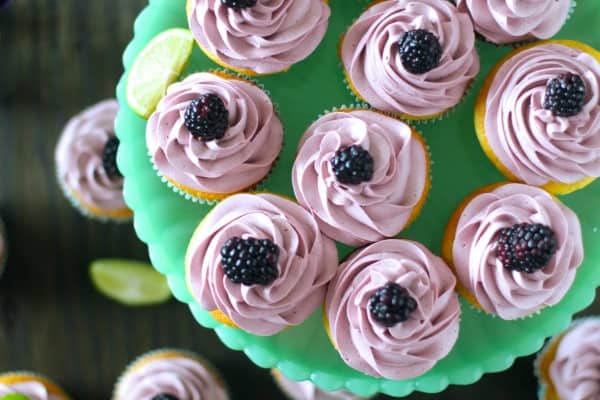 Before all of the pints were gone, I was able to make these cupcakes, batch of jam and some Blackberry Cinnamon Rolls. Since my kids love PB & J sandwiches, it is more economical for me to make my own jam. Plus, I can regulate the amount of sugar that goes in. Like caramel, making jam is extremely therapeutic and fun to make. If you have never made it before, I urge you to try. A long as you cook it slowly, it is pretty much foolproof. I'll post a recipe for my favorite jam in a few weeks.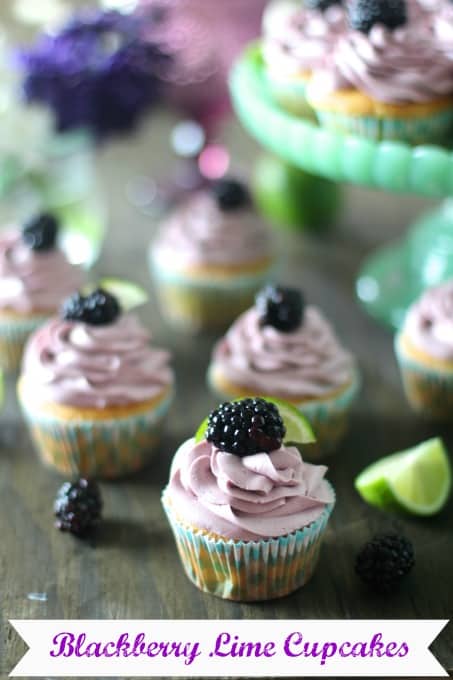 Anyway, back to the cupcakes. If you are looking for the perfect cupcake for Easter or Mother's Day, this is it. The cake is light and soft, bursting with tangy lime juice and zest flavors. The frosting is a combination of cream cheese and blackberry jam and topped with a plump, juicy blackberry. Between the lime cake and blackberry frosting, your tastebuds will go wild! Enjoy!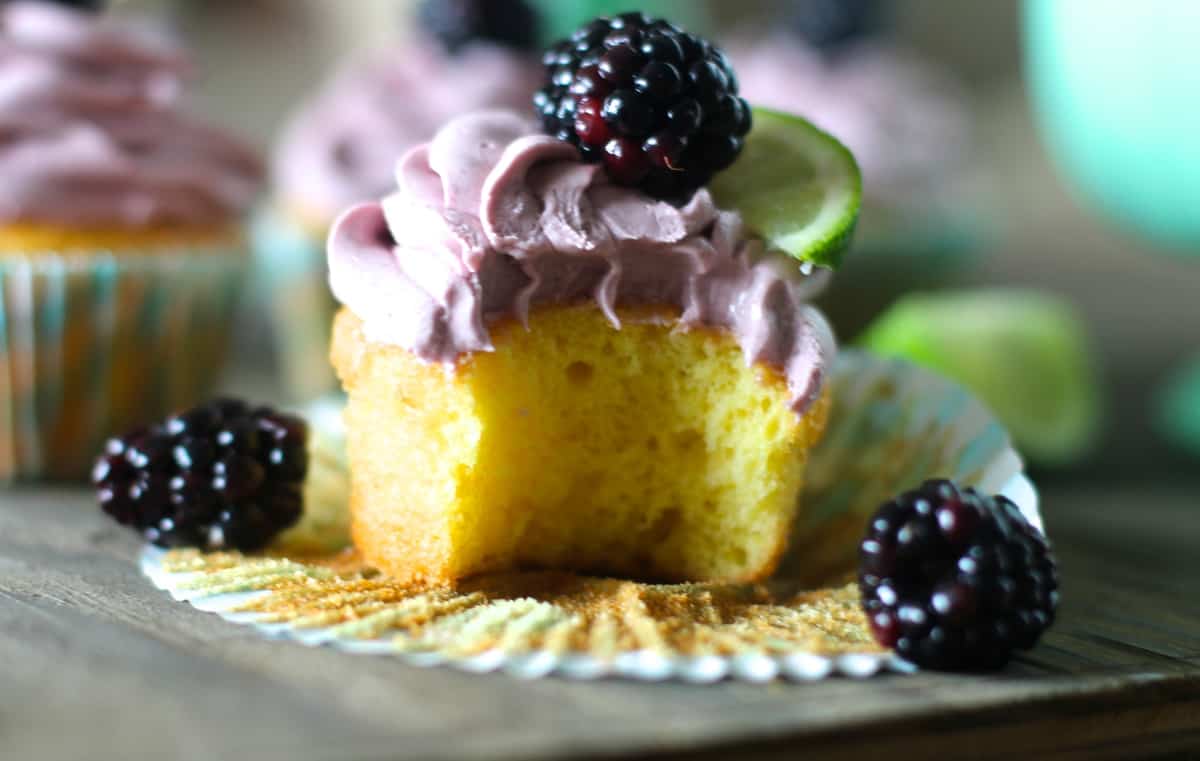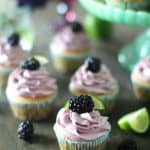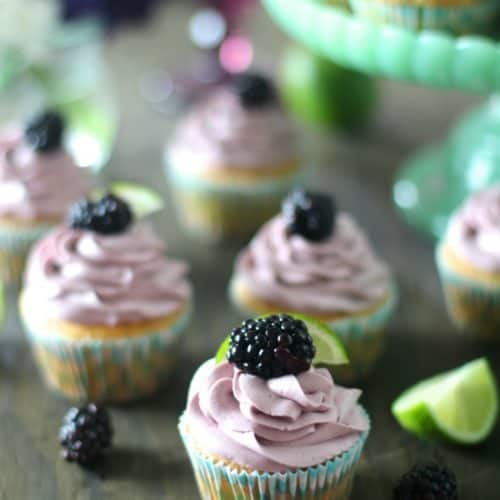 Blackberry Lime Cupcakes
Tangy soft lime cupcakes topped with a sweet blackberry cream cheese frosting. These Blackberry Lime Cupcakes are what Spring baking is all about!
Ingredients
1

cup

(2 sticks) butter, room temperature

1 ½

cups

granulated sugar

2

whole eggs

, room temperature

3

egg yolks

, room temperature

1

tablespoon

Lime Zest

2

tablespoon

Lime Juice

½

teaspoon

vanilla

1

cup

buttermilk

, room temperature

2 ½

cups

All-Purpose Flour

½

teaspoon

baking powder

½

teaspoon

baking soda

¾

teaspoon

salt

Frosting-

1

lb

cream cheese

, softened

1

stick unsalted butter

(8 tablespoons), softened

¼

cup

blackberry jam or preserves

1

tablespoon

lime juice

4

cups

powdered sugar

Fresh blackberries and lime zest for garnish
Instructions
Preheat your oven to 350 degrees. Line and grease two 12-cup muffin pans.

In a bowl cream butter and sugar until light and fluffy.

Add eggs and egg yolks, one at a time, mixing thoroughly.

Add zest, lime juice, and vanilla, mix.

Using a spatula, scrape the sides and bottom of the bowl. Turn the mixer on for another 30 seconds.

Combine flour, baking powder and soda, and salt in a bowl.

Mixing on low, alternate adding large scoops of the flour mixture and the buttermilk, beginning and ending with the flour.

Once you have added the last of your flour, remove the bowl from the mixer and mix gently by hand until combined (may look slightly bumpy but that's ok). Fold in blueberries.

Spoon batter into muffin cups until ⅔ full. Gently tap the pan to remove air bubbles.

Bake at 350 degrees for about 17 minutes or until a knife comes out clean.

Allow to cool completely before frosting.

To make the frosting beat all the frosting ingredient in a bowl on low until mixed.

Increase your mixer speed to medium high and whip until smooth, about 4 minutes.

Pipe frosting onto cooled cupcakes and top with fresh blackberries and lime zest.

Serve immediately or store in an airtight container at room temperature for up to 2 days.