This Peach Layer Cake boasts a classic peach cobbler flavored filling and a tower of moist, fluffy cake layers all topped off with a creamy peach-spiked frosting. A deliciously stunning celebration of summer's bounty!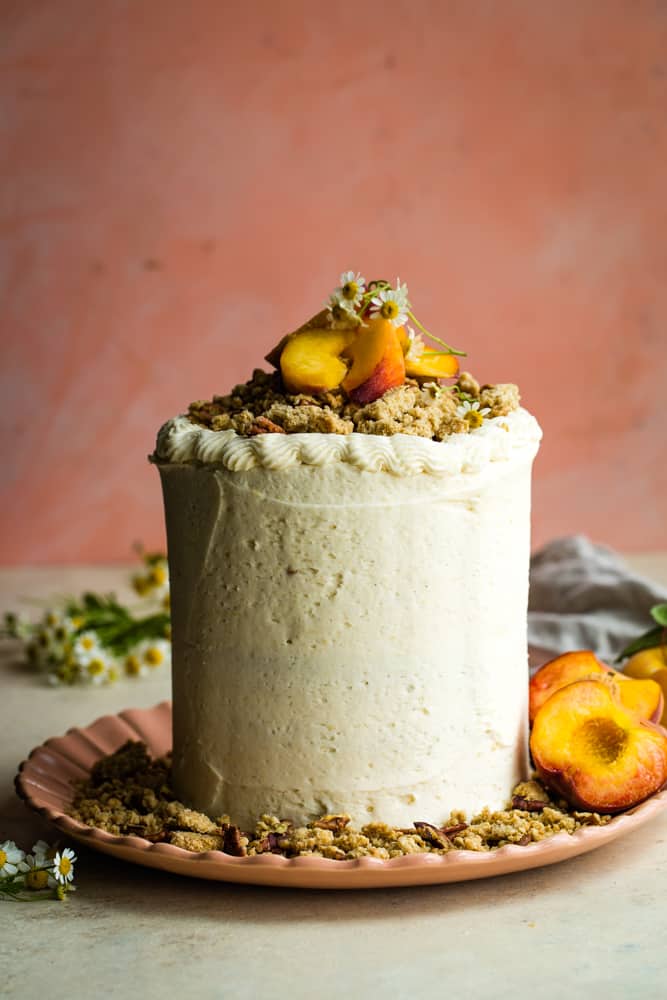 There are many summer traditions that my family and I cherish and eagerly look forward to all year long. One of my favorites is our annual peach picking trip. And the part I love the most is when we all carefully select our very first peaches, examining them to make sure they are perfectly ripe and ready to harvest.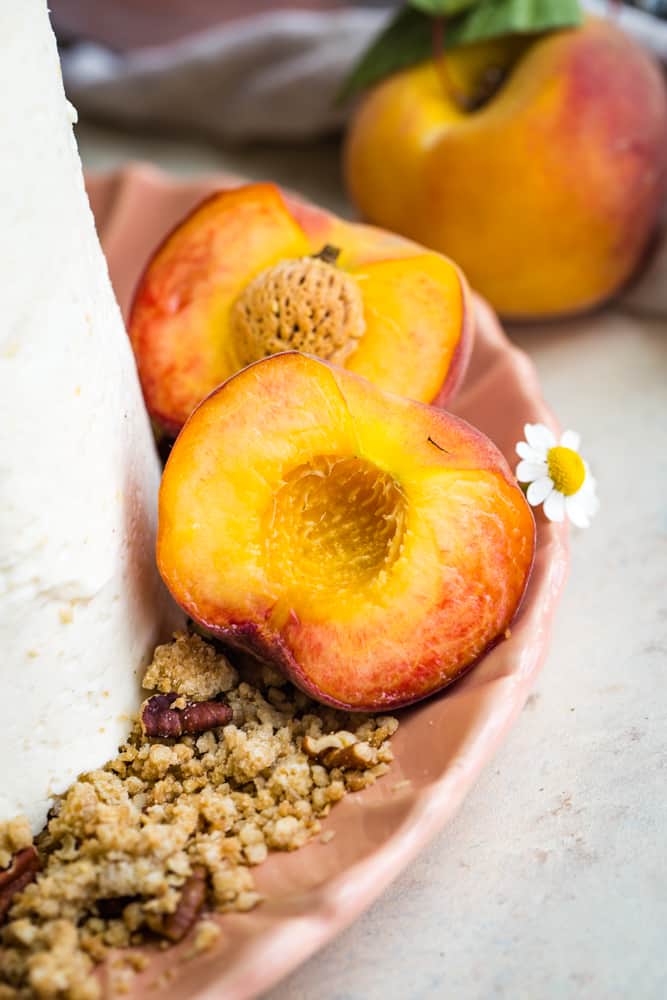 Then, instead of placing them in our bushel baskets, we count to three and all take our first bite out of the summer's peaches. Savoring the sweet juiciness of those fresh-picked beauties in the middle of the orchard is summertime at its very best. Pure perfection!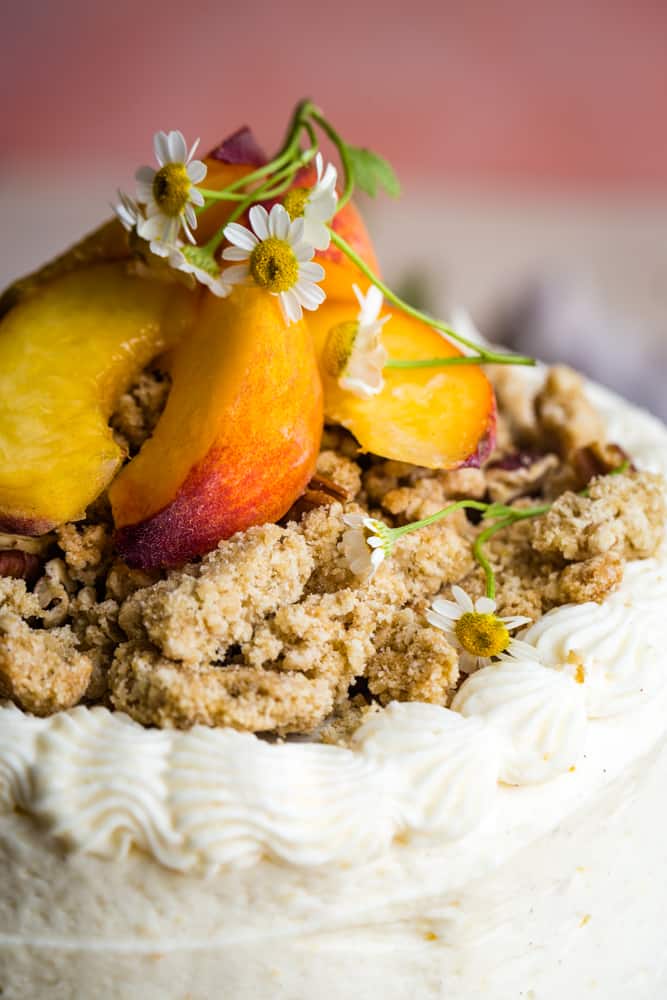 How to Pick the Perfect Peach
Ripe peaches should have a slightly golden hue. A pale yellow peach, or one with a greenish tint is not quite ripe.
Generally, if your peach doesn't have any discernible scent, it isn't ripe.
Gently squeeze a peach to determine how hard or soft it is. Peaches that are soft and bruise easily are very ripe and ready to be eaten immediately. A peach that has some"give" when you squeeze is ripe and should be used within a couple of days. These are the peaches to use for baking, as they tend to hold their shape better than softer peaches.
Of course, on our annual peach picking excursion, we try to harvest as many peaches as possible. That way we can continue to enjoy them at home for the rest of the season. And in addition to turning them into preserves and baking in pies, I have to set some of them aside to make this glorious Peach Layer Cake.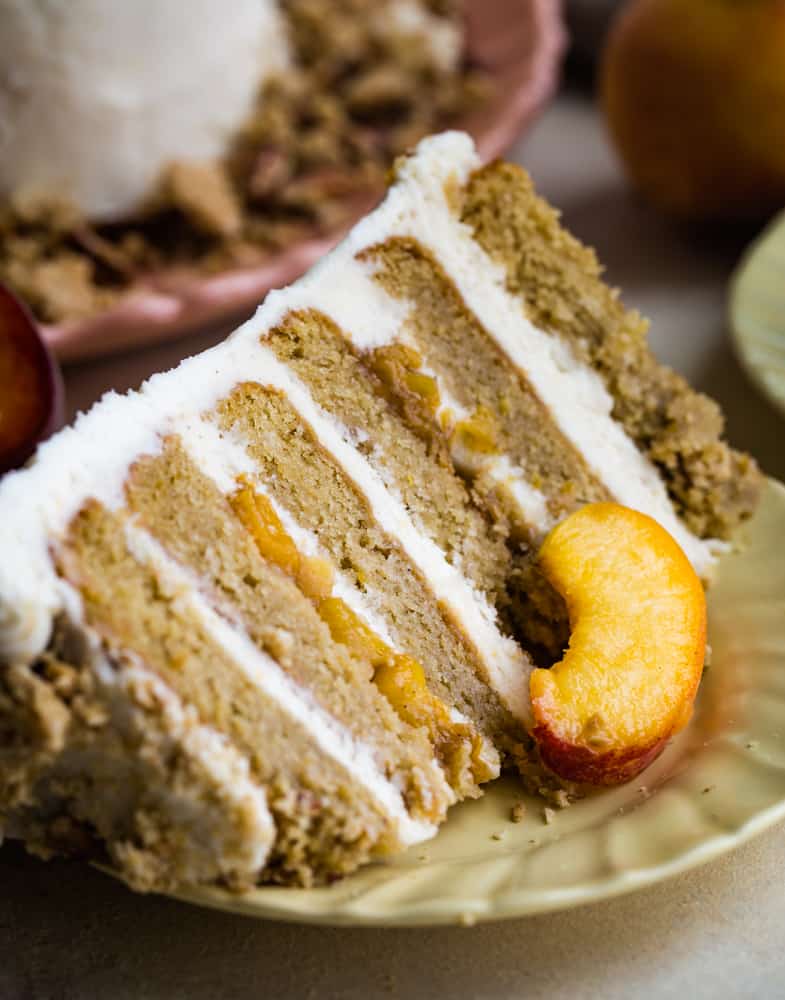 Why You Will Love This Peach Layer Cake Recipe
All those layers! This tower of 6 (!) cake layers not only looks impressive, it delivers the perfect ratio of filling, cake and frosting in each and every bite.
Peach Layer Cake combines comfort food favorites like brown sugar, cinnamon and buttermilk with fresh peach to make this a truly flavor-packed indulgence.
A true crowd-pleaser, Peach Layer Cake is perfect for serving at all your summer celebrations and special occasions.
The filling and frosting can be made 2-3 days in advance if stored in an airtight container and refrigerated until about 1 hour before using.
The cake can be made in advance as well if wrapped tightly and frozen until ready to use.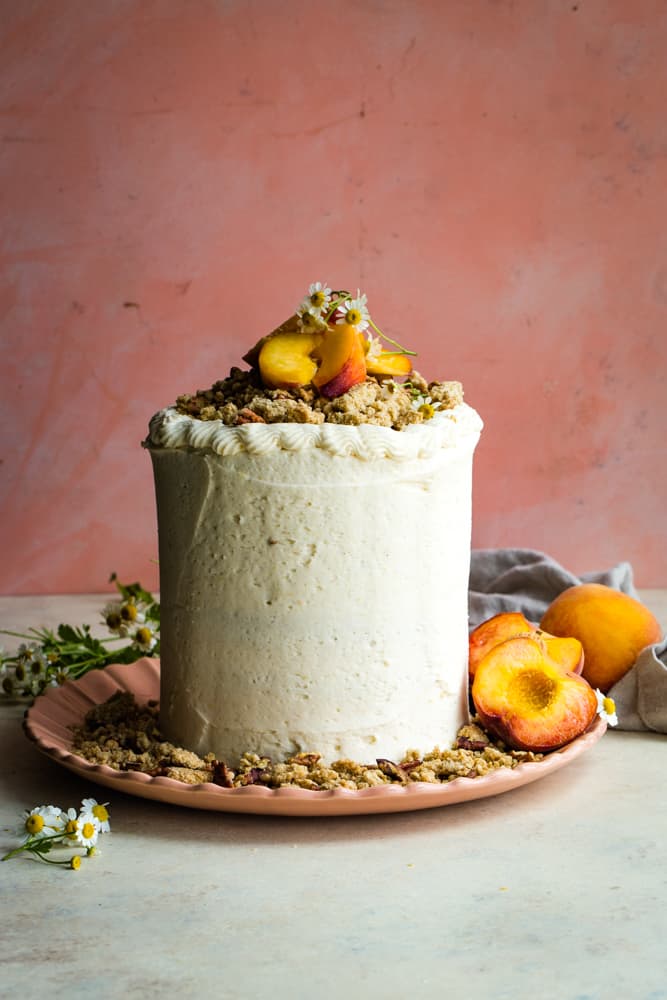 Now to be completely honest, while I love a big tall cake, you have to make sure that there is the proper support for a tall cake. Using cake dowels or thick straws are a great way to stabilize a cake.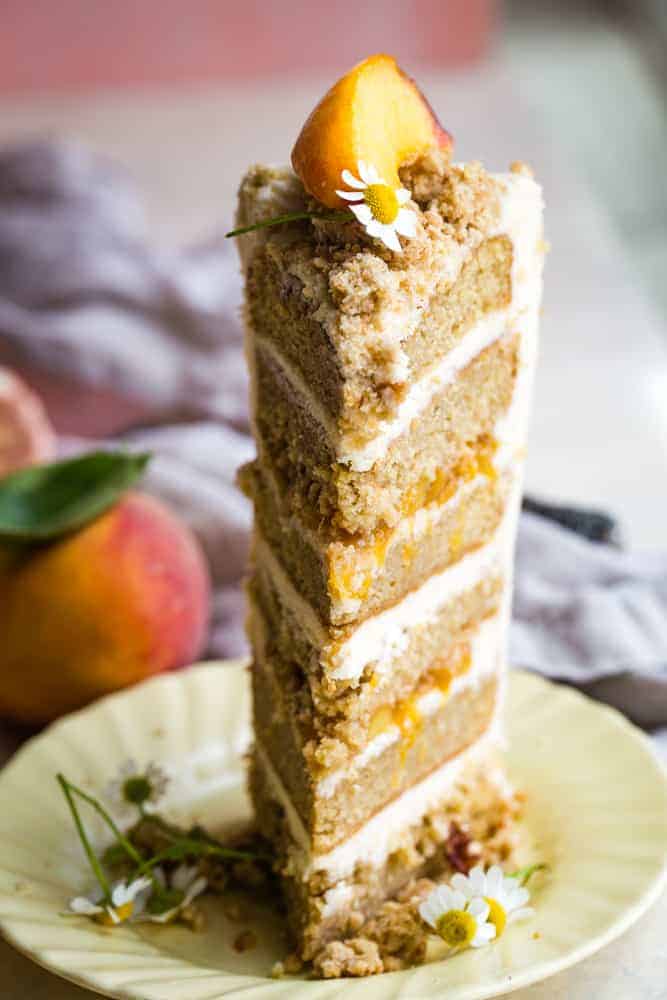 More Recipes For Show Stopping Cakes
If you love this Peach Layer Cake, you'll want to check out my Fig Hummingbird Cake recipe, this Strawberry Rhubarb Layer Cake and my recipe for this Elegant Orange Champagne Cake.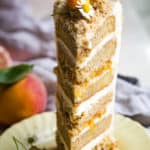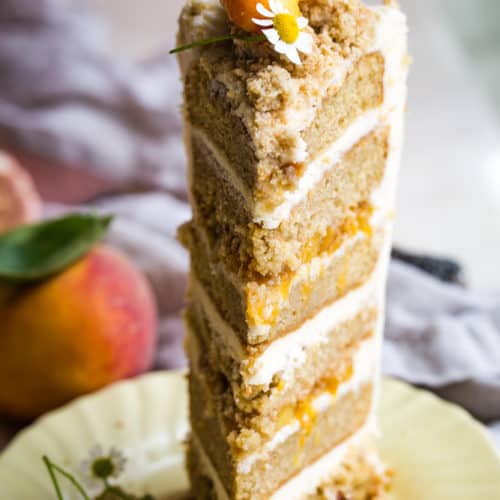 Peach Layer Cake Recipe
All of your favorite peach cobbler flavors wrapped up into a delicious layer cake.
Keyword:
peach cake, summer dessert
Ingredients
Cake
2 ½

cups

all-purpose flour

2

teaspoons

baking powder

½

teaspoon

baking soda

½

teaspoon

salt

½

cup

(1 stick) unsalted butter

room temperature

½

cup

vegetable oil

1 ½

cups

brown sugar

packed

3

egg whites

2

whole large eggs

1

teaspoon

vanilla extract

1 ¼

cup

buttermilk

room temperature
Filling-
1

pound

peaches

peeled, pitted, and sliced

¼

cup

unsalted butter

½

cup

brown sugar

packed

1

teaspoon

ground cinnamon

2

teaspoons

corn starch

¼

cup

cold water
Frosting-
1 ½

cups

unsalted butter

softened to room temperature

1

cup

thick peach preserves or jam

7

cups

powdered sugar

6

tablespoons

heavy cream

1

tablespoon

vanilla extract

⅓

teaspoon

salt

Fresh peaches

for garnish

Granola

for garnish
Instructions
To make the cake, preheat oven to 350 degrees. Grease and flour three 8 inch round cake pans.

In a medium-sized bowl, whisk together flour, baking powder and soda, and salt. Set aside.

In the bowl of your mixer, cream butter, oil, and brown sugar together until light and fluffy, about 4 minutes.

Add the egg whites and beat until fully incorporated.

Add the whole eggs and vanilla and beat mixture on medium-high speed for 4-5 minutes, or until light and airy.

Beat in the flour mixture in 3 batches, alternating with the buttermilk, beginning and ending with flour, until just smooth and just combined. Do not overmix.

Divide the batter evenly between the prepared pans. Bake until the cakes are lightly golden on top and a toothpick inserted into the center comes out clean, about 27-29 minutes.

Let cakes cool in the pan for 10 minutes then remove from pan and let cool completely on a wire cooling rack.

To make the filling, melt butter in a medium sized pot. Add peaches and brown sugar and cook on medium heat, stirring regularly, until peaches begin to break down, about 5 minutes.

In a small bowl, whisk together corn starch and water. Pour into peaches and stir to combine. Cook peach filling for an additional 3-4 minutes or until mixture begins to thicken. Remove from heat and transfer to a bowl to cool completely before using.

To make the frosting, cream together butter and jam until smooth. Add powdered sugar, salt, cream, and vanilla and beat on low until combined.

Once combined, increase mixer speed to high and beat the frosting for an additional 3-4 minutes, or until light and airy.

To assemble the cake, level cakes by cutting off domed tops, if necessary. If wanting a tall cake, slice layers in half.

Place the first cake layer on a cake plate or cake board. Using an offset icing spatula, spread about ½ cup of the peach frosting over the cake layer.

Pipe a rim of the frosting around the edge of the cake.

Evenly spread about ¼ cup to ½ cup of the peach filling inside the frosting barrier.

Repeat with remaining layers.

After you place the final layer, frosting the outsides of the cake. Refrigerate the cake for at least 20 minutes to allow frosting to set.

Right before serving, garnish with fresh peaches and granola for an added crunch.