This Caramel Peach Pie Recipe is the perfect way to enjoy summer's bounty. Bursting with juicy peaches, cinnamon and a delectable caramel sauce, this double-crust peach pie is what summer baking is all about!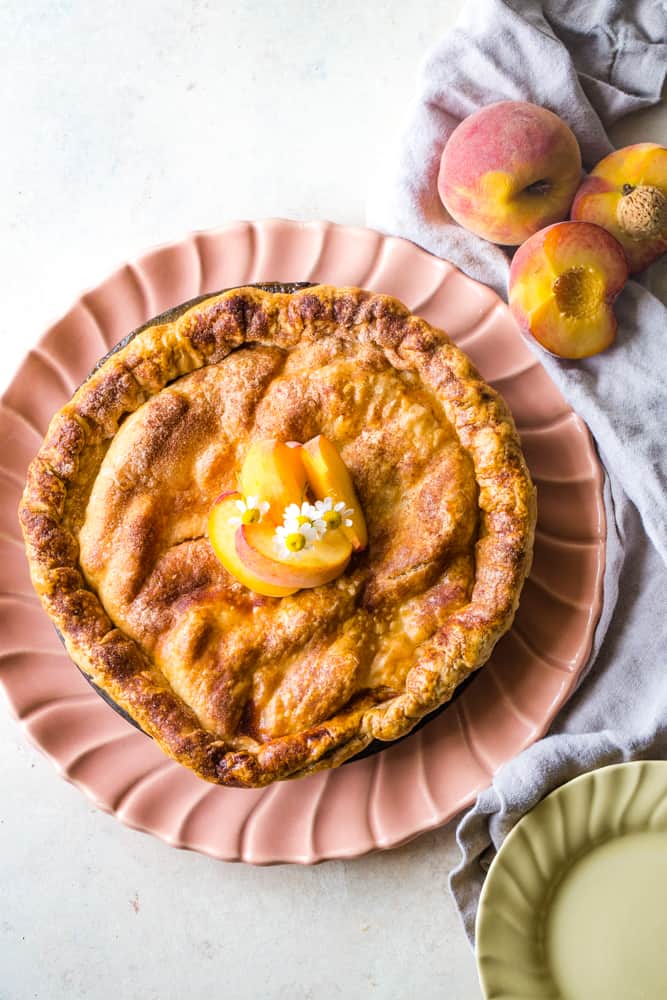 Peaches really are summer's candy. While I love to cook and bake with this delectable stone fruit all year long, summer is when they really shine. Freshly picked, incredibly ripe and juicy peaches are my absolute favorite.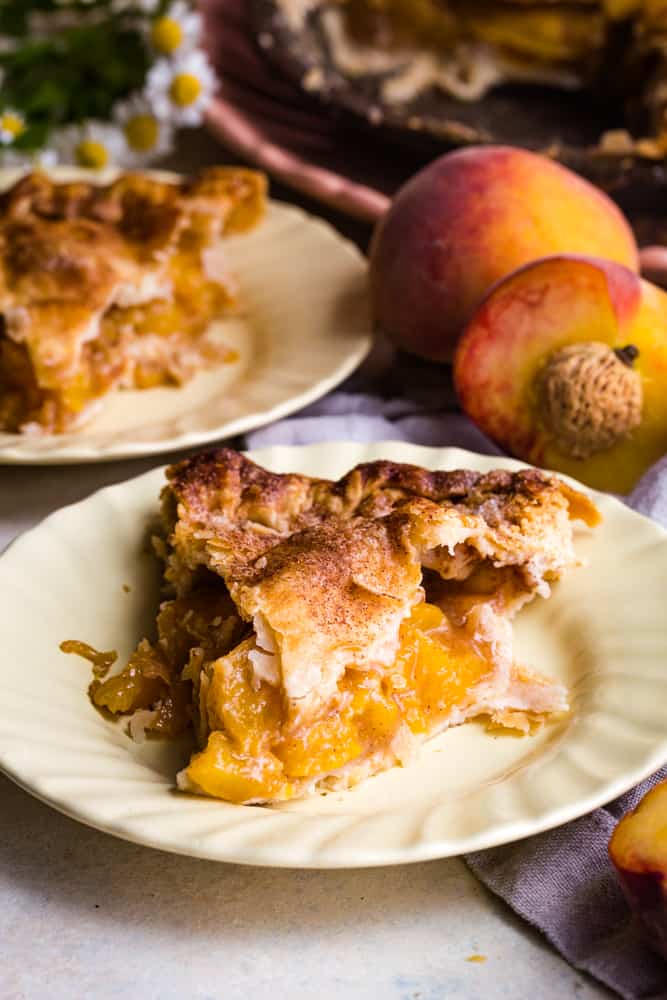 When we finally get to peak peach season, I make sure to indulge in them whenever and however I can. As a snack all on their own, or made into cobblers, crisps, and galettes. And of course, I always make sure to whip up this all-time classic: this caramel peach pie recipe.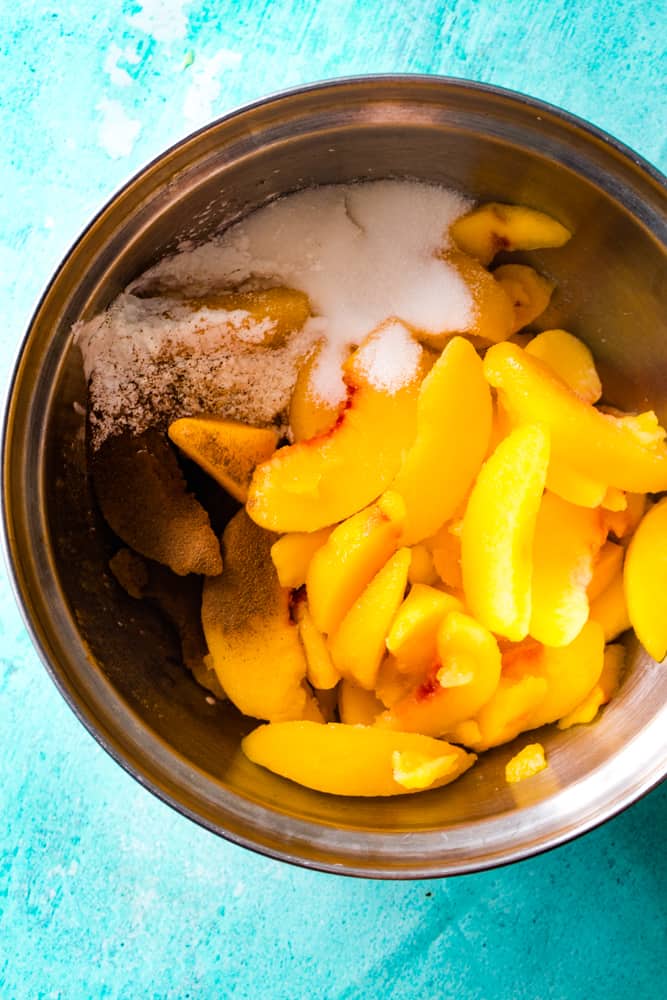 Why You'll Love This Caramel Peach Pie Recipe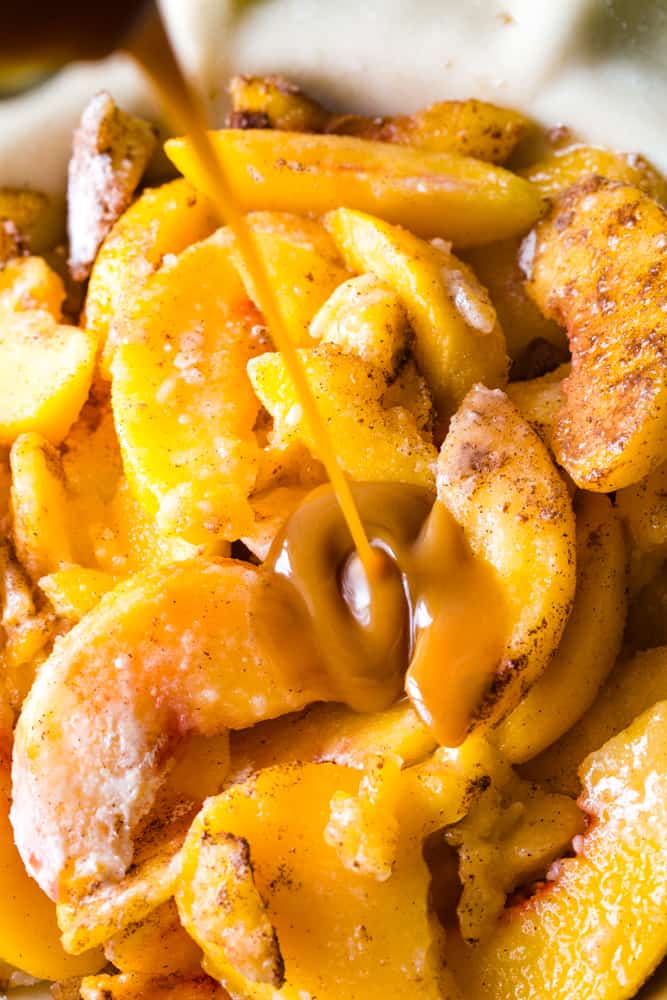 Most people probably think that caramel only goes with apple, but they are seriously missing out! Peach and caramel is an amazing flavor combination that you will absolutely love.
And since this Caramel Peach Pie recipe is a double crust pie, it gives you what I think is the perfect ratio of crust to filling in every bite. Yum!
Plus, its show-stopping appearance makes this the ideal summertime dessert and a true crowd pleaser.
Caramel Peach Pie is delicious served hot or cold. So you can take it to potlucks, serve it at your next backyard barbecue, or even pack it on a picnic.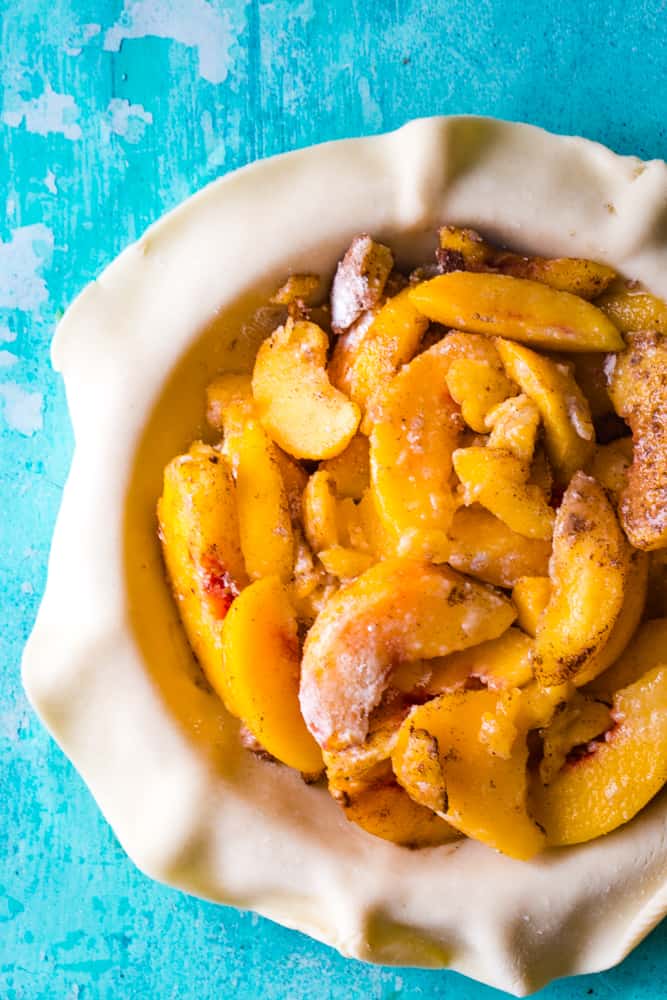 Caramel Peach Pie Tips
Make sure you cut vents into the top pie crust before baking. This will allow steam to escape and give you a nice crispy (not soggy) pie crust.
Use a pair of scissors or kitchen shears to trim the excess dough before pinching and sealing.
Combine the peach slices with the cinnamon, sugar and cornstarch at least 15 minutes before adding to the pie crust. This will allow the flavors to develop and meld.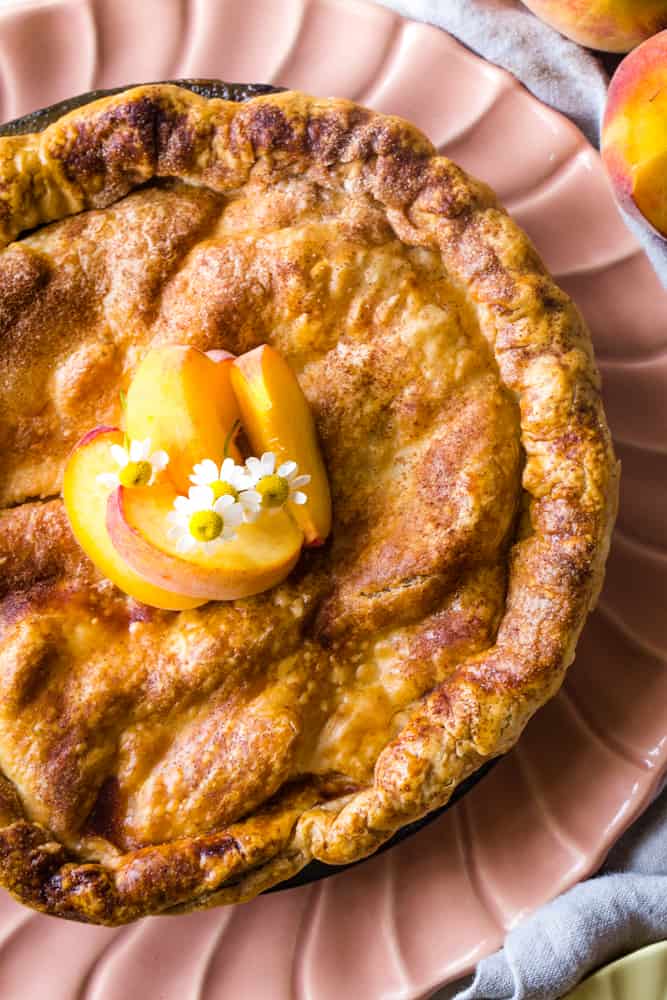 How to Make Caramel Sauce
Making your own caramel sauce from scratch is actually quite easy. Here's how to do it:
In a saucepan, combine 1 cup of brown sugar with a ½ cup butter and ¼ cup of milk.
Bring it to a gentle boil and then cook for 1-2 minutes until thickened.
Remove from heat and allow to cool before using.
More Delicious Pie Recipes
Hungry for even more perfect-for-summer pies? Then you'll want to check out my recipes for Boysenberry Pie, refreshing No-Bake Key Lime Pie, and these super cute Strawberry Hand Pies.
WP Recipe Maker #17088

remove

Caramel Peach Pie Recipe

This double crusted pie is filled with summer's candy- peaches, and drizzled with a delicious caramel sauce.

Course: Dessert

Cuisine: American

Keyword: double crust pie, summer pie, peach pie recipe, summer pie

Prep Time: 15m

Author: <a href="https://theseasidebaker.com/about/" target="_blank">Jackie</a>

- 1 (15 ounce) package pastry for a 9 inch double crust pie or homemade pie crust

- 5 cups sliced peeled peaches

fresh or frozen

- 2 tablespoons corn starch

- ½ cup white sugar

plus ½ tablespoon for crust

- ½ teaspoon ground cinnamon

plus ¼ teaspoon for crust

- ⅓ cup caramel sauce

homemade or store-bought

- 1 egg

beaten

1) Preheat oven to 350 degrees.

2) Line a 9-inch pie dish with bottom crust and trim the edges.

3) For the filling-

4) In a large bowl, toss together the peaches, corn starch, sugar, and cinnamon.

5) Pour peach mixture into crust.

6) Drizzle caramel sauce over peach filling.

7) Roll out remaining pie crust disc and cover pie, trimming off excess dough and pinching the top and bottom crusts together to seal.

8) Lightly brush crust with beaten egg and sprinkle with cinnamon and sugar.

9) Cover with lightly fitted foil.

10) Bake for 30 minutes. Remove foil; bake 30-35 minutes longer or until crust is golden brown.

11) Cool on wire rack before serving.

12) Serve warm or at room temperature with ice cream and a drizzle of caramel sauce.