Get your delicious dose of gooey, cinnamon goodness when you whip up this Homemade Monkey Bread recipe. Bread dough, melted butter, cinnamon, and pecans combine to make a perfect, addictive dessert. Enjoy it for dessert, or completely rock your breakfast or brunch crowd.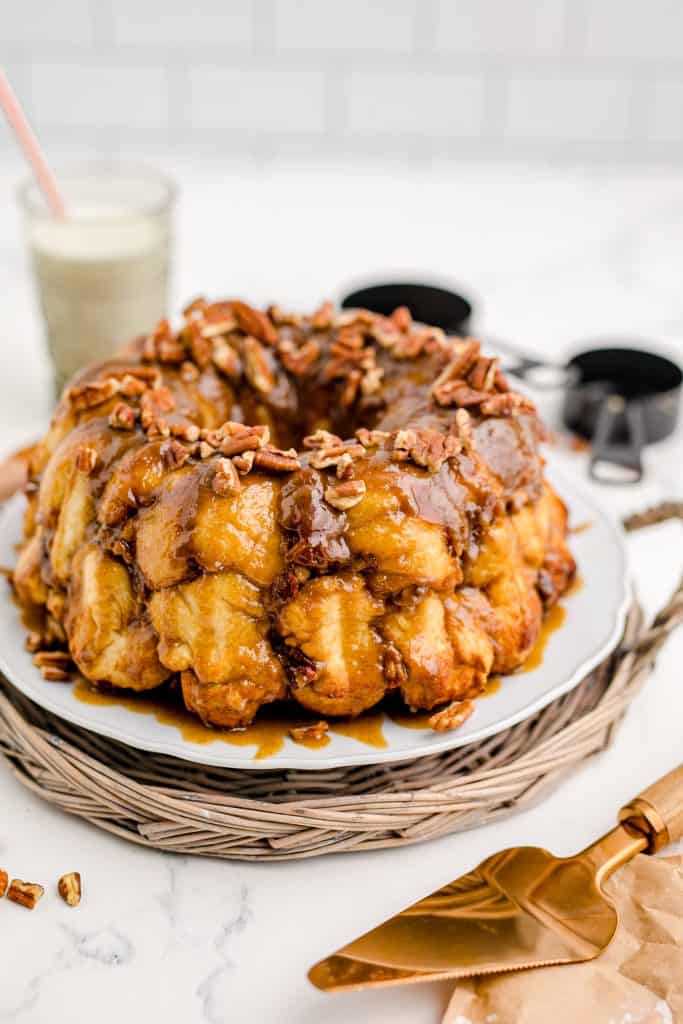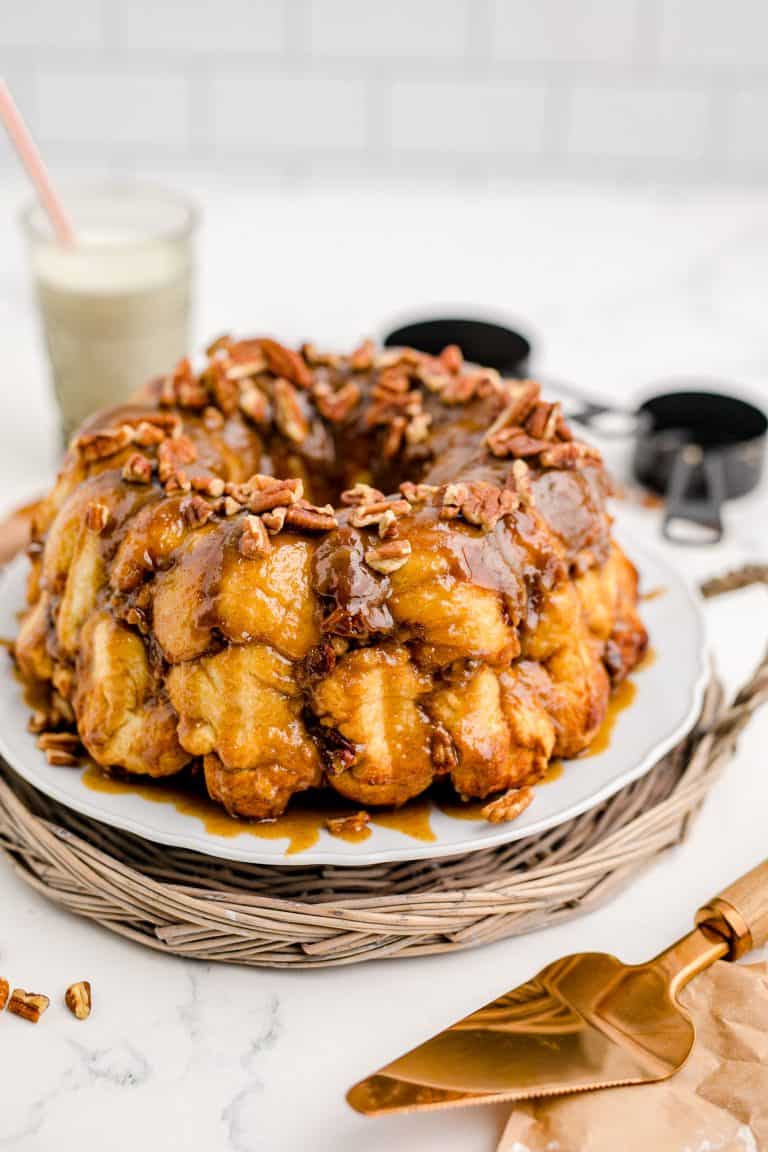 I absolutely love bread. It's such a universal food that's always a comforting experience. For example, a good soup can be enjoyed with some Garlic Cheese Biscuits or even a slice of Guinness Beer Bread. You can wake up in the morning and enjoy a delicious Maple Oat Scone. You can go to bed enjoying a snack of English Muffin Bread. So many options for every occasion.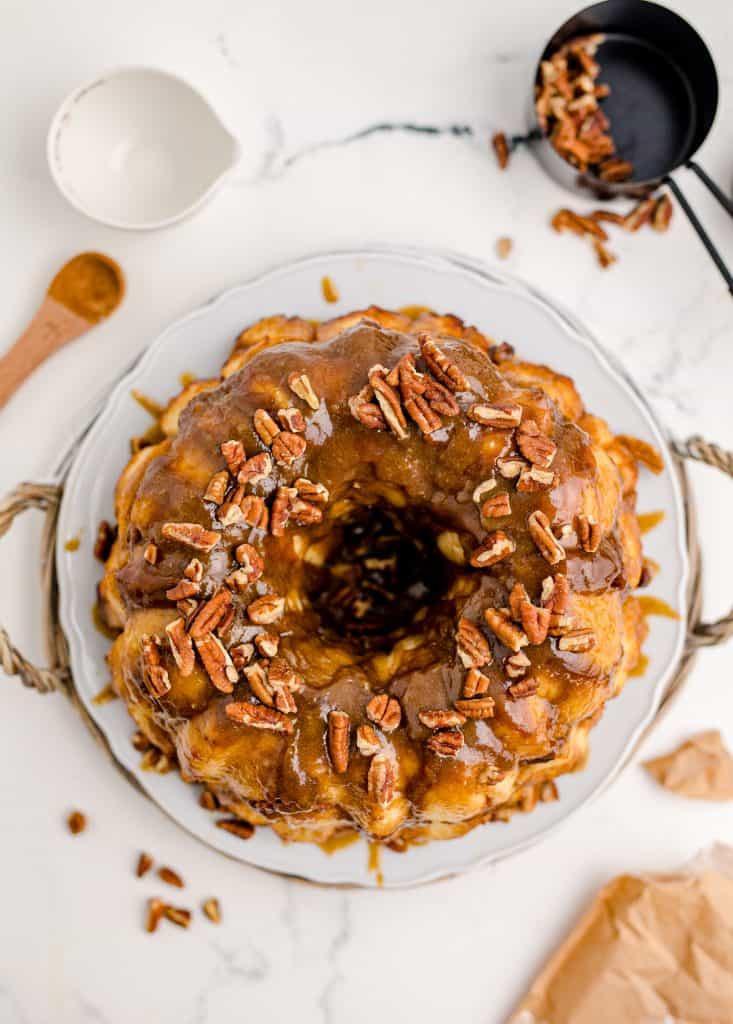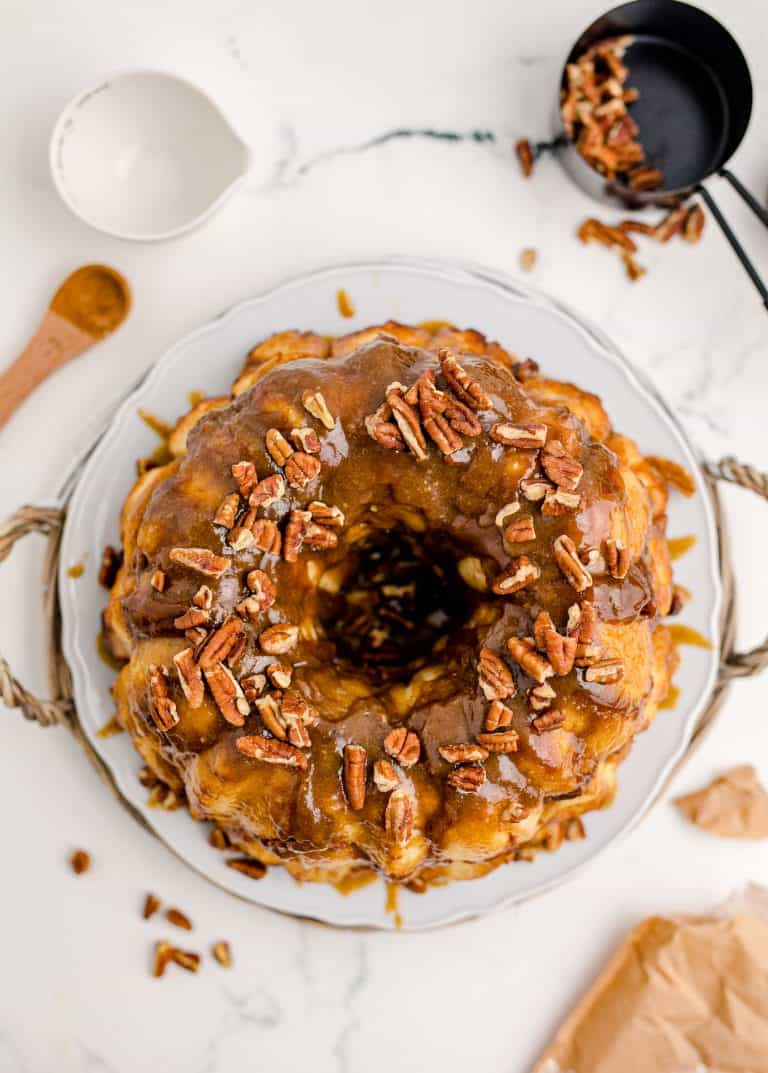 I don't think I've ever met one person who disliked bread. There's bread out there for everyone. I know, sounds strange, but I'm not wrong, you have to admit that. Homemade Monkey Bread is just another one of those favorite bread recipes that's popular throughout the world. If you've never had it, here's your chance to enjoy one delicious and addictive recipe.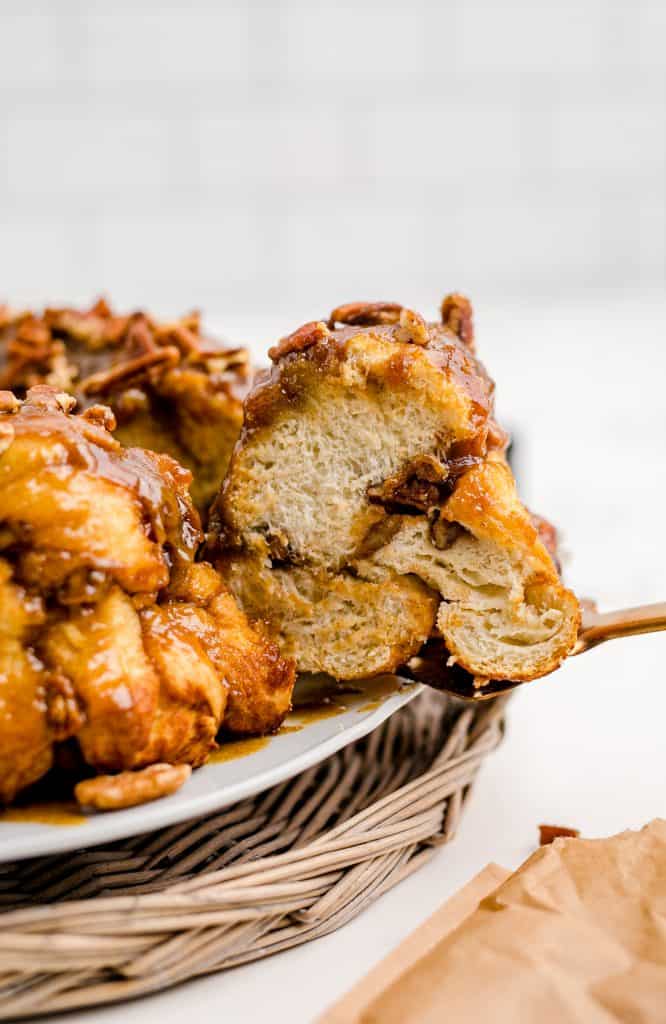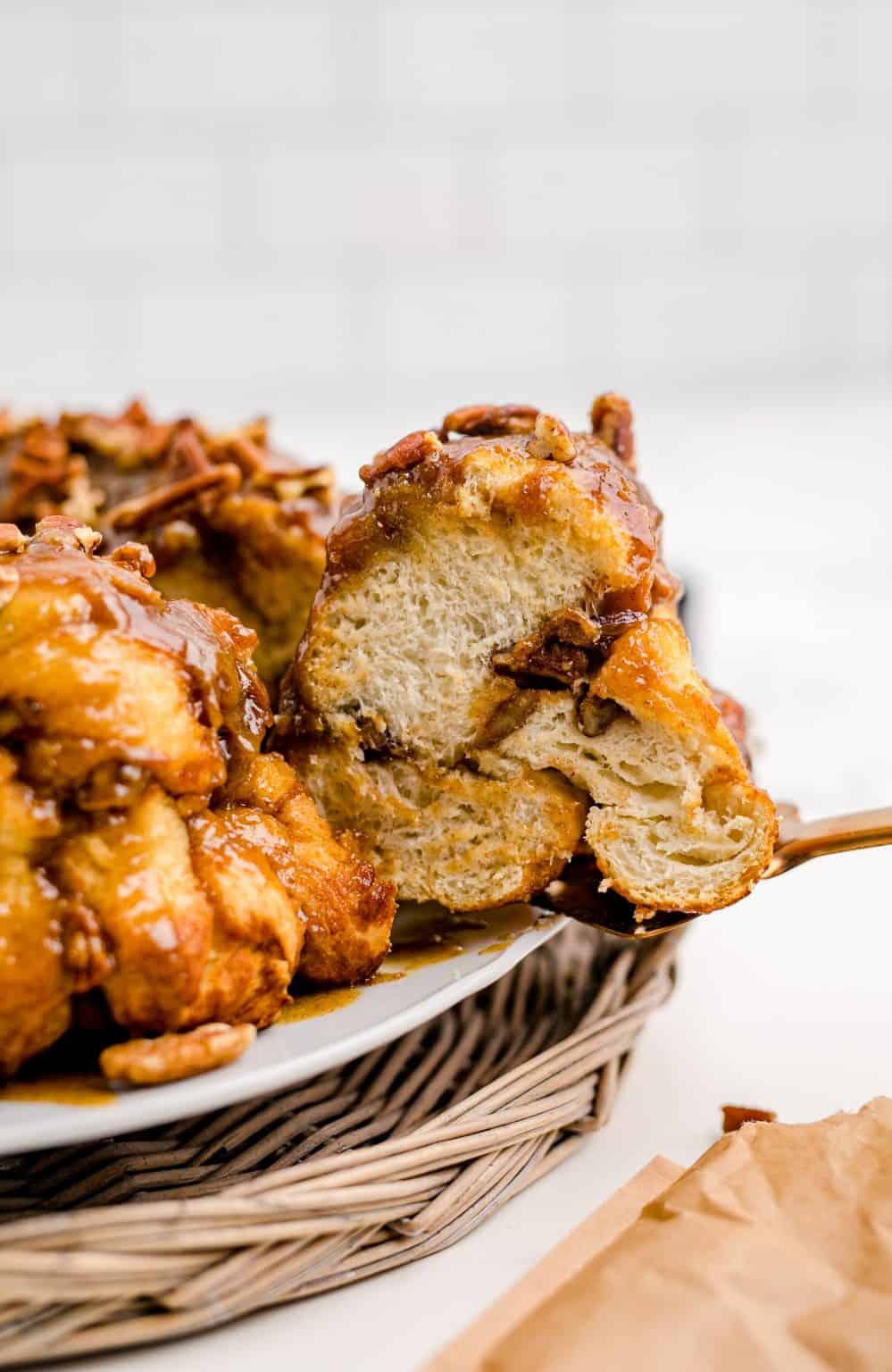 Why Do They Call it Monkey Bread?
If you've ever had monkey bread, you know it's common to just use your fingers to pull a piece off. It's actually known as a pull-apart bread for this reason. The entire recipe itself is created to make it easy to just pull off a piece or two at a time, in bite-sized portions. Monkeys are known for using their hands to just reach out, grab something, and start chewing on it. For this similarity, the bread gained its name.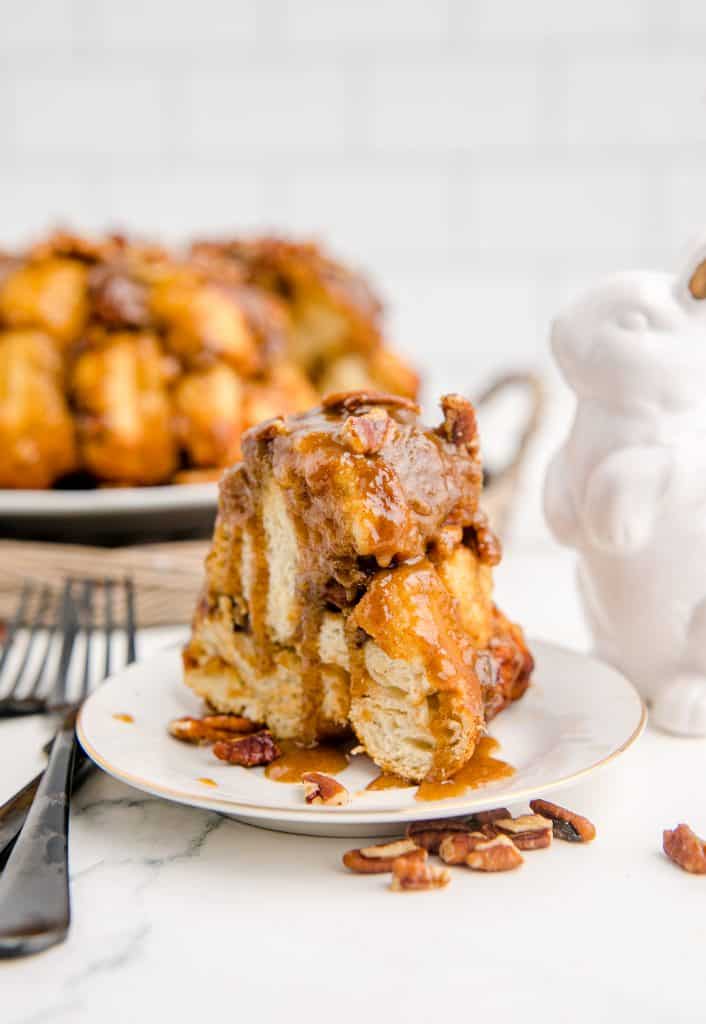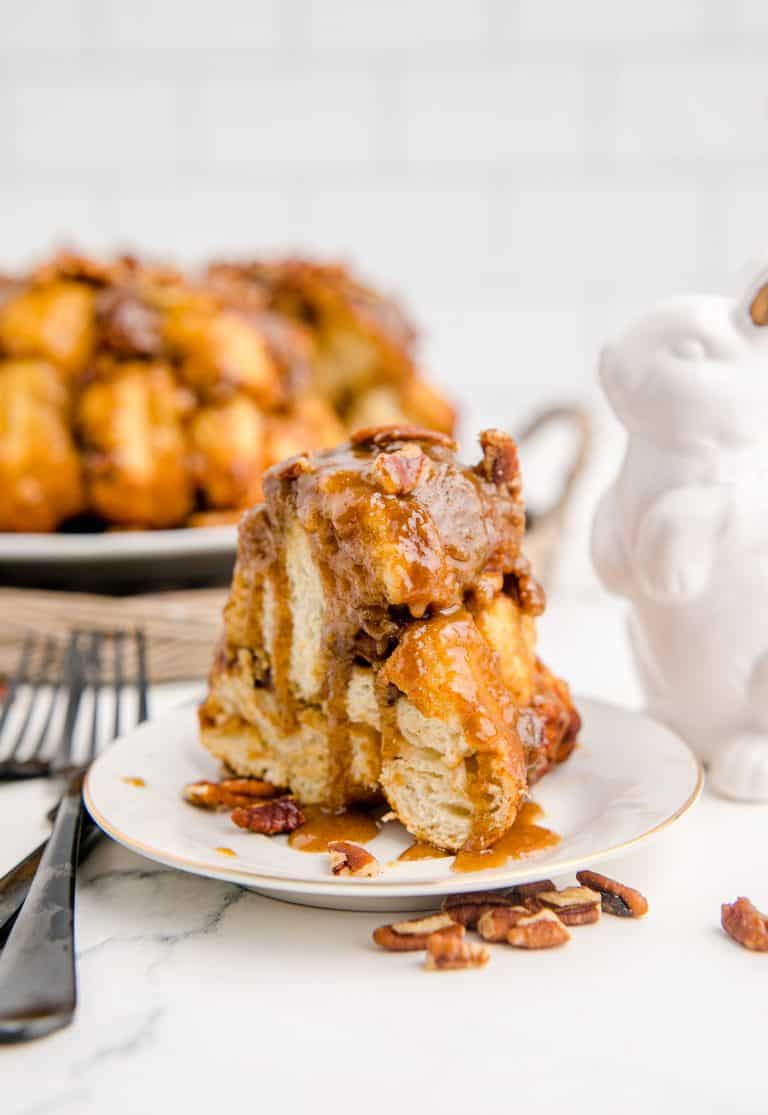 However, there are some other theories on how it got its name and how the bread was invented, but there's no supporting evidence to say any one theory is the correct one.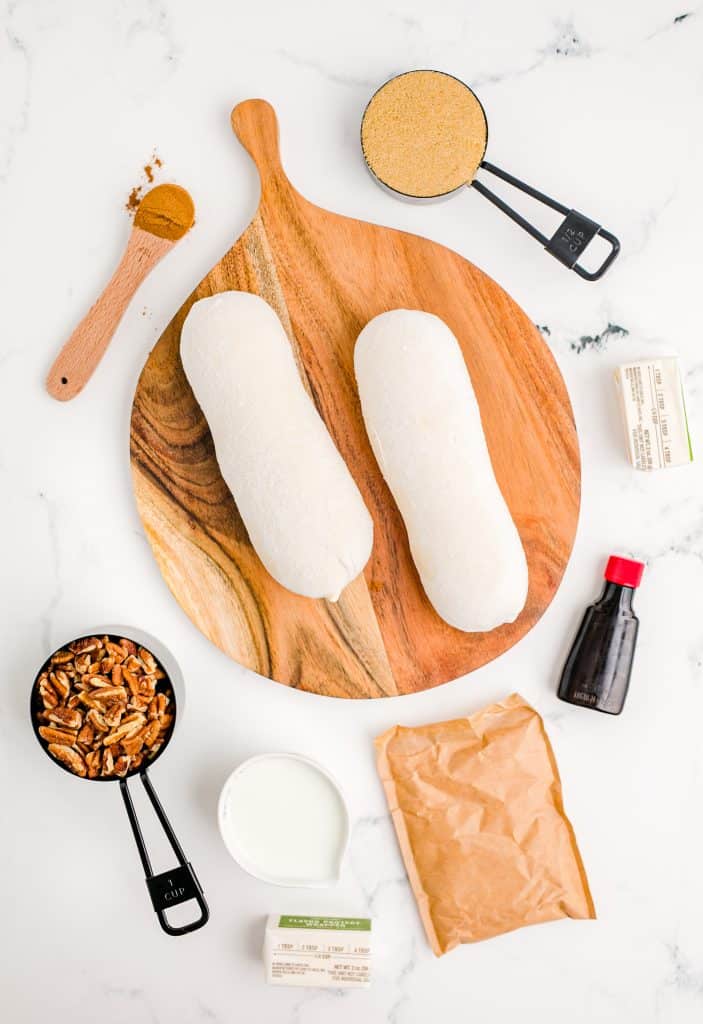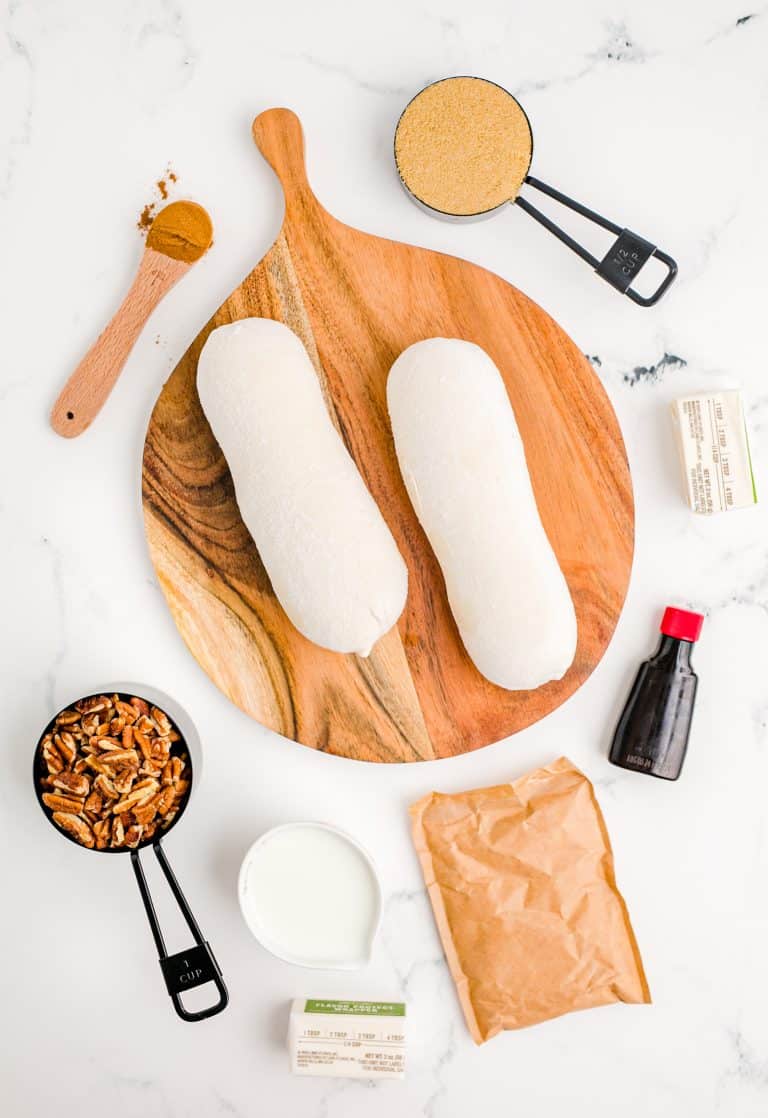 How Do You Make Monkey Bread from Scratch?
Prep - Grease the pan and preheat the oven.
Make the sauce - Place all the ingredients except the dough, in a saucepan and heat.
Work the dough - Take pieces of the dough and form into balls.
Assemble - Place half the balls into the pan, pour half the sauce over the top, then repeat. Let rise.
Bake - Bake for 35 minutes then let it cool for a few minutes before inverting the bread onto a serving dish. Enjoy!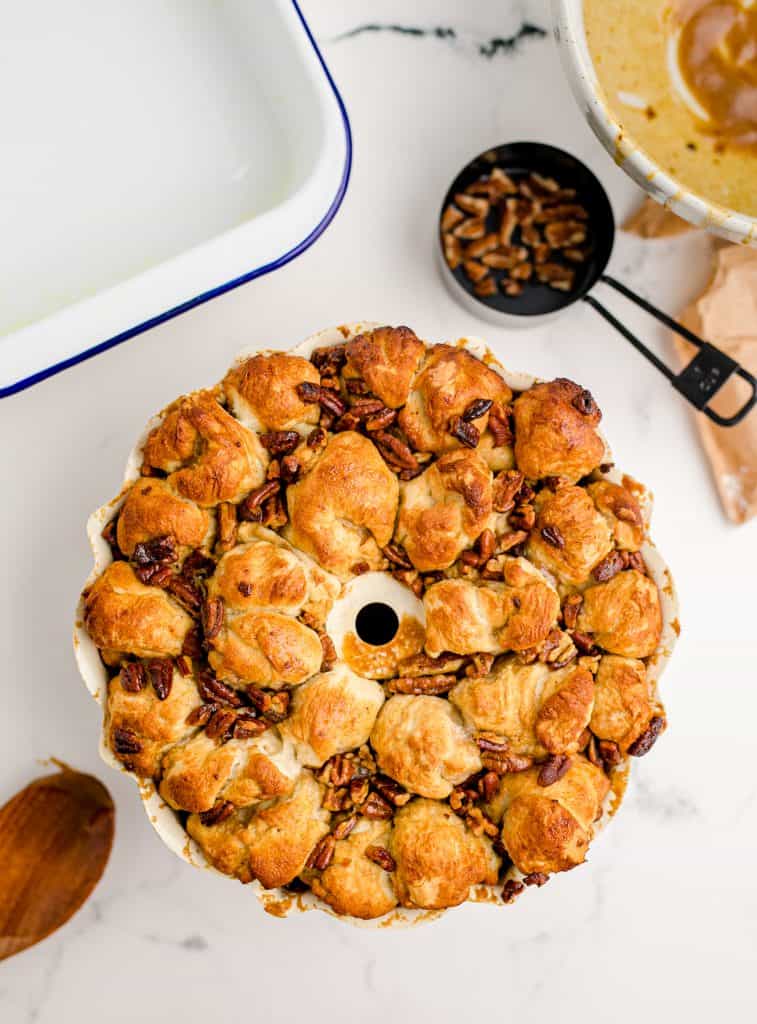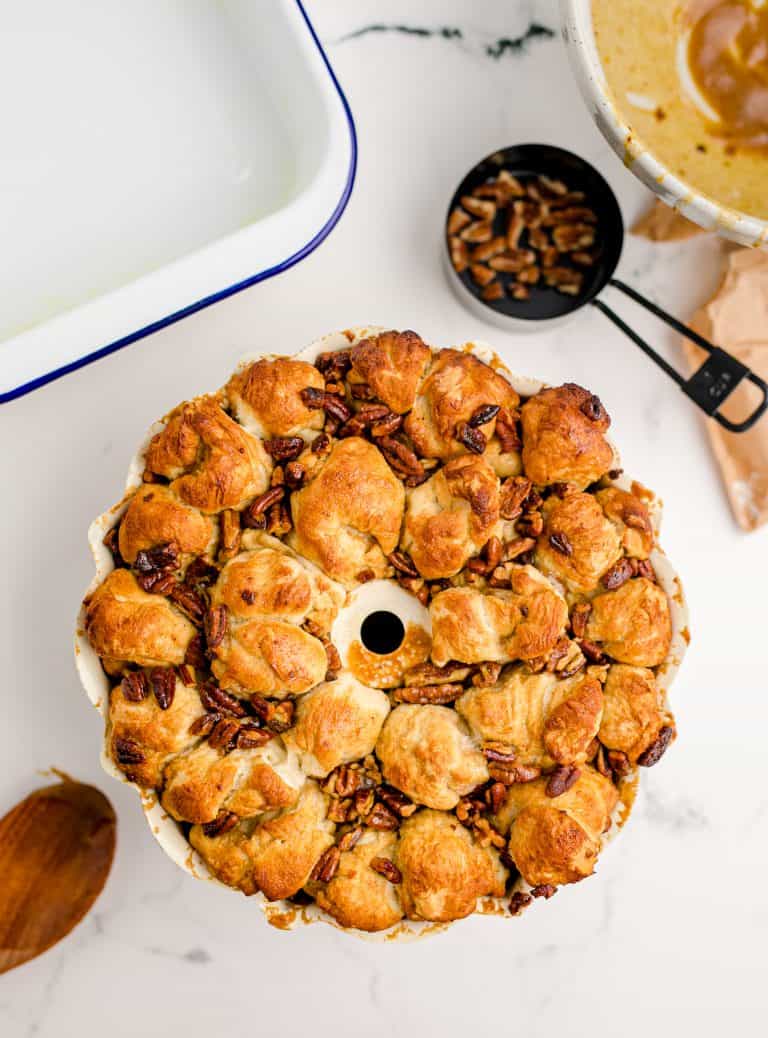 FAQs About Monkey Bread
Do I have to use a bundt pan for monkey bread? - You can also use a tube pan if desired. As long as the pan is smooth and a little deeper, it should be just fine. If you don't have a deeper pan, you may just want to reduce cooking time or check on it to ensure it doesn't burn.

Is monkey bread a dessert or breakfast? - It's both! I have seen monkey bread recipes devoured for breakfast more often than dessert. However, I definitely see it popularly used in both instances. Besides, who cares, eat it when and where you like!

Monkey bread dough substitutes? - You can always use cut up biscuits or even make your own monkey bread dough.

How do you know when monkey bread is done? - As with most baking recipes, you'll want to insert a long, wooden toothpick or skewer into the thickest part of the monkey bread. If it comes out clean and the top of the bread is slightly crispy, then you're ready to roll.

Do I have to use the nuts in this monkey bread recipe? - You can skip the nuts if you prefer. You could also use different nuts if you just don't like pecans. This is totally up to you.

Monkey bread drizzle or icing? - If you like a good monkey bread drizzle, you can throw ½ cup brown sugar, ¼ cup butter, 1 tablespoon cinnamon, and 1 teaspoon vanilla in the same mixing bowl you made the sauce in, then combine and heat through in the microwave. Once it's all melted together and you have plated your bread, just drizzle on before serving. You can also do a basic powdered sugar and milk icing drizzle if preferred.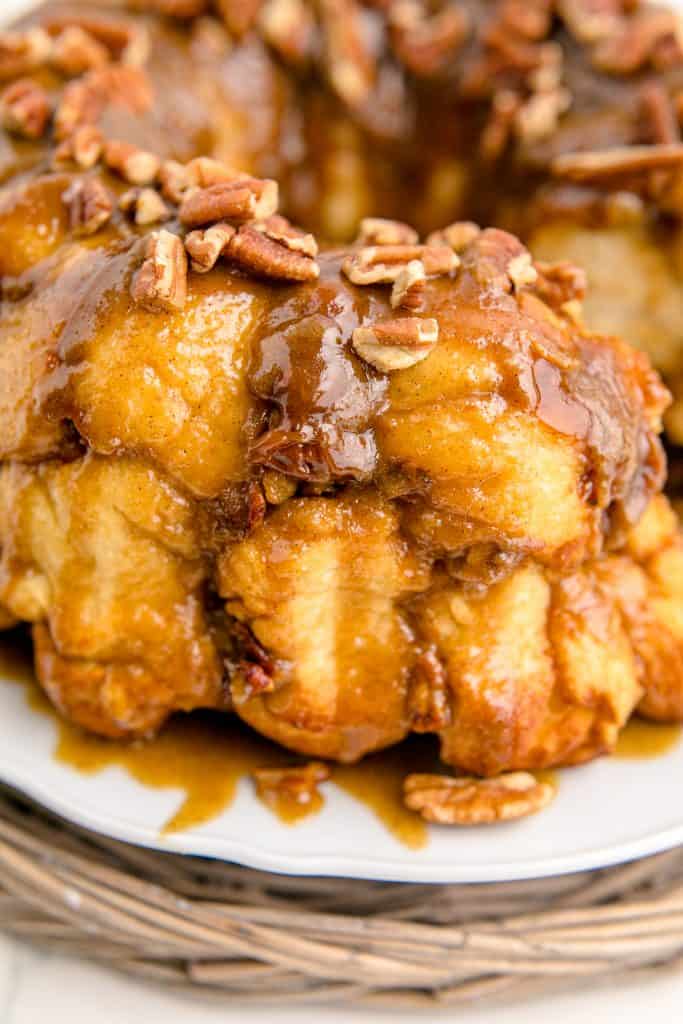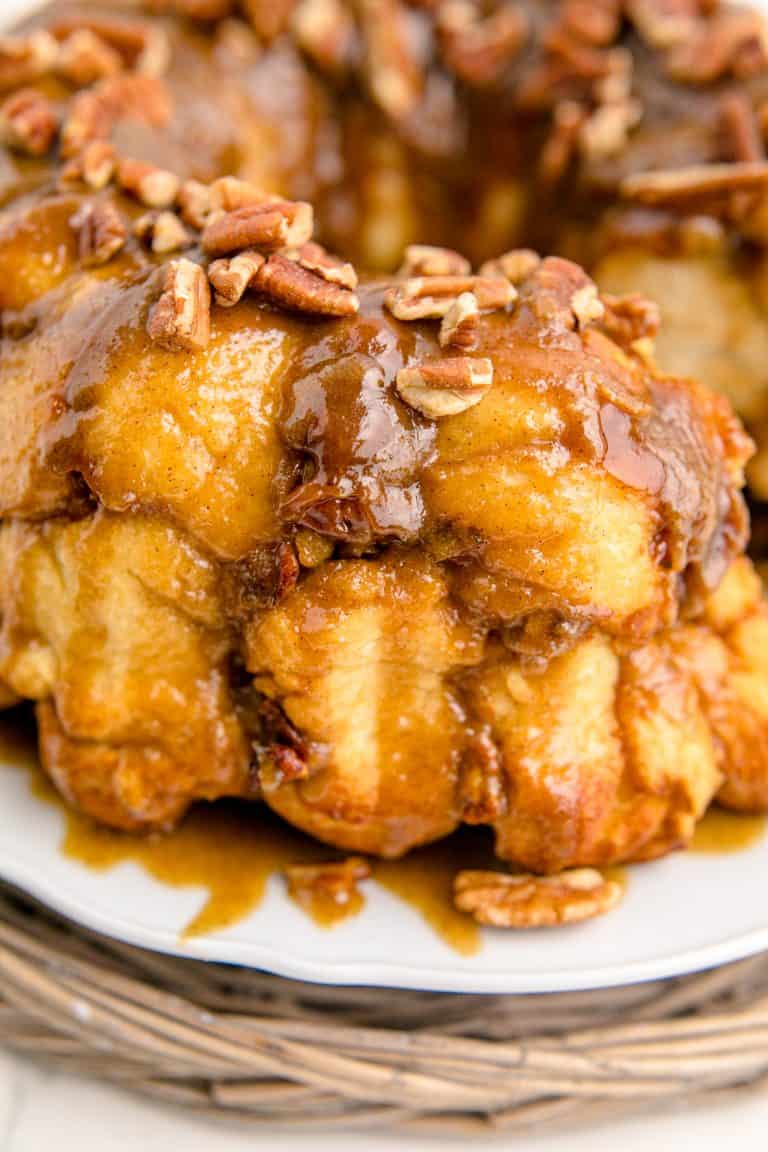 Please feel free to share your experience with making this Monkey Bread recipe in the comments below or on social media!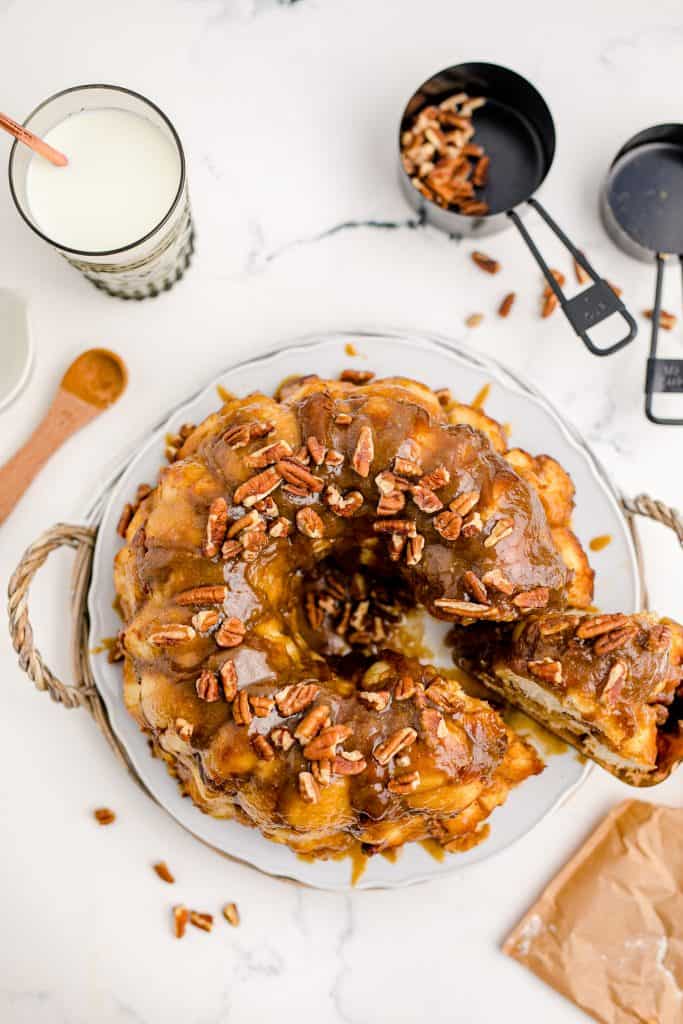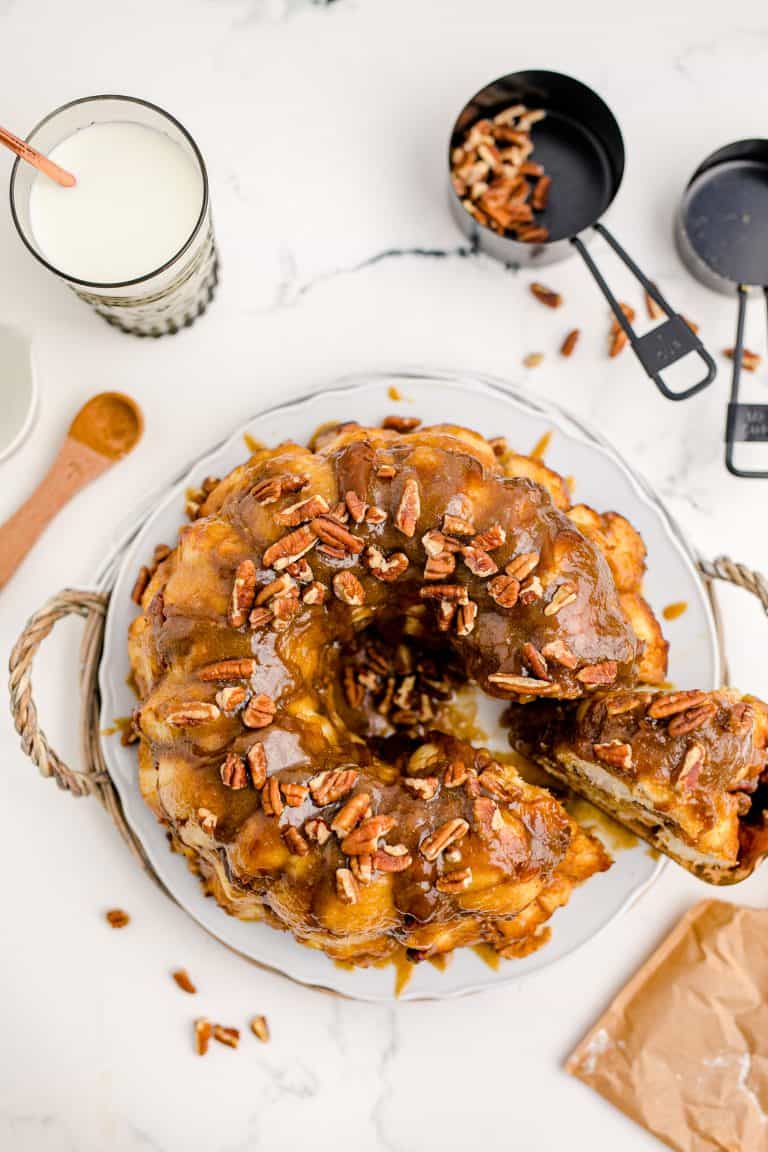 More Bread Recipes You're Sure to Love: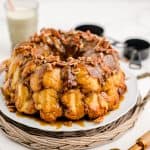 Homemade Monkey Bread
Whether it's for breakfast or dessert, this monkey bread will make you go bananas!
Keyword:
homemade monkey bread, monkey bread recipe
Ingredients
2

loaves frozen bread dough

thawed overnight

½

cup

salted butter

melted

1

cup

packed brown sugar

½

cup

whole milk

1

package vanilla pudding

not instant

1 ½

Tablespoon

cinnamon

2

teaspoons

vanilla

1

cup

chopped pecans
Instructions
Grease or spray a 10-inch bundt pan. I use this baking spray by Pam, my baked good release easily every time!

Preheat the oven to 350 degrees.

Make the sauce by combining butter, brown sugar, milk, vanilla pudding mix, cinnamon, vanilla, and pecans on the stovetop over low heat or in the microwave, until heated through. Set aside.

Break off pieces of bread dough and form into golf ball sized balls. Don't worry, they might seem a little wrinkly and imperfect, that's totally ok! They will rise and smooth out before and during cooking!

Place half the dough balls into the bundt pan. Cover with half of the sauce. Then place the rest of the dough balls into the pan. Top with the remaining sauce.

Let this rise until double in size (about 15 minutes).

Bake at 350 degrees for 35 minutes.

Remove from the oven and let stand for a few minutes. When you remove the bundt pan, the bread may look like it's risen so much that it's overflowing the pan a bit, no worries, while it rests, the dough will cool and shrink down a bit and should be about level with the pan.

Invert onto a platter and serve.
Recipe Notes
*If you are like me and LOVE sauce, when your monkey bread is just out of the oven and cooling, you can throw ½ cup brown sugar, ¼ cup butter, 1 Tablespoon cinnamon, and 1 teaspoon vanilla in the same mixing bowl you made the sauce in then combine and heat through in the microwave. Once it's all melted together and you have plated your bread, just drizzle on before serving.
*If you don't eat or like nuts, no problem! Just leave them out of the recipe, the monkey bread will be just as delicious without them!