If you have a little bit of extra time, skip the store bought and make these Homemade Ice Cream Sandwiches instead! Delicious chocolate cookie offers a delectable top and base, with a creamy vanilla ice cream gracing the middle. Perfect for a summer treat or snack and a fun one to boot!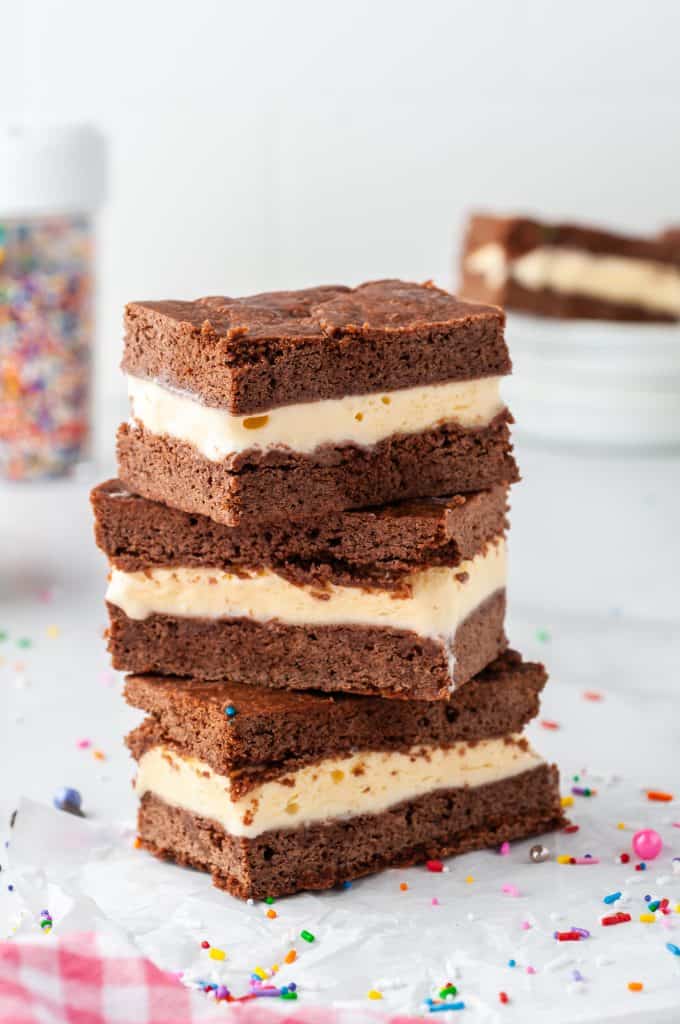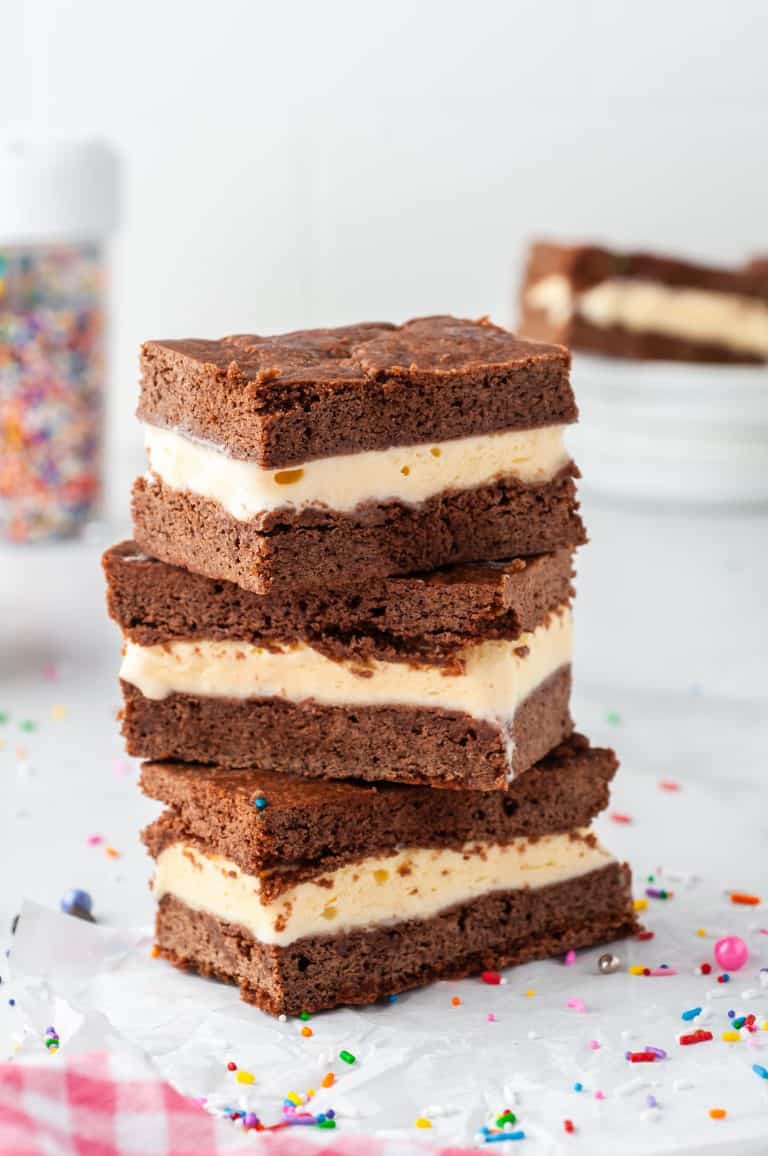 Do you ever decide to try and make a food at home that you've always bought at the store? Do you ever get tickled pink when you actually succeed at said recipe? I know I sure do! Of course, I'm a foodie and it's sort of my job to make recipes for a living. However, it's also a huge passion for me and I delight in trying new things and succeeding! I also like putting my spin on recipes everyone is used to, like I did with these ice cream sandwiches!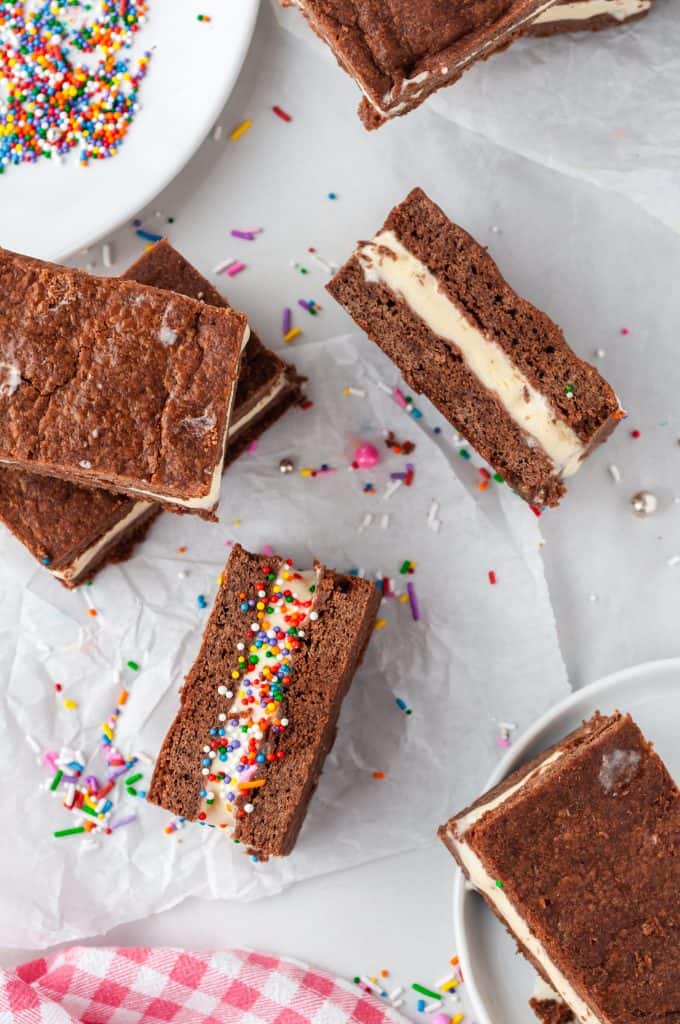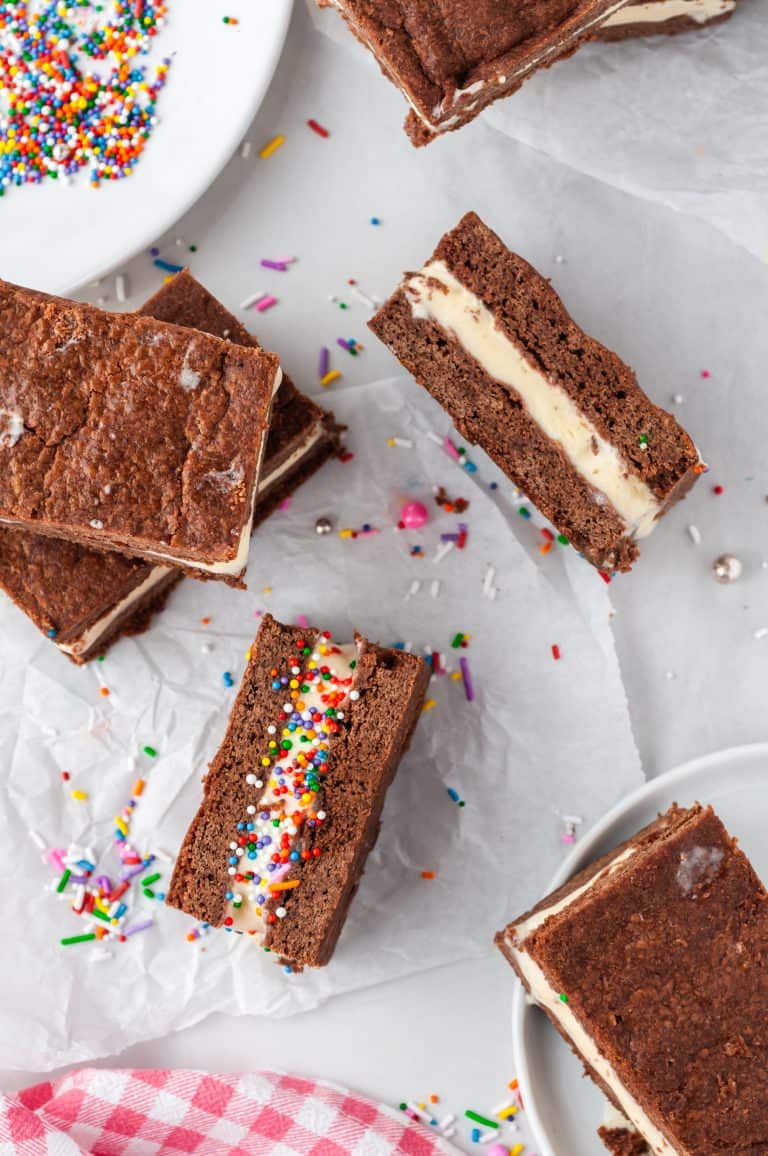 This Homemade Pizookie is another dessert recipe I was thrilled over. If you don't know what that is, it's a classic chocolate chip cookie in the size of a pizza. Pretty dang amazing, right?! I know. I also couldn't believe how easy it was to make Homemade Marshmallows either. Until I tried it, and now I'm constantly making them and trying new flavors. Anyways, you get the idea!
How to Make Homemade Ice Cream Sandwiches
Prep - Preheat the oven to 350 degrees. Line a 9x13 pan with parchment paper.
Make the sandwich batter - Cream together the butter and sugar. Add the eggs and vanilla. Mix well. Mix in the rest of the ingredients except the add-ins.
Bake - Pour half the batter in the prepared pan. Spread evenly. Bake for 12 minutes. Remove from the pan, reline with parchment paper, and repeat with the rest of the batter.
Add the ice cream - Once the brownie sheets have cooled, spread the softened ice cream in an even layer across one layer. Place the other brownie layer on top of the ice cream.
Freeze and serve - Freeze the finished product for about 2 hours. Slice, serve, and enjoy!
Tips and Variations
Storage - Store in an airtight container in the freezer for up to two weeks. Separate the sandwiches using wax or parchment paper. If not, they will stick to each other making it hard to remove one or two at a time for consumption.
Use other ice cream flavors - You can use any flavor of ice cream you desire for the middle of the homemade ice cream sandwiches.
Add-in options - If desired, decorate the sides or middle of the ice cream sandwiches with sprinkles, mini chocolate chips, chopped nuts, etc. You can always add fudge, caramel sauce, fruits, etc. to the middle as well. Just don't make it very bulky.
Make this gluten-free - Simply replace the flour with a gluten-free all purpose flour in the same amount, and this recipe will be gluten-free! My favorite GF flour is Bob's Red Mill.
Make it vegan - Try swapping the eggs for half a cup of unsweetened applesauce. Then, just make sure you're using a vegan butter and vegan add-ins and you've got vegan-friendly ice cream sandwiches!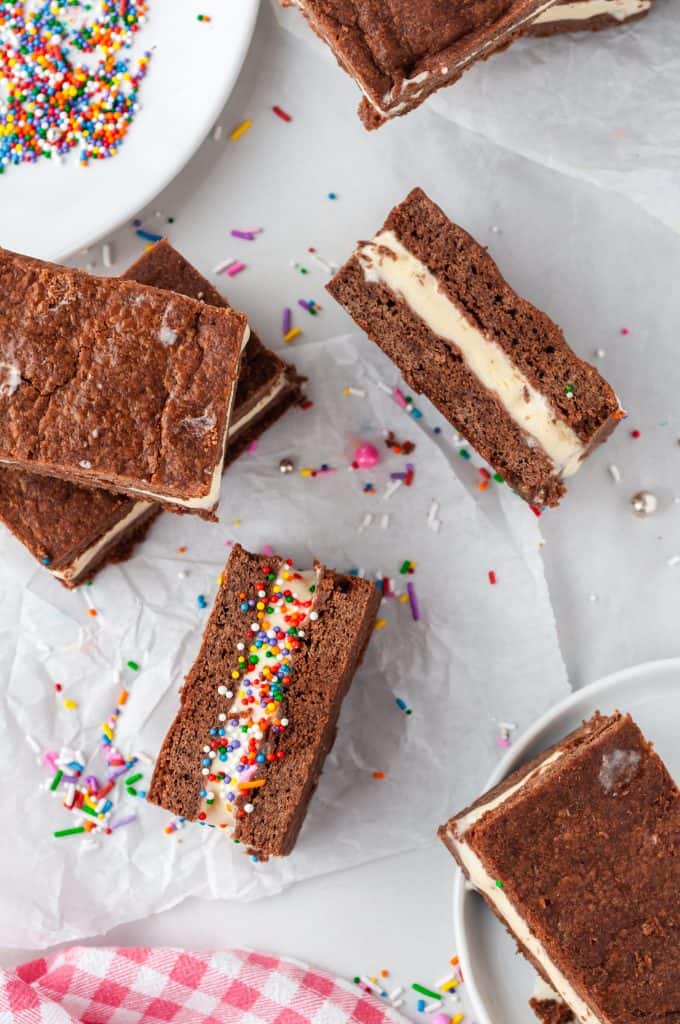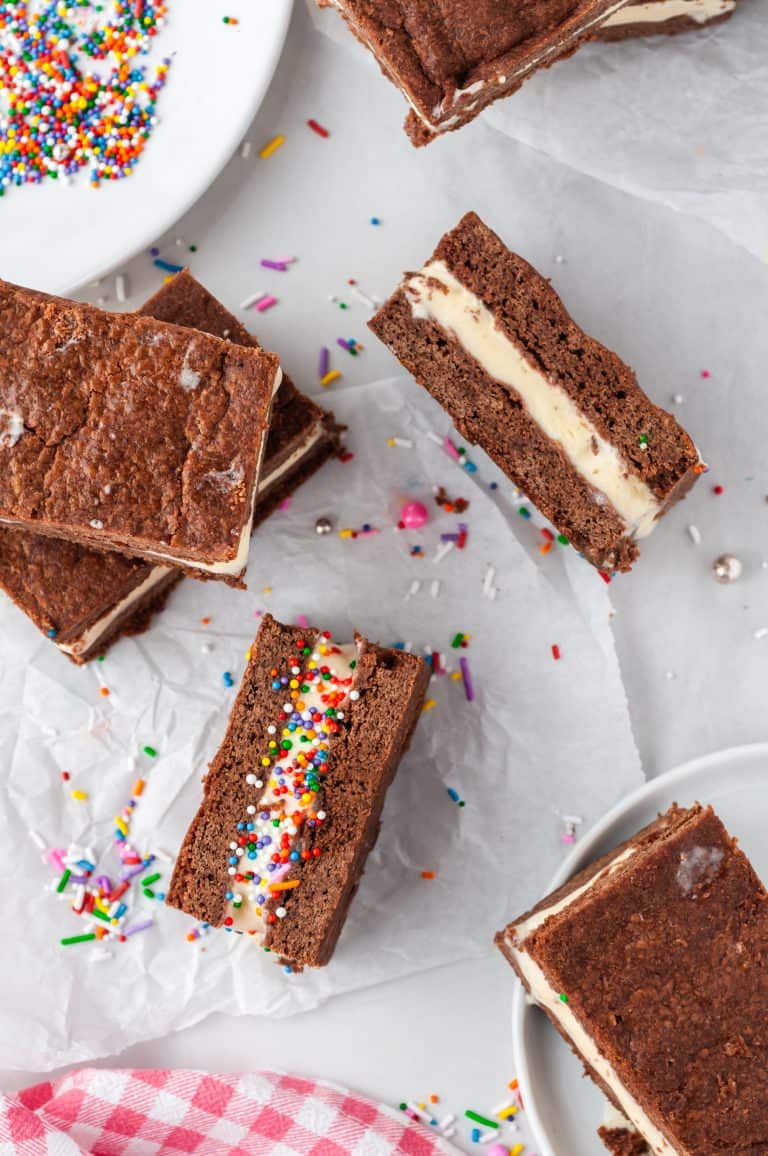 Common Questions About Homemade Ice Cream Sandwiches
What is the Sandwich Part of an Ice Cream Sandwich?
Since ice cream sandwiches can be made in a plethora of ways, the sandwich part of an ice cream sandwich will vary. However, in general, it's usually a cookie or wafer that's chocolate flavored. It's pretty common for chocolate chip cookies or other flavors to be used as well. Even the ice cream in the middle can change flavor and this is pretty common as well. For this recipe, I actually used brownie, which is a mixture between cake and a cookie, but still chocolate flavored. In other words, it works perfectly and doesn't turn soggy when adding the ice cream.
If you have any questions or simply love these Homemade Ice Cream Sandwiches as much as I do, please let me know in the comments below!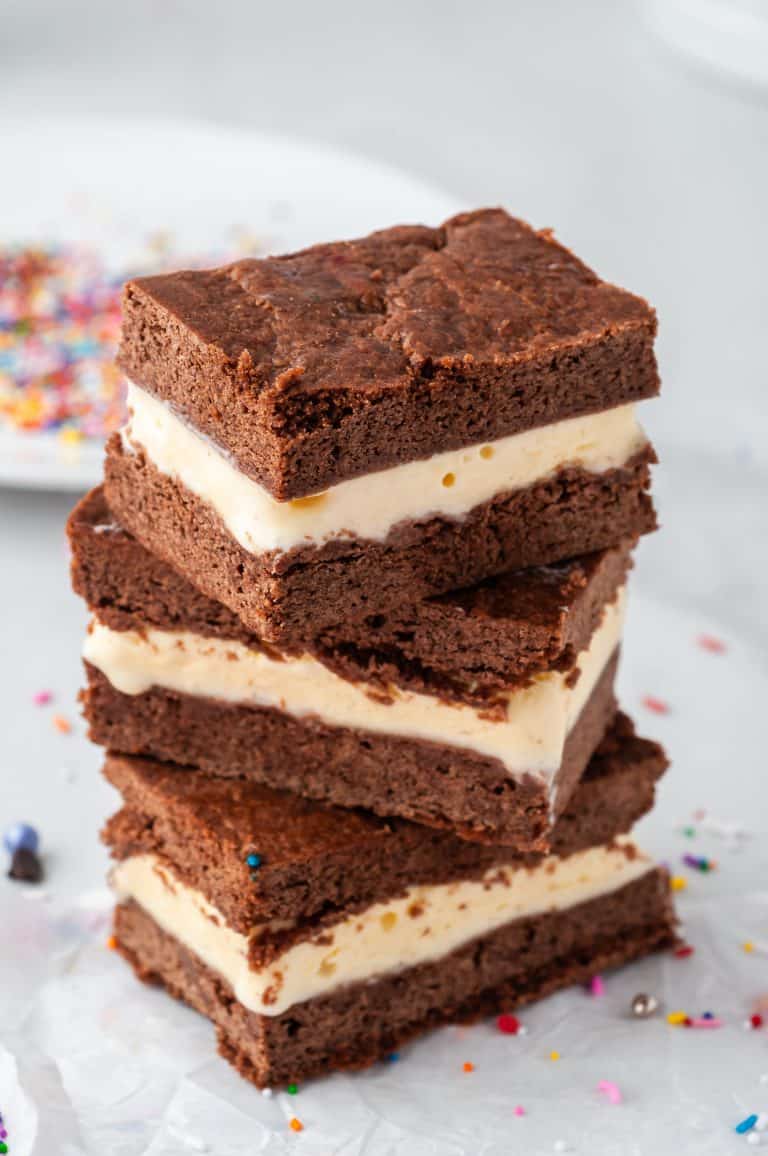 More Summer Frozen Dessert Recipes You Might Like:
Homemade Ice Cream Sandwiches
These Homemade Ice Cream Sandwiches consist of chocolate cookies for a delectable top and base, and a vanilla ice cream gracing the middle.
Keyword:
frozen desserts, ice cream sandwich recipe
Ingredients
1

cup

unsalted butter

softened

1

cup

brown sugar

½

cup

granulated sugar

2

large eggs

2

teaspoons

vanilla

1

teaspoon

baking powder

¼

teaspoon

salt

½

cup

cocoa powder

2 ½

cups

all-purpose flour

Vanilla ice cream

about 1 liter/4 ½ cups

Sprinkles and mini chocolate chips to decorate

if desired
Instructions
Preheat the oven to 350 degrees. Line a 9x13 inch pan with parchment paper. Set aside.

In a large bowl, use an electric mixer to cream together the butter and sugars.

Add the eggs and vanilla and mix well.

Stir in the flour, baking powder, cocoa, and salt. The batter will be thick.

Spread half of the batter into the prepared baking pan using a spatula or your hands to smooth it out.

Bake for 12 minutes. Remove the parchment paper with the brownie on it from the pan and place it on a wire rack to cool.

Repeat with remaining batter.

While the brownies cool place your container of ice cream in the refrigerator to soften.

When both brownie sheets have cooled completely place one back into the pan with the parchment paper.

Use a spatula to spread the softened ice cream over the top.

Place the second brownie sheet on top of the ice cream and gently press down.

Place the pan in the freezer for at least 2 hours, until ice cream is firm.

When the ice-cream has refrozen remove from the pan using the parchment paper to lift it out.

Use a sharp knife to cut into bars.

To decorate, place the sprinkles or mini chocolate chips on a plate and push each edge of the bars into them.

Serve immediately or wrap in plastic wrap or parchment paper and freeze until ready to serve.