This shop has been compensated by Collective Bias, Inc. and its advertiser. All opinions are mine alone. #SoHoppinGood #BlueBunny #CollectiveBias
Cool off with these delicious white chocolate cherry cookie ice cream sandwiches that are filled with cherry cheesecake ice cream!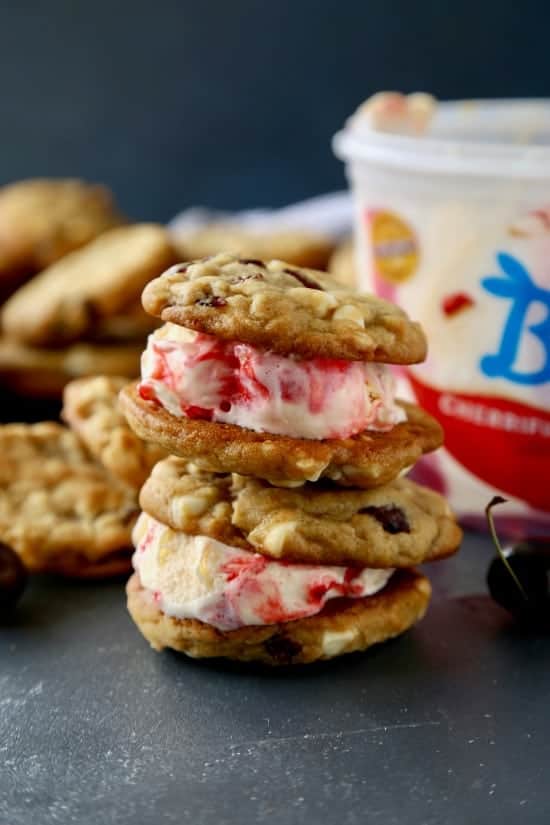 Have you guys seen the memes be circulating on Facebook of kid's First Day of School before and after pictures? They are absolutely hilarious and spot on. On the first day of my school, my kids look clean, polished, and ready to take on the world. At pick up, I get quite the chuckle when I see them. They looked as if they have fought a vicious animal in a jungle all day. Their hair is a wreck, their clothes are un-tucked and dirty, and they just look exhausted.
First days of school are rough, especially for the young ones. Between the new environment, first day rules, and the September heat, it ends up not being an easy day. That is why I usually treat my kids to a fun treat when they get home.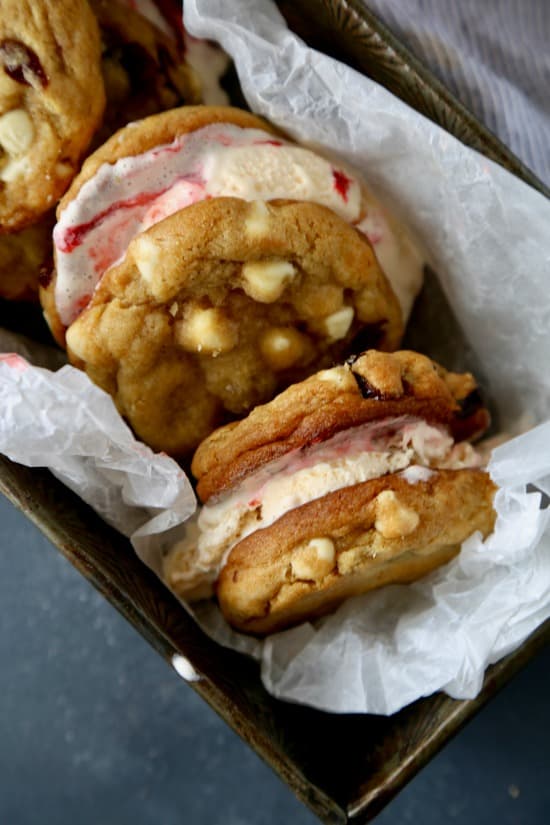 Ice cream sandwiches are our absolute favorite summertime treat, but we only make them on special occasions. Since I have a complete 6 hours to myself everyday now that the kids will all be in school, I call that a celebration! Ok, we are also celebrating "their" first day. Anyway, ice cream sandwiches are the perfect treat!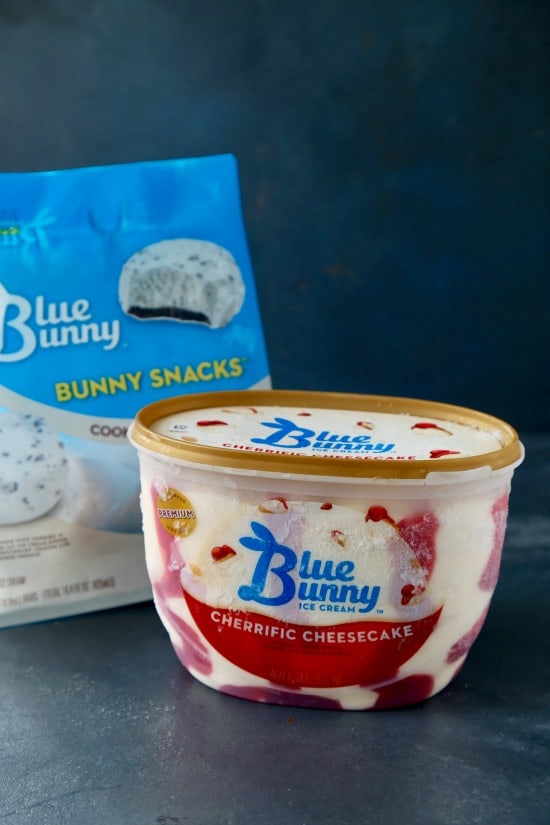 During a fun morning of solo shopping at Walmart, I ended up in the ice cream section right before check out. I was instantly drawn to the new Blue Bunny® line! They recently came out with a new 2017 lineup of ice cream flavors and treats. One flavor that we're really excited about is PB 'N Cones™, which has swirls of creamy peanut butter and crunchy chocolate dipped cone pieces throughout delicious vanilla ice cream. Other new flavors include: Rockin' Rocky Road™ , Monster Cookie Mash™ , Toffee Brownie Twist™ and Mint Cookie Crunch™. Additionally, Cherrific Cheesecake™, which had been a seasonal flavor, is now available year-round.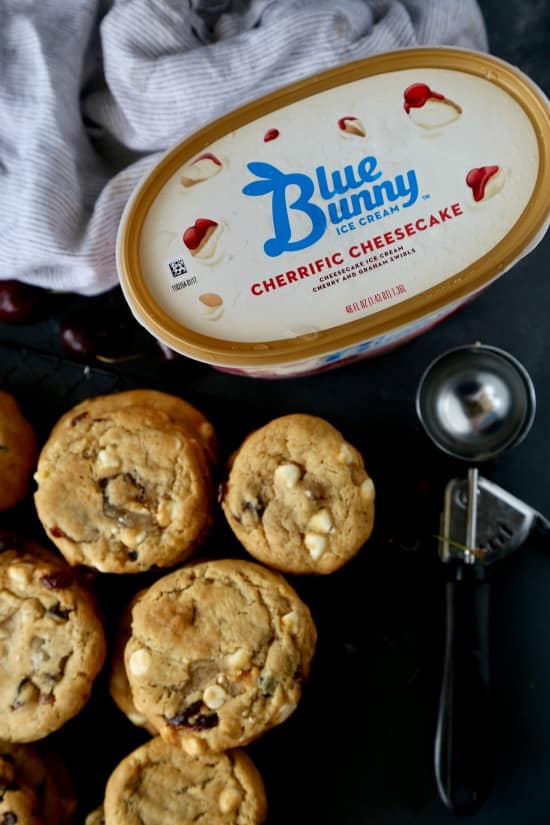 Let's talk about Cherrific Cheesecake™ for a second. If you are fans of cheesecake ice cream, then you MUST get your hands on this stuff. The base ice cream has a delicious cheesecake flavor that is mixed with a sweet cherry swirl. But what sets this ice cream apart from others is that there are chunks of glorious graham cracker crusts throughout the ice cream. Once slightly melted, the ice cream takes on a graham cracker cheesecake flavor that is drool worthy!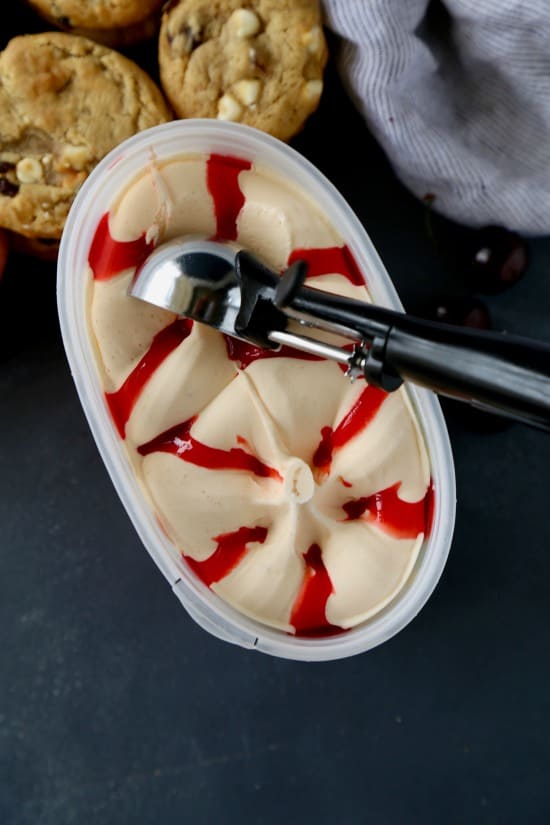 This year Blue Bunny® also introduced a totally new treat, Bunny Snacks™. Bunny Snacks™, are the perfect bite-size treat available in four must-have flavors: Salted Caramel Pretzel™, Chocolate Vanilla Twist™, Chocolate Chip Cookie™ and Cookies 'N Cream™. We tried the Cookies 'N Cream™ and it tasted like a cold white chocolate dipped chocolate creme cookie. Another winner in our book.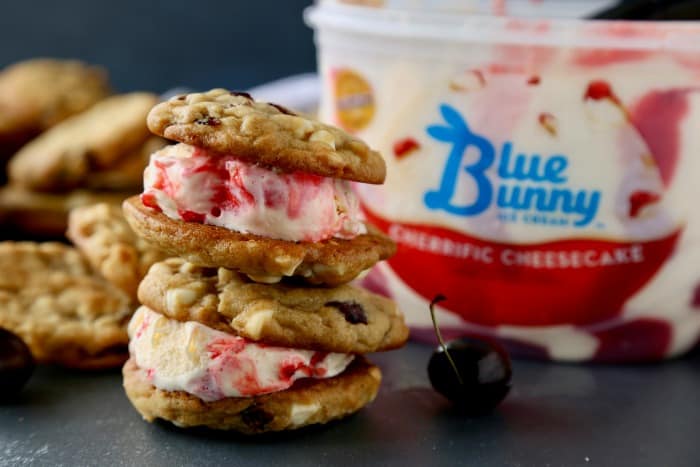 In an effort to not eat the entire tub of ice cream myself, I decided to make our celebratory ice cream sandwiches for the kids. I simply baked the cookies in the morning, and sandwiched a delicious scoop of ice cream for them when they got home. It was a great way to reconnect with them out side while cooling off with a cold treat.
Blue Bunny® products are available at Walmart stores nationwide, so make sure to pick some up on your next shopping trip!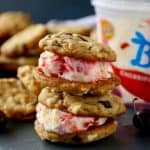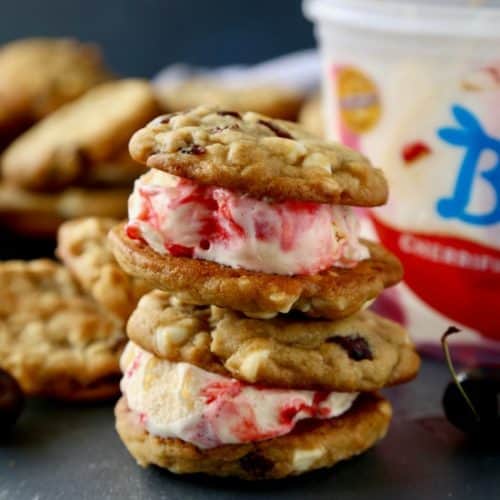 White Chocolate Cherry Cookie Ice Cream Sandwiches
Ingredients
1.5

cup

unsalted butter

room temperature

1.5

cup

brown sugar

firmly packed

½

cup

granulated sugar

2

large eggs

at room temperature

4

teaspoons

vanilla extract

4

cups

all-purpose flour

2

teaspoons

baking soda

1

teaspoon

salt

1.5

cup

white chocolate chips

1.5

cup

dried cherries

Blue Bunny® Cherrific Cheesecake Ice Cream
Instructions
Preheat oven to 350 degrees and line 2 baking sheets with parchment paper.

In a bowl combine flour, baking soda, and salt. Set aside.

Cream butter and sugars with your mixer until light and fluffy.

Add vanilla.

While mixer is running on low add eggs, one at a time, mixing and scraping down the bowl in between each addition.

Gradually add flour to wet mixture and mix until just combined.

Stir in white chocolate and dried cherries.

Cover dough and refrigerate for 1 hour.

Once cold, scoop out large 2 inch balls and roll.

Place on cookie sheet about 2 inches apart.

Bake at 350 degrees for 10-12 minutes.

Cool completely before making sandwiches.

To make sandwiches, scoop a large scoop of ice cream onto cookie and sandwich with another cookie.

Store leftover ice cream cookie sandwiches in a sealed bag for up to 3 weeks.