Combine your two favorite snacks into this fun caramel corn trail mix! Make it your new movie night speciality to share with loved ones while you watch the soon to be released Captain Underpants: The First Epic Movie.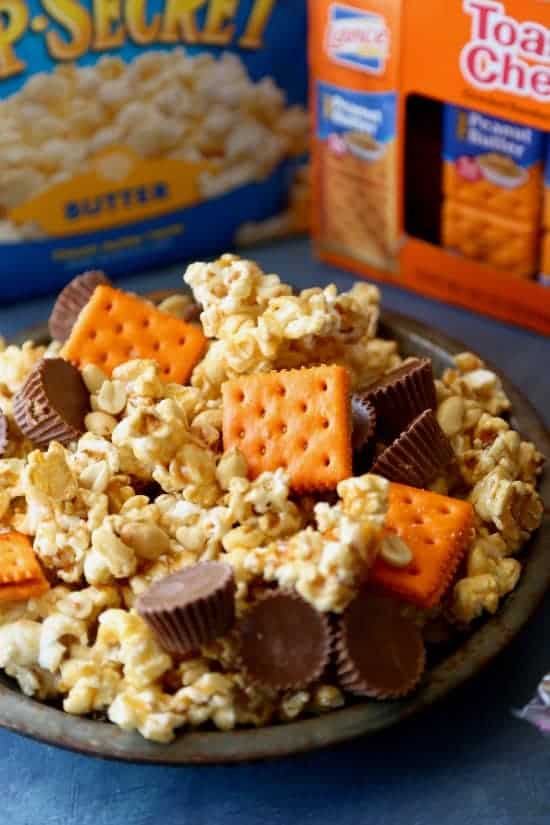 Friday Family Movie Nights are something that my kids look forward to every week. It's the one night a week they know that they will get to pick out a fun movie, snack on goodies, and snuggle in our bed. Every other night during the week is filled with homework, after school activities, etc. so it is a good way to start the weekend.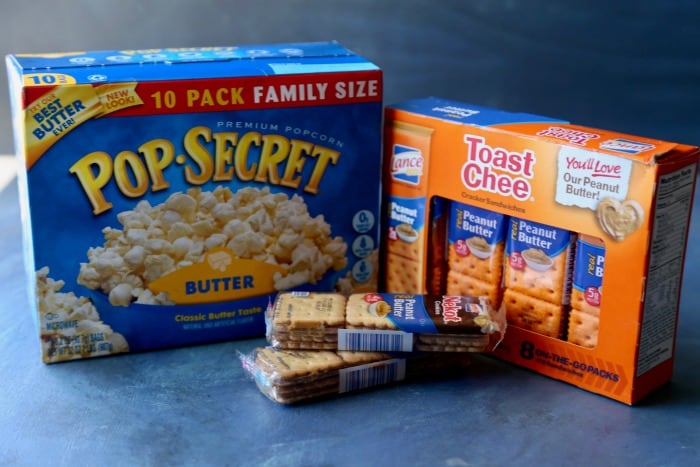 Our favorite FFMN snack is popcorn. To be honest, popcorn is like my favorite snack ever! Pop Secret Popcorn is our brand of choice because it has an unbeatable taste with better ingredients and inventive flavors. It also has a great butter taste which is my favorite!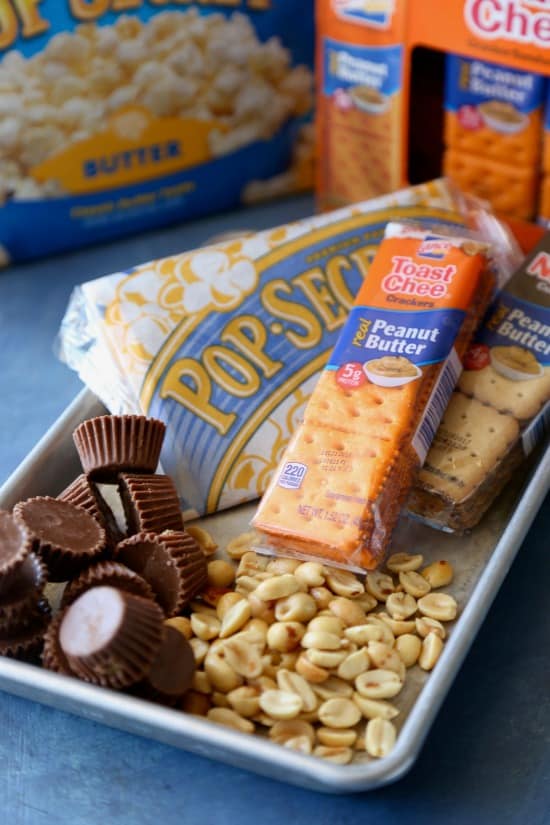 My kids absolutely love caramel corn and request it regularly for movie night. While we usually just make regular popcorn, I surprise them once in a while with their favorite caramel concoction. After a quick trip to Walmart, I decided that this past movie night was going to be one of those nights that I surprised them with a Caramel Corn Trail Mix. It was a combination of all of their favorite snacks and candy in one movie worthy indulgence.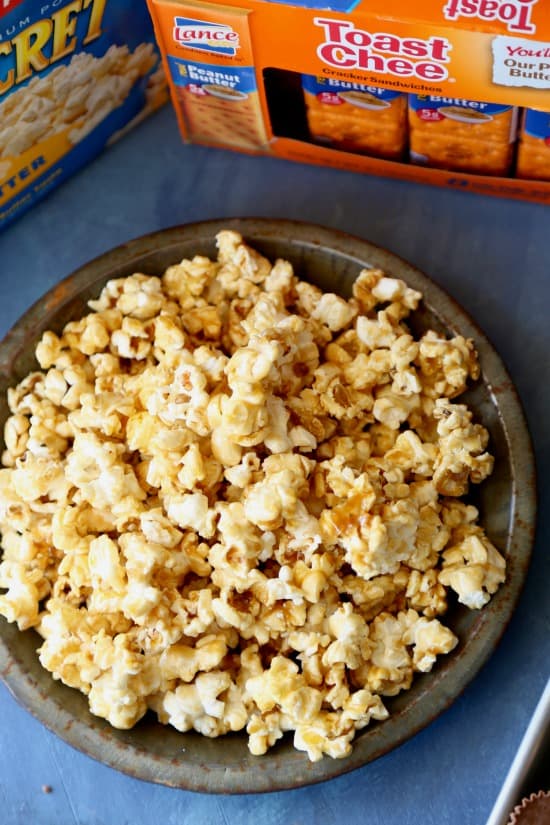 Not only did I add roasted peanuts and chocolate peanut butter cups, but I also added Lance Toast Chee Peanut Butter crackers. These are my youngest son's absolute favorite and are a staple in the kid's lunches. Lance has been making little sandwiches for over 100 years with two awesome crackers on the outside with incredible spreads between. With real peanut butter or real cheese between crispy baked crackers, up to 5 grams of protein, and no high fructose corn syrup, Lance provides a variety of sandwich crackers that are a tasty and satisfying snack solution for the busiest school days.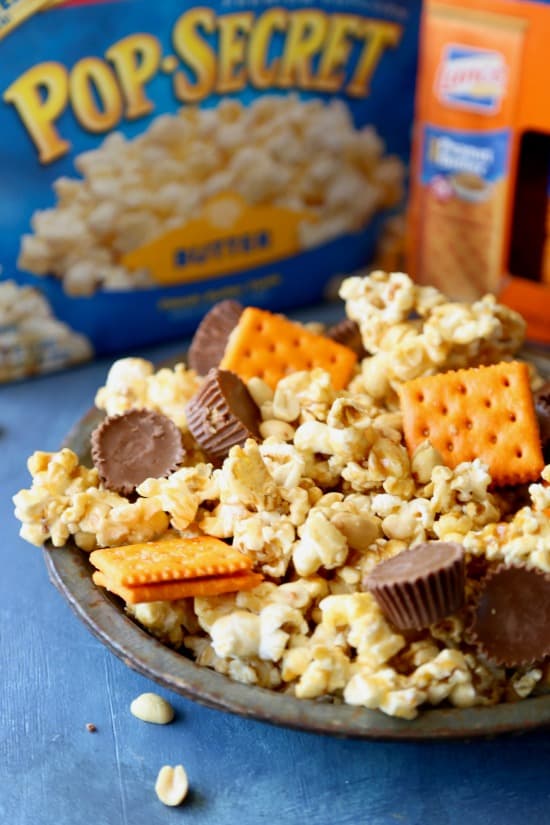 They were stoked with my Caramel Corn Trail Mix and thought it was so fun! It really made last week's movie night memorable. Which of course is the point right. Hopefully these are the things they remember when they grow up!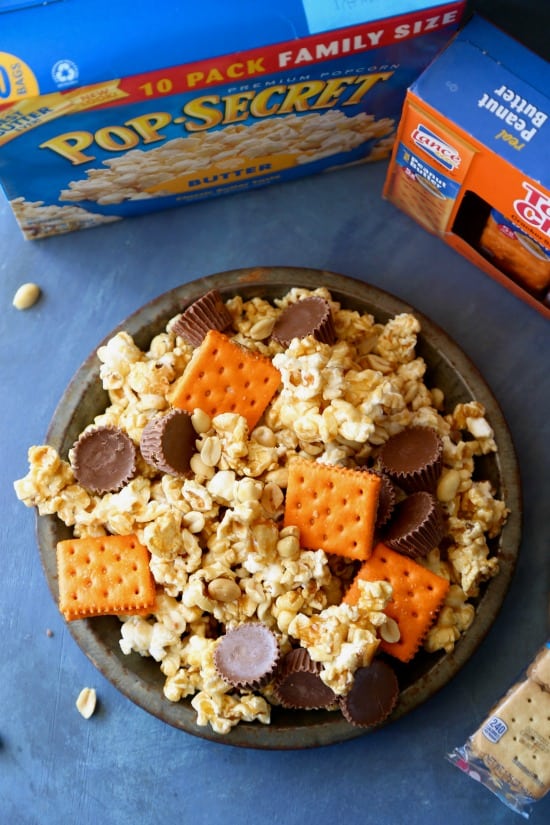 One of the movies that we are really looking forward to watching it as a family, is the new Captain Underpants: The First Epic Movie. If you have not seen the trailer, go see it now! It looks absolutely hilarious. Featuring the voices of Kevin Hart (George) and Ed Helms (Underpants and Krupp), the film explores the great friendship between Harold and George and their connection through a love of writing and creativity. It looks like a movie that both the kids and the adults will enjoy.
The Captain Underpants DVD is will be available in Walmart stores 9/12! Be sure to reserve your copy now by pre-ordering today! While supplies last. Enjoy!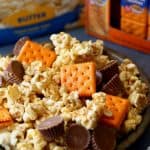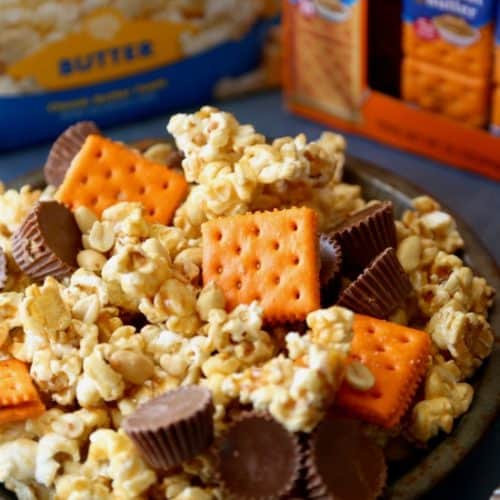 Peanut Butter Caramel Corn Trail Mix
Ingredients
Caramel Corn
2

bags popped popcorn

1

cup

brown sugar

½

cup

light Karo Syrup

½

cup

butter

½

teaspoon

salt

½

teaspoon

baking soda

1

teaspoon

vanilla
Trail Mix
Roasted Peanuts

Peanut Butter Cups

Lance Peanut Butter Crackers
Instructions
Preheat oven to 250 degrees. Generously spray a large shallow pan with nonstick cooking spray.

In a large saucepan, combine brown sugar, karl syrup, butter and salt on medium heat.

Continue stirring until mixture begins to boil.

Once boiling, stop stirring and cook for an additional 5 minutes.

Pour popped popcorn into shallow pan.

Remove pan from heat and add vanilla and baking soda while stirring.

Carefully pour caramel over popcorn and stir to coat all popcorn.

Bake in preheated oven for 1 hour, but stirring the popcorn every 15 minutes.

Allow to cool (popcorn will harden once cooled) then break apart.

Store in an air tight container for up to 1 week.

To make the trail mix, combine the caramel corn and trail mix items right before serving.
"This post is part of a social shopper marketing insight campaign with Pollinate Media Group® and Snyder's-Lance, but all my opinions are my own. #pmedia #Pop4Captain https://my-disclosur.es/OBsstV"