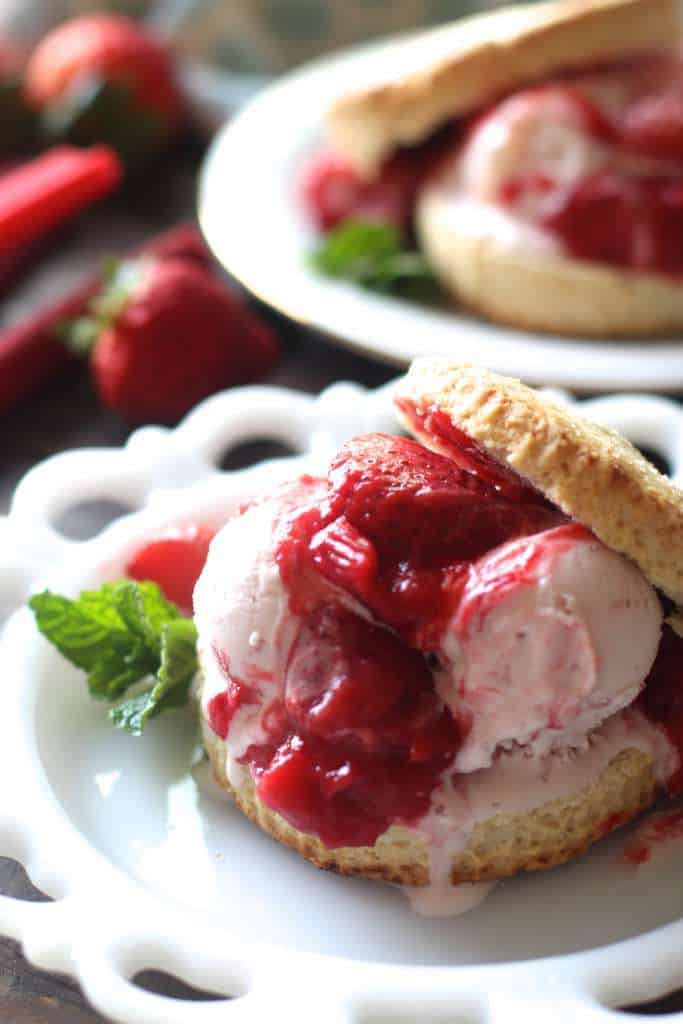 These past few months have been really tough on the food home front. At the end of February, I joined a weight loss camp challenge. I had to sign a contract that I would lose 20 pounds in 6 weeks or forfeit my $500 deposit. I have finally found that money is my biggest motivator! This has truly been one of the only diets/workout regimens that I have been able to stick to. After successfully completing my 1st six-week challenge, I am smack dab in the middle of the second challenge.
I must admit that this go around has been a lot more mentally challenging. After weeks of working myself to the absolute maximum physically and mentally, the only thing I wanted to do on Mother's Day was stroll through the Farmer's Market and make a seasonally delicious dessert. Baking is truly one of my favorite things to do and is probably the most relaxing.
As soon as I saw the glorious stalks of rhubarb and fresh sweet strawberries, I knew that a shortcake was in order. What better way to cheat and celebrate Mother's Day then with a sweet compote, fresh ice cream, and a buttery biscuit?
As delicious as this was, making it was just as rewarding, if not more. There is something about chopping ingredients, massaging butter into flour, rolling dough, and churning fresh ice cream. Bringing it all together on a beautiful plate was the perfect end to a wonderful day. Despite cheating on my diet, and thus having to work extra long on the treadmill, it was worth every single bite.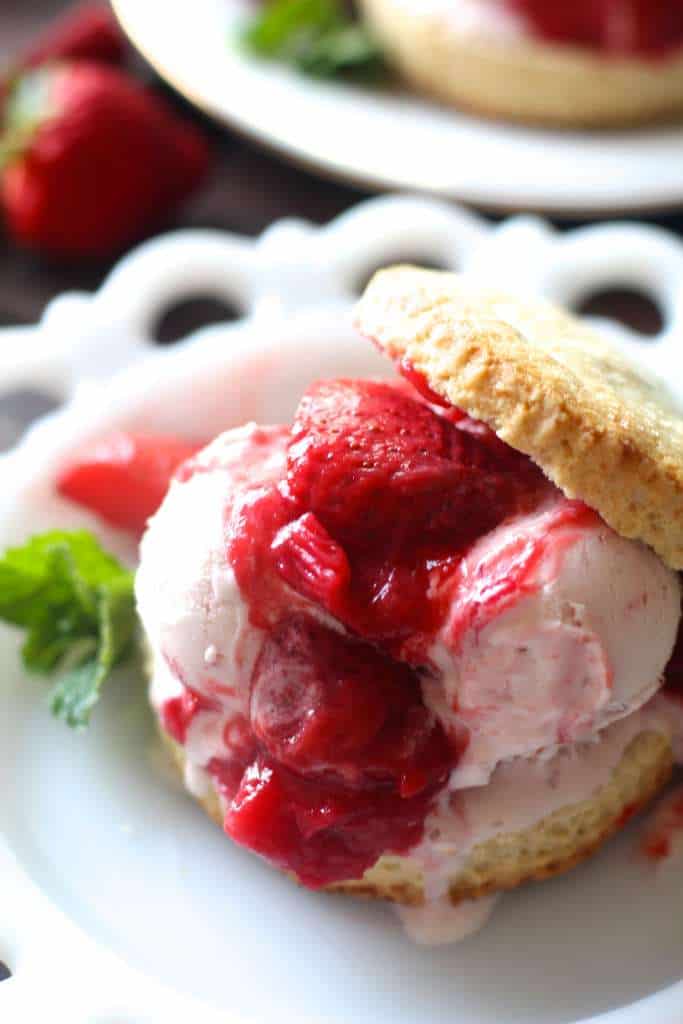 I used my favorite Roasted Strawberry Ice Cream recipe to make these however any strawberry or vanilla ice cream or whipped cream would work. I think this would be the perfect dessert for our next dinner party! Enjoy!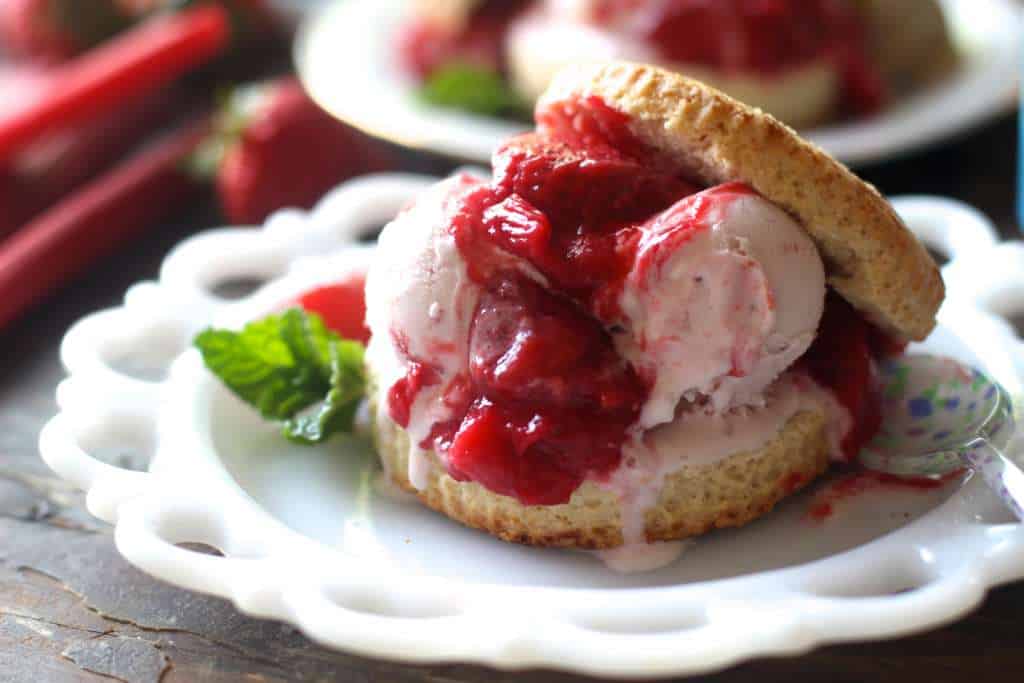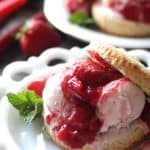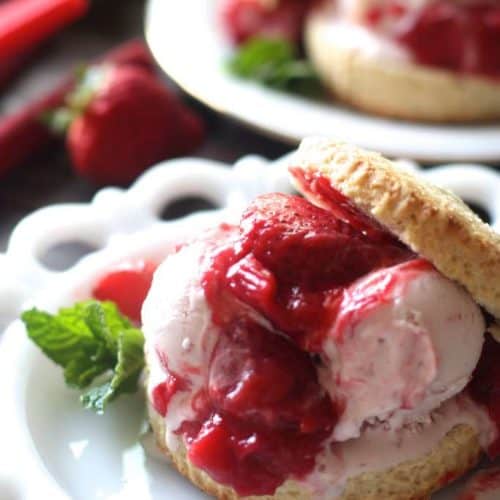 Strawberry Rhubarb Shortcakes
Ingredients
Shortcakes
4

cups

flour

3

tablespoons

sugar

¼

teaspoon

salt

5

teaspoons

baking powder

12

tablespoons

(1 and a half sticks) butter, room temperature

1

and ¼ cup heavy whipping cream

, plus more for basting
Strawberry Rhubarb Compote
2

cups

½-inch-thick rhubarb slices

(about ½ pound)

¼

cup

sugar

1

tablespoons

water

1

cup

dice strawberries

½

teaspoon

vanilla extract

Strawberry or Vanilla Ice Cream or Whipped Cream
Instructions
Preheat oven to 450 degrees. Line a baking sheet with parchment paper.

In a large bowl, sift together flour, sugar, salt, and baking powder.

Mash in softened butter with flour mixture until small pea like clumps form.

Mix in whipping cream until mixture forms a ball.

Wrap dough in plastic wrap and chill for one hour.

Once dough is chilled, roll out on a lightly floured surface about an ½ inch thick.

Using a 3-inch biscuit cutter, cut an even number of rounds.

Place rounds on baking sheet and baste with heavy whipping cream.

Bake shortcakes for 10-15 minutes or until golden brown.

In a small sauce pan, add sugar, water, strawberries, and rhubarb.

Cook on medium heat, stirring regularly, until strawberries melt and rhubarb is soft, about 10 minutes.

Stir in vanilla.

To assemble the shortcakes, place a large scoop of ice cream or whipped cream on one shortcake.

Spoon a generous amount of warm compote onto the ice cream and top with another shortcake.

Enjoy immediately.