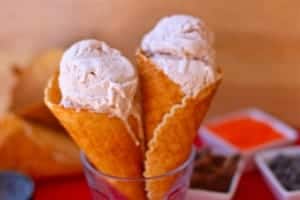 When June comes around I am so excited to have my kids home everyday, go to the pool, and grill everything I can get my hands on.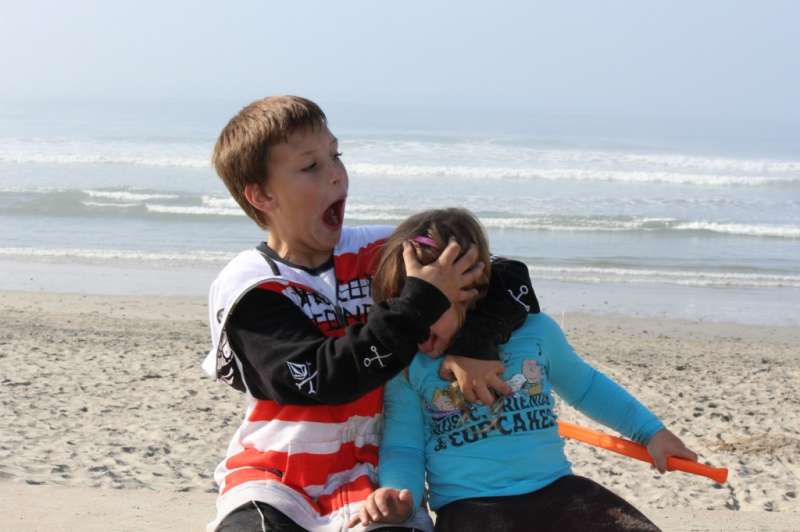 By August, I am done. I can't wait to send my kids back to school. The picture above is what I go through every day. Twenty. Four. Seven. Combine that with multiple neighborhood kids who always seem to be hungry and thirsty, I am 100% ready for school to start again.
I am so ready for summer to be over that I even have got my boxes of Halloween decorations out of storage, and started working on our costumes. I have been known to put up the decorations mid-September while blaring Christmas music. I figured I would spare my neighbors till at least September 30th, this year.
I must stay in summer mode for a few more weeks. We leave for Hawaii in a few days, and that is not the place to be thinking about fall colors and pumpkin spice!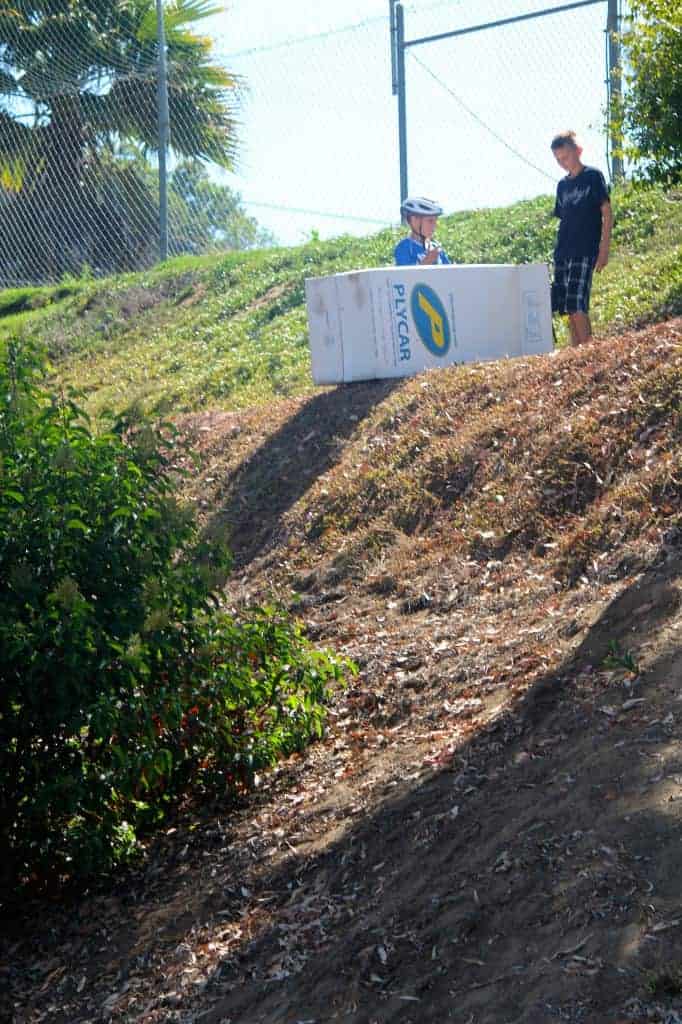 Anyway, I have completely run out of steam with these kids. Like most children, my children know when to take advantage me. After a hot stuffy night of tossing and turning, an entire afternoon at the pool (thinking they may actually get tired…silly me), I mindlessly allowed them to do this. Cardboard Surfing.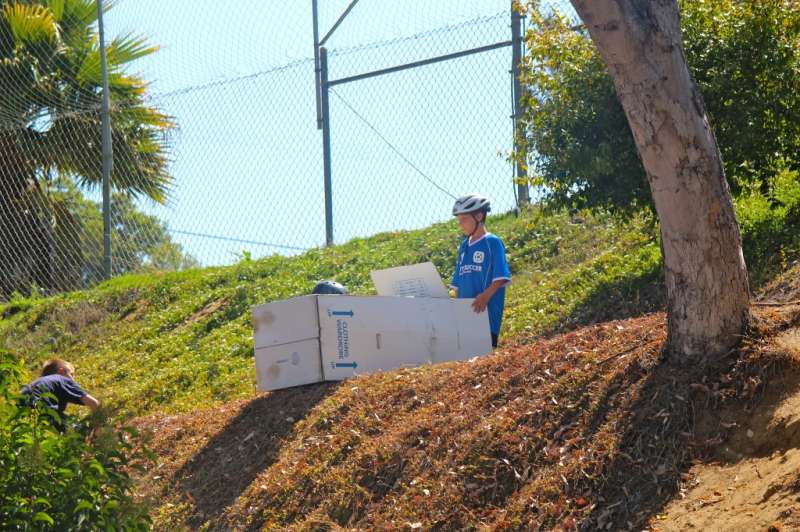 Crazy huh! At least I got them to wear helmets!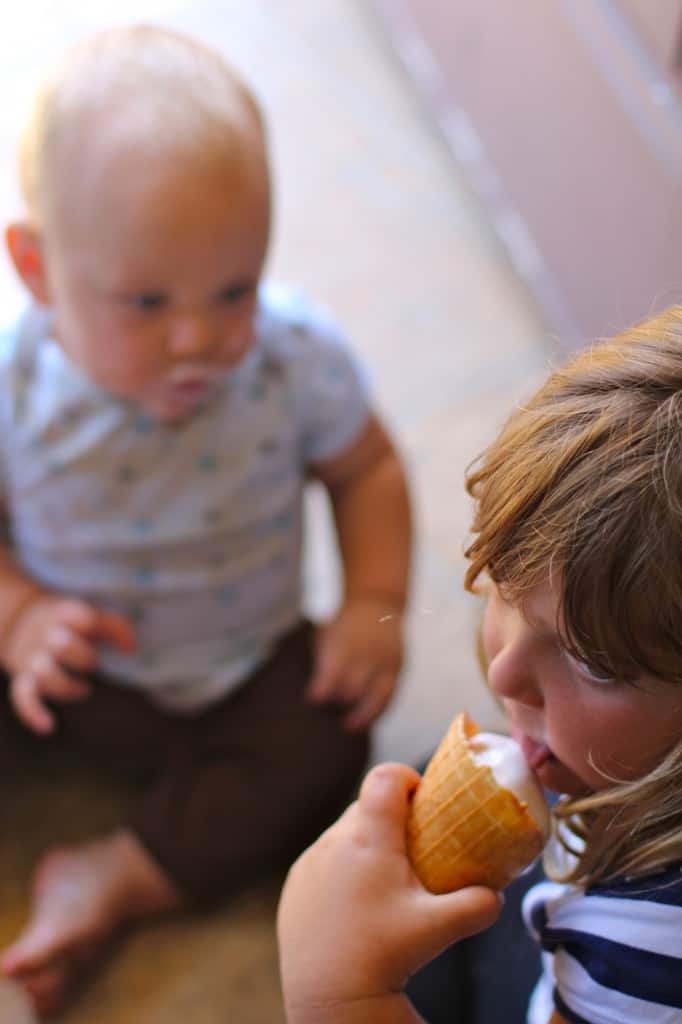 Big sis always shares with the baby, it is so sweet! Look at his ice cream covered face!
In my last effort to get some peace and quite, I decided to stuff them with some homemade waffle cones and roasted strawberry ice cream. I picked up this Chefs Choice waffle cone maker at a garage sale in the spring for $5. One of the best purchases ever! I used the Krusteaz Waffle Cone Mix, that was sent to me to sample, and it was awesome. The cones stayed crunchy long after they cooled, which doesn't happen with lots of other brands. We need to start a petition that Krusteaz makes this stuff available to everyone (not just businesses!).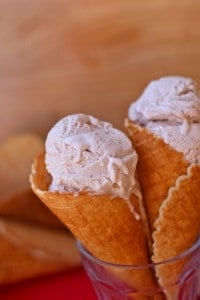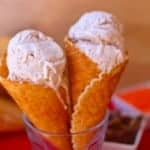 Roasted Strawberry Ice Cream and Krusteaz Waffle Cones
Ingredients
Roasted Strawberry Ice Cream
1

pint

strawberries washed

, dried, and hulled

1 1/3

cups

sugar

3

egg yolks

2

cups

heavy whipping cream

2

cups

milk

1

teaspoon

vanilla
Instructions
Strawberries:
Preheat oven to 350 degrees.

Pour 1/3 cup of sugar over strawberries and mix gently.

Place strawberries in a lined roasting pan and roast for 8 minutes.

Allow to cool before adding to custard.

Ice Cream Base:

Beat the egg yolks in a bowl until they turn a light lemon yellow color, about 3 or 4 minutes.

Set aside.

Combine the whipping cream, milk and the remaining sugar in a heavy-bottom saucepan.

Cook over medium heat, whisking often, until the sugar has dissolved and the mixture is hot. Ladle about 1 cup of the hot mixture into the beaten egg yolks, whisking constantly until well-blended and smooth.

Pour the egg yolk mixture into the saucepan and continue to cook over medium heat, whisking constantly, until the mixture thickens enough to form a film or coat the back of a spoon, about 5 minutes.

Remove from the heat and add the vanilla.

Let the mixture cool to room temperature, then stir in the roasted strawberries.

Freeze in an ice cream maker according to the manufacturer's instructions.