This is a sponsored post on behalf of  General Mills and Acorn Influencer. All opinions are my own.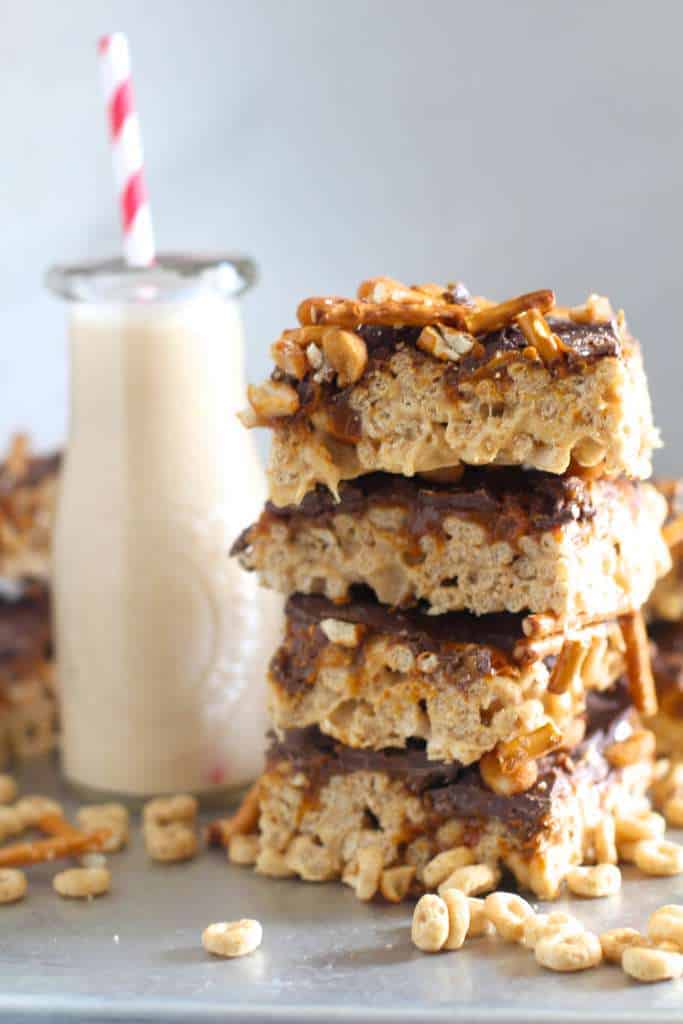 Growing up, there were very little sweets in the house. My mother would come home from the store with bags and bags of food, however they were all things like flax seed and quinoa. While I appreciate these things now, I dreaded them back then. Thankfully, my dad was (and still is) a lover of peanut butter and Honey Nut Cheerios, so there was always one bag filled with these. I remember on the nights where I was craving something sweet, I would roam into the kitchen and make myself a peanut butter dipped marshmallow covered in Honey Nut Cheerios.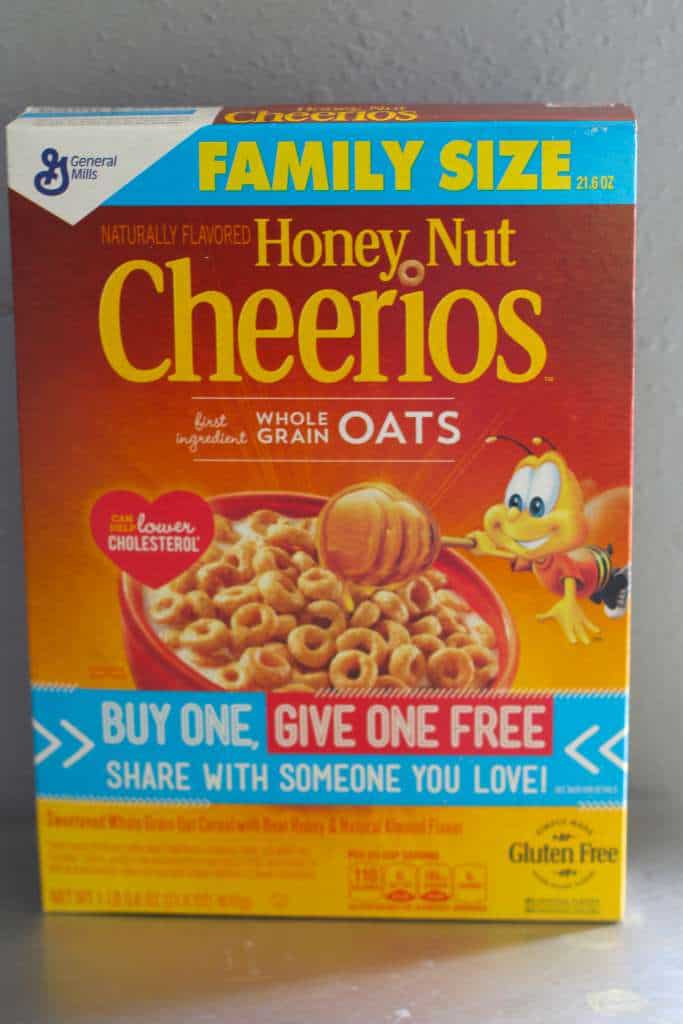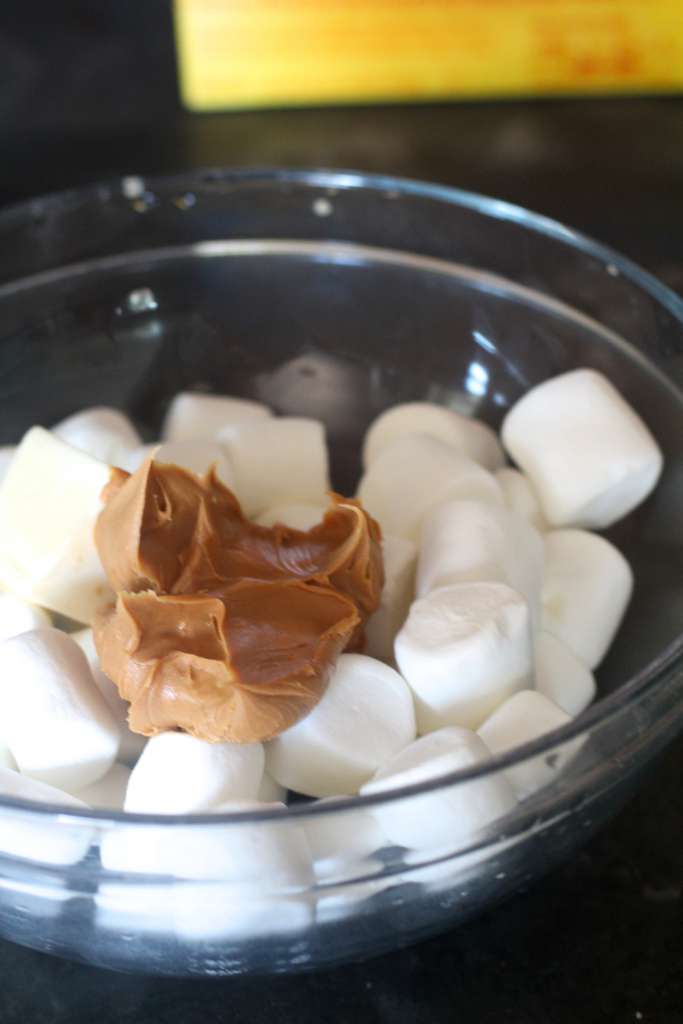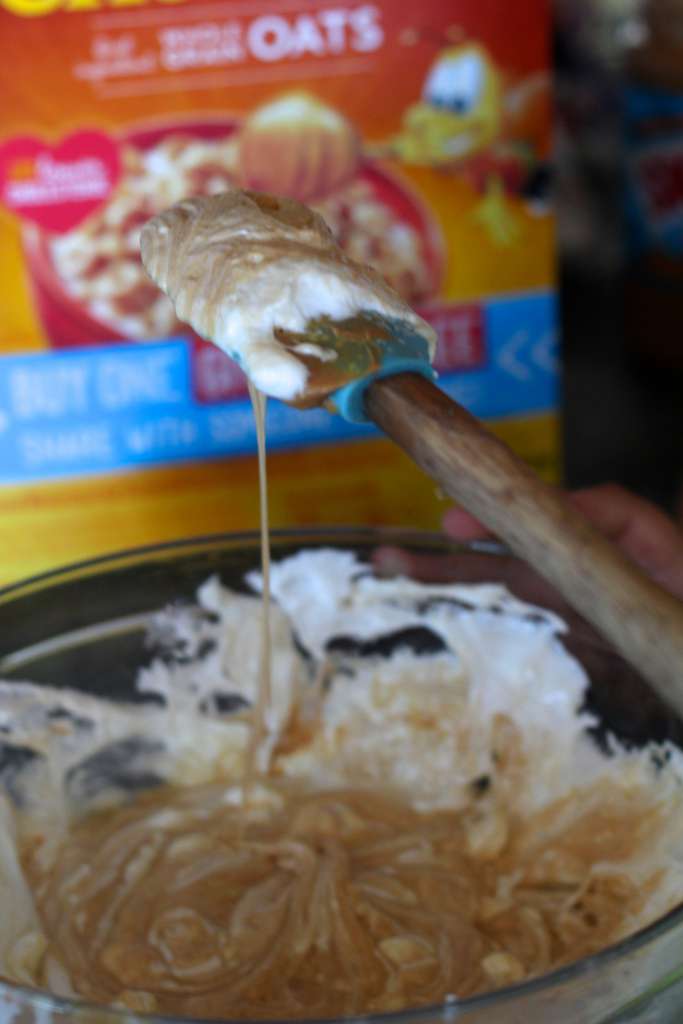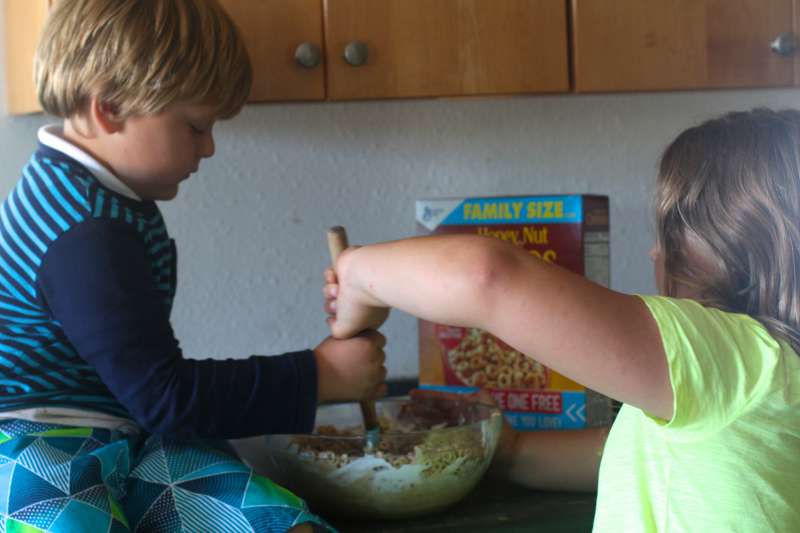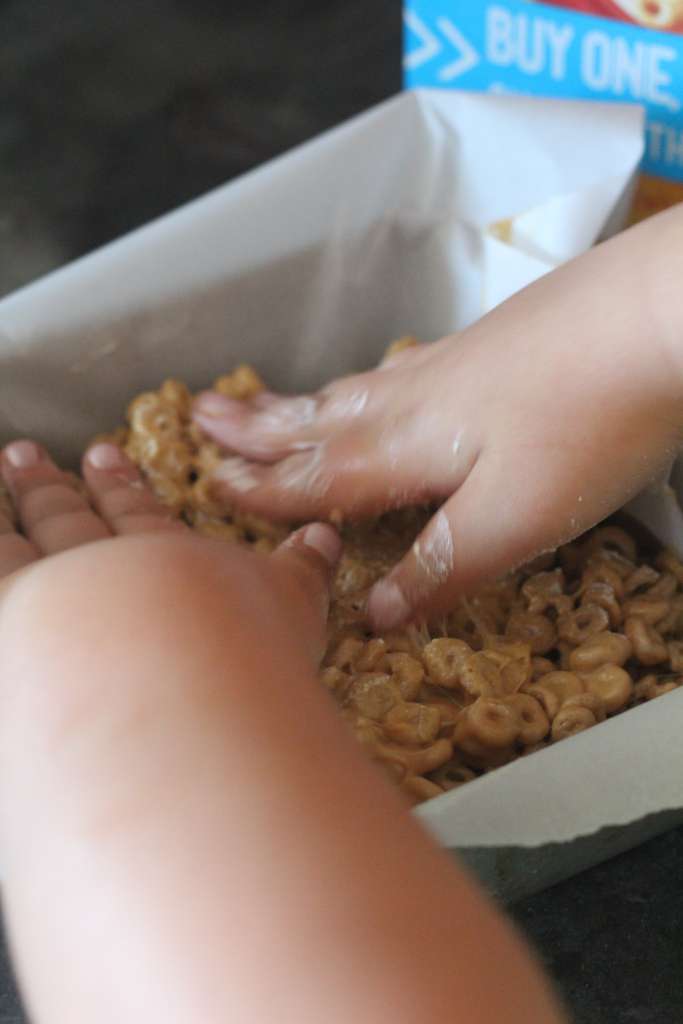 There are three children in our family. On the days that we were required to bring in something homemade my mom would always scramble around to make something quickly and easily to prepare. I never understood why she was not able to prepare things in advance since she stayed home all day. Now that I have three of my own, I totally get it! Life with kids is not easy, even as a stay-at-home mom.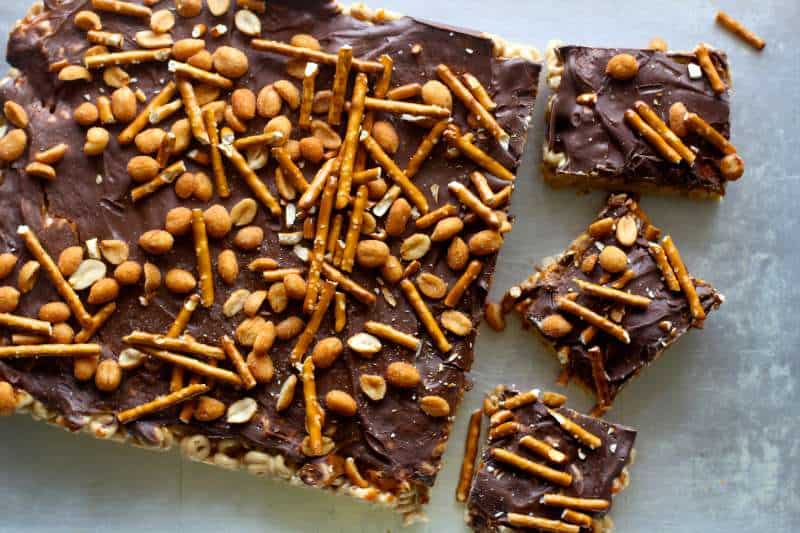 When she made her Peanut Butter Cheerios Bars, we all (my dad more than anyone) would get so excited. Her bars were but so delicious. She would mix up peanut butter, marshmallows, butter, and Honey Nut Cheerios just as you would if you were making rice crispy treats. I think that this recipe developed as an accident, but it quickly became a favorite in our family.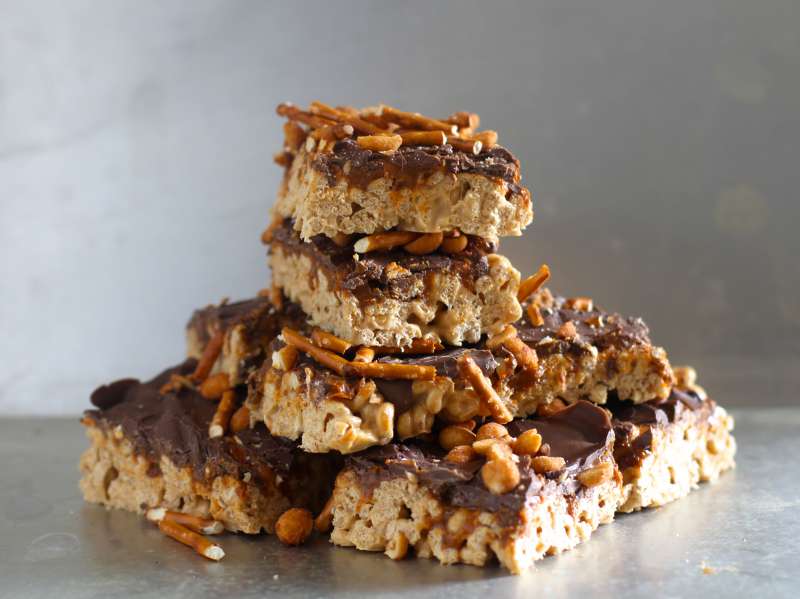 Now that I am older with a family, I totally appreciate the simplicity in these bars. Like my mother, I have made these bars last minute for more bake sales and soccer snacks, then I can count. It has since become one of my children's favorite treats too. Since they are so easy to make, my daughter has even learned the process and has made them herself!
While the original recipe was just the bars, I have developed quite a reputation for my baked goods so I always like to add some toppings to make the bars extraordinary. One of our favorite additions is adding some creamy Dulce de Leche. We either always have a homemade jar in the fridge or a can in the cupboard. Layered with the peanut butter cereal bars, chocolate, and the salty sweet pretzels and honey roasted peanuts, these bars are absolutely delicious! So, the next time you are in a pinch and want something that will be a best seller at the next bake sale, make these!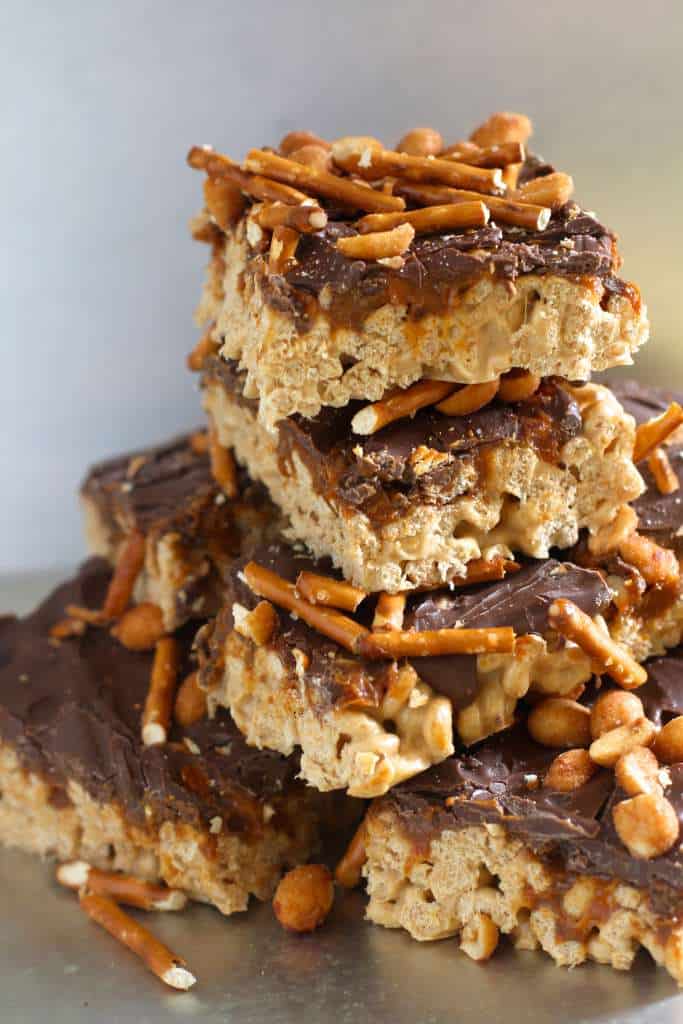 The next time you are in the recipe isle at Walmart, pick up a box or two for those unexpected moments. For more recipe ideas, head over to the Día de los Niños page or follow them on Pinterest! Enjoy!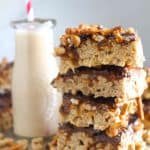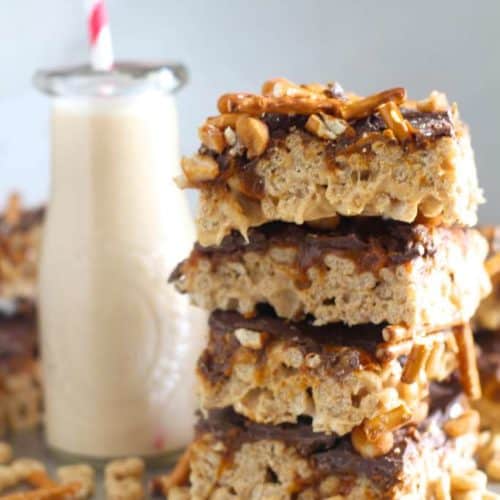 Peanut Butter Cheerios Bars
Ingredients
3

tablespoons

butter

1

(6 cup) package mini marshmallows

1

?2 cup peanut butter

1

teaspoon

vanilla extract

5

cups

Honey Nut Cheerios
Toppings
1

cup

dulce de leche or caramel sauce

1

cup

chocolate chips

¼

cream

Pretzels and Peanuts
Instructions
Generously spray a 9x13 inch backing pan with nonstick cooking spray.

In a large microwave safe bowl, combine butter, marshmallows, and peanut butter.

Microwave on high for one minute. Stir until smooth. If not completely melted, return bowl to microwave and heat for another 20 seconds.

Pour in Honey Nut Cheerios and stir until combined.

Pour mixture into pan and spread and flatten with the back of a wooden spoon.

Allow to cool and set for 30 minutes.

Once set, spread dulce de leche or carmel sauce over bars.

Melt chocolate chips and cream in the microwave for 30 second increments, stirring in-between, until melted.

Once smooth, spread chocolate over the bars and sprinkle with coarsely chopped pretzels and peanuts.

Allow chocolate to set, then cut into squares. This pan makes 12 good sized squares.