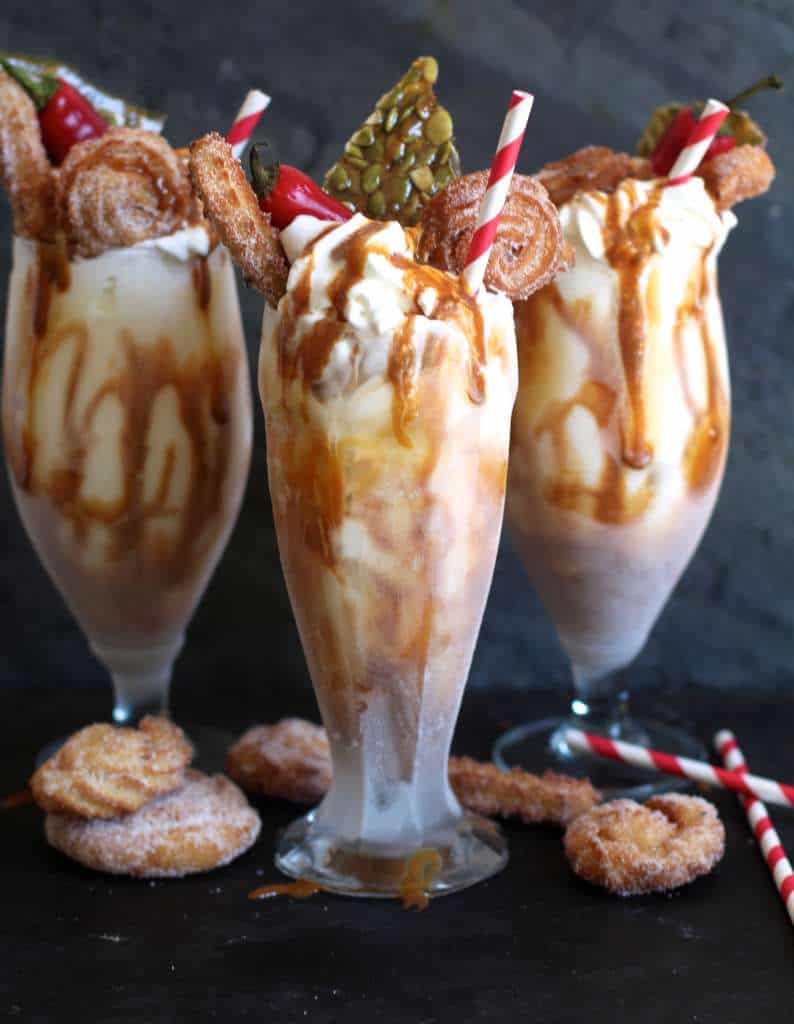 Fancy milkshakes seem to be all the rage right now. I am desperately trying to talk my husband into letting me do a food tour in New York, secretly to just have a milkshake from The New York Milkshake Lounge. Unfortunately, he is not having it. So until I can convince him otherwise, homemade milkshakes will have to do.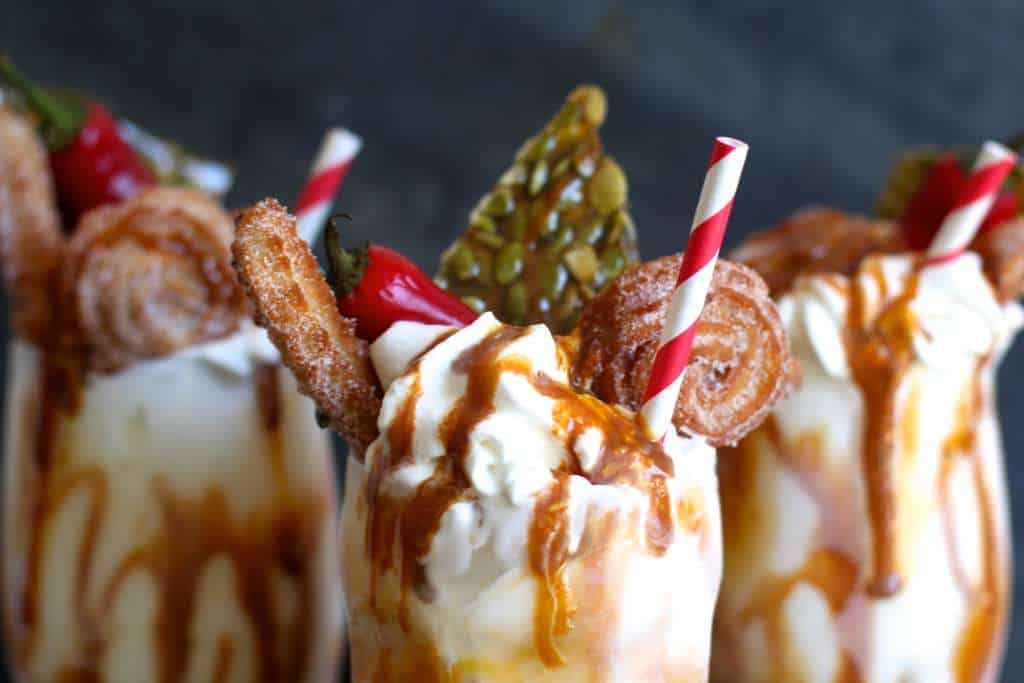 Thankfully, this milkshake is good enough to hold off my travel desires...for now.     These are certainly the perfect dessert drinks to impress someone special. They would be the perfect way to end a fun dinner party. With thick silky dulce de leche swirled around the glass, creamy milkshake in the glass, a generous dollop of cinnamon whipped creamy, and finally a bit of crunch from the pepita brittle, they are a sure way to have your guests swooning.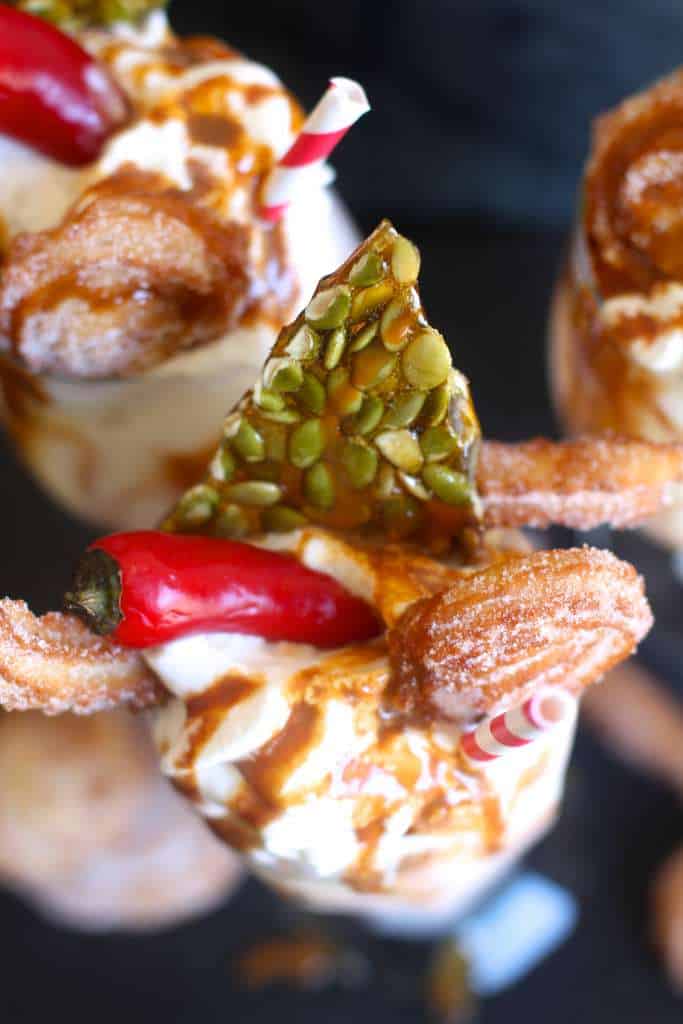 I initially had the wonderful idea of making homemade churros to add to the milkshake toppings. While they did add a delicious touch, they were a pain in the butt to make. I can honestly  say that I have sore arms from trying to pipe that dough, 2 days later! With that being said, homemade churros are the bomb.com, so if you have patience and some tough are muscles, I would highly recommend them. I will send you over to one of my favorite bloggers, Sugar Hero, for the recipe. I managed to make one churro ice cream sandwich and it was just about the best thing I have ever had.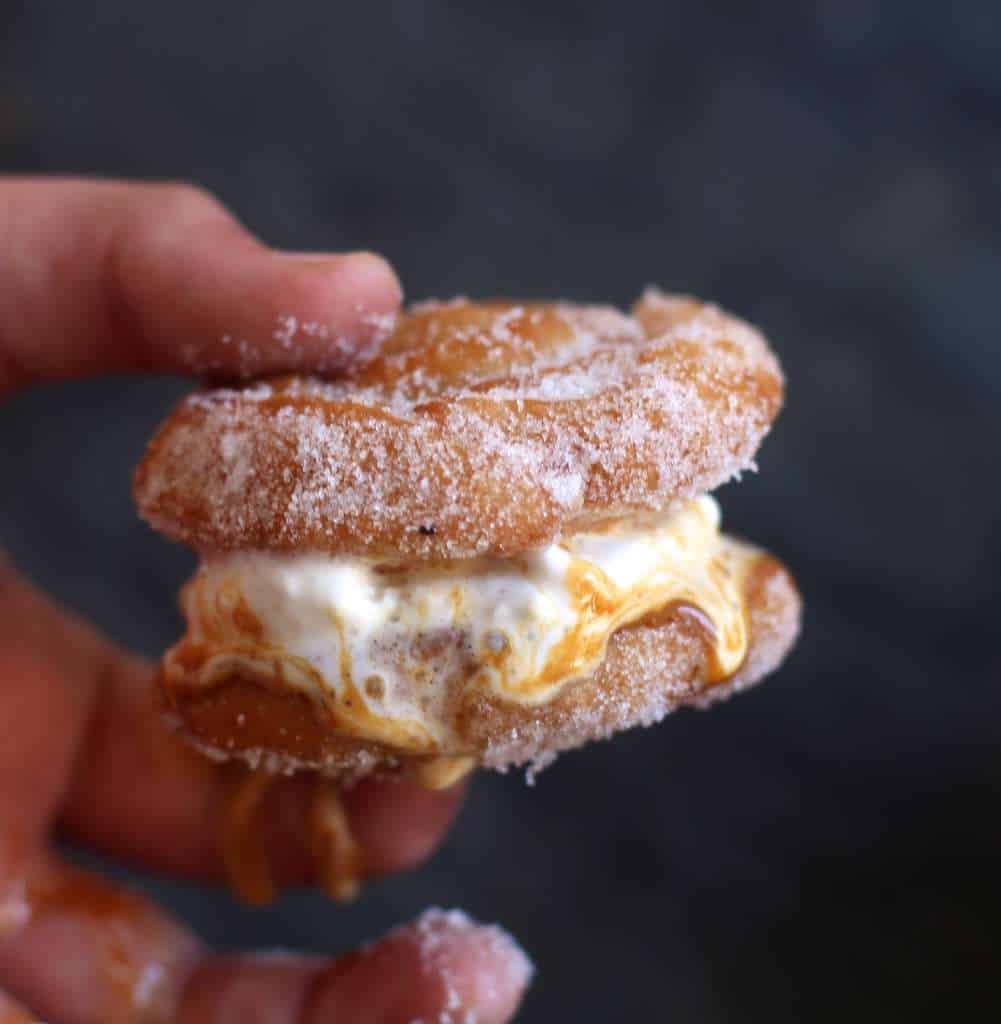 Now back to these milkshakes! I made my Dulce de Leche using this simple recipe, however if you are in a pitch, you can purchase the pre-made version from most grocery stores. They even have the handy dandy squirt version. Whether you are making these for a fun dinner party, or just a treat for your family, you will be sure to enjoy them!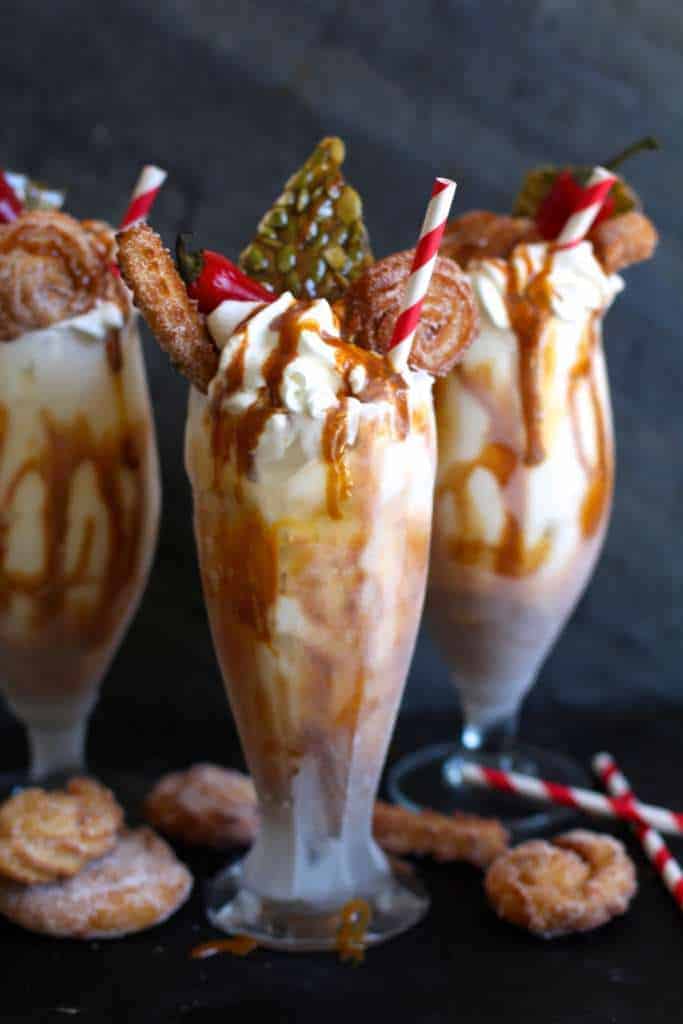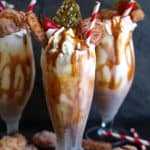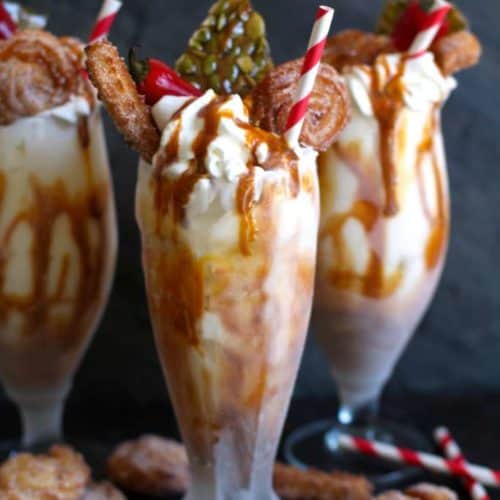 Dulce de Leche Milkshakes with Pepita Brittle
Ingredients
Pepita Brittle
Non-stick cooking spray

2

cups

sugar

1

stick

(8tablespoons) unsalted butter

⅓

cup

light corn syrup

½

teaspoon

baking soda

2

teaspoons

flaky sea salt

1 ½

cups

of raw pepitas
Milkshakes
4

cups

dulce de leche swirl ice cream

(or vanilla ice cream)

2

cups

milk

1

teaspoon

vanilla extract

Dulce de Leche for drizzle
Cinnamon Whipped Cream
1

cup

heavy whipping cream

¼

cup

sugar

¾

teaspoon

ground cinnamon
Instructions
To make the Pepita Brittle, line a baking sheet with parchment paper and lightly spray with non stick cooking spray.

In a medium size pot, cook sugar, butter, and corn syrup on medium heat, stirring regularly.

When mixture begins to turn golden, remove from heat and stir in baking soda (mixture will foam).

Using a wooden spoon, stir in pepitas and pour into pan.

Carefully spread and flatten the mixture with the spoon.

Sprinkle with flaked sea salt and allow to cool completely.

Once cooled (about 1 hour) break brittle up into pieces and store in an airtight container for up to two weeks.

To make the milkshakes, swirl dulce de leche around four milkshake glasses and freeze while making the milkshakes.

In a blender, combine ice cream, milk, and vanilla extract and blend until smooth.

Pour into glasses and freeze briefly while making the whipped cream.

In a clean bowl, beat whipping cream, sugar, and cinnamon until stiff peaks form.

Dollop whipped cream onto the milkshakes and drizzle extra dulce de leche syrup. Garnish with pepita brittle and a churro if desired.

Enjoy immediately.