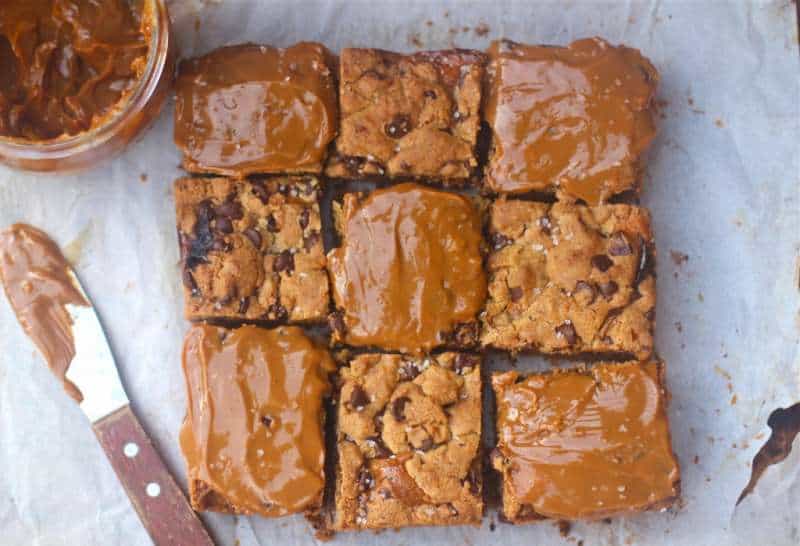 Last year around this time I showed you guys how to make Dulce de Leche in the oven. Well guess what? I have an even easier method!!!! Stick some condensed milk in the crock pot, cover it with water (more detailed instructions below), turn it on low, and in 8 hours you will have a creamy, delicious caramel sauce perfect for everything!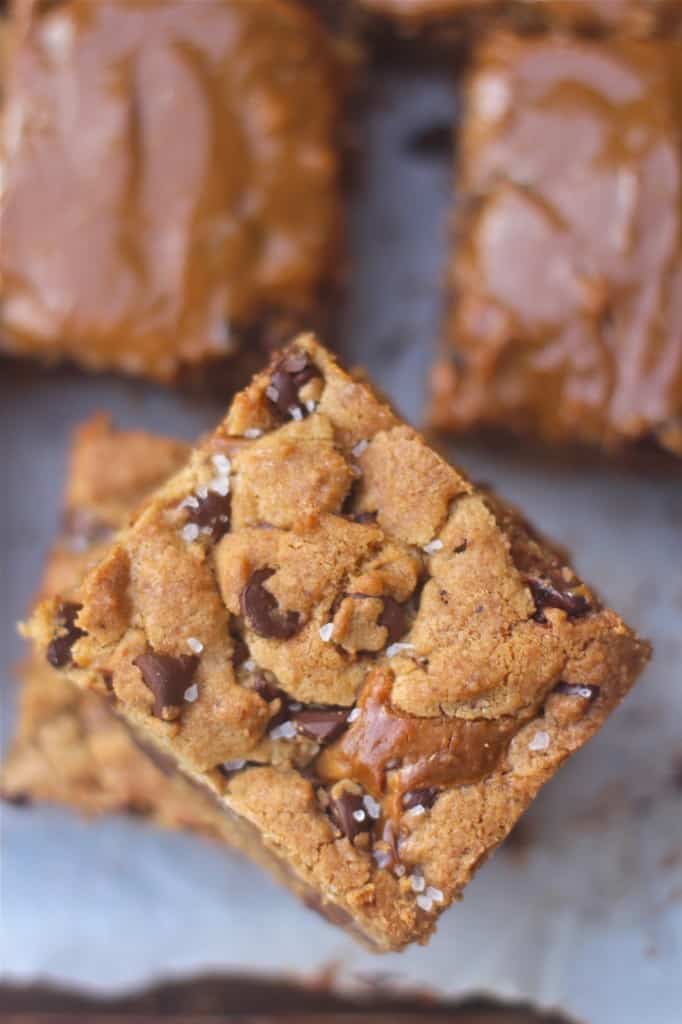 Considering I actually made 5 cans of the Dulce de leche, I had to quickly find recipes before I ate each jar clean. Cookie bars were the answer.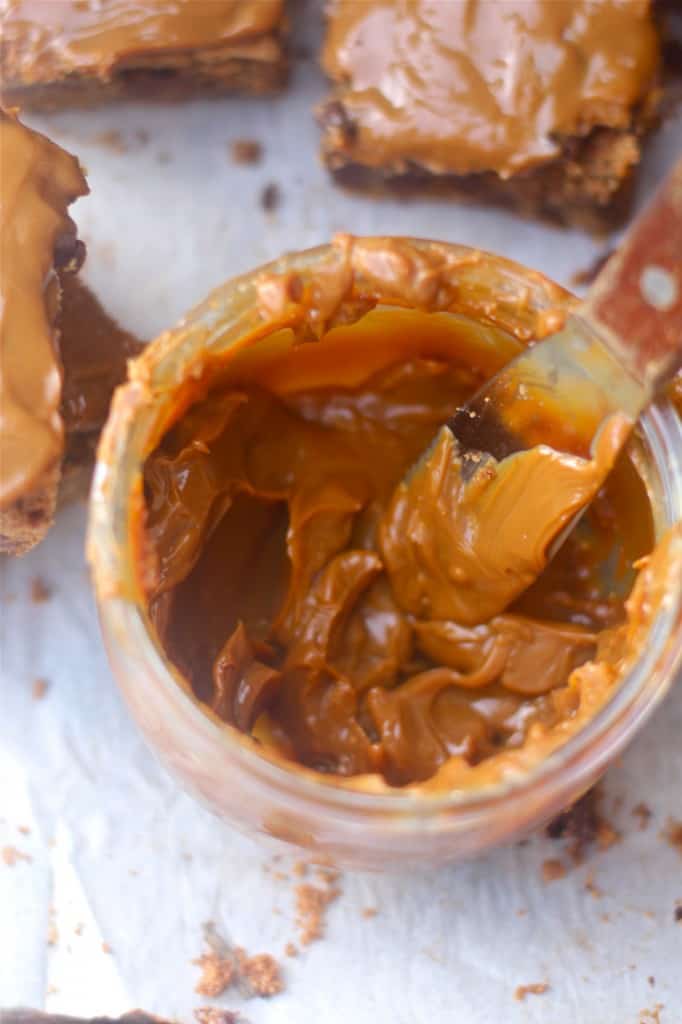 Even though I have tried to convince you that this is the best cookie recipe, it still requires at least a 2 day waiting period before consuming warm, gooey cookies. This recipe, however, results in a nutty (from the brown butter), chewy and perfect cookie with no rest time. Bliss in less than 30 minutes…sold! Do as I did and add a double layer of Dulce de Leche and some sea salt for a decadent dessert.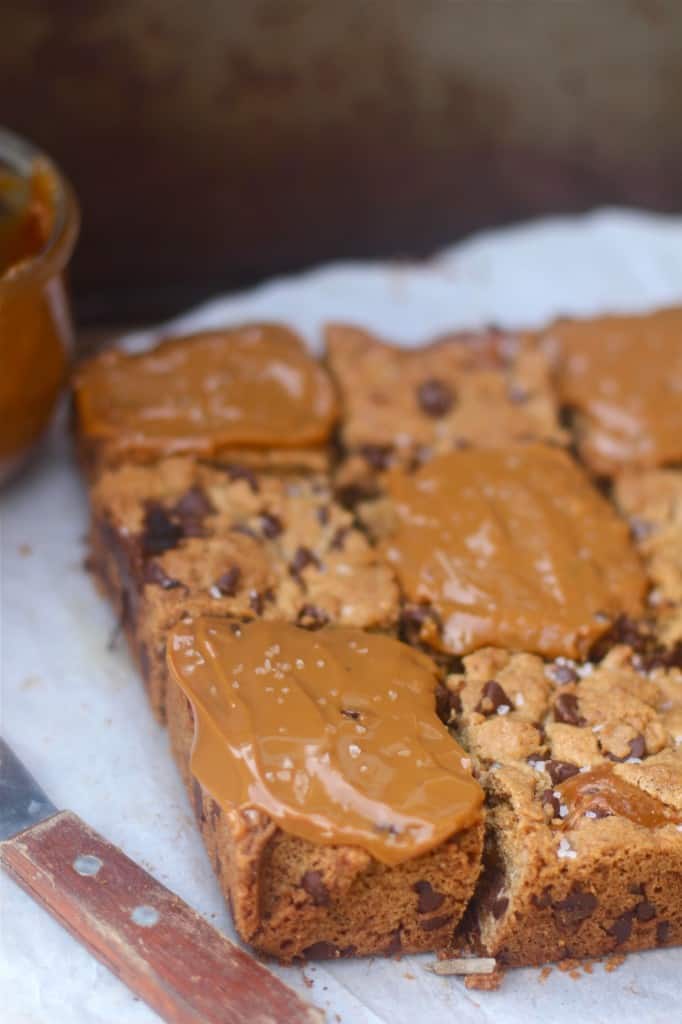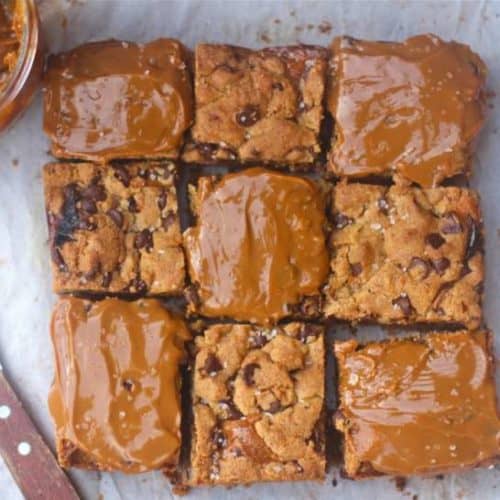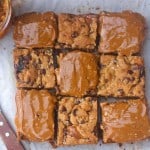 Salted Dulce de Leche Cookie Bars
Ingredients
Easy Dulce de Leche
1

can sweetened condensed milk
Cooks Illustrated Perfect Chocolate Chip Cookies
1 ¾

c

unbleached all purpose flour

½

t

baking soda

14

T

unsalted butter

½

c

granulated sugar

3/4

c

packed dark brown sugar

1

t

table salt

3

t

vanilla extract

1

large egg

1

large egg yolk

1 ¼

c

semi-sweet chocolate chips

¾

c

of chopped nuts
Instructions
Easy Dulce de Leche
You can do this two ways. Either remove the paper from around the can, or open the can and pour the sweetened condensed milk into a canning jar (ie a 8oz Ball jar) and close tightly.

Place jar or can in crock pot and fill with water about 1 inch above the can or jar.

Cook on low for 8 hours. Jar or can may look a bit rusty, but it is ok.

Remove can from crock pot when finished and carefully open with can opener.

If cooked in can, and not used right away store in a reusable container, covered and refrigerated. Will keep up to 1 week.
Cooks Illustrated Perfect Chocolate Chip Cookies
Preheat oven to 350 degrees.

In a heavy bottomed sauce pan, melt butter until browned.

It takes about 5 minutes for butter to begin to smell nutty and start to brown, but watch carefully because it goes from perfectly browned to burned very fast.

Once browned, remove from heat and allow to cool for 5 minutes.

Add browned butter and sugars to the bowl of a mixer and mix until combined.

Add eggs and yolks one at a time then add the vanilla.

Turn mixer off and add all of your dry ingredients to the bowl.

Once you have measured and added the flour, soda and salt, turn the mixer on low and mix until everything has been incorporated.

Turn mixer off and mix in chocolate chips and nuts with wooden spoon.
Dulce de Leche Cookies
Grease a 9x13 in pan with nonstick cooking spray.

Press half of the dough into the bottom of the pan. Spread 1/2 cup of dulce de leche over the dough.

Sprinkle the rest of the dough over the top of the ducle de leche.

Sprinkle with sea salt.

Bake at 350 degrees for 25-30 minutes.