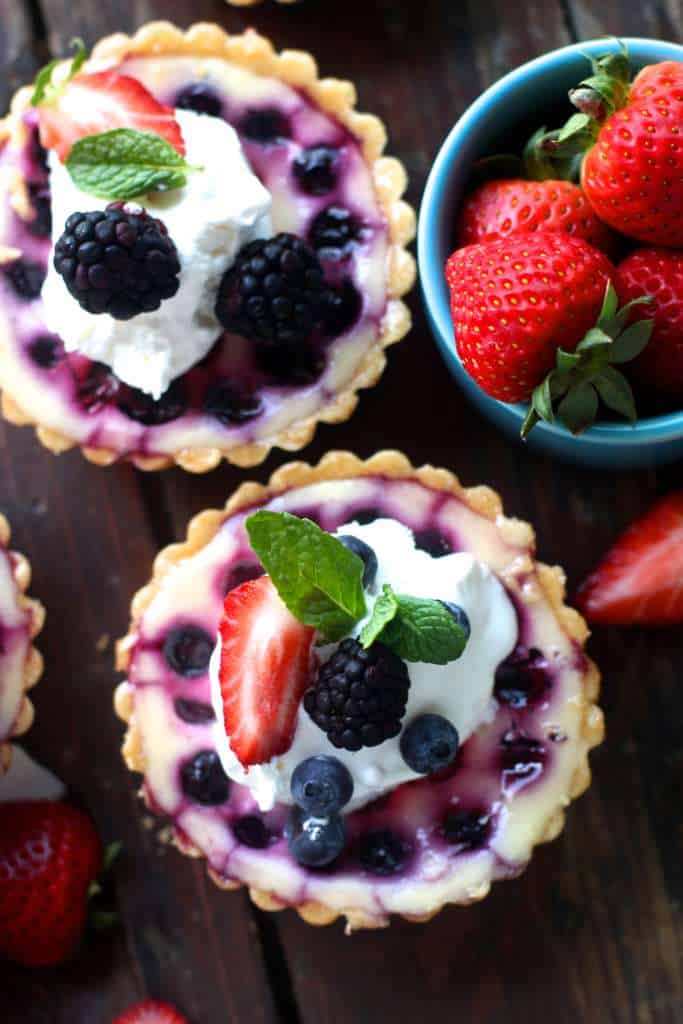 Is it just me or does it seem like life has been chaotic lately?!? Even with the longer daylight hours, there still seem to never be enough hours in the day. I feel like I am running myself thin with my 2-page long to-do lists, and everyone around me is feeling it too. So, as of today, I have decided to slow down and enjoy life. This may mean that the house isn't clean, that my daughter's 1st communion party isn't perfect, or dinner comes from a store once in awhile, but it will be worth it…I hope.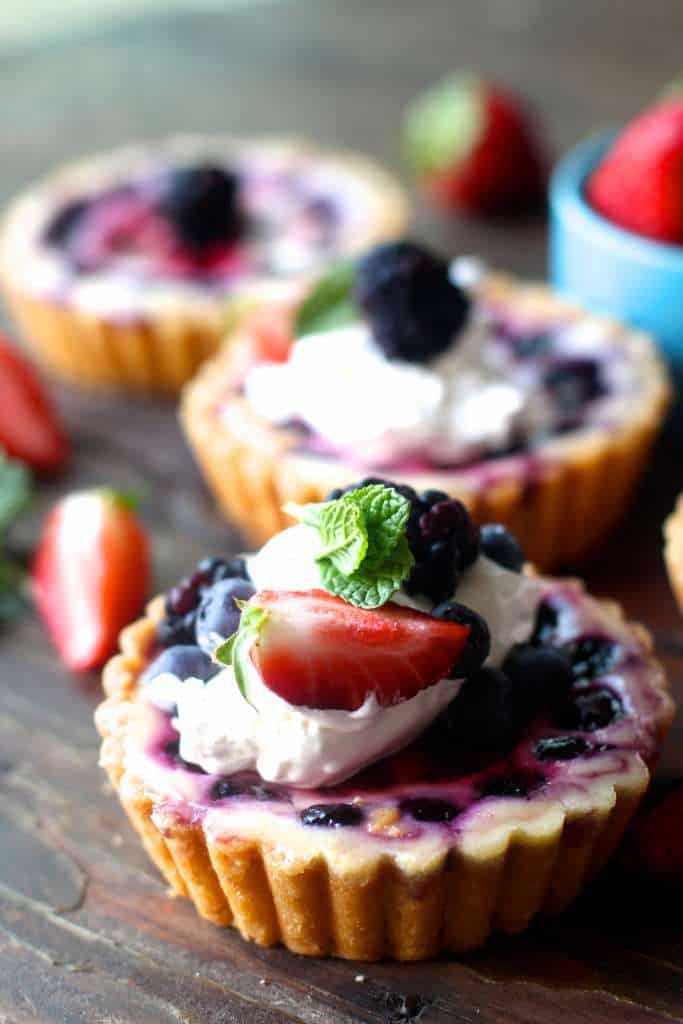 One thing that I have realized that I have been seriously lacking in is friend time. Over the past 6 months, I have made countless rain checks. I usually consider myself a great friend, but this year not so much. In an effort to change this, I decided that once a week I will make a surprise visit to one of my friends with some coffee and something to nibble on. Who can be mad a someone that arrives at their door with one of these tarts, right?!?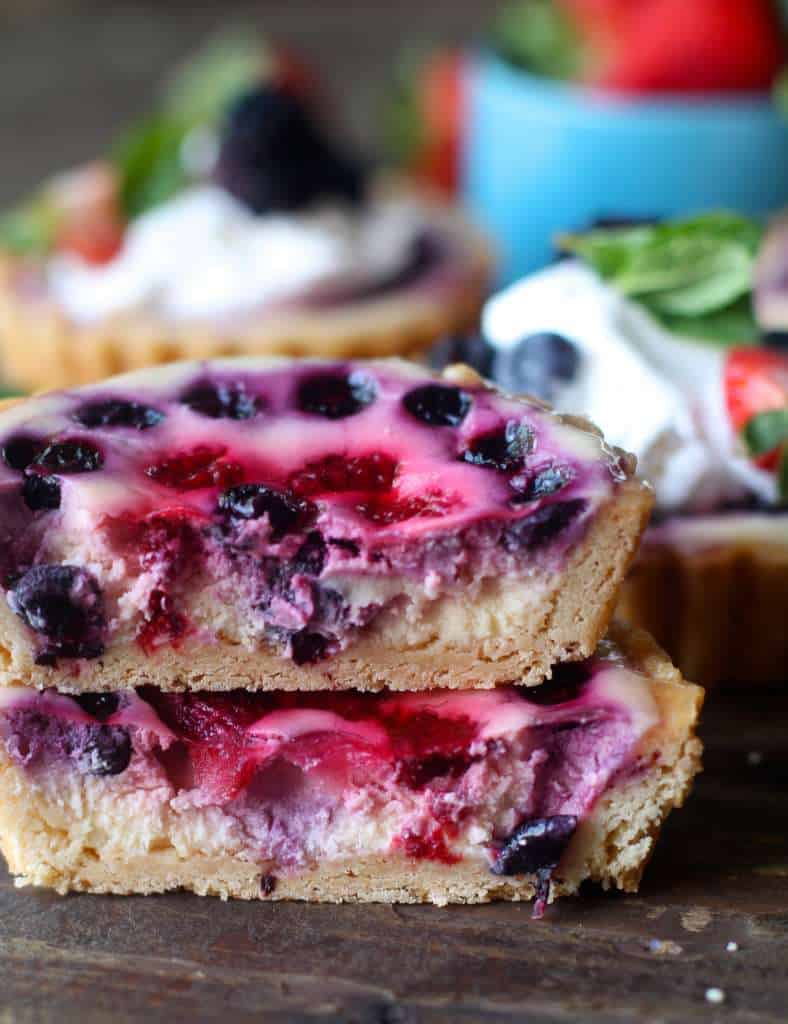 Fresh berries baked into a creamy buttery tart is the perfect dessert to say I am sorry! It is also the perfect dessert for Mother's Day! Actually, you need to just make it. It will make any day better! I usually make these as individual tarts using these mini pans here, however it is great made into a large tart pan too. Serve it with a dollop of whipped cream, fresh strawberries, and a sprig of mint and your have a bakery quality dessert in the comfort of your own kitchen! Enjoy!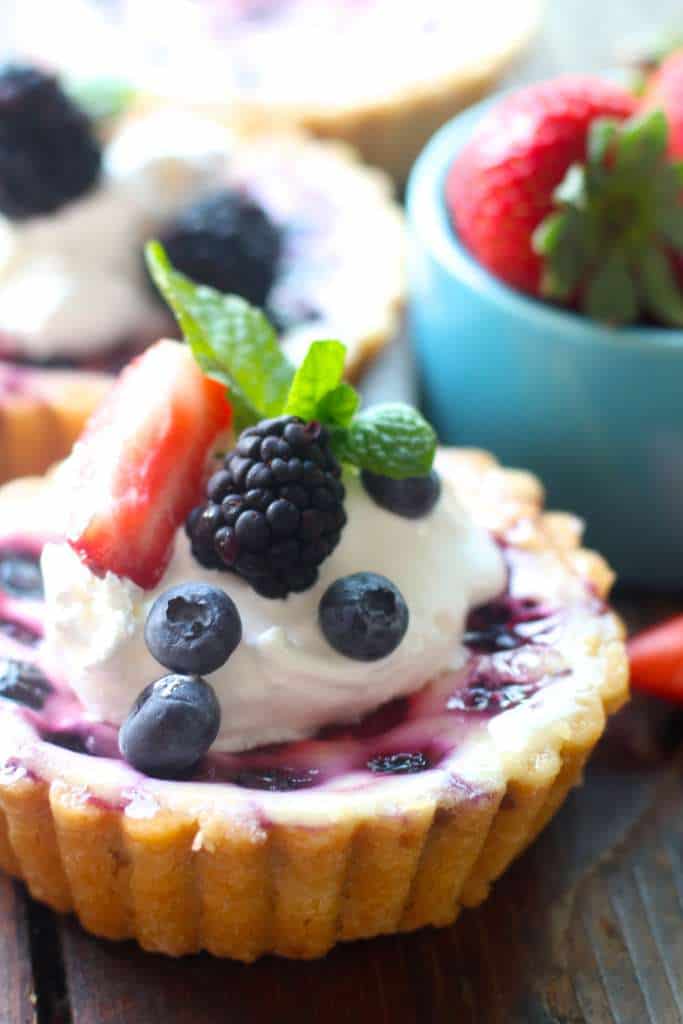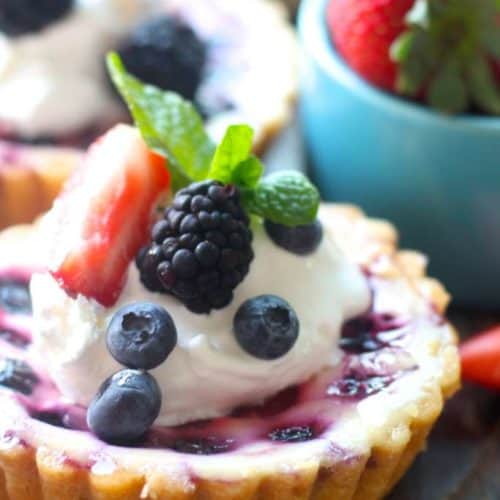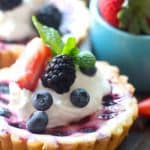 Cream Cheese Fruit Tarts
Ingredients
For The Crust-
2 1/2

cups

All-Purpose Flour

2/3

cup

powdered sugar

1/2

teaspoon

salt

12

tablespoons

(1 stick and a half) butter, room temperature

2

egg yolks
For The Filling
2 8-

ounce

packages cream cheese

, at room temperature

1

cup

sugar

4

large eggs

1

cup

whipping cream

1/2

teaspoon

vanilla extract

1

tablespoon

grated lemon peel

Blueberries and raspberries
For the topping
2

cups

whipped cream

Strawberries and mint for garnish
Instructions
To make the crust, lightly spray individual tart pans (or 2 9inch tart pans) with nonstick cooking spray.

In a large bowl, combine flour, powdered sugar, and salt.

Mix butter into flour mixture until small pea size clumps form.

Mix in egg yolks until dough forms.

Press about 2 tablespoons of dough into each individual tart pans or two 9 inch large tart pans.

Place pan(s) into freezer uncovered for 15 minutes.

Meanwhile, preheat the oven to 350 degrees.

When tarts have chilled, bake for 15 minutes or until the sides are slightly brown.

When done, remote from the oven and make the filling.

To make the filling, beat cream cheese and sugar until smooth.

Add eggs and beat until combined.

Adding whipping cream, vanilla extract, and lemon peel and beat until smooth.

Carefully (pans will still be hot) pour filling into the baked crust, about 2/3 of the way full.

Add a ring of blueberries and raspberries to the individual tarts.

Return tarts to the oven and bake for an additional 15 minutes or until the filling has set.

Cool for at least one hour, then remove from pans and refrigerate until serving.

When ready to serve, top with a dollop of whipped cream, fresh strawberries and a mint leaf.
This post contains an Amazon affiliate link.