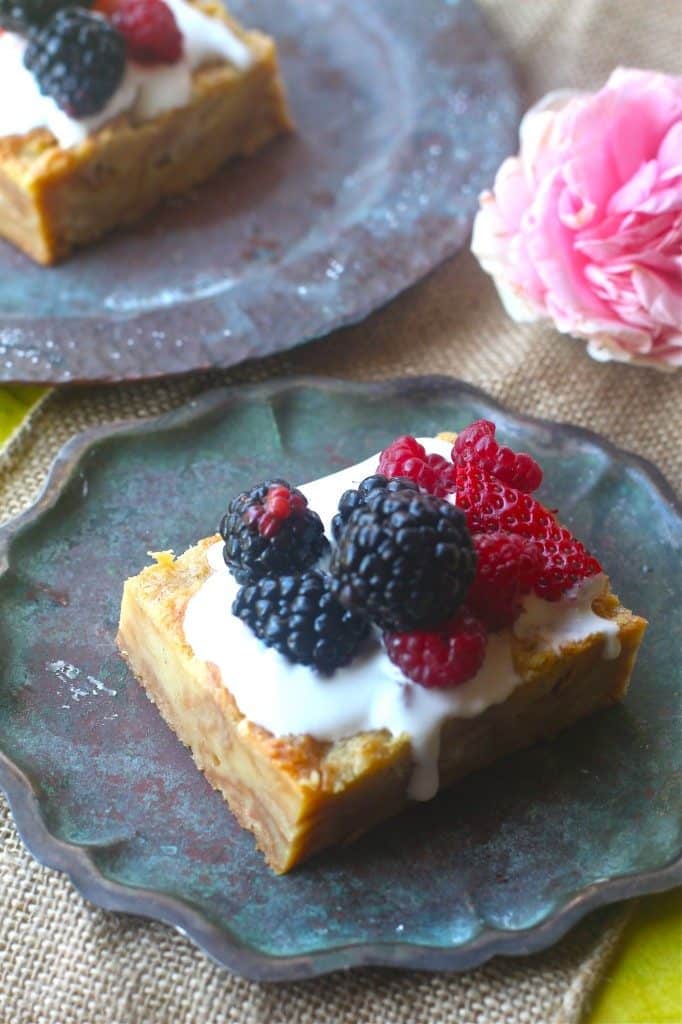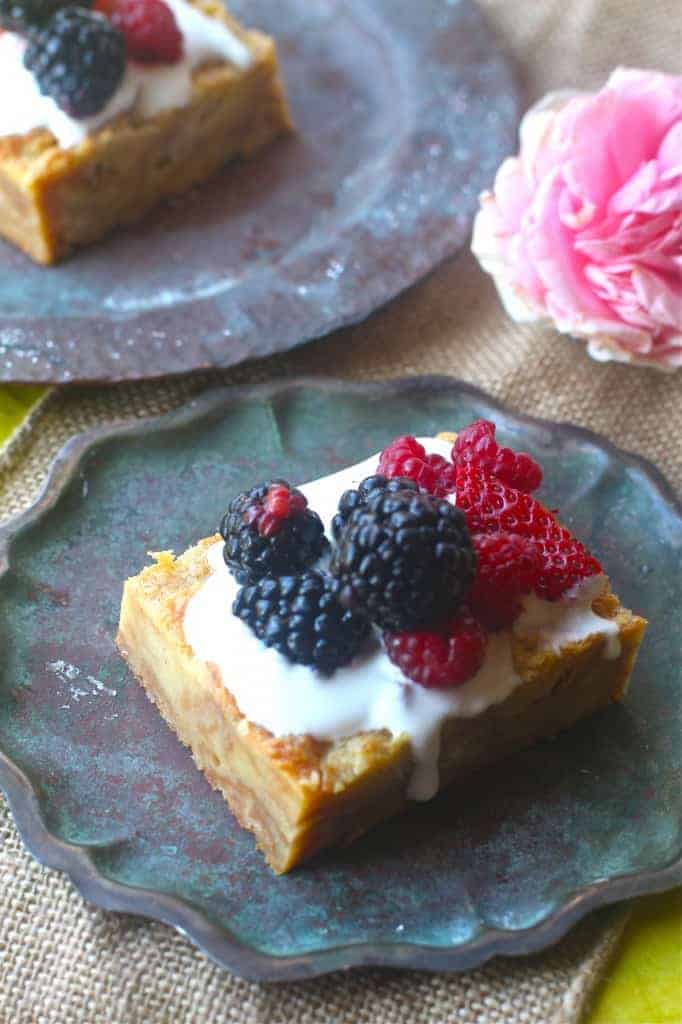 I have been testing recipes for my Easter Day brunch all week. I will be cooking for about 45 family members, which are my harshest critics. There are a few people with aspirations of writing a cook book in the family, me being one of them. Needless to say, we are all a bit competitive, even though I know that I am the best cook of them all 😛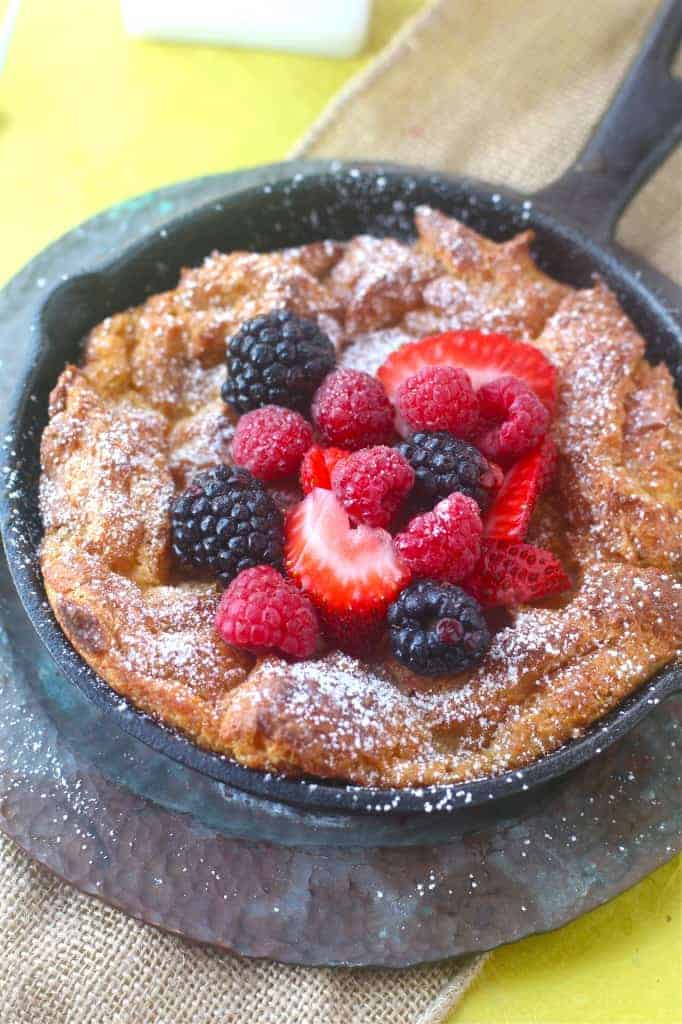 So this is why I am testing recipes now. Each dish has to be perfectly balanced and executed. A lot of pressure right?!?! I think my real challenge will be with the lamb. I have to make it better than my uncle's perfectly grilled lamb last year!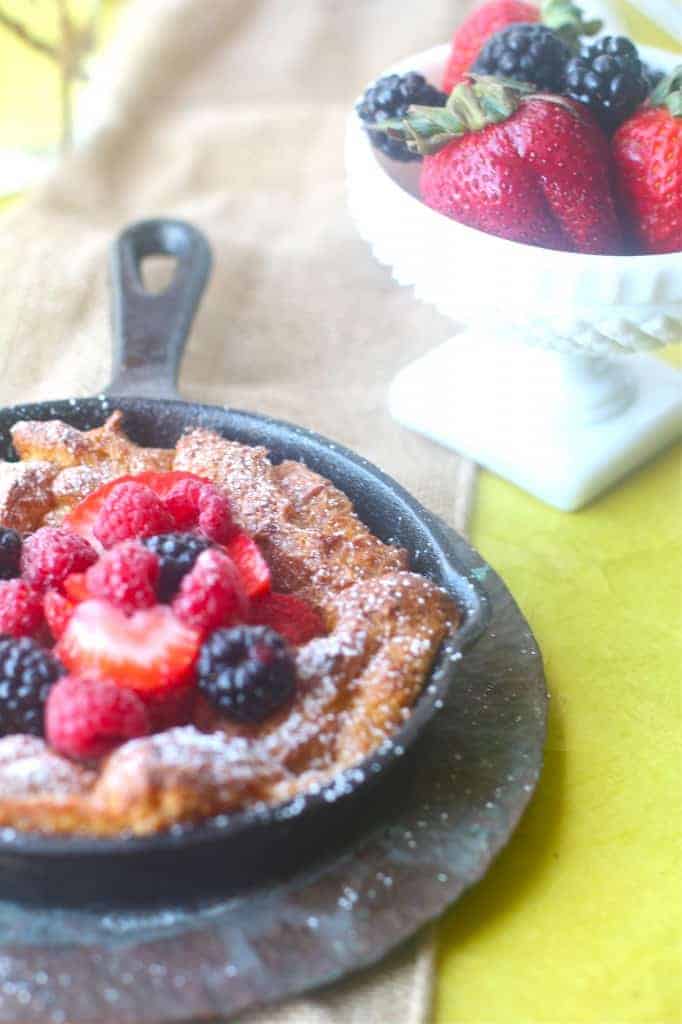 Anyway, this Croissant Bread Pudding certainly made the cut. It is sweet from the vanilla bean, buttery from the croissants, and creamy from the creme anglaise. I prefer a dense bread pudding rather than a mushy one. These cut perfectly into dense little squares. Serve with fresh berries and whipped cream for a stunning addition to your brunch or dessert table.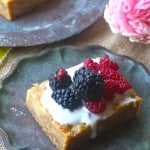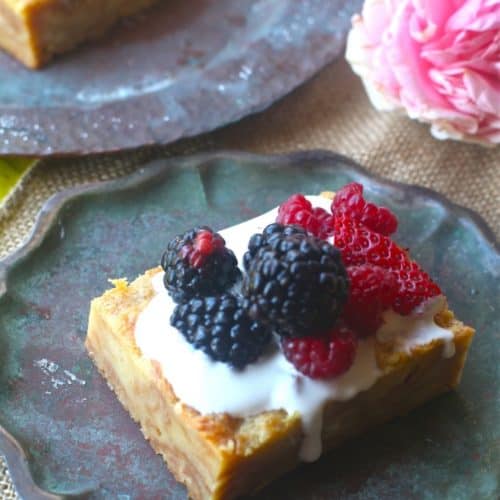 Croissant Bread Pudding
Ingredients
Croissant Bread Pudding
12

croissants

2

whole eggs

6

egg yolks

½

cup

sugar

2

teaspoon

vanilla bean paste or vanilla

¼

teaspoon

salt

2

cups

whipping cream

1

cup

milk
Instructions
Croissant Bread Pudding
In a heavy bottomed pot, bring whipping cream and milk to a simmer.

Beat eggs, egg yolks, sugar, vanilla bean paste and salt until light and fluffy.

When milk/cream has come to a simmer remove from heat.

Add a half of a cup or cream mixture to egg mixture and mix until combined.

Continue this process by adding 1 cup of cream to egg mixture at a time and mix.

Preheat you oven to 350 degrees.

Grease a 9x13 inch pan.

In a large bowl, break up 1in x 1in croissant pieces.

Add ¼ of cream mixture to the croissant pieces and stir to combine.

Wait 15 minutes and add another ½ of the cream mixture, again stir to combine.

Let rest for 5 minutes then stir.

Finally, pour the rest of the cream mixture into the croissant bowl, mix and pour into pan.

Bake for 40 minutes.

Serve hot or cold with whipped cream and/or fresh berries