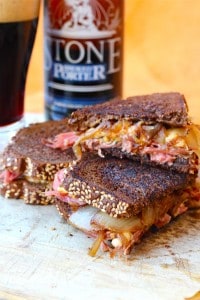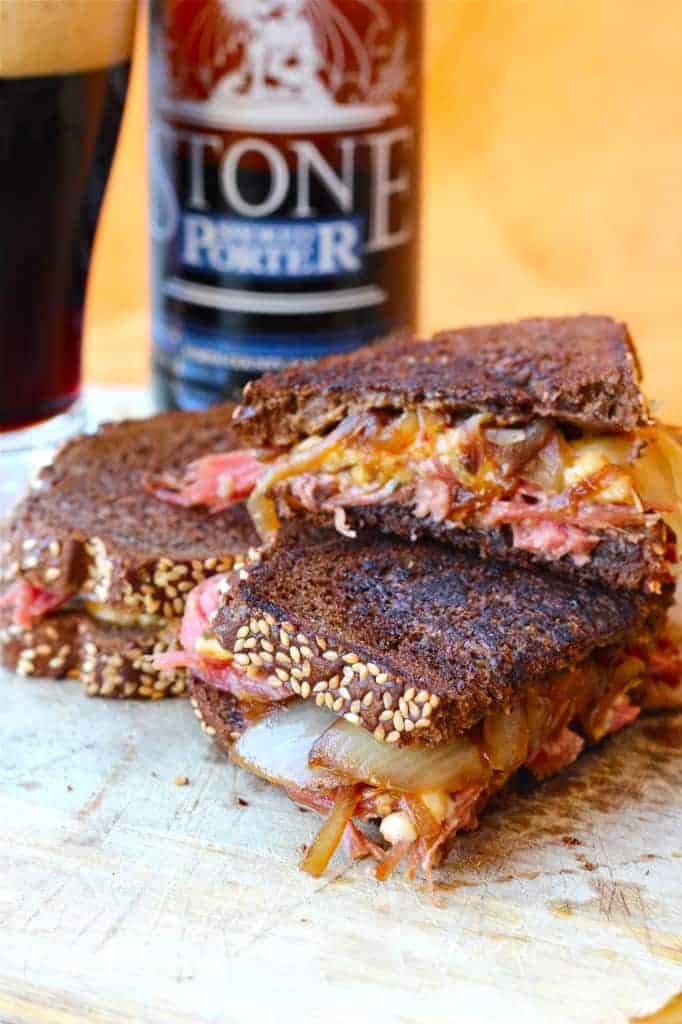 I am reposting this post from last year for 2 reasons. The first is because I could not pull it together enough to make a St. Patty's Day inspired post. Secondly, this sandwich is one of the only reasons I will be making a St. Patty's Day meal....it requires left overs. You WILL thank me. Trust me. 

I think my husband fell in love with me all over again over dinner tonight. I didn't think it would be possible to woo him with food, but apparently I was wrong. After one bite of this sandwich he looked at me and after ten years said, "you're a keeper"...well finally!
This sandwich is the most masculine, hunky, chunky sandwich known to man! If you have left over corned beef, I highly suggest you make this...it will complete you. Or, if you're like me, it will complete your marriage.
I originally came across this sandwich on pinterest and my mouth immediately began to water. To be honest with you, I didn't even make the traditional St. Patrick's Day corned beef and cabbage, I just bought the corned beef to make this! The original recipe grilled the onions in Guinness, but I used our favorite stout that comes from a local brewery here in San Diego called Stone Brewery.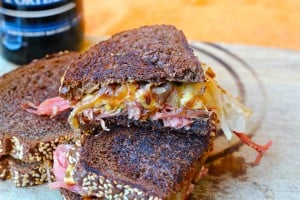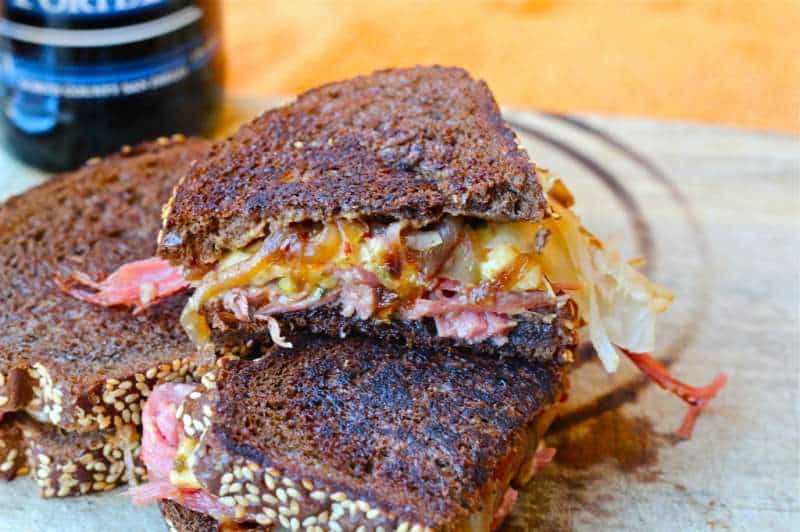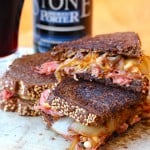 The Marriage Renewing Sandwich
Ingredients
Makes 4 sandwiches Ingredients:
1

tablespoon

oil

2

medium onions

1

cup

stout

(dark beer)

2

cups

corned beef cooked

1

cup

sauerkraut

4

slices

cheddar cheese

(I used this awesome chili pepper aged cheddar)

8

slices

rye bread

Dijon mustard and mayonnaise
Instructions
Makes 4 sandwiches Ingredients:
Finely slice your onions and cook until tender in a heated oiled skillet for about 7 minutes.

Add your stout and allow to simmer and evaporate.

Spread some mayonnaise and mustard on the rye slices.

Place ¼ of the beef, ¼ of the sauerkraut, and some grilled onions on one slice.

Place the slice of cheese over all the ingredients and close the sandwich with the other slice.

Grill the sandwiches (like you would a grilled cheese sandwich) for about 3 minutes in a well-greased hot pan.

Sit back and enjoy with the rest of the bottle of stout!!