Sweet and delicious, this Watermelon Margarita Recipe can serve 4-5 people, or just 1 if you're not in the mood to share! It's the perfect summertime drink on a hot day.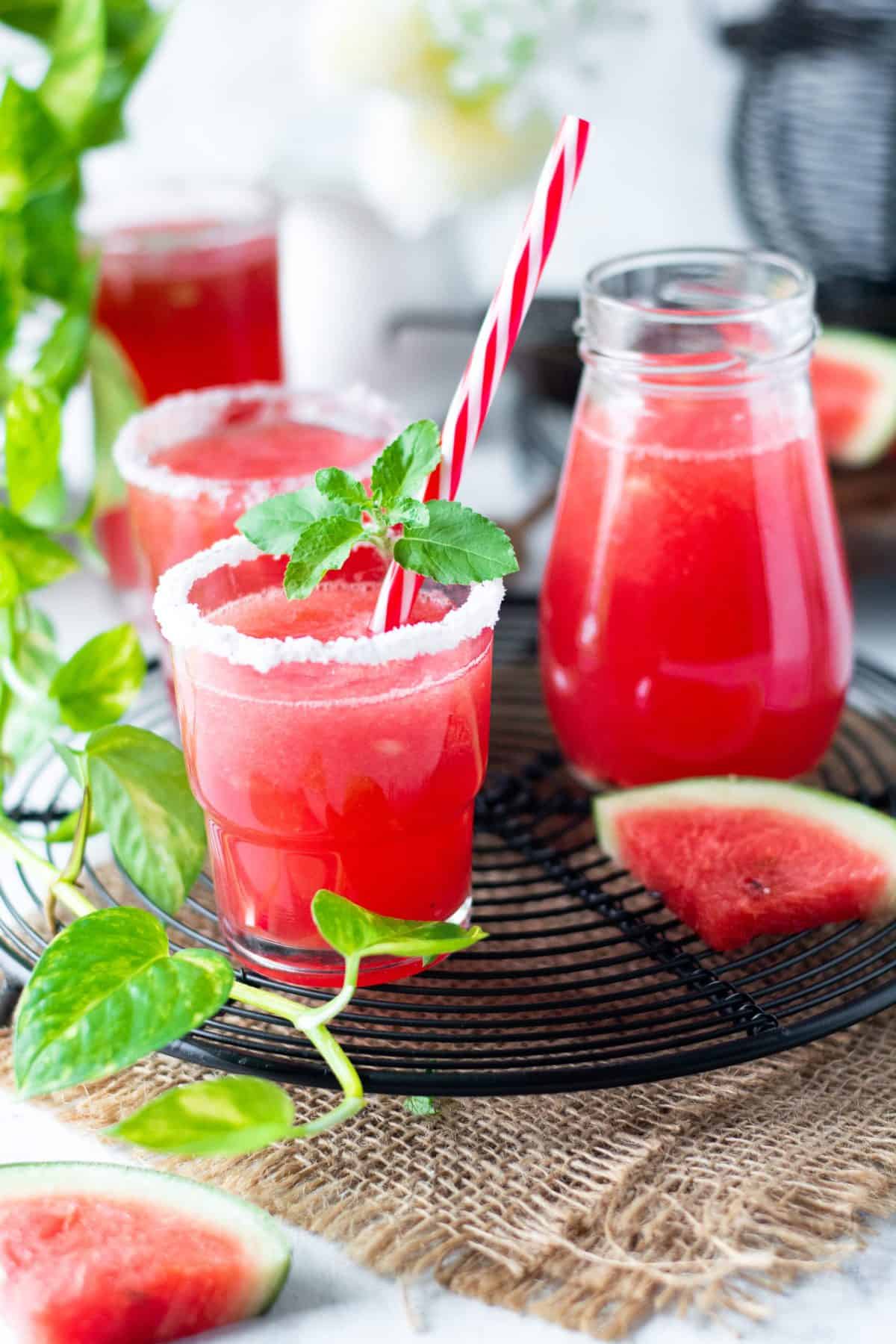 Made with fresh watermelon juice, this easy Watermelon Margarita Recipe is the perfect cocktail to make for a crowd. Blend it up for a cool, refreshing drink for all your guests. You can easily double or triple the recipe for larger events.
Perfect for summer get-togethers, backyard BBQs, and warm summer days on the porch, this watermelon margarita really hits the spot. With just the right amount of tequila, fresh sweet watermelons, and a little lime juice, you're in for a cool, refreshing treat!
WHY WE LOVE THIS WATERMELON MARGARITA RECIPE
Nothing beats cold delicious margaritas on a hot summer day! Although I haven't met a margarita I didn't like, this Watermelon Margarita Recipe is one of my favorite cocktail recipes!
So easy to make. All you have to do is throw everything in the blender and pour it in a glass!
Sweet and delicious. Made with simple ingredients and fresh watermelon, this margarita is so sweet and delicious, making it the perfect drink.
Versatile. You can serve this margarita frozen or on the rocks! It's the perfect versatile drink for all occasions.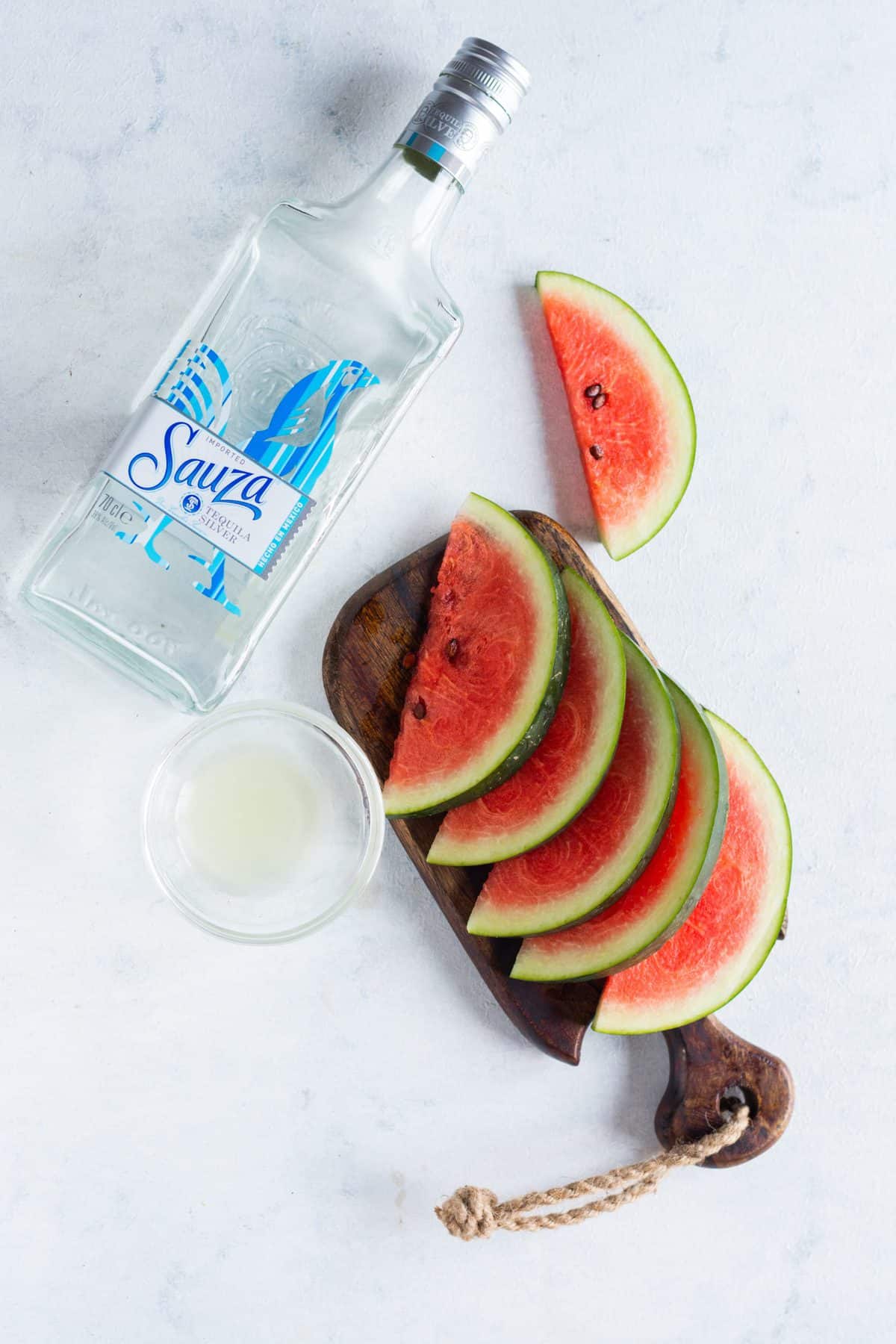 INGREDIENTS/SHOPPING LIST
Whole seedless watermelon- make sure to pick out a ripe watermelon or try yellow watermelons to change it up!
High-quality Tequila
Honey- agave syrup or simple syrup can be substituted
Lime Juice
Salt
Mint leaves
SUBSTITUTIONS AND ADDITIONS
Sweetness: If you want your margarita to be more sweet, you can add more honey.
Booziness: Add more tequila if you want to make this drink stronger.
Acidity: To make this drink more acidic, you can add extra lime juice.
Alcohol: I use tequila which is a classic alcohol for margaritas, but if you want to add a twist to it, you could use Watermelon Pucker or a similar liquor as well.
Salt: I like to use margarita salt or kosher salt around the rim of my glasses, but you can use sugar instead if you prefer a sweeter sip. Make sure to grab coarse salt or sugar for the rim.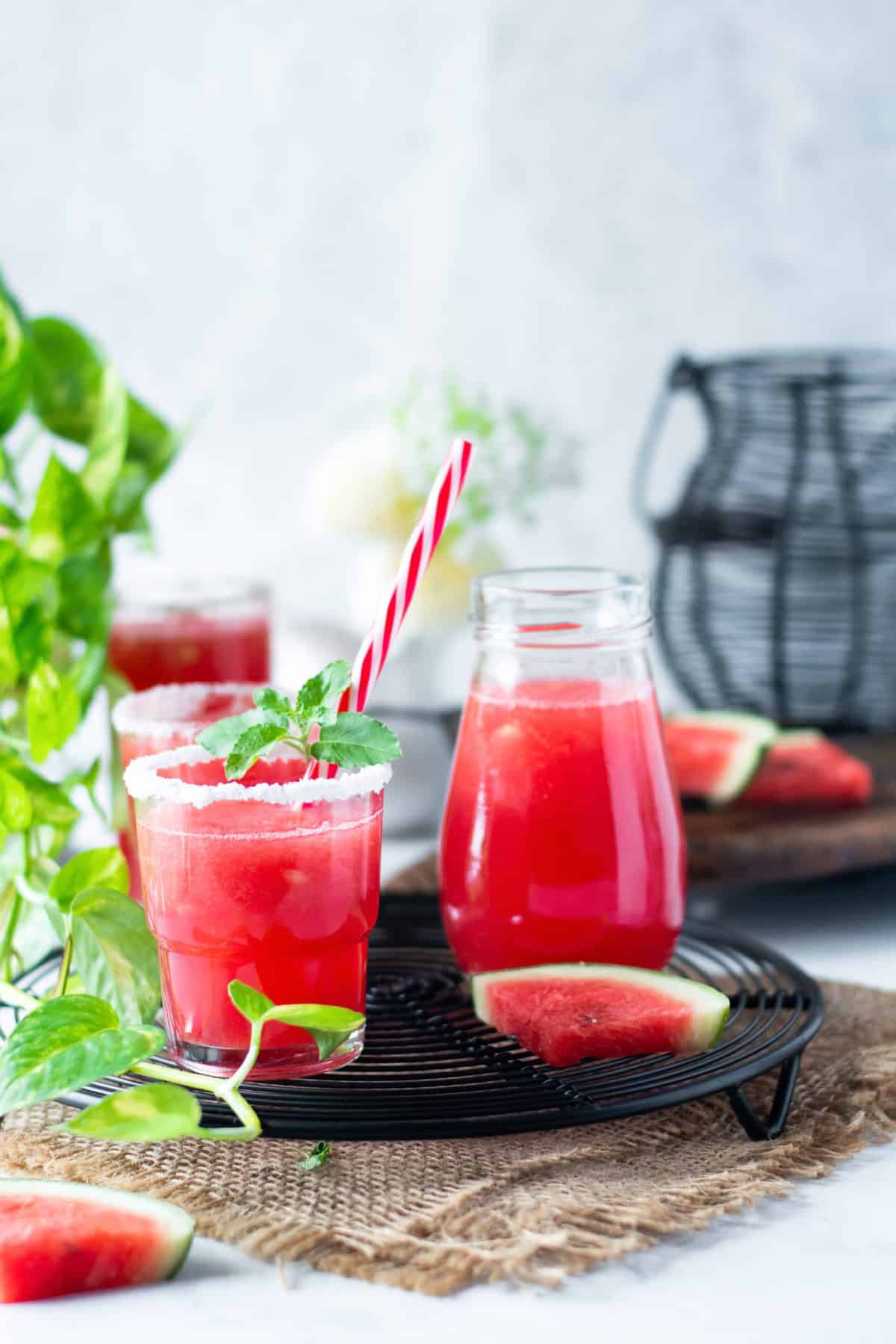 RECOMMENDED TOOLS TO MAKE THIS RECIPE
Blender or food processor
Watermelon knife
Cocktail shaker
Measuring cups
Glasses- margarita glass or regular
Cup of ice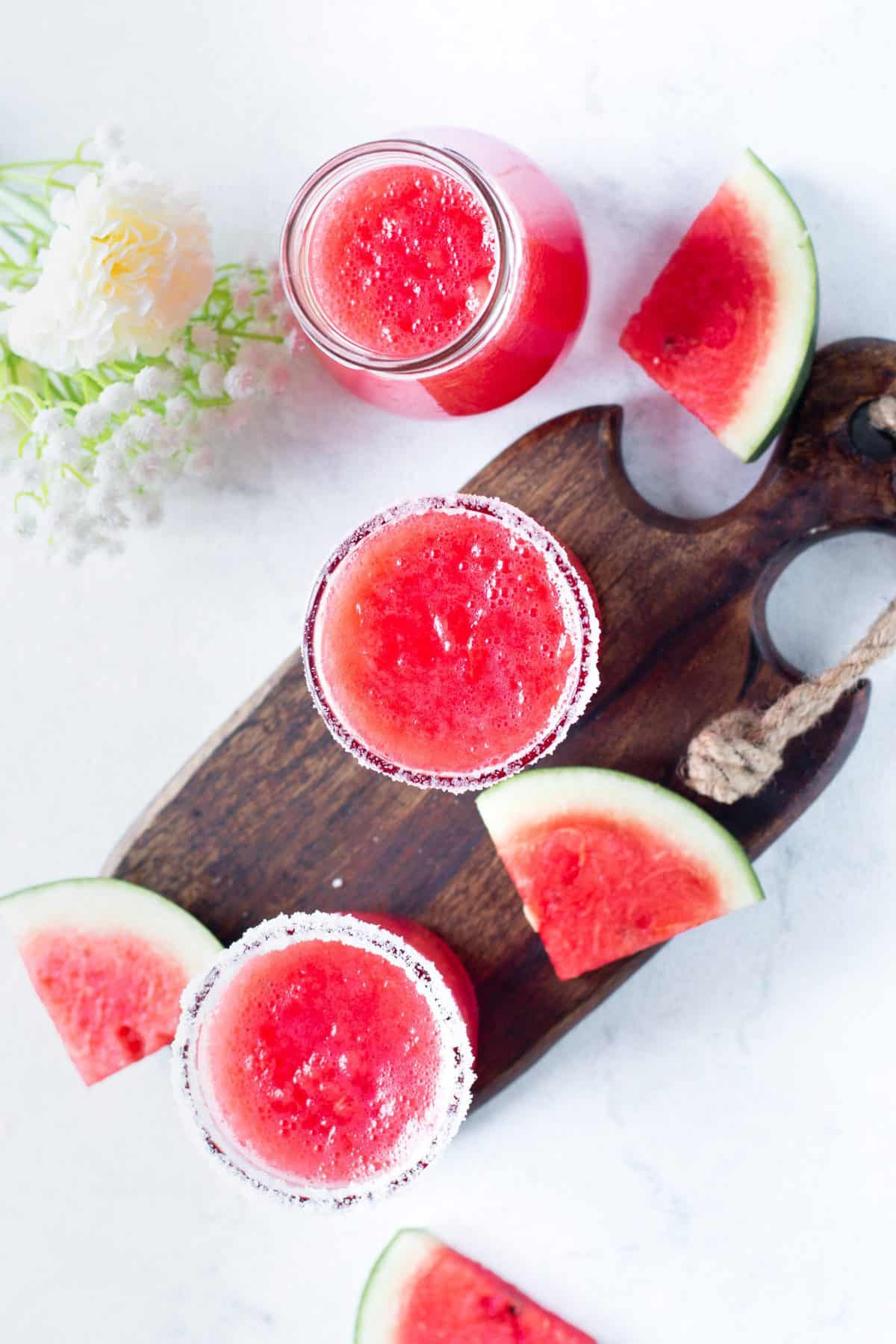 HOW TO MAKE THIS WATERMELON MARGARITA RECIPE
Whether guests show up unannounced or for a backyard cookout, you can easily whip up a batch of watermelon margaritas in a jiffy. Get out your high speed blender and let's get started!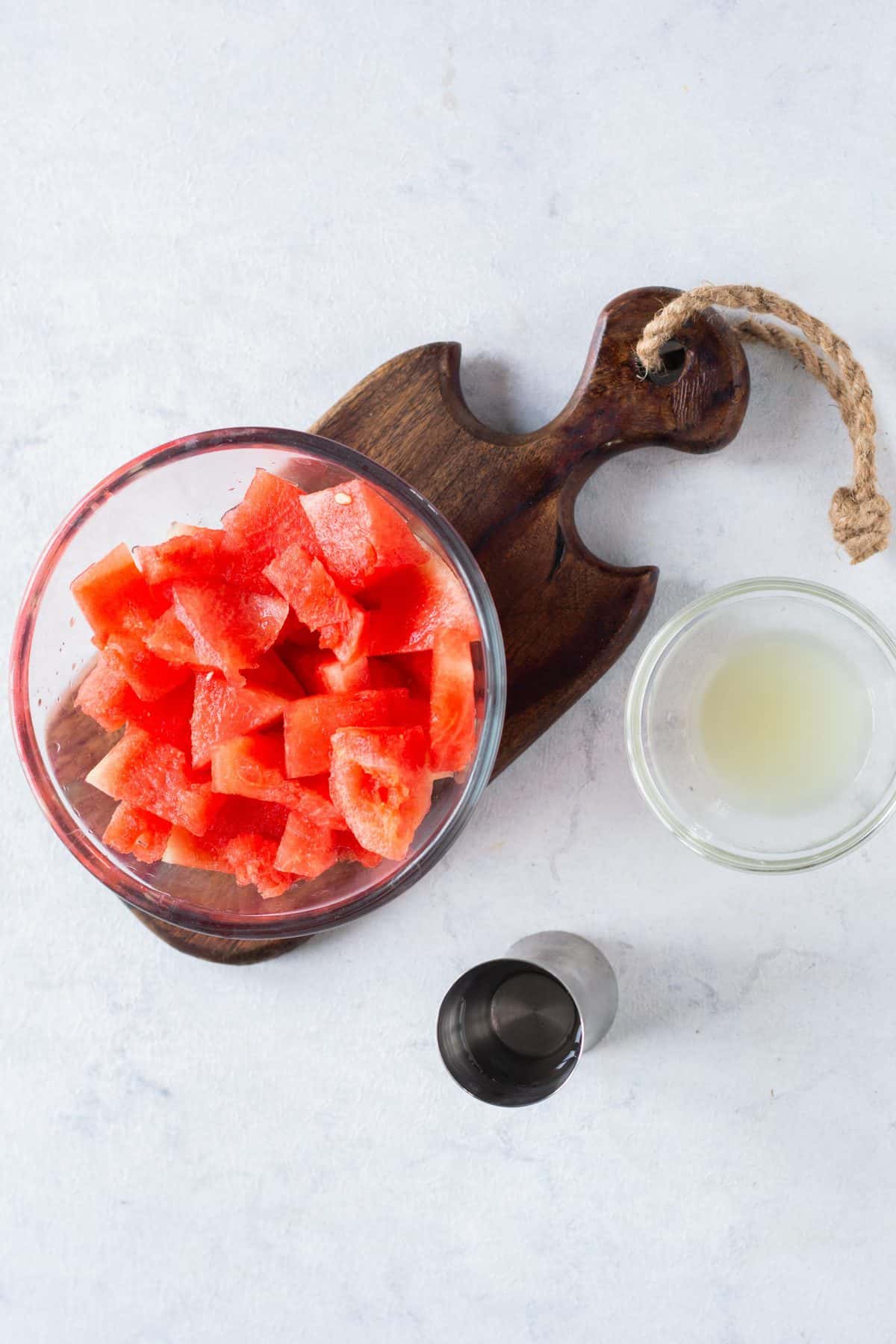 Cut the watermelon- Using your watermelon knife (or just a regular knife), cut the watermelon into wedges, then cut the watermelon wedge into small cubes and set aside. Be careful when you cut your watermelon.
Prep- Run a lime wedge around the rim of your glass, then dip the rim of the glass into salt, coating it well.
Blend- Place all the watermelon cubes, tequila, honey, and lime juice into your blender. Blend the mixture until smooth.
Pour- Pour your margarita into your prepared glass. Add a bit of honey and ice cubes and garnish with mint leaves.
Serve- Serve chilled and enjoy!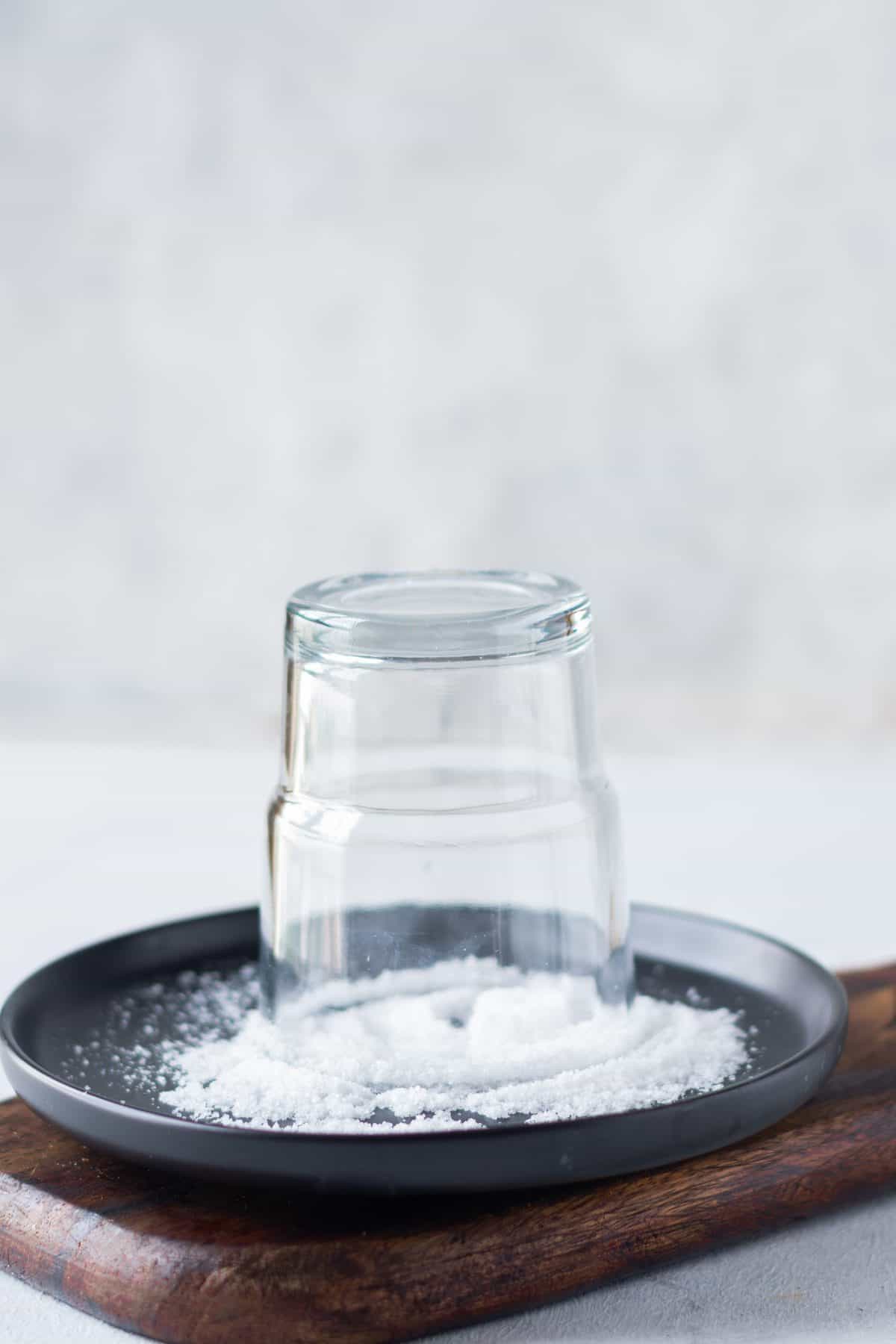 TIPS
Strain the mixture. Before pouring your margarita mix into the glasses, strain it to remove the pulp. You can use a fine-mesh strainer to do this. If you like it pulpy, you don't need to strain it.
Use fresh ingredients. Fresh is always best! The fresher your watermelon and limes, the better tasting your margarita will be.
Serve over ice. To keep your margarita cool and refreshing, pour it over ice.
Virgin margarita- to make a frozen watermelon margarita non-alcoholic, simply omit the tequila and blend the ingredients to make a watermelon slushy!
Make it spicy- add some chili powder or tajin to a sugar rim of the glass.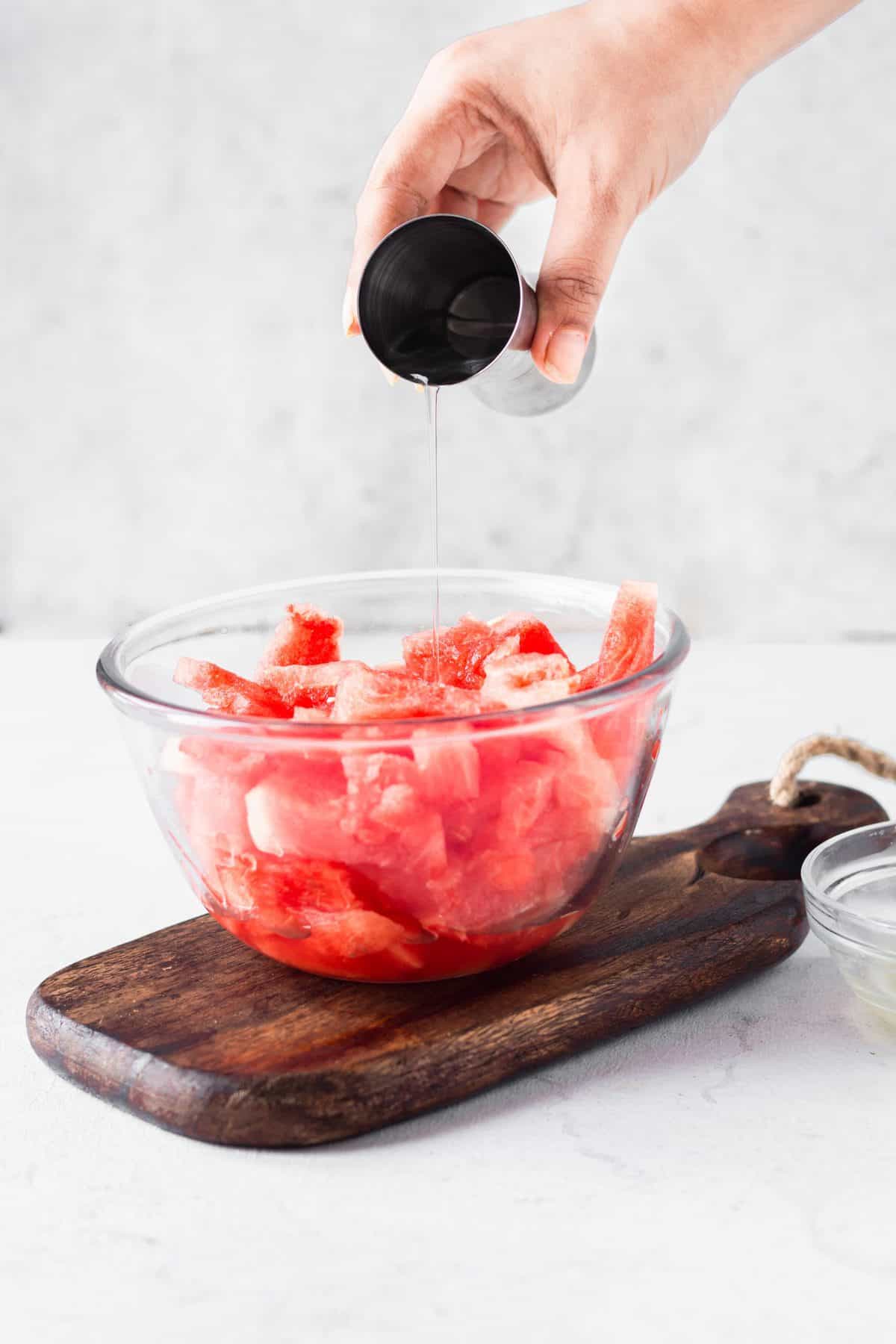 STORAGE TIPS
Only make what you will drink that day.
You can store watermelon margaritas in a pitcher in the fridge for a few hours to a day.
Keep up and away from children.
FREQUENTLY ASKED QUESTIONS
How Do I Make a Frozen Margarita?
To make this a frozen margarita, put all of your cubed watermelon in a Ziploc freezer bag. Freeze them in the freezer for at least 6 hours. Overnight works best! Then, follow the instructions above to make a frozen margarita. The frozen watermelon acts like ice making it thick and delicious.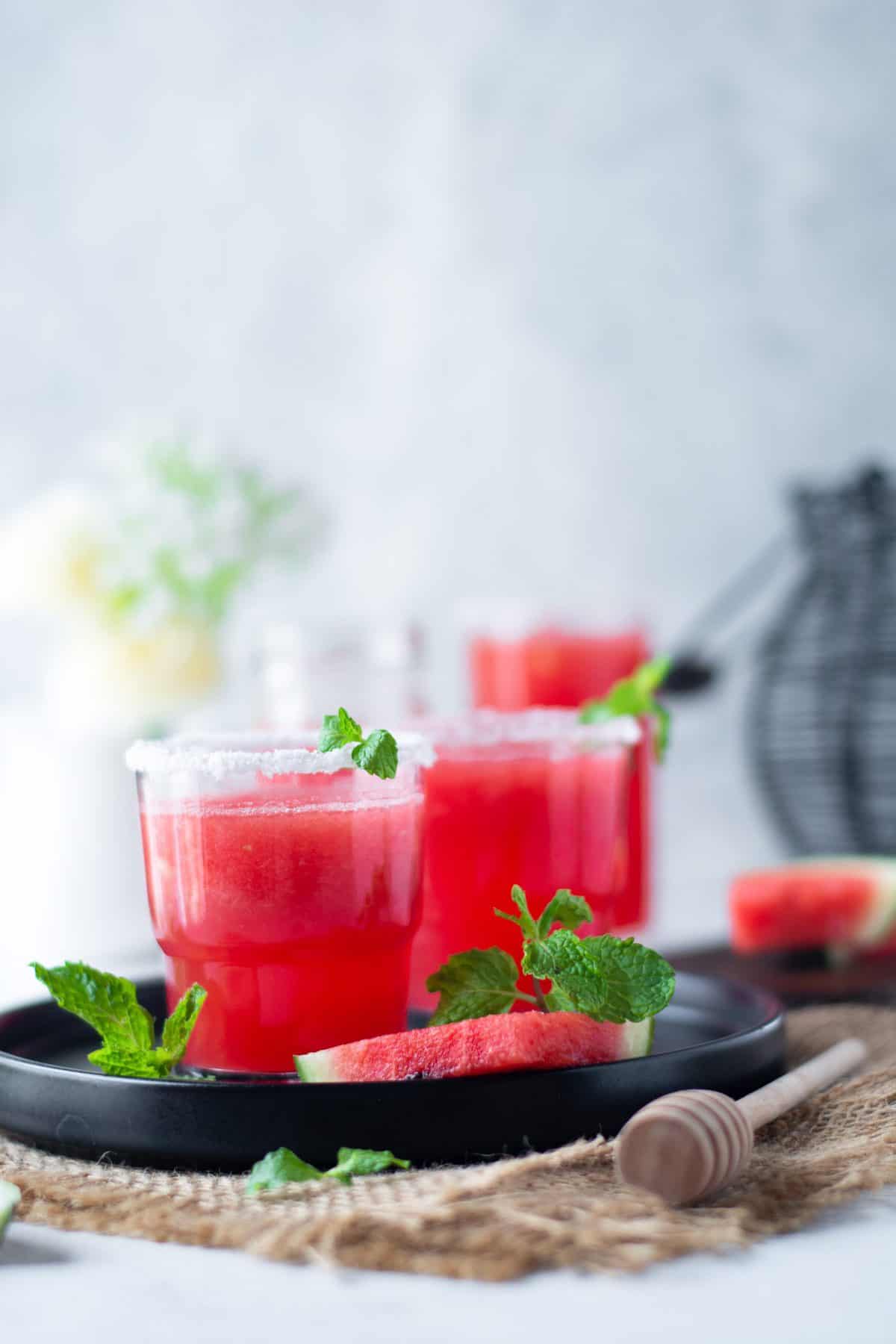 How Do I Make the Margarita Taste Better?
If you aren't fond of the flavor of this margarita, you can add some fruit juice to make it taste even better. Grapefruit juice will give it a tart, slightly sour flavor while pineapple juice creates more of a tropical flavored drink. Choose what you like.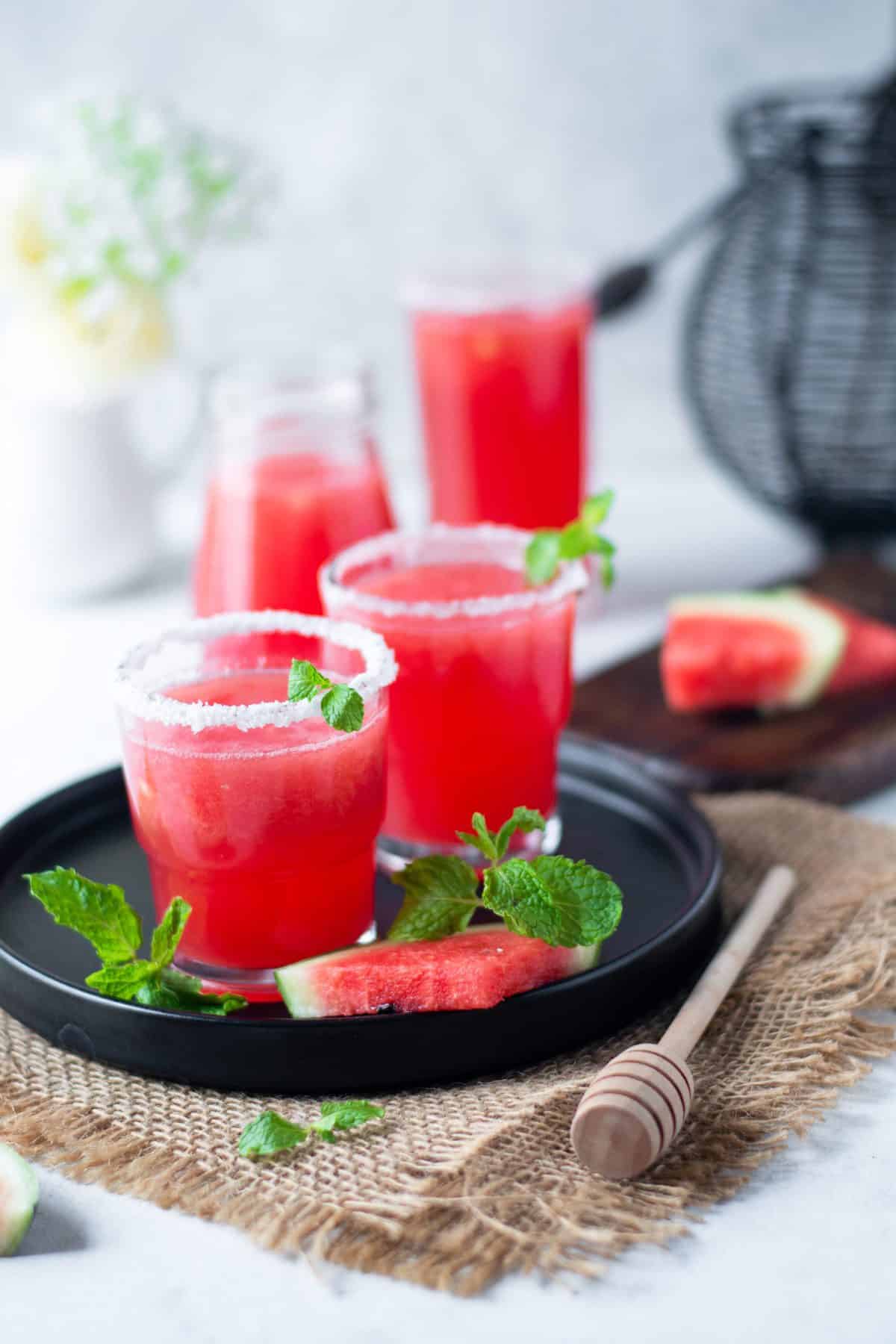 What's the Secret to a Good Margarita?
The secret to a cleaner tasting, more refreshing margarita is all in the lime juice. Freshly squeezed lime juice is going to give you a better margarita than the bottled stuff.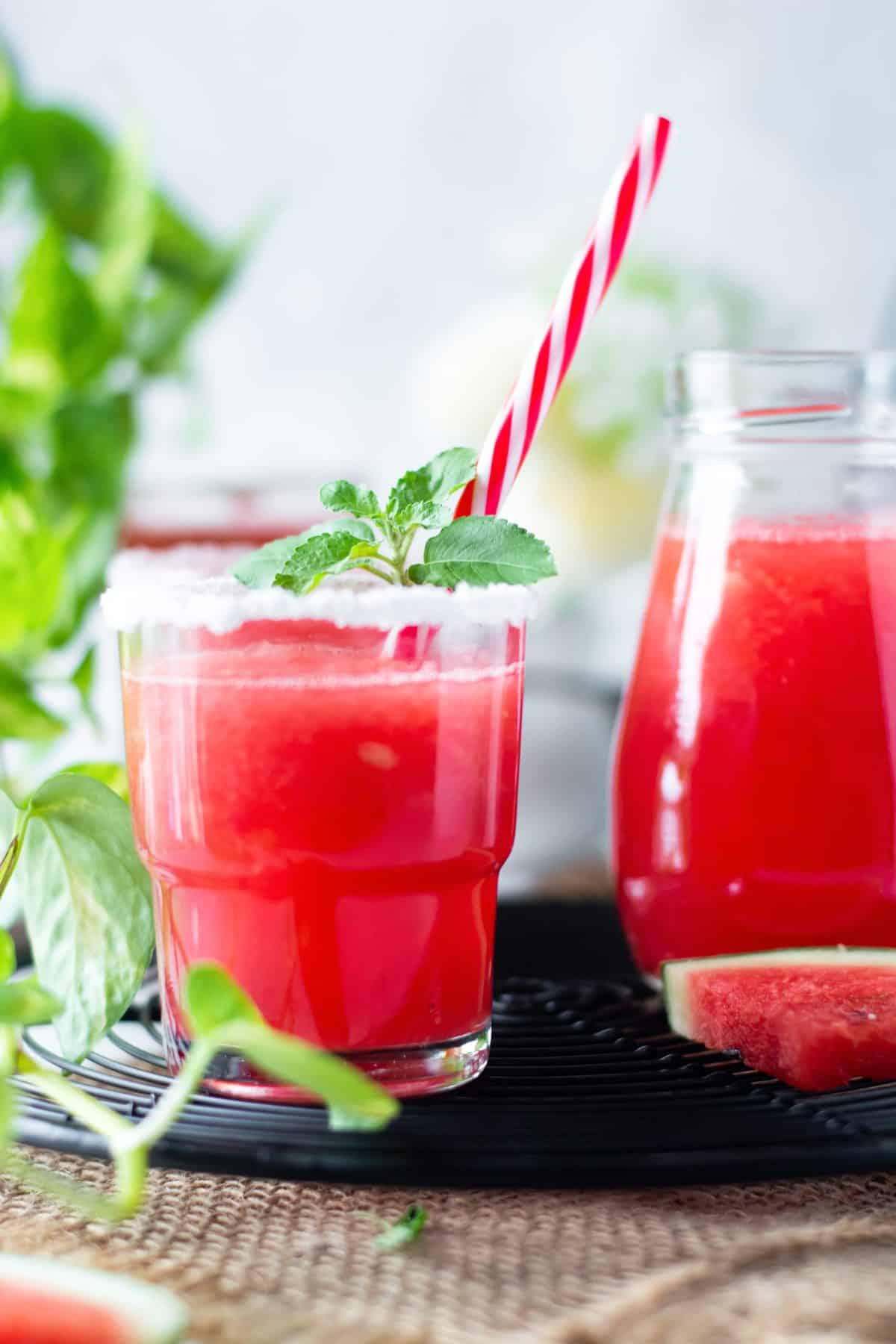 Can I use a different fruit?
Yes! You can! You can easily use cantaloupe, strawberries or even peaches in place of the watermelon. You can also mix in fruit and make a strawberry watermelon margarita or your favorite fruit combo. It's a very versatile recipe.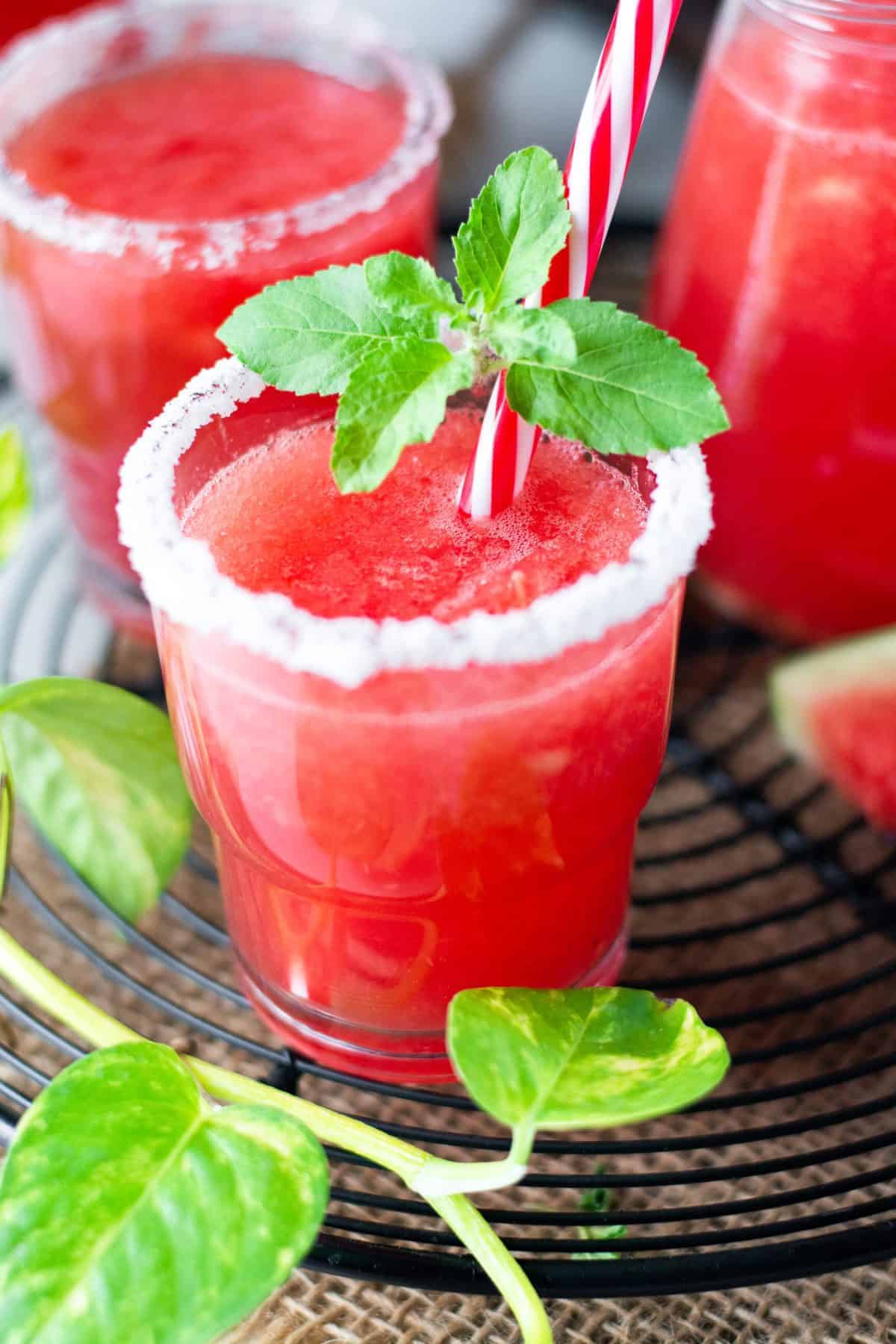 OTHER RECIPES YOU MAY ENJOY
Looking for other great drink recipes? Having an easy drink recipe on hand is perfect for impromptu parties and get-togethers. Some of my other favorites include: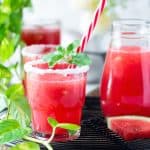 Watermelon Margarita
Sweet and delicious, this Watermelon Margarita Recipe can serve 4-5 people, or just 1 if you're not in the mood to share! It's the perfect summertime drink.
Keyword:
fruit margarita recipe, margarita recipes
Ingredients
Cocktail:
1

large Watermelon

about 1.5 – 2.2 lbs

½

cup

Tequila

¼

cup

lime juice

freshly squeezed

1

tablespoon

honey
Garnish
Rimming Salt

Mint leaves

Lime wedges
Instructions
Cut the watermelon into small cubes; set aside.

Meanwhile, run a lime wedge around the rim of the glass, then dip the rim into salt and coat it well.

Now take all the watermelon cubes and add tequila, lime juice, and honey.

Put the mixture in a blender and blend until smooth

Pour it in your glasses. You can strain the mixture to remove the pulp and see if you would like.

Garnish it with some mint leaves and serve chilled!
Recipe Notes
You can add more honey for sweetness, tequila for booziness, or lime juice for acidity.