These chocolate macadamia nut cookies are guaranteed to satisfy your cookie craving thanks to crisp, golden edges and soft chewy centers packed with chocolate chips and macadamia nuts. For the finishing touch, they are dipped in chocolate and topped with coarse macadamia chunks to create a cookie you'll never forget.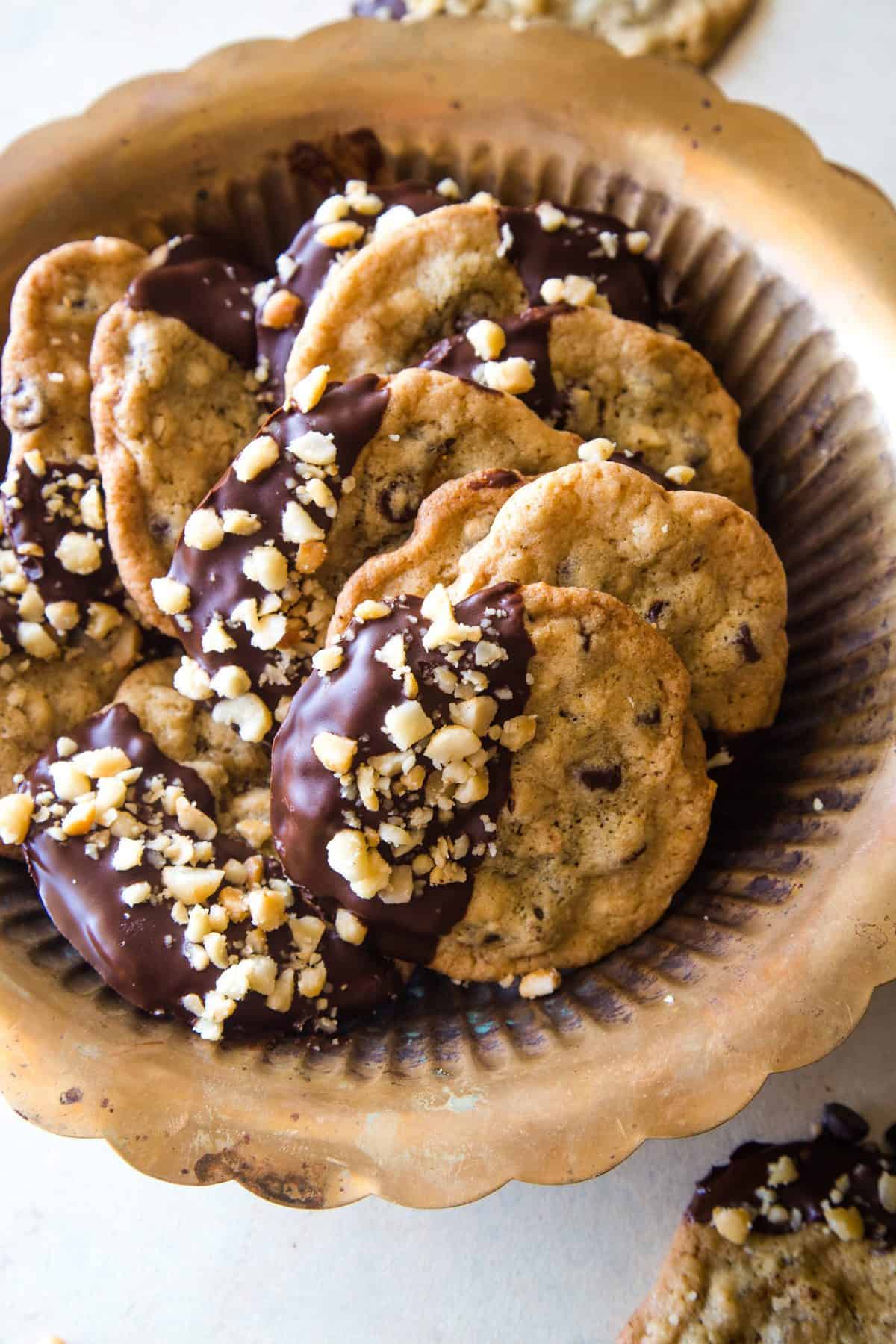 WHY WE LOVE THESE CHOCOLATE MACADAMIA NUT COOKIES
There are a few non-negotiables in the perfect cookie - chewy centers, golden edges, and chocolate. Thankfully, this recipe ticks all three. Not only are these chocolate macadamia nut cookies super easy to bake, but they are easy to freeze if you want to always have a batch on hand when the cookie cravings strike.
The roasted salty flavor of chunky macadamia pieces pair perfectly with sweet chocolate chip to create a cookie that's so moreish you'll be grateful this recipe makes a dozen. Not forgetting what really sets these cookies apart is the fact the chocolate and macadamia nuts aren't just folded into the dough. Instead, once baked, the cookies are then submerged in melted chocolate and sprinkled with macadamia nuts on top to ensure every mouthful showcases a taste of that perfect pairing.
INGREDIENTS/SHOPPING LIST
Unsalted butter
Brown sugar
Granulated sugar
Large eggs
All-purpose flour
Salt
Baking soda
Baking powder
Macadamia nuts, chopped
Chocolate chips
Coconut oil, or vegetable shortening
HOW TO MAKE CHOCOLATE MACADAMIA NUT COOKIES FROM SCRATCH
Wet Ingredients - In the bowl of a mixer, cream butter and sugar until light and fluffy before adding eggs and vanilla extract.
Dry Ingredients - Mix in the flour, salt, baking soda, and baking powder at low speed until just combined, careful not to overmix.
Stir - Stir in the chocolate chips and macadamia nuts
Scoop - Scoop the dough into balls and place onto a parchment-lined cookie sheet. Refrigerate for at least one hour.
Transfer - Preheat the oven to 350 degrees. Transfer the dough balls to a parchment-lined baking sheet around 2 inches apart.
Bake - Bake for 9-10 minutes or until the edges are golden, but the center is still soft.
Cool - Remove from the oven and tap to remove excess air. Cool for 10 minutes before transferring back to the cookie sheet to cool completely.
Microwave - Microwave chocolate chips and oil or shortening on high until melted.
Stir - Stir the melted chocolate until smooth before dipping half of each cooled cookie.
Sprinkle - Sprinkle on finely chopped macadamia nuts.
Set - Place on waved paper until chocolate is set.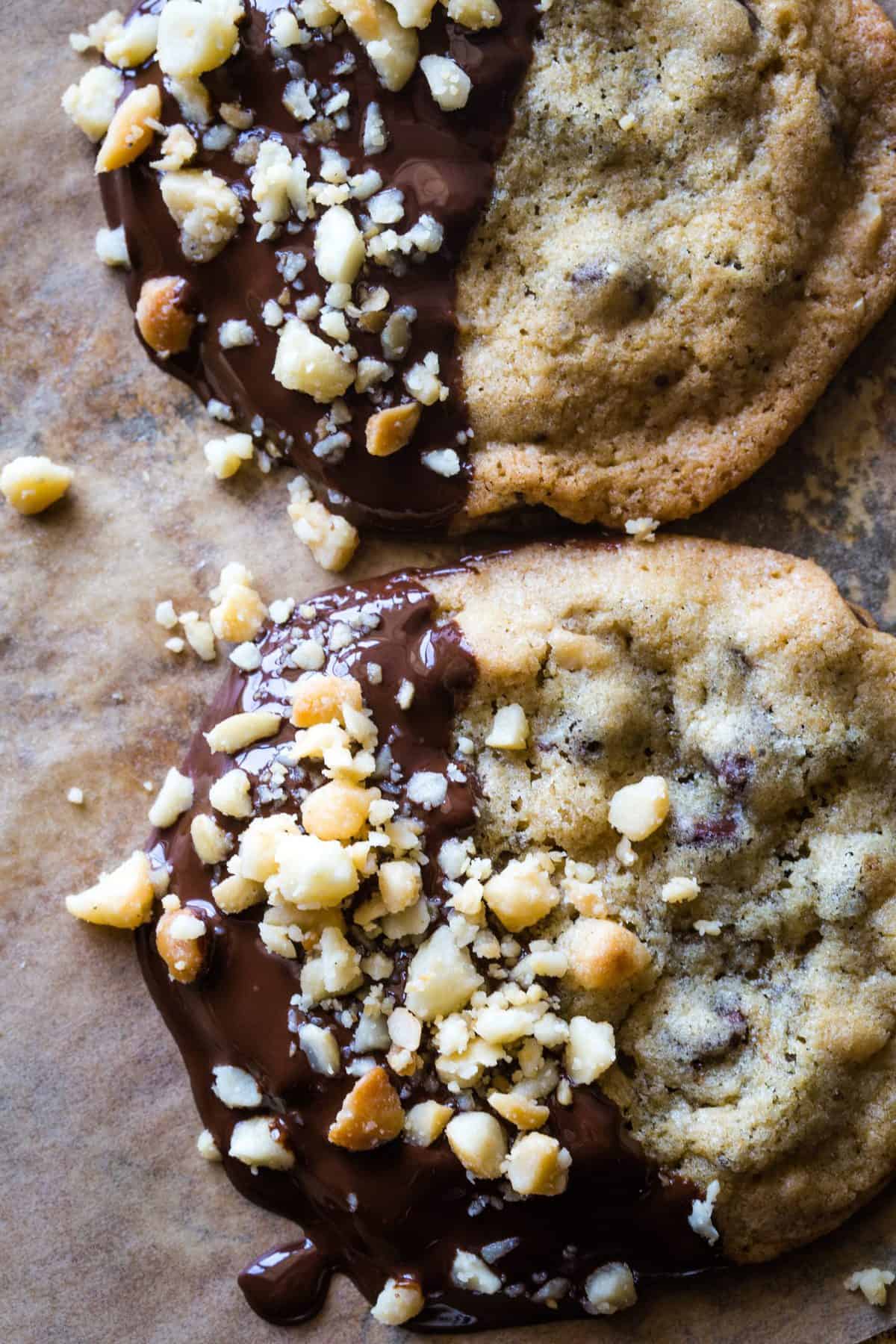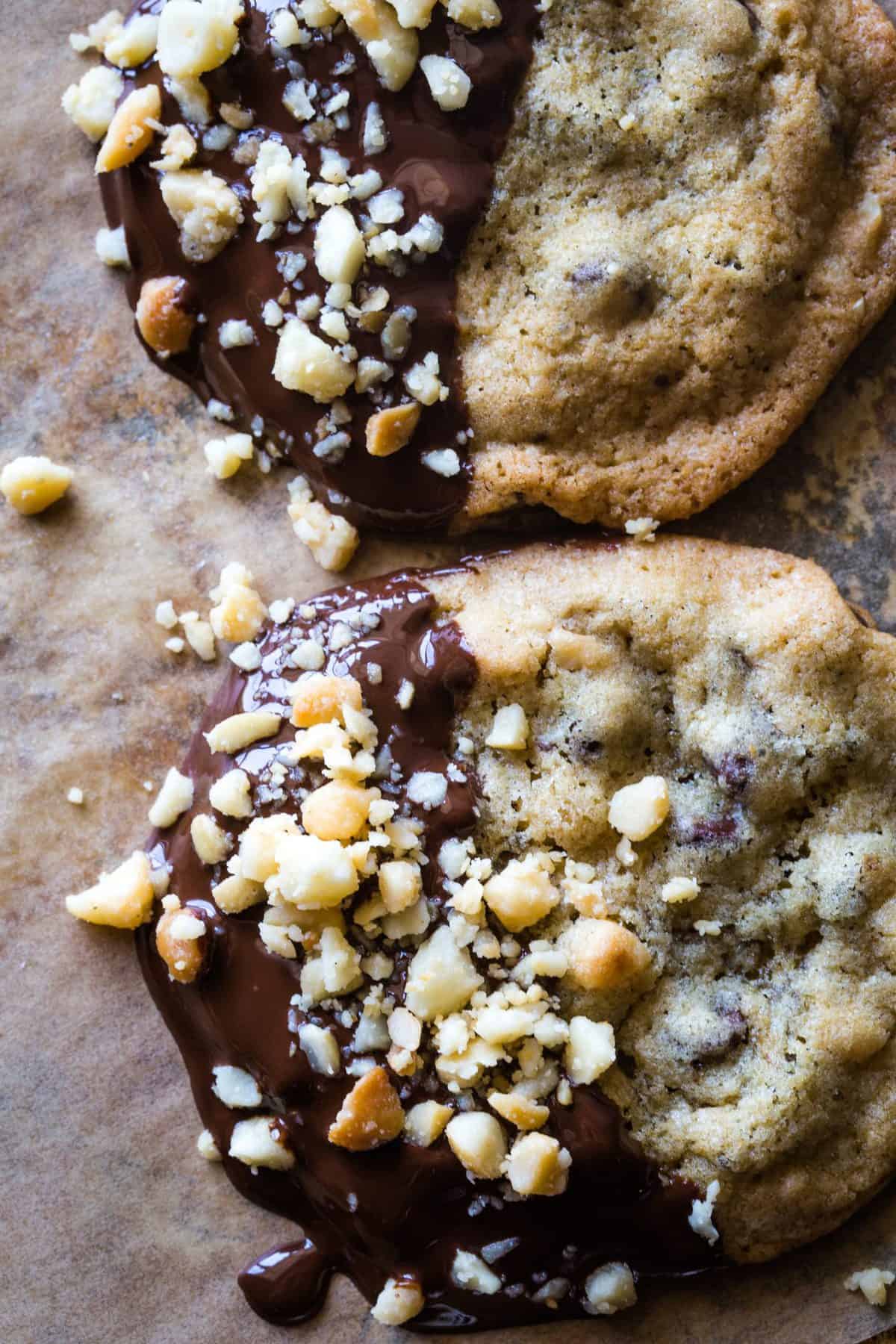 TIPS AND VARIATIONS
Temperature - Make sure your eggs and butter are at room temperate. This helps them mix thoroughly. If your eggs are still cold, place in a bowl of warm water for 5-10 minutes.
Melted Butter - Although melted butter adds an extra-buttery flavor, it will also encourage your cookies to spread so stick to room temperate.
Yolk - Add an extra egg yolk for extra richness & chewiness
Peanut Butter - Alongside chocolate chips, peanut butter morsels make a delicious addition to this recipe
Timing - Don't be tempted to leave them in the oven longer as the cookies will continue to bake and harden when removed from the oven.
Chill - Don't skip letting your cookie dough chill. Chilling your cookie dough allows the flavors in the cookies to come together and it also prevents your cookies from spreading and going dry when baking.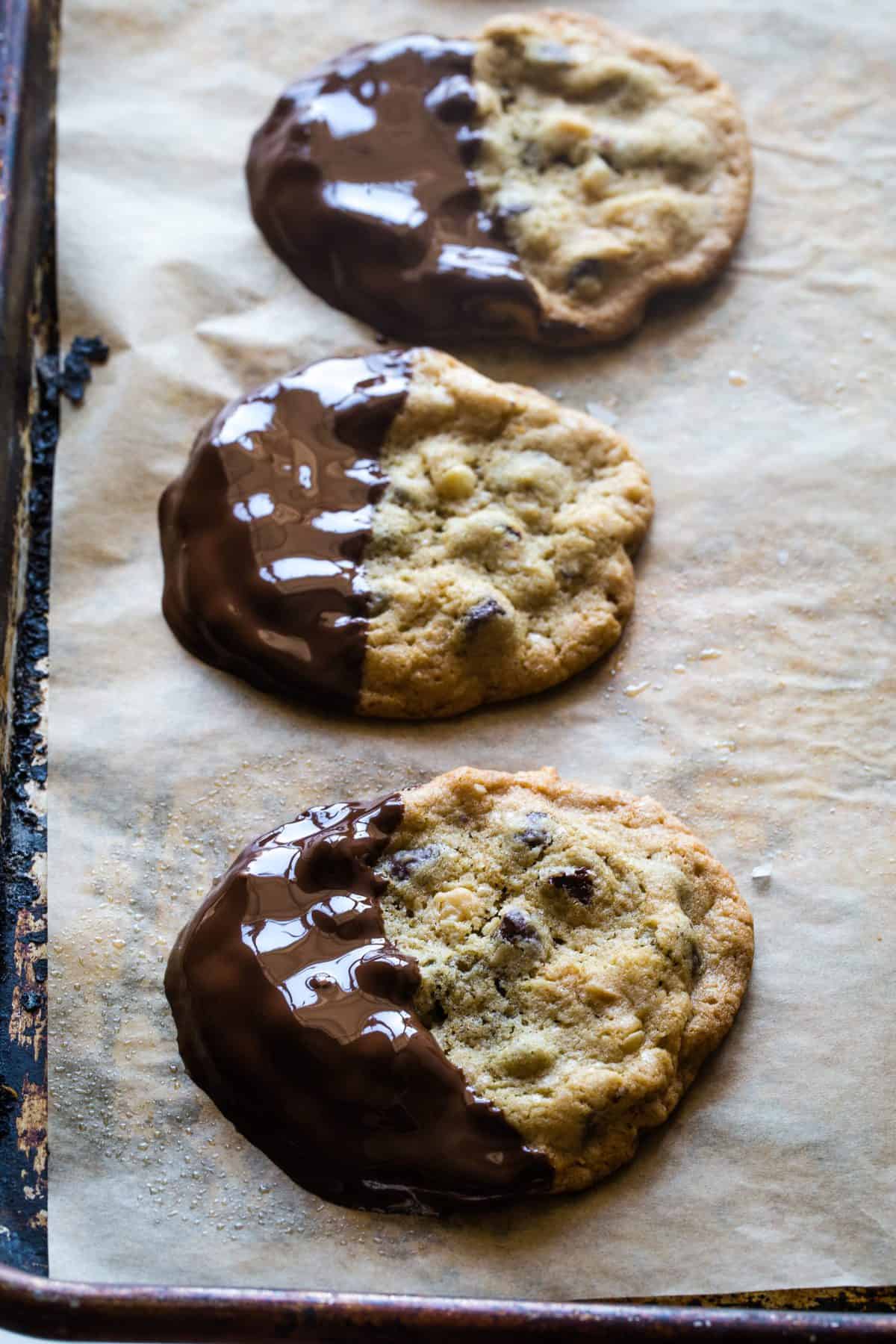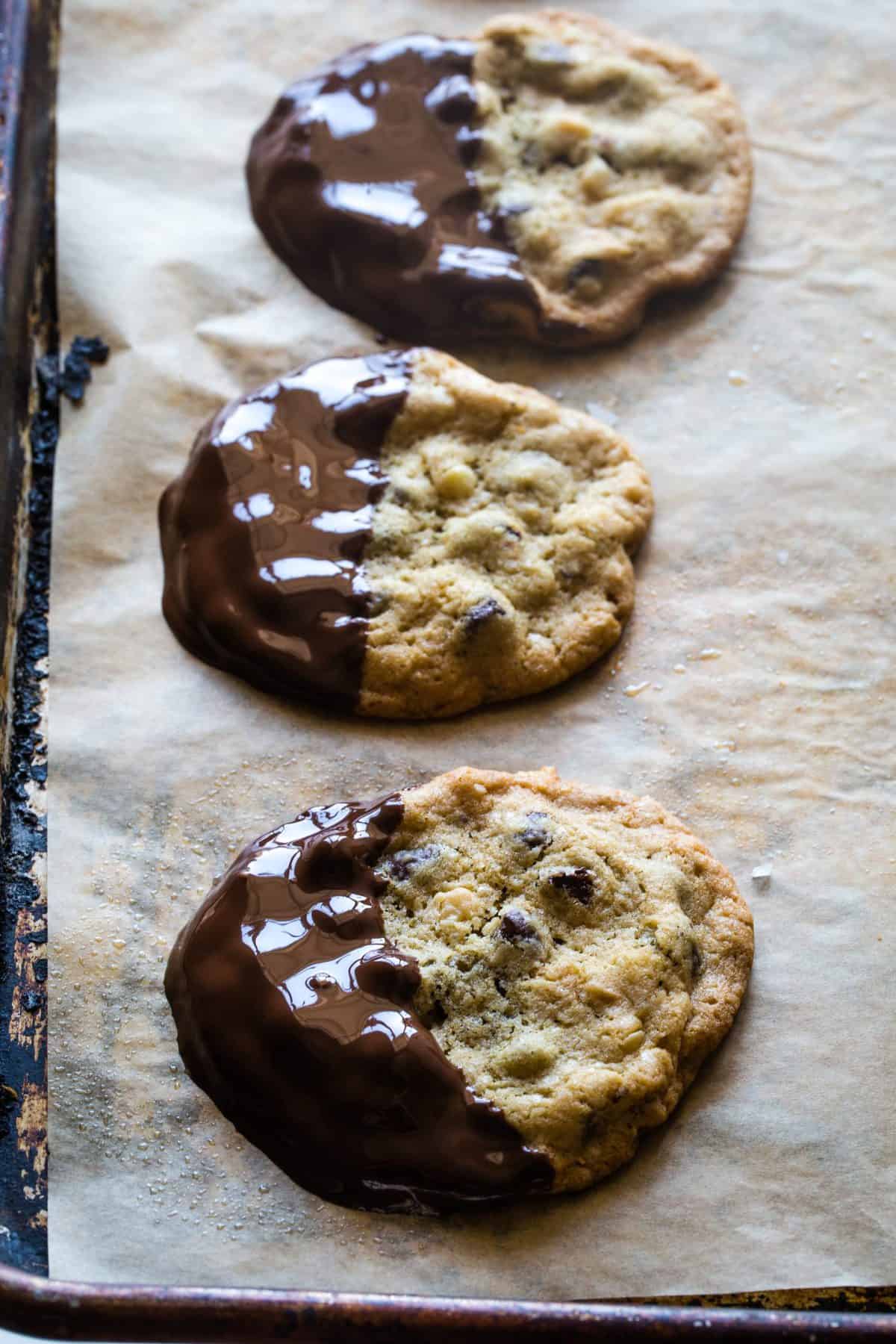 COMMON QUESTIONS ABOUT CHOCOLATE MACADAMIA NUT COOKIES
HOW CAN I PREVENT MY COOKIES FROM SPREADING IN THE OVEN?
Firstly, allow enough time to refrigerate your dough. Warm dough is the main cause of the cookies spreading. Secondly, measure your ingredients accurately. Moisture can cause your cookies' spread so if you add a little too much wet ingredients this will have an effect. Finally, make sure all your dough balls are the same size and have enough space apart to avoid overlap.
WHAT ARE THE BEST MACADAMIA NUTS TO USE?
You can use raw macadamia nuts, roasted or lightly salted. They all taste great in this recipe. Some prefer lightly salted as this creates a strikingly scrummy contrast with the sweet chocolate chip.
WHAT IS THE BEST WAY TO CHOP MACADAMIA NUTS?
There are a few ways to achieve finely chopped macadamia nuts. The easiest is to buy them this way. However, if your grocery store doesn't stock already chopped the next best way is to use your food processor. By pulsing macadamia nuts in the processor, a handful of times you'll achieve the perfect pieces for cookies. Alternatively, gather the nuts on a chopping board and using a sharp knife chop them by hand.
HOW MANY COOKIES DOES THIS RECIPE MAKE?
This recipe makes a batch of 12 cookies. If you need to make more, double the ingredients. If you are making more than one batch, make sure to rotate the baking sheets from top to bottom a couple of times. This will ensure the cookies bake evenly.
MAKE AHEAD INSTRUCTIONS
What's better than remembering you have homemade cookie dough in the freezer? Having homemade macadamia chocolate cookie dough in the freezer! After sampling these tasty treats you will want to keep a supply in the freezer for when those cookie cravings strike.
Refrigerator: Store the dough in the refrigerator for up to four days, then bake as normal.
Freeze: Once baked, the cookies can be frozen for up to 3 months. Alternatively, you can store unbaked cookie dough balls in the freezer for also up to 3 months. You can then bake as and when required. There is no need to thaw but allow an extra minute or two in the oven.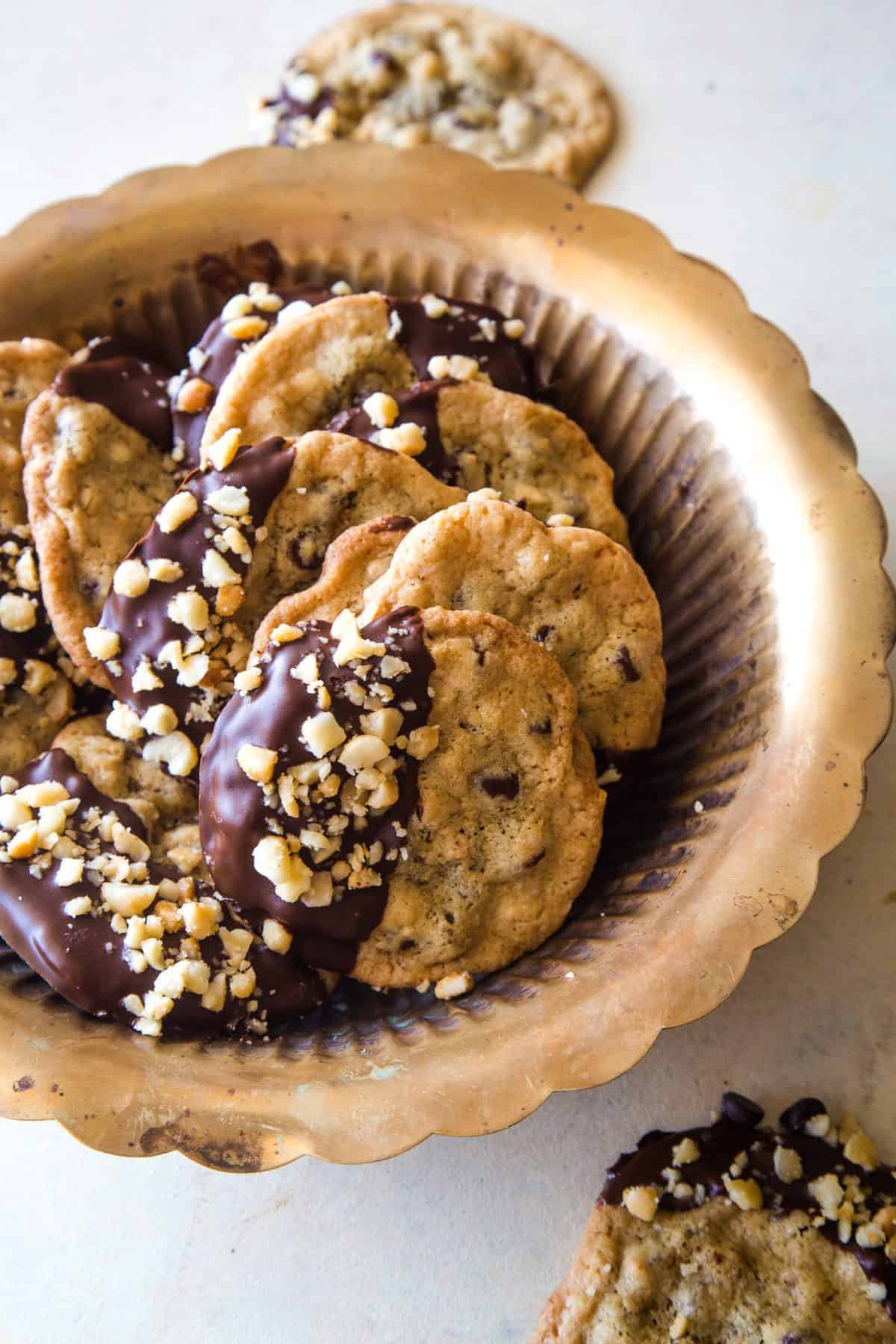 Please feel free to share your experience with making these chocolate macadamia nut cookies in the comments below or on social media!
More Cookie Recipes You're Sure to Love: