Wake up to a warm and satisfying breakfast with this English Muffin Bread. No more struggling with the round shape of the bun - just enjoy your breakfast sandwich or even toast with a normal bread shape. Flour, cornmeal, butter, and milk come together to make a plump, tasty, and soft loaf of bread.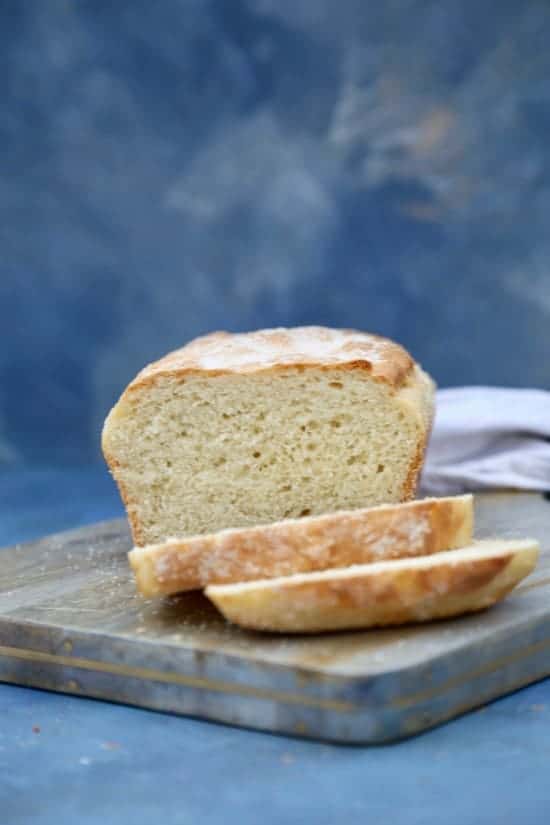 Last week, my son brought home his in-class impromptu essay that was assigned in his AP English class. Apparently, the kids were asked to write about something they love. First thing that came to my son's mind? My bread. He wrote a page and a half about the different kinds of bread I make, the effort I put into making it, and so on. I must admit, it brought a tear or two to my eyes.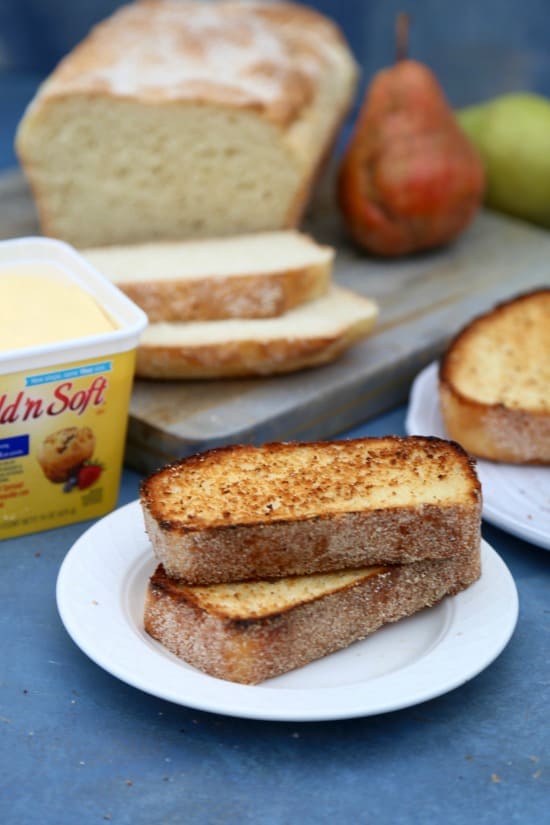 I think what touched me the most was the fact that my kids noticed how much effort I put into preparing them homemade meals. I do my best to not opt for junk food, and provide wholesome, nutrient-rich options instead. This gave me a confidence boost, which definitely pushed me to keep doing what I'm doing. What I hope, is that even if they don't remember the toy I got them for Christmas, maybe they'll remember the warm and comforting smells of the fresh English Muffin Bread they wake up to.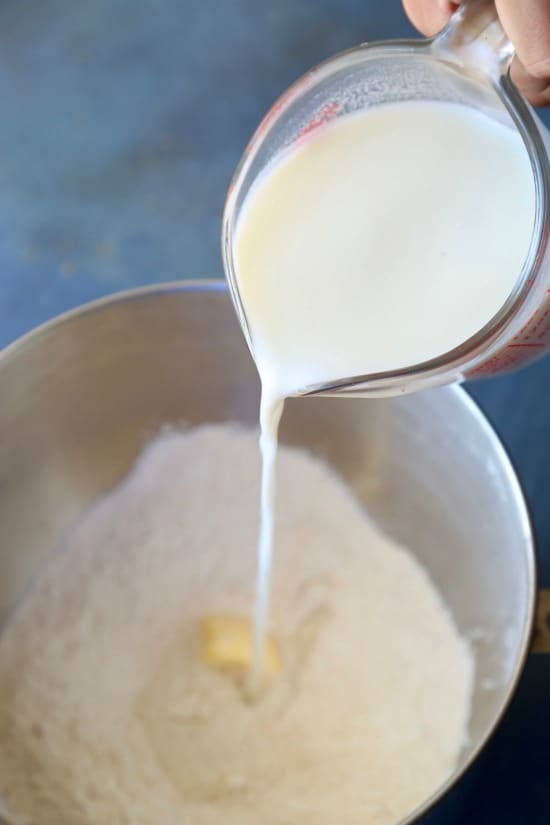 How to Make English Muffin Bread
The best part about this recipe is that it is a no-knead dough! To make this English Muffin Bread recipe, grab a large bowl and combine 2 cups of the flour, yeast, sugar, salt, and baking soda. Whisk together well. Add margarine, milk, and water to the bowl and mix for 4-5 minutes. Gradually add the rest of the flour, although the dough will still be sticky once you're finished adding it. Spray two loaf pans with nonstick cooking spray and sprinkle with cornmeal. Evenly divide the batter between the two pans and sprinkle the top with cornmeal. Cover and leave in a warm spot to rise then bake at 375 degrees for 35 minutes. Immediately remove from pans when done, cool, and enjoy!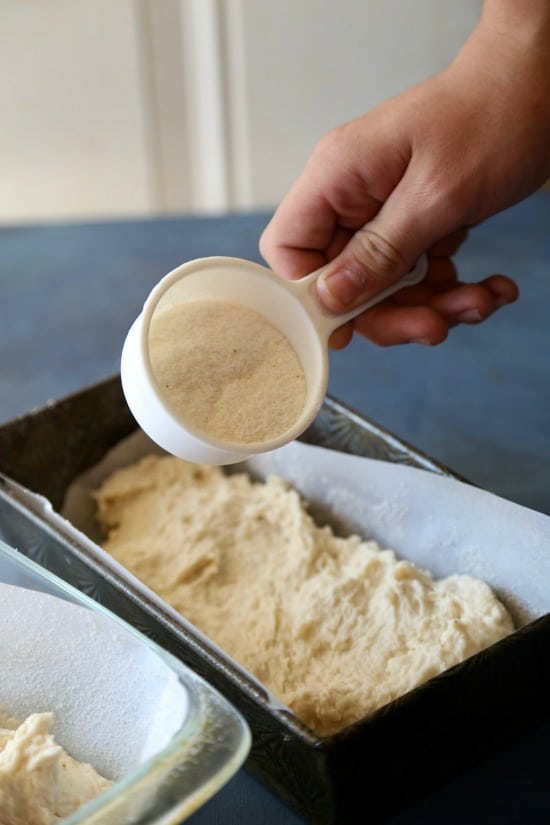 Tips for Making English Muffin Bread
This English Muffin Bread recipe makes two loaves. If you don't want to make that much at once, half the recipe.

Note that the dough will still be sticky, even once you've added all the flour. That's ok, that's what you want.

If after 35 minutes, your bread doesn't look finished, leave it to cook until it's golden brown on the outside.

Don't leave the bread in the pan to cool, as this can make it soggy or allow it to continue to cook. Move it to wire racks as soon as possible (once cooled enough to touch) and let it breathe to finish cooling.

The dough will just about double in size, so keep that in mind when dividing the dough between the two loaf pans.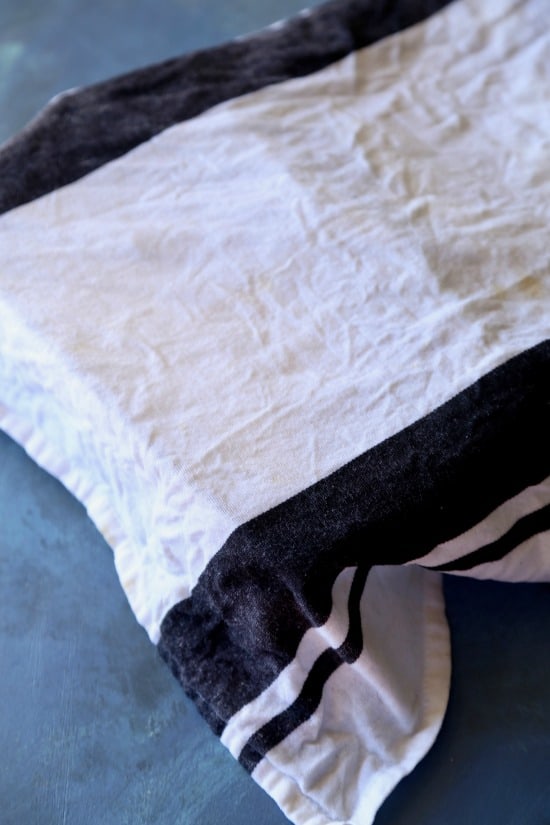 Common Questions About English Muffin Bread
What Kind of Bread is English Muffin?
English muffins are also called breakfast muffins and are considered a yeast-leavened bread. They're usually a little denser or tougher than most breads and work great when used as a sandwich or topped with jam, butter, or other similar toppings. They don't usually have much flavor to them which is why they're utilized best when something else is paired with them.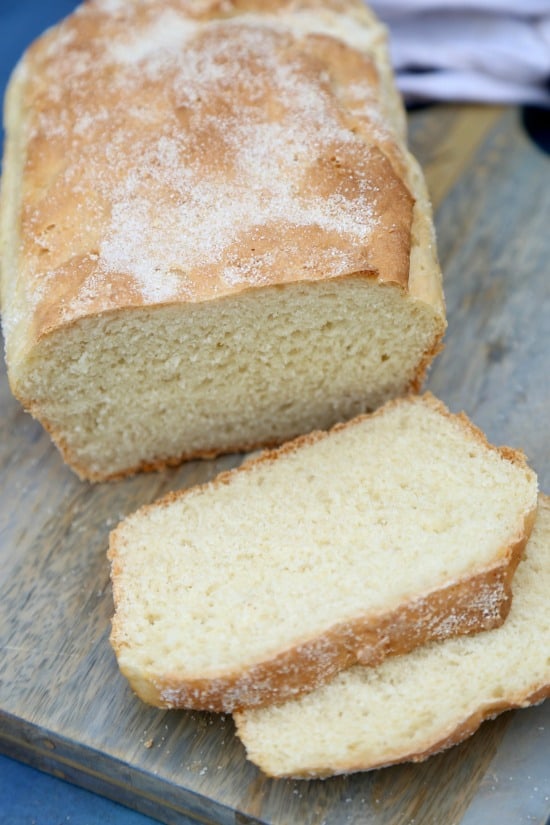 Can You Freeze English Muffin Bread?
You bet you can! It freezes really well when kept in an airtight container or freezer baggie. If possible, remove as much air as possible from the bag before leaving it in the freezer. English Muffin Bread can last up to three months when frozen. Simply toast it, microwave it, or slip it in the oven for a few when warming it back up.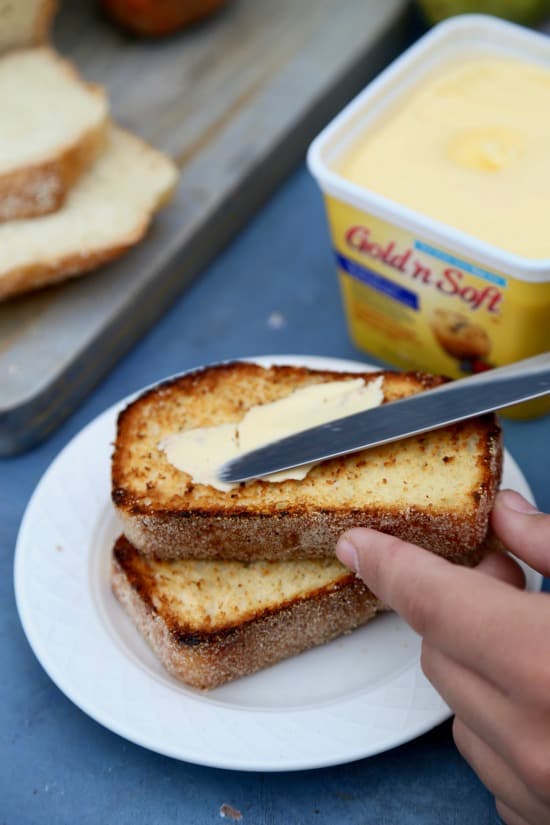 I love waking my children up in a peaceful manner (HA! I wish, at least it starts that way) by getting up before them and making a delicious breakfast. One of my favorites (and theirs) will always be this English Muffin Bread, and I think it could be yours too!
More Bread Recipes You'll Love: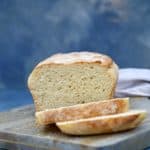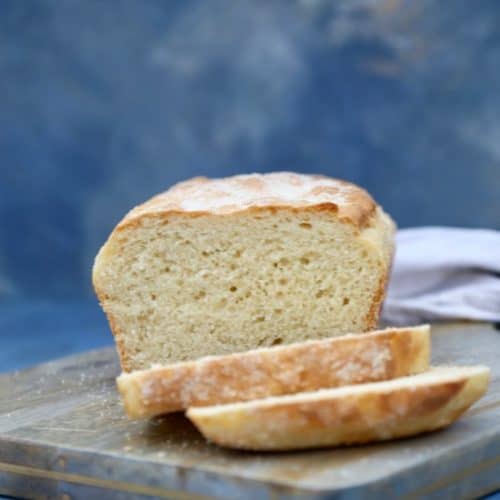 English Muffin Bread
Much better than the store-bought muffins and so easy to make!
Keyword:
english muffin recipe, homemade breakfast bread
Ingredients
5

cups

bread purpose flour

divided

1 ½

tablespoon

active dry yeast

1

tablespoon

sugar

2

teaspoon

salt

¼

teaspoon

baking soda

1

tablespoon

butter

softened

2

cups

milk

warm to the touch

½

cup

water

warm to the touch

Cornmeal
Instructions
In the bowl of your electric mixer, or a large bowl, combine 2 cups flour, yeast, sugar, salt, and baking soda, whisk to combine.

Add butter, milk, and water and beat on high for about 4-5 minutes.

Gradually add remaining 3 cups of flour, and bit until mixture has thickened slightly. Mixture will still be sticky.

Prepare to bread loaf pans by spraying with non-stick cooking spray and sprinkling with cornmeal.

Evenly distribute dough into both pans and sprinkle with more cornmeal.

Cover with a damp cloth and place in a warm dry area to double in size, about 45 minutes.

Once doubled in size, preheat oven to 375 degrees.

Bake loaves for about 35 minutes or until golden brown.

Remove from pans immediately and cool on wire racks.

Slice, toast, and enjoy!