Happy Walnut Day!
According to Dr. Micheal Roizen, a New York Times best selling author, "Walnuts provide numerous antioxidants, vitamins, fiber, protein and are the only nut offering a significant amount of omega-3 fatty acids."
So what does The Seaside Baker do with these incredibly nutritious nuts? She piles them into a luscious bread with butter and sugar and tops it with a delicious, finger licking brown butter glaze. Yah, I know...I have problems. But hey, at least now you have an excuse to eat a piece of this loaf for breakfast right? Just eat it with a cup of blackberries and you're good to go.
Did you know that not only is California the leading producers of strawberries, avocados and dates, but we also dominate the production of Walnuts. What What (hands raised in the air representin) LOL.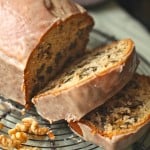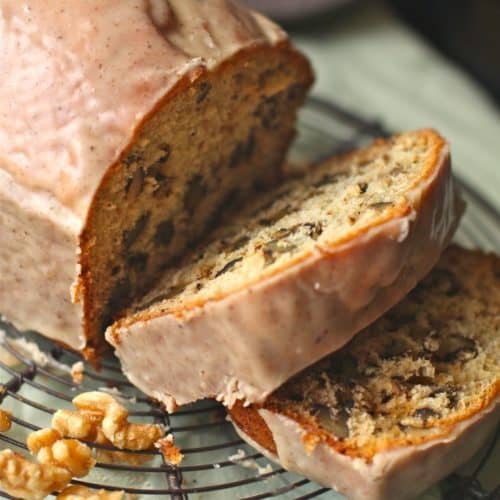 Buttermilk Walnut Bread with Browned Butter Glaze
Ingredients
Buttermilk Walnut Bread
2-¼

cups

all-purpose flour

¾

cups

sugar

2-¼

teaspoon

baking powder

¾

teaspoon

salt

¼

teaspoon

baking soda

1

egg beaten

2

tablespoon

melted butter

1

cup

buttermilk

1

teaspoon

vanilla

¾

cup

chopped walnuts
Browned Butter Glaze
1

stick butter

(8 tbsp)

¾

cup

powdered sugar

1

teaspoon

vanilla

1 ½

tablespoon

water
Instructions
Buttermilk Walnut Bread
Preheat oven to 350 degrees.

Line and grease a standard size loaf bread pan.

In a large bowl combine flour, sugar, baking powder, salt, baking soda and mix.

In a separate bowl whisk together buttermilk, melted butter, vanilla and egg.

Add the wet mixture to the dry mixture and mix thoroughly.

Fold in chopped walnuts.

Pour mixture into pan and bake for 55 minutes or until a knife comes out clean.

Cool completely.
Browned Butter Glaze
In a small sauce pan melt the butter on medium.

Once butter has melted, stir until it starts to brown and you began to smell nutty aromas.

Once it has reached this point, immediately remove from the heat.

Allow to cool for 5 minutes.

Add powdered sugar, vanilla and water mix with a whisk until smooth.

Pour over walnut loaf and allow to set for 30 minutes before cutting.
Make sure you head on over to the Food Grows Where Water Flows facebook page for fun giveaways and more great walnut recipes!