Fresh, homemade bread. There is nothing quite like the taste of that very first slice when it is still warm from the oven. And the comforting, heavenly aroma that fills the house while it's baking. Someone should bottle that scent and sell it! (actually, I'm sure someone already has). Unfortunately as busy mom of 3 kids, I typically don't have the time required to make my own bread, with all that kneading and rising.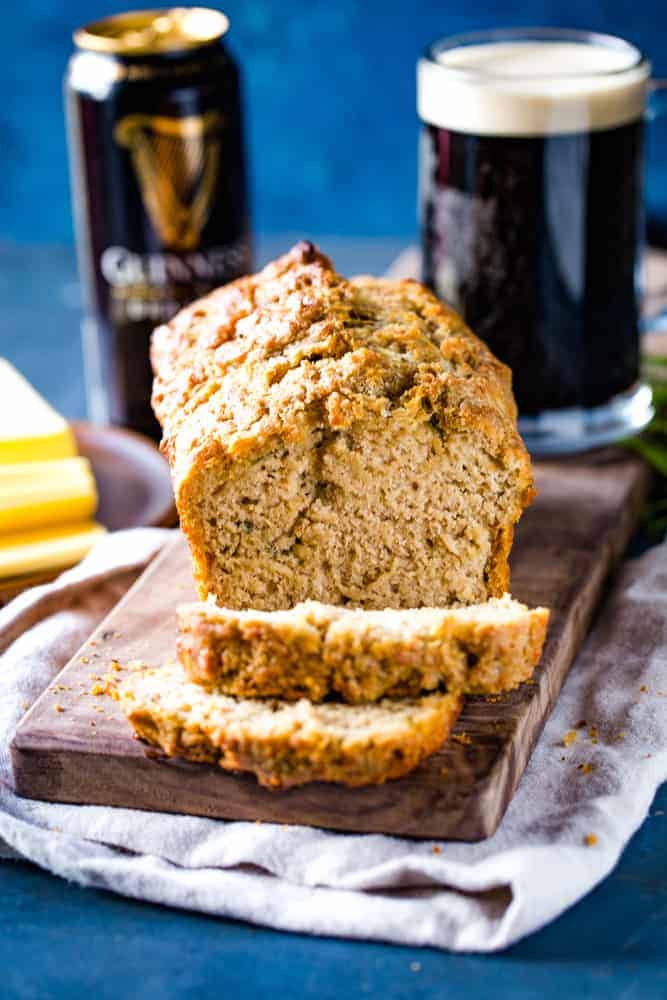 Which is why I am so enamored with this Guinness Beer Bread. It is the ultimate one-bowl quick bread recipe. All it takes is just 15 minutes of prep and an hour in the oven and you have perfect homemade bread. The melted butter browns in the oven, creating the most delicious browned butter crunchy crust that pairs perfectly with the cheesy chive interior. And don't forget the wonderfully irresistible scent wafting from your kitchen.

Why Make Bread with Beer?
Beer and bread have a common creation process: yeast turn sugars into carbon dioxide and alcohol (when making bread, the majority of the alcohol evaporates during the baking process). Using beer instead of the usual rising agents is a fun ingredient swap that also gives your bread additional depth of flavor. For example, a stout beer such as Guinness will produce a darker bread with more pronounced flavor, which pairs perfectly with the additional cheddar cheese and chives.
And with the upcoming St. Patrick's Day holiday, I can't think of a better way to celebrate than by making this delicious, goes-with-anything Guinness Beer Bread!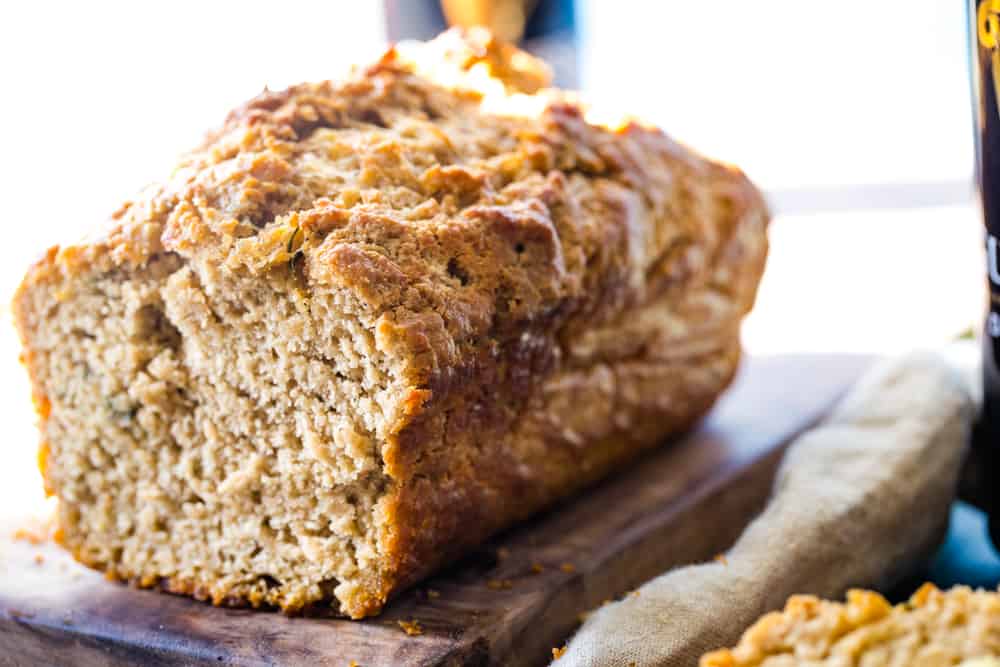 What To Serve With Guinness Beer Bread
For the ultimate tip o' the Irish cap, serve this Guinness Beer Bread with your Corned Beef and Cabbage on St. Patrick's Day.
I also happen to think that a thick slice of this Guinness Beer Bread goes perfectly with a big bowl of warm and comforting Creamy Vegetable Soup. or go ahead and welcome spring a bit early and pair it with this fresh Bacon Pea Salad.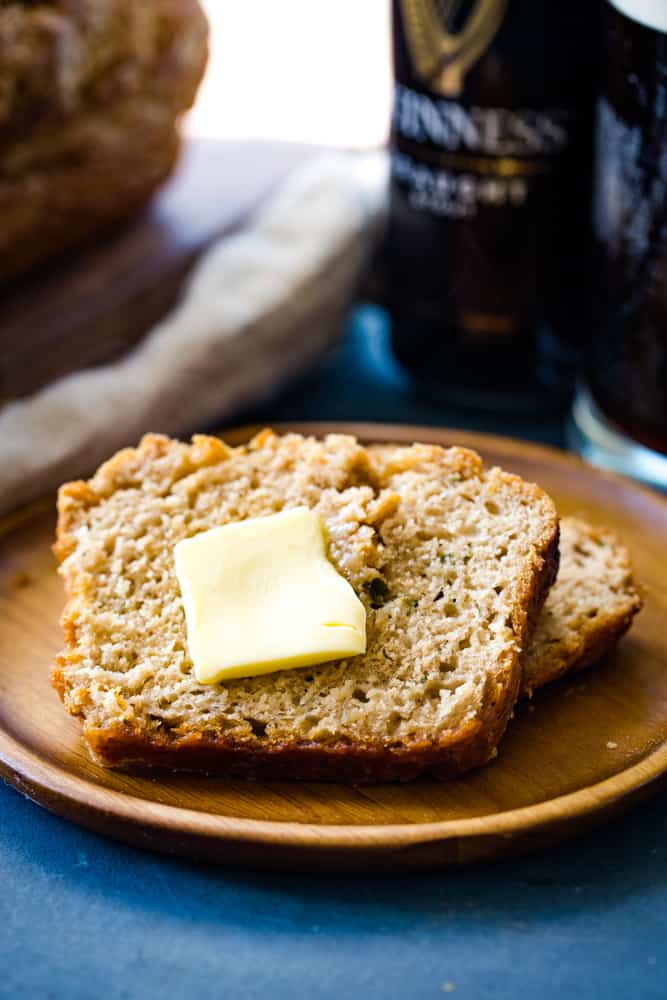 More Recipes Like Guinness Beer Bread
If you love this Guinness Beer Bread as much as I do, then you'll want to check out these other great recipes:
These Cheddar Chive Waffle Sandwiches are a fun and unique way to satisfy that cheddar chive craving. And this Buttermilk Walnut Bread with Brown Butter Glaze is a deliciously sweet quick bread. And if you're looking for another way to cook with beer, my recipe for Beer Cupcakes is for you!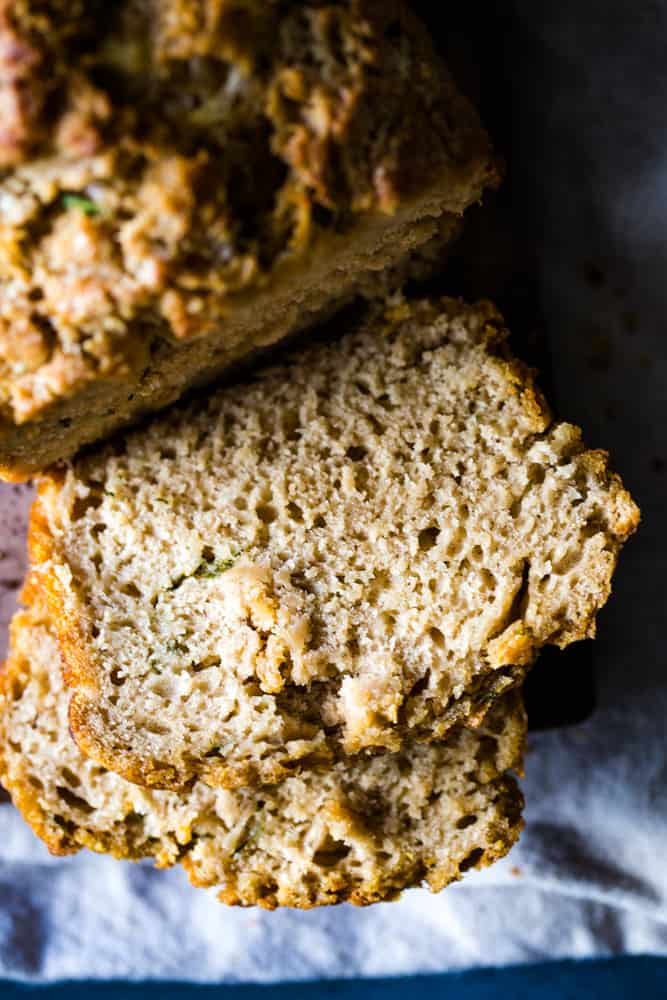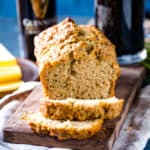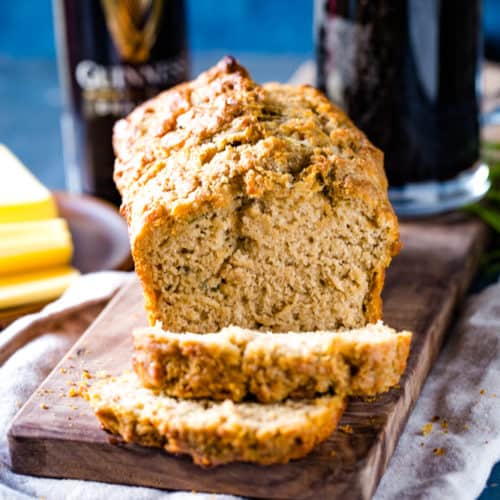 Guinness Beer Bread
This bread boasts a deliciously browned butter crunchy crust with a cheesy chive interior.
Keyword:
beer bread recipe, st patricks day recipe
Ingredients
3

cups

all-purpose flour

3

teaspoons

baking powder

1

teaspoon

salt

2

tablespoons

granulated sugar

1 ½

cups

Guinness Beer

room temperature

1

cup

Irish Cheddar

shredded

2

tablespoons

chives

finely diced

1

⁄4 cup unsalted butter

melted
Instructions
Preheat oven to 350 degrees. Line a standard sized loaf pan with parchment paper or foil.

In a large bowl, whisk together flour, baking powder, salt, and sugar.

Stir in beer. Dough will be thick.

Add shredded cheese and chives; stir to combine.

Pour batter into prepared pan and spread evenly.

Pour melted butter over bread dough.

Bake for 1 hour. Let bread cool for 10 minutes before removing from pan and slicing.