This Lemon Blueberry Streusel Loaf is the epitome of spring and fills the house with smells of the coming season. Tart lemon flavors combine with fresh and juicy blueberries to create a moist and satisfying loaf of perfection. Just right for brunch, dessert, or even breakfast - this lemon blueberry bread is easy and loved by all ages.
This post was originally published on 02/14/2018 but has been updated.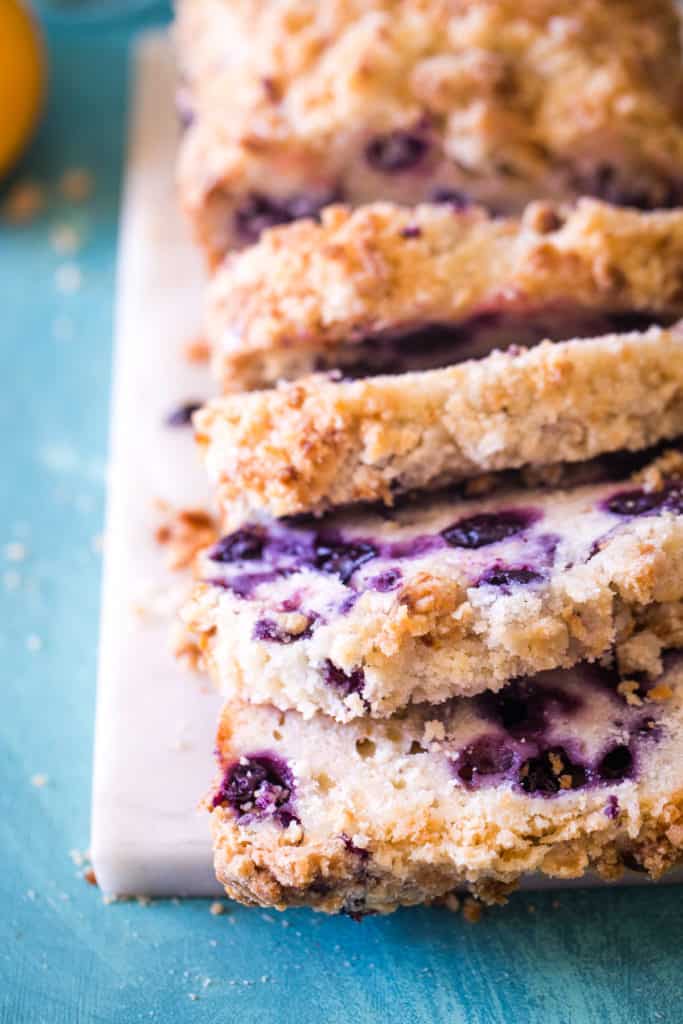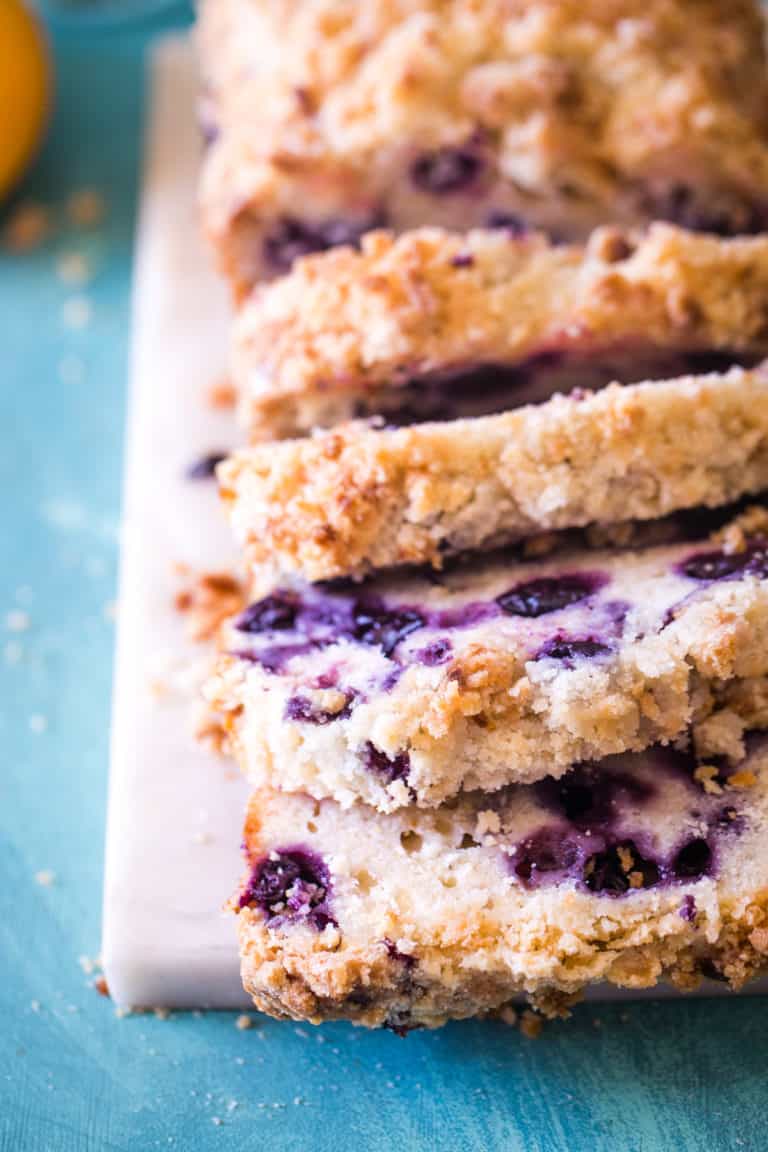 Last year, we went camping at this lovely walnut orchard that also had a cherry orchard and blueberry field. The blueberries I brought home were just unbelievably good. They blew store-bought blueberries out of the water in size, taste, texture, etc. I made some amazing Blueberry Muffins with them and realized I was never going to be able to go back to store-bought blueberries again. Picking sun-ripened fresh blueberries straight from the bush is just incomparable.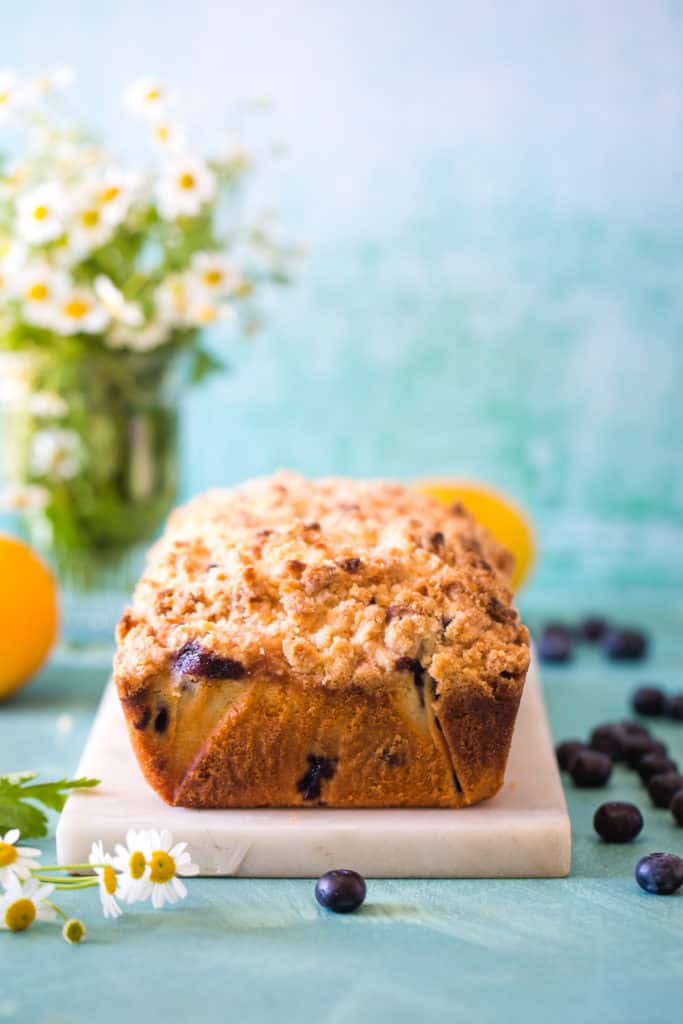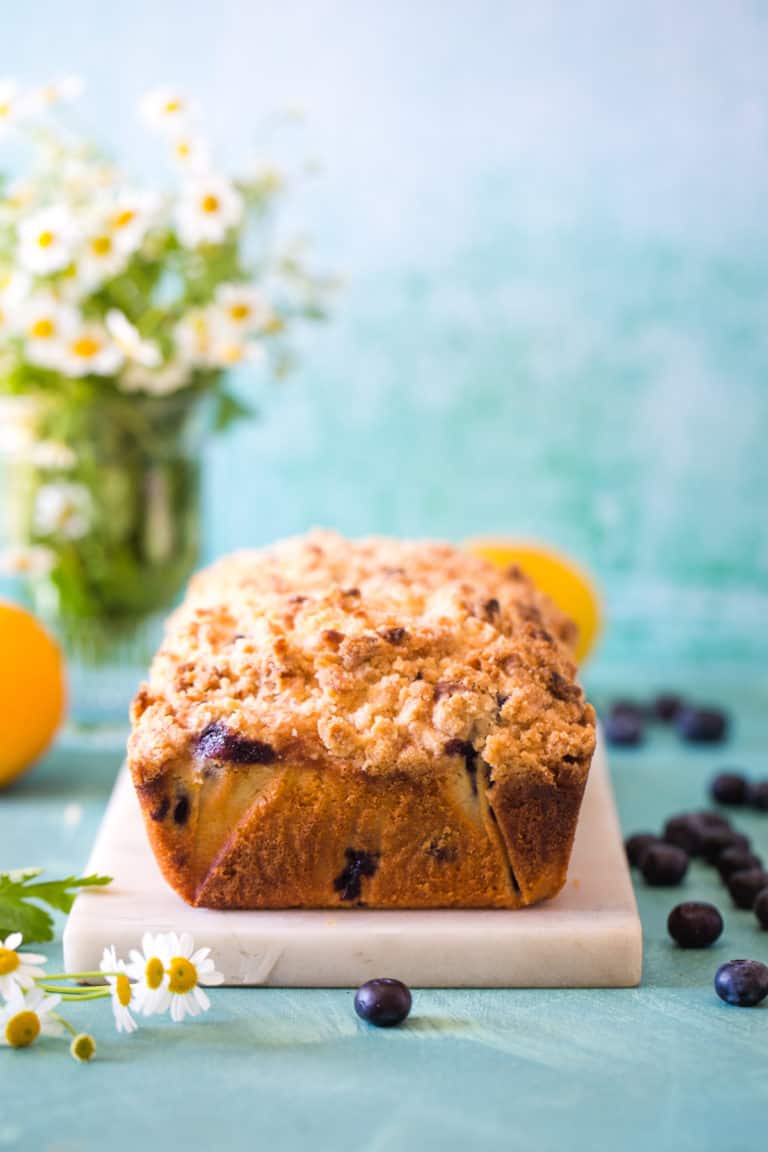 Every chance I get, I'm scooping up fresh blueberries and forgoing the store. If I am able to buy/pick extra, I always freeze a portion for baking and smoothies. The last time I discovered some, it resulted in this blueberry lemon bread. Of course, we fell in love with it and I eventually decided it was time to share this amazing and easy lemon bread with all of you. I think everyone's favorite part is the streusel topping as it takes this recipe to an entirely different level. It's like a heavenly matrimony between a banana bread style recipe and coffee cake.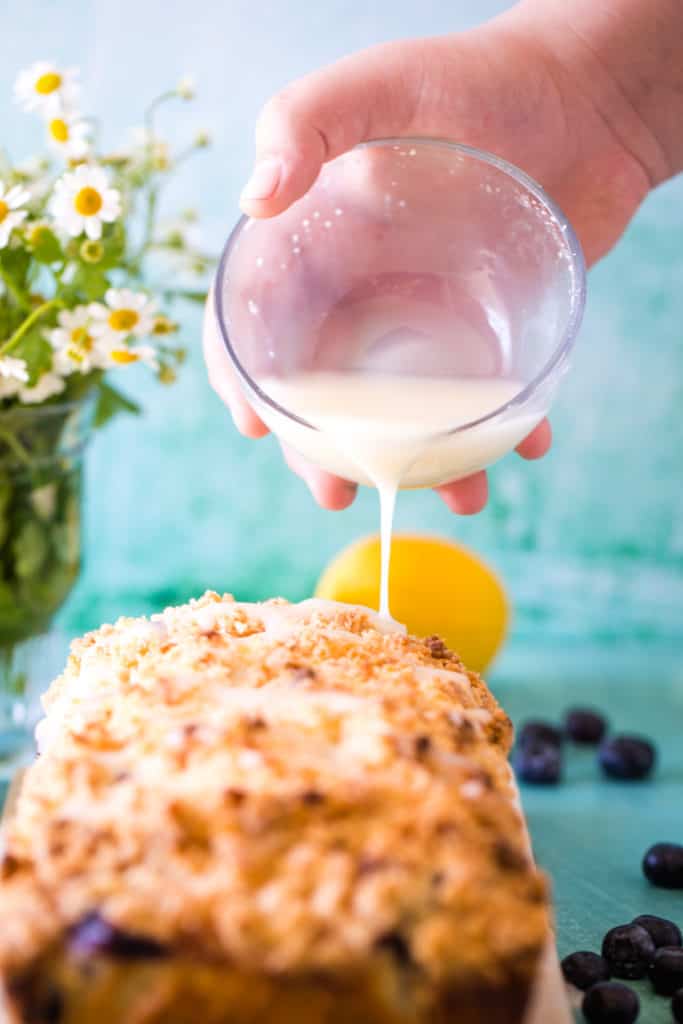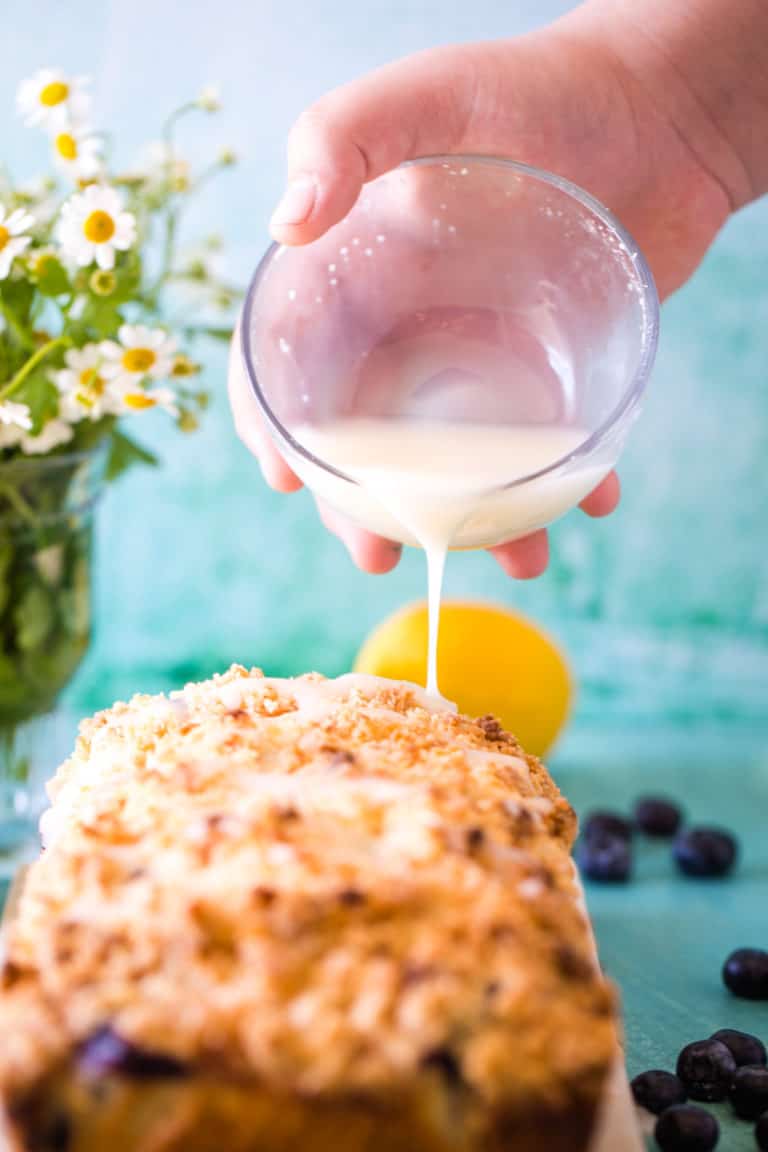 How to Make Lemon Blueberry Streusel Loaf
There are three main parts to this lemon blueberry streusel which show how easy it truly is. First, simply mix the ingredients to make the batter.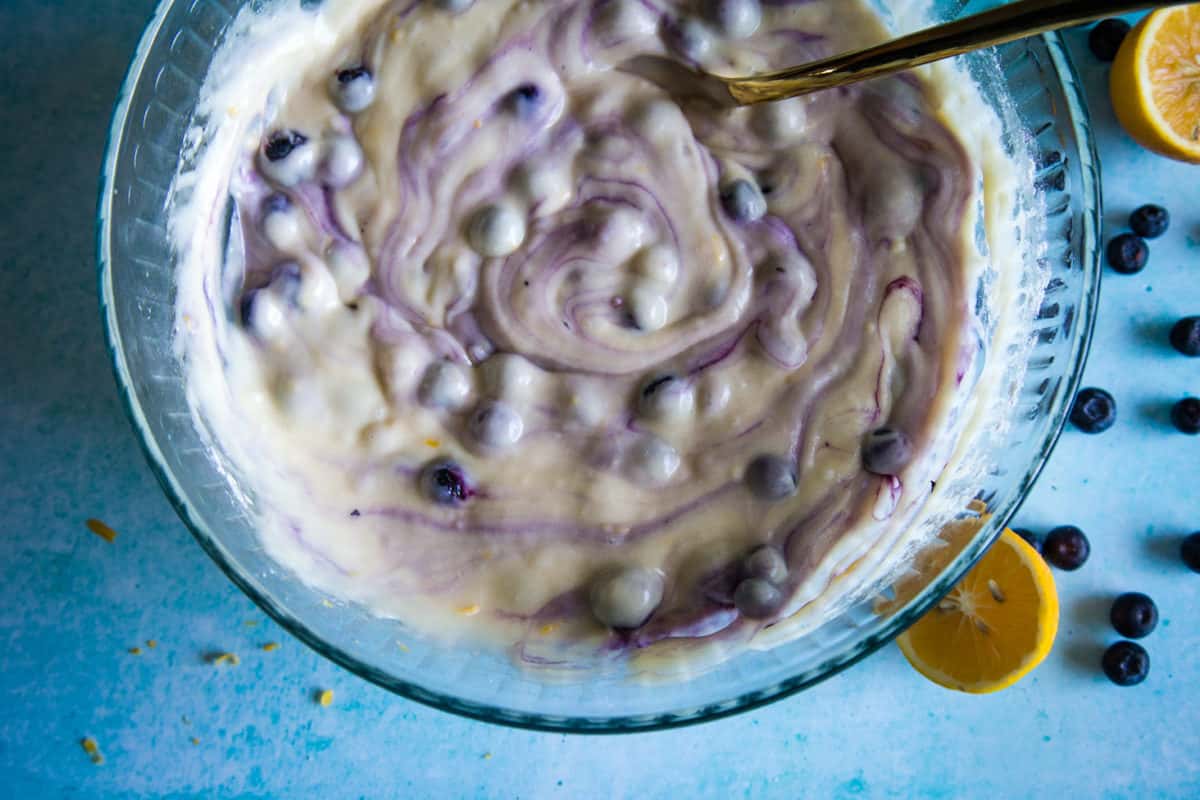 Fill two loaf pans that have been greased, equally splitting the batter between the two. This should fill them each ⅔ full. Set the two pans to the side and mix the ingredients for the streusel topping in a bowl.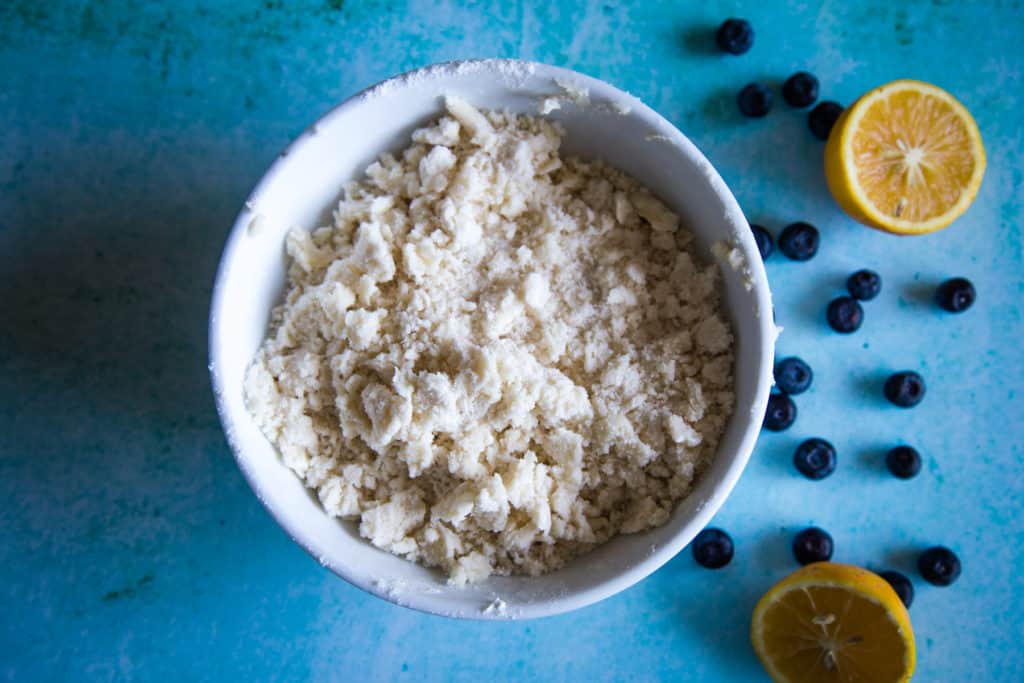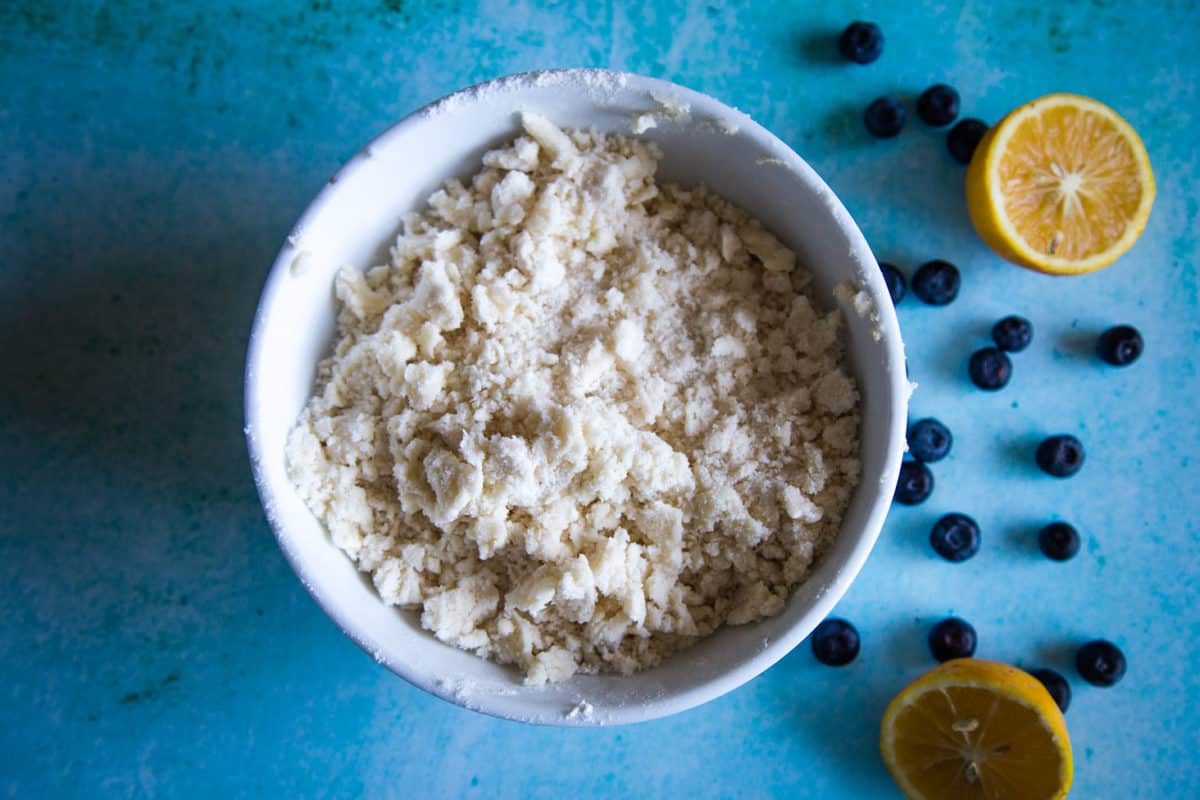 Split the mixture equally between two the loaf pans, sprinkling it over the top evenly. Place the loaves in the oven which has been preheated to 350 degrees and bake them for about 40-42 minutes or until a toothpick comes out clean when stuck in the middle. Pull the loaves from the oven and let them cool.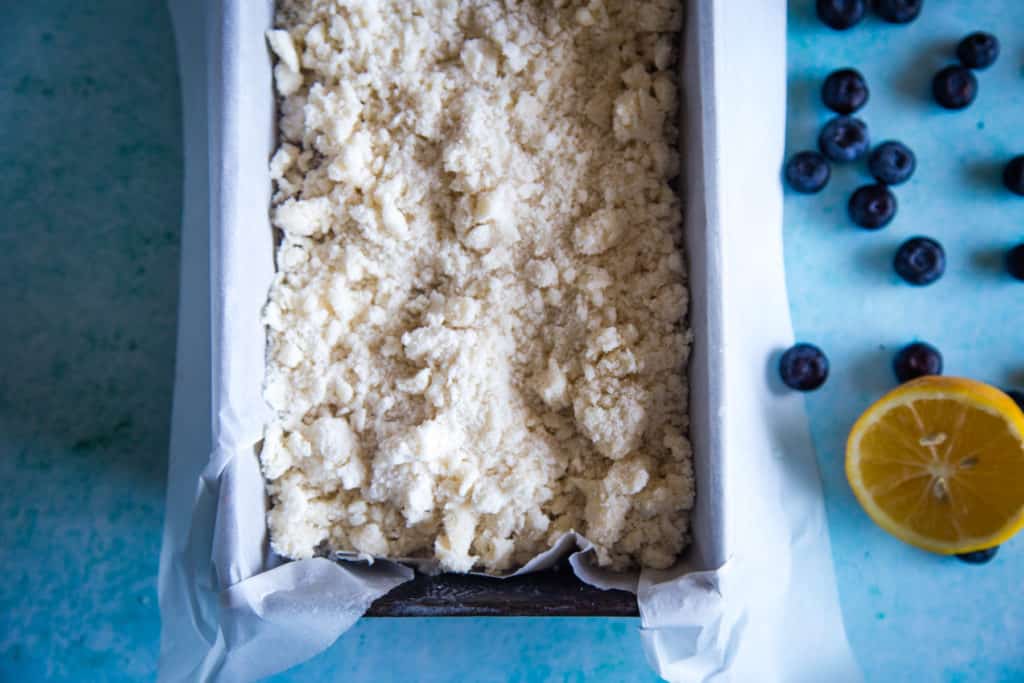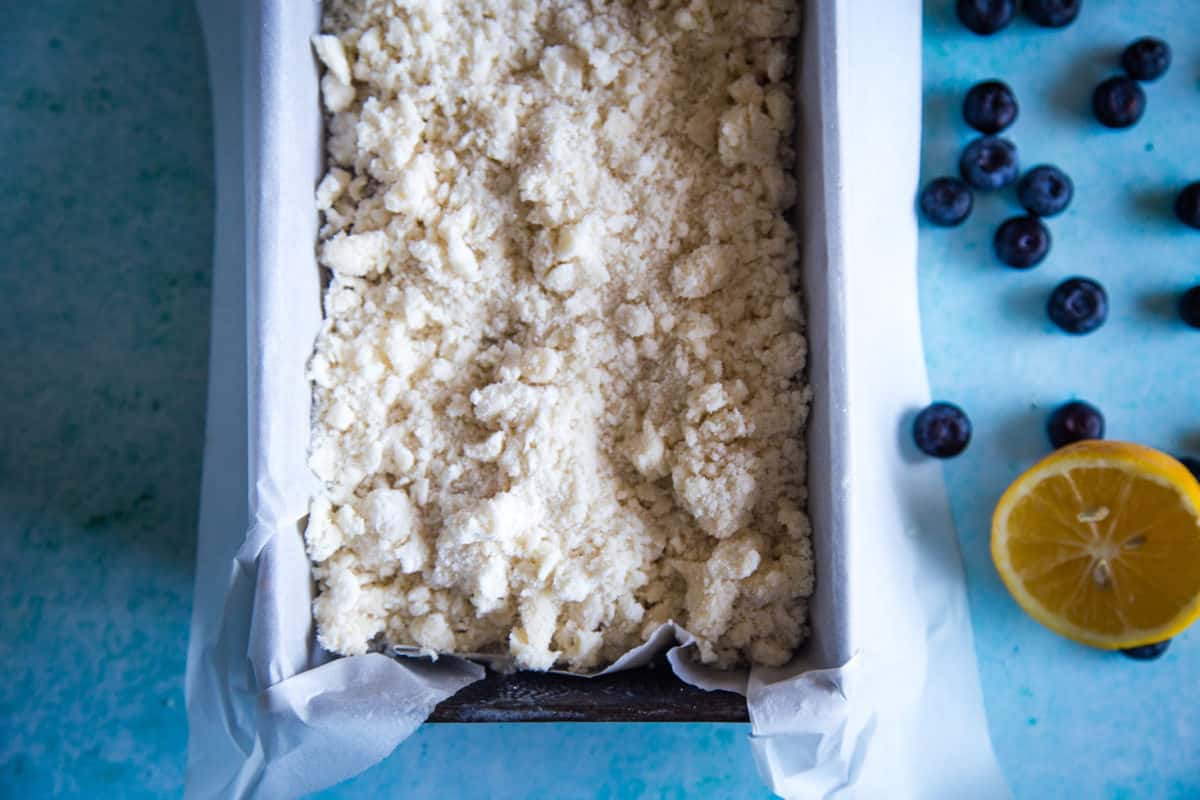 In the meantime, make the lemon glaze by combining all the ingredients and once the loaves have cooled, pour it equally over the top of both. Pretty easy, right?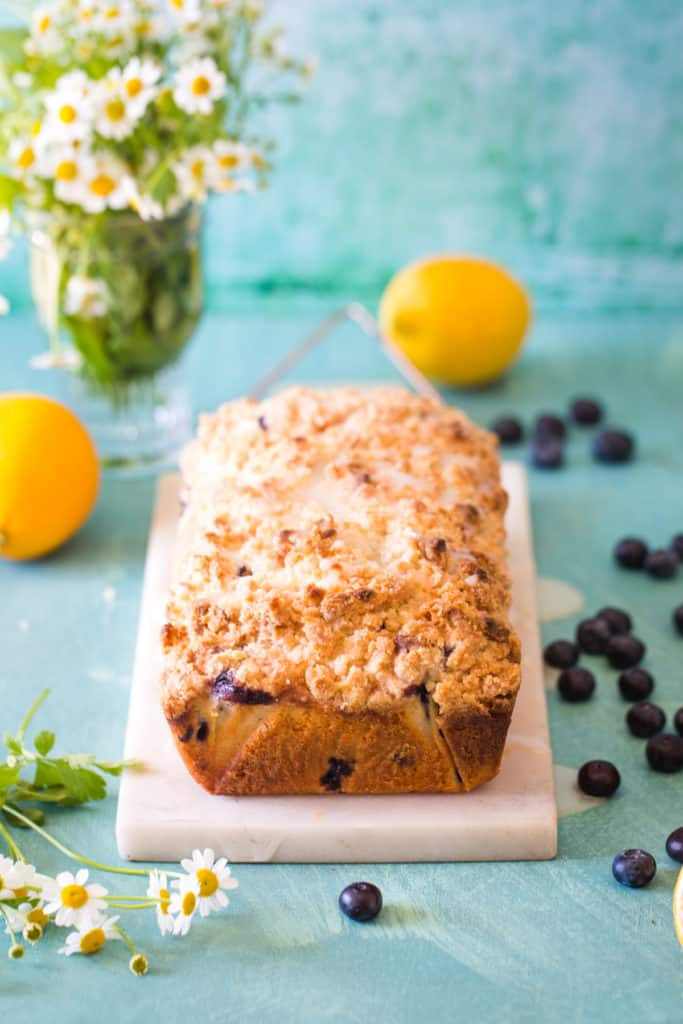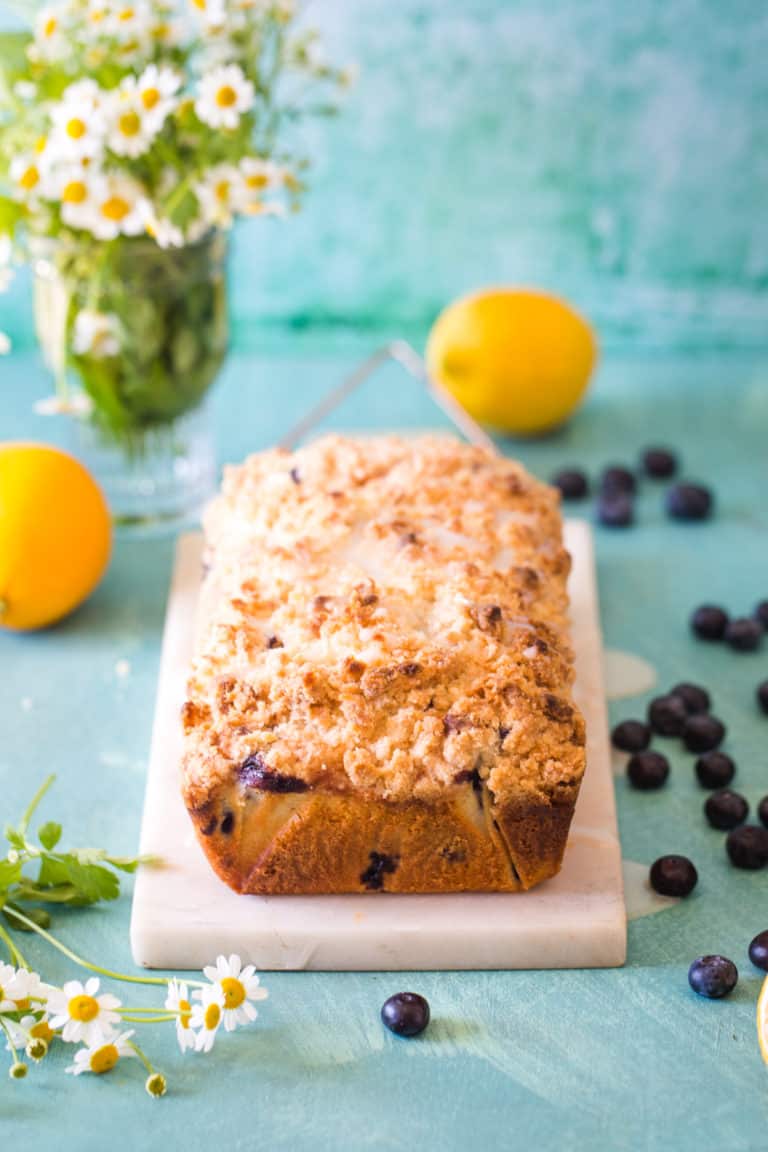 Tips for Making Lemon Blueberry Streusel Loaf
If you don't want two loaves, you can cut the recipe in half. However, we go through them so quickly at our house that it's necessary to have to loaves which is why the recipe makes two in total.

You can freeze this loaf by wrapping it in plastic and putting it in a freezer-safe baggie or airtight container. It can keep up to three months. I do not suggest adding the glaze if you plan on freezing it. However, if you have leftovers and want to freeze them and the glaze is already on, this won't do any harm to go ahead and freeze it.

If the glaze is already on the loaf, allow the lemon bread with streusel to come to room temperature on its own. If it doesn't have the glaze, heating it in the oven or microwave is fine. Simply add the glaze on once it's cooled enough.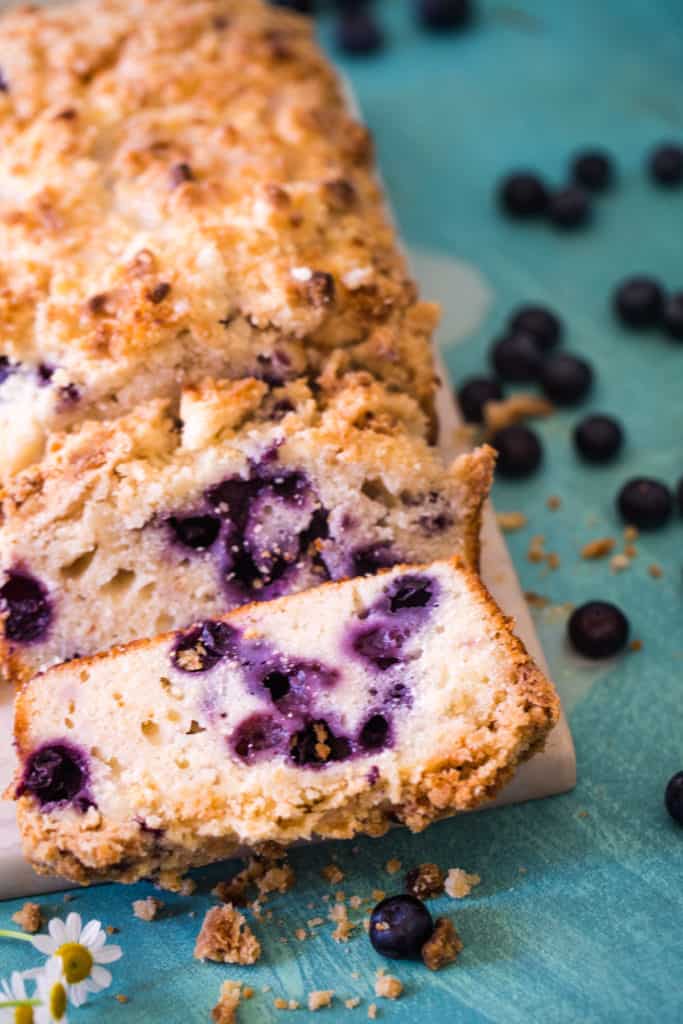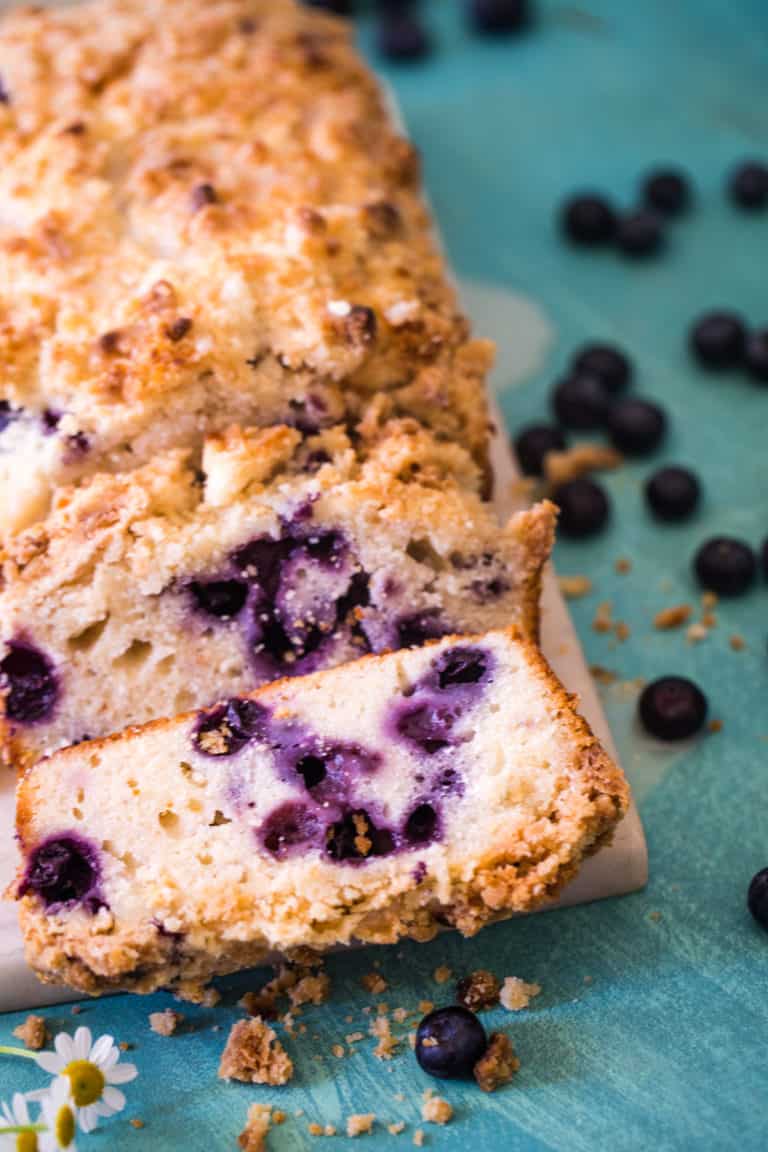 Common Questions About Lemon Blueberry Streusel Loaf
How Do You Stop Blueberries from Sinking?
Thankfully, the batter used in this blueberry lemon bread is dense enough that your blueberries shouldn't sink. If your batter is too thin, the blueberries may try and sink on you. The best way to keep the blueberries from sinking is to have an appropriately dense pound cake-like batter. However, you can also toss them in a bit of flour which will give them a coating that should keep them from sinking too much.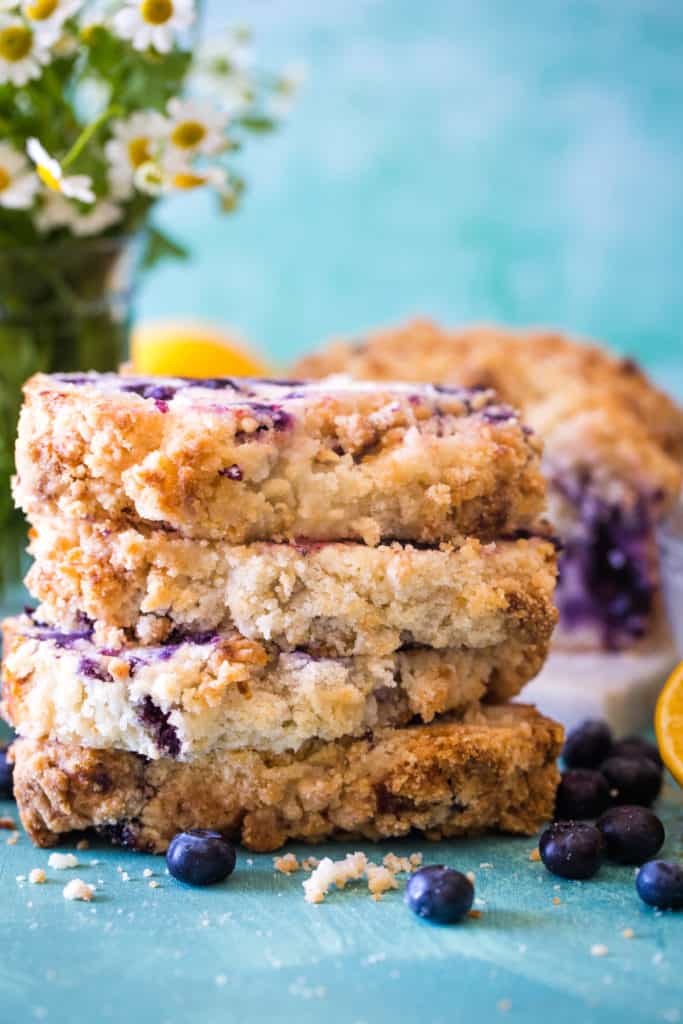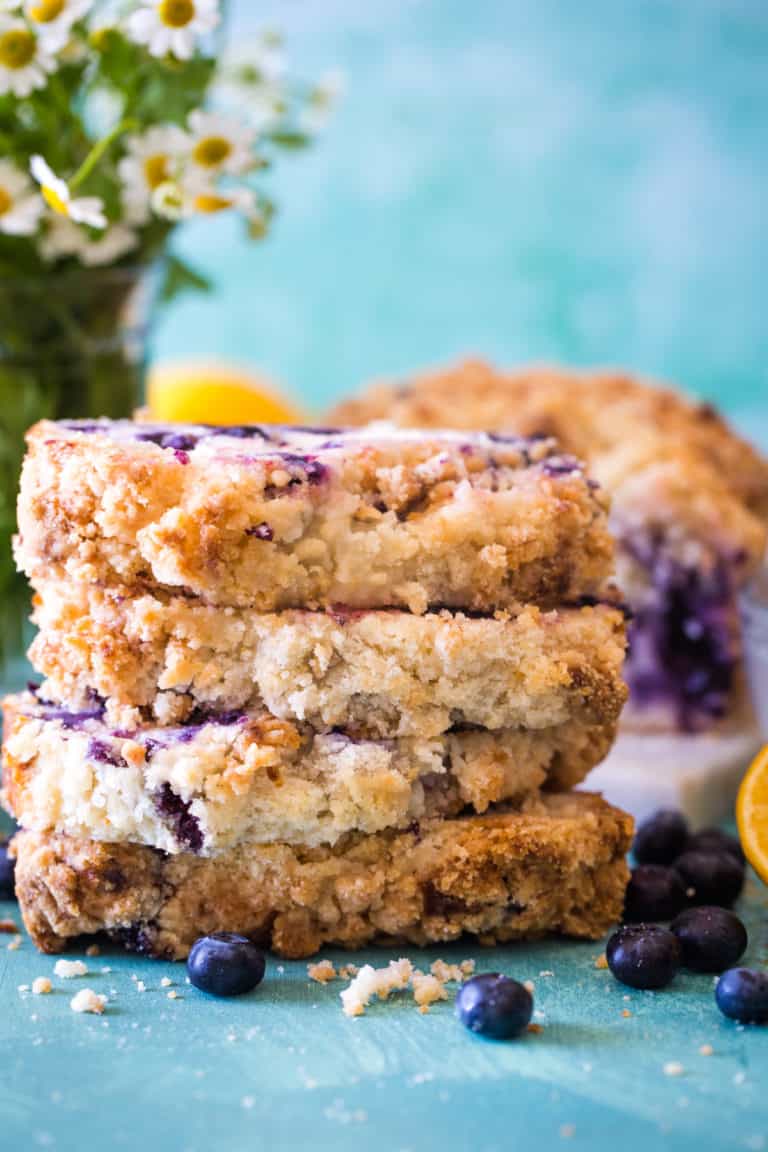 Should you Wash Blueberries Before Baking?
Yes, it doesn't matter if you're using store-bought or freshly picked blueberries, they should always be thoroughly washed. This helps ensure that any dirt, parasites, pesticides, etc. are washed away from the berries for safer consumption.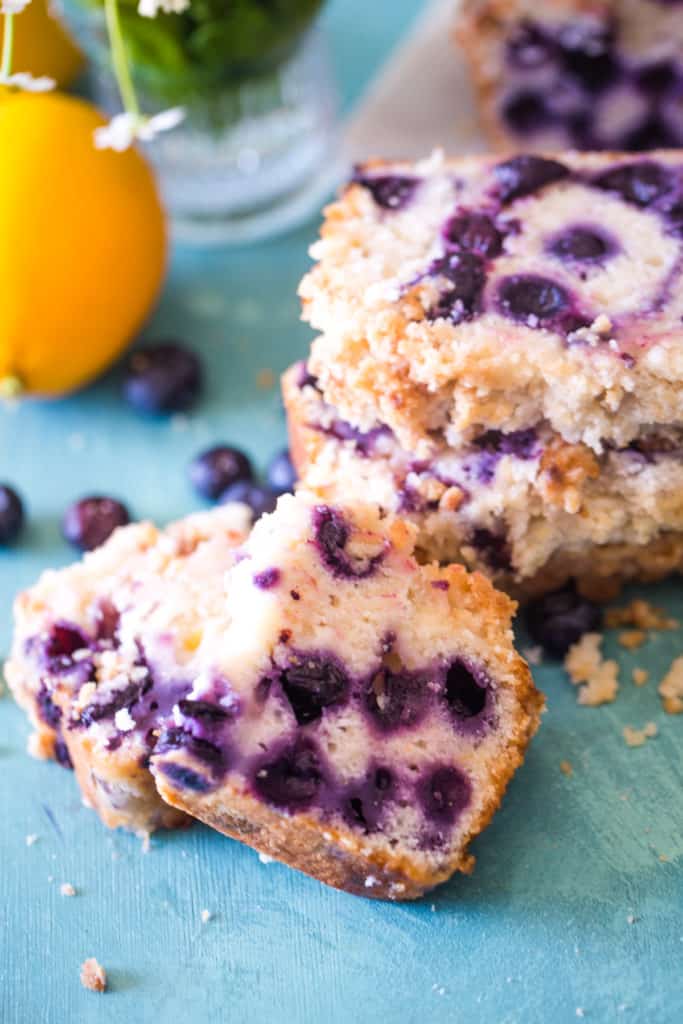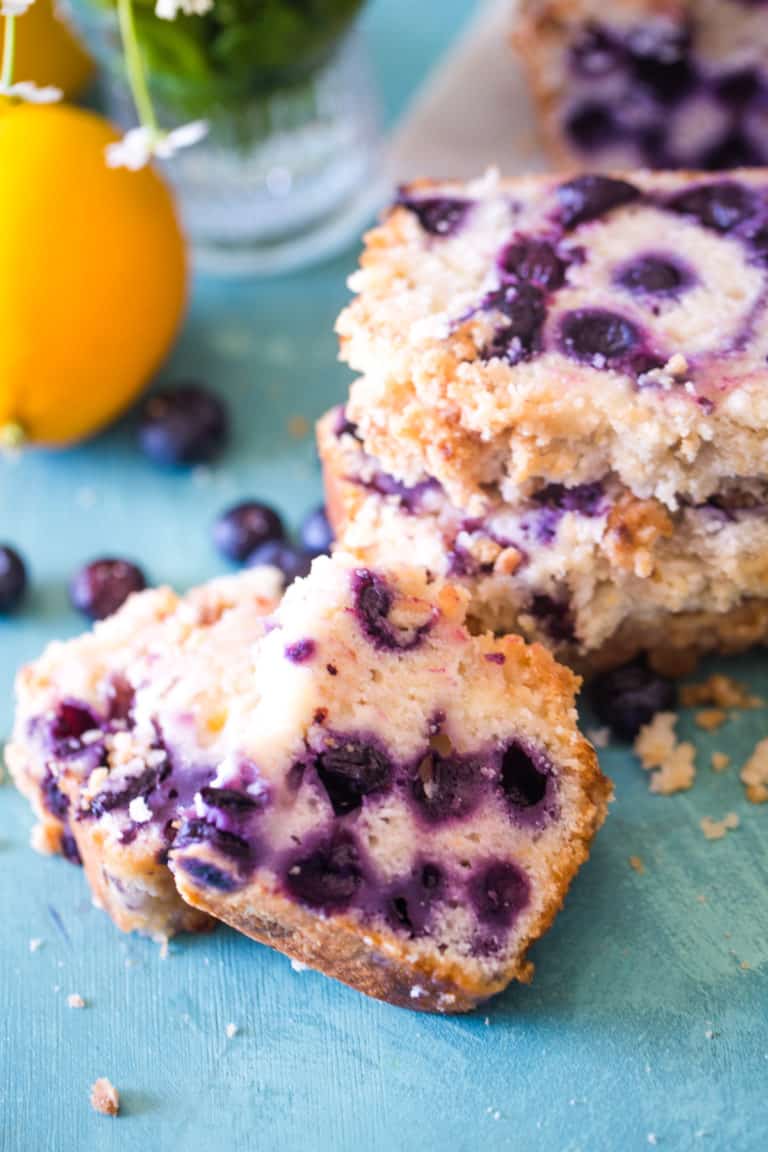 This Lemon Blueberry Streusel Loaf has been a huge hit in our house, especially for breakfast - I have no doubt you'll impress your family with this one.
More Bread Recipes You'll Love: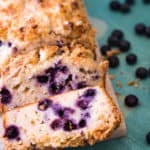 Lemon Blueberry Streusel Loaf
 This Lemon Blueberry Streusel Loaf recipe is an easy-to-make streusel loaves that bursts with the flavors of spring! Enjoy one now and freeze the other for later!
Course:
Breakfast, Dessert
Keyword:
blueberry bread, lemon bread
Ingredients
Lemon Blueberry Batter
3

cups

all-purpose flour

1 ½

cups

granulated sugar

1 ½

teaspoons

baking powder

⅓

teaspoon

salt

4

large eggs

slightly beaten

1

cup

milk

room temperature

1

cup

oil or melted butter

2

tablespoons

grated lemon peel

¼

cup

fresh lemon juice

2

cups

blueberries

fresh or frozen
Crumb Topping
1

cup

granulated sugar

1

cup

all-purpose flour

8

tablespoons

unsalted butter

softened
Lemon Glaze
1

cup

powdered sugar

2

tablespoons

lemon juice
Instructions
Preheat oven to 350 degrees. Line 2 standard-sized loaf pans with parchment paper or foil. Lightly spray with non-stick cooking spray.

To make the batter whisk together flour, sugar, salt and baking powder in a large bowl.

Create a well in the middle of the dry ingredients, pour in eggs, milk, oil, lemon juice, and lemon zest. Whisk until smooth.

Fold in fresh or frozen blueberries.

Fill each pan ⅔ of the way full; set aside.

To make the crumb topping, whisk together sugar, flour, and salt.

Cut softened butter into thin slices and add to dry crumb mixture. Using a pastry cutter or fork, mix butter into flour/sugar until the mixture is crumbly.

Top each blueberry loaf with streusel topping.

Bake loaves at 350° for 40-43 minutes or until a toothpick inserted in the center comes out clean.

Remove from the oven and let cool on a wire rack.

To make the lemon glaze, whisk together powdered sugar and lemon juice until smooth.

Pour over cooled loaves. Slice and serve.
Recipe Video
Recipe Notes
To freeze unglazed loaves, wrap tightly in plastic wrap. Store in a large freezer bag or an airtight container. When ready to eat, remove from freezer and defrost on the counter for 2-3 hours. You can freeze for up to 3 months. Slice and heat in the microwave for 30 seconds, if desired.