This Double Crust Lemon Raspberry Pie is the perfect go-to pie recipe when it comes to dessert for spring. Tart lemon and raspberries pair perfectly with an old fashioned crust to create a recipe that has the ability to transport you to the past. Serve with a scoop of vanilla ice cream to really wow friends and family.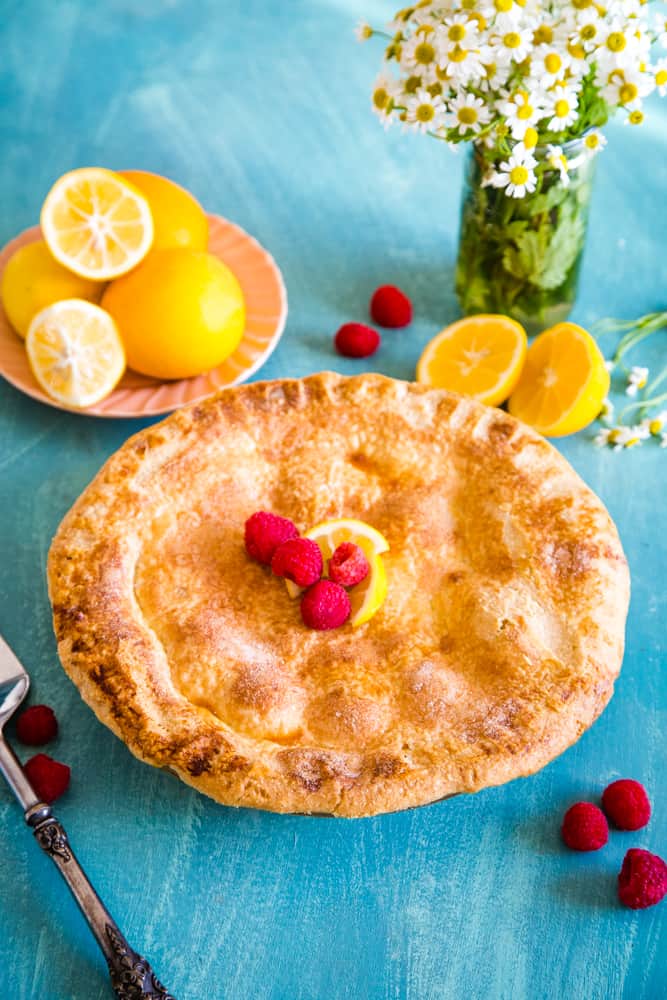 Pie is one of my favorite things in the world. Since I love it so much, I also know a lot of facts about it. For example, did you know that pies were more popularly filled with meat instead of something sweet during the middle ages? Also, pie was a breakfast food when it was first created, not a dessert. I'm all for pie as breakfast - let's go back to how it was meant to be, you won't find me complaining about it.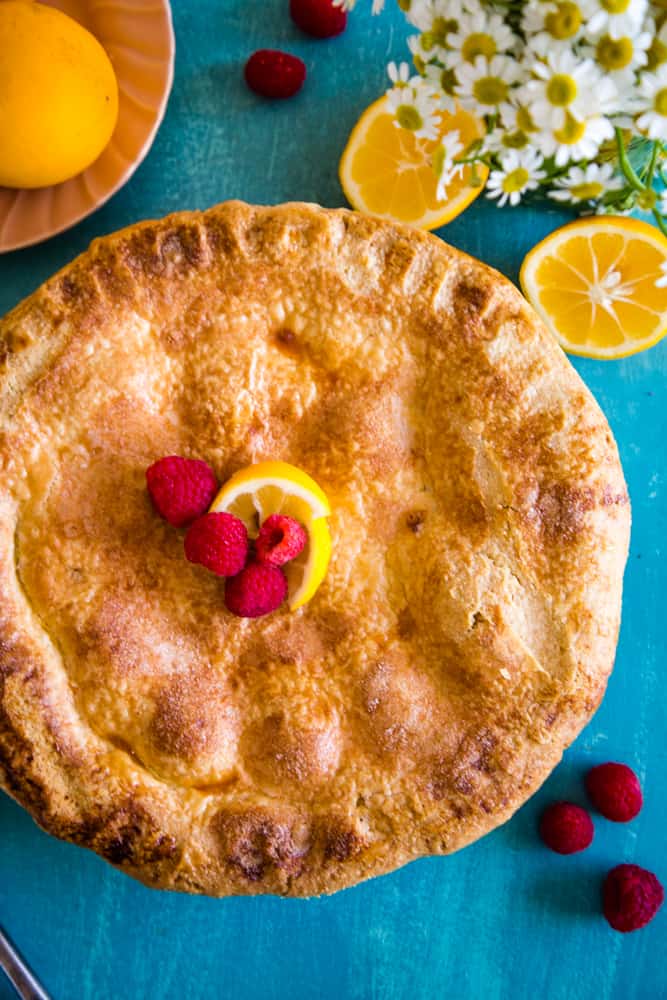 You probably knew that apple pie is the most popular type of pie in the US. Pumpkin, lemon meringue, cherry, and chocolate pie are also the most popular, following apple. Did you know that it used to be spelled "pye" and not "pie" like it is now? It's crazy, I know. You know what else is crazy? Pie fights (who could waste all that pie??). The largest recorded pie fight had 253 people and 648 pies were thrown. You won't catch me throwing this lemon shaker pie - it's meant for eating, not throwing.
This particular pie is based off of the old fashioned Shaker Pie Recipe. This pie was first made in the religious communities of Shakers, located in the Midwest. They are also said to have developed the first Lemon Meringue Pie!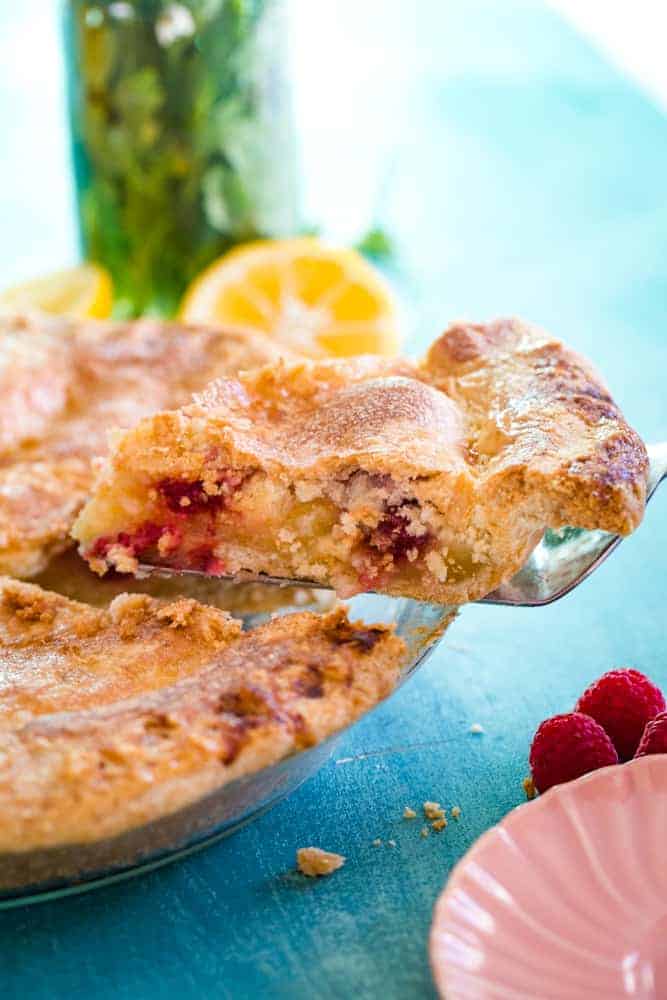 How to Make Double Crust Lemon Raspberry Pie
Prepare oven and crusts - Preheat the oven to 350 degrees. Roll the pie crust out on a floured surface and transfer one to a 9-inch pie dish. Arrange in the dish then place in the freezer.
Prepare the filling - In a bowl, whisk together the sugar, salt, and cornstarch. Add the eggs and whisk again. Add the lemon juice, zest, and butter then whisk again.
Add the filling - Remove the pie crust from the freezer and pour the lemon mixture into the bottom of it. Sprinkle the raspberries over the lemon mixture.
Add last crust - Roll out the last crust then add it to the top of the dish. Arrange the edges of the pie appropriately. Brush crust with egg yolk and sprinkle with sugar.
Bake pie - Loosely cover the pie with foil and bake for 30 minutes. Remove the foil and finish baking.
Cool and serve - Once the pie is golden brown, remove it from the oven and allow it to cool so that the inside will firm up. Serve with or without ice cream or whipped cream and enjoy!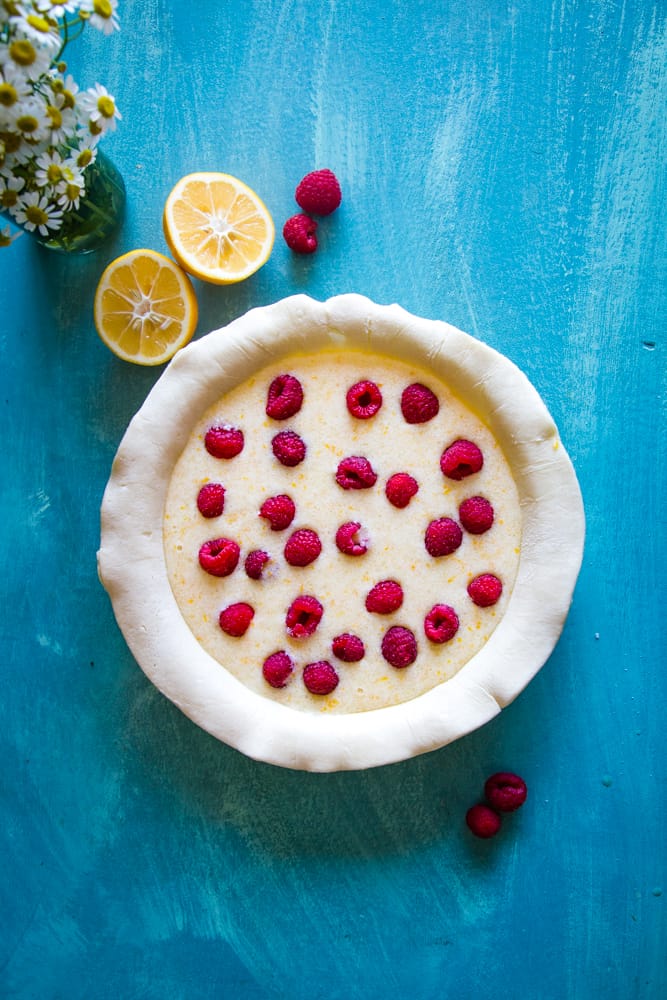 Tips and Variations
Store-bought or homemade - You can use store-bought crusts that are already prepared or make your own, either works just fine for this lemon raspberry pie. While I always prefer homemade, let's be real, we don't always have the time! The crust from Trader Joe's is the best!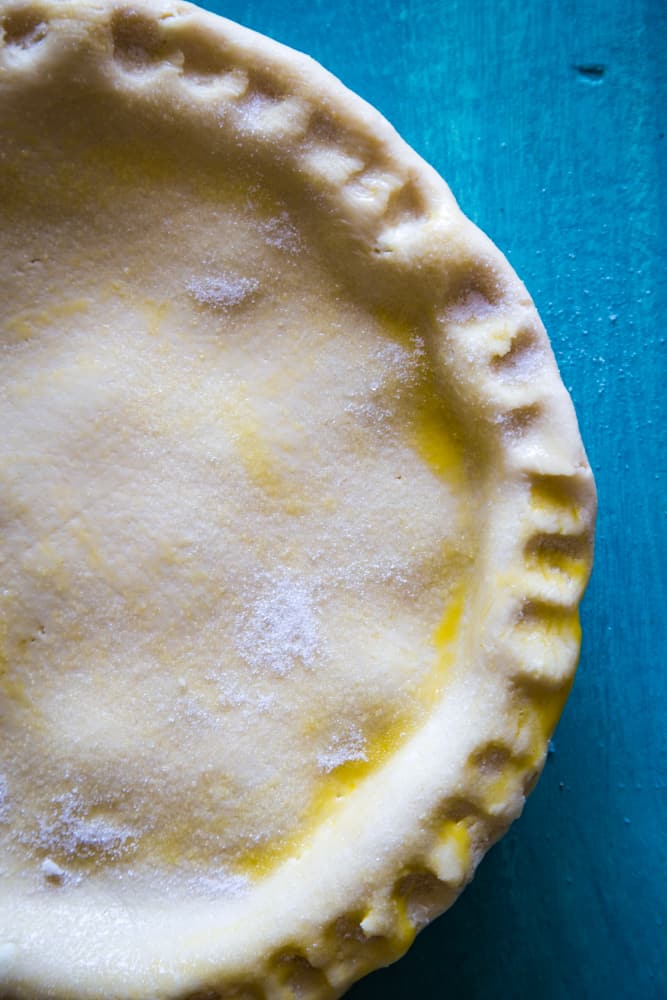 Don't stretch your dough - Be careful to not stretch your dough. Try to let it lay naturally as it will shrink during the baking process if it's stretched.
Add slits to the top - If desired, you can add small slits to the top of your pie to let any excess steam or liquid release.
Decorate your pie top - If you prefer it, you can use the top pie crust to make a design using cookie cutters, lattice molds, etc. This is totally up to you and can be a ton of fun.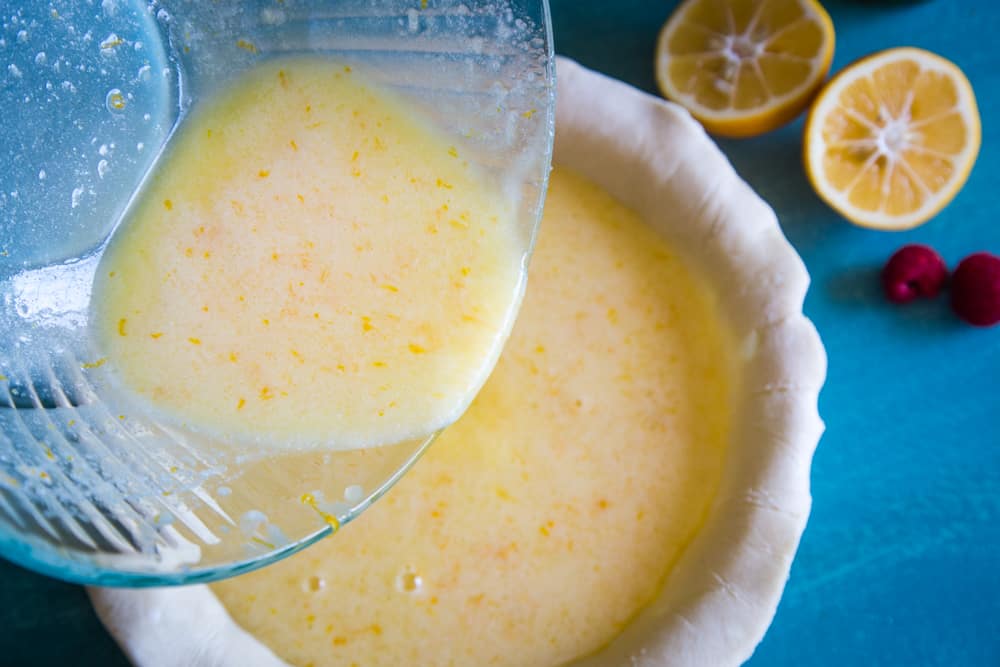 Use Meyer Lemon- While any lemon will work for this recipe, I love to use Meyer Lemons. They are a lot sweeter and a touch less tart. Use this lemon zester and squeezer to get the most out of your lemons.
Common Questions About Double Crust Lemon Raspberry Pie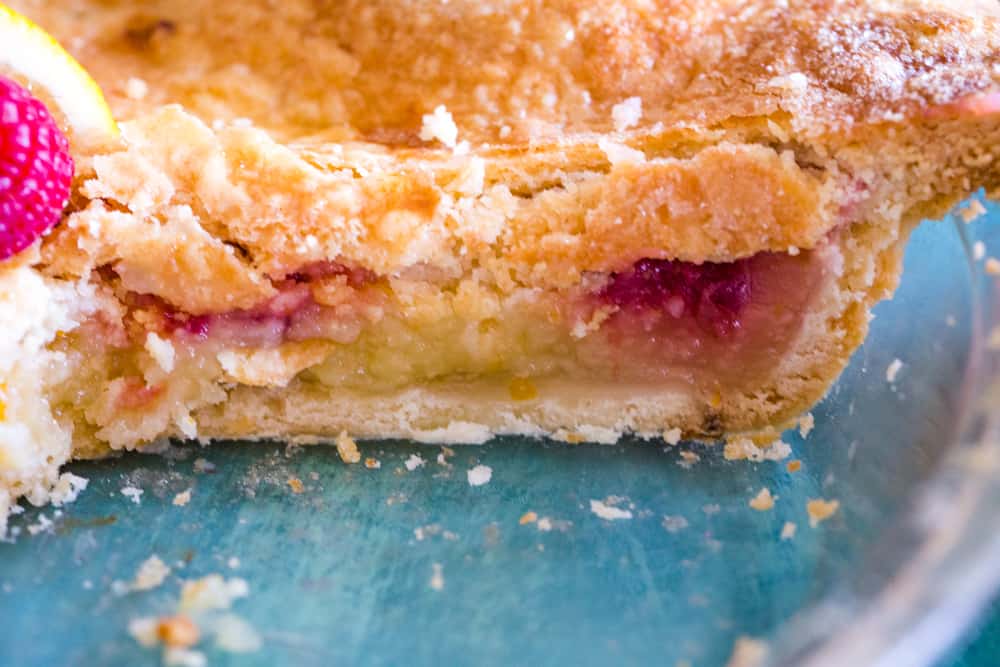 Can you Use Frozen Raspberries for Raspberry Pie?
I wouldn't suggest using frozen raspberries for pie as they release a lot of moisture once they begin thawing during the baking process. This can cause the pie to become too watery or runny in the middle making for a messy and not as flavorful pie. If all you have is frozen raspberries, thaw them first and remove some of the water from them before placing them in the pie. Adding a bit of flour and sugar to them would be beneficial as well.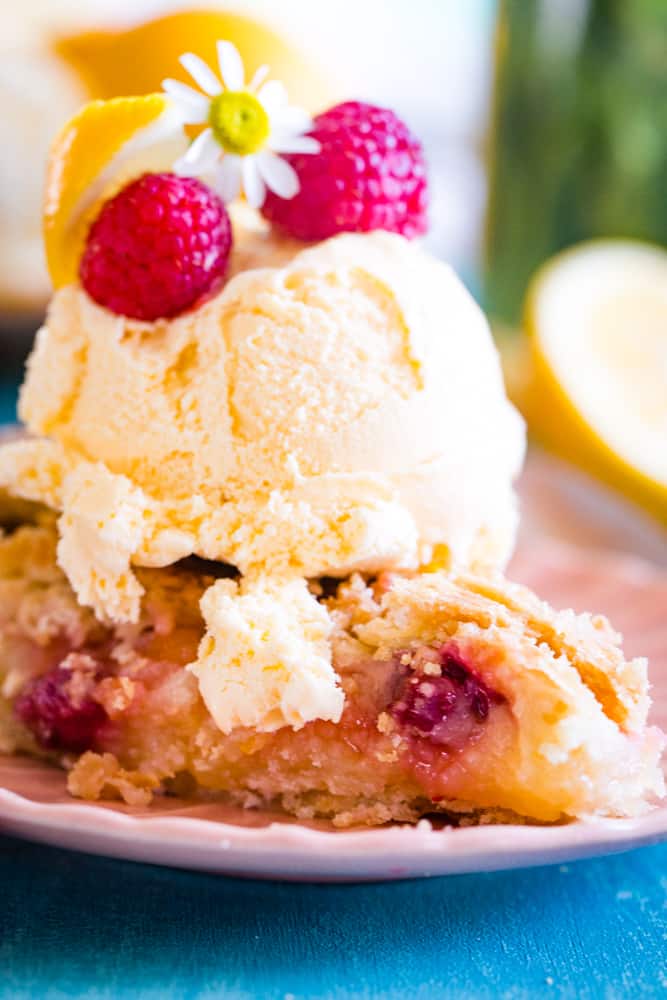 If you give a swing at making this Double Crust Lemon Raspberry Pie, let me know about your experience in the comments below!
More Pie Recipes You'll Love: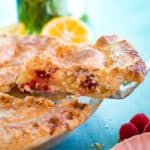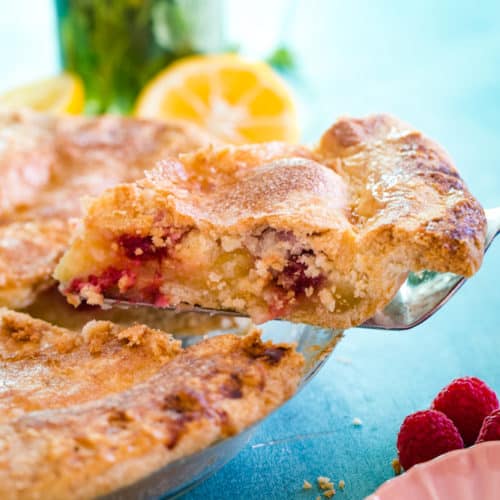 Double Crust Lemon Raspberry Pie
While baking, the lemon mixture bakes into a smooth raspberry kissed lemon curd that pairs perfectly with the flaky pie crust.
Ingredients
2

pie crusts

1 ¼

cups

granulated sugar

1 ½

tablespoons

cornstarch

¼

teaspoon

salt

3 

large eggs

room temperature

½

cup 

Meyer Lemon Juice

freshly squeezed

1 

tablespoon 

lemon zest

2 

tablespoons 

unsalted butter

melted then cooled to room temperature

1

cup

raspberries
Instructions
Preheat oven to 350 degrees.

On a lightly floured surface, roll out 1 pie crust dough into a 12-inch circle. Wrap around the dough around the rolling pin and carefully unroll over a 9-inch pie plate. Gently lift edges and lower dough into the pie plate so it hugs the bottom and sides of the pie plate. Avoid stretching the dough, which will make it shrink during baking. Place in the freezer while you prepare the filling.

To make the filling whisk together the sugar, cornstarch, and salt in a medium-sized bowl. Add the eggs and whisk until mixture is a pale yellow and mostly smooth. Add lemon juice, zest, and melted butter; whisk until combined.

Remove pie plate from freezer and pour in the lemon filling. Sprinkle the raspberries over the lemon filling.

Roll out the remaining pie crust to a 10-inch round circle. Wrap dough around the rolling pin and unroll over the pie plate leaving a 1-inch overhang. Fold the overhang under itself to form a thick rim; pinch between thumb and forefinger to form a uniform edge around the rim of the pie plate.

Brush the top and edges of the pie with egg yolk and sprinkle with additional sugar.

Cover pie loosely with foil and bake for 30 minutes. Remove foil and bake for an additional 15-20 minutes or until pie is golden brown.

Cool pie completely before serving. Serve with ice cream, if desired.