If you're looking for another cookie to add to your cookie repertoire, give these Dark Chocolate & Cherry Shortbread Cookies a whirl! A classic chill and slice cookie, they take very few ingredients and little effort. Chock full of candied cherries and chocolate chips, this is an unforgettable cookie!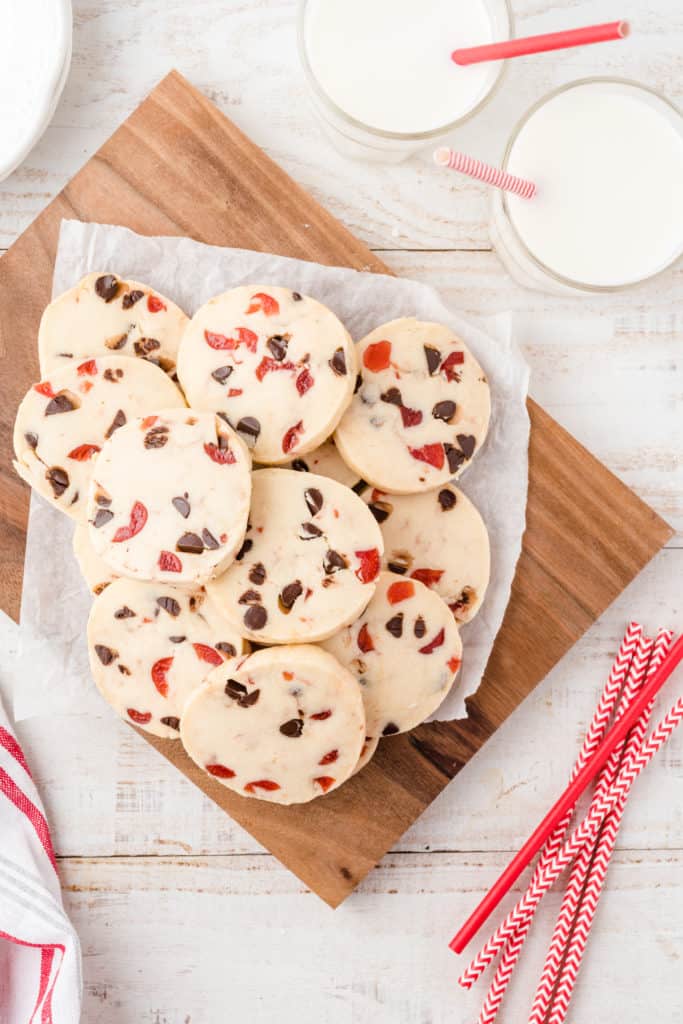 If there's one thing I've learned, it's that you can never have too many cookie recipes. Different occasions call for different cookie options. Plus, who wants to repeat the same cookie recipe throughout the entire holiday season? I sure don't. I have so many already, like my Gingerbread Man Sugar Cookies, Christmas Pinwheel Cookies, and Copycat Swig Sugar Cookies. However, I'm always adding more and you should too!
These chocolate chip shortbread cookies quickly became my favorite after creating them. They're so easy that it always floors me how little effort they take every time I whip them up. They're definitely a great cookie recipe for during the busier time of the holidays. You know, that time where you're not ready to settle for store-bought, but don't have time to go all Betty Crocker.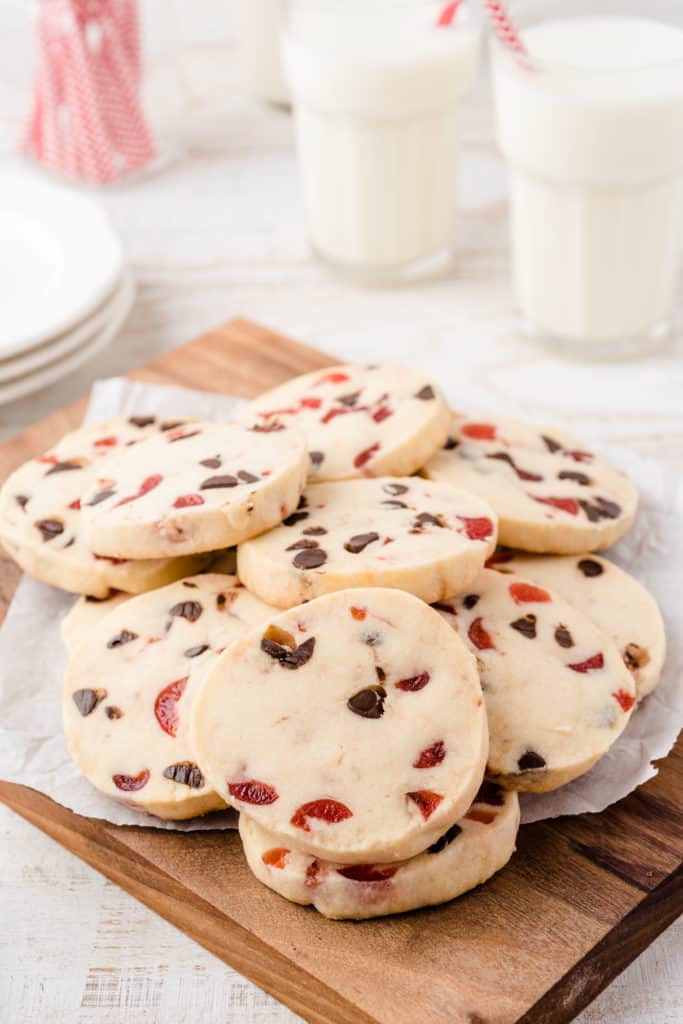 WHY WE LOVE THESE CHERRY CHOCOLATE CHIP SHORTBREAD COOKIES
Simple Ingredients- I often find that when simple ingredients come together, the flavors shine! With a combination of chocolate and chopped cherries, these buttery cookies have a delectable bite.

Slice and Bake- Who doesn't love a good cookie that comes together in a matter of minutes!? There's no need to break out the cookie scoop or cookie cutter here, just slice and bake!

Favorite cookie! Whether you're making them as Christmas cookies, Valentine's Day, or any time of the year, they just hit the spot!

Make a second batch to freeze when you have a craving next time.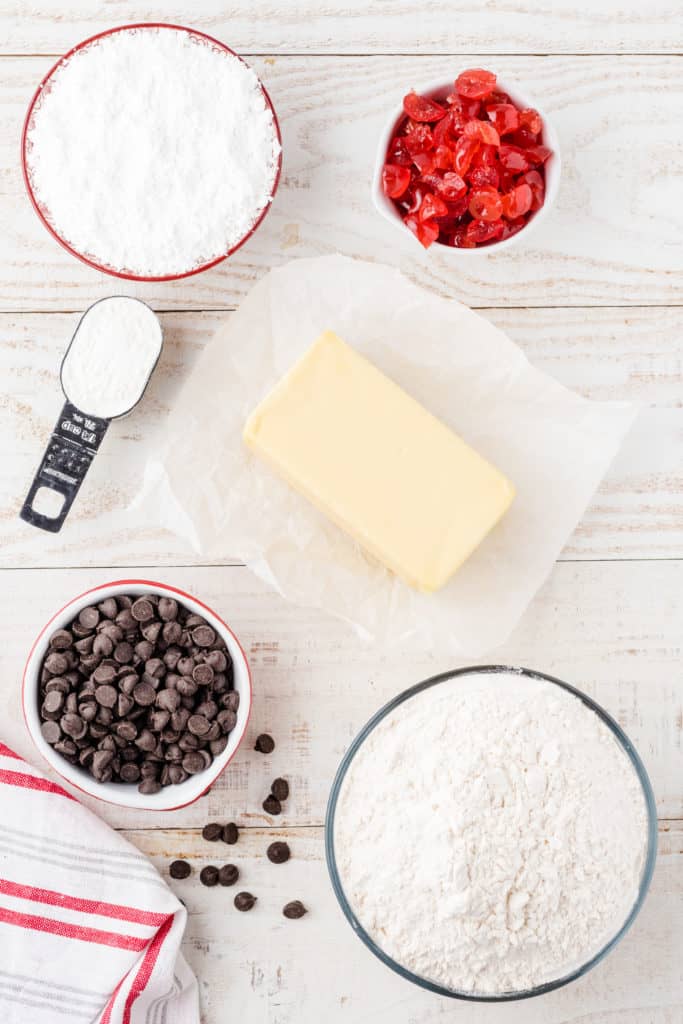 INGREDIENTS
Salted butter, room temperature

Powdered sugar

All-purpose flour

Corn starch

Candied cherries cut into small pieces

Dark chocolate chips
SUBSTITUTIONS AND ADDITIONS
Cherries- we use candied cherries in this recipe, but you can make them into maraschino cherry shortbread cookies by swapping out the candied cherries for sweet maraschino cherries. Just pat them dry before using. You can also use fresh chopped cherries in this recipe. I recommended tossing them with a ½ teaspoon of cornstarch before adding to the dough to avoid the cherry juice baking out into the shortbread cookie. And if none of these are an option, diced dried cherries will work too.

Chocolate- You can use chopped chocolate chunks, mini chocolate chips, or even turn them into white chocolate cherry shortbread cookies!

Extracts- While we love the traditional shortbread taste, sometimes we'll add a ½ teaspoon of almond extract or vanilla extract to the dough. They both add a little hint of extra flavor that pairs perfectly with the cherries and chocolate.

Puffy cookies- If your slices have puffed a bit during baking, gently flatten the cookies with the bottom of a glass right after removing the tray of cookies from the oven.

Extra chocolate- for the chocolate lovers in your life, dip half of each cookie into some melted chocolate and let cool until set!

Caster Sugar- Roll logs in regular sugar or caster sugar before chilling to add a bit of a crunch.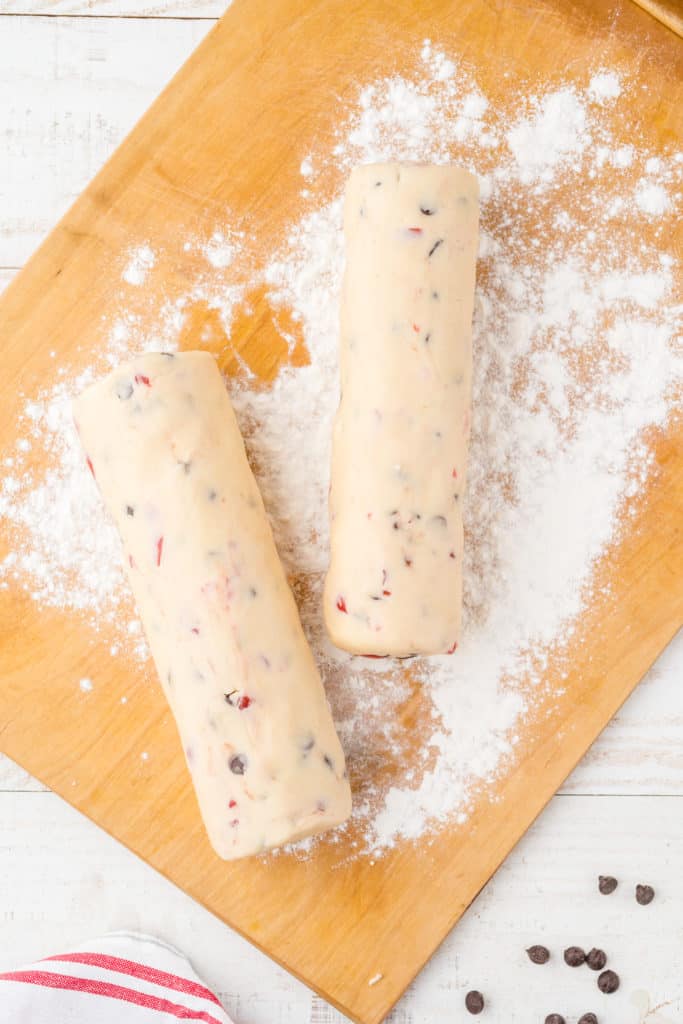 How to Make Dark Chocolate & Cherry Shortbread Cookies
Make the cookie dough - Cream together the butter and sugar. In a separate bowl, sift together the flour and cornstarch. Combine both mixtures and work the dough until a crumbly mixture forms. Add the cherries and chocolate chips.

Chill - Form the dough into a ball and separate into two equal balls. Roll out onto a floured surface and roll into a 2-inch-wide log. Wrap in a piece of plastic wrap and chill for 1 hour.

Prep - Preheat the oven to 325 degrees and line a baking sheet with parchment paper. Cut the rolls into ½-inch slices.

Bake - Place the cookie slices on the baking sheet and bake for 12-14 minutes. Remove and let cool on a rack. Enjoy!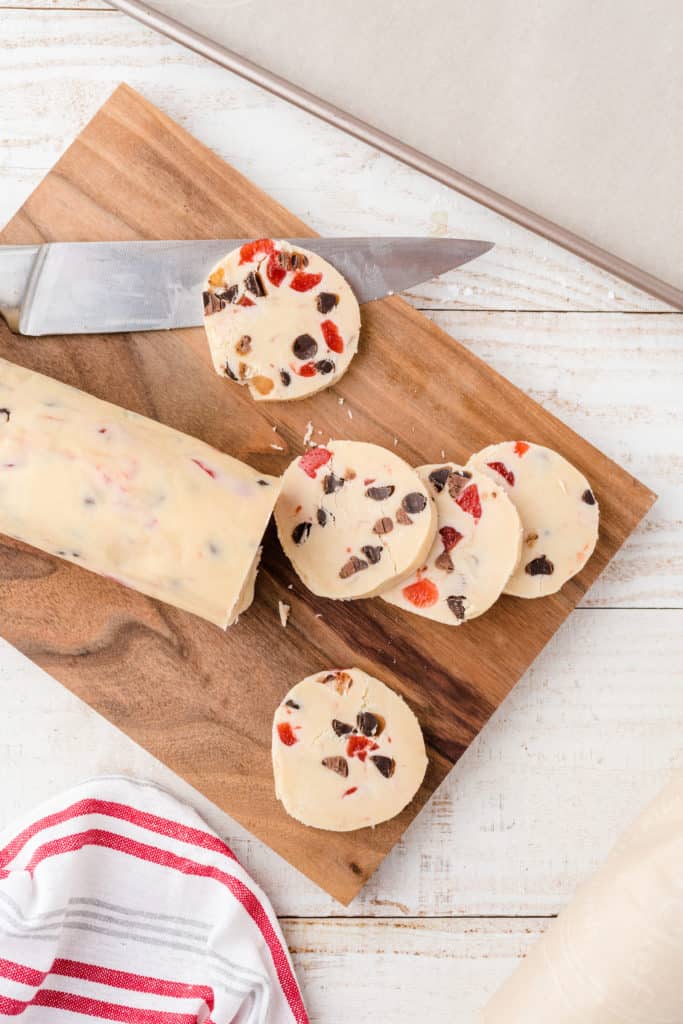 BUTTERY SHORTBREAD COOKIES TIPS
Storage - Store in an airtight container at room temperature, for the best storage results. You can store these cookies in the fridge and freezer if desired, in an airtight container. They would do best at this option if they're still in dough form.

Reheating - Warm these cookies up by tossing them in the microwave for a quick second.

Don't skip the chilling step - Chilling these cookies is important for them to be sliceable and cook appropriately. This will prevent the spreading or melting of the cookie during the baking process.

Freeze the dough for later use - Keep the dough wrapped in the parchment paper, then place it in a freezer bag. Place it in the freezer and keep it there for up to 3 months. Let the dough sit out for at least ten minutes before moving on to the next step.

Keep the dough in the fridge for later use - You can leave the wrapped dough in the fridge for up to 1 week if need be. You can slice it straight from the fridge.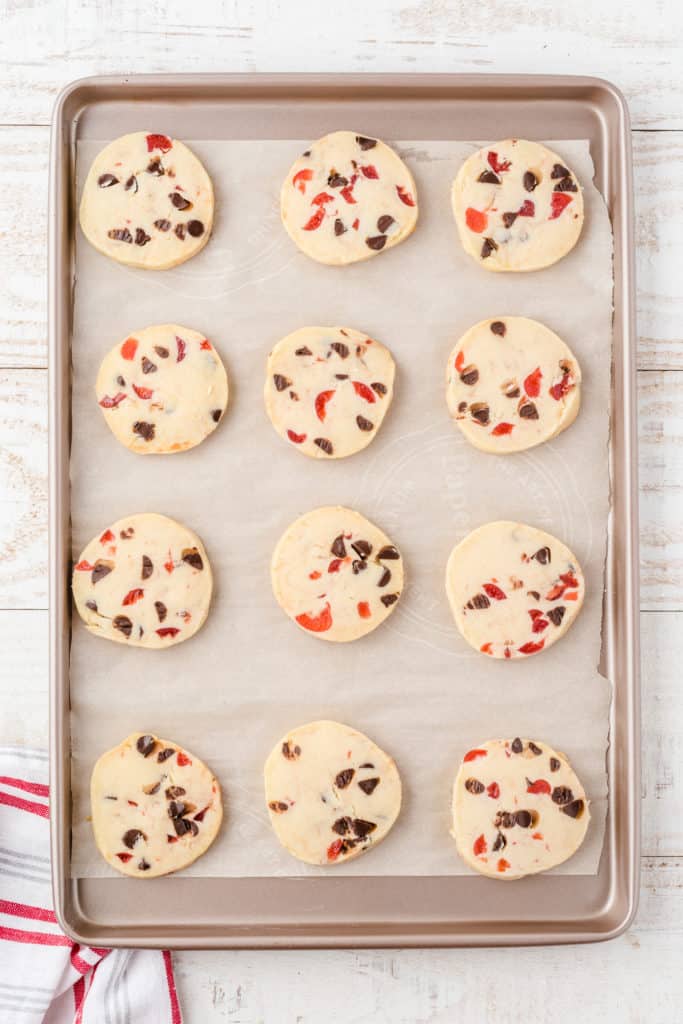 Common Questions About Dark Chocolate & Cherry Shortbread Cookies
Why do you put shortbread in the fridge before baking?
The butter is in a much softer state after you've mixed everything for your shortbread cookie recipe. This means that if you were to bake it right away, you would most likely end up with a very thin cookie. When baking easy shortbread cookies, you don't want to end up with wafer thin cookies. To ensure the butter doesn't melt too quickly when placed in the oven, chill the batter first.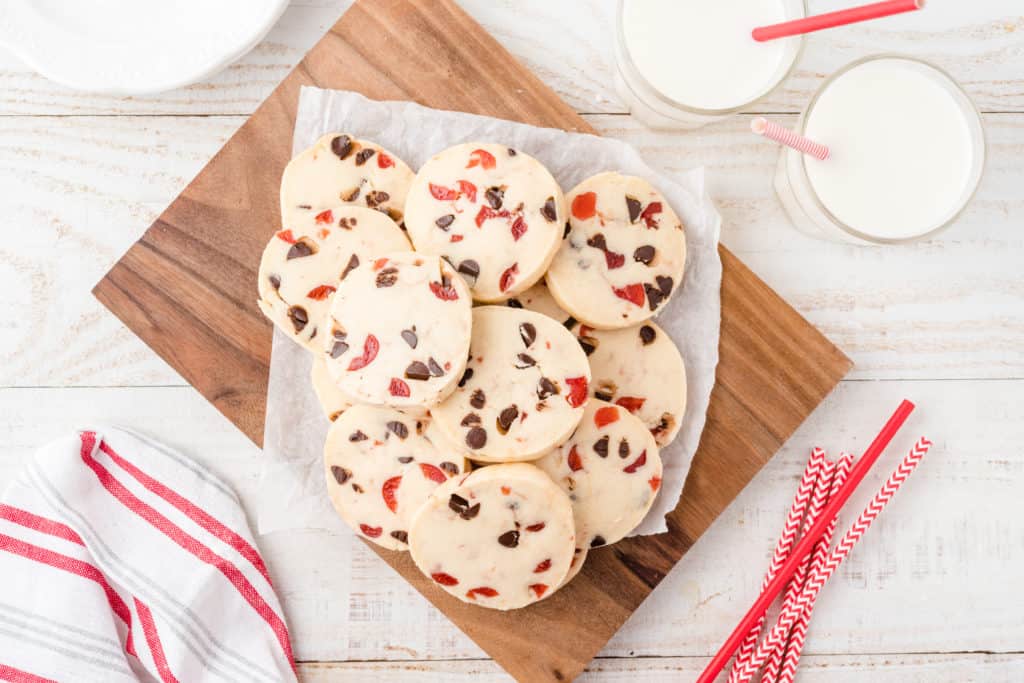 What type of butter should I use for baking cookies?
Really any brand of butter will work, but if your budget permits, we recommend using a good grass fed butter or European style butter. The reason for this is because there is less water content in the butter. This means that there is more fat and will result in a chewier, buttery cookie.
If you loved these Dark Chocolate & Cherry Shortbread Cookies, let me know in the comments below or on social media!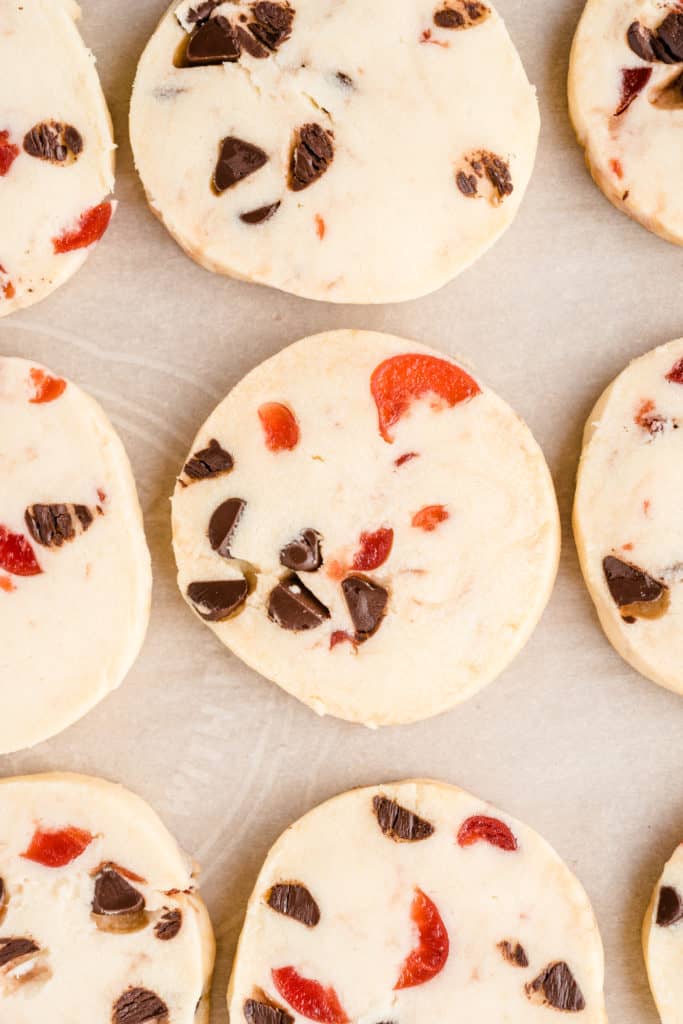 Other Wonderful Cookies You'll Love: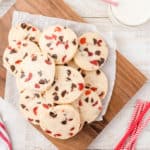 Dark Chocolate Cherry Shortbread Cookies
These easy slice and bake cookies are studded with rich dark chocolate chips and cherries!
Keyword:
chocolate shortbread cookie recipe, slice and bake cookies
Ingredients
2

cups

salted butter

room temperature

1 ½

cups

powdered sugar

4

cups

all-purpose flour

¼

cup

corn starch

½

cup

candied cherries

cut into small pieces

1

cup

dark chocolate chips
Instructions
In a large bowl, cream together the butter and powdered sugar.

Sift together the flour and the corn starch. Gradually add it into the butter mixture stirring until a soft dough is formed. It will take a bit of work to incorporate all the flour mixture and it may seem a bit crumbly.

Add in the cherries and chocolate chips.

Use your hands to mould the dough into a ball.

Split the dough ball into 2 equal portions.

On a lightly floured surface roll each of the dough portions into a log about 2 ¼ inches in diameter. Wrap them in parchment paper or plastic wrap and refrigerate for at least 1 hour.

When read to bake, line a cookie sheet with parchment paper and preheat the oven to 325F.

Use a sharp knife to cut the rolls into ½ inch slices.

Place the cookie slices on the prepared baking sheet about 1 inch apart.

Bake for 12-14 minutes, until the cookies are just beginning to brown around the edges.

Transfer cookies to a wire rack to cool.
Recipe Notes
The rolls of dough can be kept in the refrigerator for up to a week, wrapped in parchment paper or plastic wrap, before baking.
The rolls of dough can be frozen and kept in the freezer for up to 3 months. Place the parchment paper or plastic wrapped dough log into a plastic freezer bag before placing in the freezer. When ready to bake allow the dough log to sit at room temperature for about 10 minutes before slicing.
Keep the baked cookies in a sealed air tight container at room temperature.