Brown Sugar Shortbread Bars are sweet, gooey treats with an irresistible brown sugar flavor.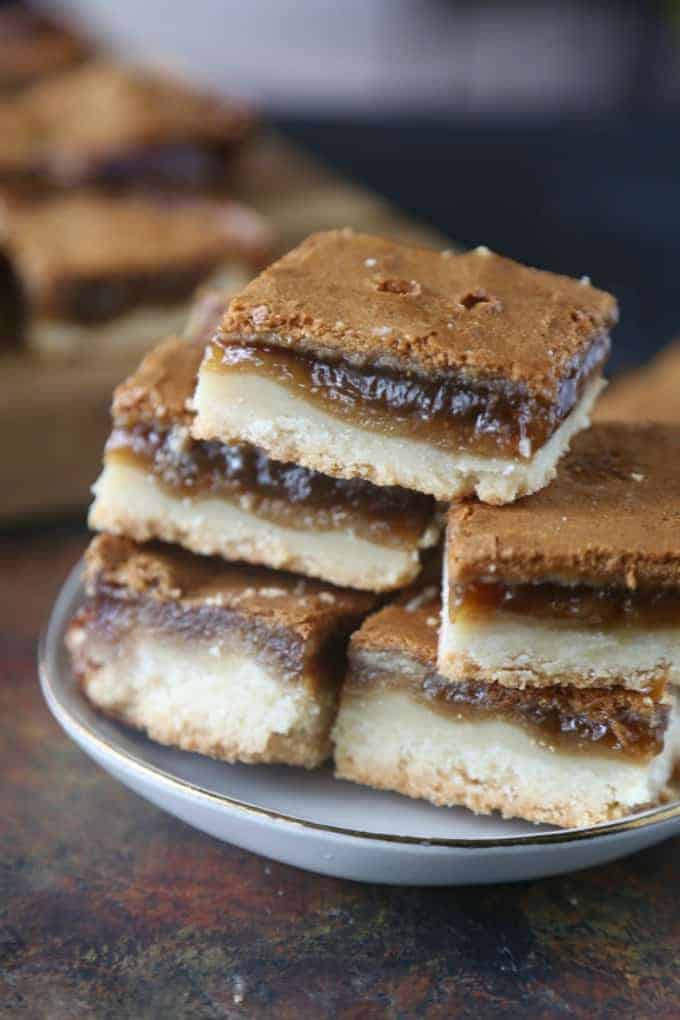 By the looks of the photo above, you might think that Brown Sugar Shortbread Bars are triple-layer bars. A shortbread crust, a gooey brown sugar layer, and some sort of deliciously chewy topping.
While the end result of these bars may give the illusion of a layered effect, Brown Sugar Shortbread Bars consist of only two components: a shortbread crust and a brown sugar filling.
What happens during the baking process is the top kind of crusts while the brown sugar filling remains kind of gooey. Three layers of goodness for only two layers worth of effort! Brown Sugar Shortbread Bars are so generous that you just kind of have to make them, right?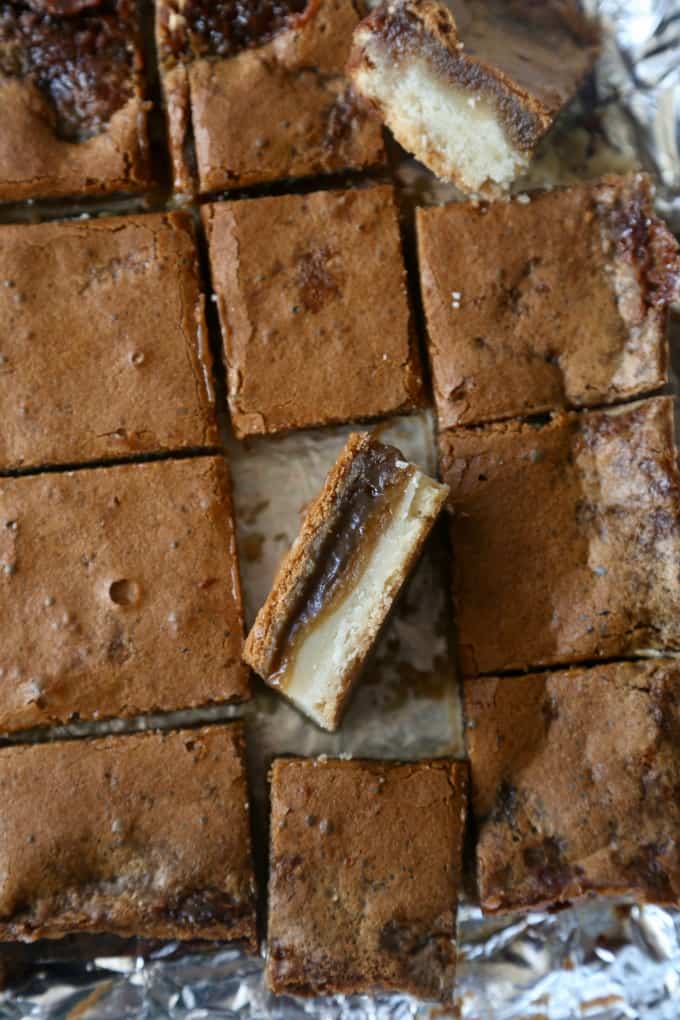 Two Tips for Making Brown Sugar Shortbread Bars
Tip #1: Don't skip the vinegar. If you don't have white vinegar on hand, apple cider vinegar can be used instead.
Tip #2: Refrigerate Brown Sugar Shortbread Bars for an hour before cutting. If you have the time before you serve these to the masses (even if "the masses" is just you, a comfy couch, and your Kindle), stick them in the refrigerator for an hour before you cut into them. Their best feature (their gooey deliciousness) can make them a bit tough to cut into.
Chilling them is worth the wait because it will give you much cleaner cuts. It will also make it a lot easier to clean your cutting knife because it won't be covered in a sticky brown sugar substance. (You want that sticky brown sugar goodness in the bars, not on your knife!)
Like Brown Sugar Shortbread Bars? Try a Few More Dessert Bar Recipes
If you're like me and love serving dessert bars, try a few of these recipes:
I hope you enjoy this recipe for Brown Sugar Shortbread Bars!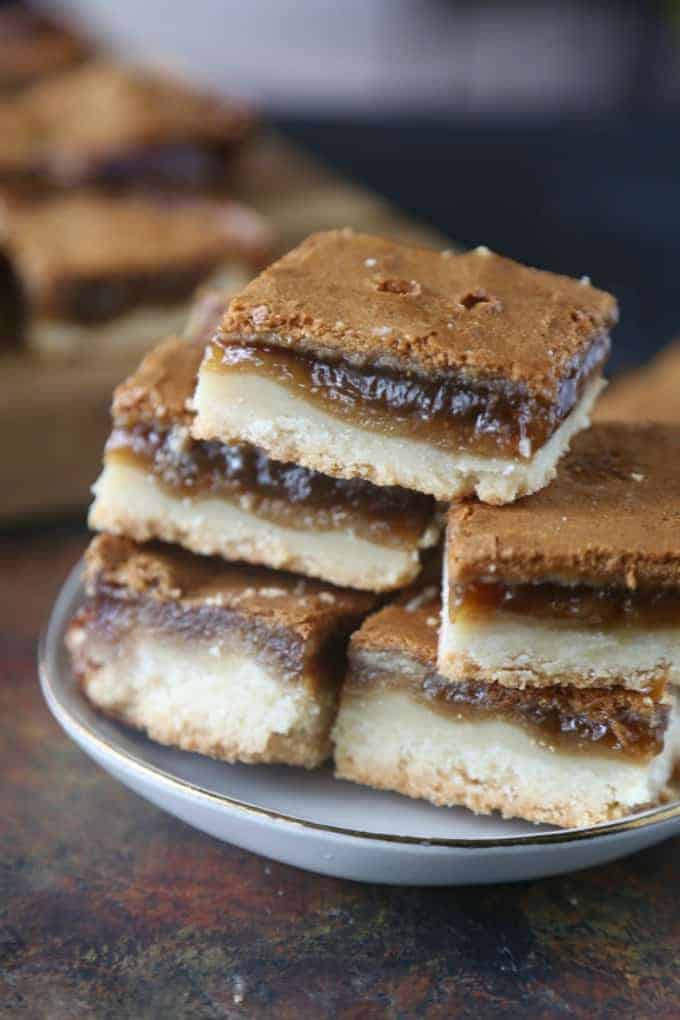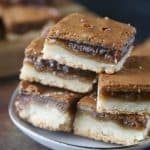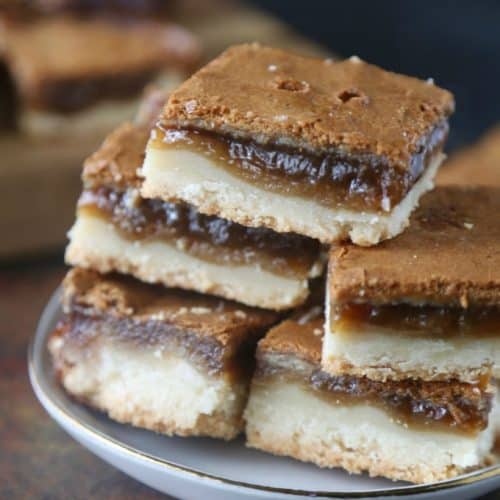 Brown Sugar Shortbread Bars
Ingredients
Crust
4

tablespoons

powdered sugar

2

cups

all-purpose flour

1

cup

unsalted butter

cold and cubed
Filling
⅓

cup

unsalted butter

melted

2

cups

brown sugar lightly packed

3

large eggs

1

tablespoon

white vinegar

½

tablespoon

vanilla
Instructions
Instructions

Preheat oven to 350 degrees. Line 8x8 or 9x9 square baking dish with foil or parchment paper.

Combine powdered sugar and flour in a large bowl.

Cut butter into flour mixture using a pastry cutter or two knives, until mixture resembles small pea like crumbs.

Press dough into the pan evenly.

Bake crust for 10 minutes. Remove from oven and cool for 5 minutes.

While crust is cooling, make filling.

Combine filling ingredients and beat until smooth, about 3 minutes.

Pour into crust and bake for 20-25 minutes or until filling has set.

Remove from oven and cool completely before slicing. Refrigerate for 1 hour before slicing for cleaner cuts.
Recipe Notes
Recipe adapted slightly from thereciperebel.com