Make your St. Patrick's Day a sweet one with these Green Cake Pops! They have scrumptiously soft cake in the center and a coating of decadent, white chocolate on the outside. Top them with some festive sprinkles for the perfect finish to a perfect treat.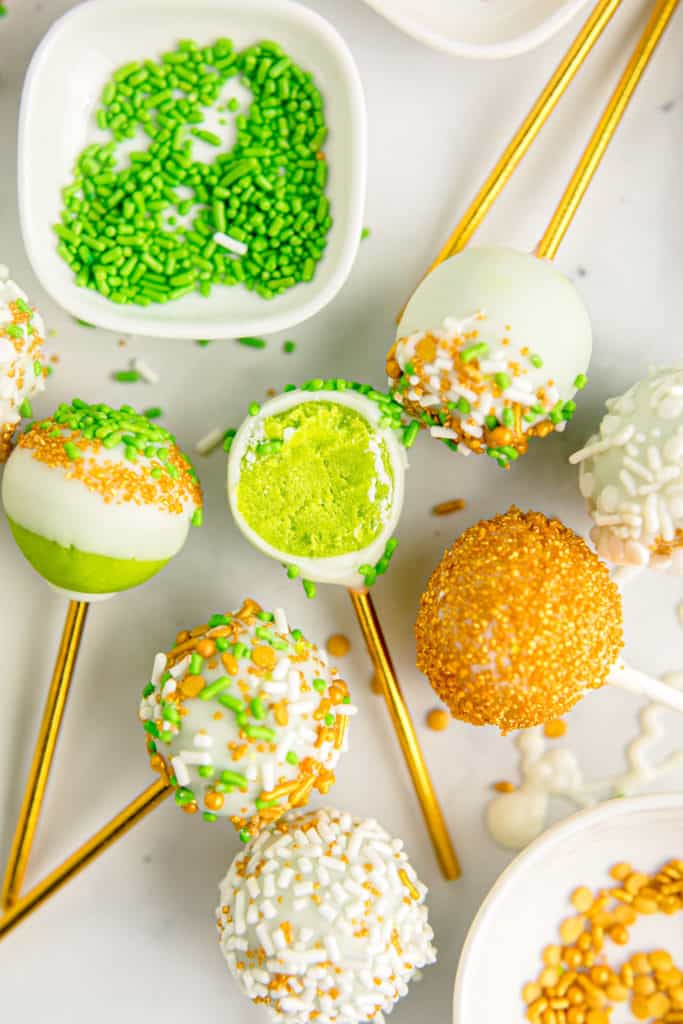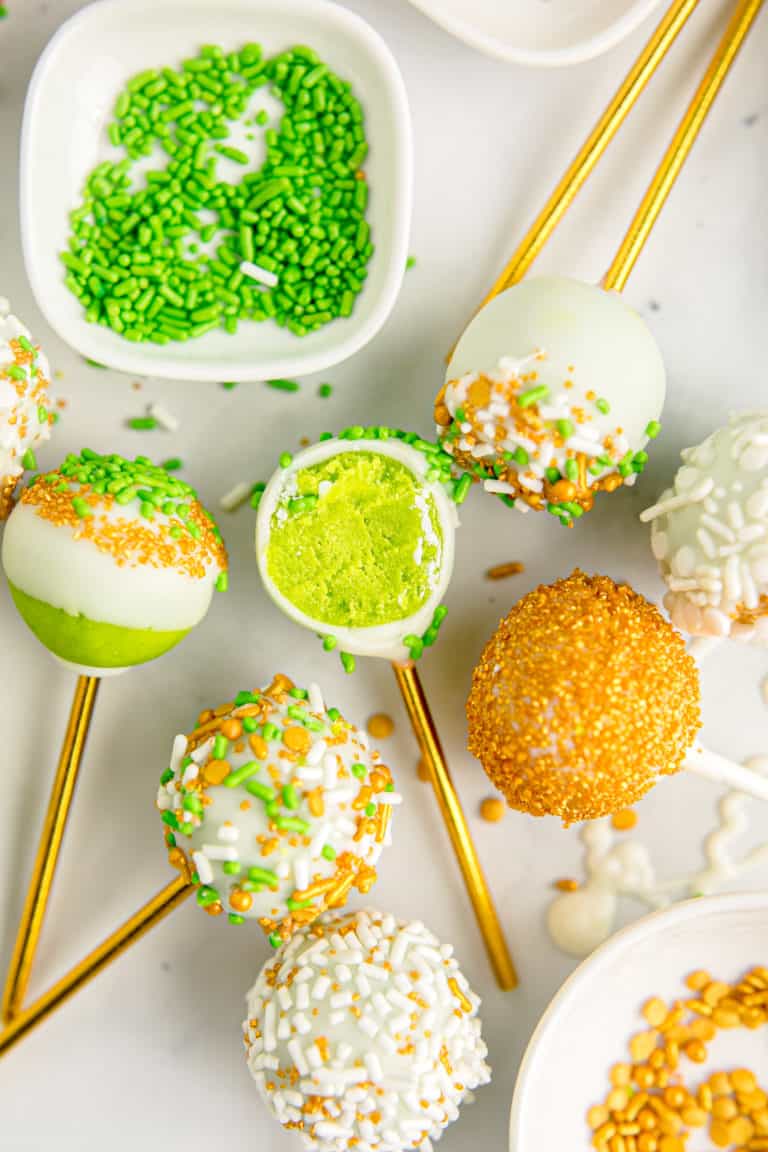 I love St. Patrick's Day due to all the fun green colors flying around. I've often thought about doing green cakes in the past when it came to this holiday, but inspiration never struck strongly enough. I have quite a few desserts that are easily turned green to commemorate the holiday.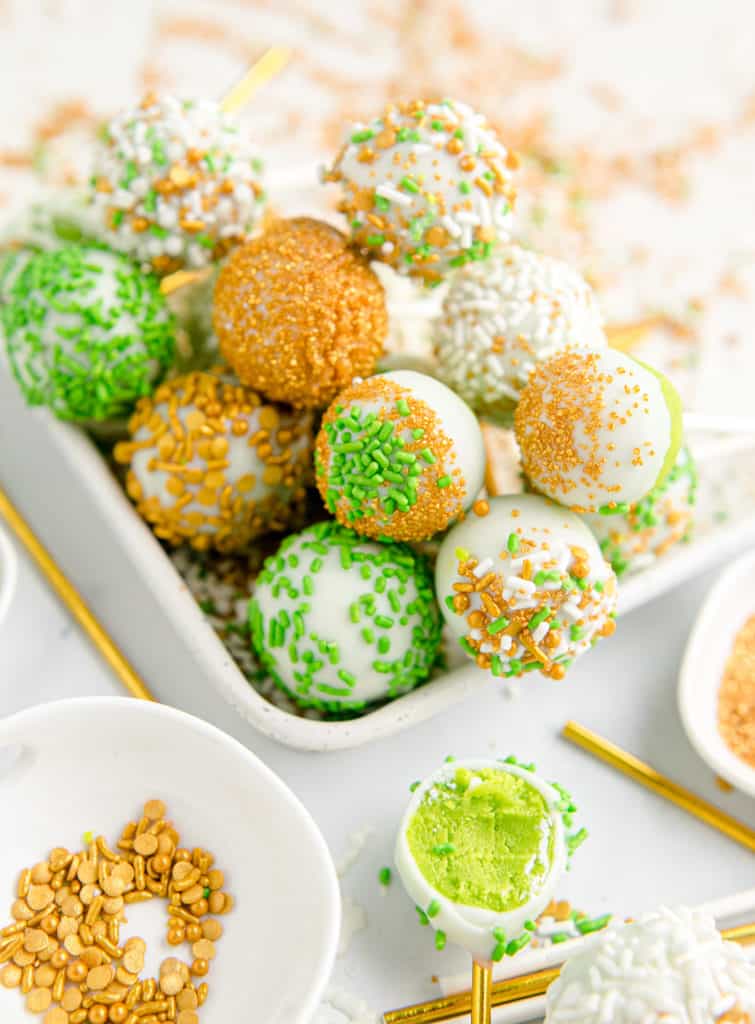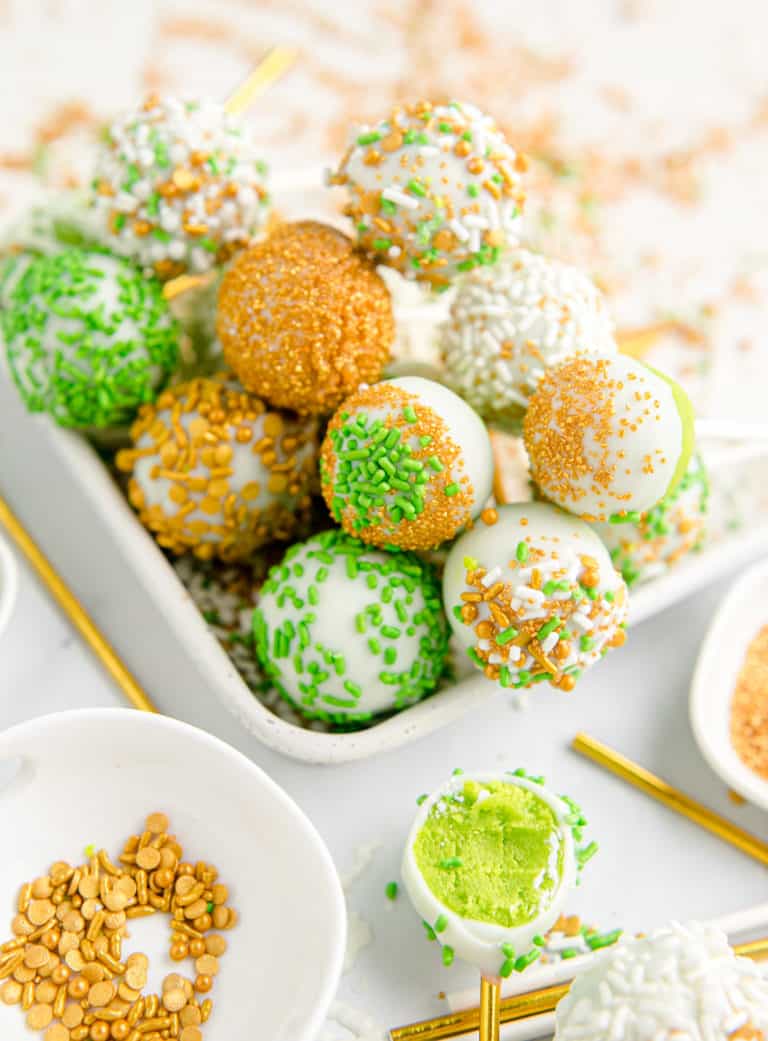 This year, instead of a green cake, I went for green cake pops instead. A little easier, a touch more convenient, and a heck of a lot more fun to serve. Of course, they're a dessert, so serve them after a nice helping of Guinness Cheddar Risotto with a side of Guinness Beer Bread.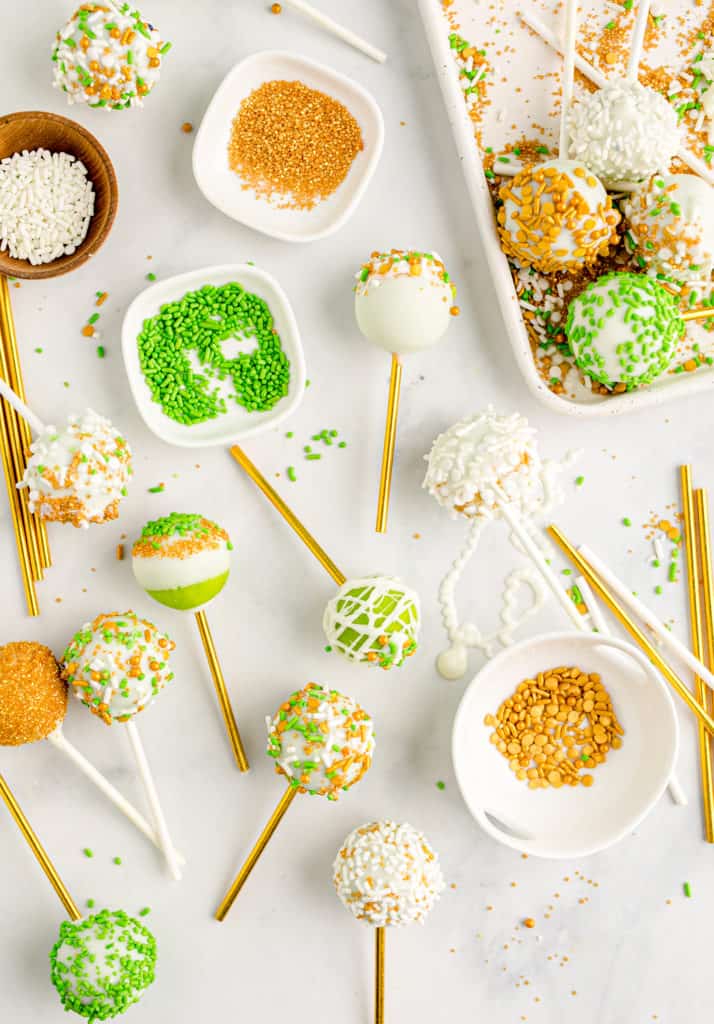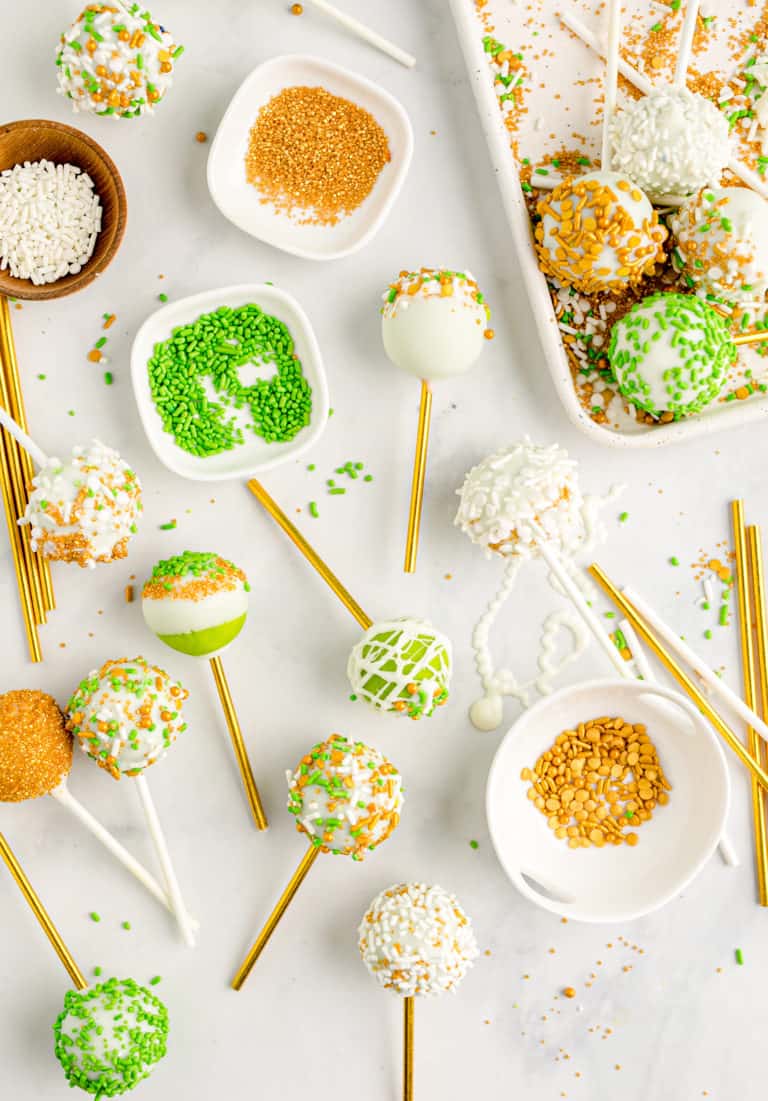 Have fun and be safe celebrating this fun holiday. Of course, don't forget to wear green either. You don't want a stranger pinching you and then walking away giggling because you've embarrassed yourself by not wearing green.
How to Make Cake Pops
Prep - Preheat the oven to 375 degrees and grease your cake pan.
Cream - The butter and then gradually cream in the sugar. Add the eggs and vanilla. Mix well.
Make the batter - Mix the dry ingredients in a separate bowl. Combine the butter mixture, milk, and dry ingredients.
Bake - Pour batter into prepared pan. Bake for up to 35 minutes.
Make the frosting - While the cake is cooling, cream the butter, then add the sugar and beat. Add the vanilla and cream, and beat again. Beat in remaining sugar.
Combine - Crumble the cake in a large bowl and add the frosting until the mixture is just right. Form balls and place them on a cookie sheet.
Place the sticks - Melt some chocolate chips and dip the tip of each stick in it before sticking it in each ball.
Freeze - Freeze the prepared cake balls for 1 hour.
Coat - Remove from the freezer once dipping chocolate is prepared. Dunk fully in the chocolate, shake off excess, and decorate with sprinkles. Place back on the cookie tray to harden.
FAQs About Cake Pops
Can I use cake mix and store bought icing to make a cake pop recipe? - You absolutely can.

Just assemble as recommended.

Can I make the cake ahead of time for St. Patrick's Day cake pops? - Yes, I sometimes make it the night before assembling the cake pops to get a head start on the next day. Your cake will be cooled and ready to crumble when you begin making your cake pops!
White chocolate chips alternative? - Candy melts work really well, but you could also use coarsely chopped, pure white, chocolate or almond bark. You will need about 30 ounces.

How do I thin my coating chocolate? - If the coating chocolate for your green cake pops is too thick, try thinning it with ½ teaspoon of vegetable oil.

How do I store cake pops? - Store these white chocolate cake pops in an airtight container.

For best results, wrap each cake pop in plastic wrap first.

Keep them in the fridge for up to a week, or in the freezer for up to a month. You can also poke holes in a cardboard box or something similar and make your own cake pop holder. You can also buy one!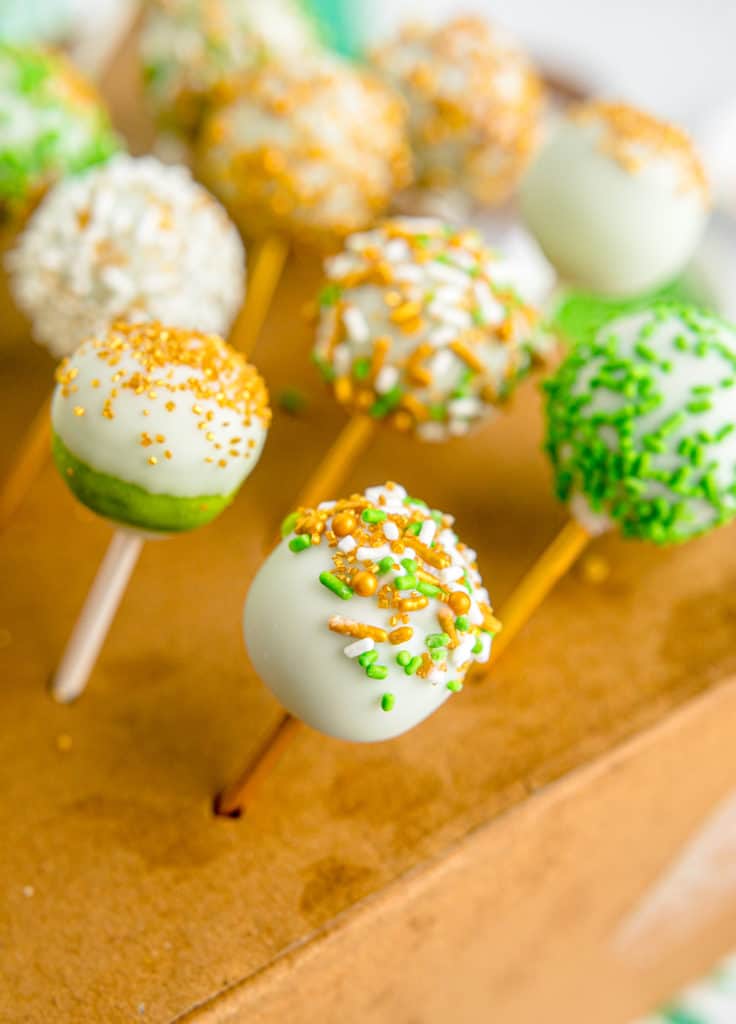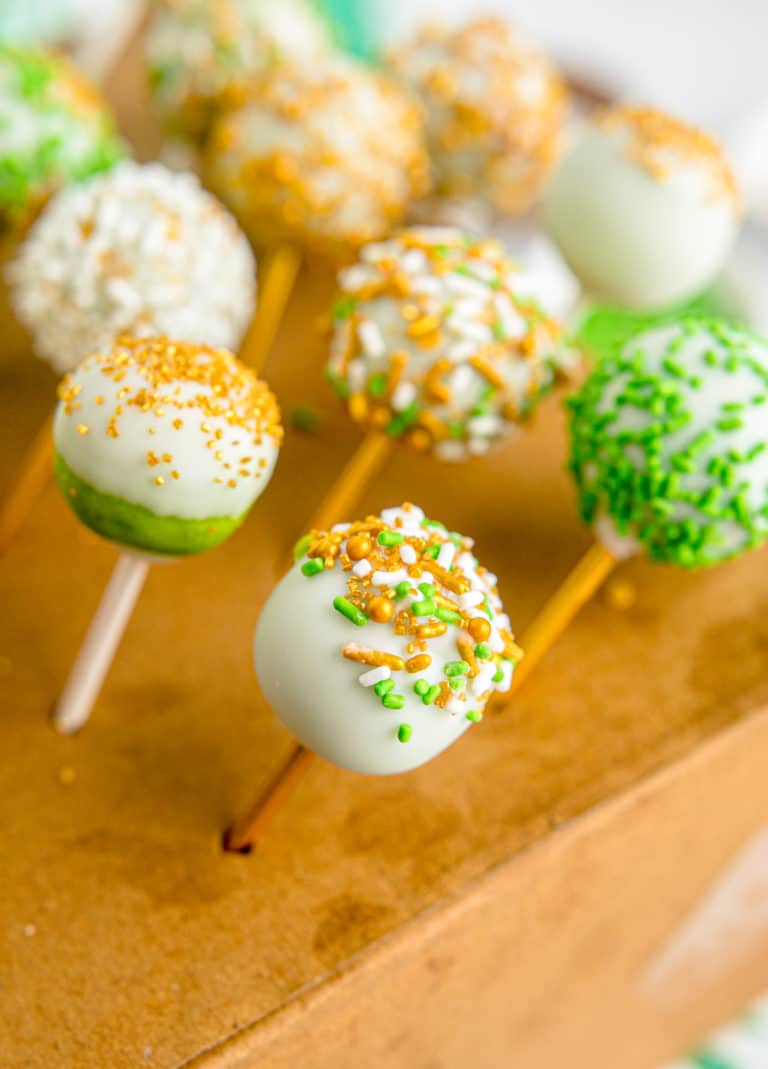 Please feel free to share your experience with making these Green Cake Pops in the comments below or on social media!
More St. Patrick's Day Desserts You're Sure to Love:
Green Cake Pops
These cake pops are easy to make, taste delicious, and perfect for St. Patricks Day!
Keyword:
green cake pops, homemade cake pops
Ingredients
½

cup

salted butter

softened

1

cup

sugar

2

eggs

1

teaspoon

vanilla

2

cups

all-purpose flour

3

teaspoons

baking powder

½

teaspoon

salt

¾

cups

milk

1

tablespoon

green food coloring
Frosting:
¼

cup

salted butter

softened

2

cups

sifted powdered sugar

½

teaspoon

vanilla

1

Tablespoon

heavy cream

may substitute whole milk
Coating:
3

cups

of almond bark or white chocolate chips

melted

Cake pop sticks

Green and gold sprinkles
Instructions
Prepare a 9x9 inch baking pan by lightly spraying it with cooking spray. Set aside.

Cream the butter.

Gradually add the sugar and beat it until this mixture is light and fluffy.

Add the eggs and vanilla and beat well.

In a separate bowl, mix the dry ingredients: flour, baking powder, and salt.

Add the dry ingredients alternately with the milk to the creamed mixture then mix in the green food coloring.

Stir after each addition and scrape the bottom and sides often. Beat this mixture until smooth.

Pour into the greased 9x9 inch baking pan.

Bake at 375 degrees for 30 to 35 minutes.

Allow the cake to cool thoroughly.

Next, prepare the frosting: Cream the butter until fluffy.

Gradually add 1 cup of sifted icing sugar and cream this thoroughly.

Add vanilla and heavy cream and beat thoroughly.

Add remaining sugar a little at a time, and continue to beat on high speed until smooth (about 3 minutes).

Once the cake is completely cooled, place it in a large bowl and use your hands to crumble it up well.

Add the frosting to the crumbs by heaping Tablespoon and mix it in. You want to add just enough frosting so that the crumbs will stick together (you will have about a tablespoon left unused). If you add too much frosting the cake pops will seem greasy and not hold together well.

Use a 1 inch cookie scoop to measure out a consistent amount of cake crumbs for each cake ball.

Roll the crumb mixture into smooth balls and place them on a large cookie tray.

Melt a cup of the white chocolate chips/almond bark in a large microwave-safe measuring cup.

Prepare the cake pop sticks by dipping them (about 1 inch) into the melted chocolate.

Press a cake pop stick about ½ way into a cake ball.

Once you have put sticks in each of the cake pops, place the tray in the freezer. Allow these to chill for 1 hour.

Remove just a few of the cake balls from the freezer at a time for dipping, as they must be very cold to hold together well.

Dip the ball into the melted chocolate until completely covered. Let the excess drip off and decorate with sprinkles quickly before the chocolate hardens.

Stand the stick up in something that will hold it up straight. Make tiny holes in a spare cardboard box and poke the ends of each cake pop stick into the holes or use a sturdy block of styrofoam to allow them stand upright and fully harden.

The cake pops should set up in about an hour and are ready to enjoy!