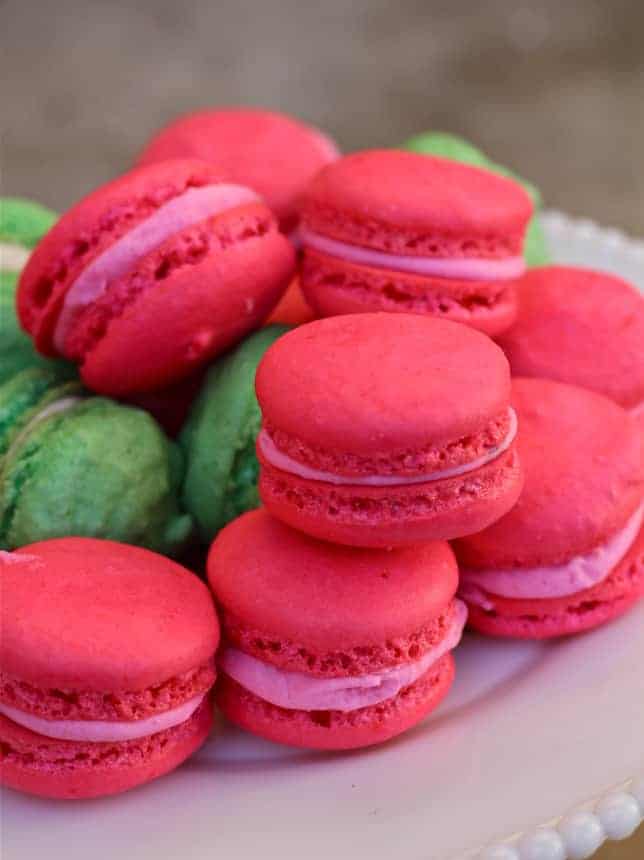 If you haven't yet noticed, I love making French Macarons. I think it is because they are so incredibly temperamental that if you do the slightest thing wrong, your whole batch is a flop. A tiny bit of egg yolk...your egg whites don't stiffen, or if you over beat them the end cookie will result in cracked meringue, etc. Every time I make them I get this inner sense of self accomplishment...which is kind of ridiculous considering the amount of times I have made them!
Craving that self-esteem booster, I made yet another batch this weekend. I was strolling the farmer's market and one of the vendors was selling some over ripe guavas. I was instantly intrigued and immediately bought a pound. I knew that I wanted to incorporate them into a macaron some how, but was not sure how I could add the extra liquid into the batter and still have the end result be a perfect shell. So I decided to make a quick jam. I then added ¼ of a cup of the jam to the buttercream. It. Was. Heavenly. I ended up adding coconut extract to the shells to create an Hawaiian vacation in my mouth.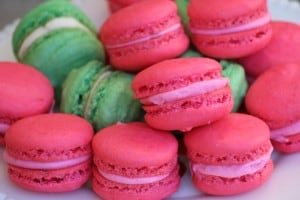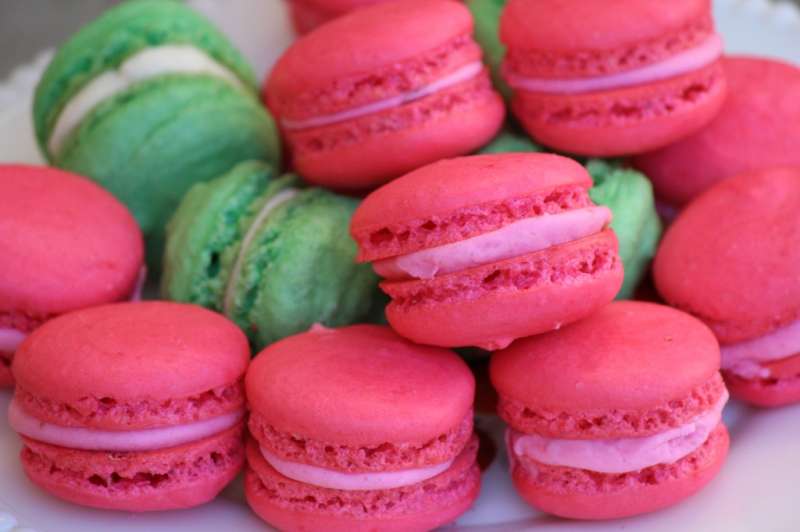 If you are like me and in dire need of a Hawaiian vacation, recreate these. Then sit down, close your eyes and you will begin to hear waves and the wind blowing in the palm trees. Upon finishing your macaron, you will open your eyes and get slammed with the reality that your kitchen is in shambles and your kids will NOT STOP fighting. Welcome back, your vacation is over.
Don't forget to follow The Seaside Baker and comment here for a chance to win a French Macaron baking kit!!!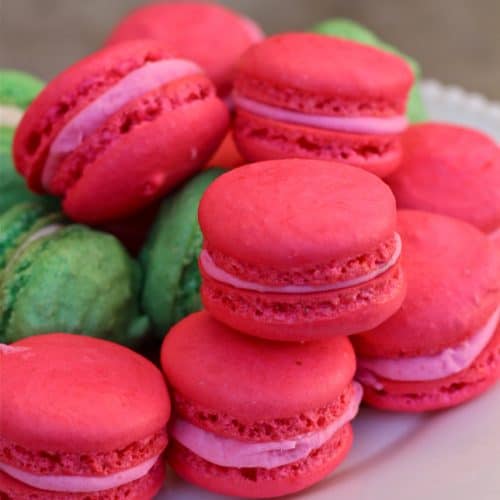 The Hawaiian French Macaron
Ingredients
Coconut Macaron Shells:
90

gr

egg whites

(roughly 3 egg whites)

25

gr

to 50gr

(2 Tb to ¼ cup) granulated sugar (I generally only use 25 gr)

1

teaspoon

coconut extract

200

gr

( 1.5 cups + 2Tb) powdered sugar

110

ground almonds

( ¾ cup) or almond flour (my preference)
Guava Buttercream Filling:
1

stick unsalted butter

, softened

1 ½

– 2 cups powdered sugar

, sifted

1

pinch of salt

¼

cup

guava jam

1

tablespoons

milk or heavy cream
Instructions
Coconut Macaron Shells:
Although the recipe provides measurements, I find that the macarons turn out much better when the ingredients are weighed.

Separate your egg whites and put them in a loosely covered container "to age" for 24-48 hours or up to 5 days in the refrigerator.

Pulse your almond flour and powdered sugar in the food processor a few times. This really breaks up the powdered sugar and makes for a smooth shell.

Fit your mixer with the whisk attachment. Put your egg whites and gel food coloring (I usually do 2 knife tips worth of food coloring) and beat on medium until it is foamy. Turn your mixer on low and gradually add the sugar and extract. Once all the sugar has been added, beat on high until hard peaks form…but do not overbeat!!!

Fold in your almond flour/powder sugar mix into the egg whites gently, until completely mixed (but not more than 50 strokes).

Fit your pastry bag with a round tip (Ateco #807 or #809). I put the pastry bag into a tall cup and fold the sides over. It makes it easier to fill.

Pipe 1.5 inch rounds onto a cookie sheet lined with parchment paper or a silicon mat and allow to sit for 30 minutes to an hour. This enables the shell to harden and will create the "foot" while baking.

Preheat oven to 300 degrees or 280 degrees for a conventional oven. Bake for 18 -20 min, however you need to rotate the pan halfway through the baking process. Allow to thoroughly cool before filling.
Guava Buttercream Filling:
Beat butter and jam for 2 minutes. Add powdered sugar and milk or cream. Beat with whisk attachment for 3 minutes on high.

I put the frosting in a sandwich bag and cut of the tip, then pipe the filling onto the macarons, then sandwich together.

Aloha!