Looking for a unique dish to serve at your upcoming St. Patrick's Day celebration? Then this recipe for Guinness Cheddar Risotto is for you!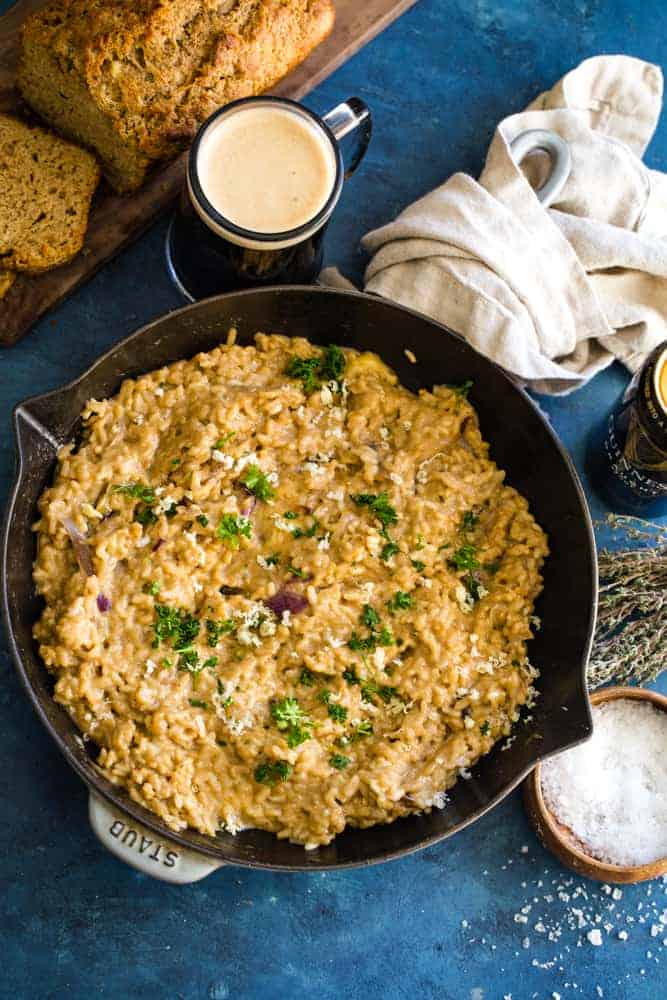 Rich and creamy risotto gets a huge boost of flavor with the addition of rich and nutty Irish cheddar. And the malty and roasty characters of everyone's favorite Irish beer, Guinness, add a delicious depth and complexity.
For a truly hearty and satisfying meal that is chock full of great Irish flavor, I for one  will be serving up Guinness Cheddar Risotto with my traditional corned beef and cabbage this St. Patrick's Day.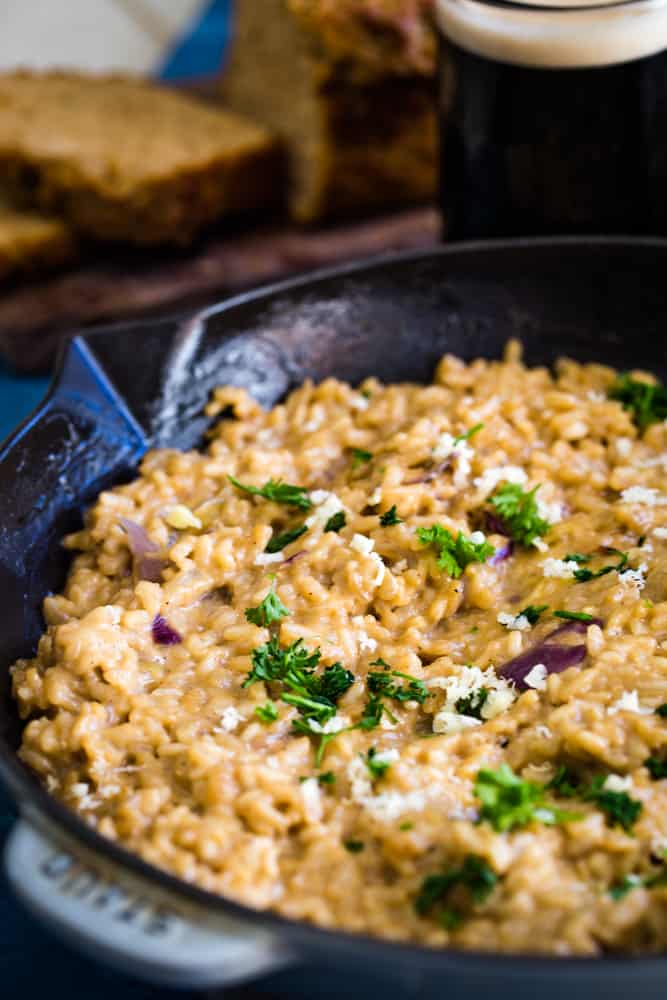 What is Risotto?
A traditional Italian rice dish, risotto is made with arborio rice, which is a variety of short-grain, starchy rice. Risotto is made by stirring small amounts of hot stock (chicken vegetable or beef) into the rice a little bit at a time. This technique allows the liquid to be absorbed by the rice as it cooks, giving it a rich and creamy consistency.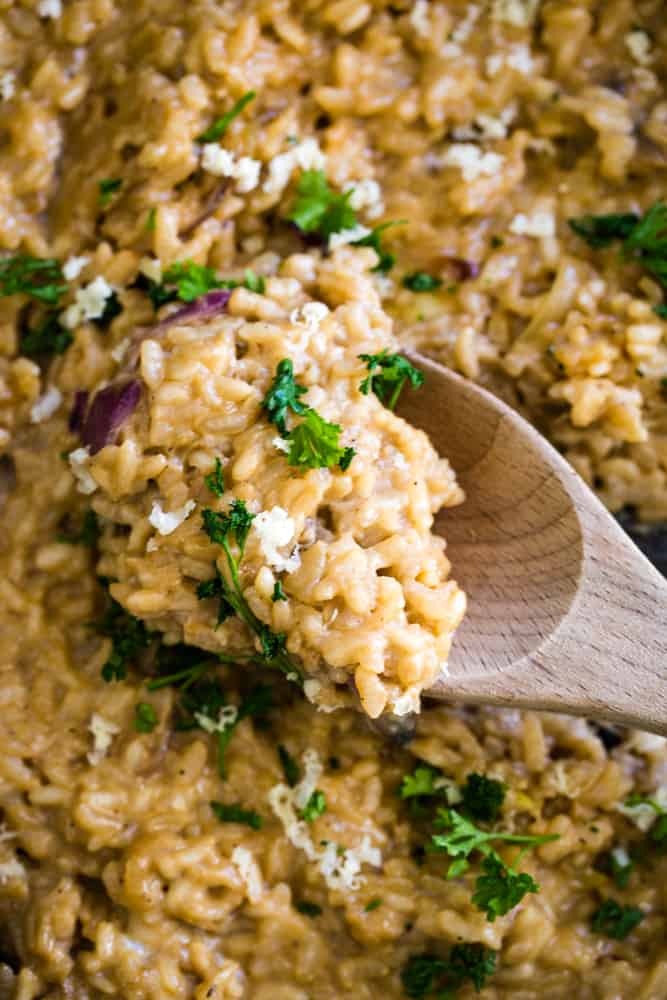 Why Cook With Beer?
The depth of flavor beer provides really does take your food to a whole new level. Beer adds a lovely richness to savory dishes, or a nutty sweetness to desserts. And many recipes that call for wine can actually be prepared with beer.
With so many different styles of beer available, how can you decide which one to use? Use the flavor profiles of these three basic categories as a general guide:
Wheat beers are fruity, mellow and crisp. This makes them a good match for salads, seafood and grilled meat.
Pale ale is stronger and a little more bracing. It pairs well with breads, pastas and the classic beer-battered fish and chips.
Porters and Stouts have distinct coffee and chocolate notes, which will enhance the flavors in everything from stews and soups to desserts.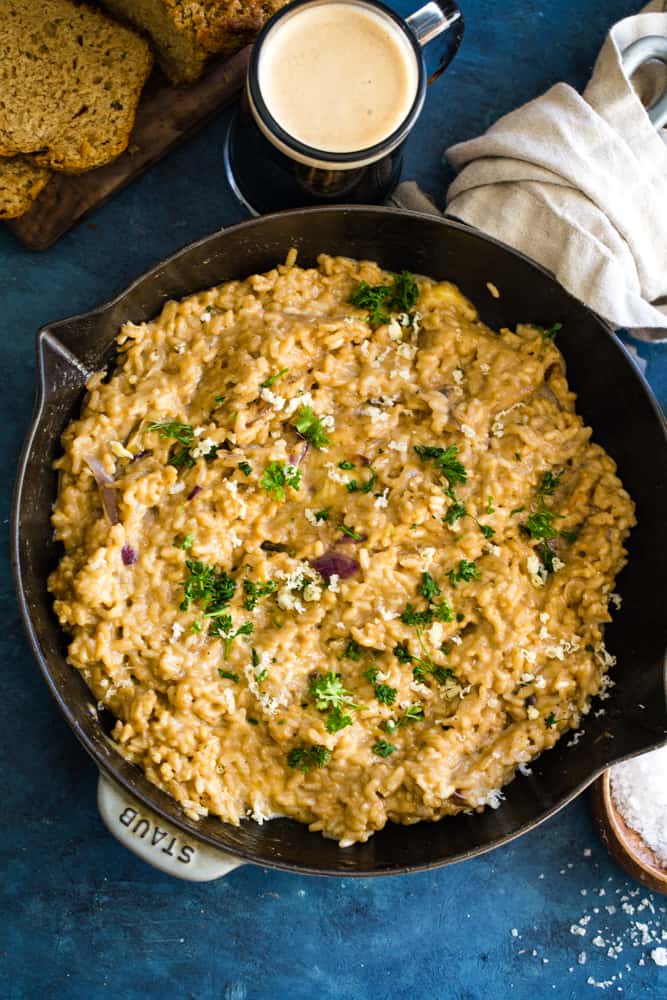 More Great Ways to Cook With Beer
For a unique way to cook with beer, try whipping up some of these delicious sweet treats. My Beer Brownies are so rich and fudgy. And this recipe for Beer Crepes with Mascarpone and Cherry Compote will give you thin, light and perfectly formed crepes. Baking a batch of these chocolately Beer Cupcakes is always a hit.
And for something on the savory side, you will love these recipes for Guinness Beer Bread and classic Homemade Pretzels with Beer Cheese.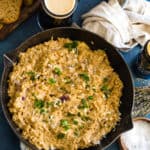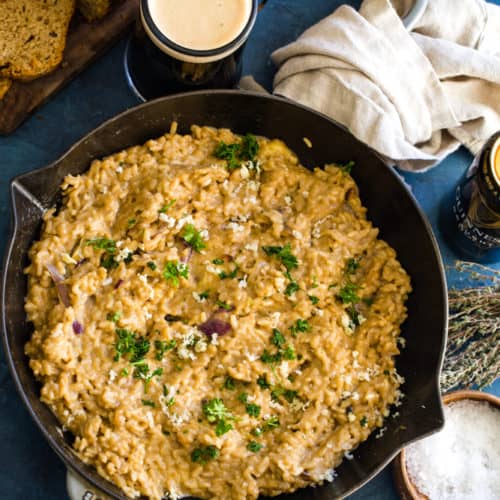 Guiness Cheddar Risotto
Keyword:
irish recipe, risotto recipe
Ingredients
3

tablespoons

unsalted butter

2

tablespoons

olive oil

3-4

medium sized shallots

finely sliced

2

cloves

garlic

finely chopped

1

cup

Arborio Rice

1

cup

Guinness Beer

room temperature

3

cups

chicken

or vegetable stock

1

cup

Irish Cheddar

shredded

¼

cup

heavy cream

warmed

Salt and pepper

to taste

Fresh thyme

for garnish
Instructions
Heat butter and olive oil in a large saucepan over medium-high heat.

Add the shallots and reduce the heat to medium-low. Sauté shallots for about 20 minutes minutes or until softened and caramelized.

Once caramelized, remove ¾ of the onions and set aside.

Increase heat to medium-high temperature and add rice and garlic. Stir to coat with butter/oil. Cook until rice is a golden color, stirring constantly.

Once rice is golden in color, add the Guinness. Reduce heat to medium-low and cook until beer has almost fully absorbed into the rice, stirring regularly.

Add ½ cup broth to the rice, and stir until the broth is absorbed. Continue adding broth ½ cup at a time, stirring regularly, until the liquid is absorbed and the rice is al dente, about 20 to 30 minutes.

Remove from heat, and stir in shallots with their liquid, warm cream, and shredded cheddar.

Season with salt and pepper to taste and garnish with fresh thyme. Serve immediately.