This Angel Food Cake Roll is the perfect spring dessert. It features a light and airy angel food cake and creamy blood orange curd filling. Topped with candied blood orange slices, this is a delectable fruit dessert that makes a truly stunning presentation.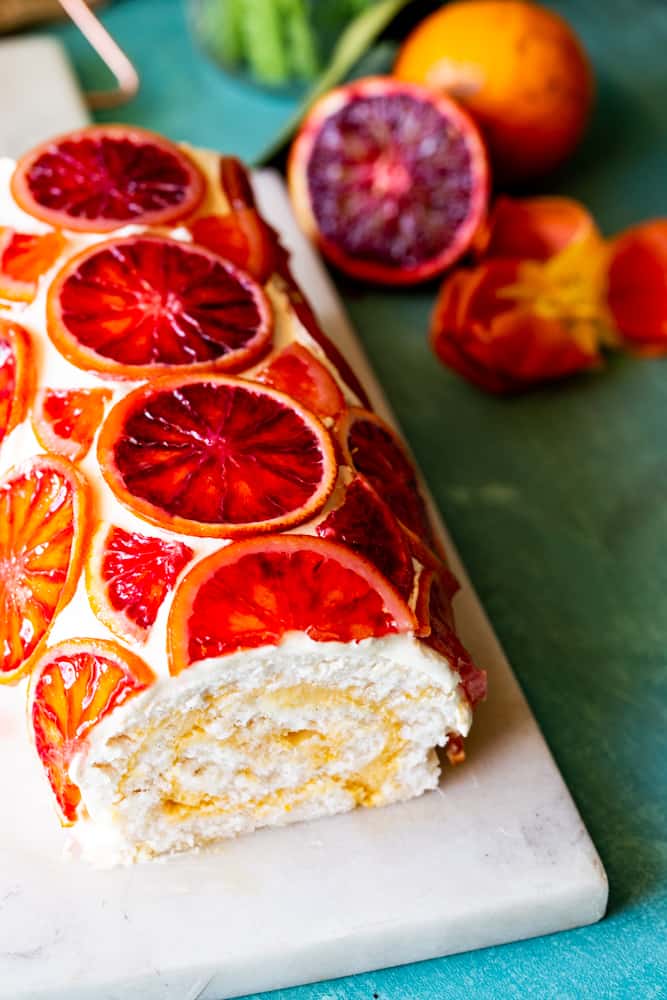 What is a Blood Orange?
The blood orange is a variety of orange with a crimson, blood-colored flesh. Blood oranges get this intense red pigment from a specific antioxidant compound, anthocyanin. This antioxidant is found in many flowers and fruits, but is uncommon in citrus. The flavor of a blood orange is strong and distinct and contains notes of raspberry.
Because the blood orange flavor is so intense, they are ideal for cooking and baking. And since I live in California, where blood oranges are in peak season during the spring, I like to make this amazing cake roll for our family Easter celebration. Its gorgeous color and bright citrus flavor really is perfect for welcoming springtime!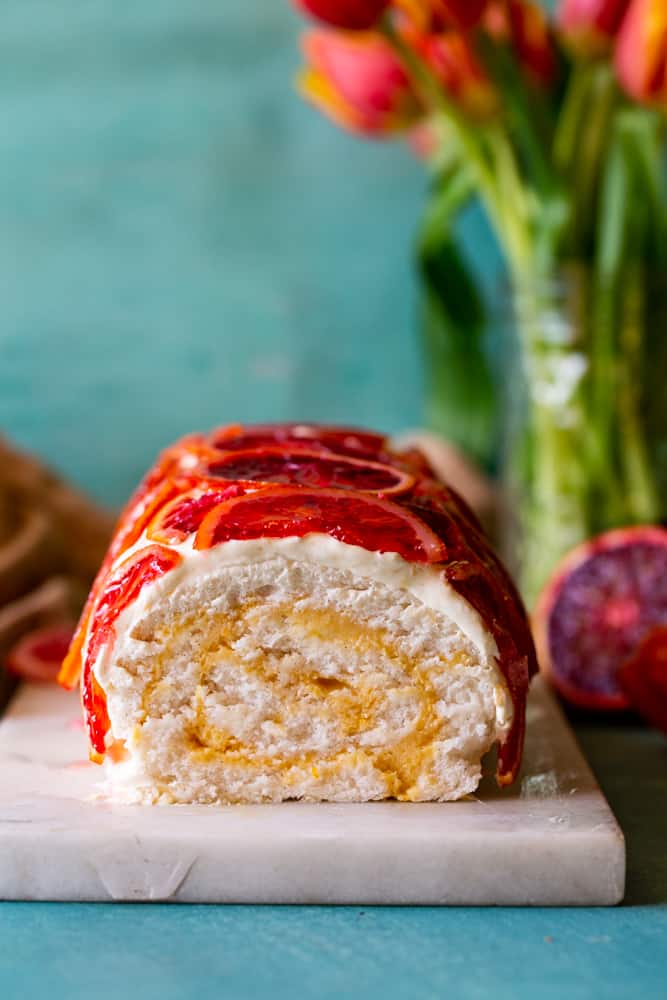 What is The Difference Between Angel Food Cake and Other Cakes?
Angel food cake is a type of sponge cake. Made with egg whites, flour and sugar, it differs from other cakes because it uses no butter. Instead, cream of tartar is added to stabilize the whipped egg whites and give the cake its signature light and airy structure.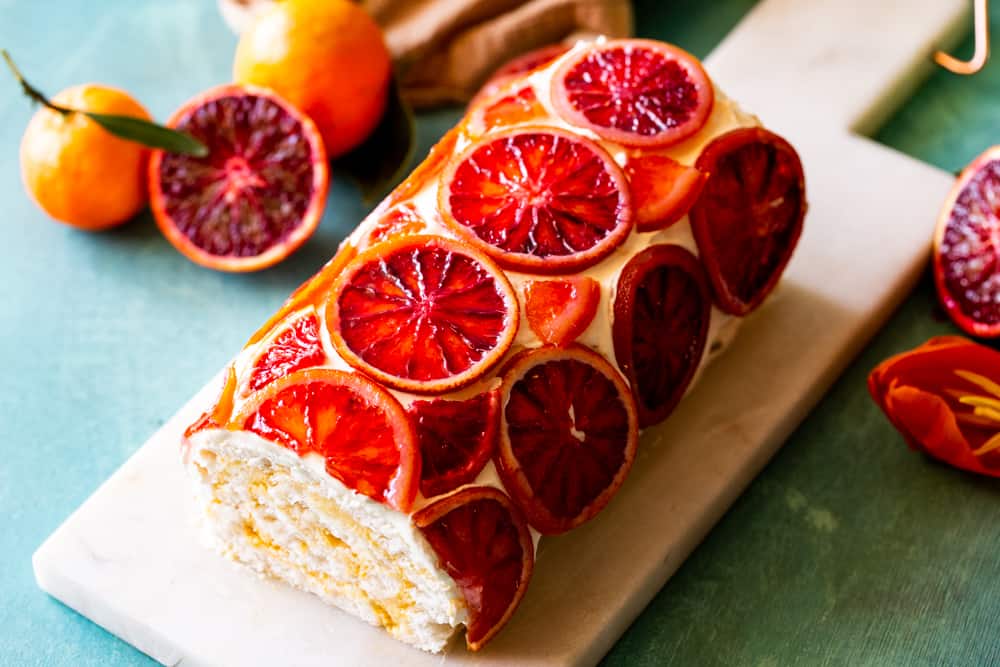 Tips for Making a Perfect Cake Roll
To avoid sticking, lightly coat the parchment paper with cooking spray before adding the batter.
Make sure the batter is spread evenly. When you pour the batter in to the jelly roll pan, use a small offset spatula to evenly spread the batter.
Roll the cake into the towel as soon as it comes out of the oven. When the cake is rolled warm, it is less likely to crack.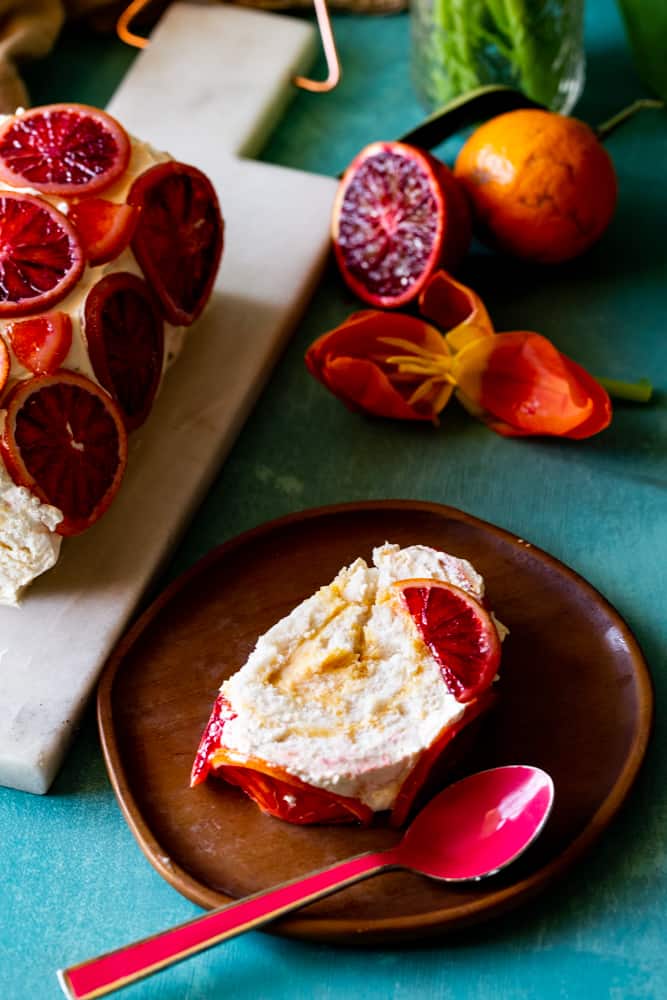 More Springtime Dessert Recipes
If you love this gorgeous Blood Orange Angel Food Cake Roll, you'll want to try my Strawberry Angel Food Cake, this beautiful Meyer Lemon Tart, and these Lemon Poppyseed Bars with Strawberry Frosting.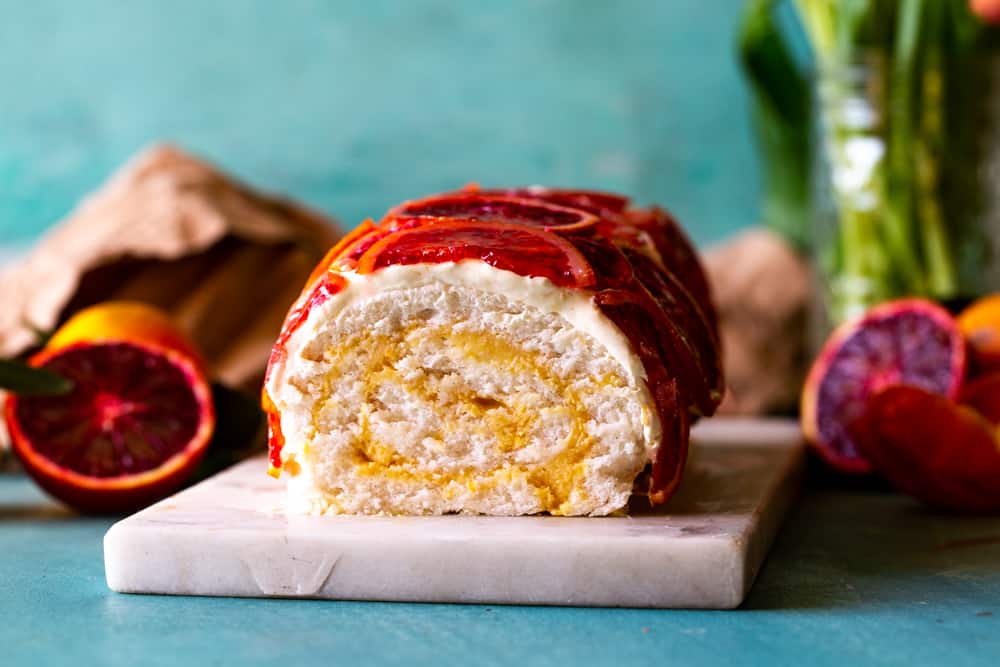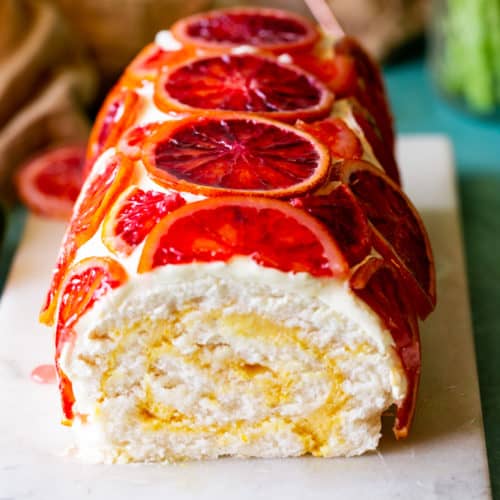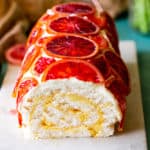 Blood Orange Cake Roll
Keyword:
blood orange curd recipe, blood orange recipe, spring cake recipe
Instructions
Candied Blood Orange Slices
In a large pot or pan, combine sugar, orange juice, and 2 cups water over medium heat. Bring mixture to a boil, stirring constantly until sugar has dissolved.

Reduce heat to low and add the orange slices.

Cook orange slices until rind has softened, about 45 minutes, turning them every 15 minutes.

Once softened, transfer slices to a wire rack and cool for one hour.
Blood Orange Curd
In a medium sized heavy-bottomed pot, whisk together sugar and egg yolks until pale and smooth.

Place pan on stove set over medium heat.

Whisk in the blood orange and lemon juice to the egg yolk mixture.

Add the salt and zest.

Cook on medium heat for 4-5 minutes, stirring constantly, or until the mixture coats the back of the spoon.

Once curd has thickened, remove from heat and stir in the butter.

Transfer curd to a bowl, cover, and refrigerate until cold.
Angel Food Cake Roll
Preheat oven to 350 degrees. Line the bottom of a large jelly roll pan (10x15x1") with parchment paper.

In a large bowl, sift 1/2 cup of sugar and ¾ cup cake flour together.

In the bowl of your mixer add the egg whites, cream of tartar, vanilla, and orange zest; beat on medium speed until soft peaks form.

Gradually add the remaining ½ cup of sugar, about 2 tablespoons at a time, beating on high until stiff peaks form.

Gradually fold in the flour/sugar mixture into the egg whites until combined.

Spoon batter into the parchment lined pan and spread evenly.

Bake for 18-20 minutes, or until the top is golden and the edges begin to shrink away from the pan.

While cake is cooking, spread out a large, clean kitchen towel onto counter. Sprinkle towel with ¼ cup of powdered sugar. Once cake is done baking, loosen edges from pan (if they aren't already) and flip cake over onto the kitchen towel. Carefully remove the parchment paper then roll the cake up (with the towel inside) beginning with the short end. Allow cake to cool completely- about 1-2 hours.

Once cake has cooled, unroll and spread with curd. Reroll the cake and transfer to a serving dish.

Cover cake with whipped cream and refrigerate until ready to serve. When ready to serve, garnish with blood oranges.