Having a base recipe like these White Cupcakes is vital to a successful dessert every time. This no-fail recipe is great as-is or used as a starting point for other delicious cupcake ideas. Soft, decadent, and easy - it doesn't get much better than that.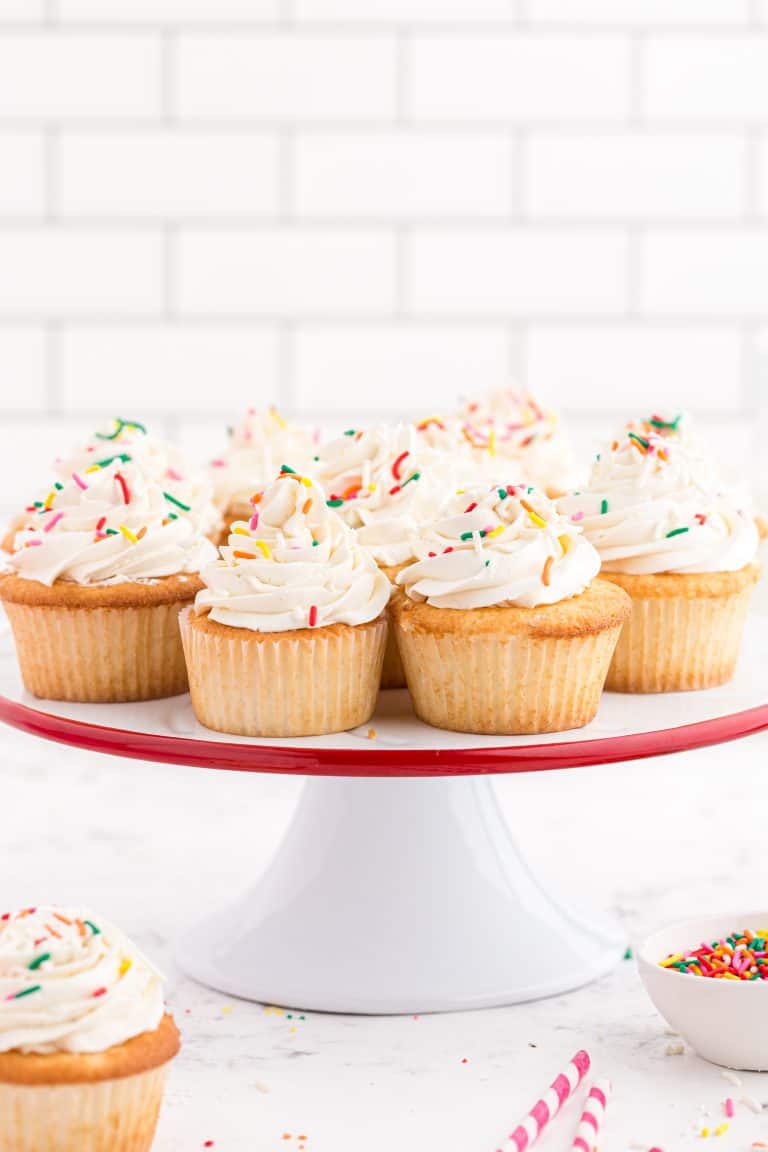 Cupcakes put a smile on my face. If they don't make you smile, I'm concerned about the type of person you are. I'm just kidding….maybe. Anyways, I don't even have to mention that I love cupcakes since my site gives me away. I like to say it though, because then I can mention some of my favorites like Beer Cupcakes, Pumpkin Snickerdoodle Cupcakes, or Black Forest Cupcakes.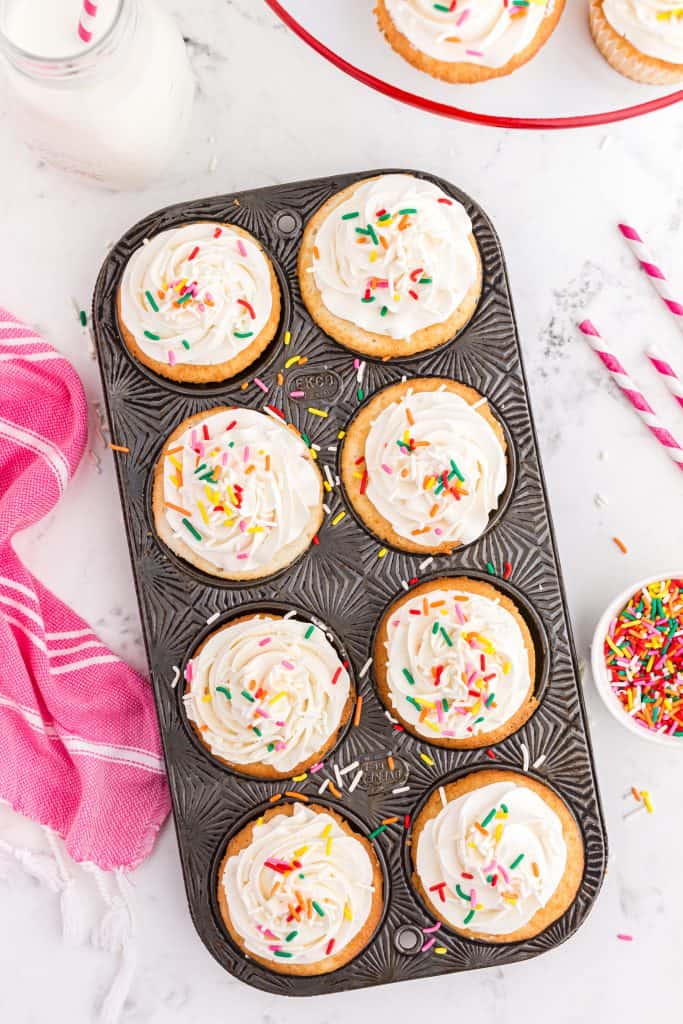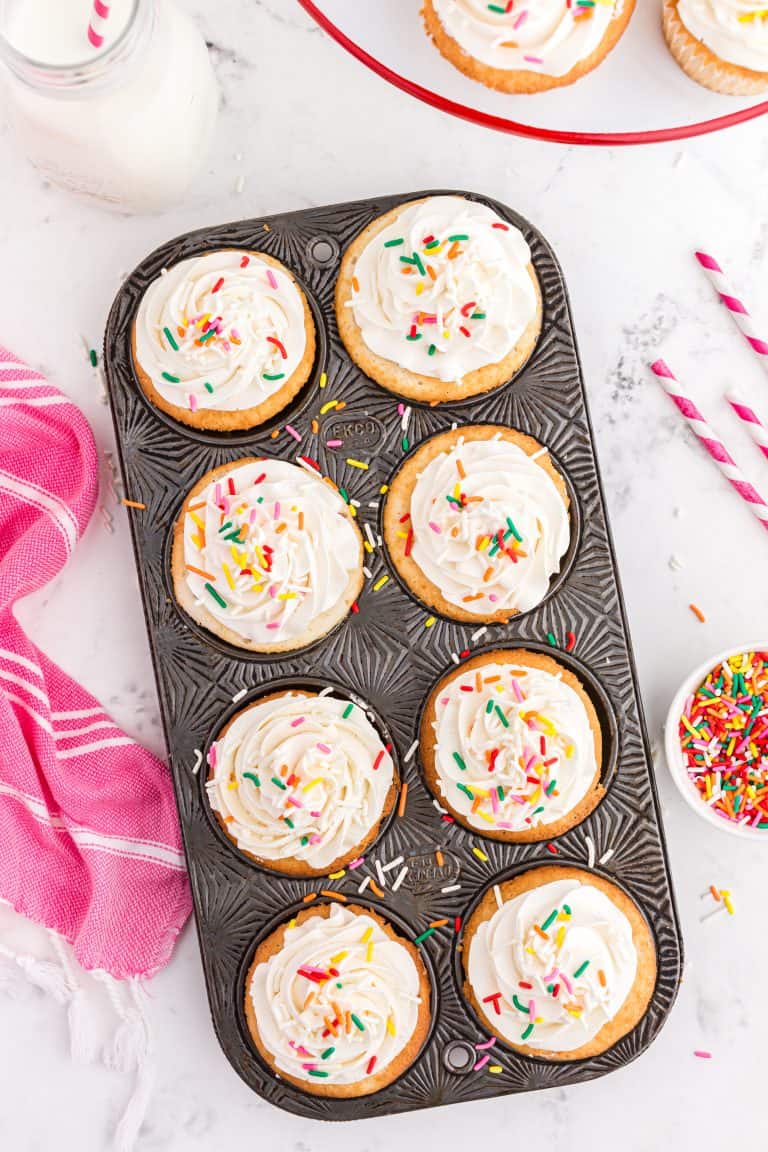 There are so many cupcake recipes to choose from, it's extremely hard to truly narrow it down to my favorites. That's why I'm in love with having a base cupcake recipe like these White Cupcakes. It makes it easy to start there and create other delicious cupcake dreams. Of course, they're yummy as-is and I make them like this more times than not.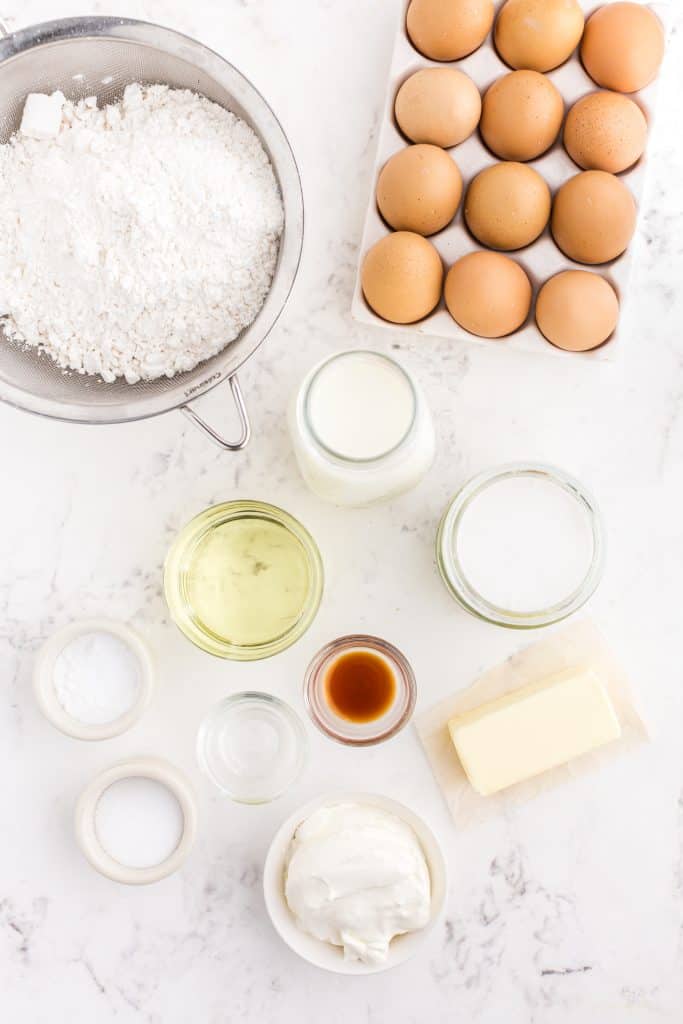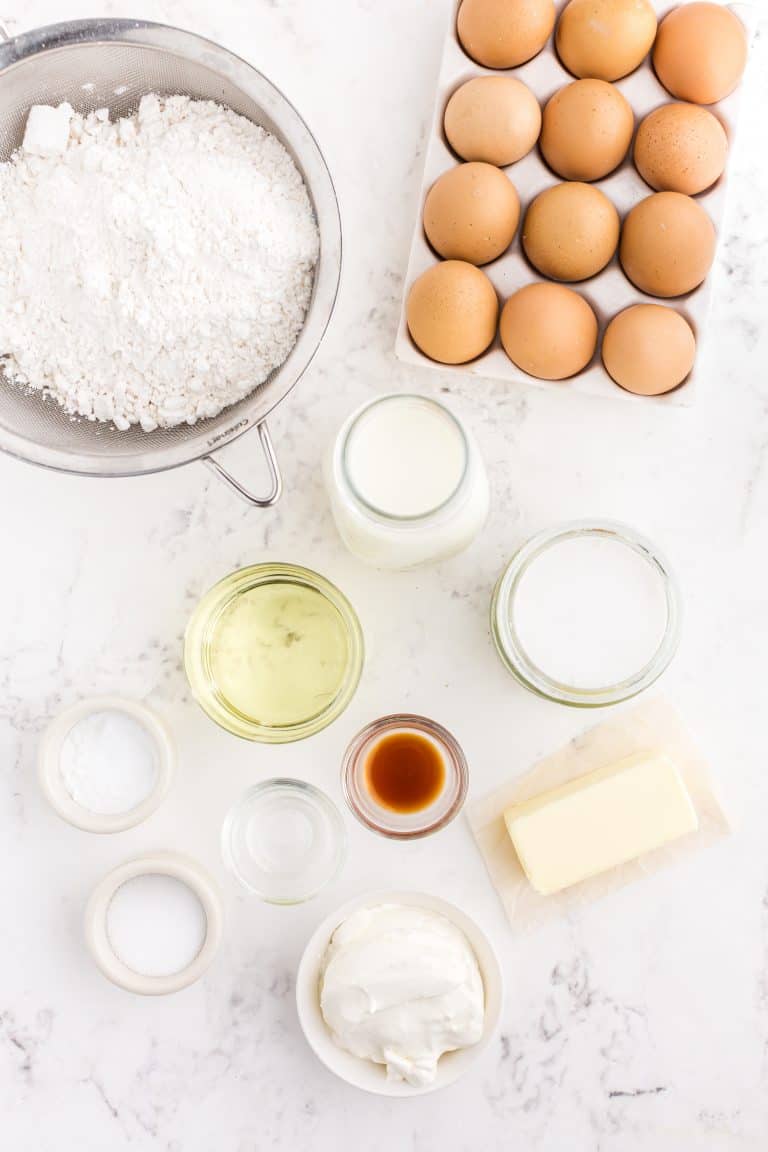 How Do You Make White Cupcakes from Scratch?
Prep - Preheat the oven and prep your pans by greasing or lining them with cupcake liners. Sift the flour.
Make the batter - Combine the dry ingredients and whisk. Combine the wet ingredients and mix well. Whip the butter until fluffy and add the sugar and continue to mix. Combine all ingredients, alternating mixes, and mix until fully incorporated.
Bake - Fill the cavities about ⅔ of the way full in the prepared cupcake pan and bake.
Cool - Allow the cupcakes to cool completely and apply frosting if desired. Enjoy!
Frost with our favorite Swiss Meringue Buttercream!
Tips and Variations
Why only use egg whites? - Traditional white cakes use egg whites, not whole eggs. This makes the cake very light and airy, even springy. Plus, it keeps the cake white, instead of giving an off-white or yellowish hue.
Why use both butter and oil? - The use of both butter and oil in this recipe keeps the cake light and moist while also adding the delicious flavor of butter.
Use clear vanilla - If you're able to find clear vanilla, this will further ensure the batter stays very white.

How do I store cupcakes? - Store in an airtight container on the countertop for 3-4 days, in the refrigerator for up to 7 days, or freeze for up to 3 months.
Use cake flour - Cake flour is soft and very airy. It works so well to keep recipes like these white cupcakes tasting like they're straight from a professional. You can use all-purpose flour in this recipe, but the texture will be a bit chewy and dense.
Measure the flour correctly - Measuring the flour correctly is really important. If you have lumps or packed flour, you may end up adding too much flour, resulting in a dense tough cake. Sift the flour first, then measure using the spoon and level method.
Browned cupcake tops are good - The browned tops of the cupcakes are just a tiny bit crispy and chewy - a bit of caramelized sugar heaven. It really adds a delicious dimension to the cake.
Make these cupcakes a cake - You can cook this into a cake also - the batter will make a 3-layer, 9", round cake.
Why does this cupcake recipe use sour cream? - Sour cream is a bit of a unique addition to a traditional white cake recipe, but it adds so much moisture and really makes a delicious crumb.
What is the best way to frost white cupcakes? - These are soft and airy. They are easy to frost right in the muffin tin. If you want to hold the cupcakes in your hand while frosting or decorating, you may want to pop them in the freezer for 20 minutes or so to harden, making them less "fragile" for handling.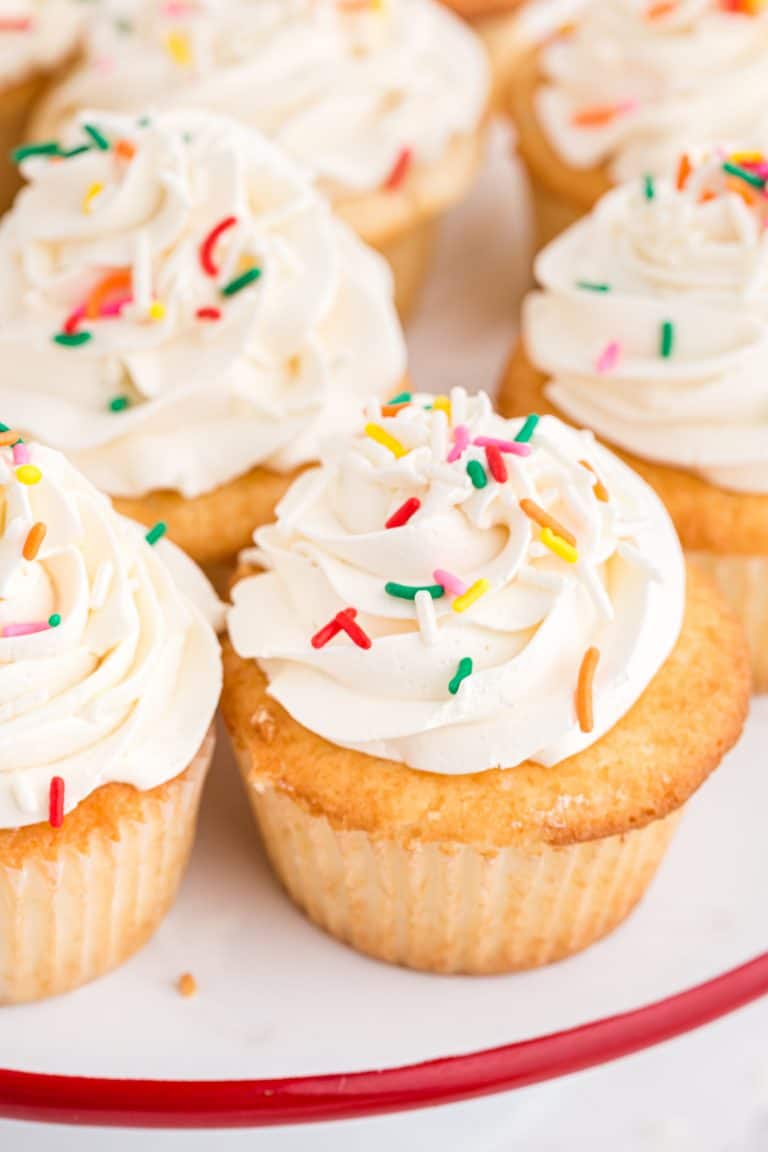 Common Questions About White Cupcakes
What Makes Cupcakes Light and Fluffy?
Creaming the butter and sugar is an important aspect to making light and fluffy cupcakes. Of course, not overcooking them is important as well. However, the real MVP for light and fluffy cupcakes is a rising agent such as baking powder. Without a rising agent, light and fluffy just isn't going to happen.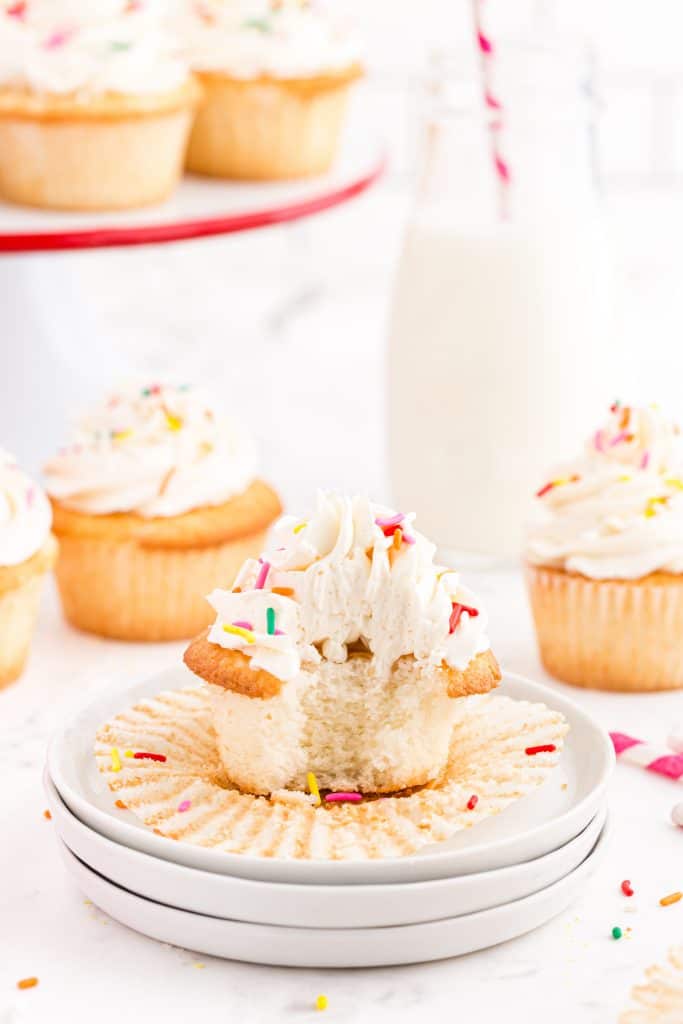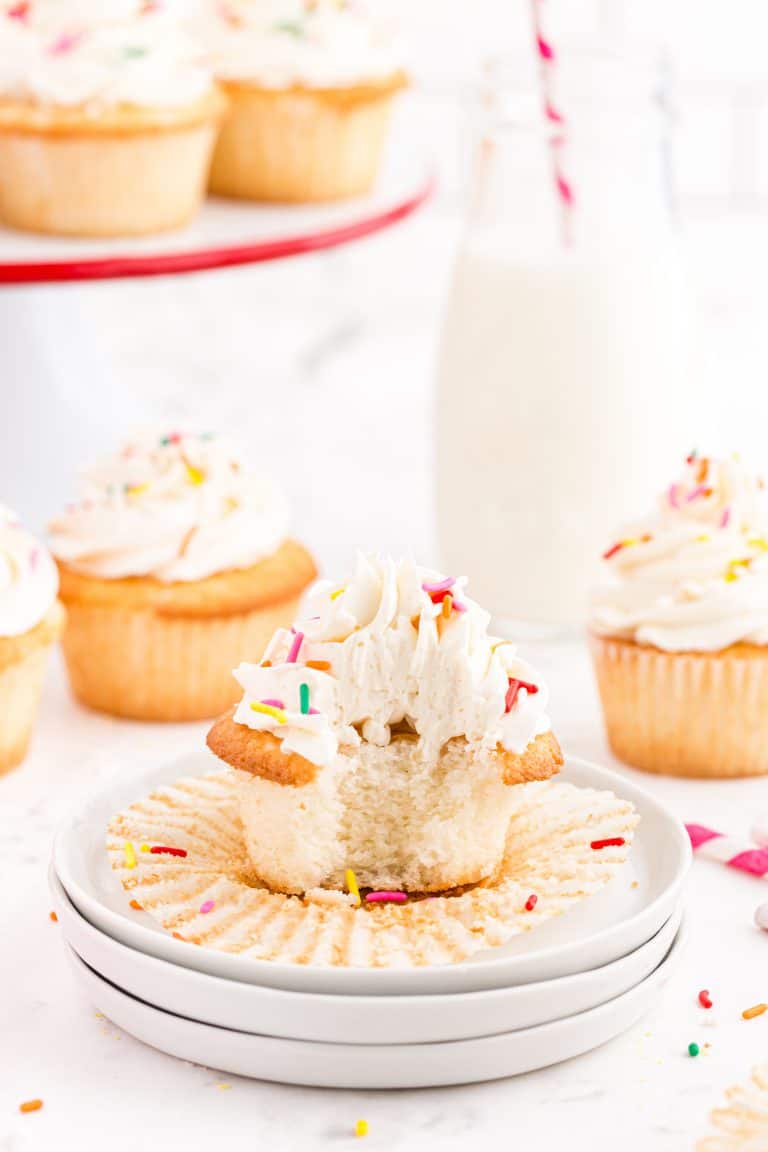 How Can I Make My Cupcakes More Moist?
Oil and butter are the sweet, sweet combination for moistness when it comes to cakes and cupcakes. Lock in that moisture and your cake will be the talk of the town. Maybe not that dramatic, but you get the picture. If you only have the option of one or the other, at least include one of them.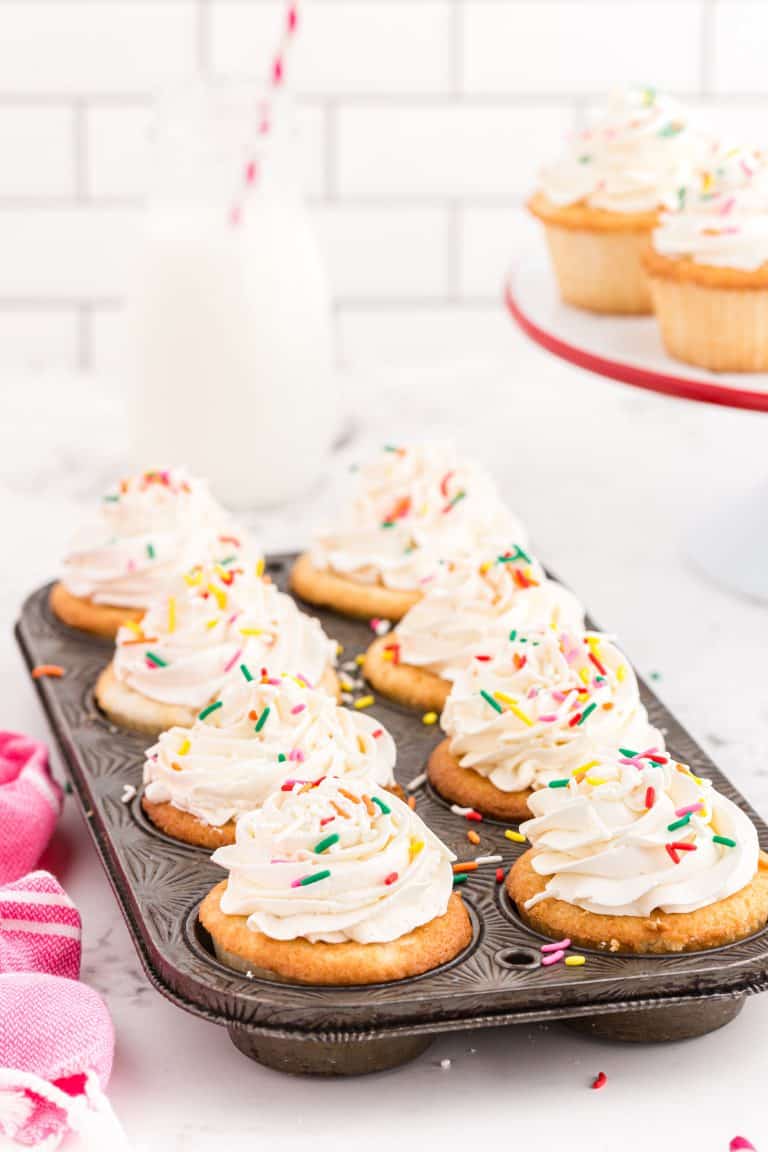 Please feel free to share your experience with making these White Cupcakes in the comments below or on social media!
More Cupcake Recipes You're Sure to Love: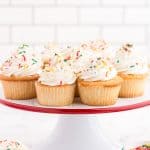 White Cupcakes
This no-fail recipe is great as-is or used as a starting point for other delicious cupcake ideas. Soft, decadent, and easy - it doesn't get much better than that.
Keyword:
bakery white cupcakes, simple white cupcake recipe
Ingredients
3 ½

cups

cake flour

1

teaspoon

sea salt

2

tablespoons

baking powder

6

large egg whites

room temperature

1

cup

whole milk

½

cup

+ 2 tablespoons vegetable oil

½

cup

sour cream

room temperature

1

teaspoon

vanilla extract

1

teaspoon

almond extract

optional

1 ½

cups

unsalted butter

softened

2

cups

granulated sugar
Instructions
Preheat oven to 350°F. Spray muffin tins with non-stick cooking spray or line with cupcake liners. Set aside.

Sift the cake flour into a large bowl and THEN measure out exactly 3 1⁄2 cups from the sifted flour. Measure by spooning the sifted flour into a measuring cup and then use the flat side of a knife to level off the top of the measuring cup.

Place measured flour in a medium mixing bowl. Add in salt and baking powder and whisk together.

In a separate mixing bowl, whisk together egg whites, milk, vegetable oil, sour cream, vanilla extract, and almond extract. Whisk until no lumps remain.

Beat the butter in the bowl of a standing mixer or with a handheld mixer until light and fluffy. Gradually add in the sugar while continuing to mix.

Add the wet and dry ingredients to the butter mixture: beginning and ending with the wet ingredients, mix in 1⁄3 of the milk mixture, then 1⁄2 of the flour mixture, another 1⁄3 of the milk mixture, the remaining flour mixture, and finally the remaining mix mixture.

Spoon the cupcake batter into each muffin cavity, filling 2⁄3 of the way full.

Bake for 18-20 minutes. The cupcakes will brown slightly on the top and should spring back when pressed gently with your finger.

Cool cupcakes completely before frosting.
Recipe Notes
Storage:
Store in an airtight container on the countertop for 3-4 days, in the refrigerator for up to 7 days, or freeze for up to 3 months.