Searching for an easy-to-make treat that will satisfy your sweet tooth? Look no further than this irresistible banana bread recipe with pancake mix. Combining the comforting flavors of banana and vanilla with the fluffy goodness of pancake mix, this decadent loaf is perfect for breakfast, brunch, or dessert. Who knew a bag of pancake mix could be so versatile!?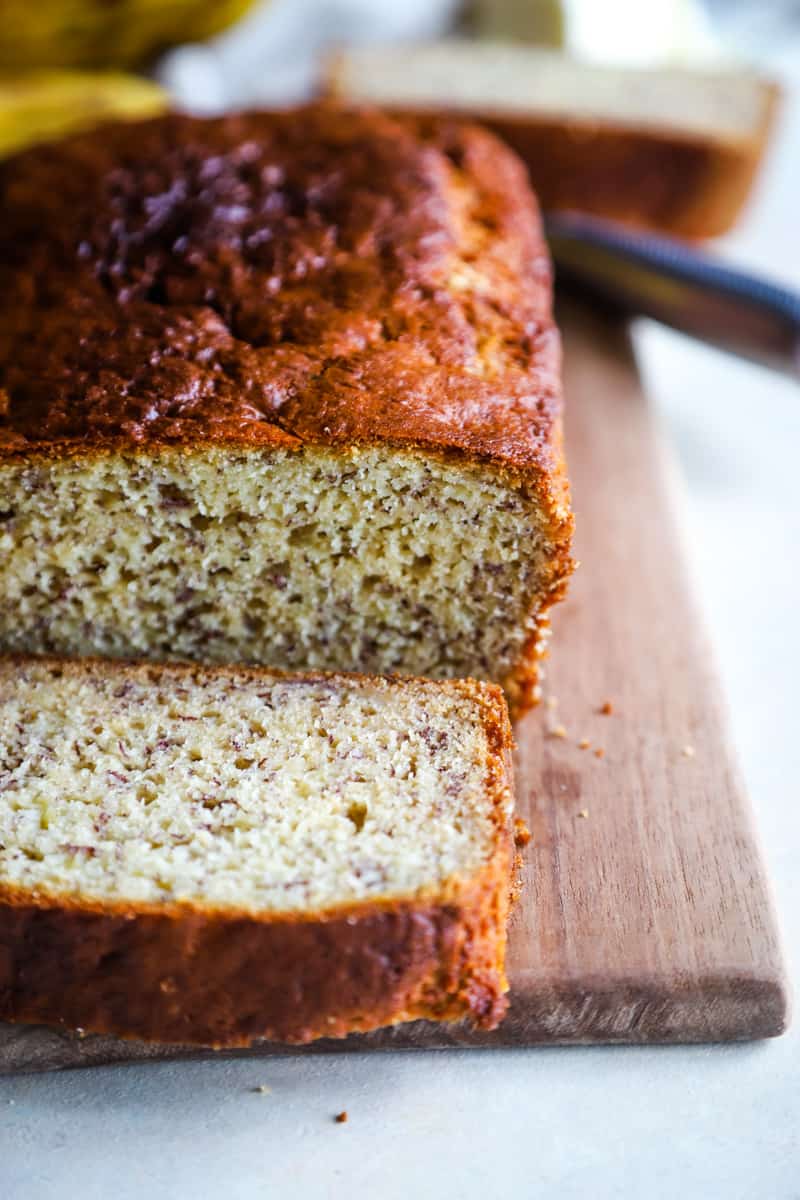 If there is one thing I love more than baking delightful treats in my kitchen, it's baking delightful treats in my kitchen that are quick and convenient and use up ingredients I already have on hand. Being a baker doesn't mean you need to whip up every recipe from scratch. As long as you serve up those irresistible goods at the end of the day, who actually cares how you got there? This is why I feel it's time someone shares the naughty secret about pancake mix. Newsflash, it doesn't just make pancakes!
Did you know you can use it as a base for muffins, cakes, cookies, and this banana bread recipe too? Using pancake mix means you already have all your dry ingredients covered. There is no need to buy or measure out the all purpose flour, baking powder, or salt. Instead, you simply prep your wet ingredients and throw in the pancake mix. I also add a little sugar to the batter, but you can skip this if you prefer. Then pour it into a loaf tin, bake, and enjoy!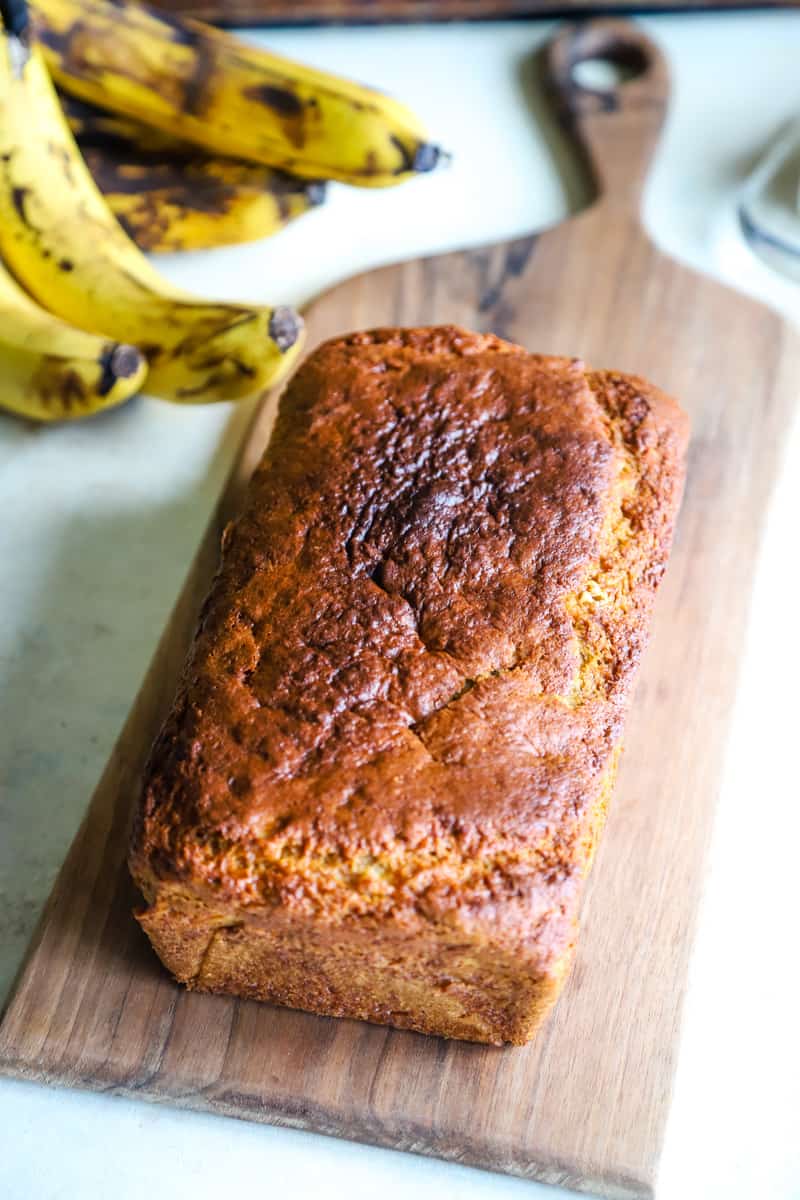 Where you've saved time using the pancake mix you can spend time going wild with add-ins or toppings (more on those later!) Or, simply leave it as is for a fail-safe family favorite. Whether you're a seasoned baker or a beginner in the kitchen, this banana bread recipe with pancake mix should be next on your baking bucket list.
WHY WE LOVE THIS BANANA BREAD RECIPE WITH PANCAKE MIX
Time saver – Using pancake mix for banana bread can be a great time-saving option. Whether it's for last-minute guests, or a quick brunch treat, no one will know the difference! This batter truly only takes about 5 minutes prep time.
Perfect every time – As well as saving time, I find that by using pancake mix there is less room for error. There is no risk of adding too much flour or not enough baking powder – the hard part is done for you. This means a delicious and moist loaf every single time.
Use up bananas – You know those overripe bananas on your kitchen counter? The ones that you buy each week and forget to eat before it's too late? Avoid food waste by turning them into cake!
Customize – You can make this banana bread recipe with pancake mix as basic or as boujee as you wish. Whether you drizzle on a browned butter glaze, add a sprinkling of chocolate chips or serve with a scoop of ice cream, the options are endless.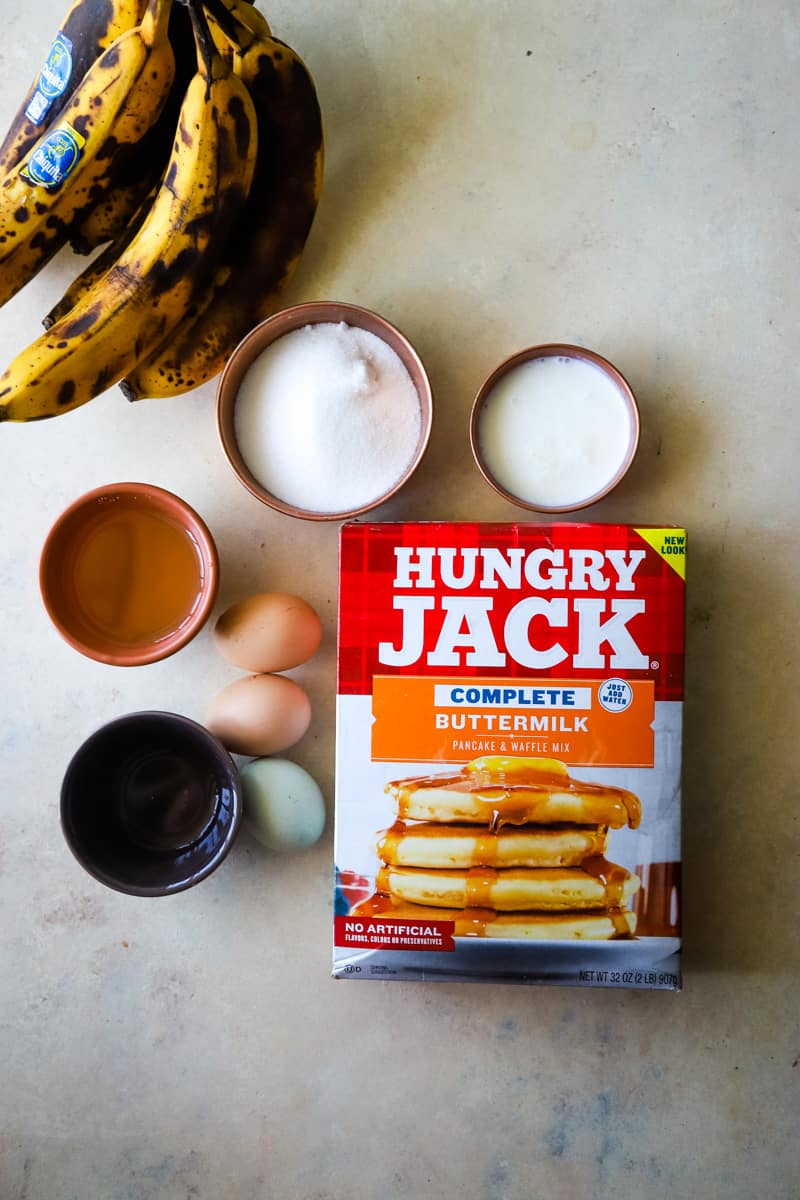 SIMPLE INGREDIENTS/SHOPPING LIST
Very ripe bananas- The bananas add the sweetness and moisture to the bread, so the more ripe they are, the more intense the banana flavor.
Any brand pancake mix- I've been making this for some time and use whatever pancake mix I have on hand. For this particular loaf I used Hungry Jack, which resulted in an extra fluffy loaf. When I want some added protein I will use Kodiak Cakes mix. This mixture uses whole grains so the quick bread is a bit more dense, but still delicious. Krusteaz pancake mix and Bisquick mix both work well too.
Granulated Sugar
Milk or buttermilk- Always use full fat milk or buttermilk (my personal favorite in baking). Sour cream will also work.
Vegetable oil- I use vegetable oil
Large eggs- make sure the are room temperature if possible. However, if you're like me and see those black bananas on the counter and decide to make this simple banana bread recipe on a whim, cold eggs will work just fine for this recipe.
Vanilla extract- Always use the real stuff for the best flavor.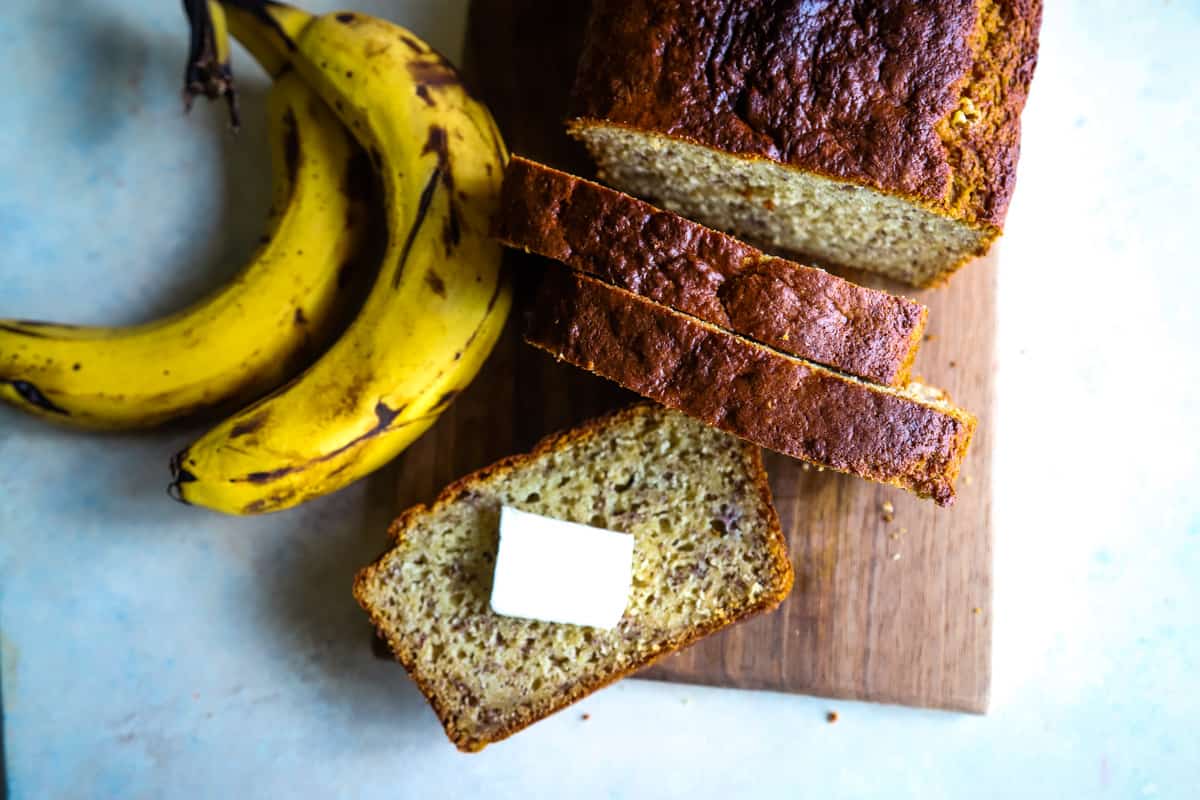 SUBSTITUTIONS AND ADDITIONS
Sugar: Most pancake mixes are made up of flour, baking powder, sugar, and salt. However, I find that the traditional pancake mix isn't sweet enough for banana bread so I add more to the batter. You can skip this if you find the bananas bring enough sweetness. Alternatively, add honey or maple syrup.
Milk/Buttermilk: Due to the fat content, milk helps to create a softer loaf that also gives a richer flavor. The lactose in the milk also helps to caramelize the bread as it bakes, creating that beautiful golden color. You could switch out for almond milk, oat or soy as well as just water, but it may affect the taste and texture a little.
Vegetable Oil: For this banana bread with pancake mix recipe, I prefer vegetable oil however you can use coconut oil, canola oil, or even melted butter instead.
Eggs: Whether you're allergic or simply ran out of eggs, it is possible to create eggless banana bread. I am aware some people switch out eggs for flax eggs (1 tablespoon of ground flaxseed mixed with 3 tablespoons of water); however, I haven't personally tried this in this recipe. Instead, I recommend applesauce (¼ cup) as an egg substitute in banana bread.
Vanilla: Always my go-to flavor as it's such a crowd-pleaser. If you have none to hand, you can switch for cinnamon or nutmeg, to enhance the flavor of the bread.
Cream Cheese: Inspired by my pumpkin cream cheese bread a swirl before baking adds a deliciously creamy and tangy flavor.
Nuts: Walnuts, pecans, or almonds are a great addition to banana bread for added texture as well as flavor. Alternatively, add a swirl of peanut butter to the batter before baking for a satisfying savory twist.
Dried Fruit: If you prefer your banana bread with a more sweet and chewy texture, you could add raisins, cranberries, or chopped dates.
Chocolate Chips: Name a more classic combo than banana and chocolate chip. Inspired by my banana pecan chocolate chip muffins chucking in chocolate chips always goes down well. White chocolate chips would be a great addition too!
Tasty Toppings: Craving a little crunch? Mix together brown sugar, flour, and butter to create a crumbly streusel topping similar to my lemon blueberry streusel loaf. I also love a browned butter walnut glaze for a textured topping.
Make a strawberry banana bread by adding some chopped strawberries to the mix. I would sprinkle about a teaspoon of flour or cornstarch to the berries before adding them to the batter to absorb some of the water that is released from the fresh fruit while baking.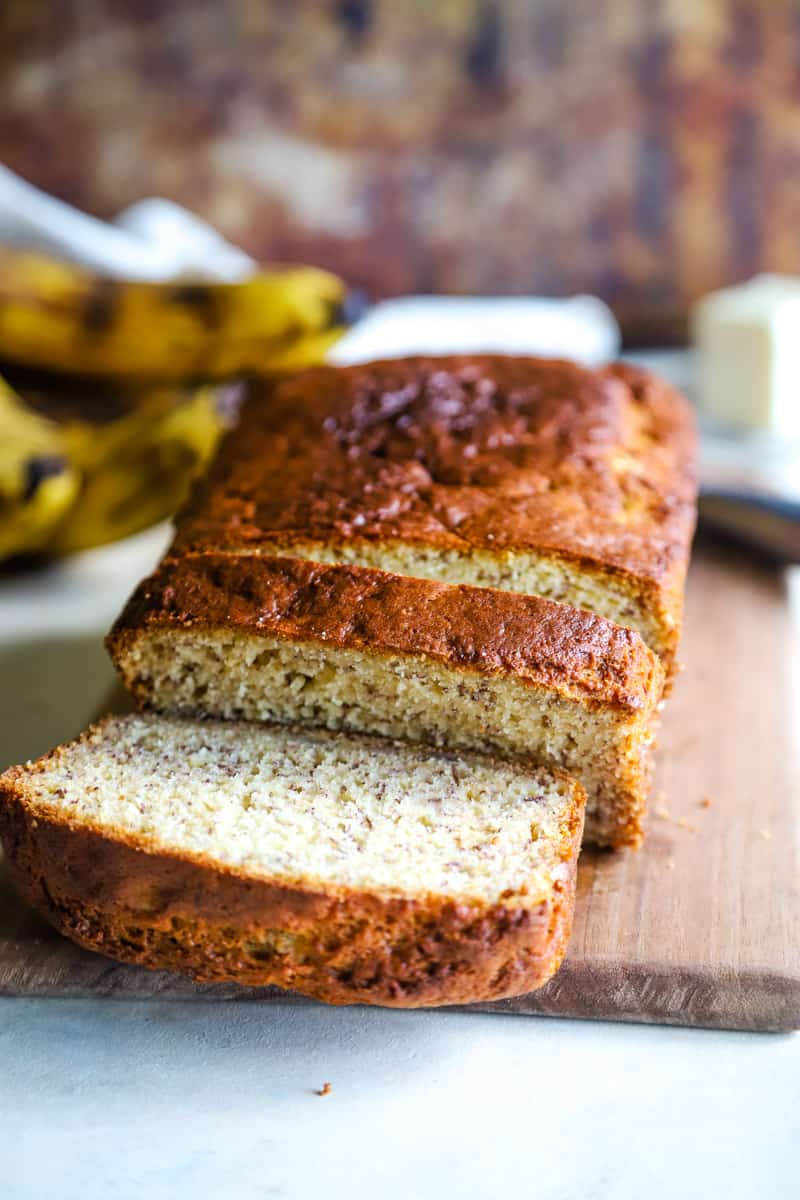 RECOMMENDED TOOLS TO MAKE THIS RECIPE
9×5 inch loaf pan, you can also make this recipe in a mini loaf pan (or 3), but will need to adjust the baking time.
Large mixing bowl
Wire rack
Measuring cups/Spoons
HOW TO MAKE THIS BANANA BREAD RECIPE WITH PANCAKE MIX
Once you try this delicious banana bread recipe with pancake mix it will revolutionize the way you make this family favorite. Moist, delicious and ready from bowl to baked within the hour, it could not be easier. Mash your bananas, then mix the remaining wet ingredients, followed by the pancake mix and sugar. Then simply bake, slice, and serve!
1. Preheat the oven to 350º F. Grease the bottom and sides of a 9×5 inch loaf pan.
2. In a large mixing bowl, add bananas and mash PRO TIP: Mash the bananas using a fork or a potato masher.
3. Add eggs, milk, vanilla and oil, then mix to combine. PRO TIP: You could mix using a large bowl and a hand mixer or in a stand mixer.
4. Add pancake mix and sugar. Whisk until just combined, careful not to over mix.
5. Pour banana bread batter into the prepared loaf pan and cook for 50 minutes to 1 hour. TOP TIP: Before baking add a swirl of cream cheese, peanut butter or streusel topping to take this banana bread recipe with pancake mix to a whole new level.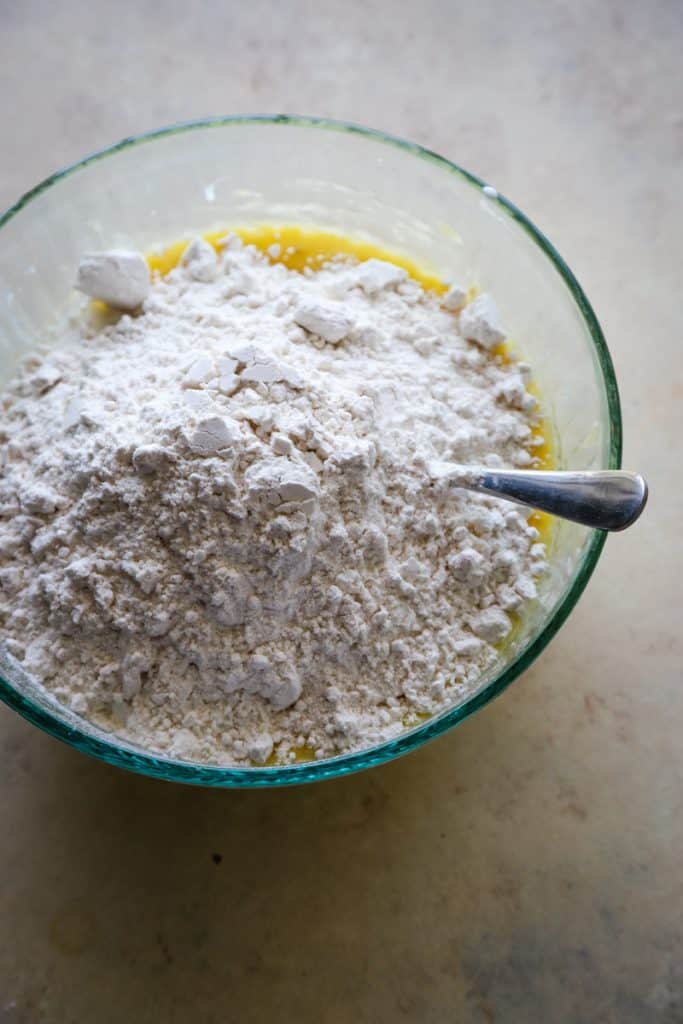 6. Cool in pan for 5 minutes then transfer to a wire rack and cool for an additional 15 minutes.
BEST BANANA BREAD TIPS
Use ripe bananas – The secret to sweet and flavorful banana bread is ripe bananas. The riper the bananas, the sweeter the bread.
Tent your bread – If you find the top of your bread starts browning too quickly, create a foil tent to protect it from burning.
Patience –This is the hardest part of the recipe. Especially when your house is filled with the delicious freshly baked banana bread smell but allow it to rest in the tin first before cooling fully. It is tempting to slice and serve immediately, but those extra five minutes in the pan make all the difference.
Don't overmix – When making a banana bread recipe with pancake mix, it can be easy to overmix, causing the gluten to over-develop and your bread to become dense and gummy. For irresistible results, make sure to mix until just combined and no more.
Don't overbake – Keep an eye as it bakes to avoid overbaking because no one wants dry and crumbly banana bread. Check for doneness by inserting a toothpick in the center of the loaf. If it comes out clean, your bread is done.
Add some extra flavor – While this recipe is perfect as is, for an extra indulgent treat, add chocolate chip, nuts, or skip to my serving suggestions.
STORAGE TIPS
Store this pancake mix banana bread in an airtight container at room temperature – ideally on the counter.
Add a paper towel to the bottom of the container as this will help to absorb any excess moisture. It should stay fresh on the countertop for around 3-4 days.
Avoid storing in the fridge as this can make your banana bread dry out.
However, this banana bread recipe freezes well. Simply wrap in plastic wrap then place in a freezer bag. It should keep for around 3-4 months in the freezer.
Then thaw at room temperature before serving. For best results warm up in the microwave or toast it.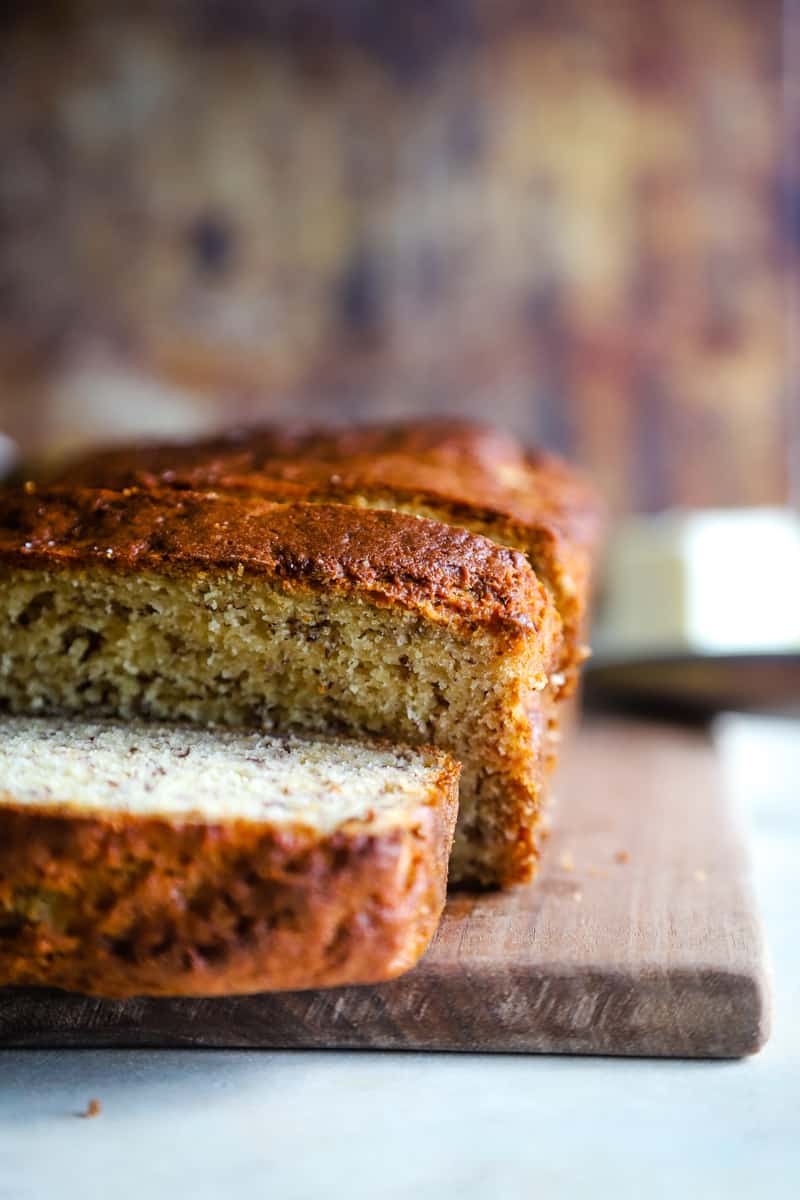 FREQUENTLY ASKED QUESTIONS
Why use pancake mix for banana bread?
If you're craving delicious and moist banana bread with minimal effort, pancake mix is the secret ingredient. For me, there are two main reasons why I use pancake mix in this banana bread recipe:
Convenience: Pancake mix typically contains all the dry ingredients you need to make pancakes, including flour, baking powder, and salt. This means you can skip the added steps of measuring out these ingredients separately. It also means you avoid an additional trip to the store to buy these ingredients.
Consistency: Pancake mix is specifically designed to make fluffy pancakes so it makes sense that it helps to create a light and fluffy banana bread. I also find the texture to be more moist and tender with less risk of it being dry and crumbly.
Serving suggestions for banana bread with pancake mix
There are so many ways to serve this pancake mix banana bread. Whether it's for breakfast, brunch or dessert here are my favorite serving suggestions:
Toasted with ice cream and chocolate sauce
Keep it sweet and simple with a drizzle of maple syrup
Spread with a thick layer of cream cheese frosting
Swerve warm with either a swirl of peanut butter or nutella
Greek yogurt with sliced strawberries, bananas or blueberries
Spread on berry based jams such as raspberry or strawberry
What else can you make with pancake mix?
As well as whipping up this banana bread recipe with pancake mix and of course making ordinary pancakes, you can switch out the dry ingredients in so many recipes. For example:
Muffins – Use pancake mix as your base for muffins then add your eggs, milk and add-ins as normal. Why not try these cranberry orange banana muffins?
Biscuits – By adding milk and butter to pancake mix to form a dough, you can make biscuits in no time.
Waffles – Pancake mix and waffle mix are essentially identical. Simply add milk, eggs and oil to the pancake mix, then pour your batter into a waffle maker. Replace the waffle mix for pancake mix in this gingerbread waffle recipe.
Cake – For a quick fix, use pancake mix as your base, then add sugar, eggs, milk and flavorings such as vanilla to make a cake batter. Bake as normal. Try with my old fashioned pound cake recipe.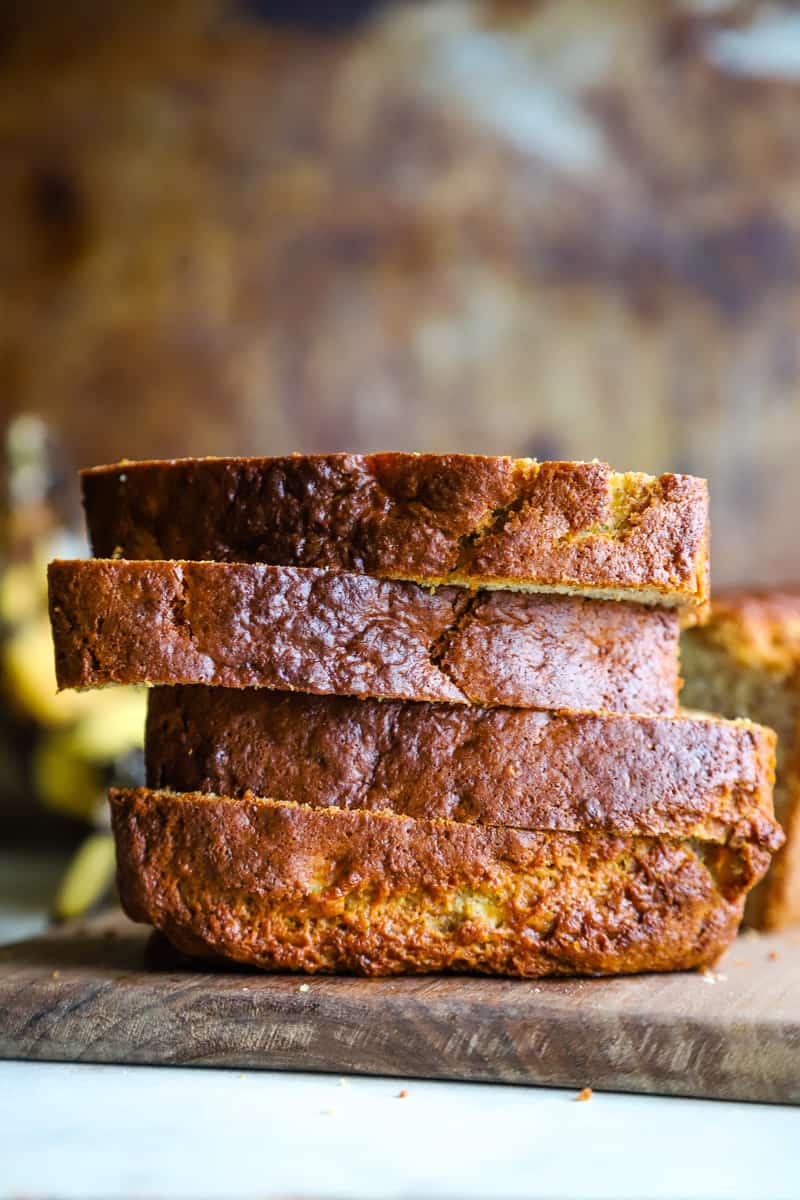 OTHER BREAD RECIPES YOU MAY ENJOY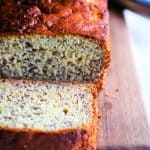 Banana Bread Recipe with Pancake Mix
This easy banana bread recipe is made with pancake mix, making it a quick and delicious way to use up ripe bananas. The bread is moist and flavorful, with a hint of sweetness from the bananas. It's perfect for breakfast, snack, or dessert.
Course:
Breakfast, Dessert
Ingredients
3

ripe bananas

mashed

2 ⅔

cup

pancake mix

⅔

cup

granulated sugar

¼

cup

buttermilk

3

tablespoons

vegetable oil

3

large eggs

½

teaspoon

vanilla extract
Instructions
Preheat the oven to 350º F. Grease the bottom and sides of a 9×5 inch loaf pan or line with parchment paper.

In a large mixing bowl mash bananas.

Add eggs, buttermilk, vanilla and oil to the mashed bananas and whisk until combined.

Stir in pancake mix and sugar. Mix well. Batter will be thick.

Pour into the prepared loaf pan and bake for 50-55 minutes.

Cool in pan for 5 minutes then transfer to a wire rack to cool completely.