Bursting with flavor in each bite, these Cranberry Orange Banana Muffins are sunshine to your tastebuds. Sprinkled with a streusel topping and a drizzling of orange glaze, they are the ultimate treat to brighten your day!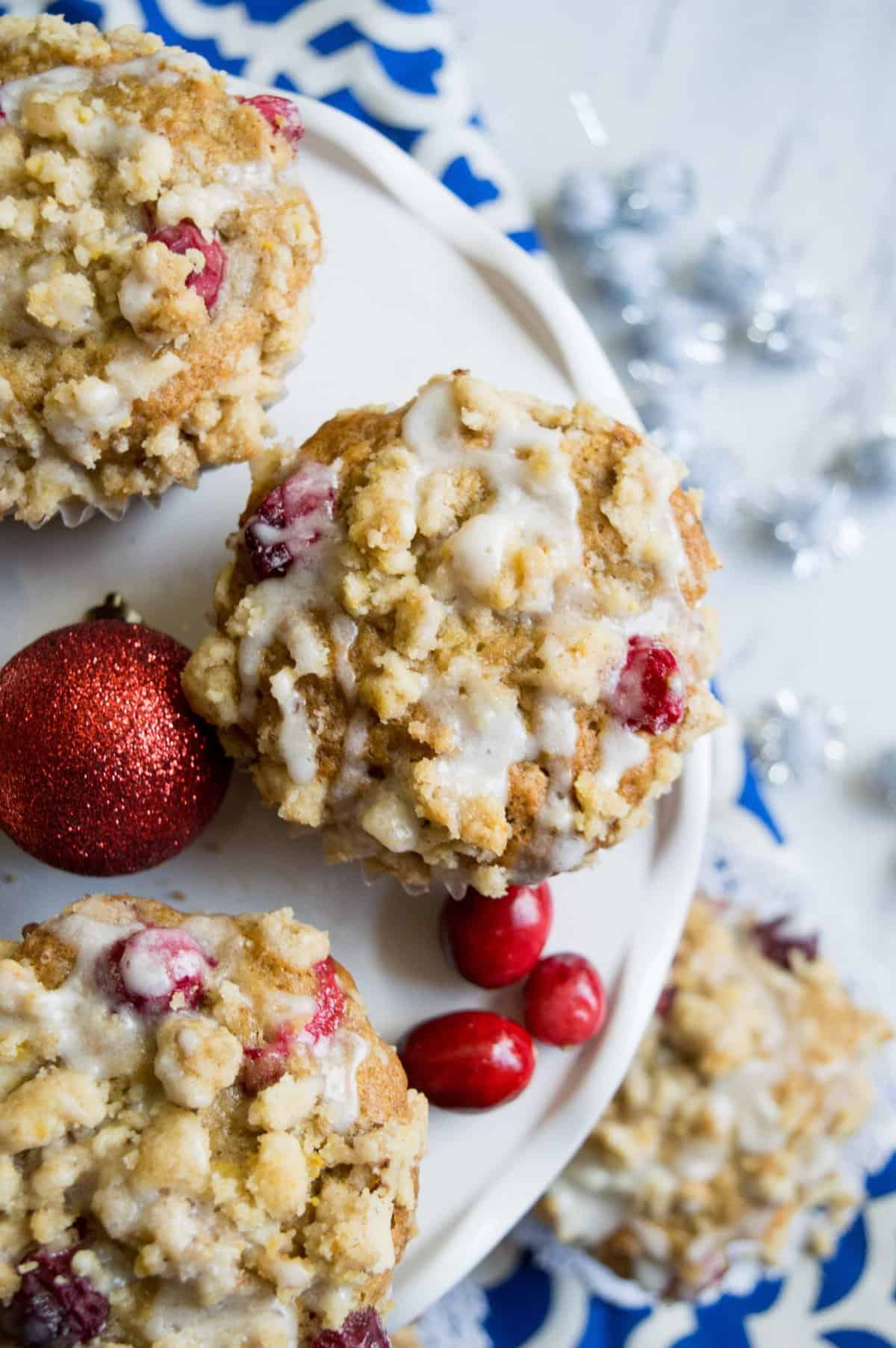 Bright citrus, bursting berries, and bananas. A fantastic trio of tastes that turn ordinary muffins into the most extraordinary sweet treat. From Cranberry Orange Roulade to Cranberry Orange Hard Lemonade it it a flavor pairing I'll never get bored of! By introducing bananas to the party, I've not only taken the flavor up a notch but transformed the texture too. Bananas help to bind and moisten ingredients while adding flavor and a natural sweetness.
The muffins themselves have more of a cake-like crumb that is due to using butter instead of oil. Expect moist, fluffy muffins that make the best breakfast snack, festive gist, or afternoon treat. They really are perfect for all occasions, regardless of the time of day and great for cranberry season!
While you could leave these little baked bundles of joy as is, I couldn't resist a sprinkling of a streusel topping similar to my popular Strawberry Muffin Recipe. The finishing touch is a sweet orange glaze that brings a little zing thanks to the orange extract.
Once your friends and family have sampled the celebration of flavors between zesty orange, tart cranberry, and sweet banana, they will never buy store-bought muffins again. It's a good thing then that these flavorsome fellows take just 30 minutes to bake so you can whip up a delicious muffin any time!
WHY WE LOVE THESE CRANBERRY ORANGE BANANA MUFFINS
All occasions- Cranberry and orange is often considered a festive flavor pairing, and while these muffins are perfect for Christmas breakfast, you can whip this bakery style muffin up all year round including Easter brunch, Thanksgiving dessert, or a Mother's Day morning treat.
Quick- from bowl to baked in under an hour, these cranberry orange banana muffins are super quick to whip up. Perfect for hungry guests or a last minute hostess gift! If you're really in a pinch you could even skip the streusel and glaze and enjoy these mouthwatering muffins as is.
Sweet yet tart – with the tartness from the cranberries, zesty orange and sweet bananas these festive muffins bring crowd pleasing flavors that all ages will adore.
Pantry staples – This recipe requires straightforward ingredients that you likely already have in your pantry. Excluding the cranberries that you might need to make a trip to the store for, but they're usually available in abundance during the holidays.
Customize – Talking of ingredients, if you're in a pinch they can easily be altered. Skip the orange zest if you're not a fan, switch the cranberries for blueberries, use oil instead of butter or chuck in chopped nuts. Make these muffins your own or follow the recipe step by step – it's totally up to you.
INGREDIENTS/SHOPPING LIST
Muffins Ingredients:
flour
baking powder
baking soda
salt
ripe bananas
white sugar
egg, slightly beaten
butter, melted
vanilla extract
cinnamon
orange extract
cranberries
Streusel Topping Ingredients:
all purpose flour
golden brown sugar
cinnamon
baking powder
orange zest
melted butter
Orange Glaze Ingredients:
sugar
salted butter
orange extract, fresh orange juice will work well too
milk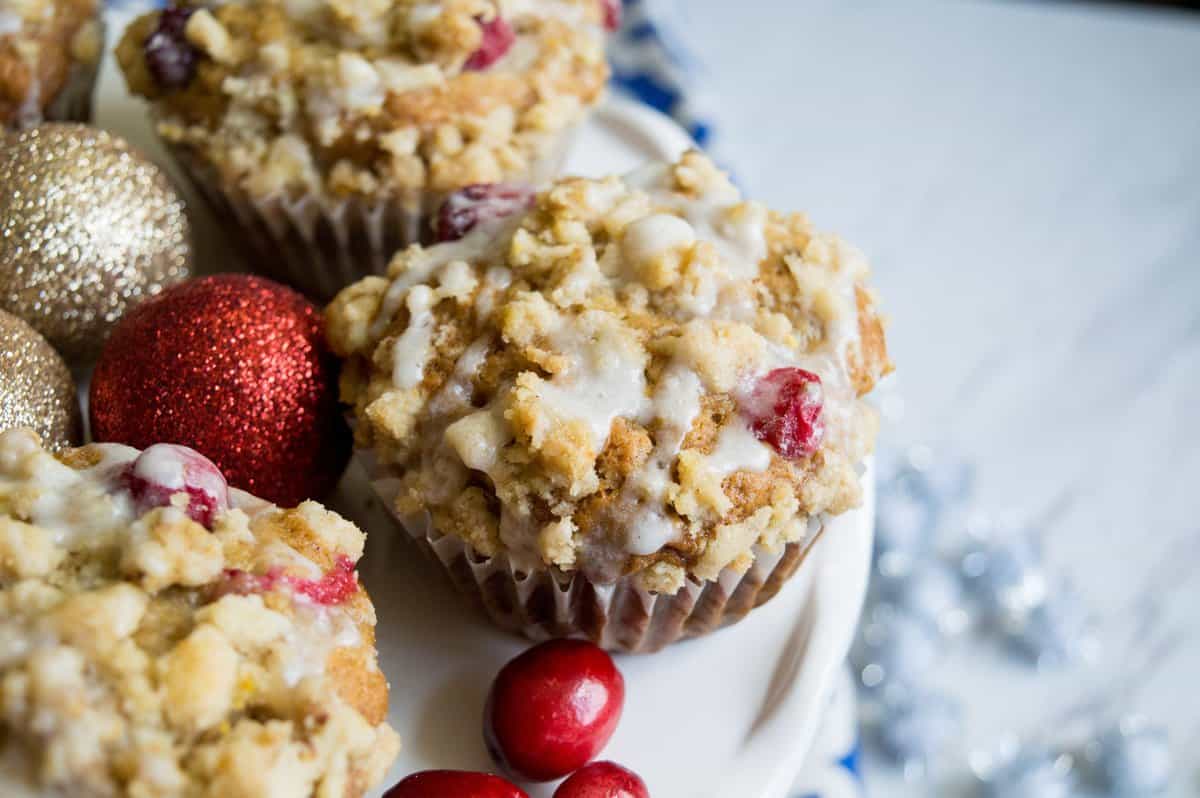 SUBSTITUTIONS AND ADDITIONS
Chopped Nuts - I love the texture and taste of adding nuts to this muffin recipe. You could use pecans like my banana pecan chocolate chip muffins, or walnuts and chopped almonds would also work.
Chocolate chunks – If there's one ingredient that pairs even better with cranberry than orange, it's white chocolate (think cranberry white chocolate cookies). The white and red combo screams Christmas and the flavor is sensational too. Fold in some chocolate chips before baking for a white chocolate studded muffin that oozes festive flair.
Cranberries – I've used fresh cranberries as I feel they bring the best burst of flavor. However, you could also use dried and fold them in as is or rehydrate first by soaking them in water. If you cannot get hold of cranberries use dried tart cherries or for added sweetness, raisins are a great addition.
Honey or maple syrup: Switch out sugar for your favorite alternatives such as maple syrup or honey.
Oil - While I've used butter in this recipe, you are welcome to use oil. Ideally, one that isn't flavored. Butter coats the protein and starches during mixing to create a more delicate crumb that is arguably drier. This is where the bananas help add moisture. However, some prefer oil as it produces more moist, tender muffins.
Greek yogurt or sour cream – Greek yogurt is a great addition as it brings a delicious richness and tang to your muffins. This can also be achieved with sour cream. Stick to yogurt with a higher fat content, noting if you use plain yogurt instead of Greek this may affect your rise. You could also experiment with flavored Greek yogurts such as vanilla or orange.
Cream cheese – Inspired by my pumpkin cream cheese bread, an indulgent cream cheese filling is always a welcome addition. Before you add your muffins to the oven, make a small dip in the center, and add a dollop of cream cheese. Bake as per instructions.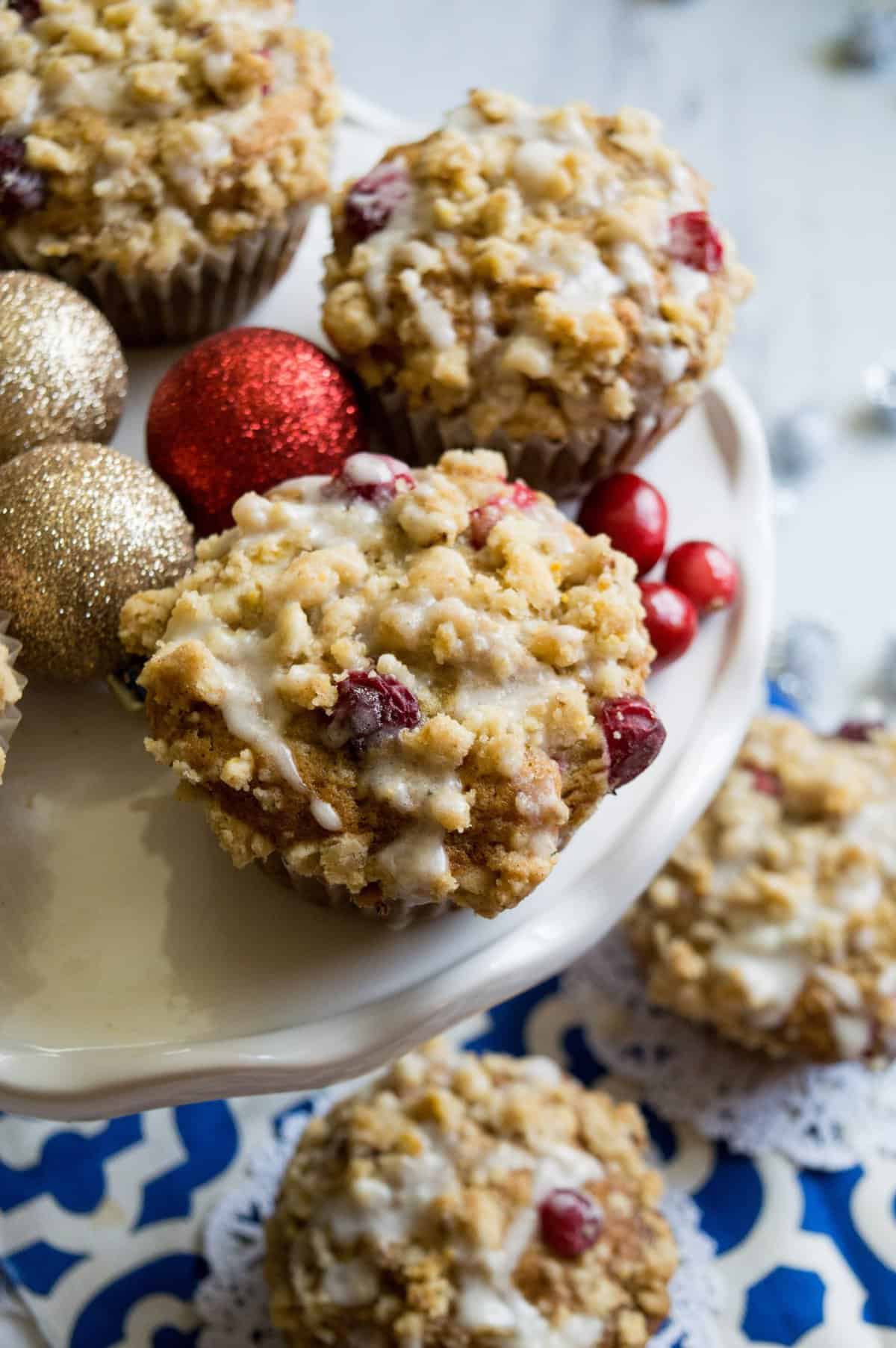 RECOMMENDED TOOLS TO MAKE THIS RECIPE 
Mixing bowls
Sieve
Measuring spoons/Cups
Fork
Spatula
Cooling rack
Cupcake Pan/ muffin pan
Whisk
HOW TO THIS MAKE CRANBERRY ORANGE BANANA MUFFINS RECIPE
For these delightful festive inspired treats, it's essential three steps: mix the muffins, bake then add the toppings. The streusel and glaze are entirely optional but I find they are a delectable finishing touch that elevates these muffins to a different league, in comparison to store-bought.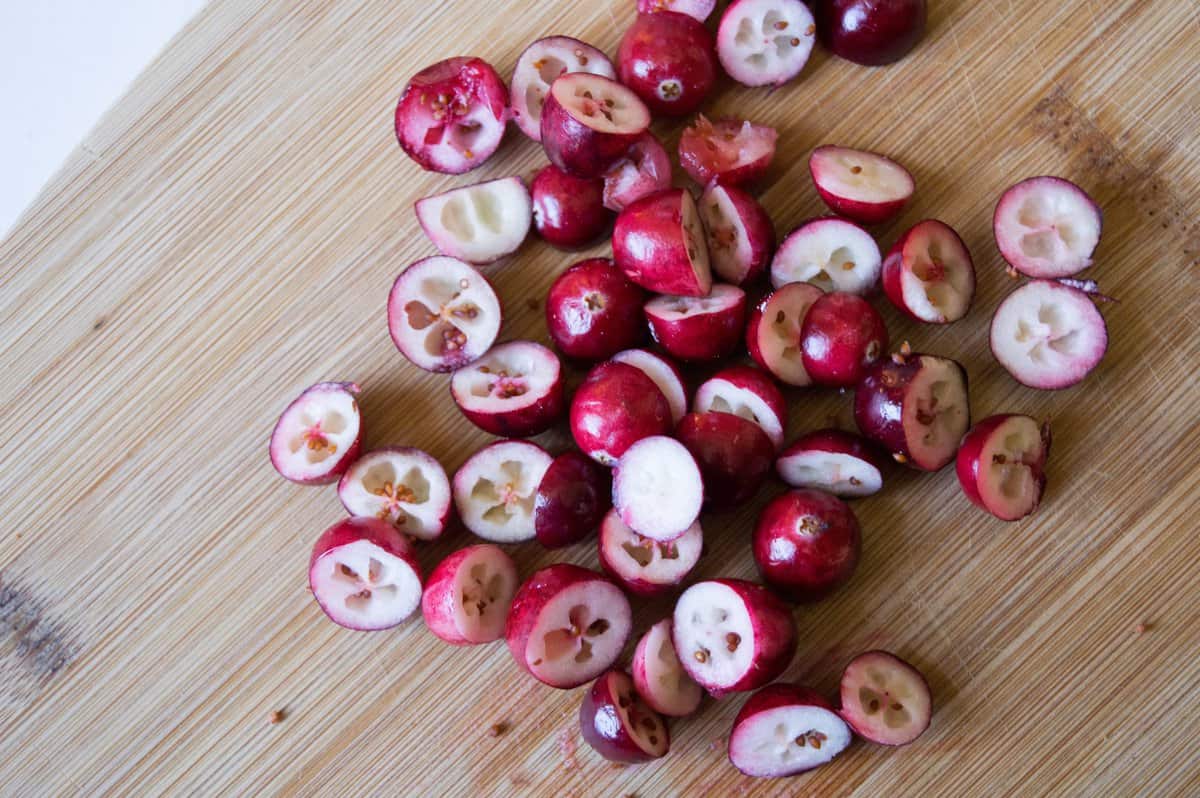 FOR MUFFINS
Start by preheating the oven to 350 degrees Fahrenheit
Sift all dry ingredients into a medium bowl, excluding the 2 tablespoons of flour.
In a separate, large bowl mash the bananas together. Once ready, add the sugar, vanilla, egg, orange extract and melted butter.
Next, slowly fold in the dry ingredients using a spatula.
In a small bowl, coat the cranberries with flour. PRO TIP: Coating them in flour should avoid the cranberries sinking, but for extra insurance, you could also blitz the cranberries into smaller pieces in a food processor.
Pour the cranberries into the muffin mixture and gently fold to combine. Making sure they are evenly distributed.
Put ¼ cup of muffin mix into liners or straight into a well-greased cupcake pan.
Sprinkle on an even layer of Streusel Topping and bake for 25-30 minutes, or until the muffins are slightly golden and the center is cooked through. PRO TIP: You can test this by inserting a toothpick. If it comes out clean the muffins are ready.
Remove them from the oven and allow the muffins to cool for at least 5 minutes, until cooled to the touch then transfer to a wire rack. PRO TIP: You might need to run a butter knife along the outer edge of the muffins to loosen them from the pan. 
Let the muffins sit for a further few minutes as you prepare the glaze. Once they are completely cool, drizzle the glaze over each muffin evenly then serve!
FOR STREUSEL TOPPING
Add all ingredients to a bowl. Using clean, dry hands gently mix together until the mixture becomes crumbly. PRO TIP: Be careful not to overmix. Your Streusel should be a texture that resembles "wet sand" alongside pea-sized crumbs.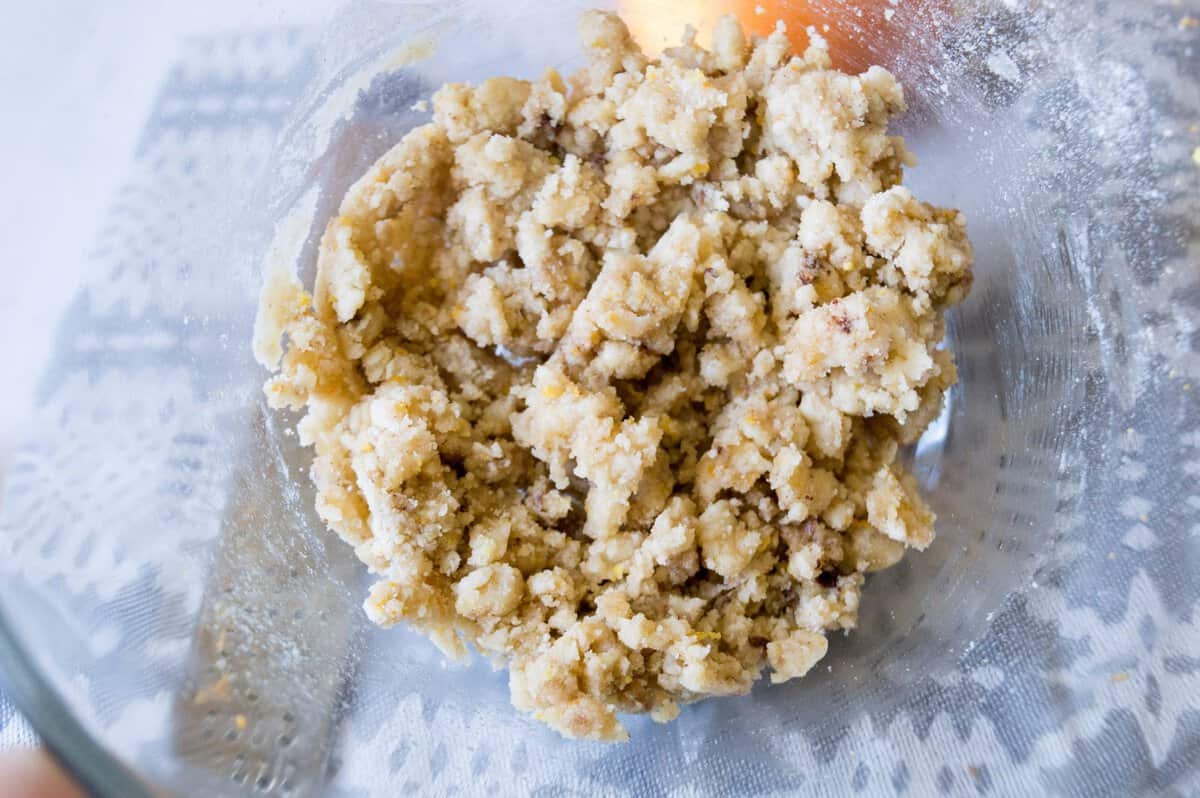 FOR ORANGE GLAZE
1. Add the sugar, butter and orange extract to a bowl.
2. Whisk together as you slowly add in milk.
3. Continue to whisk until you reach the desired consistency. Ideally, you want to aim for a thicker glaze, so be cautious when adding the milk.
CRANBERRY BANANA MUFFINS TIPS
Blitz your berries – There's nothing worse than your cranberries sinking to the bottom, or one muffin being packed while others contain only a handful of cranberries. To ensure your muffins are bursting with berries in each bite you can blitz them for a few seconds in the food processor. The smaller pieces will ensure they're more evenly distributed.
Measure your flour – To avoid tough, dry muffins make sure to measure your flour properly. The best way is to avoid scooping your flour into the measuring cups as this can result in you packing more flour into the cup than you actually need. Instead, spoon the flour into your measuring cup and level it off with a knife.
To avoid rubbery muffins – By mixing your flour mixture with the wet ingredients you activate the gluten proteins that give your muffins their light and fluffy structure. If you overmix this process then your muffins will turn chewy and rubbery. You could use a table knife to gently cut through the mixture from one side to the other to combine, no more than 15-20 strokes. You should never "beat" or make a round gesture when folding your ingredients as this can risk overmixing. Fold only until just combined.
Room temperature – We all want muffins immediately, but if your ingredients were stored in the refrigerator, wait until they are at room temperature. Room-temperature eggs and butter will bond together better than if they were fresh from the fridge. This will give your muffin batter a better texture.
Extra tart cranberries- Love good tangy cranberries? Add a spoonful of cranberry sauce to the center of a muffin after baking!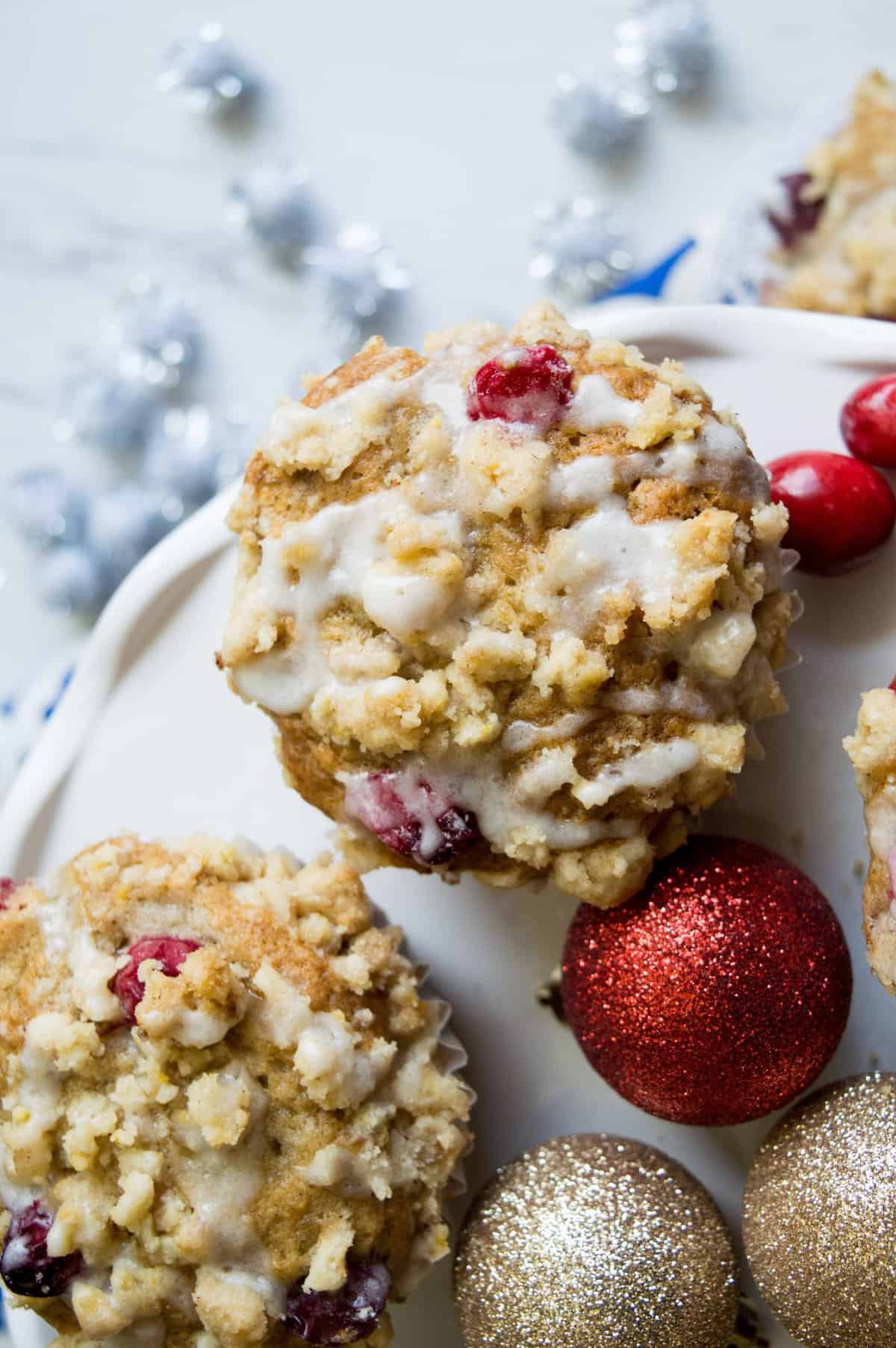 STORAGE TIPS 
Muffins without glaze can be stored for up to 5 days at room temperature. Making sure to keep covered.
Glazed muffins will keep at room temperature for up to 1 day or longer if refrigerated.
You can also store these muffins (glazed or unglazed) in a Ziploc bag in the freezer. They will freeze well for up to 2 months. Reheat in the microwave for 30 seconds before serving.
FREQUENTLY ASKED QUESTIONS
What is the difference between cupcakes and muffins?
There are a few key differences between cupcakes and muffins, including:
Muffins use liquid fat such as melted butter or oil. Cupcakes use solid and usually begin by creaming the solid butter and sugar.
Muffins contain less fat and sugar than cupcakes
Cupcakes are usually topped with frosting
It's more common to use mix-ins such as chocolate chips or fruit with muffins than it is with cupcakes.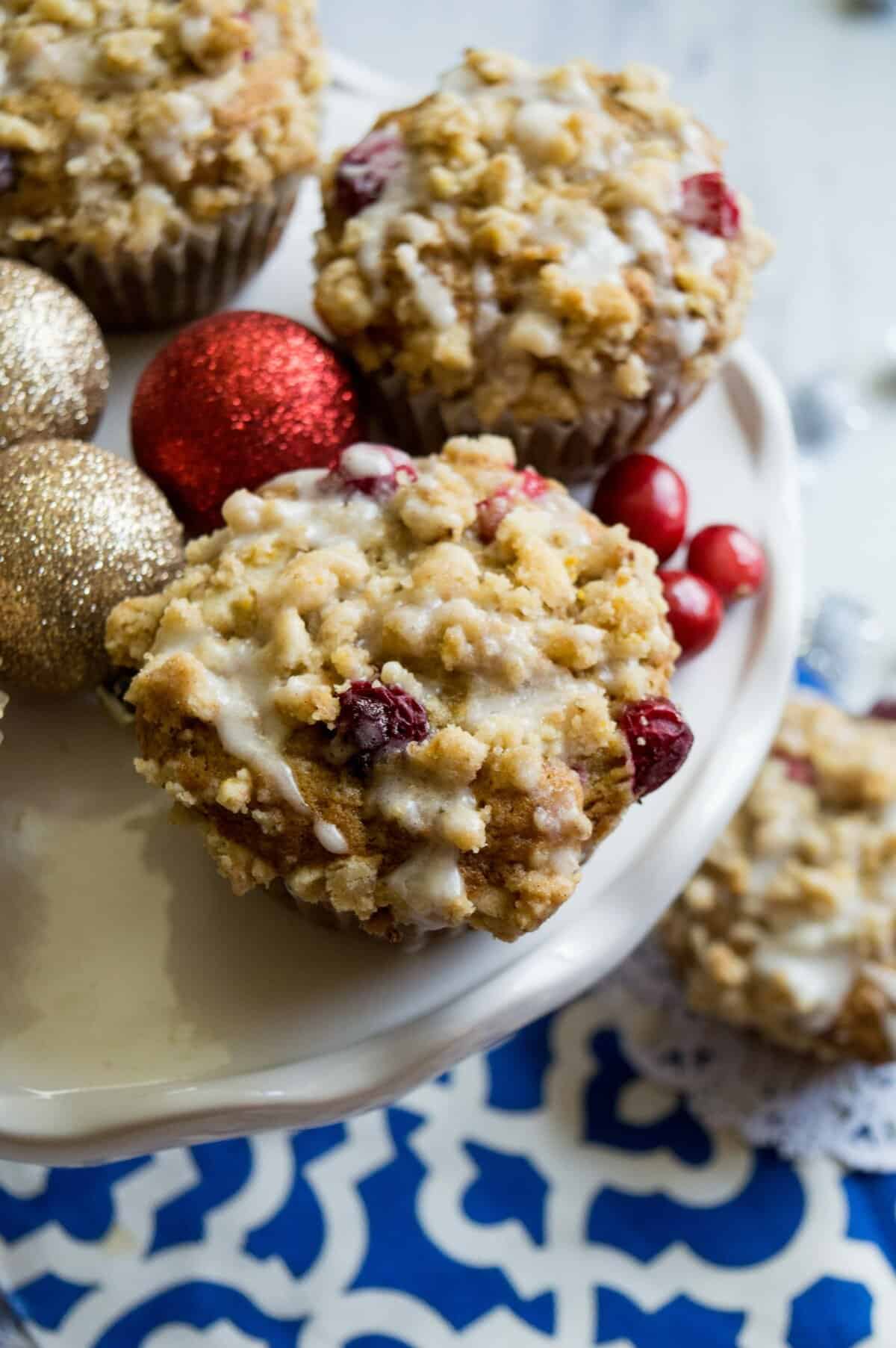 What are the best cranberries for muffins?
Fresh: I recommend fresh cranberries as these will pack the most flavor. For best results, coarsely chop them before adding to your muffin batter. You could also achieve this by using a food processor. Chopping the cranberries will ensure the best cranberry-to-batter ratio.
Frozen: Alternatively, you can also use frozen cranberries. Once you remove them from the freezer, rinse them with cold water then leave out at room temperature to thaw slightly as you prepare the remaining muffin ingredients.
Dried: As a last resort, you could also use dried. However, I will warn you that dried cranberries will bring a chewy texture instead of the juiciness that fresh cranberries add. For this reason, I recommend you rehydrate the dried berries by soaking them in hot water for around 10 minutes. Then drain and pat dry before proceeding as per instructions.
What is the muffin method?
The muffin method is the mixing method bakers should use when your recipe doesn't contain much fat. It is a process used for pancakes and quick breads as well as bakery muffins to ensure they bake up tender and delicious. It's described in the instructions above and the best way to mix these cranberry orange banana muffins.
Although it's a basic mixing method, it is easy to get wrong or rush. It essentially involves four steps:
Add all dry ingredients to one bowl.
Add all wet ingredients to another bowl.
Fold your wet ingredients into your dry (or vice versa)
Continue to fold gently until just combined, then bake!
Can you use this recipe for a loaf instead?
Absolutely! Instead of pouring your batter into a cupcake tray transform your orange cranberry muffins into a delicious loaf or Bundt cake. You will need to adjust your baking time, but there's no reason why you can't switch up the shape. Craving fruity loaf? You will also love my lemon blueberry streusel loaf, rhubarb streusel bread, or cranberry orange bread.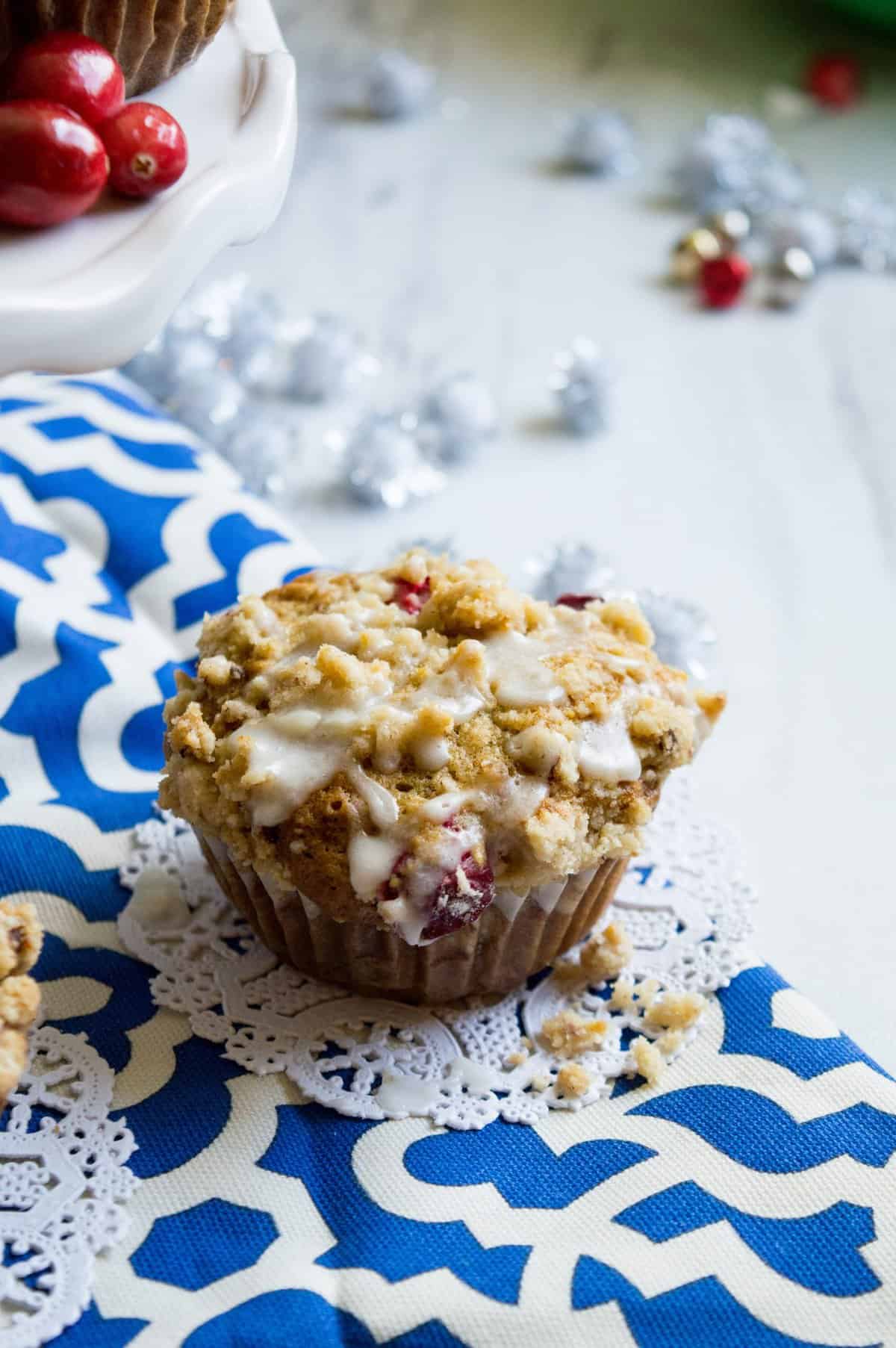 MORE RECIPE TO USE UP LEFTOVER CRANBERRIES: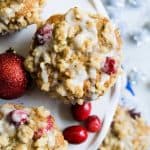 Cranberry Orange Banana Muffins
Bursting with flavor in each bite, these cranberry orange banana muffins are sunshine for your taste buds. Sprinkled with a streusel topping and a drizzling of orange glaze they are the ultimate treat to brighten your day.
Keyword:
cranberry banana muffins, cranberry recipes
Ingredients
Muffins Ingredients:
1 ½

cups

flour

+2 tablespoons

1

teaspoon

baking powder

1

teaspoon

baking soda

½

teaspoon

salt

3

large ripe bananas

¾

cup

white sugar

1

large egg

slightly beaten

⅓

cup

butter

measured then melted

1

teaspoon

vanilla extract

½

teaspoon

cinnamon

1

teaspoon

orange extract

1

cup

cranberries
Streusal Topping Ingredients:
⅔

cup

all-purpose flour

4

tablespoons

brown sugar

¼

teaspoon

cinnamon

¼

teaspoon

baking powder

1

teaspoon

orange zest

4

tablespoons

butter

melted
Glaze Ingredients:
1

cup

powdered sugar

1

tablespoon

butter

2

teaspoons

orange extract

2-4

tablespoons

milk
Instructions
FOR MUFFINS
Preheat oven to 350 degrees Fahrenheit

In a medium bowl sift all dry ingredients together, minus 2 tablespoons of flour.

In a large bowl mash bananas together. Once mashed add in sugar, vanilla, egg, orange extract and melted butter together.

Slowly fold in dry ingredients.

In a small bowl coat cranberries with flour.

Add cranberries to muffin mixture and gently fold to cover.

Put ¼ cup of muffin mix into a well-greased cupcake pan.

Top muffins with an even layer of crumble and bake for 25-30 minutes, or until muffins are slightly golden brown and the center is cooked through.

Remove muffins from the oven and allow to cool for 5 minutes (or until cool enough to safely transfer to a cooling rack). Once cooled to the touch, transfer to a cooling rack and allow to sit for 10 minutes before drizzling glaze over each muffin evenly. Serve.
FOR CRUMBLE
Add all ingredients into a bowl, and for best results, use clean dry hands to gently mix ingredients together and only mix until mixture becomes crumbly.
FOR GLAZE
In a bowl add in sugar, butter, and extract. Whisk together and slowly add in milk, little by little until you reach desired consistency (for these muffins, you want it on the thicker side).