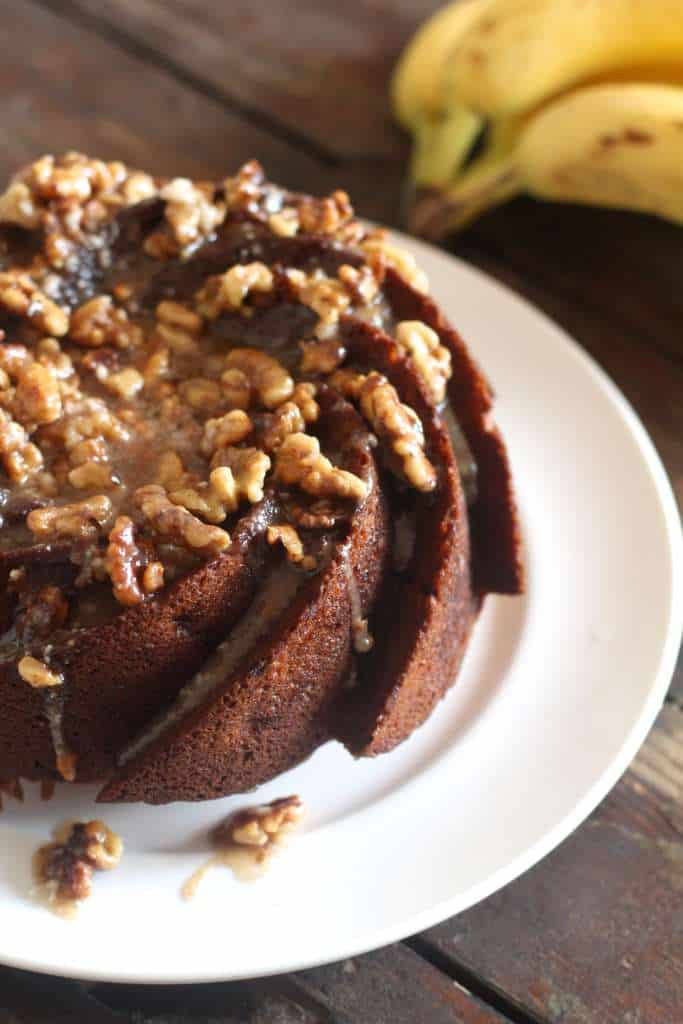 With this heat I have found that my freshly purchased bananas turn brown in a matter of hours. God forbid they have one tiny brown spot, and the kids won't get near them. Which leaves me with a ridiculous amount of yet another fruit that I need to turn into something before the fruit flies decide to make a new home. Oh the joys of summer!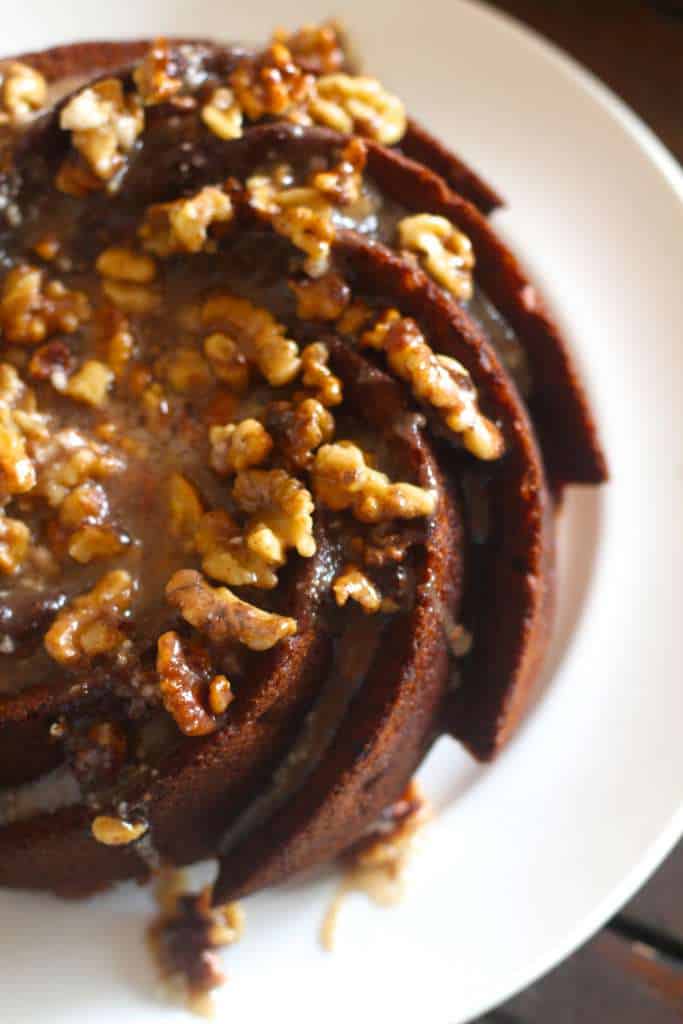 It seems that every year, about this time, I begin to stress out about the beginning of the new school year, despite my kids having just been let out for summer break. Next year, I will have to be uber organized because I will have 3 kids going to 3 different schools!
So my first thought after seeing the browning bananas this morning was to make a few loaves of bread and freeze it for a few months from now. I know it seems crazy to think so far ahead, but we will be visiting family in Switzerland for a good portion of this summer, and banana bread freezes beautifully! So why not?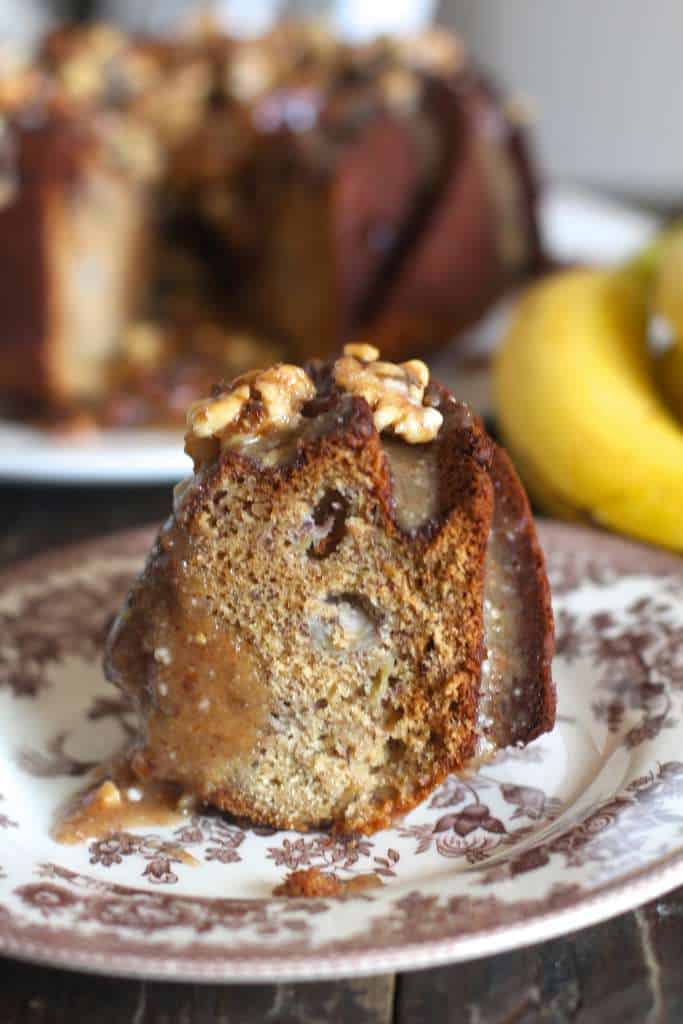 I made a few loaves for later, but apparently the kids don't mind the browned bananas in cake for and they insisted I make one for today. In preparation for the upcoming trip, I am trying to use everything in our pantry which lead to the browned butter walnut glaze. I swear, it is times like these that the best concoctions come out of my kitchen. The nutty, caramely glaze was the perfect glaze for the bread!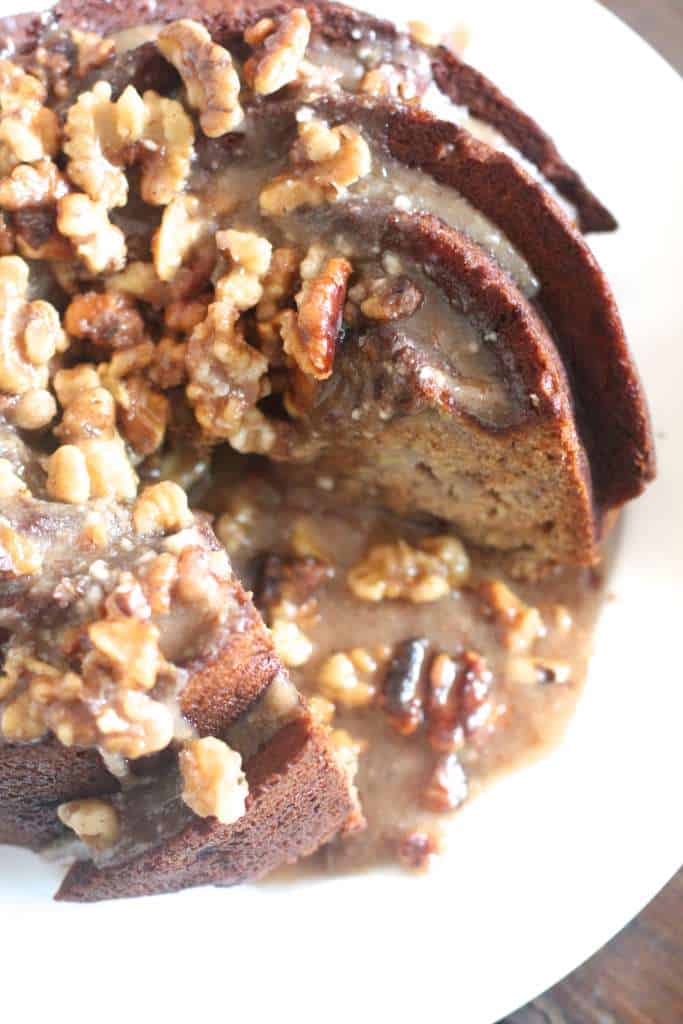 If you are planning on making the recipe in loaf form and freezing it for later, do not make the glaze until it has defrosted and you are ready to serve. But make sure to make it because it is that good! Enjoy!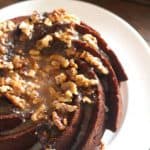 Banana Bundt Cake with Browned Butter Walnut Glaze
Ingredients
Banana Bread
2

cups

all-purpose flour

1

teaspoon

baking soda

¼

teaspoon

salt

½

cup

vegetable oil

¾

cup

brown sugar

2

eggs

2 ⅓

cups

mashed overripe bananas
For the Glaze
1

cup

coarsely chopped walnuts

2

tablespoons

butter

⅔

cup

powdered sugar

1

tablespoon

half and half
Instructions
Preheat oven to 350 degrees. Generously grease a bundt pan or 2 loaf pans with non-stick cooking spray.

In a bowl, combine flour, baking soda, and salt.

In the bowl of your mixer, beat oil and brown sugar.

Add eggs, mixing until combined.

Add mashed ripe bananas to mixture and mix.

Using a spoon, gently mix combine flour mixture into banana batter. Do not over mix.

Pour batter into prepared pan and bake for 50-55 minutes or until a knife is inserted and comes out clean.

If using a bundt pan, allow to cool for 5 minutes, the invert onto a plate to allow to cool completely.

To make the glaze, quickly roast walnuts on an ungreased pan on medium high heat, stirring constantly for 2 minutes.

Once done remove from pan and set aside.

Melt 2 tablespoons of butter in the pan over medium-high heat.

Cook 3 minutes or until butter begins to brown; remove from heat. Add powdered sugar and half-and-half, stirring with a whisk until smooth.

Stir in walnuts.

Drizzle glaze over bread. Let stand until glaze sets.