This post is sponsored by Cheerios™ and Acorn Influencer. Thank you for supporting the companies that help make The Seaside Baker possible!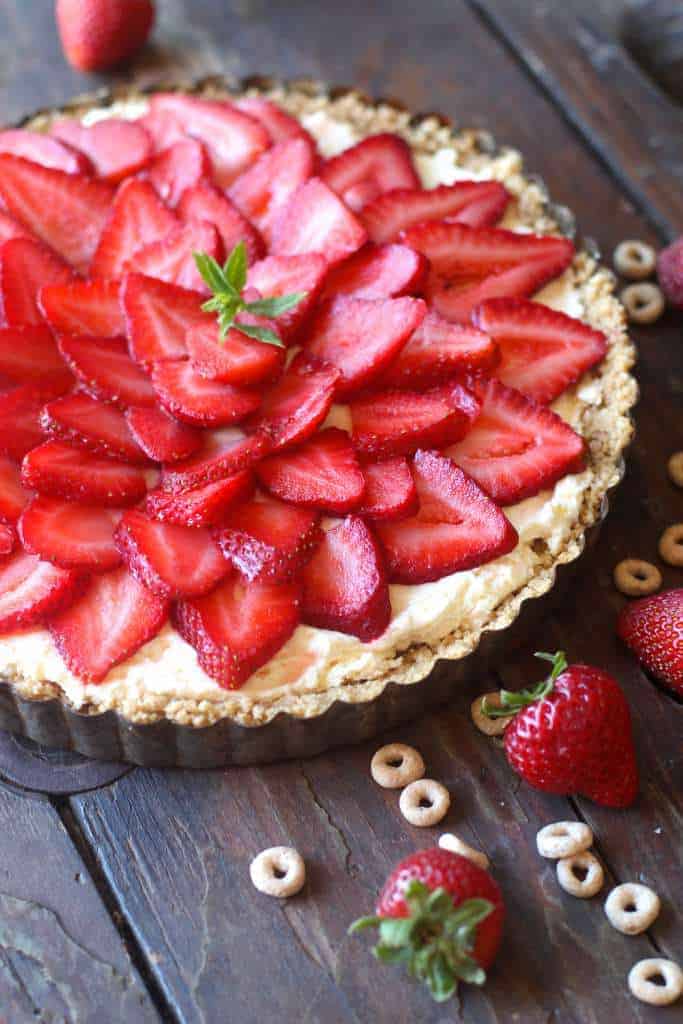 I have three kids that are all at least 4 years apart. Pretty much the only thing they all have in common is that they are hungry ALL. THE. TIME! If it were up to them, I would spend my entire day in the kitchen making them meal after meal to feed their bottomless pits.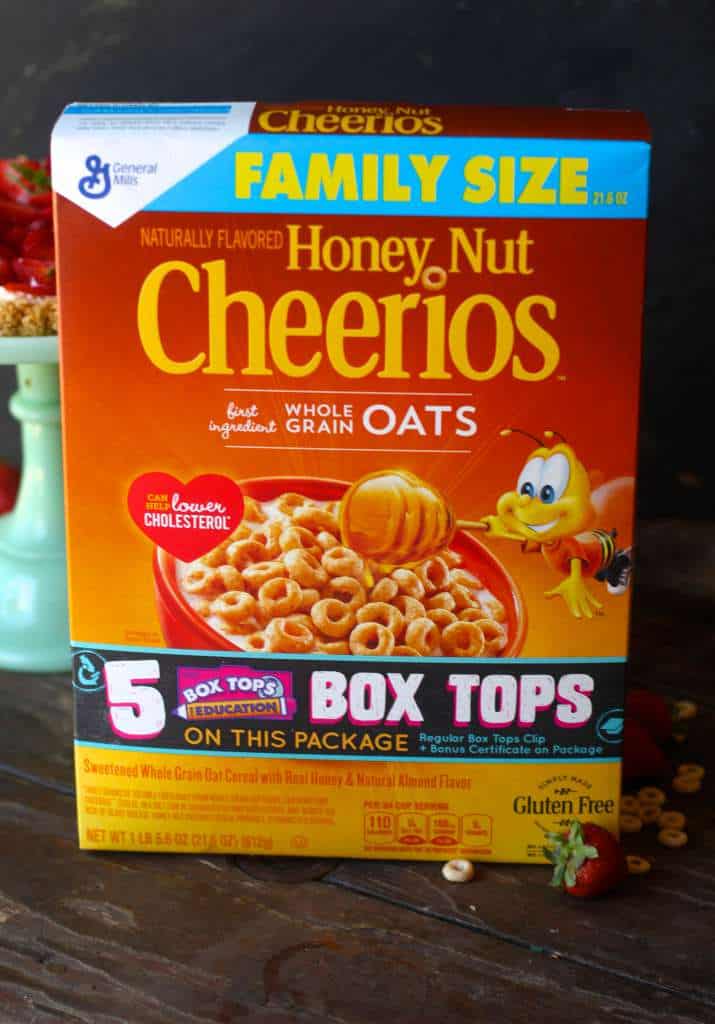 Thankfully, a bowl of Cheerios™ has literally become my lifesaver. As long as we have a few boxes, they can take care of themselves for at least one meal! I always make sure to pick up at least 3 different types Cheerios™ every time I am at Walmart!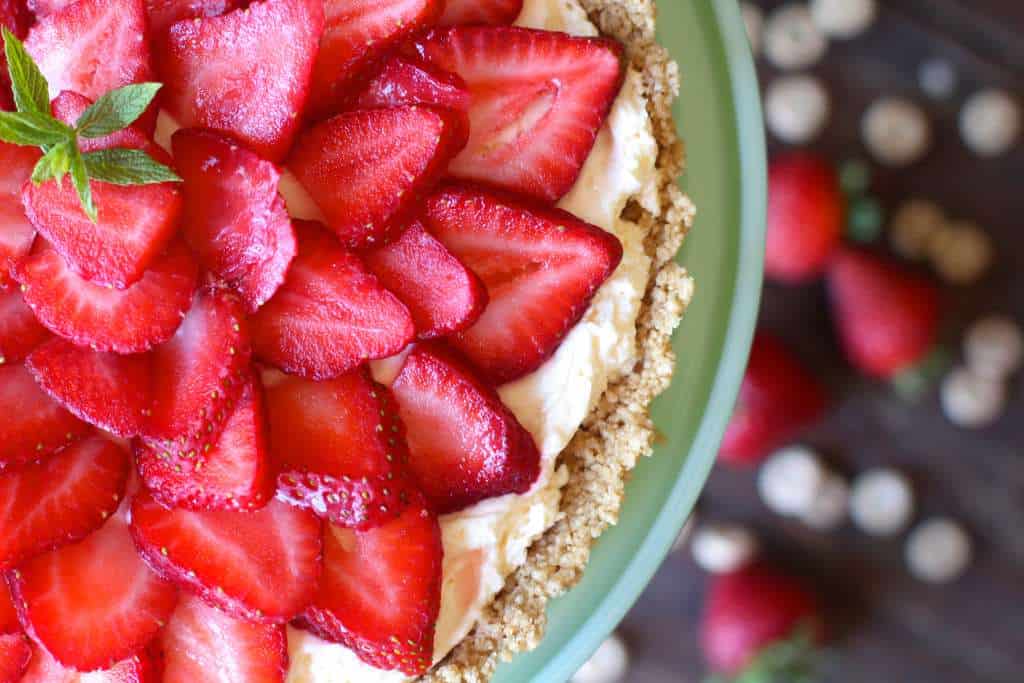 Since my time in the kitchen is completely under appreciated, I thought that this summer would be a great opportunity to really get the kids involved in the cooking and cleaning process. Considering how much they love to eat, this new learning to cook experiment has been very well received and they each look forward to it everyday. However, we are still trying to gain excitement about the whole "cleaning up after yourself" part.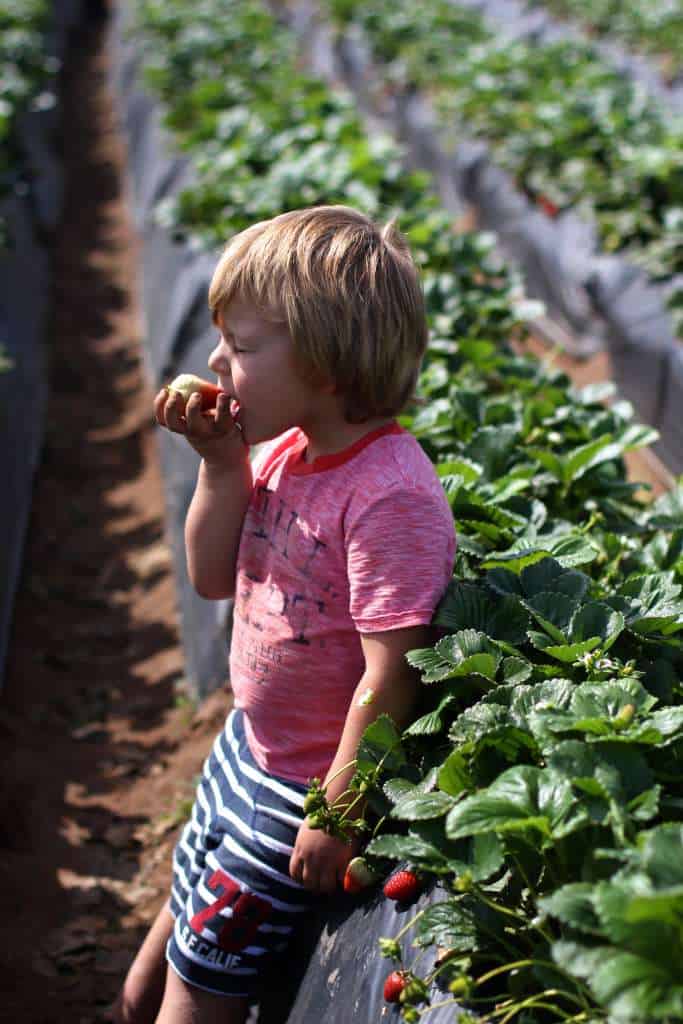 After having spent the afternoon strawberry picking at our local farm and eating their weight in strawberries (followed by some much needed haircuts), the kids all decided that a strawberry cheesecake was in order for dessert. The fact that they all agreed on the same dessert was a win in of itself!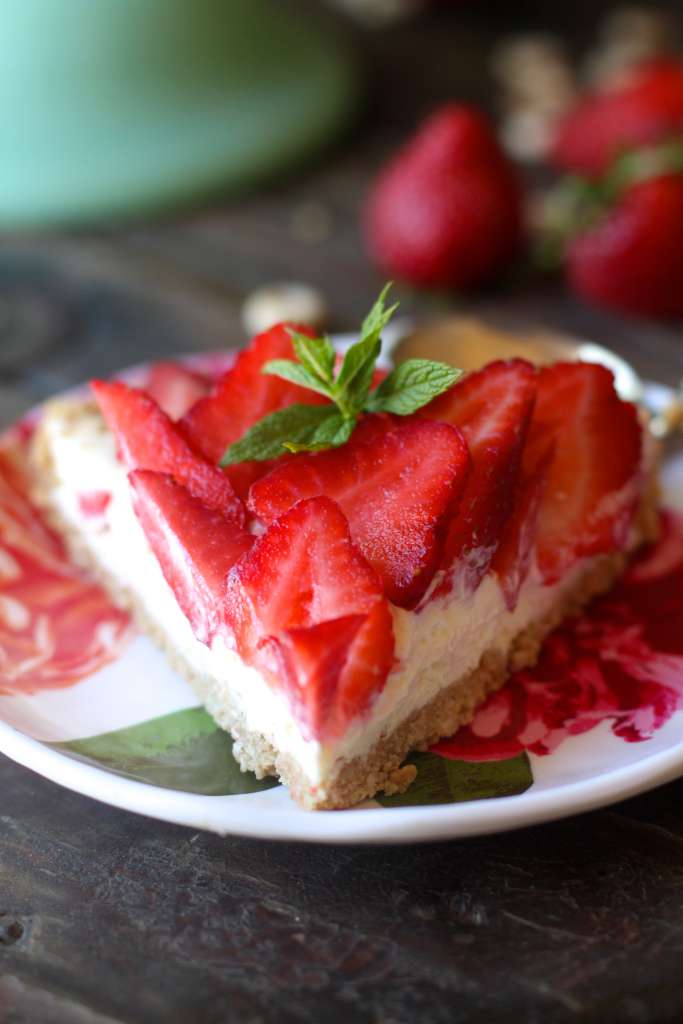 Since another trip to the store was completely out the question, the kids came up with the idea to make the cheesecake crust out of ground Honey Nut Cheerios™. Pretty genius if you ask me!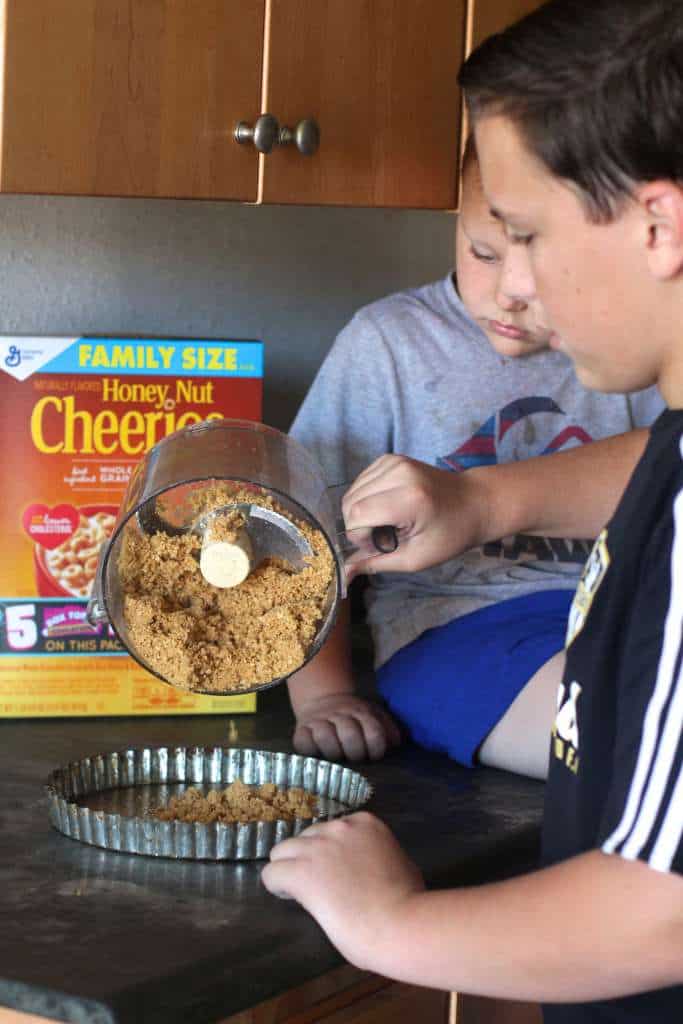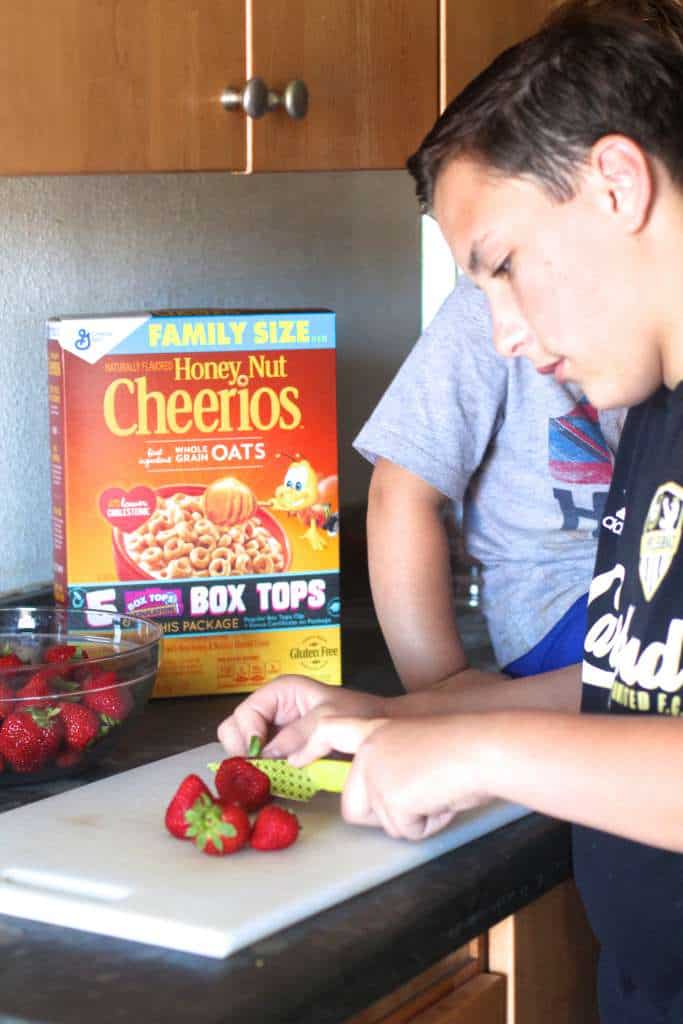 I assigned the crust and strawberry chopping to the teenager, mixing of the filling to the preschooler (with my help), and the assembly to the creative and artistic eight-going-on-sixteen year old daughter. While my teen prepped the ingredients, the preschooler sat beside him to supervise and taste test.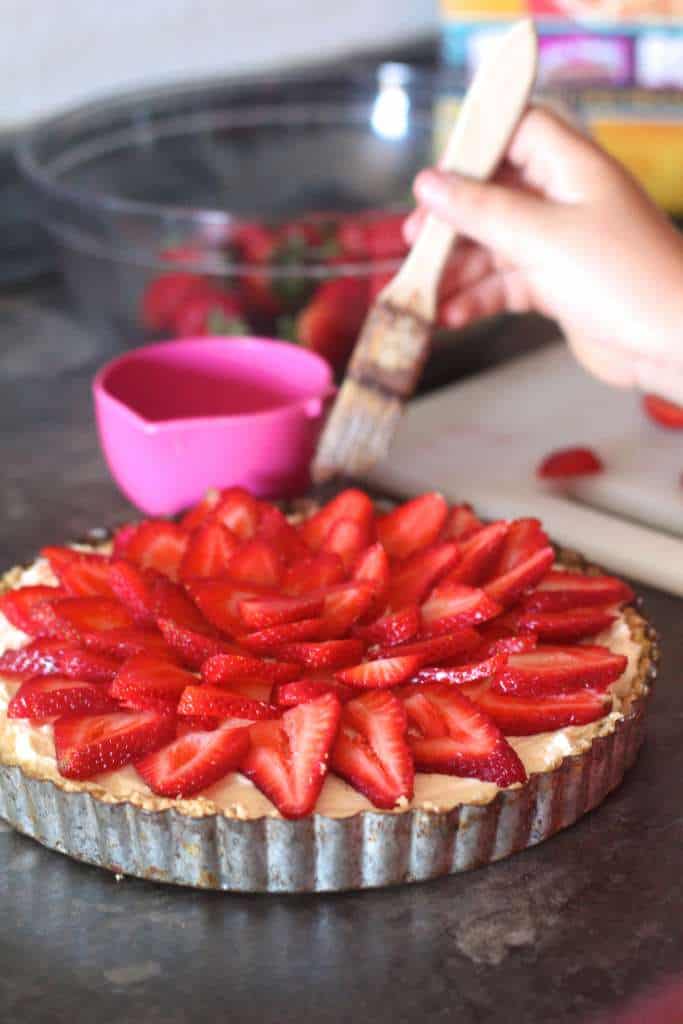 When it came time for the assembly, my daughter, turned up her music and meticulously arranged, and then rearranged, each slice. She then began moving to the beat while painting each and every strawberry with melted apricot jelly. I couldn't help but sit back and smile. It is moments like these, when they all work together, that make me one proud mama.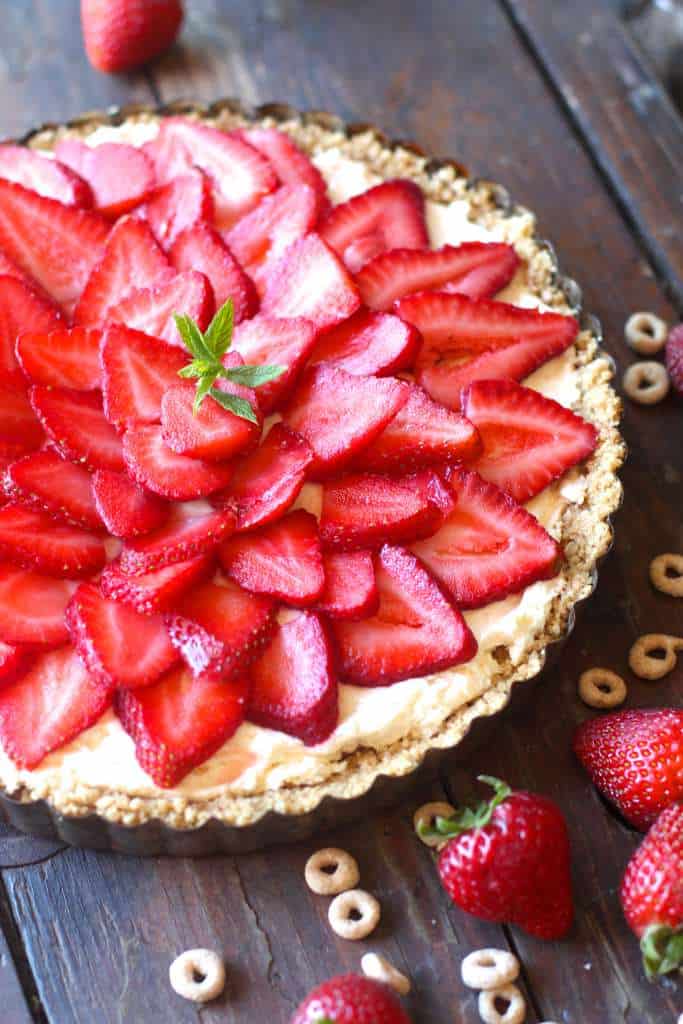 Then, somehow, they all disappeared when it came time to clean up, and reappeared a few hours later (on the dot) when the "chill" time was done and it was time to eat. Go figure.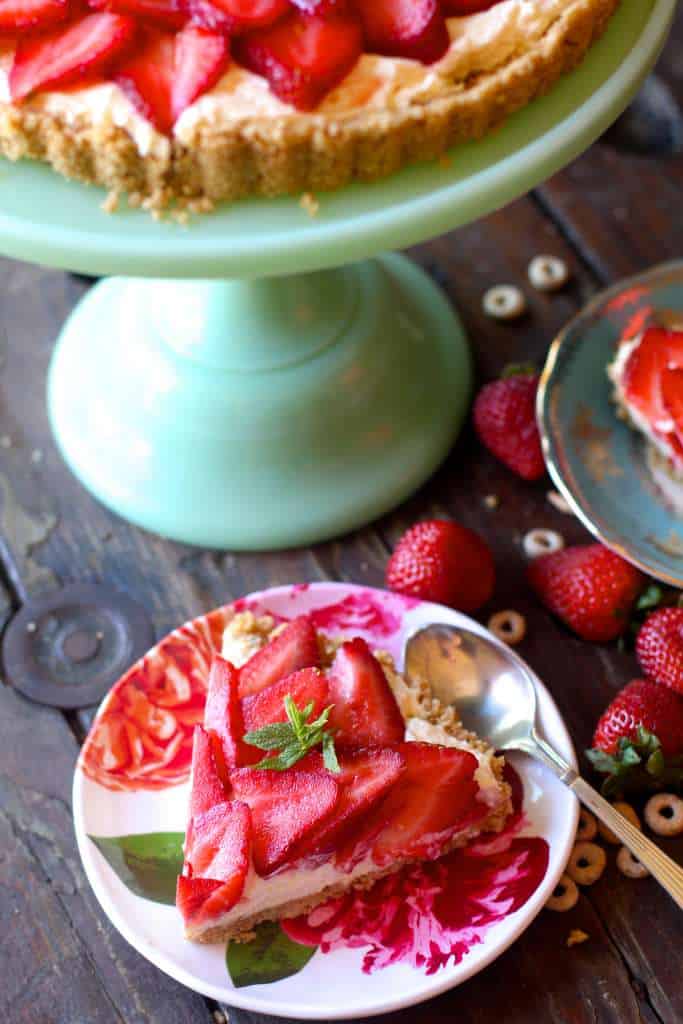 They end result was a light and fresh cheesecake with a deliciously sweet crust. It was the perfect end to a hot summer day. Make sure to print out this coupon the next time you buy a box of Cheerios™. Enjoy!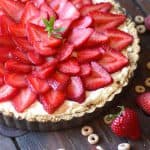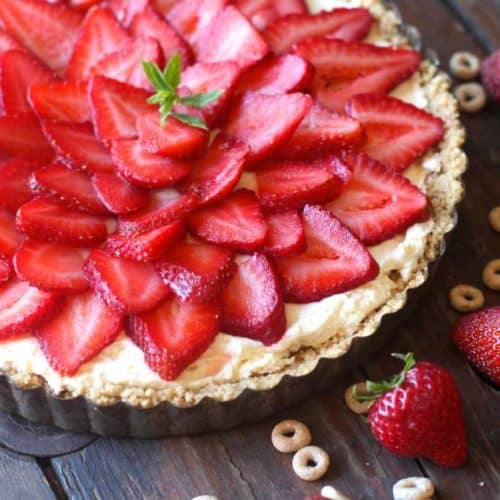 No Bake Strawberry Cheesecake
Ingredients
For the crust:
2 ¼

cups

finely ground Honey Nut Cheerios™

8

tablespoons

unsalted butter

, melted
For the filling:
16

ounces

(2 pkgs) cream cheese, softened

½

cup

granulated sugar

1 ½

cups

plus 2 tablespoons heavy whipping cream

, divided

¾

cup

powdered sugar

2

cups

sliced strawberries

¼

cup

apricot jelly
Instructions
To make the crust, line the bottom of a 9 inch tart or round spring-for pan with parchment paper and lightly grease the sides with non-stick cooking spray.

Using a food processor, grind the Honey Nut Cheerios™ into a fine crumb.

Mix in melted butter and stir until crumbs are moist.

Press crumbs into the bottom and sides of pan, the refrigerate pan while you prepare the filling.

To make the filling, beat softened cream cheese, 2 tablespoons whipping cream, and sugar until smooth and sugar has dissolved.

Transfer to another bowl, then wash and dry mixing bowl.

Add remaining 1 ½ cups whipping cream and powdered sugar and beat until stiff peaks form.

Gently fold whipped cream into cream cheese mixture.

Pour mixture into crust and spread evenly.

In a small microwave safe bowl, heat jelly for 20 seconds (it will be hot!).

Layer strawberries on cheesecake and carefully baste with warm apricot jam.

Refrigerate cheesecake for at least 4 hours before serving.