Consume a bit of history when you bite into these delicious Black and White Cookies. A basic vanilla cookie base is topped with a delicious vanilla and chocolate icing. Easy, quick, and a classic cookie everyone knows and loves.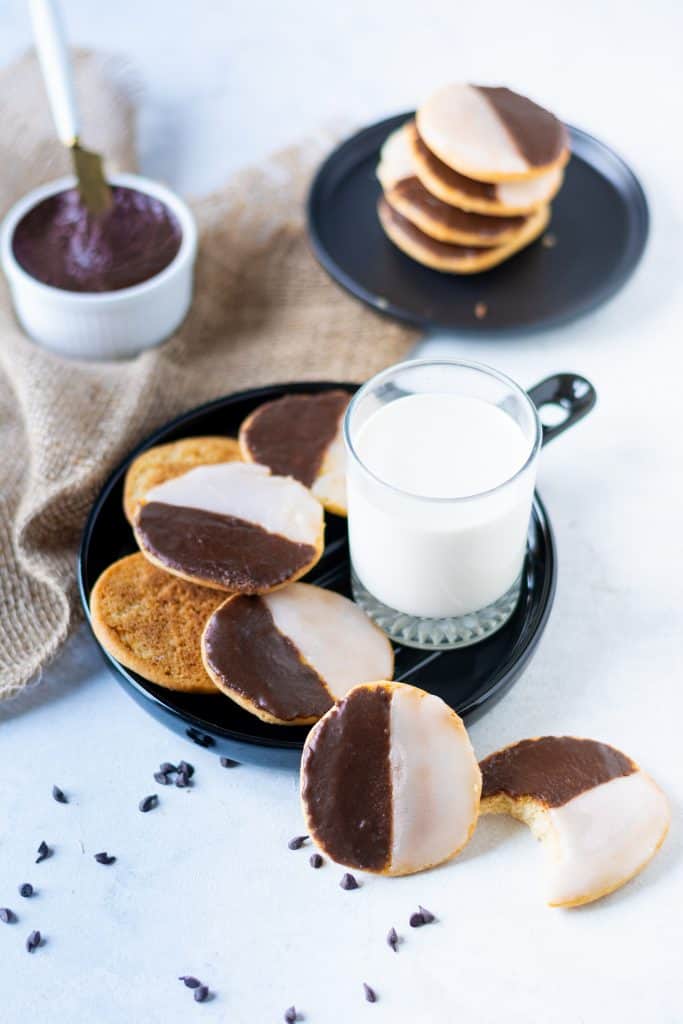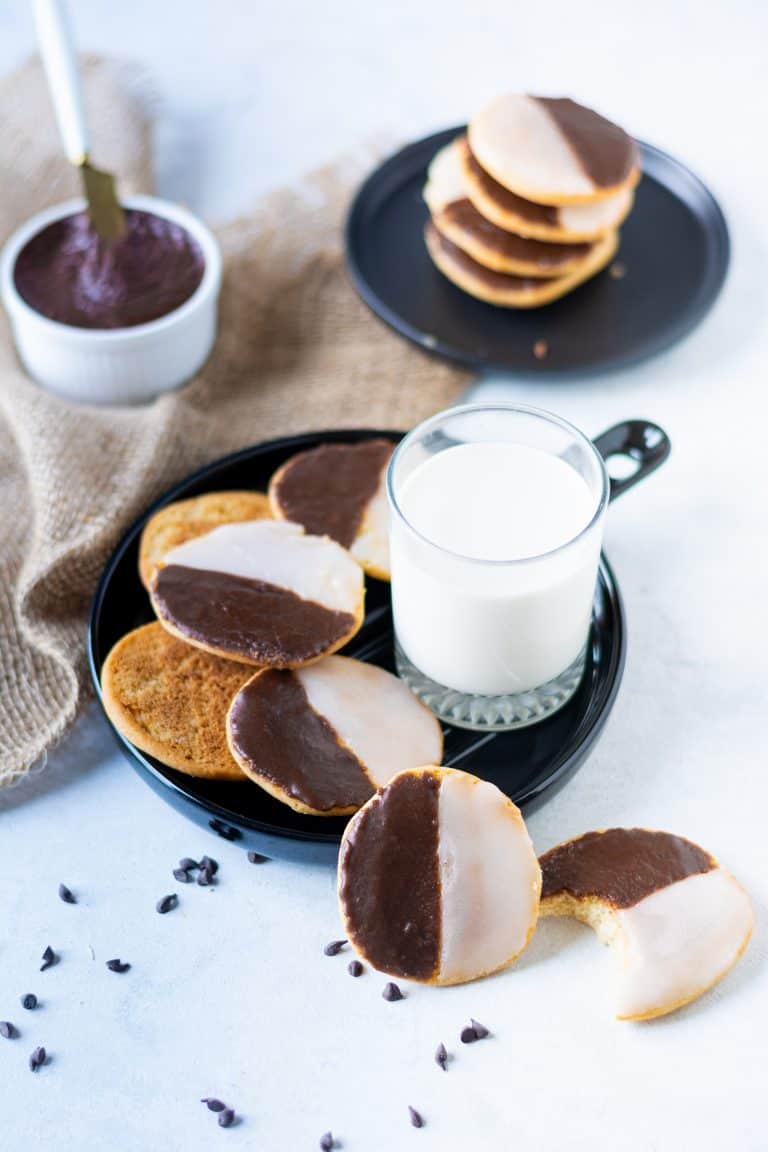 I was so sad when I heard the bakery responsible for the creation of this classic cookie, closed. The economy can be a cruel and unforgiving mistress sometimes. However, I'm so glad their iconic recipes live on for all of us to enjoy.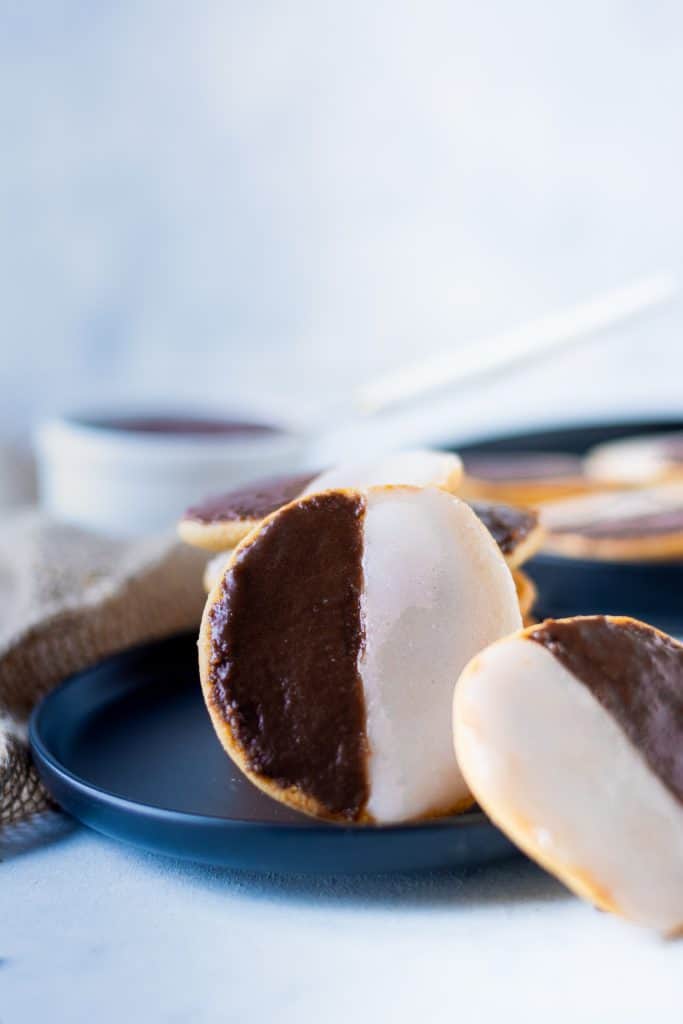 One of my favorite cookies, since I was a little girl, were these black and white cookies. They're so easy to make and they're not really anything over the top special, but they have memories and history connected to them. For some reason, that makes them feel more special and I cherish that aspect.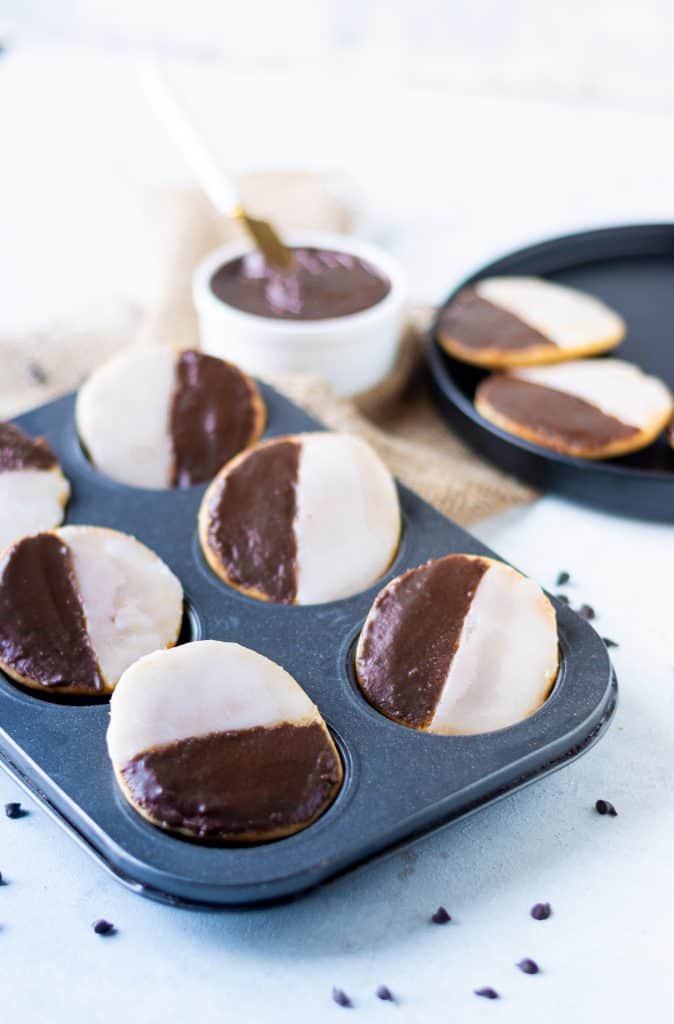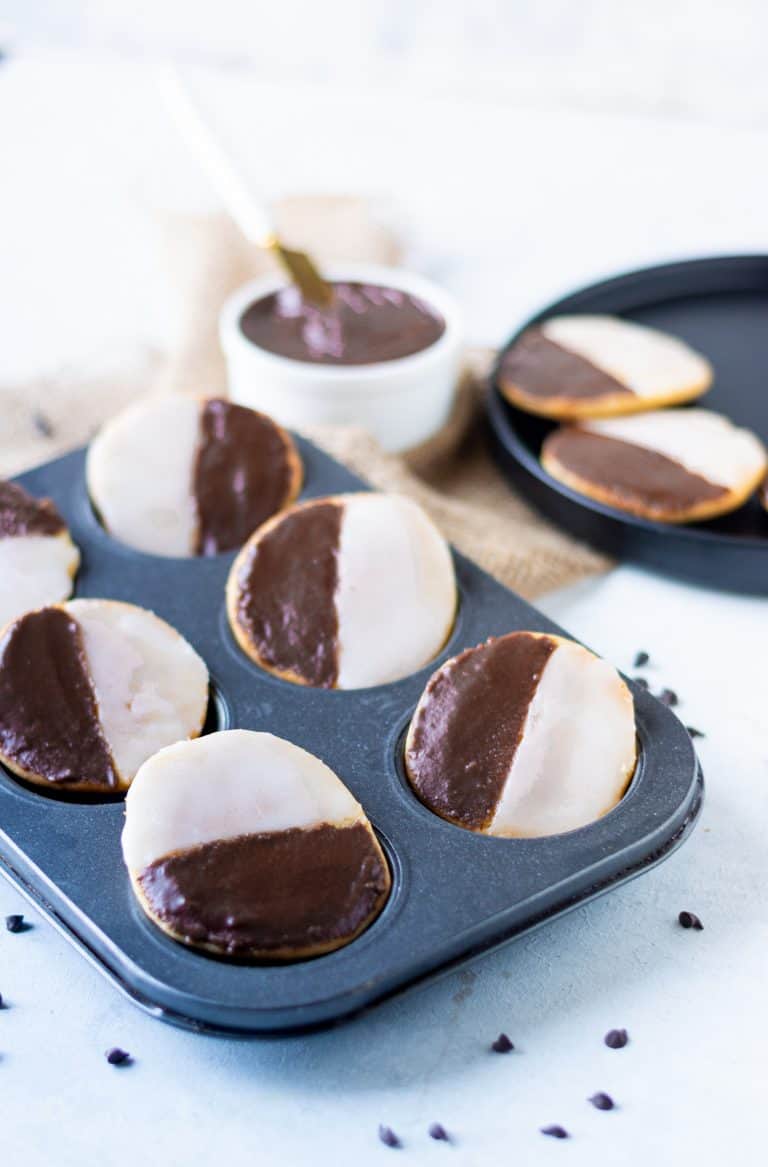 I feel the same way about monkey bread and apple pie. I absolutely love recipes that make us feel something. Isn't the human mind wonderful?
How Do You Make Black and White Cookies from Scratch?
Prep - Preheat the oven to 350 degrees and line a baking sheet with parchment paper.

Make the batter - Sift the flour, baking soda, and salt in a large bowl and set aside. In a separate bowl, cream together the butter and sugar. Add the egg and vanilla. Mix well. Add in the dry ingredients.
Bake - Place dollops of the dough on the prepared sheet. Bake for up to 15 minutes.
Cool - Pull from the oven and allow to cool completely.

Ice - Mix water and powdered sugar in a bowl until smooth. Add half to a separate bowl. Mix the cocoa powder in the second bowl. Spread your icing on the backside of the cookie, making sure to divide the two icings down the middle. Enjoy!
Tips and Variations
Make them different flavors - If desired, you can switch up the flavor of the cookies. Simply swap out the vanilla extra for the same amount of any other extract you prefer. For example, lemon, orange, or coconut extract would be a delicious option.
Just make the icing one flavor - If you like one icing flavor more over the other, skip splitting the icing and make the cookies all one icing flavor.

Make the icing flavored - Add a small amount of flavored extract to the icing if you would like to switch up the flavors. It doesn't take much.

Let the icing dry - I wouldn't serve the cookies right after icing them. I would give them a few minutes to sit so the icing levels out and dries a touch.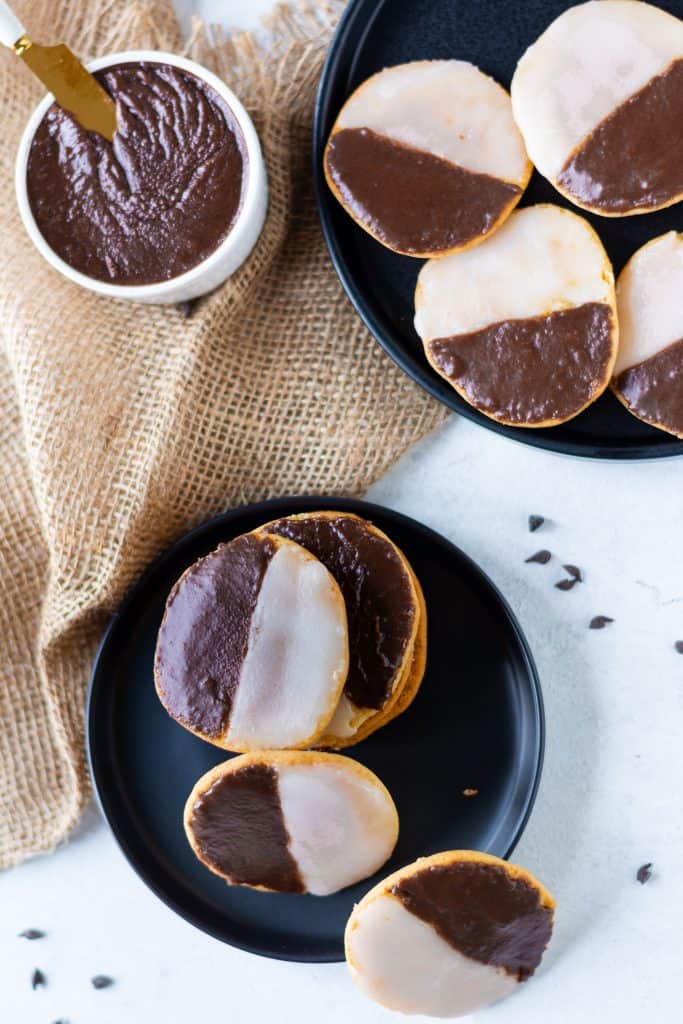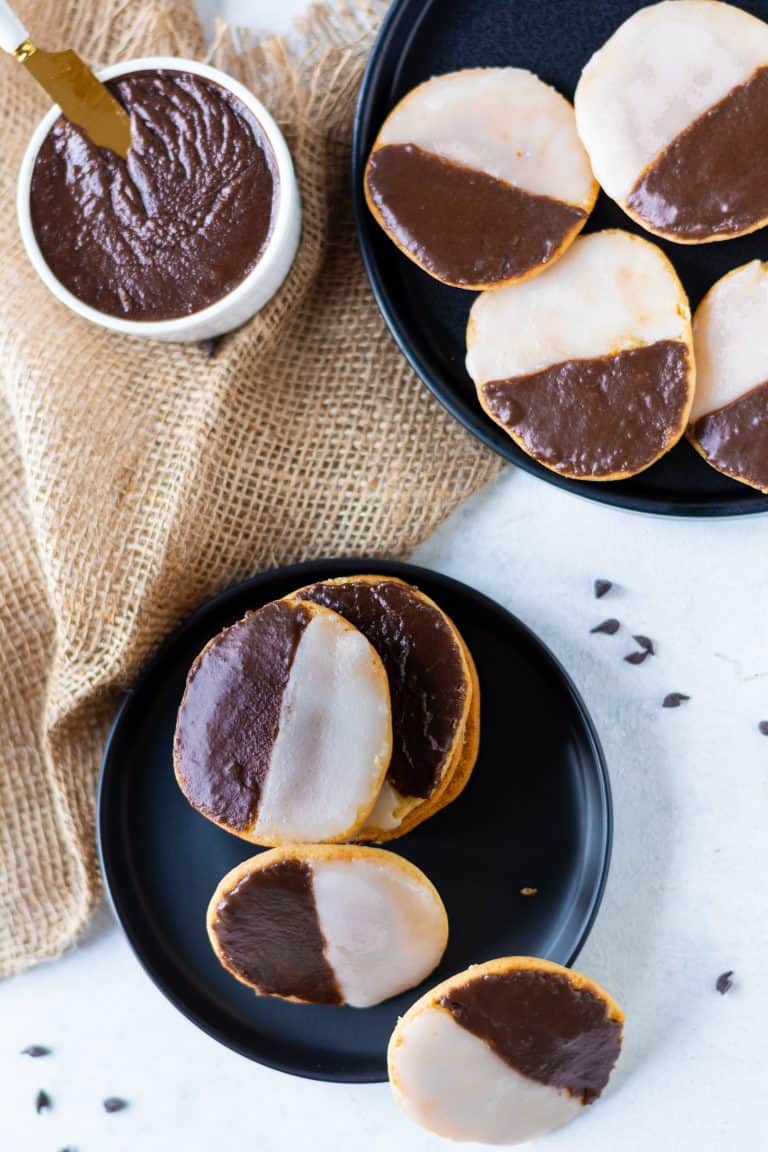 Common Questions About Black and White Cookies
What is a Black and White Cookie Called?
Black and white cookies have been given a few nicknames over the years. However, the most common names that are used far and wide are half moon cookies or half-and-half cookies. Black and white cookies are what they're most commonly known as though.
What is the History of the Black and White Cookie?
There used to be a little bake shop in Manhattan called "Glaser's Bake Shop." It was opened in 1902 and was the creation of Bavarian owners, John and Justine Glaser, who were immigrants. History tracks the beginning of the famous black and white cookie to this amazing little bakery. Sadly, they closed in 2018 and were in business for 116 years.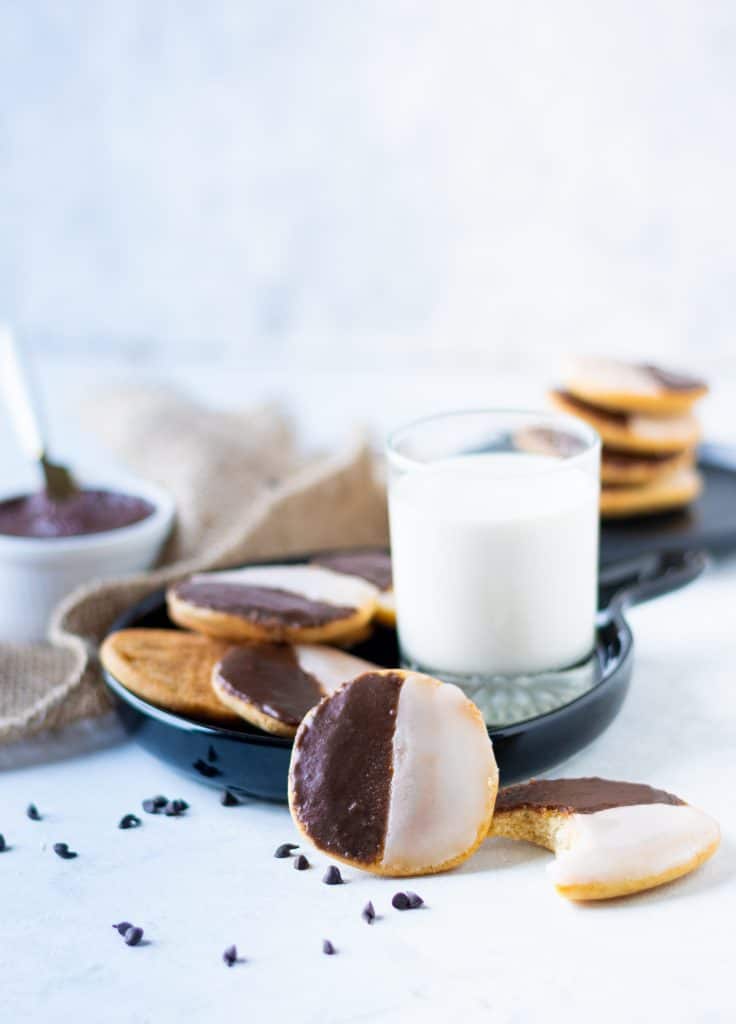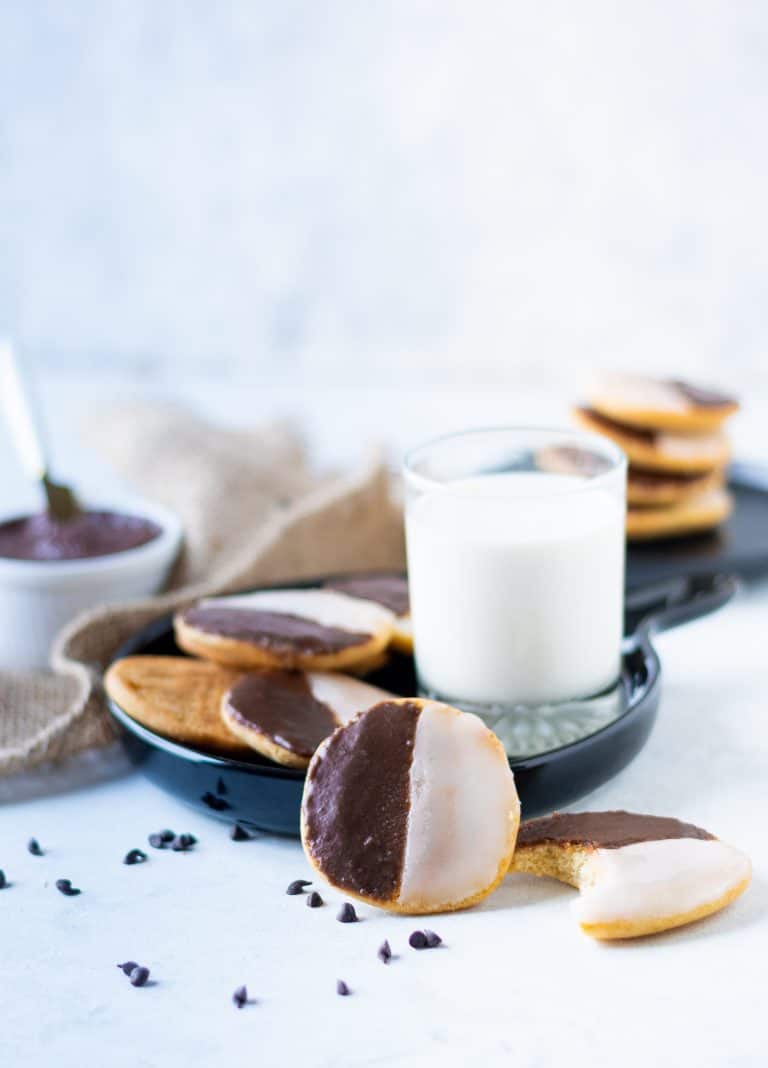 Please feel free to share your experience with making these Black and White Cookies in the comments below or on social media!
More Cookie Recipes You're Sure to Love: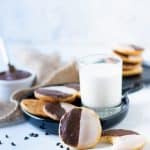 Black and White Cookies
Consume a bit of history when you bite into these delicious Black and White Cookies. A basic vanilla cookie base is topped with a delicious vanilla and chocolate icing. Easy, quick, and a classic cookie everyone knows and loves.
Keyword:
deli cookies, new york cookies
Ingredients
Cookies
1 ⅓

cup

all-purpose Flour

½

teaspoon

baking soda

⅛

teaspoon

salt

6

tablespoons

unsalted butter

room temperature

½

cup

granulated sugar

1

large egg

1

teaspoon

vanilla extract

⅓

cup

buttermilk

room temperature
Icing
2

cups

powdered sugar

2

tablespoons

milk

or more as required

3

tablespoons

cocoa powder
Instructions
For the cookies

Preheat the oven to 350 degrees F and line your baking tray with parchment paper

In a large bowl sift the flour, baking soda, and salt; set aside.

In another bowl cream the butter and sugar together till it becomes light and fluffy. Add in the vanilla extract and egg and mix well.

Next add the flour and buttermilk alternatively in three batches and keep scraping the sides of the bowl with a spatula to ensure everything mixes well.

Using a lightly greased spoon, drop a dollop of the batter onto the parchment paper and level out the top surface of each cookie with the back of the spoon

Bake them for 13-15 minutes. Allow them to cool completely before icing.

Add the powdered sugar and milk to a small bowl and mix well until smooth.

Take half of the icing in a separate bowl and mix the cocoa powder in it till it's smooth.

Spread the icing on the back of the cookie with a butter knife, by making a line in the center to separate out both the icing. Spread both the icing evenly on both sides and let it set completely before serving.