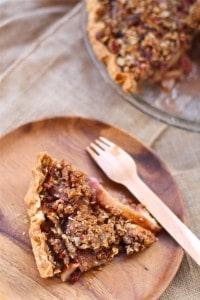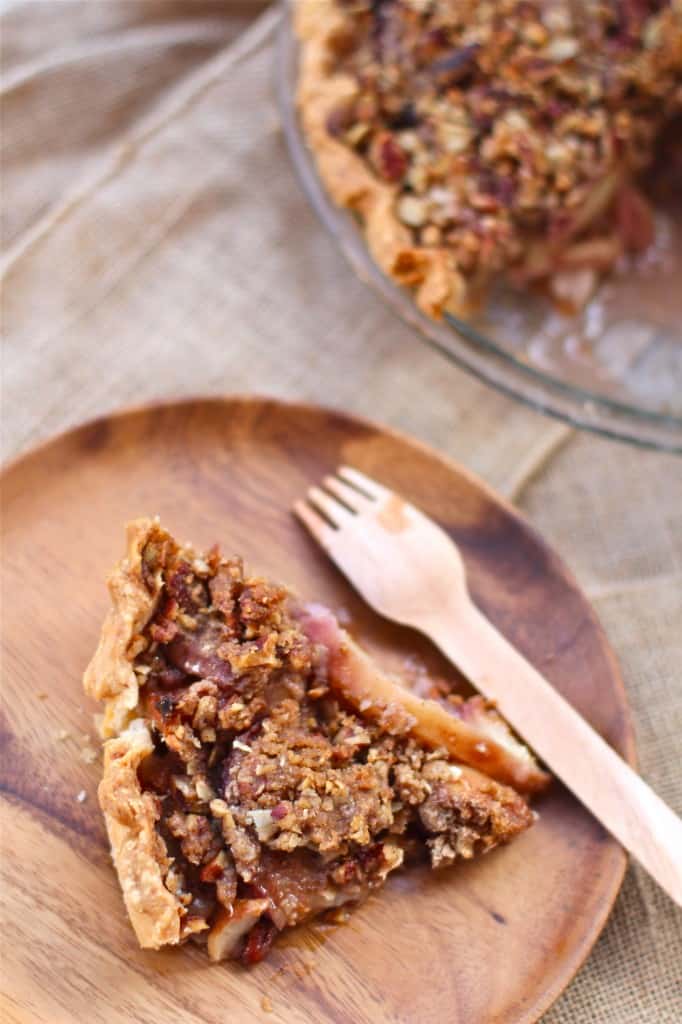 I used to hate pie. Cooked fruits were not my thing. Then, one day a few years ago, I was served a piece of homemade pie. It was life changing. The flakiness of the homemade crust and the perfectly sweet and not over cooked apples, changed  my pie perception for ever. I am now a die hard HOMEMADE pie lover. The feelings have never quite change for the store bought pies however.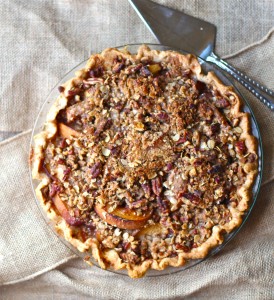 I am desperately trying to stay in summer mode, even though I have been over it for at least 6 weeks now. It took everything I had to not show up to the labor day party with a pumpkin pie. Figured I would get some snooty looks, and unhappy comments. So I opted for peach pie., but added a warm crust and humbling sauce. Irresistible.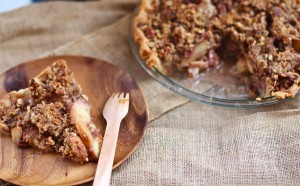 This pie can be made anytime of year. Since having gone on our California Fruit Trail excursion a few months back, I still have an ungodly amount of frozen stone fruit. The frozen peaches worked beautifully. Before freezing the peaches, I dipped them in a large bowl of water and 1/2 of lemon juice. If you plan on using fresh peaches, I suggest you peel and cut then immediately throwing them into the bowl of water and lemon juice to avoid browning.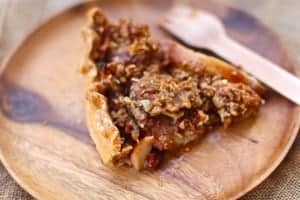 Don't be deterred by the amount of steps in this recipe. It took me about 25 minutes (plus refrigeration and baking time) to put it together.
Peach Pie Crumble with a Carmel Whiskey Sauce
Ingredients
Perfect Buttery Flaky Pie Crust

1-3/4 cup flour
1 teaspoon sugar
1-1/2 sticks butter, sliced
3-4 tablespoons ice water

Peach Pie Filling

5 cups ripe but firm peaches
3/4 cup sugar
1/2 tablespoons Irish whiskey
1/4 cup plus 1 tablespoon all-purpose flour
1 1/2 tablespoons unsalted butter, thinly sliced
1 egg, slightly beaten

Crumb Topping

1/2 cup all-purpose flour
1/2 cup light brown sugar
1/4 cup butter, softened
1/2 teaspoon cinnamon
1/4 cup pecans, chopped

Caramel Whisky Sauce- Recipe from Food.com

3/4 cups sugar
1/3 cup water
2 tbsp butter, cut into small pieces
1 ounces cream cheese, cut into small pieces
2 tbsp Whiskey
2 tbsp cream
Instructions
Perfect Buttery Flaky Pie Crust

In a food processor, pulse flour and sugar.
Add butter a few slices at a time and pulse to mix.
Only pulse a few times as not to over mix.
Once all the butter is mixed in, add the ice water and pulse a few more times.
When dough has formed a ball, remove and wrap in saran wrap.
Refrigerate for 1 hour.
On a floured surface, roll out dough until larger than your pie dish.
Gently set into pie pan and cut off excess dough.
Chill in refrigerator while preparing filling.

Peach Pie Filling

Combine peaches, sugar, whisky and flour in a bowl and mix gently.
Mix in the butter slices. Pour fruit over crust peaches.
Brusch the edge with beaten egg.
Preheat oven to 400 degrees.

Crumb Topping

Mix all ingredients together until combined and pour on top of peaches.
Bake Pie on a cookie sheet for about 40-50 minutes.

Caramel Whisky Sauce- Recipe from Food.com

Combine sugar and water in a small saucepan over medium-high heat.
Stir continuously until sugar dissolves.
Simmer until sugar mixture is golden (about 17 minutes). DO NOT STIR! Remove from heat. Carefully add butter and cream cheese, stirring constantly with a whisk until all clumps are dissolved.
CAUTION! Mixture will bubble vigorously and release a lot of hot steam.
Cool slightly. Stir in whiskey and milk. Mixture will bubble a bit at this step as well.
***Thinking ahead...this pie will be included in my Thanksgiving pie list!
http://theseasidebaker.com/peach-pie-crumble-with-a-carmel-whisky-sauce/